How do visitors behave on the website? Which elements of usability are convenient and which are not? At what point do most users leave the website? You can qualitatively improve any website by answering these questions with Google Analytics: increase sales, optimize behavioral metrics, and achieve high positions in search results. Standard Google Analytics reports are undoubtedly important; without them, you can't have full-fledged web analytics. But data on visits, depth of views, refusals, and conversions in Google Analytics is just isolated heat map indicators that overlook how users interact with the site.
A heat map is a tool that shows in which areas of the website the visitors' attention and the main activity is concentrated during google analytics. The data on the Google Analytics heat map is visualized using a color gradient: warm colors show the places where users are most interested, and cold colors show the places with the least concentration of attention. Thus, everything in this google analytics is as clear and simple as possible. Heat maps are a great way to look at the website through users' eyes and assess weaknesses in optimization.
The data obtained with heat maps in google analytics are the key to improving the selling power of the website, reducing the number of bounces, and increasing the duration of user sessions. In other words, such heat map google analytics contributes to the point optimization of behavioral metrics, which directly affects the site's effectiveness and remains a key ranking factor in SEO.
What Is a Google Analytics Heat Map?

Google Analytics Heat Map is a tool that visually shows collected statistics about the site's users, particularly their behavior. For example, popular links on the site – this is what you will see with Google Analytics Heat Map. SEO specialists and marketers better understand their users' interests and optimize their engagement and site conversion rates faster with this Google Analytics Heat Map service. USA, Canada, Germany, and France are where Google Analytics Heat Map is most popular.
Google Analytics Heat Map is created using statistics that Google Analytics collects. Placing a small piece of code on a site is enough to collect statistics. Due to the small size of this code, the site's performance is not slowed down.
Website Heat Map Tools from Plerdy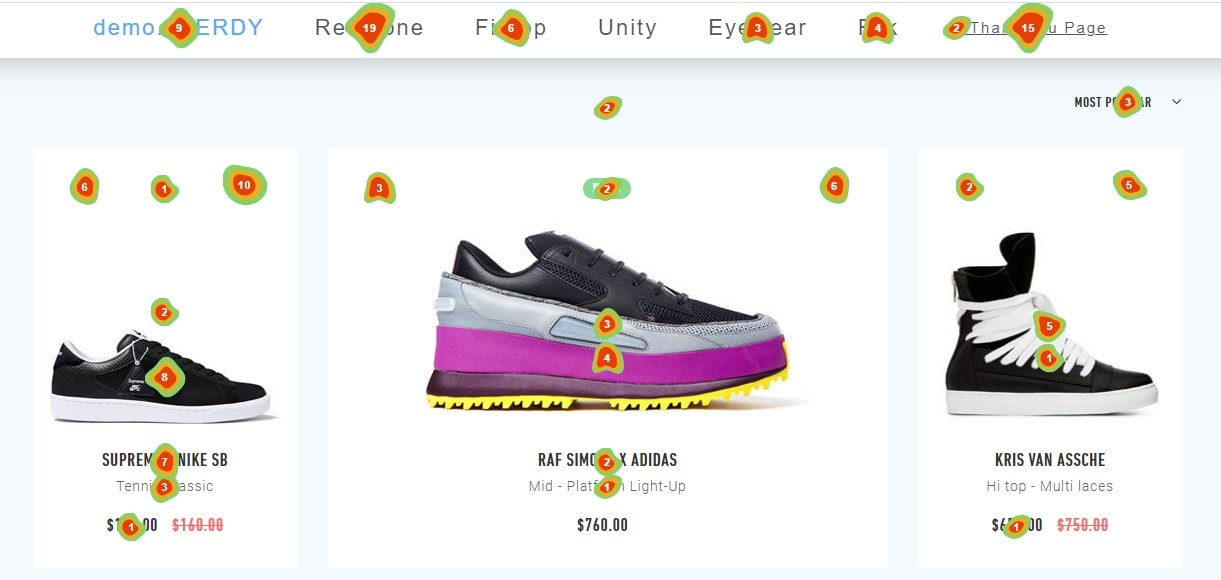 Plerdy is a multifunctional tool for website optimization and analytics with which you can create heatmaps. Its algorithm is characterized by great accuracy, which SEO specialists and marketers highly appreciate in heat analytics. With its help, you can create heat maps and generate a visualization of clicks for a certain period, like with Google Analytics. If you are doing A/B testing with Plerdy, all analytics are recorded for each test separately. Unlike most similar google analytics heat services, Plerdy can track web visitor activity even on dynamic site elements.
Plerdy analytic heat service is as useful as Google Analytics. Website Heat Map Tool from Plerdy helps:
Find the first click on the page and view the sequence of clicks.
Filter clicks by device type and traffic channel.
Segment users into groups and analyze their behavior separately.
Detect what website elements are the least effective.
Find out from which part of the page users leave the most often.
Website Heat Map Tools from Plerdy provide an opportunity to better understand the target audience of your website. At the same time, Plerdy`s Website Scroll Map helps to understand:
How appropriate it is to place long content.
Whether your texts are read to the end and where it is better to place links in them.
Which content strategy is more effective: longreads or short articles.
Which directory is better: with infinite scrolling or pagination pages.
Plerdy analytics heat map helps you understand what and how often people click on pages. This can be a simple click map and a more complex visualization with color gradation depending on the intensity of clicks, targeted actions, sources of conversions, etc.
Plerdy Analytics Heat Map Reviews
Fedor Rubchik, CEO at VIVA:

"I recommend connecting heat map analytics to all online stores. Even Google Analytics can't provide this kind of item-by-item analytics, but the Plerdy service manages it. It analyzes a very large amount of information and then creates understandable reports on that basis. Plerdy is an indispensable heat analytics tool for the marketer."
Valeria Tkachenko, Middle PR Specialist at Netpeak Software:

"Unlike Google, Plerdy contains an excellent heat map that can be useful for studying user behavior on a website. I've learned that when pop-up forms are used correctly, they can be effective."
Anton Voronyuk, Head of Internet Marketing at WebPromoExperts:

"Extremely recommend the analytics service to anyone worried about improving the site, conversion rates, and understanding the effectiveness of content."
Edward T, Marketing Specialist at Banco del Sol:

"If you put together Google Trends, Moz, and SimilarWeb, and add a great heat map tool, you get Plerdy."
Casey Marks, Director of Digital Marketing at Nlyte Software:

"I've been using website analytics heat map tools from Plerdy for over five years. I fully rely on its help when I need to optimize the conversion of my website, which I cannot say about Google."
How to set up Google Analytics Heat Map?

Google Analytics Heat Map helps you reliably track what your visitors are doing. For reliable heat map analytics, the website must have at least 2-3 thousand visitors. If the Google heatmap is built based on 50 visits, such data should not be trusted. To set up Google Analytics Heat Mapping, you need to:
Sign up with Google Account (if you still do not have one).
Install the Page Analytics Chrome Extension.
Sign in with a Google Analytics account.
Go to the website to which Google Analytics is connected and open the plugin.
The process of Google Analytics Heat Map setup is easy. With google's help, you can see page views, average time on page, exit rate, bounce rate, unique page views, and active users number in real-time. Google Analytics Heat Mapping is needed to:
Improve the UX design of the most clickable elements.
Make the text on popular buttons more readable or add a call to action.
Move clickable elements to a more prominent location.
See what non-clickable places users perceive as a link and improve them.
Identify the most popular tabs and improve their content. For example, on Google Analytics Heat service, you see that visitors are actively interested in the "About" section. You should check the text quality on the popular page, its informativeness, and its usefulness.
See with Google Analytics what topics are of more interest to readers if the website has a tagging block.
Google Analytics Heat Mapping is a popular service, but it has one major competitor in terms of customization – Plerdy. So, is Google Analytics Heat Mapping better than Plerdy?
Disadvantages of Google Analytics Heat Mapping vs. Plerdy
The main Plerdy`s advantage compared to Google Analytics Heat Mapping is providing more data and customization opportunities. So, Google Analytics Heat Map:
Provides inaccurate visitors' middle journey on the site.
Isn't useful in trying to understand why visitors leave the website.
Google doesn't provide a great variety of filters.
Google doesn't allow you to customize the analytics.
Google doesn't allow you to use user groups.
Plerdy Heat service provides more customization opportunities than Google Analytics Heat Mapping. With it, you can change the collected statistics you view.
Conclusion about Google Analytics Heat Map
There are several types of heat maps. Despite the similar logic of work of Google and Plerdy, each type of tool has its characteristics. For example, conducting a technical audit of the site, such Google heat maps or other similar services are used in combination to solve its range of tasks.
There are many tools for creating heat maps, such as Google and Plerdy. However, they differ in functionality and are designed to solve a certain range of tasks.
Plerdy heatmaps (both clicks, scrolling, and pointing) are independent of the entire service team's lineup, unlike Google Analytics heat mapping. As a result, unlike Google Analytics', the Plerdy heat service user gets more accurate data and a much wider range of reports on user behavior on the site's pages. You can find all list of features on the website.