Welcome aboard, folks! Fasten your seatbelts for an exhilarating ride through the sparkling city of Las Vegas, an oasis of innovation and progress. This time, we're shifting gears towards the SEO conference landscape, a hotbed of intellectual energy and cutting-edge insights. 💥
Crank up your SEO game, folks, with these top-tier conferences that ensure your expertise stays cutting-edge. And to keep your competitive edge sharp – consider the Plerdy tool, your go-to resource for CRO & UX. It's time to hit the jackpot in the dazzling domain of SEO under the bright lights of Las Vegas. Dive into the experience. Are you ready to rev up your engines? ⚡

The Importance of SEO in Today's Digital Landscape
Harness the horsepower of SEO to make your digital footprint resonate like a symphony. Seize the opportunity by attending SEO conferences – where intellect meets innovation. Delve into data-driven strategies, from nailing the art of crafting magnetic headlines to engineering a fortress of backlinks. For instance, let's dissect specific niches:
Fitness Blogs: Optimize metadata, spawn viral-worthy content.
SaaS companies: Cultivate authoritative backlinks, make UI/UX your mantra.
Restaurants: Spice up local SEO, savor scintillating reviews.
Marketers, fasten your seat belts as conferences dish out blueprints to craft SEO-powered juggernauts. Pick brains of SEO wizards, siphon off their know-how, and pivot with panache. Unshackle the chains that tether your website to obscurity by gobbling up Google's best practices – served hot at conferences. With Google's algorithms donning a cloak of mystery, conferences act as the decoder ring, turning indecipherable SEO conundrums into child's play. These conferences bring together top marketing experts to share generous portions of insights. Ensnare their strategies, emulate their successes, and enthrall the digital ecosystem with your brand's irrefutable prowess. Bolster traffic, multiply conversions – thank you, SEO conference!
Why Attend an SEO Conference?
Dive headfirst into the treasure trove of insights at an SEO conference – where marketing mavens peel back the curtain on prime SEO wizardry. The knowledge fest at these conferences is akin to sipping elixir; your marketing campaigns morph into titans. Live case studies pull you through the trenches of real-life marketing campaigns. Let's zero in on some niches:
Travel agencies: Optimize for voice search, embrace structured data.
Online bookstores: Capitalize on long-tail keywords, curate reader-centric content.
Dental practices: Dial-up on local search, dazzle with multimedia.
Time is currency; don't squander it. SEO conferences cram months of research into power-packed sessions. Swaddle your marketing arsenal with groundbreaking tools, and sweep the competition under the carpet. Snap up the chance to rub elbows with the titans of SEO – that's networking gold. Infuse your campaigns with fresh perspective, sidestep pitfalls, and laugh your way to the bank with escalated ROI. Not only that but imagine ogling at the marketers whose blogs you've devoured – live in action! Breathe in the exuberance, spark conversations, and etch your mark on the SEO landscape. Set your coordinates for an SEO conference, throttle full steam, and chart a course to uncharted territories of marketing success.
The Significance of Las Vegas as a Hub for SEO Conferences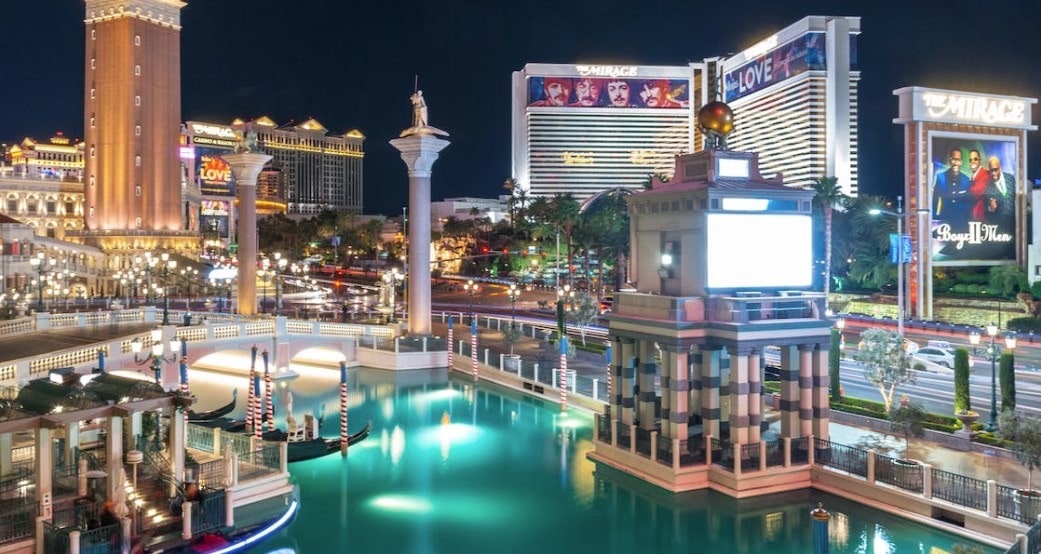 Las Vegas, the glittering oasis in the desert, isn't just about high-stakes and showbiz – it's the nerve center pulsating with SEO wisdom. The city's larger-than-life aura makes it the ultimate backdrop for the crème de la crème of SEO conferences. Drenched in flamboyance, Vegas imbues conferences with an adrenaline rush. SEO whizzes don't just partake – they revel. Let's spotlight some niches:
Casino marketing: Master local SEO; rake in footfalls.
Event companies: Ride the social media wave; fan the flames with hashtags.
Luxury hotels: Decipher customer psyche; drape content in opulence.
Vegas thrives on tourism; the city rolls out the red carpet for marketers. Picture this: gleaning razor-sharp insights by day, unwinding at iconic landmarks by night – the perfect blend of learning and leisure. No wonder SEO stalwarts earmark Vegas. SEO conferences here are exalted, the speaker lineups akin to a marketer's hall of fame. The venues are equally illustrious – think Bellagio, MGM Grand! The kaleidoscope of networking events, workshops, and keynotes, coupled with Vegas' indomitable spirit, transforms these conferences into incubators for innovation. So, buckle up, Las Vegas SEO conferences are your ticket to skyrocket your prowess amidst a whirlwind of thrills. Marketers welcome to your playground!
The Criteria for Selecting the Best SEO Conferences
Ditch the guesswork – steer your ship towards the ultimate SEO conference with a sharp set of criteria. Tailor your selection for maximum ROI. Let's unravel the layers:
Speaker Lineup: Scout for industry trailblazers, pioneers who've carved their mark. A diverse mix offers a treasure trove of insights – from local SEO tactics for realtors to sizzling content strategies for food bloggers.
Networking Opportunities: The conference should be teeming with networking meetups where you can rub shoulders with SEO aficionados. A goldmine for collaborations.
Workshops and Breakout Sessions: Seek hands-on workshops – where you can roll up your sleeves and get your hands dirty. It's where theories turn into strategies.
Location and Ambiance: A vibrant city with an eclectic mix of entertainment – it's not just about learning; it's an experience.
Takeaways and Resources: Ensure the conference showers you with resources, tools, and recordings. Post-conference, you'll want to swot up and cement the learning.
Don't settle – crank up your standards. The perfect SEO conference should make your synapses sizzle with new ideas, strategies that you can graft into your marketing campaigns. It should be a labyrinth of learning, where every turn unravels a nugget of wisdom. Time to feed your brain and bask in the glories of cutting-edge SEO know-how!
5 Best SEO Conferences in Las Vegas
The glittering city of Las Vegas has played host to a sterling line-up of SEO conferences in 2023. The "5 Best SEO Conferences in Las Vegas (2023)" painted the town with knowledge, leaving a trail of SEO enlightenment in their wake. Each event was a vibrant hub of digital intellect, a fusion of insight and innovation, where SEO maestros orchestrated symphonies of search strategies.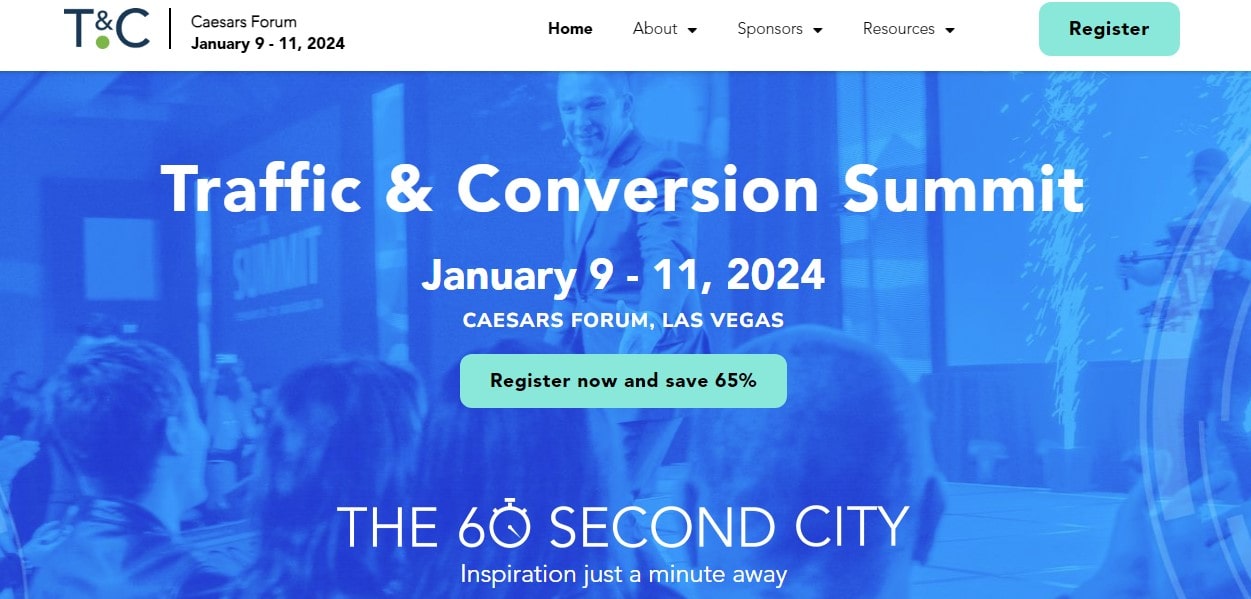 The annual Traffic & Conversion Summit, set for January 9 – 11, 2024, at the vibrant Caesars Forum in Las Vegas, is an anticipated hub for marketing professionals, agency owners, and entrepreneurs eager to navigate the thrilling dynamics of digital marketing.
Offering fresh insights into contemporary traffic channels, T&C aims to guide attendees in maximizing exposure while decreasing Cost Per Acquisition. Participants can expect to explore the rising potential of influencers, TikTok, and AI, among other platforms.
In the era of customer-centric marketing, T&C zeroes in on honing avatar profiling skills and equipping attendees with the latest acquisition and retention tactics, boosting customer engagement and longevity.
Unveiling conversion breakthroughs, our experts provide tangible examples from their exhaustive testing of landing pages, ads, and emails, equipping you with easily replicable split-tests and conversion optimization techniques.
The Summit encompasses eight content-rich tracks, each brimming with actionable insights. Topics range from capitalizing on TikTok ads and social media to developing effective content marketing funnels and navigating the creator economy, list building, and segmentation.
Register now to secure your spot at the Traffic & Conversion Summit 2024. This exclusive event guarantees a comprehensive growth plan to escalate your company, brand, and sales.
Promising to be an inspiring experience with a blend of networking and fun, T&C connects you with like-minded individuals, offering the opportunity to form strategic partnerships. Venture out of your comfort zone, and join us for a transformative journey.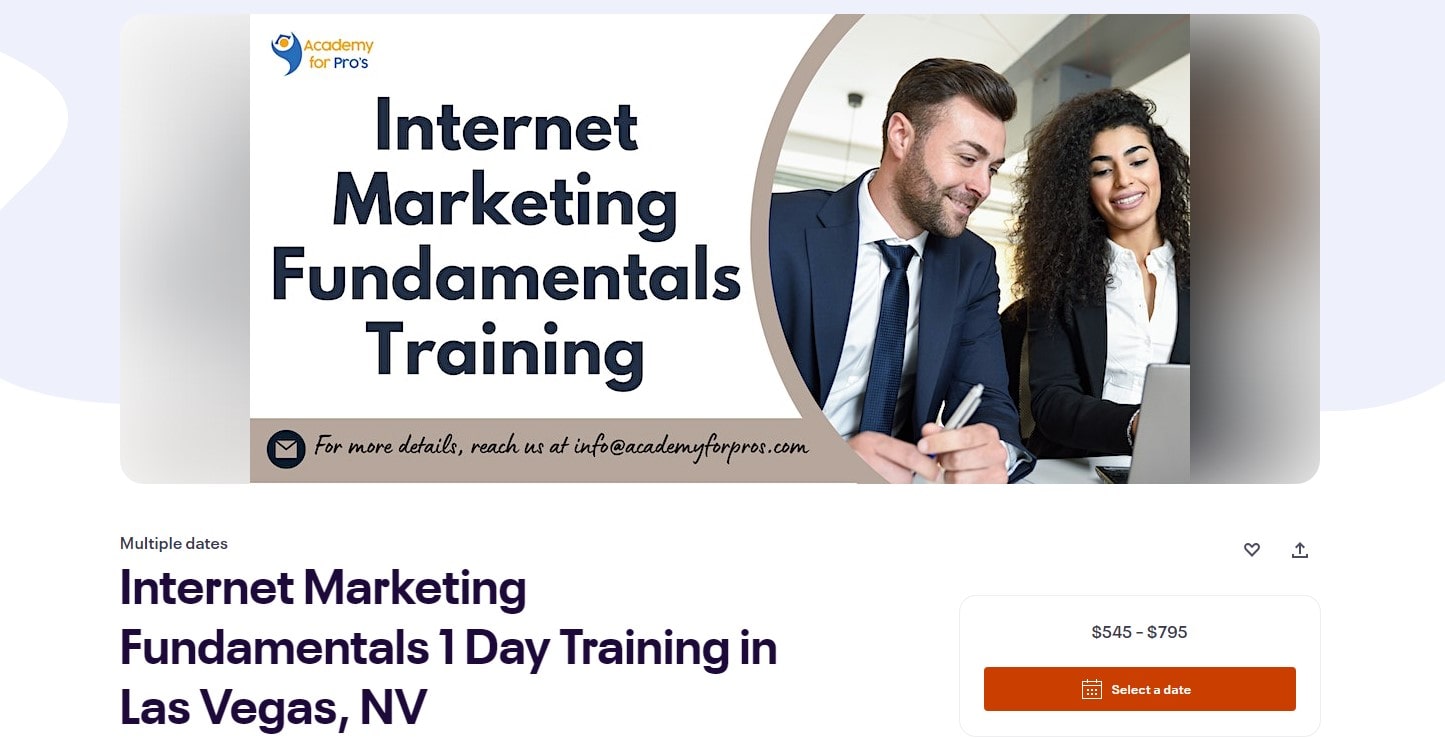 Enrich your skills with our intensive one-day training in Internet Marketing Fundamentals, set to take place in Las Vegas, NV. This event provides an exclusive chance to grasp the nuances of digital marketing in today's interconnected society. The Internet has reshaped communication and serves as a marketer's dream, making low-cost, high-reach advertising a reality.
Our training program will equip you with essential skills to optimize online marketing for your business. We underscore the importance of content as the kingpin of internet marketing and guide you on leveraging quality content for growth.
Our training course will empower you to:
Carry out a SWOT Analysis in Marketing
Conduct targeted Marketing Research
Understand Real Time Marketing and Brand Management
Unravel the intricacies of Social Media and SEO basics
Identify effective Website Characteristics for lead capturing
Develop potent Campaign Characteristics
This program is organized in distinct modules, each one focusing on different facets of internet marketing, from SEO optimization to social media engagement, brand management, and campaign planning.
Our course material, inclusive of presentation slides and reference materials, is tailored to ensure comprehensive understanding and immediate application. Sign up today and take a definitive step towards becoming a marketing maestro!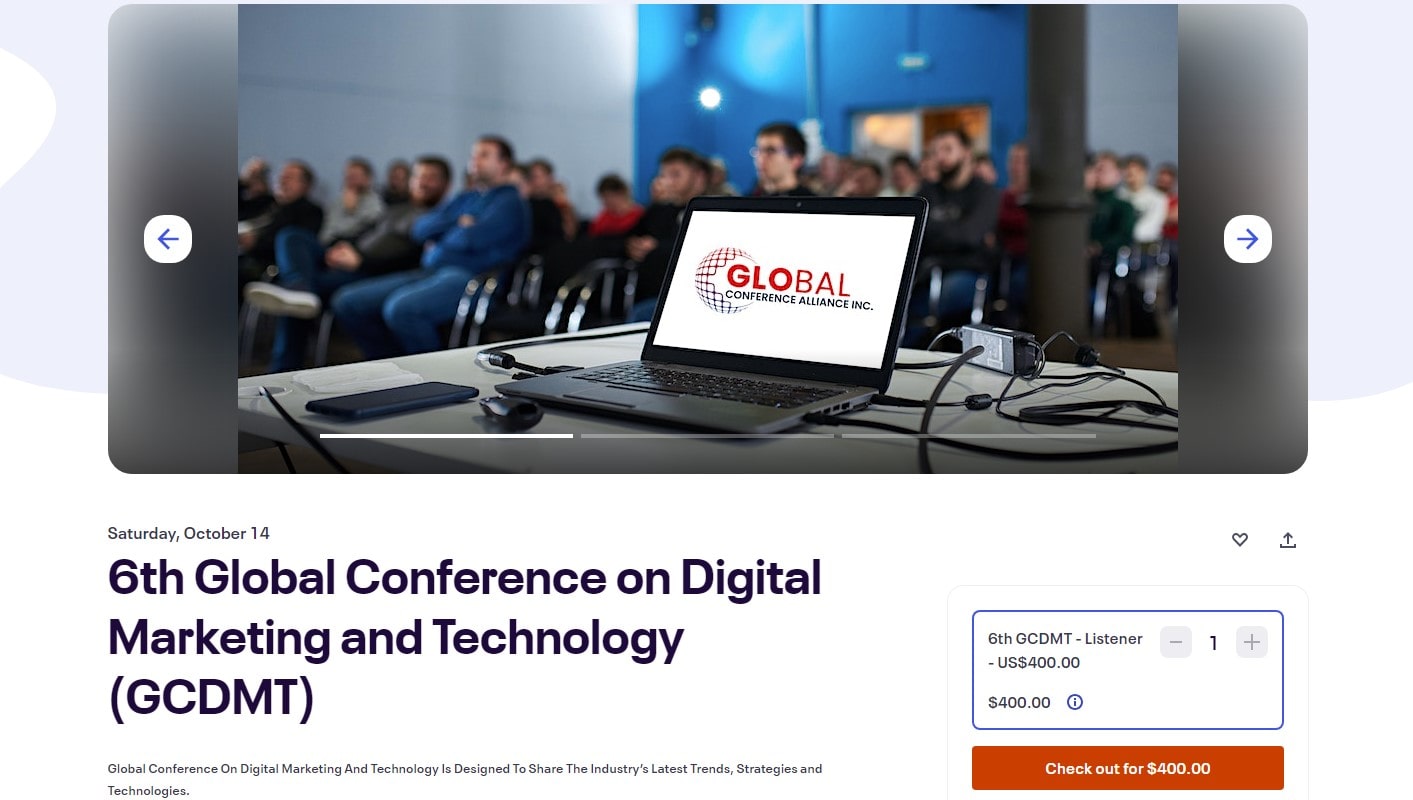 Hosted by the esteemed Global Conference Alliance Inc., this international event is set to take place at The Beacon Center, Las Vegas, NV, from October 14 to 15, 2023.
Engage with an assembly of digital marketing professionals from all corners of the globe, sharing innovative trends, tactics, and tools reshaping the digital marketing landscape. Expect an exciting line-up, including:
Inspirational keynote speeches by digital marketing stalwarts infusing the audience with invaluable insights on diverse facets of digital marketing.
Expert-led panel discussions granting deep-dives into the undercurrents of the industry.
Interactive workshops offering hands-on experience in specific skills and techniques, allowing attendees to broaden their knowledge base.
Networking sessions crafted for attendees to establish valuable connections, exchange ideas, and acquire insights from fellow professionals.
Exhibitions showcasing the latest digital marketing tools and technologies to amplify your marketing efforts.
This is your opportunity to tap into a rich vein of knowledge, meet like-minded professionals, and augment your digital marketing acumen. This October, let's rendezvous in Las Vegas, the hub of innovation and opportunity.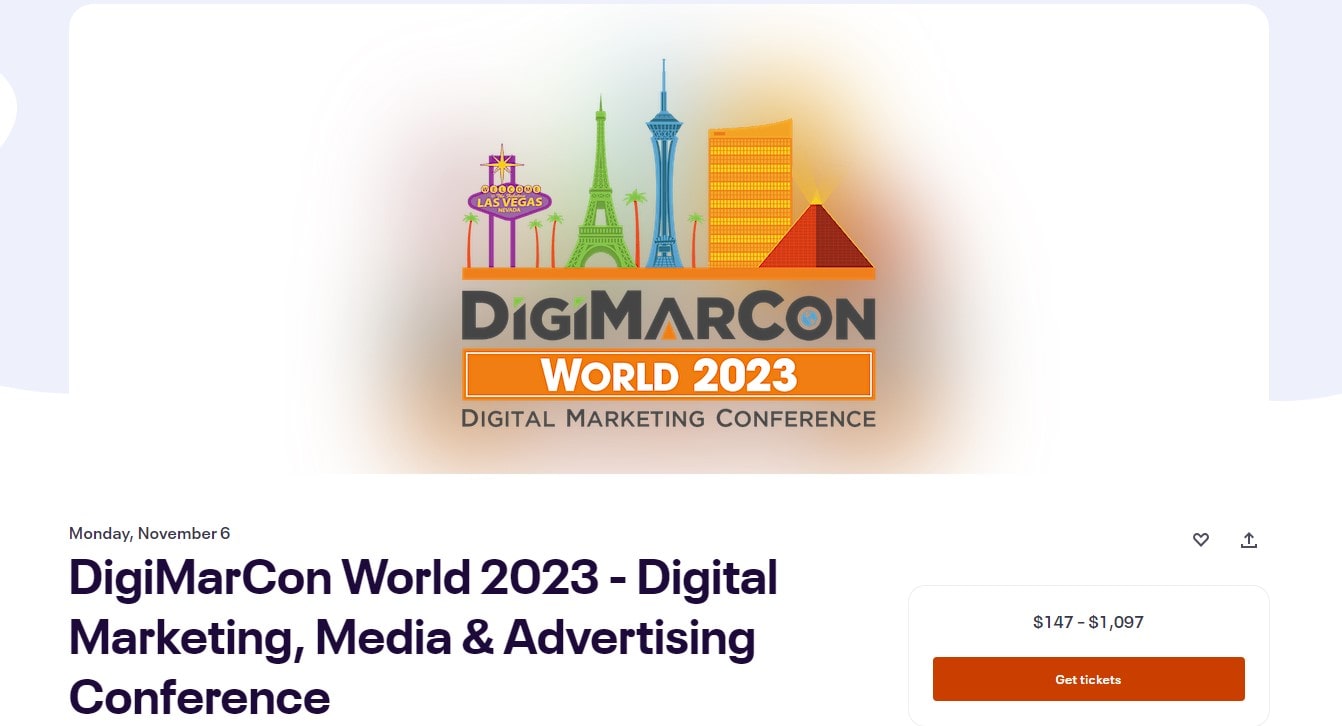 Welcome to DigiMarCon World 2023 – the premier conference for digital marketing, media, and advertising.
Renowned for its audacious speakers, DigiMarCon World 2023 provides a unique platform where innovative minds collide. Here's what you can expect:
Engaging keynotes from trailblazing speakers in the digital marketing industry.
Expert-led sessions on emerging strategies, innovative technologies, and actionable best practices.
Ample opportunities for networking and idea sharing with fellow digital marketing professionals.
DigiMarCon World 2023 is more than just a conference – it's a comprehensive, two-day experience filled with digital marketing insights. Expect to dive deep into hot topics like data science, digital strategy, customer engagement, mobile marketing, and SEO, among others.
Featuring a star-studded cast of past speakers and insightful sessions, DigiMarCon World 2023 aims to challenge conventional thinking and ignite new strategies.
Furthermore, with Master Classes on offer, attendees will get the chance to learn from the best in the business. These intimate, limited-attendance sessions provide hands-on exposure to the latest digital marketing developments.
Finally, our conference provides a plethora of networking opportunities – whether it's during our scheduled breaks, at our bustling Exhibition Hall, or over meals at our Dining Hall. Come to share, learn, and leave with an enriched digital marketing toolkit. Mark your calendar and prepare for a transformative experience. DigiMarCon World 2023 awaits!
Embrace the magic of digital transformation at the Ultimate Wealth Camp Digital Marketing/Influencer Partnerships Event, taking place in Las Vegas, December 10-12. Engage in groundbreaking sessions covering marketing trends, SEO essentials, and partnership dynamics.
This exhilarating conference lets you:
Absorb cutting-edge SEO knowledge from a constellation of digital marketing mavens. Discerning discussions on algorithm updates, keyword research, and data analytics are set to ignite your marketing tactics.
Experience partnership masterclasses with influencers from different sectors. From fashion to technology, learn the art of nurturing beneficial collaborations, empowering your brand's voice and reach.
Join the force of vibrant entrepreneurs to infuse your marketing vision with fresh perspectives. Forge bonds, exchange ideas and foster alliances to navigate the complex landscape of digital marketing with confidence.
The Ultimate Wealth Camp event is not just about absorbing information—it's about stepping up your marketing strategy, building strong industry alliances, and turning knowledge into action. With insights from successful entrepreneurs like Bill Walsh, Powerteam International's CEO, your marketing quest will achieve a dynamic momentum.
Buckle up for a digital marketing journey that'll revolutionize your business approach, enabling your brand to shine in the digital sky. The Ultimate Wealth Camp event—we build marketers for tomorrow.
Conclusion
The 2023 SEO conference in Las Vegas, brilliantly showcased by Palmer Chris and the team, wrapped up impressively. It was an in-person event that managed to gather SEO pros from various sites and organizations, with virtual webinars and consultations to supplement. UnGagged's format served as a thought-stirring, educational highlight, and the SEO & UX insights at PubCon were truly inspiring. Products and software like Plerdy, highlighted for their site audit and analysis features, were embraced by many attendees.
The SEO lexicon was expanded, with interesting information delivered by industry leaders. SEJ's webinar stood out with strategic advice, while Affiliate expo presented impactful PPC solutions. Featured listings included services by Wonsulting, Google, and more. As the conference unfolded, it was evident how it was carving out its mark in the SEO year. From technical SEO audits to performance tracking, the diversity of topics was truly notable.
Whether you viewed the conference on-site or caught the action through the videos, it was a fresh, enriching experience. Don't let this be the end of your SEO journey! Try Plerdy's SEO & UX tool today, and save valid insights for your projects. Stay tuned for more SEO news from Las Vegas, and remember, next year's event is just around the corner! ⚡