In the bustling landscape of California's digital market, pinpointing the cream of the crop in SEO can be a head-scratcher. But no worries – we've got your back. Dive into our curated list spotlighting the 15 standout SEO companies in California that are making waves in various niches: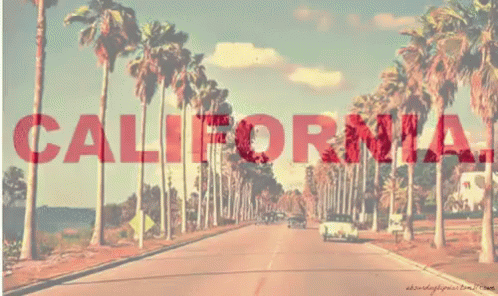 Each California-based company on our list brings a unique flair to SEO, showcasing strategies that not only rank but also resonate. Think of high-profile brands, sustainable startups, and local businesses – these SEO firms in California have uplifted them all with top-notch strategies. While you're boosting your SEO know-how, don't sidestep the Plerdy tool, a dynamic ally for SEO & UX enhancement. Dive right in, unearth California's best in SEO, and fuel your digital journey! 🌟
Brief Overview of the Importance of SEO in Today's Digital Landscape
In today's hyper-competitive digital domain, SEO plays an instrumental role. For any company, be it a trendy startup or a longstanding business powerhouse in California, mastering SEO is no longer a luxury – it's a necessity. Ignoring this crucial facet means fading into the vast online abyss.
Imagine a boutique wine company in California's Napa Valley. Superior wines alone won't cut it; they need to pop up on the first page when enthusiasts hunt for the best Californian wines. On the flip side, a tech company in Silicon Valley, despite having breakthrough innovations, could lose traction without SEO's magic touch.
Benefits a California company can bank on with potent SEO:
Top-tier Visibility: Be the first click, not lost in the shuffle.
Organic Engagement: Fuel genuine interactions without burning cash.
Stellar Brand Image: Cementing trust becomes a walk in the park.
Hence, the crux of the matter remains: SEO isn't just about rankings and algorithms. It's about ensuring your company gets the spotlight it deserves in California's bustling market. Teaming up with a dedicated SEO company in California doesn't just mean keeping up with the digital tide – it's about riding the wave with flair and precision.
The Significance of Selecting the Right SEO Company for Businesses in California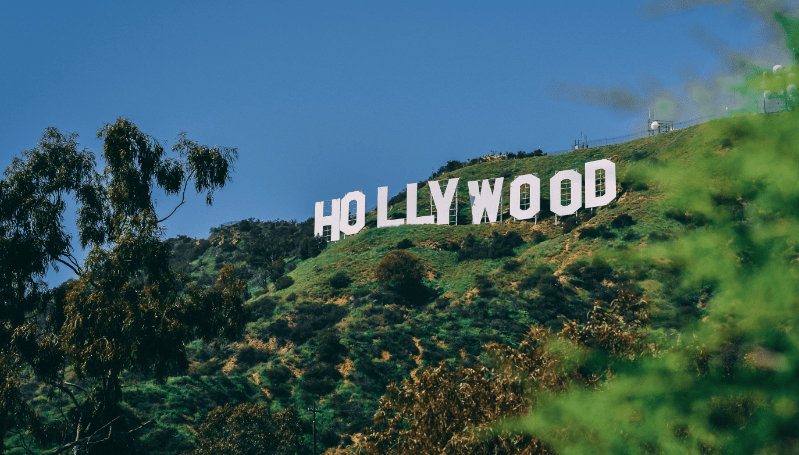 In California's fast-paced digital marketplace, choosing the right SEO company goes beyond a simple business decision – it's a make-or-break move. Picture a California-based boutique hotel aiming to attract tourists. Without tailored SEO, even the most luxurious suites might go unnoticed. Meanwhile, a cutting-edge tech startup in San Francisco, boasting groundbreaking innovations, could still stumble online without a sharp SEO strategy.
Selecting the best-fit SEO company in California ensures:
Digital Dominance: Break free from the crowd and stand tall.
Engagement Amplification: Drive genuine interactions, turning visitors into loyalists.
Brand Boost: Solidify reputation without breaking a sweat.
Navigating California's bustling business landscape requires more than just savvy marketing. It demands aligning with an SEO company that truly grasps your vision. A corporation can get lost in the stream of online content if it makes mistakes here. On the other hand, partnering with a top-tier SEO company can propel any California business to digital stardom, making every click and interaction count.
In essence, in the golden state's thriving scene, a company's digital success hinges on its SEO choices. Opting for the right SEO company in California is the linchpin, ensuring not just online visibility but a robust digital legacy. It's not merely about climbing search ranks, but about crafting and cementing an indelible online footprint.
List of Best 15 SEO Companies in California
Navigating the vast ocean of SEO companies in California feels like finding a needle in a haystack. But with our handpicked list of the top 15, you're set to ride the digital wave like a seasoned surfer. It's high time to cut through the noise and see which California SEO stars truly shine the brightest. 🌊🌟
Jives Media: SEO Company in California

In the pulsating heart of California's digital landscape, Jives Media reigns supreme. Not just another SEO business, this California-based company represents digital marketing expertise and innovation. For five consecutive years from 2018 to 2022, they've been crowned the 'Digital Marketing Agency of the Year.' Their trophy cabinet isn't just filled with accolades but is a testament to their expertise.
Key highlights of Jives Media:
Stellar Track Record: Successfully executing over 500 projects.
Mammoth Impact: Generating a whopping 680M in revenue for clients.
Global Reach: Serving a diverse clientele of 16K from around the globe.
Dive deep into the services they offer, and you'd realize they are a holistic digital solutions provider. From meticulously analyzing website metrics to design sleek sites optimized for maximum traction, they excel. They're not just about throwing Google Ads; they employ them to zero in on potential clientele ensuring elevated leads and visits. SEO is where they excel. Jives Media is California's top SEO company, helping brands increase organic traffic.
Their social media strategies are foolproof, ensuring companies not only gain customers but cement brand loyalty. Video marketing? They've got that covered too. Creating captivating content that resonates and captures the audience's imagination.
But what sets Jives Media apart is their dedication to fostering robust relationships. They pride themselves on being an extended part of their clients' teams, prioritizing transparency in all dealings. They don't just provide services; they embark on a journey with their clients, navigating the intricate web of digital marketing, ensuring every step taken is a leap towards success.
In essence, Jives Media isn't just a company. In the vast Californian digital expanse, they are a beacon, guiding brands to their pinnacle of digital success.

In the heart of California lies Thrive Internet Marketing Agency, a powerhouse in the digital marketing landscape. Driven by results, this company has a clear mission: delivering substantial online growth to businesses across the spectrum.
Highlights of Thrive Internet Marketing Agency:
Results-Oriented Approach: Client testimonials such as Michael Farah's of The Farah Law Firm echo a common sentiment: "The results speak for themselves". With a staggering +664% in organic traffic and +360% in online leads, it's evident how potent their SEO strategies are.
Broad Spectrum Expertise: Whether it's PPC, a meticulously crafted SEO strategy, or conversion rate optimization, Thrive masters the digital domain. Their SEO success stories, particularly in California, stand testament to this.
Ethical and Transparent: Thrive prides itself on its ethical approach. This company isn't just another SEO entity in California—it's a beacon of honesty and integrity in the industry.
Tailored Solutions: Thrive recognizes the uniqueness of each business. They craft custom strategies, ensuring every California company they partner with stands out from the crowd.
When Caleb Potter of Nationwide Construction needed to elevate his online presence, Thrive stepped in, achieving an impressive +800% in online leads and enhancing the conversion rate by +640%. This isn't just a testament to their expertise, but a clear indication of their commitment to excellence.
For any company in California or beyond seeking unparalleled SEO and digital marketing results, Thrive Internet Marketing Agency remains a go-to solution. Their legacy is built on genuine success stories, making them an unmatched force in the digital realm.

Ignite Visibility, a premier California-based company, has seamlessly merged expertise in SEO, state-of-the-art digital strategies, and creative initiatives to amplify businesses in the digital landscape. As a full-service agency with multiple accolades under its belt, including the prestigious 6x Inc. 5000 Company honor, Ignite Visibility confidently navigates the expansive digital ocean.
Ignite Visibility, hailing from sun-soaked California, has a renowned reputation for:
 Delivering top-tier SEO solutions
 Crafting data-driven digital strategies
 Offering unparalleled paid media services
 Tailoring email marketing campaigns for optimal reach
Mastering the art of Amazon marketing
This California company sets itself apart with "Certainty," their trailblazing digital marketing forecasting system. Empowering clients with the advantage of predictive insights, they harness competitive data and employ best-in-class strategies. Not only does Ignite Visibility focus on delivering prime SEO services, but they also drive results with comprehensive digital PR, dynamic social media marketing, and conversion rate optimization (CRO).
Their service suite doesn't stop there. This California gem also extends its expertise to custom services, ranging from radio and television marketing to intricate web design. Whether it's the meticulous nuances of SEO or the broad strokes of a viral campaign, Ignite Visibility crafts a roadmap uniquely tailored to elevate each business it partners with. Dive in with this California SEO titan and let your business blaze brightly in the digital domain.

Nestled in California, Coalition Technologies stands tall as a premier SEO services company. With impressive numbers under their belt – 19,478,369 e-commerce transactions, 5,621,177 qualified leads, and a repository of 780+ case studies – this California-based company is not just another name in the vast SEO domain.
What sets them apart?
Deep-rooted SEO Expertise: While many toss around the term "SEO," Coalition Technologies embodies it. With strategies fine-tuned to the nuances of digital algorithms, they drive impactful results, converting visitors into loyal customers.
Robust Web Design & Development: Beyond SEO, the company boasts an unmatched flair in web design and development. The digital facades they create mirror brands, ensuring they shine brightest in California's competitive landscape.
Unparalleled Results: The numbers speak for themselves. Generating 687% more revenue than an average agency, Coalition Technologies dominates the California SEO market, assuring robust ROI for their clientele.
A Glimpse Into Their Ethos:
Coalition Technologies is proud of its legacy. With a team accumulating over eighteen centuries of digital marketing experience, they truly are pioneers in the SEO space, especially in California. Their commitment to excellence resonates in their meticulous hiring process – bringing onboard only the top 1% of skills-tested applicants. This dedication ensures that every client reaps the benefits of a premium SEO experience, unrivaled by any other company in California.
In Conclusion:
If you're on the hunt for a top-tier SEO company in California, Coalition Technologies is the destination. With a proven track record, dynamic team, and a passion for digital perfection, they're setting the gold standard in the California SEO industry. Join hands with them, and steer your brand to uncharted digital success.
Victorious: California's Premier SEO Company

Nestled in the center of California, Victorious is not just any SEO company. This powerhouse of innovation embodies the essence of what it means to excel in the domain of search engine optimization. And as they're rooted in California — the global hub for tech pioneers — it's evident they have a knack for leading the way.
Here's what sets them apart:
California Dreaming: At the crossroads of innovation, Victorious has ingrained the spirit of California's forward-thinking ethos. This company knows the digital landscape of the state like no other.
Masters in SEO: With a laser-focused approach, their commitment to SEO resonates in their work. While many stray into multiple digital channels, this company knows where their strength lies.
Profound Results: The numbers don't lie. With a staggering 780% return on investment and an awe-inspiring increase in organic traffic, it's clear they've cracked the code.
Award Magnet: Recognized by major platforms, their accolades are a testament to their prowess. The title 'Search Engine Land Agency of The Year' is just one feather in their packed cap.
Victorious is an emblem of excellence. Their approach to SEO is holistic, weaving a tapestry of strategy, analytics, and content that speaks to audiences. They navigate the digital tides, leveraging California's ever-evolving tech scene to propel businesses into the limelight.
Harness the power of a company that has SEO in its DNA. Trust in the expertise of Victorious — the paramount SEO company in California. Enter a collaboration that will provide your business prominence and a spotlight.
Searchbloom: California's SEO Company Extraordinaire

In the bustling digital landscape of California, standing out isn't just recommended – it's essential. Amidst this competitive backdrop, Searchbloom emerges as the trailblazing SEO company, crafting bespoke marketing solutions that deliver tangible results. Let's delve into the heart of what makes Searchbloom tick.
Why Searchbloom Stands Out in California:
Customized SEO Strategies: Each business is unique, and so is its digital footprint. Searchbloom tailors its strategies to resonate with your specific brand, ensuring the spotlight shines brightly on you in both local and national searches.
Ecommerce Excellence: The realm of E-Commerce SEO demands a blend of technical proficiency and market insight. Fortunately, Searchbloom embodies both, transforming complex challenges into growth opportunities for online retailers.
Transparency in PPC Management: In a state as vast as California, reaching the right audience is paramount. With meticulous PPC management, Searchbloom ensures every ad dollar counts, driving conversions and maximizing ROI.
As a company deeply rooted in California's digital culture, Searchbloom doesn't just understand SEO; they breathe it. Their methodologies, refined over years of experience, have won them accolades, but more importantly, they've driven success for a myriad of businesses.
The digital landscape is ever-evolving, but with a company like Searchbloom steering the ship, navigating these waters becomes a thrilling journey. From local SEO campaigns targeting specific California locales to national SEO strategies aimed at broader horizons – they've got it all covered. In essence, when it comes to SEO in California, Searchbloom isn't just a company; it's a benchmark.
Nestled in the heart of California, Power Digita has established itself as a pioneering force in the realm of growth marketing. Their approach? A harmonious blend of cutting-edge technology and unparalleled expertise. Their arsenal features the revolutionary nova Intelligence – a marketing marvel that presents marketers with actionable insights and data that paints a vivid picture of possibilities.
Highlights:
Stellar Growth: Power Digita clients experience a remarkable 2.4x growth rate, significantly surpassing industry standards.
Holistic Approach: Beyond being just another SEO company in California, they offer full-funnel marketing services that bridge the gaps in strategies and provide comprehensive solutions.
Innovation at Core: Their technology suite, led by nova, ensures real-time strategy shifts powered by machine learning, propelling brands to dominate their sectors.
Partnership over Business: Integrating with client teams seamlessly, Power Digita ensures significant bottom-line impacts without overburdening the teams.
Beyond just SEO, their service spectrum stretches across various digital domains – from content marketing, PR, social media, to intricate web design & development. Each segment is handled by top-tier strategists, ensuring every campaign is perfectly positioned for success. And, it's no surprise that with their commitment to exceeding expectations, they've achieved a staggering 96%+ client retention rate.
Dive deep into Power Digita's offerings, and you'll find a company that's not just driven by numbers but also by a genuine desire to see their clients thrive. In the bustling California SEO landscape, they stand as a testament to what's achievable when expertise meets passion.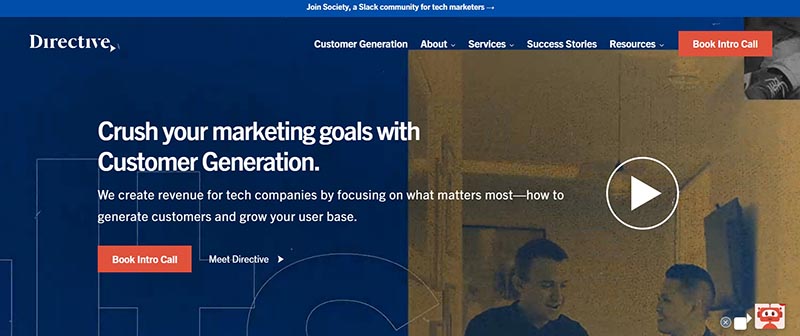 In the heart of California, nestled among the tech giants and startups, lies a performance marketing agency that's been making waves – Directive. With a legacy of driving exponential growth for tech brands, this California-based company has become synonymous with success in the competitive digital landscape.
Here's why tech brands trust Directive:
Impressive Track Record: Generating over $1B in revenue for their clients, they've worked with names ranging from budding startups like Evinced and Litmus to tech titans like Amazon and ZoomInfo.
Integrated Marketing Solutions: Whether it's paid media strategies that captivate audiences or content & SEO campaigns that amplify brand stories, Directive crafts campaigns that resonate. Their offerings span across creative design, video production, and intricate strategies that bridge the customer's lifecycle.
Commitment to Innovation: Directive proudly invests a whopping $3M annually on marketing R&D, always staying on the cutting edge.
Results-Driven Ethos: Unlike many agencies, Directive measures its success by its clients' growth, always striving to exceed expectations.
Directive stands out not just for its deep expertise in SEO, but for its comprehensive approach to digital marketing. With more than 150 expert tech marketers, they've been the backbone for over 200 tech companies in California and beyond, propelling them towards stellar revenue growth. Dive into the intricacies of their strategies, from content marketing that engages ideal customer segments to CRM optimization that nurtures leads to conversion. Their holistic approach ensures that every touchpoint is optimized for maximum impact.
When tech brands in California need a trusted partner to navigate the intricate world of SEO and digital marketing, Directive is the company they turn to. Offering more than just SEO, they craft narratives, drive engagement, and deliver results. For brands ready to leap into the future, Directive is the guiding star.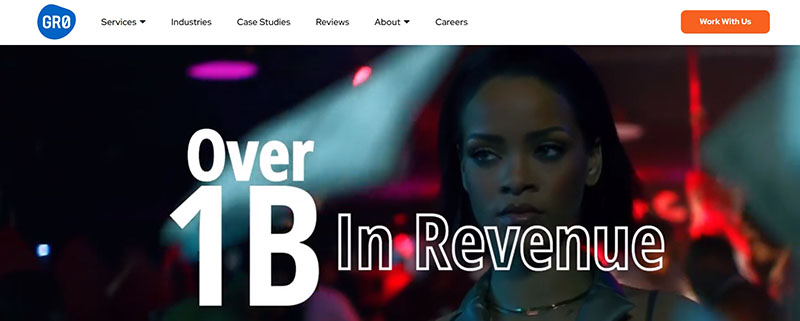 Nestled in the heart of California, GR0 has swiftly positioned itself as a formidable company in the SEO landscape. With roots deeply entrenched in delivering unparalleled digital marketing solutions, this California-based company has assisted countless brands – from Apparel & Jewelry to Real Estate and Medical & Pharma – in scaling profitably.
The GR0 Distinction:
Subject Matter Mastery: Our campaign managers are impassioned digital marketing aficionados, ceaselessly augmenting their expertise to benefit your team.
Communication Supersedes Marketing: We consistently deliver beyond expectations, forging ahead with proactive client dialogues, becoming an integrated extension of your team.
Oriented Towards Outcomes & ROI: Transparent and detailed reporting ensures every dime you invest is accounted for, driving toward impactful results.
Tailored Strategies: GR0 recognizes the unique nature of each client, crafting dynamic and evolving strategies tailor-made for your objectives.
Dive deep into the comprehensive array of services GR0 offers:

Search Engine Optimization
Content Marketing
Performance PR
On-Page Optimization
Technical SEO
Google Ads
Email Marketing
SMS Marketing
Influencer Marketing
With the convergence of California's innovation and GR0's SEO prowess, brands have achieved billions of page views. Our 4-pillar SEO strategy ensures a harmonious alignment with your business vision. By partnering with GR0, you're not just opting for another company – you're choosing a Californian SEO stalwart that's committed to driving your brand's digital success.

In the heart of California, Titan Growth stands tall, redefining the SEO landscape. With a mission to cultivate brand growth, this California-based company harnesses the power of digital marketing, leaving a footprint that competitors find hard to chase. At the helm, Team Titan's certified pros blend patented technology and a dash of Californian innovation, guiding brands to chart their success stories.
What sets this SEO company apart?
TitanBOT: Born in California and breathing SEO, this ingenious technology dives deep into the website intricacies, emulating search engine behaviors, predicting outcomes, and paving the road to that coveted first page.
Google's Nod: As a crowned "Google All-Star" and "Premier Partner", Titan Growth enjoys an elite stature. This California company gets early peeks into Google's tech offerings, ensuring their clients always stay a step ahead.
ROI-Centric Services: Veering off the beaten path, Titan Growth dishes out digital solutions that promise not just visibility, but tangible growth. From mastering SEO to crafting compelling content, and from harnessing social media to diving into video production – they've got all the bases covered.
Amidst the bustling digital clamor, this SEO company from California has carved a niche. They don't just promise; they show. With their TitanBOT® crawls and competitive analyses, potential clients get a glimpse into what lies ahead: a journey of growth, scaling, and unmatched digital success. Titan Growth, undoubtedly, represents the epitome of SEO excellence in California.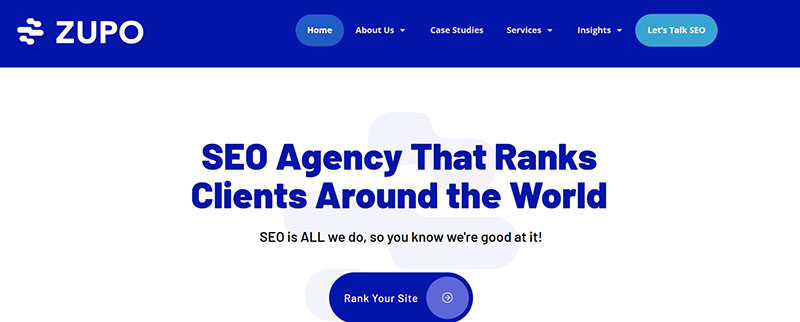 Nestled in sunny California, Zupo emerges as the luminary in the realm of SEO, illuminating the pathway for brands globally. When you think SEO in California, Zupo stands out – not just as a company but as an emblem of excellence.
What Zupo brings to the SEO table:
Precision-Targeted Rankings: With a keen eye on keywords that resonate and matter, Zupo zeroes in on elevating your digital footprints, making them both relevant and prominent.
Thought Leadership Amplification: This isn't just about SEO. Zupo crafts narratives, securing your spot in reputed industry publications, bolstering your agency's image and clout.
Strategic Content Deployment: In the bustling California digital scene, Zupo's content approach isn't a shot in the dark. It's data-backed, tailored, and primed for engagement.
Guarding Reputations: In the online sphere, reputation isn't just about prestige. Zupo meticulously identifies and navigates the reputation avenues crucial for your triumph.
A glance through their track record showcases an impressive tapestry of success stories. Whether it's boosting sales by a whopping 300% for a copywriting agency or tripling web leads for a video production entity – Zupo's imprint is undeniable.
Yet, it isn't just about the accolades and achievements. It's about the journey – an in-depth seven-step sojourn that each client embarks on with Zupo. Crafted in California, this signature SEO solution isn't just a strategy; it's a promise.
In the California SEO tapestry, Zupo isn't just another company. They're the thread that binds success stories.

Nestled in California, Bliss Drive emerges as a premier SEO company, widely recognized for its unparalleled expertise in driving organic traffic. With a focus on conversions, this California-based company champions the cause of businesses, amplifying their online visibility, and elevating their position against the stiff competition.
Key Features:
Dynamic Ratings: Sporting impressive ratings across platforms – Google (70+ reviews), Clutch (20+ reviews), Facebook (10+ reviews), Yelp (40+ reviews), and UpCity (20+ reviews).
Client Testimonials: Clientele like Chris Aaron and Jackie Mcintyre share stellar success stories, highlighting massive boosts in visits and organic engagements.
Eminent Recognition: With accolades from prominent establishments like Forbes and Entrepreneur, their credibility stands fortified.
Bliss Drive's method is clear-cut – understanding the unique challenges and goals of each business and tailoring SEO solutions that are backed by data and research. Their esteemed services range from eCommerce SEO, emphasizing site visibility, to Local and Enterprise SEO, optimizing content for targeted demographics and large-scale operations. Furthermore, they have a keen proficiency in platform-specific strategies, such as Magento, WordPress, and Shopify SEO.
Dedication, experience, and passion underpin their ethos. With over 50 years of combined expertise in the SEO domain, they pledge responsiveness, stress-free delivery, and a positive return on investment. So, if you're seeking an SEO company in California that's committed to excellence, Bliss Drive surely drives the narrative.

Amid the golden state's digital hustle, Sachs Marketing Group stands tall as a California-based company that's committed to performance-driven results. Located in California, this company doesn't merely offer digital marketing services; it crafts success stories.
Here's what sets Sachs Marketing Group apart:
Full Service: This isn't a halfway house. They're a full-service digital marketing agency. Everything, from the inception of an idea to its execution, is done in-house.
Longevity: Talk about loyalty! Their first client, from over 12 years ago, is still on board. That speaks volumes about the long-term relationships this California company nurtures.
Unique Approach: In an ocean of online noise, Sachs Marketing Group actively works to make your brand's voice the loudest and clearest. They dive deep into data synthesis, ensuring your company isn't just seen, but stands out.
Promise: They don't just promise; they deliver. Their track record is not just about ranking; it's about driving traffic and ensuring conversions.
SEO lies at the heart of their offerings. Sachs Marketing Group, as an established SEO company in California, recognizes the evolution of SEO algorithms. They're not about keyword stuffing; they're about creating value. With on-page and off-page SEO strategies, they meticulously craft approaches tailored to your business's unique needs.
So, if you're seeking a non-sketchy digital marketing agency in California, with a strong focus on SEO, Sachs Marketing Group might just be the company you've been searching for. Their ethos revolves around genuine partnerships and tangible results.

Flying V Group, headquartered in California, is not just another SEO company. They're a robust, revenue-centric team that brings a CEO's mindset to the marketing domain. With partners like Google, LinkedIn, Ahrefs, and more, they've demonstrated their commitment to using top-tier tools and methods.
Here's a snapshot of what they bring to the table:
Comprehensive Expertise: Whether it's SEO strategy, pay-per-click advertising, or content creation, this California company ensures every piece plays its part to perfection.
Commitment to ROI: With a clear focus on return-on-investment, Flying V Group ensures your business gets the traction it needs while being cost-effective.
Diverse Clientele: From Fortune 500 giants to passionate startups, they've collaborated with over 350 entities, tailoring strategies to fit varied business sizes and objectives.
Unique Engagement Plans: Their adaptability shines with the flexible engagement options they offer. Be it a one-time setup or ongoing full-service management, they've got you covered.
Flying V Group's narrative is inspired by nature's migrating birds that form the "V" pattern – emphasizing unity, leadership, and strength. Much like these birds, they believe in the power of collective effort to achieve substantial results.
And why the focus on SEO? Well, it's simple. In today's digital landscape, it's imperative to rank high on search engines. This California-based company ensures your website isn't just visible but also efficient in converting visitors to loyal customers.
The Flying V Group's deep-rooted understanding of marketing intricacies, coupled with their relentless drive, makes them the go-to SEO company in California. With their tailored approaches, they're truly the wind beneath the wings for countless businesses aiming for growth.

In the bustling world of SEO, few can claim genuine expertise, especially in the specialized niche of legal marketing. But LawRank isn't just any SEO company—it stands out like a lone palm tree in the California sun.
Here's what makes this California-based SEO company a paragon of success:
Dynamic Strategies: LawRank focuses on precise SEO techniques tailored for attorneys. From content written by legal professionals to strategic link-building, they ensure your firm stands tall online.
Customization: Recognizing that every law firm has its unique story, LawRank creates bespoke marketing packages. No more one-size-fits-all solutions.
Transparency: Frustrated with companies that leave you in the dark? LawRank promises clear communication, always keeping you in the loop.
Moreover, their results narrate tales of success: a staggering 384% increase in first-time calls and 603% boost in traffic within just a year! And their dedication isn't just about algorithms and codes. Their deep-rooted passion stems from a lineage of lawyers, with their CEO being an alum of UCLA School of Law.
With LawRank, your legal practice won't just find a place on the map—it'll shine brightly on it. So, if you aim to weave success stories in the California legal landscape, LawRank is the SEO company to partner with. Join a partnership with unmatched visibility and growth. And remember, in the vast digital ocean, let LawRank be the lighthouse guiding your firm to the shores of success.
Conclusion
Wrapping up our California SEO journey, it's crystal clear that the Golden State hosts some of the most dynamic and astute SEO firms. With an array of industries they've dipped their toes in – from hospitality and wellness to e-commerce and consulting – each SEO company highlighted has sculpted a niche in the California digital landscape. While each company boasts a distinct portfolio – from live campaigns for health sectors to engaging branding efforts for tech startups – the common thread is undeniable excellence.
In this ever-evolving digital era, the tools and tactics they employ remain second to none. Case in point: the Plerdy tool. For those keen to deep-dive into SEO & UX analysis, this tool is a must-have in your arsenal. 🛠️📊
Remember, California isn't just about sun-soaked beaches and the glittering streets of Los Angeles. It's also a powerhouse of SEO prowess, and these companies are a testament to that. So, whether you're a budding startup or an established brand, these California SEO giants are your go-to for unmatched digital dexterity. Dive in, make your pick, and ride the wave to digital supremacy. 🏄‍♂️🌐