Entrepreneurs need to adopt new technologies as quickly as possible to increase their revenue? One of them is UX (User Experience), which replaces the traditional UI (User Interface). The success of a website is directly dependent on UX design, so ? it is important to work with professional UX agencies.
What does a UX Agency Do?
If you aim for quality project support, you shouldn't ignore the necessity of involving a UX agency. Of course, a UX agency can help ad hoc for specific tasks on the interface. Or you can transfer these duties to the programmers. But this approach is fundamentally flawed. A competent UX agency:
Saves money (you spend less time and money on redesigns because everything is better designed initially).
Comprehensively close the issue of interfaces on different types of devices. (For example, a UX agency immediately thinks about how everything will look on the phone/tablet. This reduces the development cost, not to mention that the user feels a complete approach to the product they use).
Significantly speeds up the launch of a project. (UX agency prepares its part of the work at the same pace as the whole team or implements the desired part with a higher priority).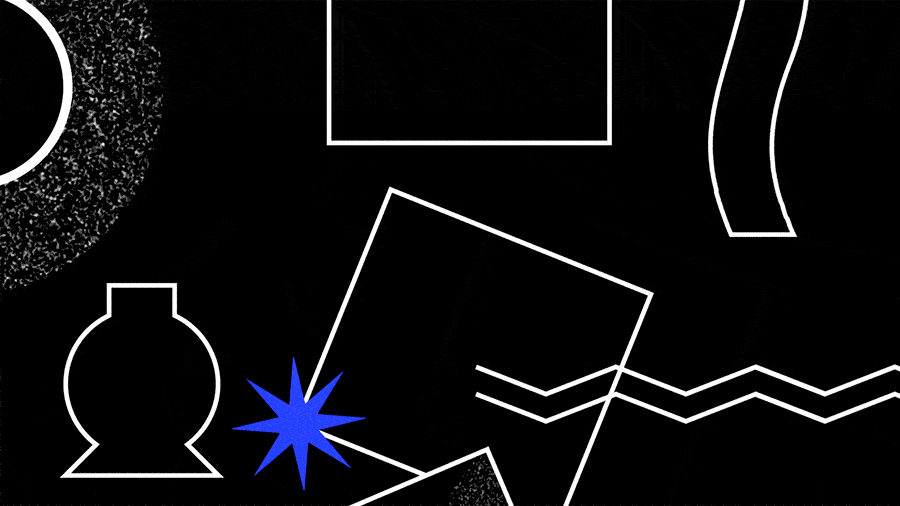 If you have a long-running project, the one-time involvement of a UX agency is not enough. Your website design is a sales tool. It cannot be created once to work for a few years. It will require adjustments.
List of 15 Best UX Agencies
The UX agencies from the list below provide extensive experience for their clients. They work with small and big businesses and have many completed projects.

This UX agency combines all the creative and technical potential and has the knowledge needed to help businesses grow. This team believes that any digital business success depends on UX design. David Thomson has been CEO of the Momentum Design Lab agency for over 20 years. He controlled the executive strategy and user experience (UX) design development for over 650 software as a service (SaaS) platforms, Big Data, blockchain, AdTech, healthcare, IoT, financial services, HCM, analytics, and mobile projects.
Brokers.io, UBiqube, SocialCode, Equine, and Meditation are among their clients.
Kelly Miller Smith, Principal at Deloitte:
This UX agency has done great work and helped our clients better understand their data. Therefore, we can recommend this UX agency to our partners.
Roger Clappe, Founder & CEO of WhipFlip:
Behind Momentum Design Lab agency is a very high-quality team that dialed into our long-term success.

The extensive practical experience of the founders has allowed them to form a unique team of professionals. As a result, they build an excellent structure and work processes for cooperation with the largest customers. Erin Young is the founder and user experience architect at this UX agency. Headquartered in Austin (TX), the Slide UX agency has been named one of the world's top 5 UX agencies. Among its customers, you can find Indeed, Sysco, Atlassian, Bacardi, and Neo4j.
Jonathan Dampier, SVP of Global Marketing at Revionics:
This agency listens to all wishes. We are happy with our cooperation!
Phil DiCorpo, Director of Product Management at Tigera:
I got a lot of pleasure working with Slide UX agency on user experience design.

Qubstudio is a UX agency that provides digital product design, branding & digital expression services. Each completed project meets the user's criteria of usability and functionality, solving the set tasks. The founder of Qubstudio, Lyubomyr Koval, and his team professionally completed more than 70 projects in 2018. This allowed them to stay in Clutch's Top 10 Global User Experience Agencies list for the 3rd year. It has a lot of famous clients: Oracle, MOIC, Getswift, Vapulus, KIVSH, and others.
Ralph Wagner, VP of Sales & Marketing at Quaeris:
This UX agency consists of the best UX designers I have worked with in the past 30 years.
Karen Winter, CTO at LinkIt!:
UX & UI design for e-learning SaaS company was spot on time and within budget.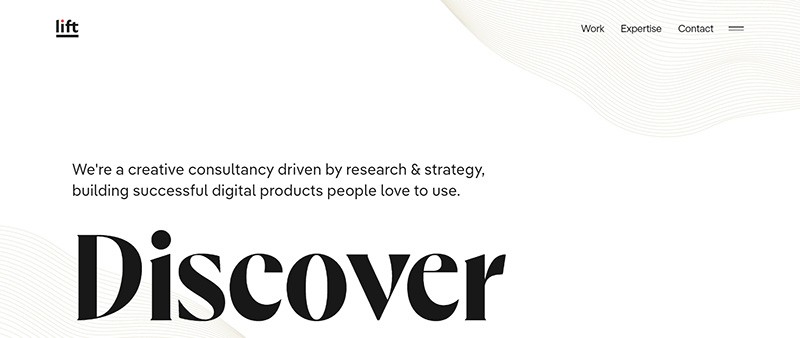 Lift Interactive is a strong UX team where everyone works for results. It values mutual assistance and an informal atmosphere in the team. At the same time, it assesses the effectiveness of employees primarily by the results, the degree of personal responsibility, and the ability to build effective communication. The key sectors they work with are Tourism & Hospitality, Attractions & Events, and Enterprise & Institution. Kristi Slavens has been the owner of Lift Interactive for over 20 years. Its clients are USAFacts, Tourism Jasper, Make Something Edmonton, Heart + Bones Yoga, and Commonwealth Walkway.
David Filewich, Founder at Intello:
This UX agency showed me how important UX/UI design is for business. Thank you very much!
Peter Stetsko, Owner of The Backyard:
This UX agency paid as much attention to our design as they would to considerably larger corporate clients.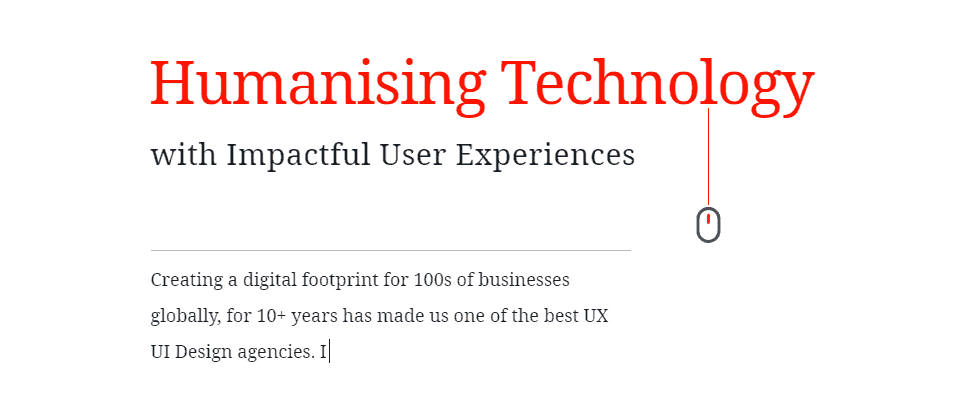 Developed with Divami Design Labs, projects are profitable. Its clients know that no one can do better. This is why pSolv, Airtel, Avana, Medicopia, and Corpus ordered its services. Naveen Puttagunta has been Co-founder & CEO at Divami Design Labs for over 12 years. Moreover, Divami Design Labs developed UX/UI designs for VIOLA Wallet to enter the Indian market.
Rama Krishna Reddy, CEO at Spoors:
Sophisticated design solutions have greatly surprised us. Moreover, they effectively communicate our branding to our users. Therefore, we can recommend this UX agency to our partners.
Venugopal Padmanabhan, Associate Director at Raytheon:
This user experience agency treated our problem statement as their own and delivered UI/UX design for the avionics company on time.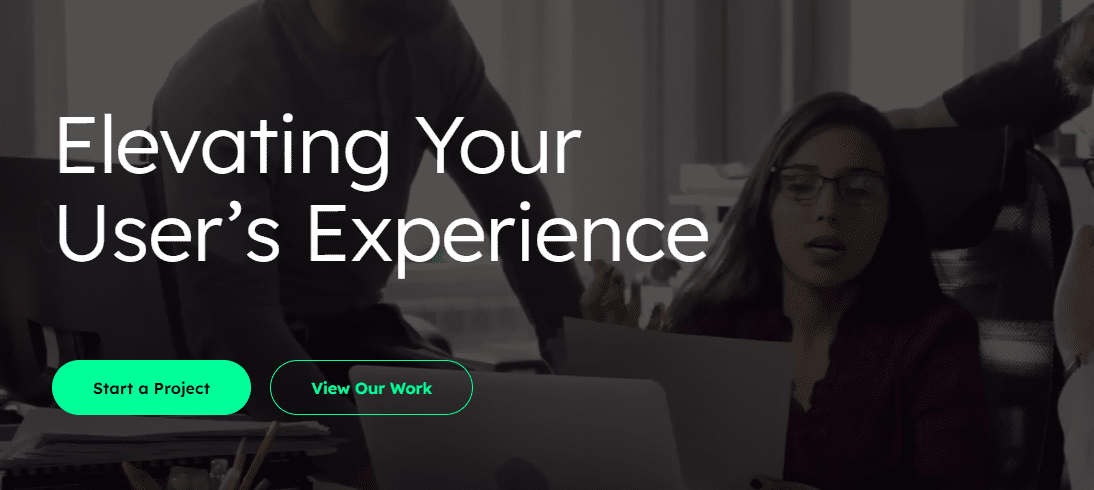 The backbone of this UX team is experienced project managers. Create Ape believes that the key to the success of any project is a competent account. That's why Create Ape gives maximum importance to customer service and quality management. Alessandro Fard is the Founder & Creative Director of CreateApe. His expertise includes information design & usability analysis with a focus on cognitive thinking from a user viewpoint. CreateApe positions itself as a holistic UX design agency. Their services include UX design, UI design, front-end dev, and metric conversion. Its clients are Newmontis, PMPT, Mattehews, Cinesamples, and Happy Teeth.
Ed Vincent, Founder at festivalPass:
I ordered UX/UI design for my web and mobile applications and was greatly surprised by their creativeness and accuracy.
John McLaughlin, Partner at CSA Perspective:
This user experience design agency was accommodating and created the best UX/UI design for a stress management company.

Selecto is prepared because not everything always goes according to plan. If something does not go as planned for objective reasons, Selecto will be flexible in its decisions and change the vector of development. Yurii Mamonchuk is CEO at Selecto. Vodacom TV, LifeArk, Diprella, MsFit, and mmmEnglish are just several clients of this user experience agency. Selecto provided branding and product & web design services for the Teaching Medicine project.
Alfred Marchal, Project Lead at Electric Car Booking App:
This UX agency helped us a lot in launching our project. Moreover, the communication was clear – they kept us well informed.
Dominique Ntirushwa, Head of Project at Afro-Stream:
This user experience agency consists of highly proactive experts in the design field.

This UX agency in Gdansk employs more than 20 highly qualified specialists. In addition, thanks to their proven and reliable partners, they can strengthen and scale up UX design services within hours. Krystian Słowiński is the Widelab Product Design Studio's founder. He has over 60 projects for 15 countries under his belt. You can find PeerPal, Kinastic AG, Frontegg, Jobalino, and Scottie among Widelab's clients.
Alejandro Garcia, CEO at Klarbi:
It took only 5 months for this team to do UI/UX redesign from scratch for our platform. We are very happy with the services of this UX agency.
Sivan Michaeli-Roimi, VP of Marketing at Staircase AI:
This user experience agency really paid attention to every aspect of the product design.
This UX agency helps businesses succeed in today's digital world with the help of UX/UI design. There are a lot of famous brands among its clients, for example, LinkedIn, Sony, Bloomberg, Bosch, and Intuit. WorkStep worked with Neuron and asked it to redesign its RETAIN product. WorkStep was excited about the new design. Chris Marciano is the co-founder of this user experience agency servicing Silicon Valley, NY, Boston, and LA.
Norman Azoulay, Director of scientific products at Excelra:
We are a pharmaceutical vendor, and Neuron provided us UI/UX design services. This UX agency delivered above and beyond our expectations.
Chris Glew, VP of Product Engineering at Jobble:
This UX agency worked on user experience design for the gig work platform, and we stayed satisfied.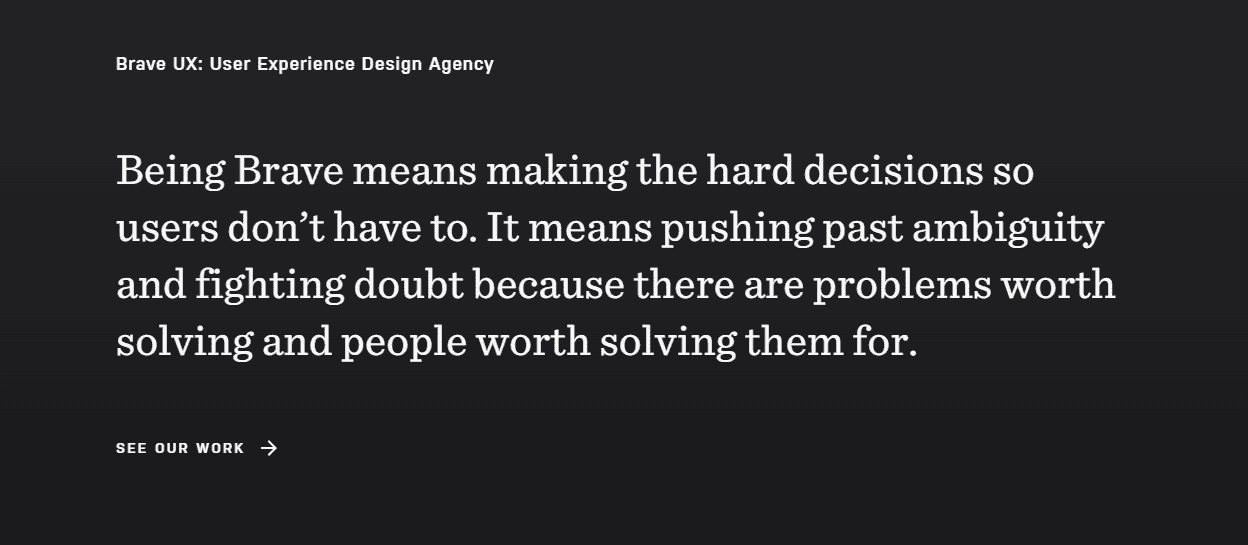 Brave UX is a creative agency that develops individual projects with a user-friendly and functional interface. Among its clients, you can find Royal Caribbean, FourthWall, Sonar, LifeCents, and Rokt. In addition, Brave UX designed a great mobile application for Marriott, thanks to which visitors don't need NFC or QR to unlock complimentary happy hour drinks. Lee Finkel founded Brave UX in 2014.
Zach Bellavia, Product Manager at Ascend Indiana:
I want to point out that this agency is very flexible. Moreover, it is attentive to feedback. Therefore, we are fully satisfied with their work.
Jesse Leikin, Co-Founder at Tradeswell:
After coming up with great ideas for MVP, this user experience design agency delivered excellent UI/UX design.

LinkUp Studio develops and improves complex and high-load projects for large businesses. LinkUp Studio increases sales and simplifies people's lives. Famous clients are STQRY, Great Coach, Wisio, Apartolino, and MumMeFit GmbH. LinkUp Studio designed the MVP of a platform for WadiDigital, and it was satisfied with the result. Andriy Sambir has been the CEO of this user experience design agency for over 10 years.
Ben Sash, CEO at Dexfolio:
We are glad that we have used LinkUp Studio`s services. They have developed a great app for our crypto company.
Jacob Greene, Systems Advancement Manager at Resolute ERA:
This user experience (UX) agency provided excellent UX/UI design services for a government grant assistance startup company.

Lollypop Design Studio does not like heavy interfaces and toxic design, and the team uses the concept of "non-toxicity" in its projects. However, websites must speak the same language as the user, so they create a new comfortable model of user behavior day by day. You've probably heard of these companies somewhere: Tryloka, Hukoomi, GoDutch, FlashHouse, and MyVI App. These are clients of Lollypop Design Studio. Anil Reddy is the Founder & Global Design Director at Lollypop Design studio.
Depinder Singh, Founder at Woofys:
We are fully satisfied with the UI/UX design services provided by Lollypop Design Studio for our pet social network startup.
Aniruddh Singh, Co-Founder of goDutch:
I advice you actively communicate your requirements to this UX agency.

The Gradient is a top-rated worldwide UX agency by Clutch. It worked on strategy and product design for Swan. The key industries they specialize in are Fintech, E-commerce, Telecom, B2B, and SaaS. Denys Skrypnyk is the CEO of this user experience agency. He has strong executive experience of more than 15 years.
Mohammed Naeem, CEO & Founder at Sakeenah:
This UX team designed the UI/UX of the iOS and Android applications for my company. And we enjoyed working with this UX team because it increased user engagement and in-app time.
Iman Elnashar, Head of Digital & Innovation Labs at BTECH:
This UX design agency takes ownership and is passionate about the products it works on.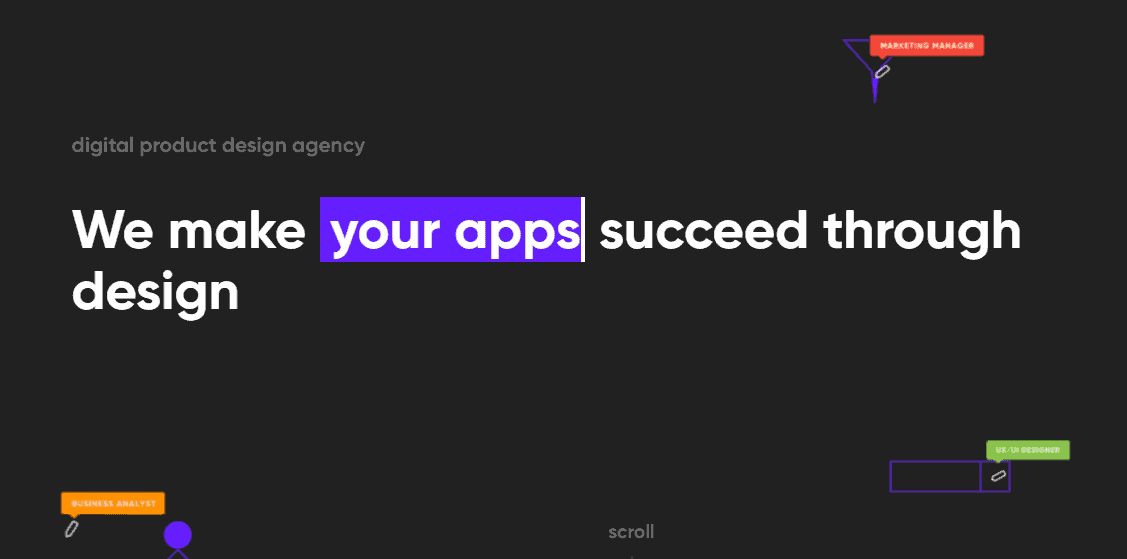 Cieden develops solutions of all sizes and complexities for companies' effective presence in the new digital environment. It also acts as a digital consultant for brands from strategy to development. Cieden`s team makes deeply customized, personalized solutions for brands and builds trusted relationships with them. This UX agency worked on CMS for Blizzard, Real Estate Wizard Wireframes, Pantram (project management tool for freelancers), desktop lie detector software, and a sustainable food consumption platform. Yuriy Mykhasyak has been CEO at Cieden for over 7 years.
Katherine O'Donnell, CIO at Immobel:
We used Cieden`s services to design UI/UX for our real estate tech platform. This team of UX experts took a lot of work off our plate but kept us informed.
Viktor Shcherban, CTO at TimberBase:
I'm impressed with how they adapt to our workflows when working on user experience design.
Creative Navy is ranked top 10 among global UX design agencies from 2017 to 2020. Creative Navy not only creates from scratch but also updates outdated projects. As a result, they make websites easier, more user-friendly, and more efficient for companies. OLX GROUP Ltd, World Customs Organization, Greenlight, Bofin, and IDEXX Animana are just several clients of this user experience design agency. Moreover, MSolutions used the services of this UX agency to redefine the usability of the device and reshape the GUI. Dennis Lenard is a medical product GUI architect at Creative Navy.
David Newton, founder & COO at Akrivia Health:
Their exceptional design ideas greatly surprised us.
Andy Hutt, Operations Director at triOpsis:
They had a strong user experience design portfolio within our domain — this is why we chose them.
That's it! We've reviewed the fifteen most popular UX agencies that could work out great for your business. They all have lots of successful projects under their belts. Yours can be the next.
How to Choose a UX Agency?
By user experience design team, we mean an agency with high expertise in digital products and knows how to ensure user and customer experience design to meet business needs and metrics. I'd say such a user experience design team is more about math than creativity – they do a lot of research, test, calculate the payback of proposed solutions, and make a stylish UI design.
But there is a problem. With the development of digitalization, the number of agencies that provide design and development services for mobile applications and services has grown. Many such agencies have transformed from classical web studios that made websites to order. And today, not all of them can satisfy the client's request for expertise in product management and user experience.
To choose the right experience design agency, you need to:
Examine the past experiences of the agency
Assess communication with you
Estimate their understanding of your user experience design task
Look for testimonials
Analyze the scope of their services
If you have a clear statement of work that needs to be implemented quickly with a limited budget, any user experience design studio will be the right choice. They will complete your user experience design as quickly as possible with a minimum of edits.
If you want to create a user experience (UX) solution that requires immersion in the product, metrics, and business needs, you need a user design agency with a high initiative. The 5 points above will help to recognize it.
Conclusion
Keep in mind that a UX agency brings profit in the long run, as an elaborate website returns buyers and postpones in memory with its convenience and thoughtfulness. And in the short term, its usefulness is not always felt because the main tasks the website can solve with a "clumsy" interface. However, such an interface does not usually cause a desire to return or continue to use it.