As a business owner, you are constantly on the lookout for new methods to understand better and serve your customers. Your hunt for the "12 Best Customer Data Platforms (CDP) in 2023" has ended this year. This detailed guide looks into the world of CDPs and highlights the cream of the crop in this market. You may streamline your customer data with the help of a CDP, providing a single source of truth that gives actionable ? insights. Personalize marketing activities, improve client experience, and drive business growth. So get ready to change your approach to client involvement!
Understanding Customer Data Platforms (CDPs)
In today's digital world, businesses collect more data than ever. This data can range from demographic to transactional data and even anonymous ad impressions to known customer purchases. All of this data collectively defines what is known as "customer data."
What is a Customer Data Platform (CDP)?
A CDP, according to the CDP Institute, is "packaged software that creates a persistent, unified customer database that is accessible to other systems." Essentially, it's a pre-built system that centralizes customer data from all sources and makes it available to other systems for marketing campaigns, customer service, and all other customer experience initiatives.
CDPs vs. CRMs, DMPs, and Personalization Tools
It's important to note that CDPs are not CRMs, which mainly store transaction data and are focused on sales. CDPs are also not DMPs, which are cookie-based and only focused on 3rd-party data. Additionally, while some CDPs may offer website personalization, it's not a core function of the category.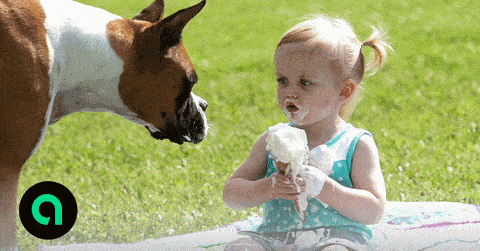 The Power of CDPs
CDPs solve a significant problem for companies – the need for accessible and unified customer data. With a CDP, businesses can reduce risk, deploy faster, and deliver a more powerful solution than custom-built alternatives. It also provides a foundation for companies to meet customer expectations for personalized experiences in the years to come.
CDPs Go Beyond the Website
The number of data sources and execution integrations determines a CDP's value. If a CDP only has access to website data, it leads to better customer experiences and high customer loyalty. If a CDP can only personalize website experiences, it leads to missed opportunities and generic experiences. The availability of data from all sources and integrations to all channels is crucial for unlocking the full value of a CDP.
Key Benefits of CDPs
Single View of the Customer: CDPs collect data from various sources to comprehensively view the customer across devices and channels.
Agility: A CDP provides the ability to build and connect a flexible technology stack that adapts to changing consumer behavior.
Improved Customer Experience: CDPs enables businesses to create personalized experiences across all touchpoints, driving customer loyalty and revenue.
Increased Efficiency: CDPs streamline processes and reduce manual tasks, freeing resources for more strategic initiatives.
Data-Driven Insights: CDPs provide valuable insights into customer behavior, enabling businesses to make informed decisions and drive growth.
A customer data platform is a game changer for companies looking to deliver a consistent, personalized experience across all customer touchpoints. Of course, CDPs help enterprise marketers make better decisions and grow by collecting all customer data in one place and making it accessible to other systems through APIs.
How Does a Customer Data Platform (CDP) Work?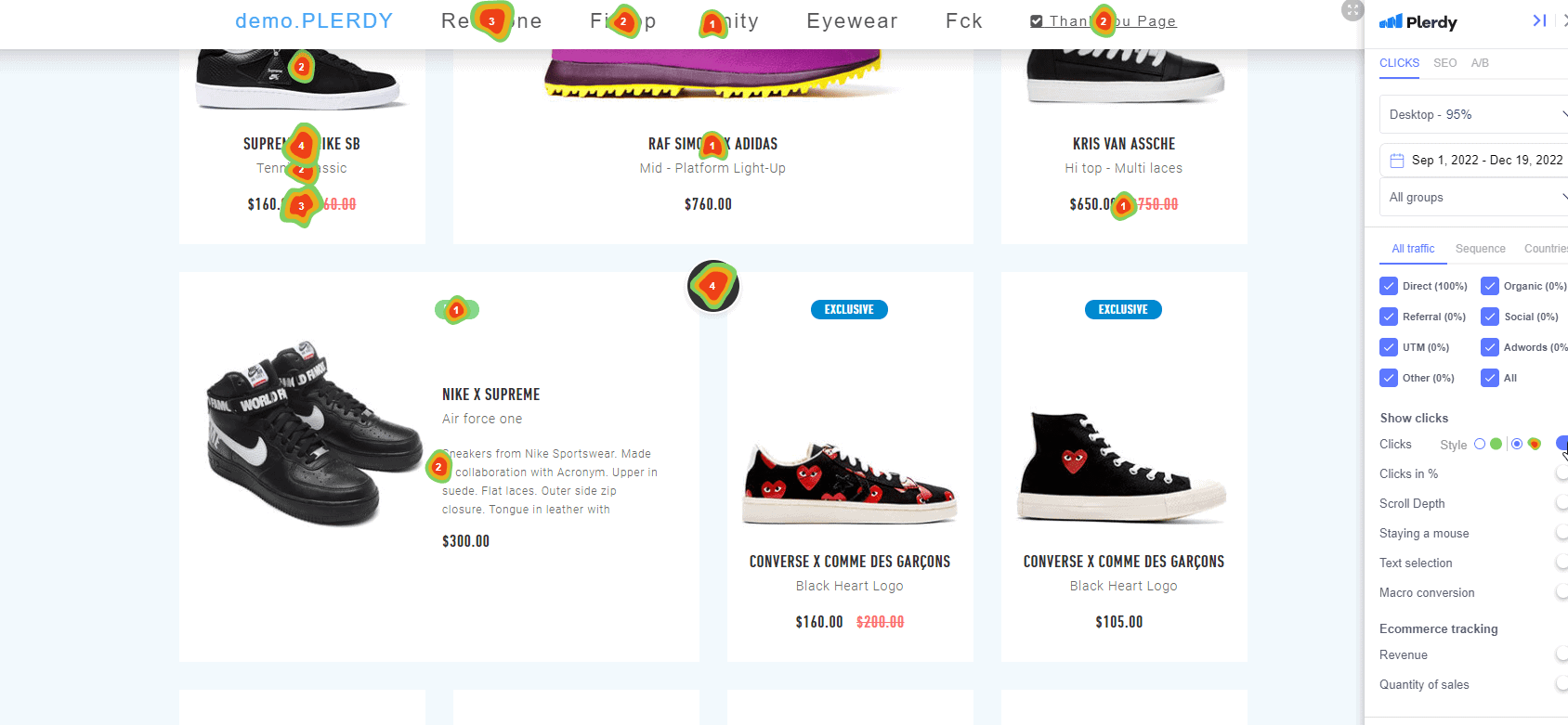 A CDP, or Customer Data Platform, is a powerful tool that enables businesses to collect, store, and analyze vast amounts of customer data, aiming to deliver highly personalized experiences across all channels. A CDP ingests data from various sources, including website interactions, mobile app usage, customer support data, and more, and integrates this information to create a single unified profile for each customer.
Connecting to Data Sources
To create these profiles, a CDP must be able to connect to a variety of data sources. This is accomplished through built-in connectors, APIs, webhooks, and software development kits (SDKs). Ingesting data from multiple sources allows a CDP to comprehensively view each customer, including their profile information, behavioral data, transaction data, and more.
Data Integration and Identity Resolution
Once the data has been collected, it must be integrated into a single unified profile. This process, known as identity resolution or data unification, involves validating, cleaning, and de-duping data and stitching together identifiers from multiple systems to create a complete picture of each customer. Customer profiles are also enriched with additional data from second and third-party sources, giving businesses even more information to work with.
Advanced Analytics and Segmentation
After the customer data has been unified, CDPs can use machine learning or algorithms to perform sophisticated analytics and segmentation. Businesses may then use this information to create highly customized experiences catered to each consumer's individual demands and interests. This gives them important insights into the habits and preferences of their customers. Some CDPs even include predictive analytics, enabling businesses to decide which clients are most likely to purchase, leave their company, or perform any other desired activity.
Common CDP Use Cases
CDPs are used for various purposes, including personalized customer experiences, targeted advertising, and more. Some common use cases for CDPs include profile unification, segmentation, personalization, predictive scoring, retargeting, customer journey optimization, programmatic advertising, and measurement and insights. By leveraging the power of a CDP, businesses can gain a competitive edge by delivering highly personalized experiences that build customer loyalty and drive growth.
List of 12 Best Customer Data Platforms CDP
Sifting through the clutter of customer data platforms can feel like searching for a needle in a haystack, but fear not, we've done the heavy lifting for you with our top 12 picks. We've put these CDPs through their paces, evaluating them on the key features and performance indicators that matter most in the fast-paced world of customer data management. So buckle up, grab a coffee, and get ready to take a deep dive into the crème de la crème of CDPs that are sure to knock your socks off.

Plerdy is a Customer Data Platform that offers a suite of conversion rate optimization tools designed to help businesses and websites improve their online performance. With its heatmap feature, all clicks on a website are recorded and displayed in real-time, providing valuable insight into user behavior. The platform also offers session replay, event tracking, popup forms, and sales performance, among other features.
Pricing
Plerdy has different plans with different product pricing to meet the needs of different marketers and business types. There is a free plan, a Start Plan for $19 per month, a Business Plan for $49 per month, and a Premium Plan for $129 per month.
Reviews
Many companies worldwide have benefited from using Plerdy to improve their online sales, with a reported increase of 1.5x in some cases. Customers praise the platform for its accuracy of data, excellent customer support, and ability to track clicks on dynamic elements and mobile data. Some users also appreciate Plerdy's seamless integration with other online services, making it a complete conversion rate optimization suite. On the downside, some customers have reported the need for better reporting and improved data visualization in the platform.
Trusted by leading enterprises
Plerdy has earned the trust of some of the world's largest enterprises, including Pearl Lemon, Mercury Advance AB, and IDEAS Creative Group. The platform's commitment to data security, cost efficiency, and efficient reports make it a popular choice among businesses looking to improve their online presence.
Insider: A Dynamic, Robust Solution for Your Business

Insider is a leading customer data platform (CDP) that provides a single platform for cross-channel customer experiences. With the ability to connect data from various channels, predict customer behavior using AI, and individualize experiences, Insider helps businesses achieve the fastest time to value. Trusted by over 1000 enterprise brands, including Samsung, Virgin, Loreal, and Santander, Insider has established itself as a leader in the industry.
Leader in Cross-Channel Campaign Management and Personalization Engines
Insider has been recognized as a leader in The Forrester Wave™: Cross-Channel Campaign Management (Independent Platforms) and named the #1 choice for top global brands in the 2022 Gartner® Magic Quadrant™ for Personalization Engines. With high ratings for personalization, platform architecture, predictive analytics, and journey orchestration, it is no surprise that Insider received the highest score in the report among all vendors in the campaign orchestration criterion.
Integrate Your Tech Stack with Ease
Insider integrates seamlessly with your existing tech stack, allowing you to connect, predict, individualize, and grow your business at scale. From advanced analytics to CRM, email marketing solutions, and more, Insider integrates with it all, delivering up to a 30% uplift in CR and making it the ideal solution for growth-focused businesses.
Customer Reviews
Berdan K., a marketing executive at a small business, noted that Insider's ability to create cross-channel journeys based on pre-built templates has been the platform's best feature. Insider has been instrumental in pushing relevant content for acquisition and has helped the business achieve their goals.

Insider pricing information is not publicly available, but interested parties can contact the company for current pricing information.

Insider is a dynamic and robust solution for businesses looking to connect, predict, and individualize their customer experiences. With a reputation as a leader in cross-channel campaign management and personalization engines and seamless integration with existing tech stacks, Insider is a top choice for businesses looking to grow their customer base and achieve their goals.

Bloomreach is an industry-leading customer data platform that offers personalized e-commerce experiences to businesses of all sizes. Bloomreach's AI-powered technology makes it simple to display clients the appropriate product at the perfect time and location.
Bloomreach Pricing Packages
Bloomreach offers three commerce-specific products – Engagement, Discovery, and Content – to help businesses grow and succeed. Each solution is tailored to meet the specific needs and budget of the business. For example, pricing is customized based on the number of customers served, the product catalog size, and the number of events executed, such as emails and SMS messages.
Bloomreach Reviews and Client Base
Bloomreach has received recognition from well-respected industry analysts and numerous awards, including being named a 2022 Customer's Choice for DXP by Gartner and a 2021 Leader in the Forrester Wave™: Cross-Channel Campaign Management. Some of Bloomreach's clients include well-known brands such as Coca-Cola, L'Oreal, and Reebok.
One customer praised Bloomreach for its ease of use and quick and professional customer support, saying that everything could be created in one place and that results could be evaluated and automated for successful campaigns. On the other hand, another customer commented that while the platform is powerful, it can be difficult to navigate and understand without dedicated support.
Bloomreach is a top customer data platform that makes e-commerce more personal and is built to grow with businesses. With its AI-powered technology and numerous awards and recognitions, it is a solution worth considering for businesses looking to take their e-commerce game to the next level.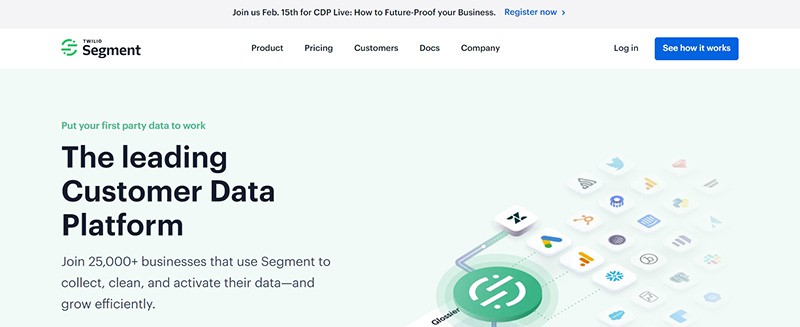 Segment is a top-tier Customer Data Platform (CDP) that assists companies in combining their customer data and gaining insightful knowledge of their client's preferences and actions. One of the most reputable and frequently utilized CDPs on the market, Segment has over 25,000 enterprises using their products and APIs.
Pricing Schemes
The segment offers various pricing options and packages to meet the needs of companies in different niches and of any size. The choices consist of the following:
Free: Offers two sources, 1,000 monthly visits, and access to more than 300 integrations. ideal for new businesses.
Team: Monthly rates begin at $120. This package offers limitless sources, events, and real-time streaming and is intended for expanding teams.
Business: This strategy can be modified to fit the requirements of bigger companies. Depending on the specifics, prices change.
Reviews
Segment has earned excellent accolades from its users, many of whom attribute their pleasant experiences mostly to its simplicity of use and powerful features. However, the software can be pricey for smaller firms. Some users have suggested that its tool integrations should be more seamless.
Clients
Some of the biggest businesses in the world, like Spotify, Shopify, and Intercom, are among Segment's clients, along with many quickly expanding startups. Yet, regardless of size, organizations can profit from Segment's unified and actionable customer data.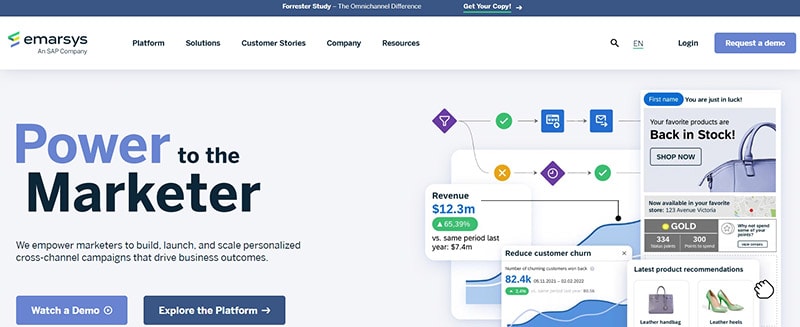 Emarsys is an omnichannel customer engagement platform designed to help businesses drive business outcomes. With a focus on customer-centric personalization, actionable AI, and a fully integrated CEP, Emarsys is trusted by over 1,500 companies worldwide to deliver predictable, profitable outcomes.
Pricing
Emarsys offers a variety of pricing packages to meet the needs of different businesses. Contact Emarsys directly to ask about pricing and talk to a representative who can help you find the best solution for your business.
Emarsys Reviews
Emarsys has received positive customer reviews, with many praising the platform's ease of use and helpful support staff. However, some users have also reported issues with the platform's automation capabilities, which can limit its effectiveness for certain businesses.
Clients
Emarsys has a wide range of clients from various industries, including leading brands and innovative marketers from across the globe. Some of their clients include Samsonite, Puma, Sephora, Pizza Hut, Women's Best, Canon, and The Home Depot.
Emarsys in the Industry
Gartner has called Emarsys a leader in personalization engines. The company participates in events like the NRF 2023 Retail's Big Show. Emarsys also offers various resources, such as whitepapers and the Power to the Marketer Festival, to help businesses stay up-to-date with the latest in the industry.

Do you need help managing and analyzing your customer data? Look no further than Planhat, the leading customer data platform. With Planhat, you'll have all your customer data in one place, giving you a complete and actionable 360 view of your customers. The platform is built on four pillars: Data, Automations, Workflow, and Presentations.
Pricing
Planhat offers flexible pricing packages. The packages include:
BRAIN: $4,000/month
TABLE: $1,500/month
BASIC: $500/month
START: $200/month
Reviews
Customers love Planhat's intuitive and user-friendly interface, powerful tools, and native integrations. One customer says, "We love the ability to automate actions and tasks based on customer behavior. It is user-friendly to use and set up, including integrations." Another customer praises, "I knew Planhat was the right customer success tool from the first moment I saw it. The Playbooks and Revenue features make our processes really easy!"
Trusted by innovative companies worldwide, Planhat has been helping businesses grow and collaborate with their customers for years. From AT&T to Recruitee, Planhat has made a difference for its clients. Get a demo today and take the first step towards powering your version of success.

Totango is a premier Customer Data Platform (CDP) that gives companies the tools they need to successfully manage their customer success operations. Totango is a great choice for businesses trying to increase consumer interaction and spur growth because it has over 5,000 vetted enterprises and a user-friendly design.
Pricing Options
Totango offers a range of pricing packages, starting with a free option that requires no credit card information. Their pricing packages include the following:
"Start for Free": the only free forever CS Platform
"Convert Freemium": Increase activation, conversion, and retention of freemium customers.
"Manage Onboarding": Delight customers from Day 1 with a smooth, efficient onboarding experience.
"Detect Risk": Get instant visibility into customer signals and critical events to help reduce churn.
"Drive Adoption": Personalize the product adoption experience to ensure the use and unlock additional value
"Automate Renewal": Automate your renewal process to increase customer retention and growth
"Maximize Expansion": Easily identify customer expansion opportunities and efficiently manage the upsell process.
Reviews
Totango has received high praise from customers, including:
Dione Hedgpeth,

Chief Customer Officer, said, "Our logo retention improved 8% YoY, and I believe it's because of the work we did with Totango."
Carlos Quezada,

Head of Customer Success, said, "From Day 1, I always looked at Totango as an innovative platform."
Madhavi Bezwada,

VP, Client Success, who said, "Totango means greater client satisfaction, as well as team member satisfaction."
Totango integrates with popular tools such as Salesforce, Slack, Hubspot, and more, allowing businesses to connect all their customer data for a unified view securely. With customizable dashboards, email campaigns, and workflows, Totango is an excellent option for businesses looking to achieve composable customer success.

Blueshift is an intelligent customer engagement platform that helps businesses maximize their marketing ROI by supercharging their efforts with AI. The platform enables companies to learn about their customers in real-time, so they can engage with them in a meaningful and personalized way across multiple channels. With its rich customer data, AI personalization, and cross-channel hub, Blueshift empowers businesses to create wow moments for their customers.
Blueshift platform pricing
Blueshift offers simple, modular pricing that scales with your business, whether you're a global enterprise company or a startup. The platform offers a Starter package that can automate multi-step cross-channel marketing campaigns, upgrade from your batch-and-blast ESP, and use marketer-friendly tools to create templates and campaigns on email, SMS, mobile apps, and websites. Other packages, such as Predictive Engage-Time Optimization, are also available to help businesses take their marketing efforts to the next level.
Blueshift platform reviews
Blueshift has received positive reviews for its ability to hyper-personalize connections at scale and help businesses increase their marketing ROI. Customers appreciate the platform's user-friendly interface and its ability to integrate with all their favorite marketing channels. However, some customers have noted that the platform can be complex to set up and use, requiring a significant investment of time and resources. Despite these challenges, businesses continue to choose Blueshift for its innovative approach to customer engagement and its commitment to helping businesses create meaningful connections with their customers.
Blueshift clientele
Blueshift has helped many businesses, including CarParts.com, increase customer engagement by up to 400%. Other notable clients include global enterprises, startups, and marketing agencies who trust Blueshift to drive customer-centric campaigns across their marketing channels.

Catalyst's Customer Data Platform (CDP) is the go-to solution for leading technology companies looking to upsell and retain customers with precision. With its seamless, enterprise-ready integrations and real-time bi-directional Salesforce sync, this platform has achieved the highest adoption in the industry.
Drive Your Growth with Actionable Data
Catalyst integrates with your tech stack to deliver insights that drive the right actions at the right time. With a unified view of all your customer data and automated accuracy checks, you can trust your alerts, health scores, and insights to be reliable and accurate.
Reduce Admin Work, Boost Success
With Catalyst's intuitive Journey Builder, you can easily define and automate your customer experience, freeing up time for your team to focus on customer management instead of admin work. This platform was built to be easily implementable, scalable, and customizable to your team's needs.
Empower Your Entire Company with Customer Success
Catalyst places customer success at the center of your company by unifying customer data and surfacing actionable insights. This enables teams to move precisely and make customer-centric decisions around retention, expansion, and more.
Here's What Catalyst Users Have to Say
Catalyst's CDP platform has received accolades from over 10,000 users, with comments like "a 200% increase in upsell opportunities in just three months," "best-in-class," and "easy to configure and very intuitive."
Unlock Your Potential with Catalyst
Whether in customer success, operations, sales, or executive management, Catalyst has the features you need to drive growth, increase efficiency, and make data-driven decisions. Learn more about this industry-leading CDP platform today.

If you're looking for a powerful customer data solution that can help you harness the power of your data and create personalized cross-channel messaging that delivers exceptional customer experiences, look no further than Dotdigital. This platform is trusted by marketers worldwide to deliver memorable experiences that connect with their audiences wherever and whenever they are.
Pricing
Starting at just $300 per month, Dotdigital offers a variety of price plans to meet the needs of any company.
Their most popular package, the Professional Plan, costs $800 per month and includes features like email marketing, SMS marketing, and landing pages and forms.
For enterprise-level businesses, Dotdigital offers a custom enterprise plan tailored to the organization's specific needs.
Reviews
Many of Dotdigital's customers are highly satisfied with the platform, praising its powerful automation capabilities, friendly support, and ability to help them accelerate their business.
Some users have reported that the platform can be complex and difficult to use, especially for those new to marketing automation.
Clients
Over 4,000 brands trust Dotdigital to automate customer engagement, including Ordnance Survey, Southampton FC, Converse, and Helen of Troy. So whether you're a small business just starting or an enterprise-level organization looking to take your customer engagement to the next level, Dotdigital has the tools and support you need to succeed.
So why wait? Schedule a one-to-one demo today and discover how Dotdigital can help you leverage your data for customer-first marketing.

Xtremepush is an industry-leading customer data platform (CDP) that enables companies to develop omnichannel marketing campaigns. Built on a CDP, the platform delivers hyper-personalized consumer engagement, allowing businesses to boost their income and engagement.
Pricing
Xtremepush offers a range of pricing alternatives to accommodate the varying needs of enterprises. The price options are meant to assist organizations of all sizes in consolidating their interaction channels on a single platform, creating tailored, data-driven customer experiences and engaging their audience in real-time.
Clients have provided Xtremepush with favorable testimonials. Numerous businesses have lauded the platform's capacity to assist them in engaging with their customers more meaningfully, resulting in greater revenue and trust. However, some clients have stated that the site can be difficult to operate, particularly for individuals new to consumer interaction systems.
Clients
Xtremepush offers clients in numerous industries, including retail banking and insurance, sports betting and gambling, eCommerce and retail, publishing and media, transportation and travel, and others. Since adopting the platform, hundreds of prominent commercial businesses have achieved double-digit gains in online and offline conversion rates.
Xtremepush was founded in 2014 and had its headquarters in Dublin, along with operations in the United Kingdom, the United States, and Eastern Europe. In early 2018, the company successfully purchased Emailcenter, a renowned UK email service provider. Xtremepush is committed to creating an all-inclusive customer interaction platform that enables organizations to enhance engagement and income.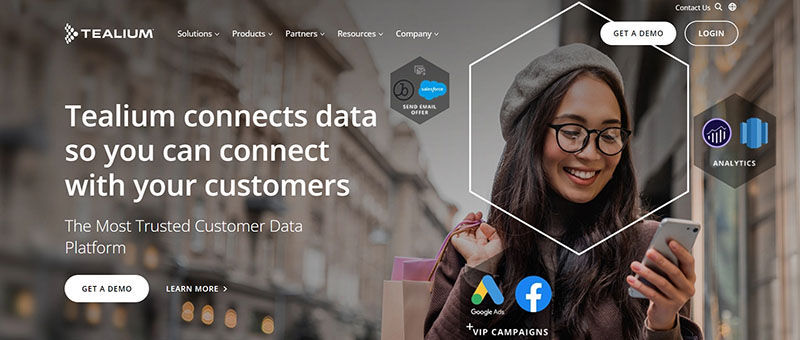 Tealium AudienceStream CDP is a reliable and cutting-edge customer data platform that lets companies talk to their customers in real time. The platform is made to provide cutting-edge consumer experiences and boost sales for top global companies. It has numerous features, including data collecting and privacy, a single view of the customer, growth and acquisition, predictive insights and customer analytics, customer experience and personalization, and customer loyalty and retention.
Options for Prices
How many events are captured and how many service hours are included affect how much Tealium AudienceStream CDP costs. The Tealium Customer Data Hub, Tealium AudienceStream CDP, and the entire Tealium product line are all included in the volume tier based on the total number of events gathered. In addition, discounts are available for solution bundles. Interested parties can get in touch with Tealium AudienceStream CDP for a tailored estimate to determine their volume level's cost.
Customer feedback
Since 2014, Tealium has been used by Dajo R., an online marketing manager for a small company with 50 or fewer employees. They liked the level of assistance offered by the Tealium staff and the smooth connection with other Tealium products like iQ & Predict. However, the user did say that people looking for a quick and simple setup procedure might need help finding AudienceStream acceptable.
With the help of Tealium AudienceStream CDP, businesses can collect, enrich, and use their data to make customer experiences that are personalized and relevant. A platform is a fantastic option for companies of all sizes because it was created for enterprises and intended for everyone. In addition, Tealium enables businesses to use their current technology stack without sacrificing data insights thanks to its more than 1300 turnkey connections. Tealium AudienceStream CDP is the answer whether your objective is to boost customer loyalty and retention, boost revenue, or tailor customer experiences.
Conclusion
The "12 Best Customer Data Platforms (CDP) in 2023" list gives you a full picture of what's available on the market right now and helps you decide when to choose the right platform for your business (and main goal). With only a few providers offering first-party data protection in line with GDPR regulations, it is important to consider the consent and data collection processes of the platform you choose. The analysis and research conducted to produce this list should be considered, as should your research and experimentation with a few providers to see which one works best for you. To use a CDP to its fullest potential, it is important to consider things like multichannel attribution, data analysis, and third-party integrations with DMPs and other metrics providers. Ultimately, the right CDP will give you a higher edge over your competitors and help you make data-driven decisions to drive your business forward. Try Plerdy, it's a great way to collect the necessary user behavior data and improve CX on your website. So go ahead, pick the CDP that best fits your needs, and get ready to see your data come to life!