SEO for entrepreneurs is a complex of practices and tactics that include keyword research, traffic reports, site content analysis, and other solutions. Competent specialists recommend using special-purpose software to handle all the search engine optimization processes simultaneously.
Enterprise SEO tools will be handy for today's market players interested in online performance and organic traffic growth. They make website analytics more purposeful, focusing on specific business needs.
What Are Enterprise SEO Tools?
A well-thought SEO strategy helps websites reach higher rankings through upgraded content. Search engines determine the topic and usefulness of on-page texts and imagery to push the site up if the information is valuable.
Enterprise SEO tools are required for data-driven website optimization. These are all-in-one platforms with a wide range of SEO options and a user-friendly interface. The best enterprise SEO tools provide automated reports with the necessary search engine optimization insights.
There are many SEO tools available. Entrepreneurs should pick software that meets their needs and a specified budget approved for SEO-driven strategy realization.
Key advantages of SEO enterprise tools are:
Fast accomplishment of goals related to search engine optimization;
Extensive functionality, including technical and UX website audits, backlink and competitor analysis, etc.
Ready-to-use solutions for better PPC performance and increased organic traffic.
Management and reporting functions for well-controlled workflows.
Comprehensive analytics, including trends, user intent, geolocation data, etc.
Defining macro and micro issues for further website structure improvements and SEO-friendly configurations.
The benefits of SEO tools every small to medium enterprise needs vary depending on software characteristics. Select one of the top-ranking digital assistants to enhance online performance.
Enterprise SEO Tools with Plerdy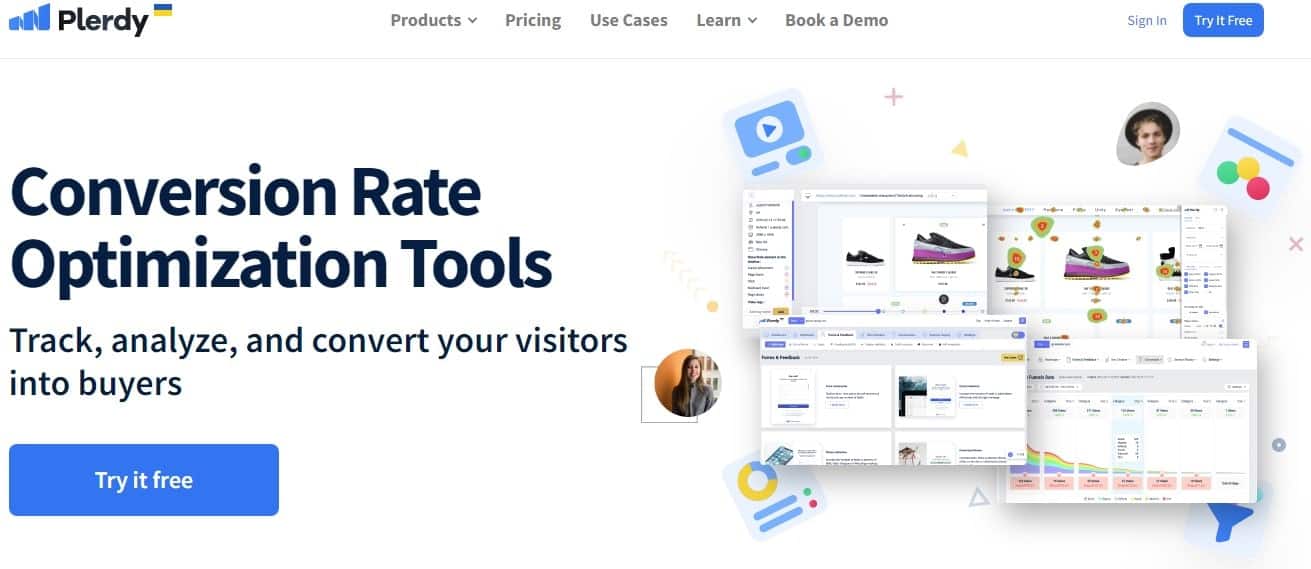 Many business owners would like to know which tools for enterprise SEO are appropriate. Each case is unique, for sure. You should investigate multiple cross-functional solutions with search engine optimization options. Select platforms that offer customized UX audit and SEO capabilities at once. One good example is Plerdy.
This software contains an SEO checker for small and large enterprise-level websites. This is one of the reputable enterprise SEO tools that collects search engine optimization metrics in real-time and analyzes them for detailed reporting.
The perfect tool for behavior analysis. It is easy to set up the SEO checker and get precise data for the most efficient improvements and higher website ranking.

Elba Maria, business consulting specialist
Awesome SEO and UX analysis tools! Keywords are detected automatically. I like the option of Google spreadsheet data export for the reports. Use the Plerdy enterprise SEO tool with great pleasure!

Andreas H., entrepreneur
Plerdy SEO Checker – a Powerful Enterprise-Level SEO Tool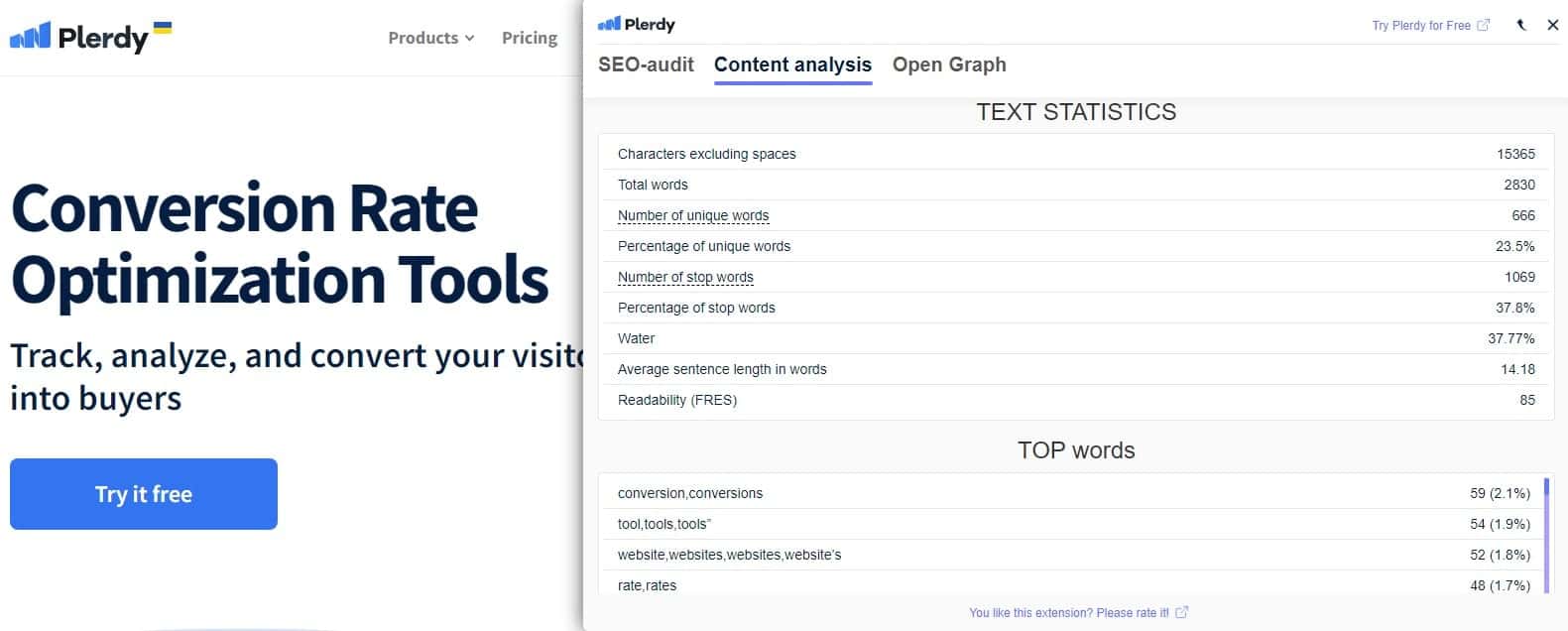 Plerdy shows growth points with the help of rich SEO Checker functions. Besides automated keyword audit and Mobile-First Index analysis, you get a website tracking history. This is one of the most effective tools for enterprise SEO. It detects any meaningful activity during the selected period, even in the past (a 30-day history of each page is available).
Additionally, search engine optimization reports contain alerts about missed keywords in metadata (title, description, h1). The red icon appears if any issue needs fixing.
Top 6 Enterprise SEO Tools
Which tools or platforms are the best for enterprise SEO? Usually, the most popular tools for enterprise SEO are platforms with a wide range of analytical options. This way, entrepreneurs can determine the website's weaknesses that affect their search positions and decrease organic traffic.
These top enterprise SEO tools include software with essential functionality for business representatives. The rating of top-performing platforms also depends on pricing, reporting, and analytical capabilities.

Mitul Gandhi and Kalpesh Guard founded the project in 2007 to help entrepreneurs scale their online businesses with compelling SEO campaigns. The clients of SeoClarity are:
This enterprise SEO tool is notable for keyword segmentation through ML algorithms. It also has enhanced enterprise safety measures (GDPR and SSO) for analytics and SEO checks.

Seth Besmertnik founded conductor in 2011. The company has two missions – marketing transformations and workforce improvements.
This SEO tool for enterprise is preferred by:
Conductor is an organic marketing platform for large teams. An exclusive feature of this enterprise SEO tool is smart recommendations for building high-performing content at scale. Its index includes 20+ billion keywords, including long-tail, question, and phase match keys. All the reports are also available as infographics for extra convenience.

Matt Colebourne founded SearchMetrics in 2014 to make enterprise-level website optimization more budget-friendly and efficient.
SearchMetrics' users are:
Just Eat
Toyota
Sport1
KARCHER
This enterprise SEO tool offers the Research Cloud feature that identifies website content gaps based on competitive analysis. SearchMetrics supports an API you can connect with existing applications to implement SEO features.

This AI-based SEO enterprise tool was introduced in 2013 by Aki Balogh. It facilitates content research and writing for tech companies and helps build content-driven customer journeys.
MarketMuse is trusted by:
The exclusive feature of MarketMuse is its content plans are built with artificial intelligence. Innovative SVP for sales and automated content inventory is another significant advantage.

BrightEdge is an SEO enterprise tool launched by Jim Yu and Lemuel Park. It's venture-backed by some top capitalists from Silicon Valley and employs over 350 people.
BrightEdge is favored by:
Loreal
Twilio
Astute Solutions
Wiley
Adobe
This enterprise SEO application is suitable for SEOs, content marketers, and executives from large and small companies. It transforms digital content into increased traffic, engagement, and revenue. BrightEdge's scalable SEO platform stands out with its AI and machine learning engine. An AI-powered virtual analyst will create a custom website optimization plan for you.

Majestic is a Link Intelligence database Alex Chudnovsky established in 2009 to facilitate backlink tracking. Use this solution as a helpful addition to other enterprise search engine optimization tools. After entering the necessary URL and running a check, you will get a link profile, data on external inbound links, referring domains, live/deleted/duplicate links, etc.
The companies choosing Majestic:
Search Engine Optimization, Inc.
360i LLC
3M Co
Upwork Global Inc.
Blackfriars Group
Majestic also supports Trust Flow and Citation Flow metrics that correspondingly reflect the quantity and quality of links. Usually, when a Trust Flow is higher than Citation Flow, you have good-quality links.
There is other top-ranking software for enterprise-level SEO like Ahrefs, SEMRush, SpyFu, etc. We talk about them in more detail in our blog articles.
How to Choose an Enterprise SEO Platforms and Tools:
Enterprise SEO is more demanding than optimization for small companies. Large corporations usually have web resources with multiple sections, pages, and types of interactions. Businesses may also operate through several websites. Hence, choosing an enterprise-grade SEO platform, you must compare several solutions using a multi-step process:
1. Ensure you really need that software
Assess your business resources, staffing, and financial capabilities first. SERPS enterprise SEO software won't work wonders on its own. Here are some tips to note:
Buy enterprise SEO software if you have an in-house marketing team. These guys will integrate it with currently applied solutions to optimize your web resources. If you don't hire full-time specialists, it may be better to outsource SEO optimization to a third-party agency.
Consider such tools if you can prove their efficiency to C-level managers. Enterprise software may require a five- or six-figure investment annually, so you must justify its implementation.
Plan how to train the staff on using a new solution. Also, ensure the chosen software has learning materials and reliable support.
Even though this step may seem basic, it's essential each time you adopt a new tool.
2. Select suitable vendors and request a demo
Read articles like this one or do independent research to shortlist several options. Then, communicate with 2-3 software providers to hear their quotes and request demo versions.
3. Test several solutions
Run enterprise SEO platform comparison by checking the same website through several tools. Evaluate the ease of use, matching with your must-have features, availability of detailed reports, or anything else that matters.
4. Check reviews and discuss the contract
Before making the final choice, read reviews. Such investigation is essential to discover hidden issues or superpowers that may be unclear from the software's website or demo.
To Sum Up about Enterprise SEO Tools & Platforms
Online presence for business representatives directly affects their revenue and customer base. Search engine optimization helps enterprise-level websites hit the top SERP and catch the target audience's attention. Entrepreneurs should pick an optimal enterprise SEO tool to perform website optimization tasks.
The listed products can facilitate search engine optimization analytics and management of enterprise-level sites. Use our post as guidance to find the best-matching enterprise-level SEO tools.