Welcome to "10 Best Home Services Marketing Tips and Strategies", your roadmap ?️ to success in the bustling field of home service businesses. Our objective is to arm you with transformative, effective strategies that will bolster your online visibility and enrich the customer experience, helping you cement an unshakeable reputation in your market.
To illustrate, let's consider "Evergreen Lawn Care" ?. This local business shot up in search rankings and boosted its client base with strategic marketing. They optimized their website by leveraging tools like Plerdy for UX and SEO analysis, ensuring easy navigation and strong keyword positioning. They also harnessed the power of email marketing, local SEO, and content marketing to craft a brand story that resonates with their audience.
This journey will uncover:
Stellar branding techniques
Online presence enhancement
Harnessing local SEO
Crafty paid advertising
The power of reviews and testimonials
Buckle up – we're diving into the heart of home services marketing!
What Is Home Services Marketing And Importance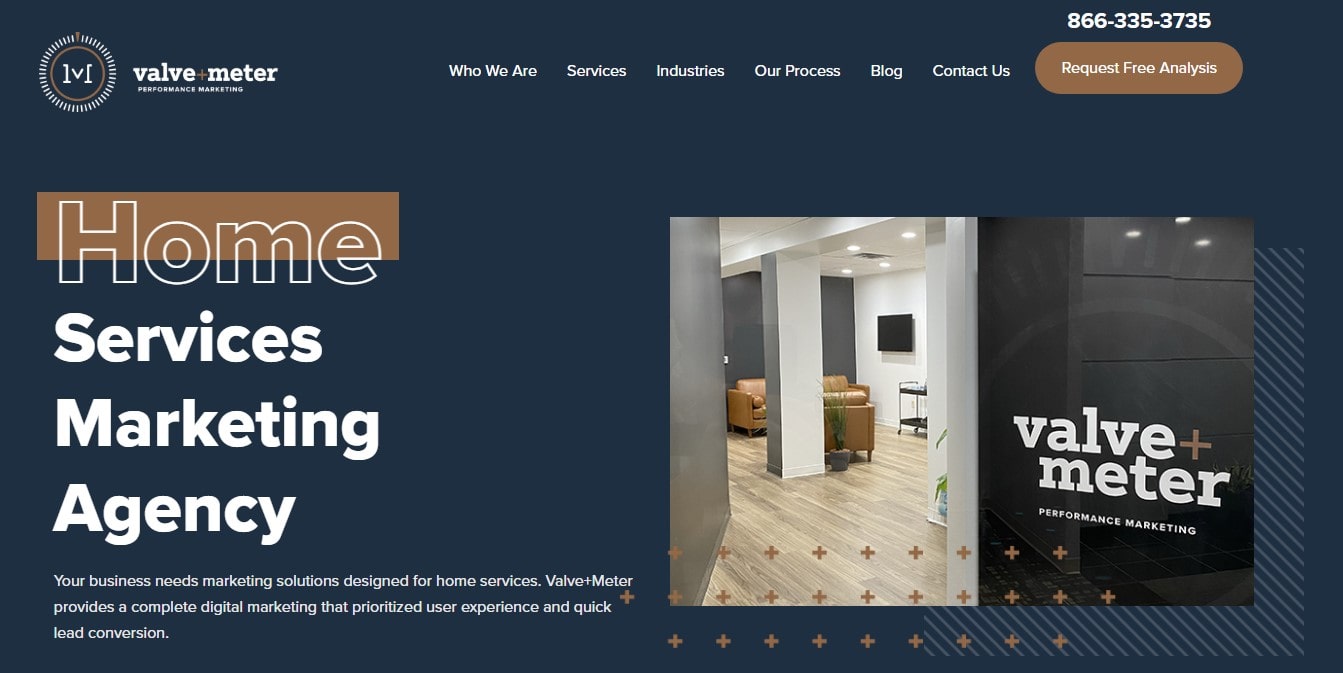 Home services marketing is businesses' dynamic method to promote their home-related services—plumbing, cleaning, landscaping, or remodeling—to their target audience. This specialized form of marketing is paramount for service providers keen on boosting their reach, reputation, and, ultimately, their bottom line.
Now, why is home services marketing essential? Here are a few compelling reasons:
Visibility—It amplifies your business' online and offline presence, enabling potential customers to discover your offerings easily.
Credibility—You build trust with your audience through thoughtful branding and customer testimonials.
Engagement—Interactive marketing channels allow you to connect with customers, solicit feedback, and improve service quality.
Take "Green Thumb Landscaping", for instance. They kick-started their home services marketing strategy with a robust SEO-friendly website—featuring their portfolio, client testimonials, and an informative blog. By consistently promoting their landscaping expertise across various channels, they've significantly increased their customer base and overall brand recognition in their local community.
In short, home services marketing isn't just about getting your business out there—it's about showcasing the value you bring to customers' homes and lives. Any home service business can pave the way for sustained growth and success in this highly competitive industry by harnessing the right strategies and tools.
Understanding the Home Services Market
Comprehending your home services market is like being given a detailed roadmap—navigating to success becomes significantly easier. This comprehension's cornerstone is identifying your target audience—demographics, preferences, common problems, and preferred solutions.
To illustrate, imagine a pest control service in sunny California. Their primary clientele likely comprises homeowners who face frequent infestations due to the area's warm climate. Catering their services to this demographic, focusing on common local pests, sets the tone for a highly relevant and effective marketing strategy.
Further, understanding the competitive landscape lets you discern what others in your niche offer and what makes your business stand out. Studying market trends keeps your business relevant and prepared to adapt.
Building a Strong Brand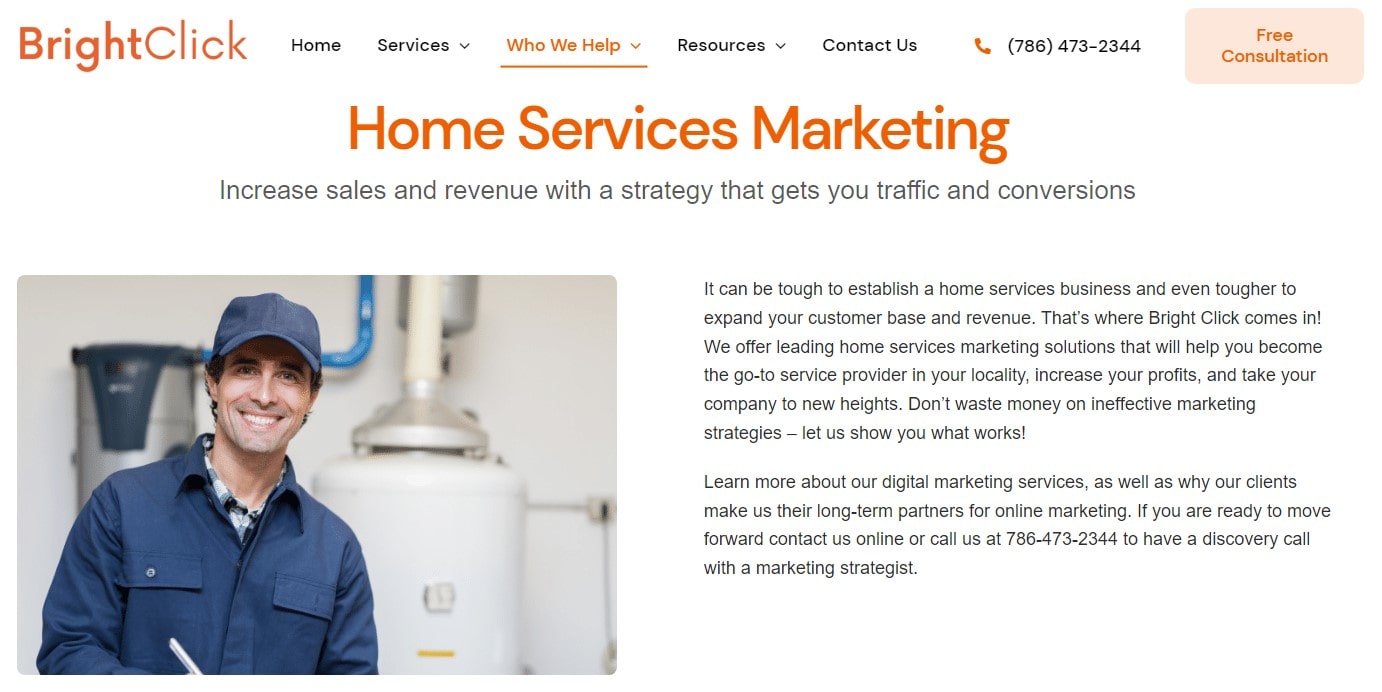 Your brand is the essence of your home service business—what it represents, what it offers, and how it resonates with customers. Here's how you can cultivate a solid brand:
Value Proposition: Be clear about what you bring to the table. Let's take an example of a residential cleaning service. Their value proposition could be providing eco-friendly cleaning solutions, a boon for customers concerned about chemical use in their homes.
Branding Design: Your logo, color scheme, and overall design should be professional, appealing, and consistent across platforms. This fosters recognition and trust.
Consistent Messaging: Your brand's tone and messaging should be uniform, whether it's on your website, social media, or email communication.
Let's consider "Blue Wave Pool Services". Their strong branding involves their unique value proposition of personalized pool maintenance, an appealing wave-themed logo, and uniform messaging about their dedication to customer satisfaction.
Enhancing Online Presence
With most customers turning to online sources to find home services, having a strong online presence is no longer optional—it's mandatory. To start, a professional, user-friendly website is key. It is a hub for your business information and a platform to showcase your work, highlight customer reviews and offer insightful content.
For instance, a home renovation company's website could feature before-and-after photos of projects, customer testimonials, and a blog offering renovation tips and advice.
Furthermore, embracing social media provides avenues for engagement, showcasing your work, and responding promptly to customer queries.
An excellent example is a local locksmith who uses social media platforms to share images of their work, provide security tips, and engage with their community. They've enhanced their online presence and positioned themselves as an expert, accessible locksmith service in their area.
Lastly, search engine optimization (SEO) best practices can drive organic traffic to your website. This involves keyword-rich content, backlinks, and a mobile-friendly website.
So, understanding the home services market, building a strong brand, and enhancing your online presence are three critical steps in crafting a successful marketing strategy. Each component works synergistically, driving your business towards greater visibility, reputation, and customer engagement. The examples shared to highlight how different home service businesses have implemented these components—inspiring you to carve out your own unique marketing path.
Local SEO and Online Directories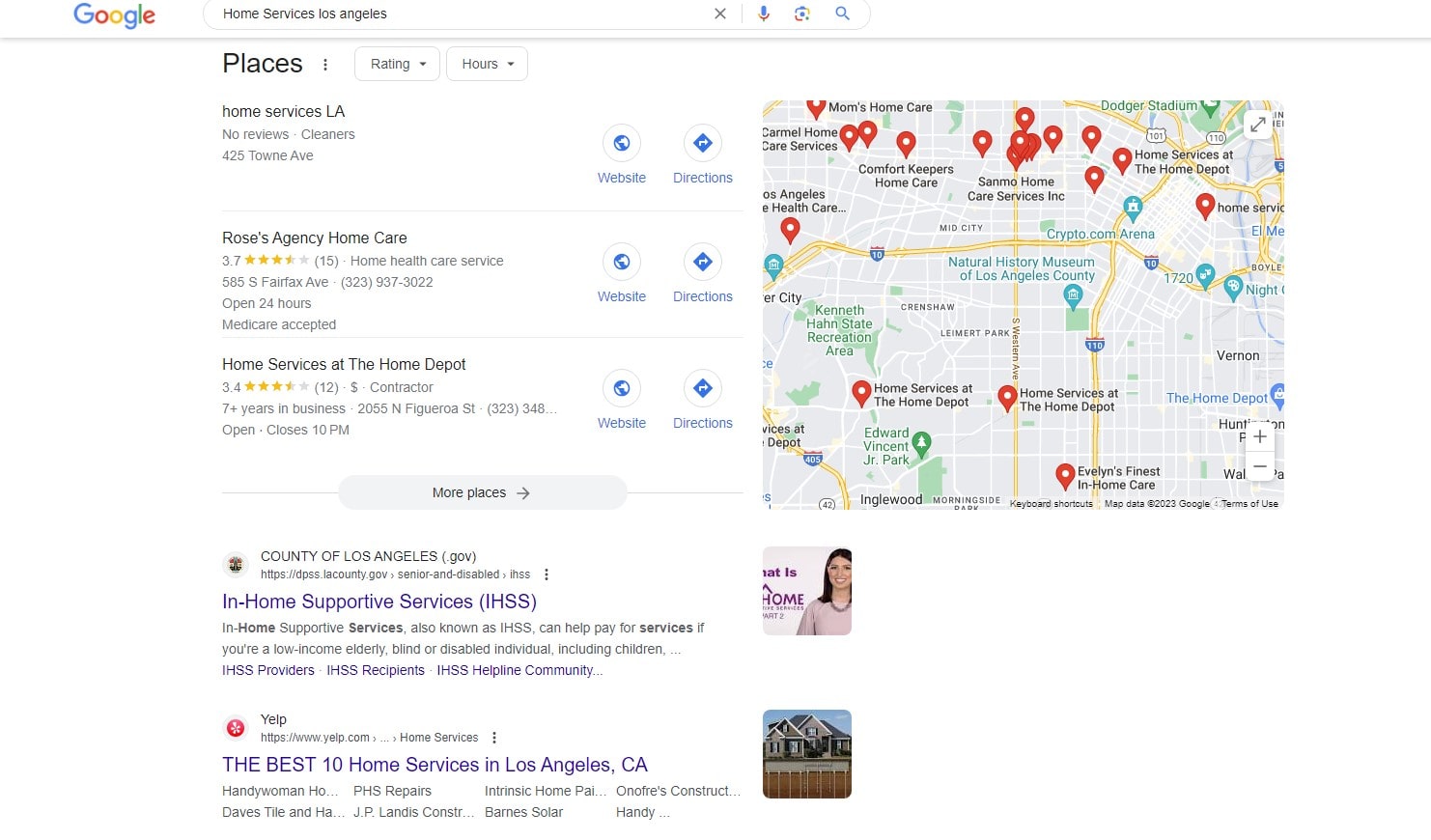 Establishing a robust local SEO strategy plays a vital role in the visibility of your home services business. Optimizing for local search terms and maintaining consistent NAP (Name, Address, Phone Number) information can elevate your business in local Google search results. Consider "Sunset Electricians," a Florida-based business that capitalized on its location by optimizing for keywords like "Florida electrician" or "electrical services in Florida," enhancing their local search visibility.
Online directories serve as digital yellow pages, directing potential customers to your doorstep. Google My Business, for example, is a crucial online directory that showcases your business in local search results and on Google Maps. "A1 Miami Plumbers" nailed their Google My Business listing by maintaining updated contact information, posting engaging images, and responding to customer reviews.
Paid Advertising Strategies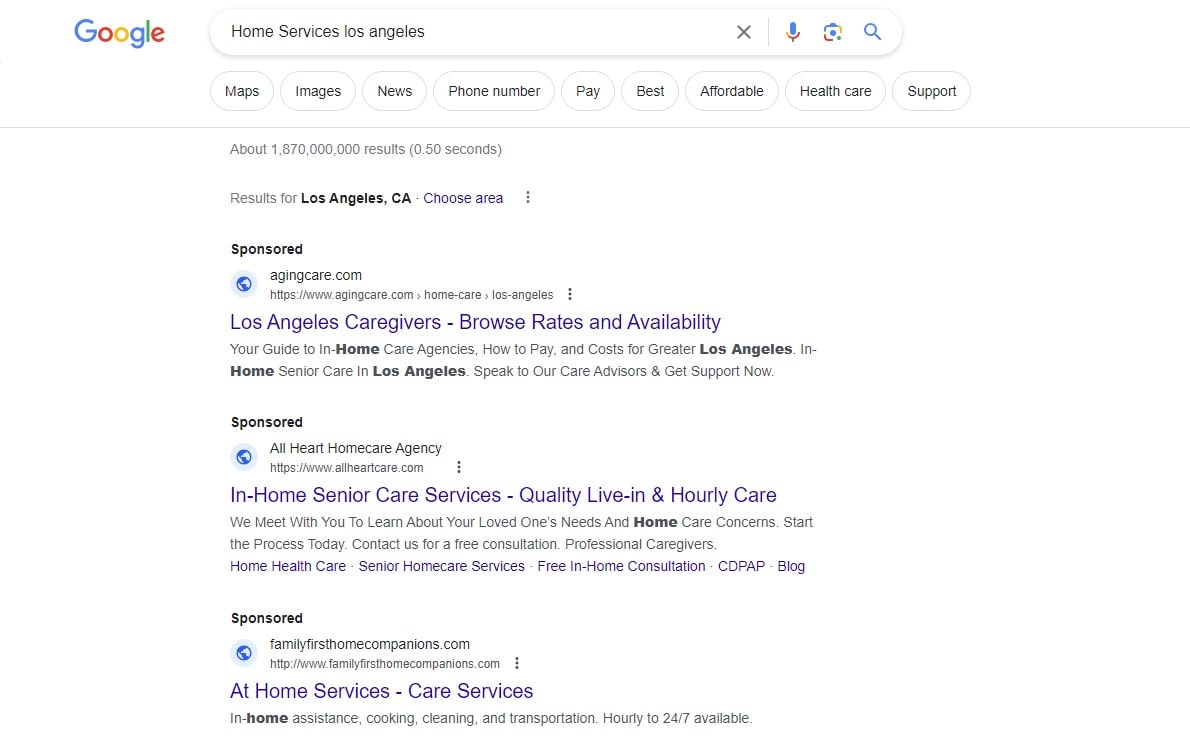 While organic reach is invaluable, paid advertising is like a turbo boost for your home services marketing. Pay-per-click (PPC) advertising, for example, ensures your business appears prominently in search results for specific keywords.
Social media advertising, on the other hand, lets you target customers based on demographics, interests, and more. A local landscaping company, "Greenscape Gardens," launched a targeted Facebook ad campaign showcasing their lush garden transformations, driving significant traffic to their website.
Another interesting approach is remarketing ads. These ads target individuals who've visited your site but have yet to convert. For instance, a home cleaning service, "Sparkle Clean," used remarketing ads to remind potential customers of their services, nudging them towards booking a cleaning session.
Encouraging Reviews and Testimonials
Online reviews and testimonials contribute significantly to your home service business's reputation. They showcase the quality of your services and build trust with potential customers. To put it simply, they are digital word-of-mouth referrals.
Take "Homestyle Renovations" as an example. They encouraged satisfied customers to leave reviews on their Google My Business and Yelp profiles. They then highlighted the best testimonials on their website. This strategy not only built credibility but also bolstered their local SEO efforts.
Responding to positive or negative reviews displays your commitment to customer satisfaction. A less-than-stellar review might seem like a setback, but it's an opportunity in disguise. "Eco Carpet Cleaners" turned a negative review into a win by promptly addressing the customer's concerns, showcasing their dedication to providing exceptional customer service.
In conclusion, incorporating local SEO and online directories, harnessing the power of paid advertising, and encouraging reviews and testimonials create a comprehensive, results-driven marketing strategy for your home service business. Using real-life examples of these strategies in action makes the impact on visibility, reputation, and customer conversion unmistakably clear.
Content Marketing and Blogging
Content marketing, specifically blogging, is a robust pillar in your home services marketing strategy. Providing informative, relevant content helps you rank higher in search results and positions your business as an industry authority.
An HVAC service, for example, "Breezy Comfort," runs a successful blog. Their posts cover "Maximizing your AC Efficiency" and "HVAC Maintenance Checklist." This valuable content drives organic traffic and demonstrates their industry expertise to potential customers.
Email Marketing
Building and nurturing relationships with your customers can significantly impact the success of your home service business. Email marketing is an ideal channel for this.
For instance, "Pro Handyman Services" sends monthly newsletters to their subscriber list. Each newsletter includes home maintenance tips, special offers, and the latest news about their services. This constant engagement keeps Pro Handyman Services in mind when subscribers need a handyman service.
Effective email marketing strategies for a home service business include:
Welcome Emails: Warmly welcome new subscribers and briefly outline their expectations from your emails.
Newsletters: Regularly send home maintenance tips, industry news, or new service announcements.
Promotional Emails: Announce special offers or discounts.
Review Request Emails: After completing a service, send an email thanking the customer and kindly asking for a review.
Using Video Marketing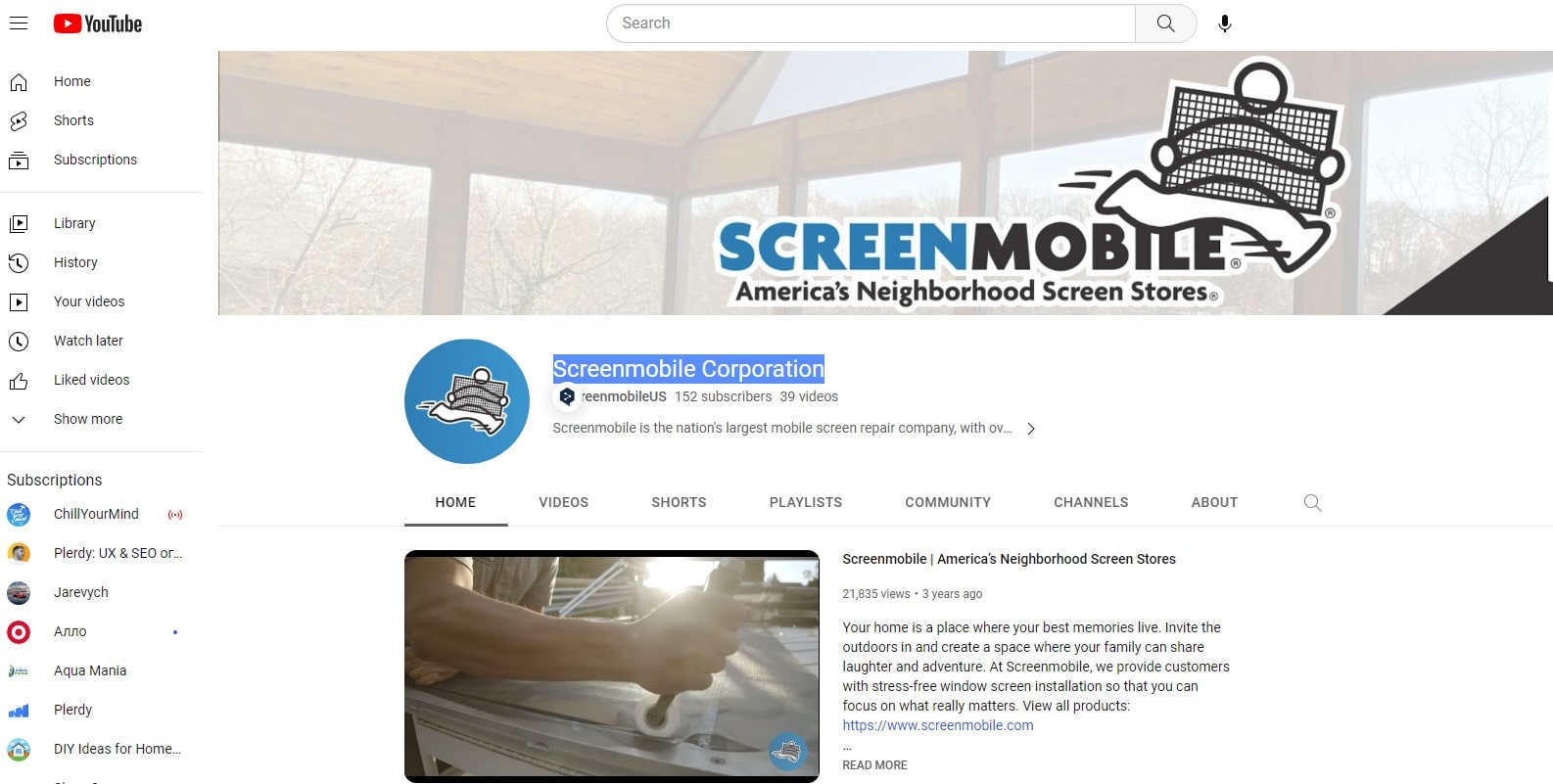 Video marketing is a potent tool, providing a dynamic way to showcase your home services. An explanatory video can give potential customers an in-depth look at your services, or before-and-after videos can demonstrate the impact of your work.
"Sparkle Window Cleaning," a window cleaning service, regularly posts short videos on their website and social media. These videos depict their team in action and the remarkable grimy to gleaming windows transformations. These visual testimonials effectively attract and convince potential customers of their superior service.
Tracking Your Marketing Performance
An essential aspect of any marketing strategy involves tracking and analyzing your performance. You need to understand what works and what needs to be able to refine your marketing efforts effectively.
"Cozy Insulation," a home insulation company, leverages Google Analytics 4 and Plerdy to track website traffic, traffic source, and most visited pages. This data guides them in understanding what content resonates most with their audience.
Performance metrics for various marketing strategies might include:
Website: Page views, bounce rate, session duration, and conversion rate.
Email Marketing: Open rate, click-through rate, and unsubscribe rate.
Social Media: Likes, shares, comments, followers count, and click-through rate.
Paid Advertising: Click-through rate, conversion rate, cost per click, and return on ad spend.
In the dynamic landscape of home services marketing, mastering content, email, and video marketing strategies and diligently tracking your marketing performance is key. As shown through the examples, Leveraging these techniques can significantly boost your business's visibility, credibility, and customer engagement. By harnessing the power of these strategies, your home service business can confidently navigate the digital marketing landscape and achieve sustained growth and success.
Conclusions
Taking the driver's seat in your home service business demands a strong grip on marketing strategies. It's not just about getting your brand out there – it's about conversing with your audience and turning potential leads into loyal customers.
With the ten comprehensive strategies we've unpacked, you've gained valuable insights into the power of content marketing, email campaigns, SEO techniques, video marketing, and more.
With strategic planning and execution, these marketing approaches can generate tangible results for your business, driving revenue and growth. Use marketing tools like Plerdy, with its powerful suite of SEO and UX analysis capabilities, to understand how well your website performs and how you can better optimize it to reach more potential customers.
Remember the importance of tracking your performance too. Whether through CRM systems or data analytics tools like Podium's Dashboard, staying on top of your data will help refine your strategies, improve customer engagement, and ultimately drive your bottom line.
As a home service business owner, the journey to marketing success is daunting. But with these proven strategies at your fingertips, you'll be well-equipped to navigate your way. So get started on these steps today – and see your home service business quickly ascend its ranks in its marketplace.
Remember, Plerdy is ready to be your partner on this journey, offering a free trial for you to test out their tools. Start working smarter, not harder, with your marketing strategies today. ⚡