Influencer marketing is rapidly developing, so staying on top of the latest developments is essential. That's where our comprehensive guide to the 15 top influencer marketing agencies in 2023 comes in – we've got you covered! These elite agencies will:
Propel your online brand to new heights ?
Forge strong influencer partnerships ?
Craft engaging campaigns that captivate audiences ?
Don't let your brand get left behind – these agencies are equipped to help you navigate the dynamic landscape of influencer marketing and achieve unparalleled success.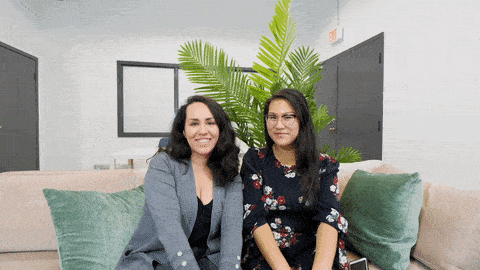 Unlock Your Website's Full Potential with Plerdy:
Maximize your website's impact with Plerdy – a powerful marketing tool that offers essential insights into user behavior (UX), conversion rate optimization (CRO), and more. Whether a small business or a global enterprise, Plerdy is designed to elevate your online presence and drive growth. So don't miss out – harness the power of Plerdy and take your website to the next level!
What is an Influencer Marketing Agency?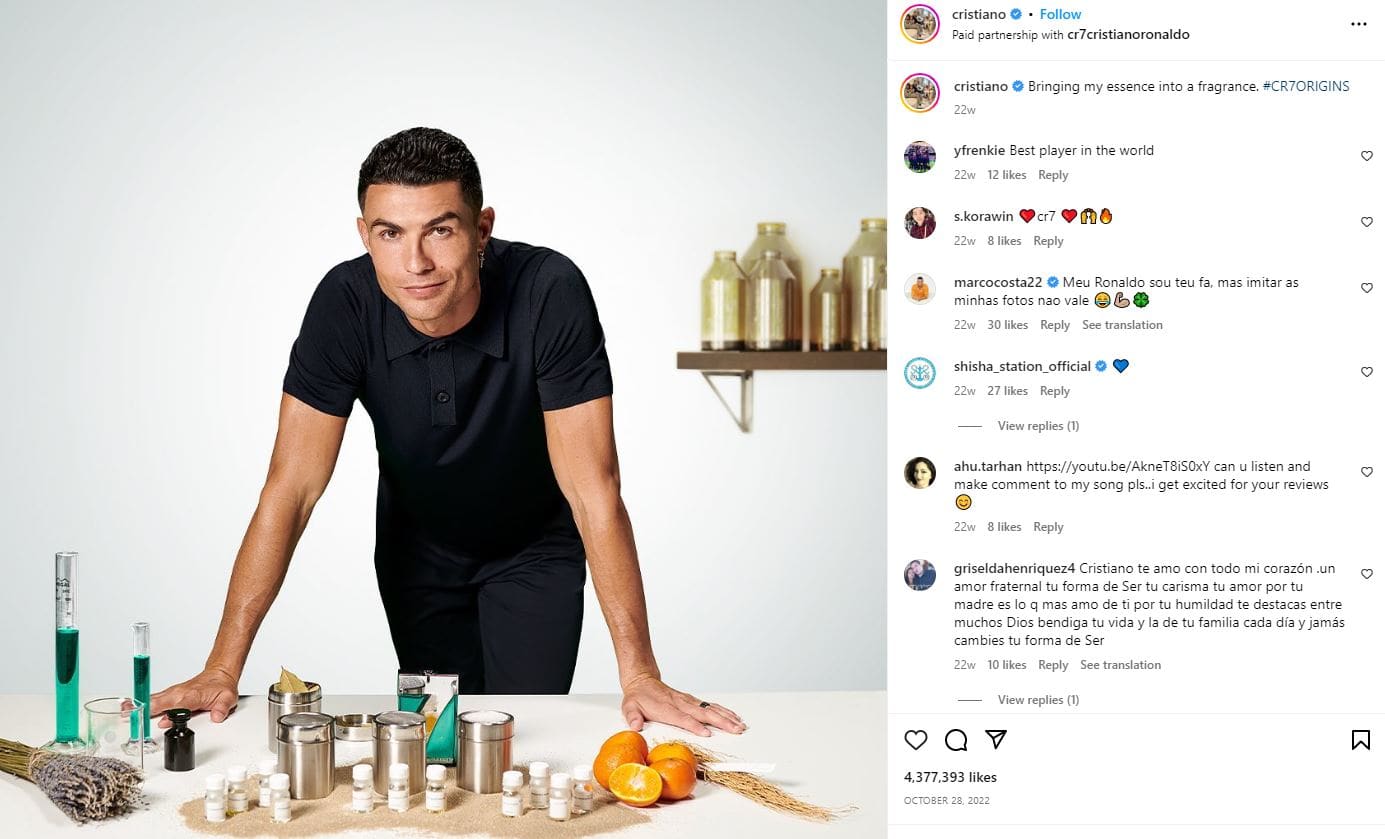 An influencer marketing agency is a powerful ally in today's fast-paced digital landscape, connecting brands with influential content creators to drive awareness, engagement, and growth. These specialized agencies bridge the gap between brands and influencers, crafting impactful marketing campaigns that resonate with target audiences. Here's a glimpse into the invaluable services they offer:
Influencer Identification: Pinpointing the right influencers for your brand ensures a seamless and authentic partnership.
Marketing Campaign Development: Strategize and create tailored influencer campaigns aligning with your brand's objectives and values.
Content Marketing Creation: Collaborating with influencers to produce compelling, high-quality content that captures your audience's attention.
Marketing Campaign Management: Streamlining communication and overseeing the execution of influencer campaigns, ensuring they stay on track and hit their goals.
Performance Analysis: Assessing the effectiveness of influencer campaigns using key metrics, driving continuous improvement and ROI.
By leveraging an influencer marketing agency, brands can tap into the power of influencer partnerships, amplifying their message and establishing a strong presence in their niche. These agencies serve as a one-stop-shop for all things influencer marketing, taking the guesswork out of the process and delivering tangible results that elevate your brand to new heights. So, don't hesitate – to partner with an influencer marketing.
The Magic Behind Influencer Marketing Agencies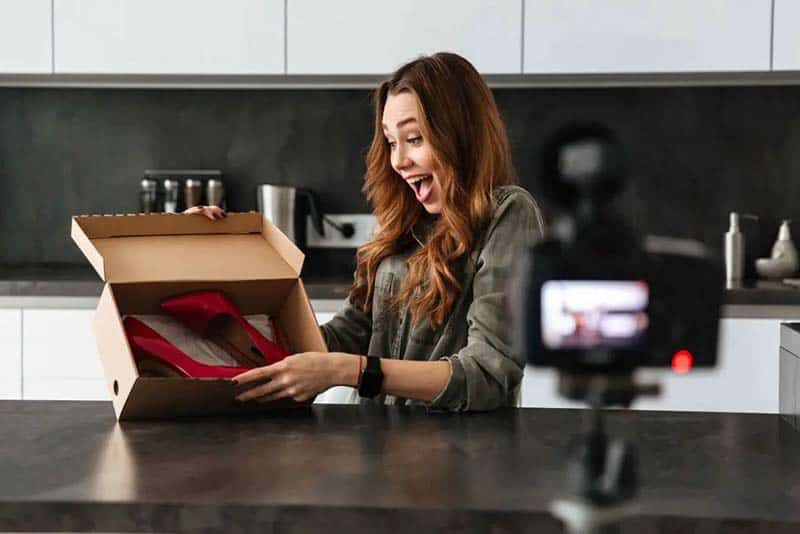 Influencer marketing agencies are the wizards of the digital realm, orchestrating unique brand-influencer collaborations that leave audiences spellbound. By leveraging their expertise, agencies provide a comprehensive suite of services that fuel your brand's growth:
Influencer Discovery: Agencies sift through the vast digital landscape to unearth the perfect influencers for your brand, ensuring a harmonious match.
Strategy Formulation: Crafting bespoke marketing strategies tailored to your brand's goals, values, and target audience.
Marketing Campaign Execution: Bringing the influencer marketing campaign to life, agencies oversee everything from content production to seamless communication between brand and influencer.
Performance Marketing Tracking: Agencies keep a keen eye on campaign analytics, measuring success and providing actionable insights for optimization.
Relationship Management: Building and nurturing long-lasting relationships with influencers and agencies pave the way for future collaborations.
With their finger on the pulse of the influencer world, these agencies effortlessly navigate the ever-evolving landscape, ensuring your brand remains ahead of the game. By partnering with an influencer marketing agency, you unlock a treasure trove of resources and expertise that boost your brand's visibility and engagement. So, plunge into influencer marketing and watch your brand thrive.
Types of influencer marketing agencies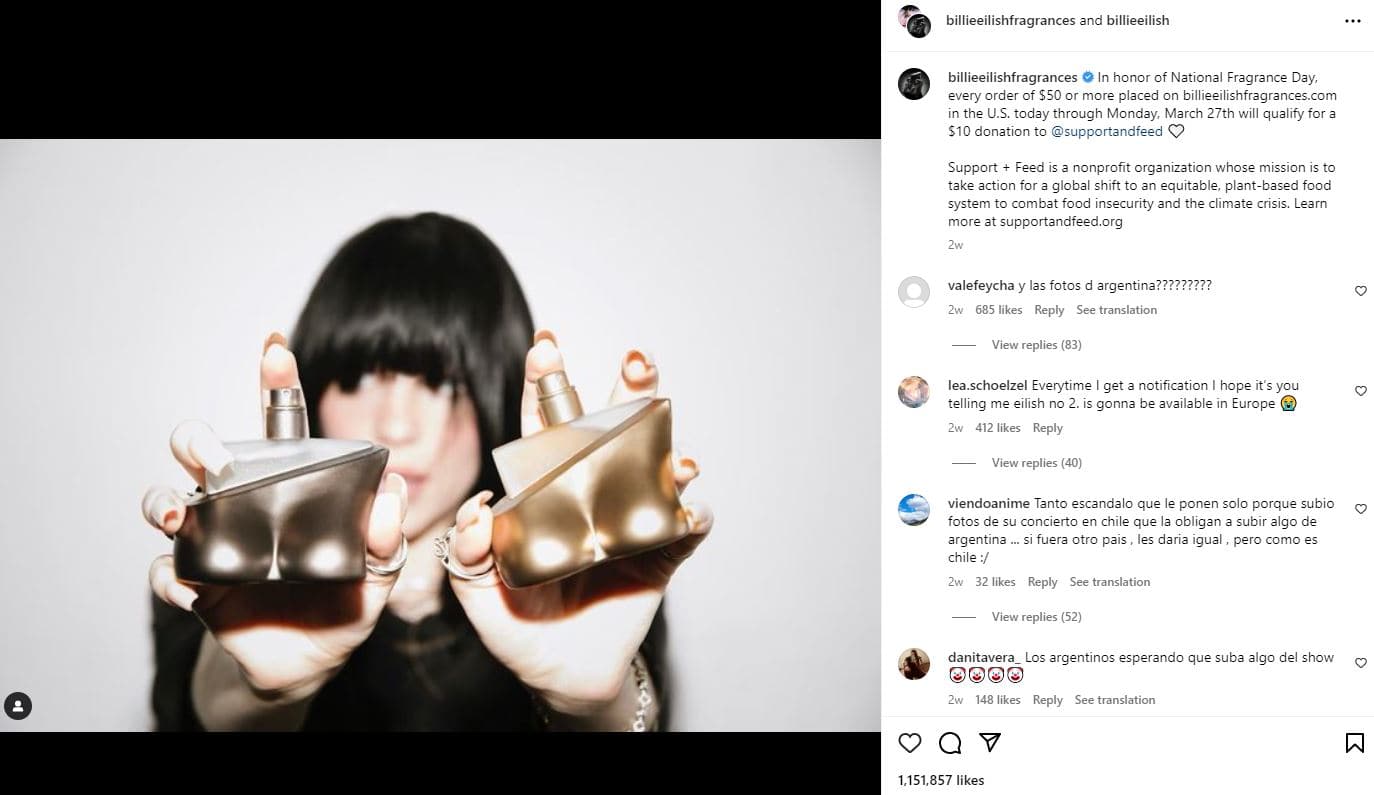 Influencer marketing agencies come in various shapes and sizes, catering to distinct needs and objectives. Familiarize yourself with the different types to find the perfect fit for your brand:
Niche-Specific Agencies: Specialized in a particular industry or market, these agencies possess in-depth knowledge and connections.
Full-Service Marketing Agencies: Offering services from influencer identification to campaign execution, these agencies cover all bases for a seamless experience.
Influencer Platforms: Providing access to a vast database of influencers, these platforms facilitate self-managed campaigns, granting you more control over the process.
Content-Centric Agencies: With a strong focus on creating high-quality marketing  content, these agencies ensure your campaigns resonate with your target audience.
Performance-Based Agencies: Driven by results, these agencies prioritize measurable outcomes and optimize campaigns to maximize ROI.
Understanding the types of influencer marketing agencies is crucial in selecting the right partner for your brand. By zeroing in on the agency that aligns with your goals and requirements, you'll be well on your way to a successful influencer marketing journey.
Choose the Right Influencer Marketing Agency
When you keep the following in mind, choosing an influencer marketing agency that fits in with your business is a breeze:
Relevant Experience: Partner with marketing agencies with a proven track record in your industry, ensuring they can navigate its unique nuances.
Influencer Network: A robust roster of influencers is crucial – look for a marketing agency with strong connections to diverse, authentic personalities.
Clear Communication: Seek out agencies that prioritize transparency and keep you informed every step of the way.
Tailored Strategies: Opt for agencies that craft bespoke marketing campaigns tailored to your brand's objectives and audience.
Analytical Prowess: Agencies with a data-driven approach are invaluable – they'll optimize campaigns and measure success precisely.
Remember, a top-notch influencer marketing agency will catapult your brand to a new summit – invest time in finding the perfect fit, and reap the rewards of increased engagement, visibility, and ROI.
List Of The Best 15 Influencer Marketing Agencies
Dive into our meticulously curated lineup of the 15 best influencer marketing agencies, and you'll find yourself swimming in a sea of opportunity. Each agency boasts a unique blend of expertise, creativity, and innovation – the ultimate recipe for skyrocketing your brand's presence in the influencer sphere. So, buckle up and prepare to embark on an exhilarating journey to influencer marketing stardom.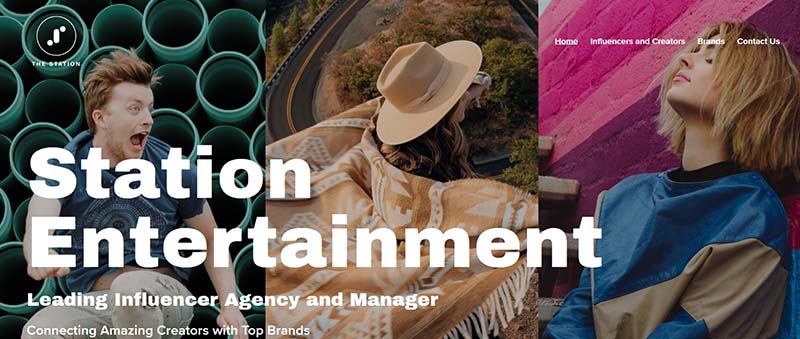 Station Entertainment is an up-and-coming influencer marketing agency that connects incredible creators with top brands. The agency's unique approach to the industry makes it a leading influencer agency. They offer various services, including influencer representation and management, brand influencer marketing campaigns, vision and strategy development, sponsorships, negotiations and legal services, and multi-channel growth. Station Entertainment is based on four principles: passion, integrity, empathy, and results. They believe passion wins and only work with creators and brands that share the same passion. The agency has worked with numerous talented creators, including DIY creators, movie reviewers, artists, financial creators, and lifestyle creators. Station Entertainment has partnered with several top brands to create brand/influencer campaigns that deliver impact and results.
Additionally, the influencer marketing agency works with influencers and athletes to build relationships and trust while having fun. They are here to be the ally their talent needs to grow and achieve their goals. So let Station Entertainment earn your trust and give you more opportunities for monetization by allowing them to handle the back-and-forth with brands.

The Americanized Influencer Marketing Agency could be just what you need. With years of experience, Americanoize has helped big brands win more customers and can tailor their services to meet your business goals and budget.
This global influencer marketing agency offers top-class influencer marketing services and can find the right influencers in your niche that match your overall content style and budget. They will negotiate with influencers to create win-win contracts based on your requirements and assist you in creating engaging influencer content that can impress your target audience.
The agency will also create a custom influencer marketing strategy and run campaigns to amplify your online presence. They'll ensure that your influencer marketing campaigns run effectively without any bumps, track campaign performance and analyze the value of each influencer collaboration.
Americanoize is different from other influencer marketing agencies. They believe building genuine relationships between brands and content creators is necessary to run effective campaigns, putting ethics and authenticity on a pedestal. They offer multiple revisions until satisfied and want to work with selected influencers. They have a track record of creating high-quality celebrity campaigns.
If you're looking for a marketing team of professionals to manage your influencer marketing campaign, Americanoize offers end-to-end campaign management services for multiple social media networks. They have served clients from various industries and have a proud track record of their client's success. For example, let Americanoize help you design an effective Instagram marketing strategy or run fully-managed paid promotions on YouTube.
Make sure to settle for top-class influencer marketing services. Contact Americanoize today to boost the ROI of your next influencer marketing campaign.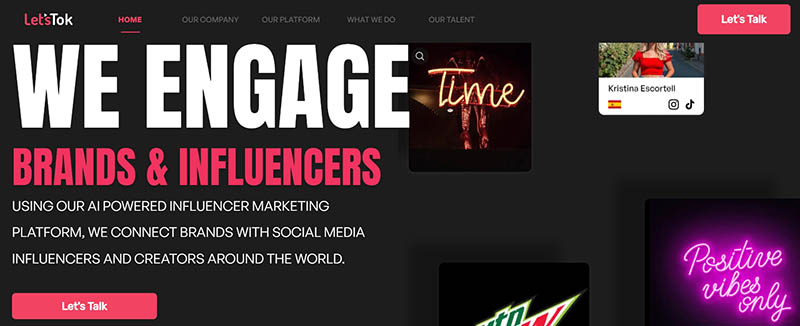 They engage brands and influencers using our AI-powered platform, which allows us to connect your brand with the right influencers and creators across all platforms to maximize your ROI. Here are some reasons why you should choose Lets Tok for your next campaign:
The marketing agency excels at amplifying your brand and harnessing the power of our AI influencer marketing platform to associate your brand with the appropriate social media influencers and creators to maximize your ROI.
Everything is done digitally, allowing for seamless brand collaborations with nano, micro, and macro influencers and content creators – all for a fraction of the cost of a typical influencer agency.
With Lets Tok, you can streamline your influencer marketing and user-generated content campaigns, resulting in a higher ROI and proven results.
They'll match you up with brands that align with your values. You're in the driver's seat, accepting jobs based on your interests, location, or preferred types of brands to work with. Let's Tok!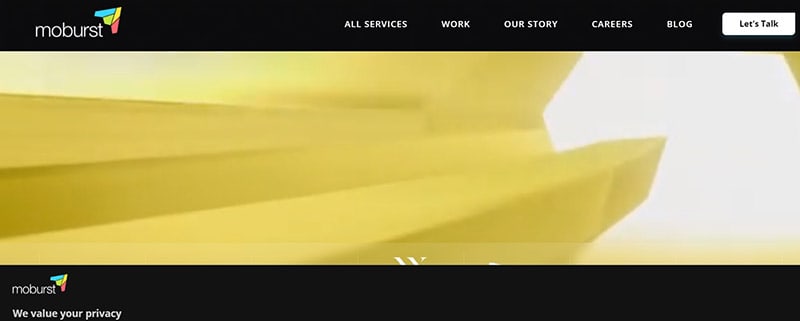 The Mobile-First Digital Marketing Agency is the influencer marketing agency for you. They help companies scale and become category leaders by innovating creative solutions and connecting brands with highly targeted audiences that convert into loyal users. These are some arguments for selecting Moburst:
Growth: Moburst is all about hitting your KPIs. That means no fluff, no excuses, just growth.
Results: They do everything based on real-time, measurable, and fully transparent data.
Experience: With over 600 products, Moburst's experts know what it takes to help your brand succeed.
Moburst influencer marketing agency has worked with some of the world's biggest companies, including Samsung and Reddit, to exceed their KPIs. Here are some of their cases:
Samsung achieved astronomical success, including a campaign that won an international award.
Reddit gained more app exposure and improved conversion optimization, especially for the most competitive keywords and phrases.
Gameit reached a #1 ranking for a line of important keywords and phrases in its field.
With these proven results, Moburst influencer marketing agency can help you become a category leader in your industry. So, if you're looking for an app or digital marketing services, let's talk and see how Moburst can help you blast off with hypergrowth.

SocialSEO is an industry leader in digital influencer marketing agency and was ranked the "#1 Digital Marketing Firm in America" by Upcity in 2021. The company's website offers various services to help businesses grow, such as SEO, social media marketing, paid search, email marketing, conversion rate optimization, Amazon marketing, influencer marketing, video production, and content strategy. SocialSEO promises to increase visibility, grow the customer base, and boost business sales. The company also reports its monthly progress and partners with its clients. SocialSEO influencer marketing agency offers field-proven proprietary processes and has worked with many big brands. Besides, the company is an influencer agency to help brands gain more exposure and boost engagement. SocialSEO provides customized reporting, social media advertising management, campaign content management, and communication handling. By working with SocialSEO, clients will see an increase in their customer base, sales, and consistent scheduling. The company also has a unique culture, and it's not all about a beer keg in the break room. Instead, the company values creative work that celebrates brands and is not just an ad agency. Businesses can set up a free consultation with the company to learn more about SocialSEO's influencer marketing services and culture.

Sociallyin is an influencer marketing agency that helps brands own social media presence. The influencer agency has been in the business for over ten years and has enough social media posts to circle the planet. Sociallyin is obsessed with social media, and it's all about collaboration and curiosity. The marketing team of passionate creatives is always ready to tackle the next challenge.
The services provided by Sociallyin are centered on delivering tangible results for clients. The services include social media strategy, management, community management and listening, influencer marketing, social selling, data analysis and ROI modeling, paid social advertising, and content production. The agency helps brands define their voice, giving it a unique tone that makes it stand out.
Sociallyin executes hyper-targeted campaigns with influencer marketing. The agency handles everything, from contracts to publishing, so clients can sit back and watch the campaigns unfold. Sociallyin helps clients increase their conversions and brand presence through influencer marketing.
Sociallyin helps clients build an influencer campaign strategy, locate the influencers, negotiate a reasonable price, work with them for clients, and handle all of the contract details. First, the agency assists influencers in creating amazing content that showcases clients' products and services. After that, the influencers blast the awesome content to their massive following, giving clients' brands, products, and services tons of exposure. Finally, Sociallyin provides clients access to all images and graphics used during the process to continue driving engagement and hit two goals with one ball.

Fresh Content Society (FCS) is an influencer marketing agency specializing in social media management. FCS has been in the industry for years and has worked with various clients across different fields, including LINE-X, Coleman Powersports, BlueDEF, ACV, Flowers for Dreams, Manny's Cafeteria & Delicatessen, Peak Auto, True Value, TravelCenters of America, Stern Pinball.
FCS marketing agency offers a range of full-stack social media management capabilities, including strategy, creative, community management, analytics/reporting, paid media strategy, paid media management, influencer management, and campaign management. Their marketing team of content creators designs and produces content tailored for each social media channel. It is optimized to stand out visually on timelines and compose copy written to engage your customers and audience meaningfully. Influencer marketing agencies also provide 24/7 community management services, where their community management team is on the front lines of monitoring, engaging, and protecting your brand online.
One of their core marketing services is influencer management, where they aim to create impactful social media campaigns that stay in the minds of your target audience even after scrolling away. FCS uses tailor-made strategies backed by data to deliver the brand message to the target audience. They work as an end-to-end influencer management partner, from brainstorming for your influencer management strategy to execution and reporting. With FCS marketing agency, you can unlock your brand's creative potential and achieve your business goals.

Influencer marketing agencies provide customized marketing strategies designed by top experts in each field, from SEO and PPC to social media, web design, and more. Ignite Visibility has been ranked #1 on Clutch.co and is a 6x Inc. 5000 company. Their proprietary digital marketing forecasting system, Certainty, evaluate competitive data, forecasts revenue, install reliable tracking and offers best-in-class strategy, services, reporting, and industry insights. This system helps their clients grow their businesses online. They offer various custom services uniquely tailored to each business, such as search engine optimization, social media marketing, digital PR, CRO, and more. Ignite Visibility influencer marketing agency, has worked with numerous clients, such as Fix Auto USA, and their services have helped clients more than triple their traffic and reach record numbers online. They offer a free consultation and a free forecast within one business day, giving qualified businesses the upper hand in their marketing mix. With their ROI-based marketing approach, Ignite Visibility brings certainty into your marketing mix, helping you grow your business online.

Socialistics is an influencer marketing agency that believes that likes don't pay bills, so they focus on driving real business growth through their marketing efforts. Here is what you can expect from Socialistics:
Organic Social: They understand the importance of storytelling and community building on social media, and they help their clients achieve this through a carefully planned out strategy, editorial calendars, copywriting, graphics (image, video, motion), reporting/analytics, community management, and social listening.
Paid Social: Socialistics can also help you reach the right audience through paid social media campaigns, which include audience targeting, A/B testing, budgeting, creative development, marketing reporting/analytics, and optimizing.
Clients: Socialistics has worked with big-name clients like the US Air Force, GoHealth, and John Howie Steak.
Services: Their services include strategy development, community management, copywriting, social media graphics, and analytics and reporting.
Approach: Socialistics believes in building relationships with clients and earning their trust by being informative, educational, and helpful. They also take creative risks and trust their expertise to achieve the best results for their clients.
Pricing: Generally, Socialistics charges $3,000 to $5,000 per month on average for their services, and they offer six and 12-month contracts.
If you care about real results and not just vanity metrics, have a marketing budget, and are willing to take creative risks, then Socialism may be your best option partner. Their focus on storytelling, community building, and relationship building makes them stand out in the crowded world of social media marketing agencies.

Sachs Marketing Group is an award-winning influencer marketing agency that provides a wide range of services, including SEO, social media, and web design. The agency offers data-driven strategies and sustainable results to help businesses improve their online presence. Sachs Marketing Group is a non-sketchy digital marketing agency with a performance-based model vested in its clients' success. The agency works to build long-term, mutually beneficial business partnerships with its clients, which has led to its first client, who joined over 12 years ago, still being with the agency today. The Sachs influencer marketing agency is a full-service digital marketing agency that performs all work in-house and never outsources. The agency has been humbly awarded year after year for its digital marketing services. Sachs Marketing Group has a marketing team of web strategists, SEO professionals, social media experts, copywriters, graphic designers, programmers, and developers that make a dream come true.
Social media development and influencer marketing are two of Sachs Marketing Group's core services. The agency helps businesses use various social media platforms to their advantage to educate and engage their audience. First, the Sachs Marketing Group analyzes the existing social media accounts. It helps determine where audience members are so businesses can cultivate an actively engaged following on the most valuable platforms for their niche. Then, the agency creates a social media development strategy to grow the following across the platforms selected and manages it to help businesses focus on their core strengths. Sachs Marketing Group, an influencer marketing agency, helps businesses choose the right social networks by asking a few questions to determine where the ideal customers are the most active. As a result, the agency helps businesses stand out above all their competitors, leading to increased traffic and conversions regardless of where they rank in the search engine result pages.

Fresh Content Society is a full-stack social media marketing agency specializing in creating unique, channel-specific business content strategies. The agency provides various services, including strategy and creative, community management, analytics and reporting, paid media, and influencer management. Fresh Content Society has a proven track record of success, having worked with notable clients such as True Value, ACV, TravelCenters of America, and more.
Their influencer marketing strategy service offers businesses a foundation and game plan to increase audience size, impressions, engagement, and sales. The marketing and the creative team produce tailored content optimized to stand out on social media timelines visually and written in a way that engages the audience meaningfully. FCS offers 24/7 community management services with a reactive and proactive approach to building meaningful customer relationships. Additionally, their analytics and reporting service uses channel data to make informed decisions for clients to improve performance.
Paid media strategy and management and influencer management are also available for businesses looking to take their marketing to the next level. FCS identifies, negotiates, manages, and reports on influencer campaigns. They also offer campaign management and strategy to ensure businesses execute extensive activations successfully.
The influencer marketing agency's website features news, reviews, and case studies on their past clients and work. FCS takes a channel-specific approach to its content strategy and has clients featured on Instagram, TikTok, Twitter, and YouTube. Fresh Content Society is dedicated to building organic social media communities and customizes strategies to reach businesses.

Idea Grove is a top-tier PR and marketing agency specializing in B2B and technology companies. Their mission is to help clients Grow with Trust by turning skeptics into believers and reducing friction in the buying process. Influencer marketing offers a unified approach to Three-Dimensional Brand™ Strategy, Public Relations, Web Design, Content Marketing, HubSpot Consulting, and Social Media, creating standout brands that consistently outperform larger competitors in the battle for public attention and trust.
Their services include:
Three-Dimensional Brand™ Strategy
Public Relations
Web Design
HubSpot Consulting
Social Media Marketing
Idea Grove has helped many clients achieve their goals through their innovative approach. For example, they worked with Avantra to create a state-of-the-art AIOps platform for SAP, and their rebranding had buyers shouting their praises from the mountaintops.
Their clients include well-known companies such as Amazon, ConverseNow, Esker, Mitel, NEC, Oerlikon, Sabre, and Stanford.
Idea Grove influencer marketing agency has been in the niche for many years and continues to provide exceptional services to its clients. They have been recognized for their outstanding work and have won many awards. They were also featured in top publications such as Forbes, The Wall Street Journal, and The New York Times.
Idea Grove is the agency to work with if you want to elevate your brand and grow your business. They have an influencer marketing team of experts who are passionate about their work and will go above and beyond to ensure your success. For instance, their social media approach aims to develop relationships with influencers in your space, build your brand reputation through review site presence, connect with potential recruits and current employees, and nurture top-funnel prospects with information during the research phase.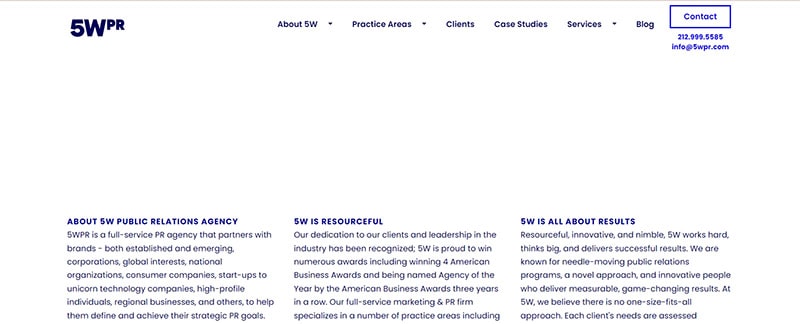 5W Public Relations influencer marketing agency is a full-service PR firm that partners with both established and emerging brands, corporations, global interests, and high-profile individuals, among others, to help them define and achieve their strategic PR goals. Founded in 2003, 5WPR is an independently owned PR firm focused on bringing forward-thinking communications and lasting results to clients. The marketing team of 300+ passionate and creative public relations and digital PR experts work from the media capital of North America, in the center of New York City, to deliver fully integrated campaigns.
5WPR influencer marketing agency is dedicated to its clients and leadership in the industry, winning numerous awards, including 4 American Business Awards and being named Agency of the Year by the American Business Awards three years in a row. Their full-service marketing & PR firm specializes in several practice areas, including B2C, B2B, Digital Media, Public Affairs, Government Relations, and Crisis Communications. They are known for their needle-moving public relations programs, novel approach, and innovative people who deliver measurable, game-changing results.
At 5WPR, they believe that each client's needs are assessed individually, and then marketing team members devise smart, proactive public relations, digital marketing media, and influencer campaigns that exceed expectations. Their services include engaging narratives, strategic implementation, and game-changing communications results. They have also opened a Miami Agency and launched a 5W University course.
They specialize in influencer marketing in practice areas such as Beauty & Fashion, Consumer Brands, Entertainment, Food & Beverage, Health & Wellness, Technology, Travel & Hospitality, Corporate Communications, Reputation Management, CSR, Sustainability Communications, Social Media, Influencer Marketing, SEO, and Graphic Design. In the constantly shifting digital world, 5W helps clients navigate ever-changing media, business, and consumer landscapes.

AJ Marketing is a Creative Digital Marketing Powerhouse in the Asia-Pacific region that offers full-service digital solutions to cater to every marketing need. Here's what you need to know about them:
Their services include Influencer Marketing, Performance Advertising, Press releases, Celebrity campaigns, Social Media Management, Digital Billboards, and SEO.
They provide authentic storytelling across ten countries in the Asia-Pacific region, including Singapore, Japan, Korea, India, Indonesia, Malaysia, Vietnam, Philippines, Thailand, and Taiwan, reaching over 1 billion consumers.
AJ Marketing is a full-service creative agency that provides solutions to every marketing need, including planning and executing marketing strategies that best fit a brand.
They employ the latest marketing technologies and work with premium influencers and celebrities. Their influencer network comprises experts from various categories who tell powerful stories and turn engagements into value.
AJ Marketing has local teams operating in all ten countries mentioned above, and they speak 15 different languages, enabling them to deliver campaigns across Asia.
The influencer marketing agency provides access to over 7000 partner influencers, a reach of 1.3 billion audiences, and ten country locations.
They have worked with several renowned brands that trust them for their creative marketing campaigns, including social media management.
AJ Marketing believes in creating content that sparks conversation and disrupts traditional marketing models to make an impact.
They offer a free monthly Asia marketing newsletter, The Marketer's Guide to Asia, for businesses to unleash their brand's potential with proven marketing tactics and business intelligence.
AJ Marketing influencer marketing agency is a trusted, creative, and authentic full-service digital agency that can help businesses maximize their brand's message through viral campaigns on various channels like YouTube, Instagram, TikTok, Twitter, and Facebook. They have the technology, talent, and experience to create compelling content that speaks to local audiences and achieves the desired marketing objectives.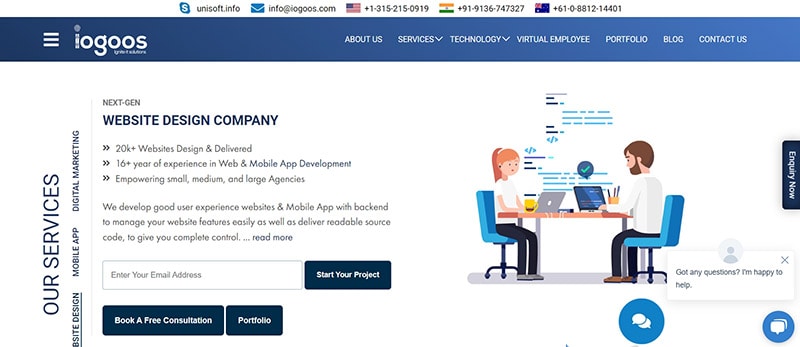 IOGOOS Solution Pvt Ltd is a next-gen website design and influencer marketing agency with over 16 years of experience in web development. They empower small, medium, and large agencies to develop user-friendly websites and mobile apps with backend features to manage their websites easily. IOGOOS Solution influencer marketing agency has delivered more than 20,000 websites. It has a marketing team of over 350 professionals specializing in web development, UI/UX development, Android and iOS app development, PWA app development, cross-platform app development, eCommerce development, Shopify development, Magento development, and technology consulting.
They use an agile methodology that makes them the best web and app development company, with certified developers for Shopify and Google. IOGOOS Solution helps clients earn millions of dollars by delivering business-oriented outcomes 2X faster than their competitors using simple digital marketing strategies and systems. Their creative and marketing team strategically uses colors and textures to provide an innovative and creative user interface and experience. IOGOOS influencer marketing agency offers clients free consultations and helps maximize their website potential with high conversion rates.
Bottom Line
The 15 top influencer marketing agencies in 2023 will offer diverse services catering to various niches and industries. By vetting potential partners through rigorous criteria – such as previous client success, employee count, and specialist expertise – you can handpick the perfect agency to propel your brand forward.
Now's the time to leverage these noteworthy agencies, as they're equipped to navigate the latest trends, excel in influencer partnerships, and amplify your brand's message. From CPG to DTC and SaaS, these agencies have a finger on the market's pulse and are ready to help you make a splash.
To gain a detailed view of each agency, check out their individual profiles, which include snapshots of their work, descriptions of their services, and client testimonials. So, don't hesitate – to start your journey to influencer marketing success by partnering with one of these exceptional agencies today.
In addition to partnering with a top influencer marketing agency, consider harnessing the power of Plerdy to elevate your online presence. With hands-on support, in-depth analytics, and compliance tools, Plerdy is the secret weapon that ensures your website truly shines. Explore Plerdy's features and how they can complement your influencer marketing efforts for the ultimate marketing acceleration.