Welcome to my article on the 15 Best PR agencies in 2023! ? Public relations, or PR, is an indispensable aspect of the modern economic environment. It entails coordinating the dissemination of information between a business or organization and the general population. A reputable PR agency may aid in increasing brand awareness, enhancing credibility, and establishing a great reputation ?
This article ranks the top 15 public relations (PR) agencies for 2023 based on their reputation, experience, and success rate. These PR agencies have a track record of providing outstanding services, including media relations, crisis management, and social media outreach.
Whether a small start-up or a major organization, selecting the best public relations agency can make all the difference in your success. Let's examine the list of the top 15 PR agencies in 2023 to choose the best fit for your company ?.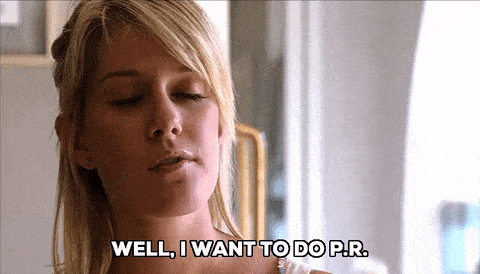 What is a PR Agency, and What Does it Do?
PR agencies are critical in reputation management, crisis management, social media, media relations, speech writing, internal communications, event planning, and market research. Their job is to protect and enhance the public image of their clients. They do this by monitoring the media for negative stories, conducting damage control in a crisis, and promoting their client's positive image.
Crisis management involves developing comprehensive communication plans and being prepared for potential problems. PR agencies work to generate positive press coverage, raise awareness, build credibility, and generate leads. They develop compelling press releases, identify relevant journalists, and pitch story ideas. They also help their clients write persuasive and engaging speeches and internal communications free of grammar mistakes.
Market research is crucial in any effective PR campaign, as it helps to understand the target audience and develop messaging that resonates with them. Events can be a valuable component of a marketing and PR plan. PR agencies take on the role of event planner when their client is hosting an event that media members will attend. The goal is to ensure that the event runs smoothly and that the client comes across positively.
List of the 15 Best PR Agencies
Here is a rating of the top-ranking B2C and B2B PR agencies to consider. The list of top firms is based on the specialists' range of services, their win-win case studies, and reviews.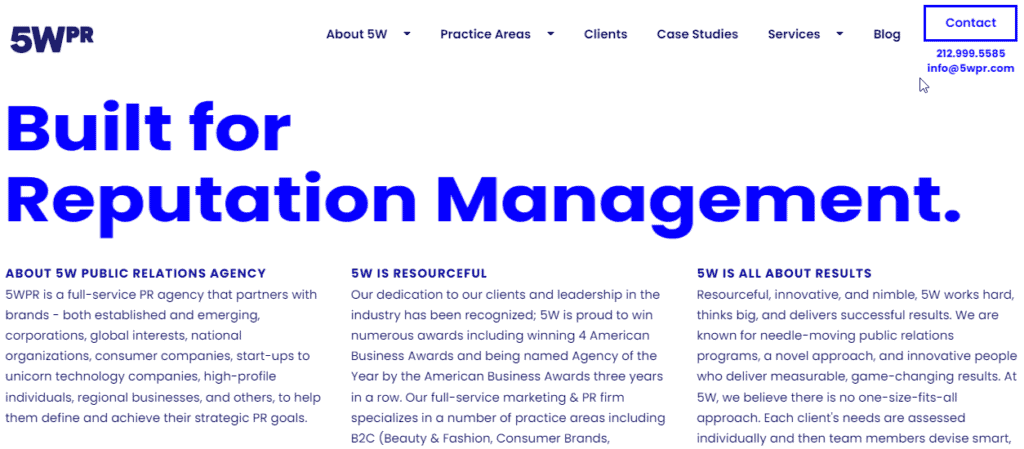 5W Public Relations is an independent PR agency based in New York City. The agency has partnered with brands ranging from established and emerging corporations to start-ups, global interests, national organizations, consumer companies, high-profile individuals, and regional businesses to achieve their strategic PR goals. The team of 300+ passionate and creative public relations and digital PR experts delivers fully integrated campaigns that bring forward-thinking communications and lasting results to clients. 5WPR specializes in several practice areas, including B2C, B2B, digital media, public affairs, government relations, and crisis communications.
The agency's success is evident in its numerous awards, including being named Agency of the Year by the American Business Awards for three consecutive years. The agency's website is resourceful, offering an overview of its practice areas and services, including public relations (PR), crisis management, event marketing, influencer marketing, and SEO. With its expertise and reputation in the industry, 5W Public Relations is a great partner for companies looking for high-quality and effective PR services.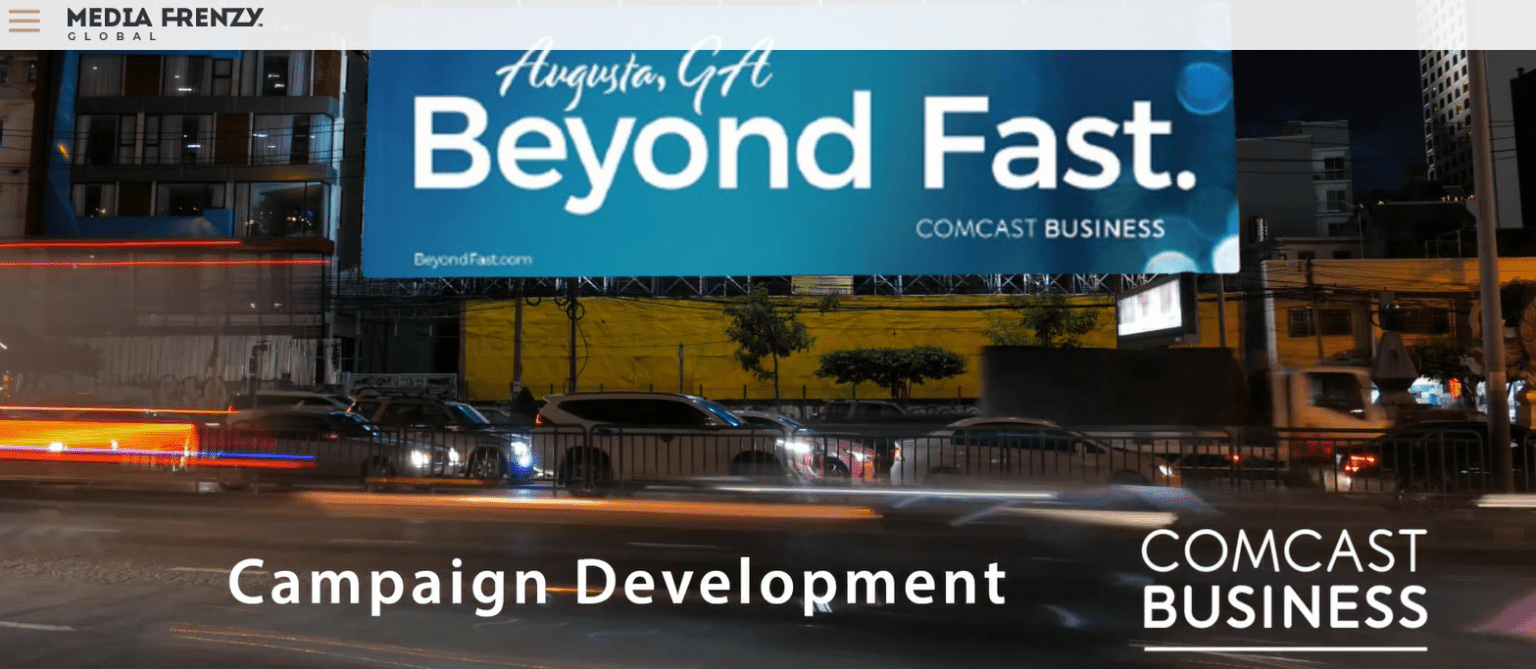 Media Frenzy Global is an award-winning PR agency that provides marketing and PR services focusing on technology brands. The company offers brand messaging and identity services, public relations, and digital marketing. Public relations (PR) is a specialty area of the company that demands expertise as it is dynamic with constantly changing hot topics, products, and acronyms. Media Frenzy Global offers a range of PR services customized based on the brand's stage of its journey, goals and audience. These include media relations, industry analyst relations, influencer relations, crisis management, speaker and awards, and media training.
The company's digital marketing services include campaign management, digital advertising, lead generation and performance campaigns, marketing strategy audits, measurement and analytics, performance marketing and retargeting, and SEO & SEM/search advertising. Media Frenzy Global has extensive expertise working with brands across a wide range of tech industries, meaning they understand the fast pace of change, tech jargon, influencers and the buying decision process.
The agency's US roots were established in Atlanta in 2013 and London in 2006. The company's name comes from its proven ability to develop a media frenzy by strategically implementing marketing and PR campaigns that drive engagement and customer acquisition to and from the media, analysts, influencers, internal stakeholders, and customers.

BIGfish Communications is a unique public relations (PR) firm that assists clients in the B2B, B2B2C, and B2C sectors to reinvent industries through smart media campaigns and thoughtful storytelling. For their work in public relations, they have received 15 Clutch Awards in their 23 years of operation. Additionally, they provide various corporate communications services, including addressing crises, interacting with the workforce, and working with the community. To effectively raise awareness and convey their clients' visions, BIGfish Communications uses honest and compelling storytelling. BIGfish Communications believes that every organization has a unique narrative to tell.
The company's goal is for every customer to view them as their agency of record and an important member of their communication team. They work to establish long-term connections with their clients and attempt to foresee issues before they arise using a team of executives who have both commercial and technical skills. Because BIGfish Communications goes above and beyond to ensure the success of its clients, it is difficult to ignore the stories it tells.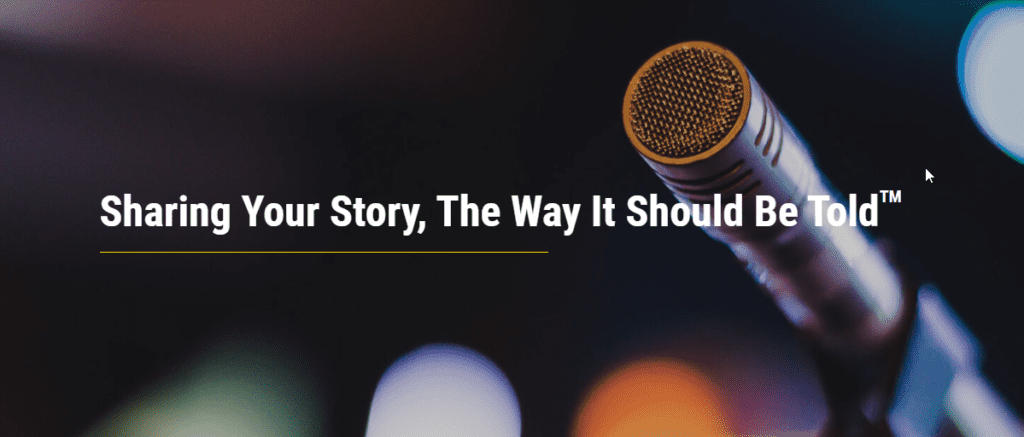 10 to 1 Public Relations PR agency provides targeted and appealing strategic communication services to help clients achieve their objectives. They have the knowledge and experience to create, plan, and implement communications strategies across North America. They collaborate with various media channels to develop interesting stories for their clients, including the local market, industry-specific, national business, mainstream, and websites. They offer various services, such as crisis communication management, employee communication, media training, public relations, and trade show media. Health and wellness, mechanical and construction, professional services, technology, transportation, real estate, and finance are just a few industries they serve.
They've worked with FirstBank, YellowBird, SEN Design Group, Vantage Mobility International, Phamatech, Dexwet, Inspected, Advanced Genomic Solutions, and Encántame Towers, among others. The honors and distinctions received by 10 to 1 Public Relations represent their hard work and dedication to servicing their clients. They have a well-defined strategy that includes setting the goal, defining the target audience, selecting the appropriate media channels, and activating, monitoring, and reporting their communications plan.

Content marketing, corporate communications, brand communications, social media, and website development and design are just some of the many PR and marketing services offered by Communication Strategy Group – a PR agency. The firm aims to aid clients in their commercial endeavors by developing and implementing effective communication strategies to address issues. The Group has concluded that the key to effective communication is to ask the correct questions to arrive at the greatest possible solution.
Among the many sectors served by Communication Strategy Group are aerospace, education, sustainability, technology, wellness, financial services, and healthcare providers among the Fortune 500. Its client roster includes the likes of Myers-Briggs, Wells Fargo, NASA, and many more.
Thought leadership, customer engagement, crisis communications, and business analytics are just some of the agency's strategic marketing services to its customers. The Communication Strategy Group's first-rate public relations (PR) services have aided multiple businesses in raising their profiles. In addition, Communication Strategy Group provides services that aid customers in improving their communication and so accomplishing their corporate goals.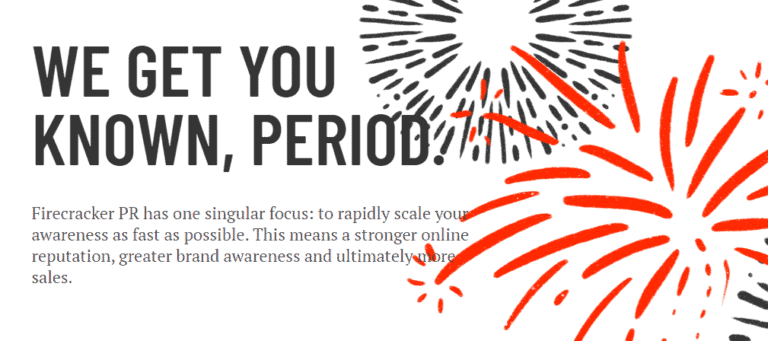 Firecracker PR is a PR agency that focuses on rapidly scaling a business's awareness, leading to a stronger online reputation, increased brand awareness, and more sales. The agency provides a five-step process called "Ignites" that has been proven to help companies create sustained, consistent media mentions. The process includes promotion, thought leadership, newsjacking, source filing, and content marketing.
The agency also has an extensive list of clients, such as Fujitsu, Boeing, TP-LINK, the American Heart Association, and Baylor University. Firecracker PR provides a custom proposal that meets clients' needs and budgets and works on a monthly retainer model. Although they cannot guarantee results, they have a track record of success and positive reviews on Clutch and G2. The agency works quickly; most clients can see results within 30-60 days. Additionally, the agency does not lock clients in for a long-term contract. Instead, it provides a simple 60-day out clause and uses the monthly media mentions as a core KPI to determine success.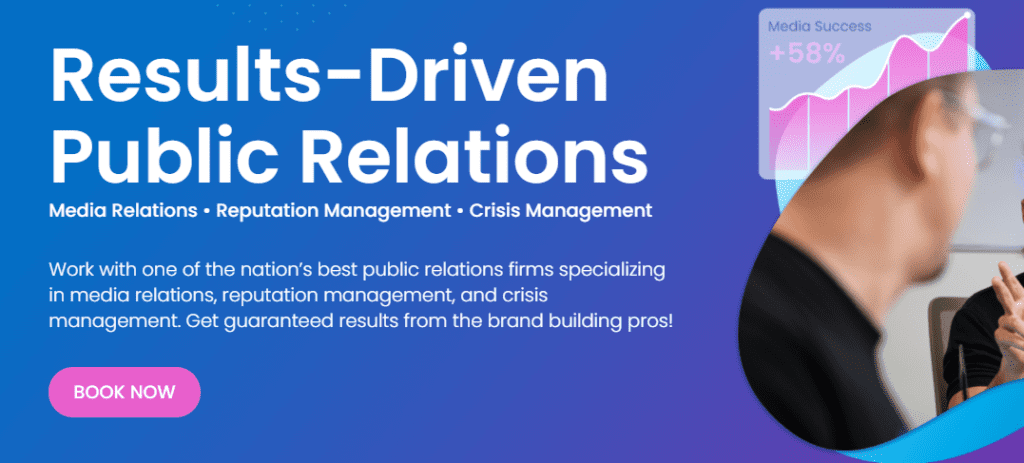 Otter Public Relations is a results-driven PR agency specializing in media relations, crisis management, and reputation management. The agency's focus is on building brand consistency. They begin their service by auditing brands and communications to determine where clients' PR tactics could be more consistent and where they need improvement. Then, Otter PR Relations will define the client's PR strategy and pitch the client's brand to the press to ensure that the client gets featured in the top media outlets of their industry.
The agency has over 300 years of combined experience in PR tactics, PR strategy, marketing, publishing, and social media. They promise to hear the client's story from notable organizations such as Forbes, NBC, and Entrepreneur. In addition, the agency provides services such as reputation management, removing negative reviews and search results, creating positive backlinks, and online profile optimization.
Otter PR's Golden Key program is designed to help businesses and subject matter experts who want to become thought leaders. They also have a blog where clients learn about paid, earned, and owned media, website audits, press releases, and cancel culture.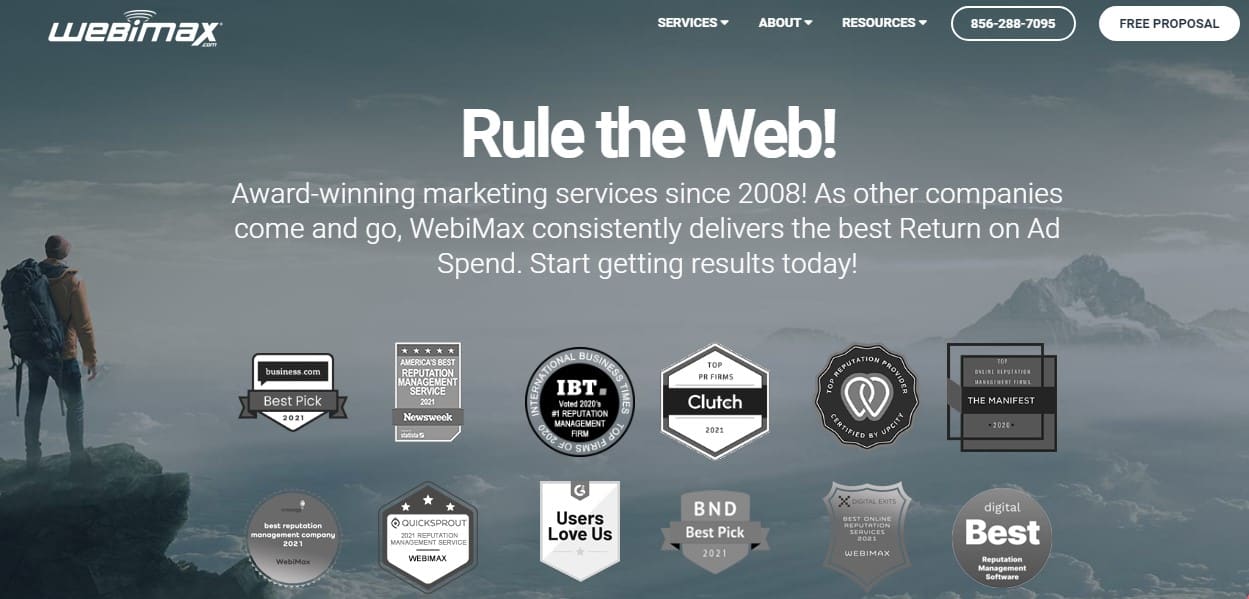 WebiMax is a results-driven digital marketing agency providing businesses with comprehensive online marketing services. The company offers various services, including Reputation Management, Search Engine Optimization, Pay-Per-Click Marketing, Online Public Relations, Lead Generation, Website Design, Social Media Marketing, and Local Marketing.
With a team of experienced and in-house designers and developers, WebiMax has launched over 500 successful web design projects optimized to rank high on Google and convert visitors to clients. The agency has also been voted as the best reputation management service by Business.com, Newsweek, International Business Times, and Clutch.
In addition, WebiMax has the technical knowledge and professional relationships to improve your company's online visibility through online PR marketing. The agency has relationships with over 1,000 media outlets to build awareness and reach your target audience. To ensure client satisfaction, WebiMax utilizes agency-level software and proven strategies to achieve results faster than its competitors.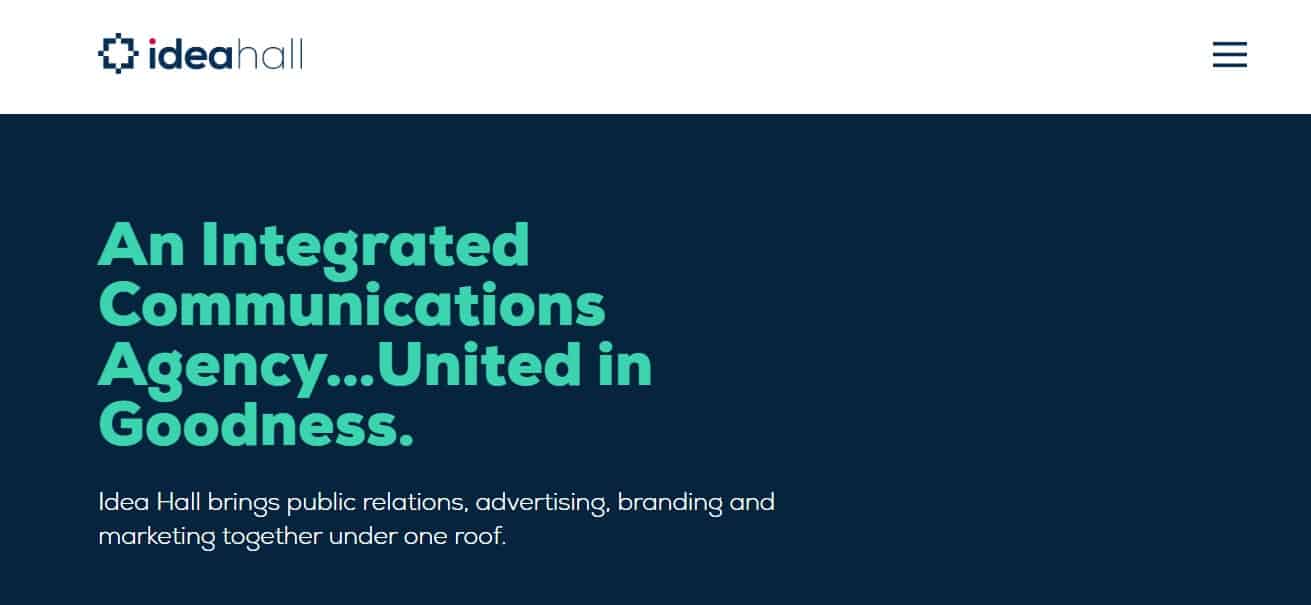 Idea Hall is a full-service communications agency specializing in public relations (PR), advertising, branding, and marketing. To assist clients in reaching their goals, the company uses a creative approach to communications and an idea-first strategy. The agency is motivated to provide "good work" for worthy clients and causes. Idea Hall feels that the first stage should be establishing relationships with individuals with whom they collaborate. They are experts in the strategic design and execution of 360-degree integrated marketing programs across all traditional and digital media touchpoints. The agency's capabilities have been increased to address the needs of the digital world. Now it offers competence in strategic communications, advertising, and marketing products across eight targeted studios.
Idea Hall is an award-winning creative and public relations agency dedicated to giving back to the community. The team provides year-round assistance through client-related and community-focused volunteer opportunities. Their philanthropic efforts have earned them recognition as a "Civic 50" honoree five years in a row and a "Companies that Care" honoree.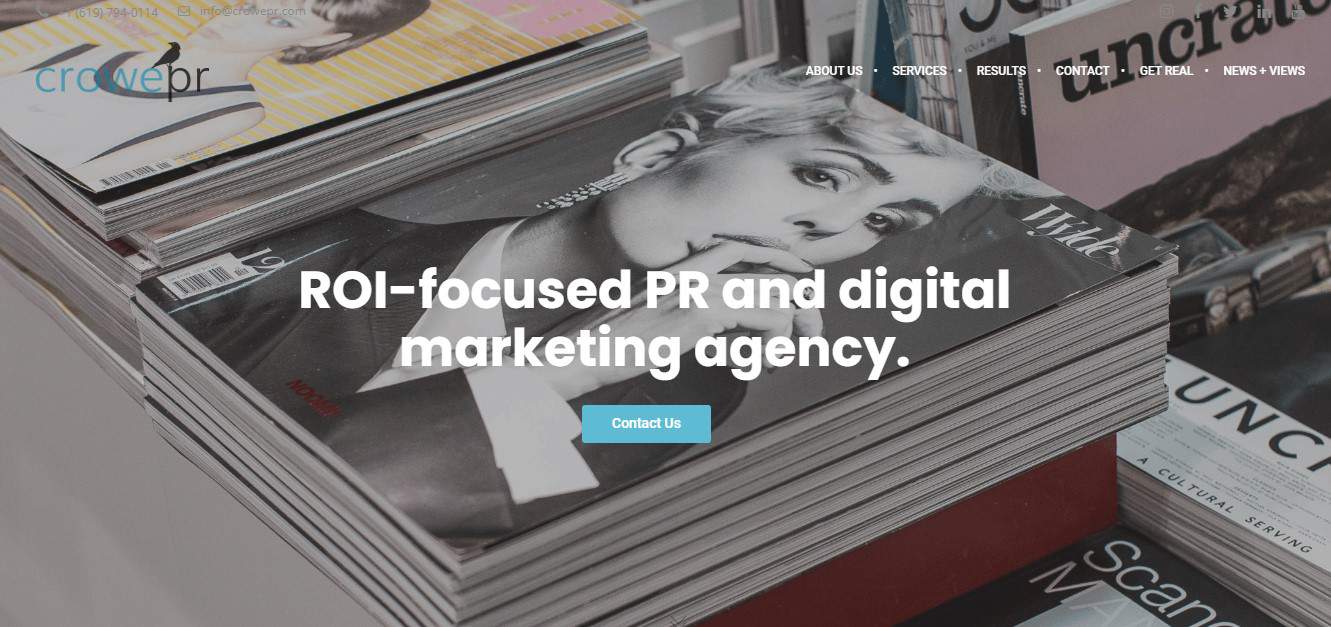 CrowePR is an integrated PR and digital marketing agency specializing in mid to large-sized consumer packaged goods, healthcare, hospitality, and tech companies. They are known for their award-winning ROI-focused strategic marketing campaigns and authentic storytelling. In addition, CrowePR has core expertise in various industries, including health and wellness, active lifestyle and apparel, travel, sustainability, and food and beverage brands.
CrowePR offers an array of services to its clients, including Brand Messaging, Expert Positioning, Media Relations, Influencer Marketing, Organic and Paid Social Footprint, Crisis Communications, and Internal Communications. By customizing tactics, they aim to fuel growth and generate ROI while creating a comprehensive marketing strategy. CrowePR focuses on amplifying its clients and helping them stand out from the competition, building brand reputation, customer engagement, and sales. The agency aims to establish authentic connections between companies and their customers by leveraging strong media relationships with journalists, producers, bloggers, and podcasters, increasing visibility, leads, and growth.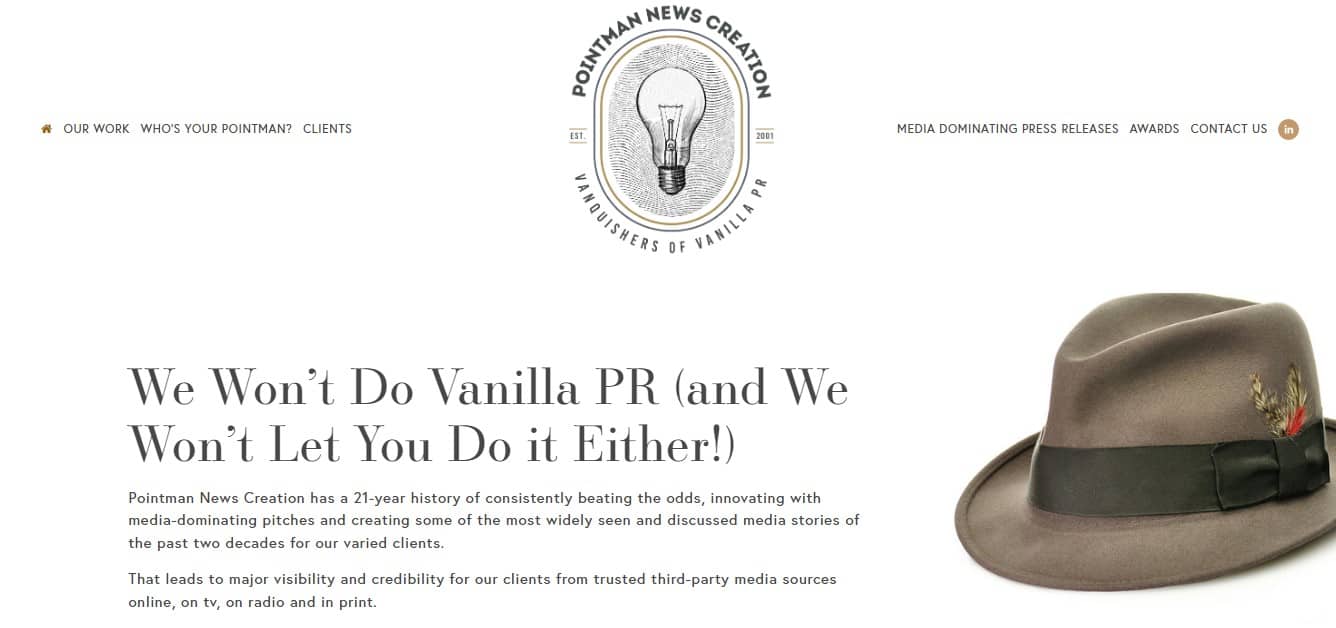 Pointman News Creation is a PR agency that has been in the industry for 21 years. They have helped clients from various industries, such as real estate, travel, fashion, and insurance, with their media-dominating pitches. The company takes pride in creating legitimate and newsworthy pitches that excite journalists. They do not rely on personal connections but instead focus on the quality of the campaigns they create.
Pointman News Creation believes in a Trojan horse approach to get past the gates and ultimately score earned media coverage for their clients. They guarantee to spin out a trifecta of original pitches to gain and sustain media traction for their client in 90 days. They also offer full-day and half-day media training sessions to help clients prepare for media interviews. Pointman News Creation's founder, Patrick McCaully, who has worked as a journalist at three national broadcast news networks, leads the company. Some of their popular press releases include surveys, summer job vacancies, and camping sites across Canada.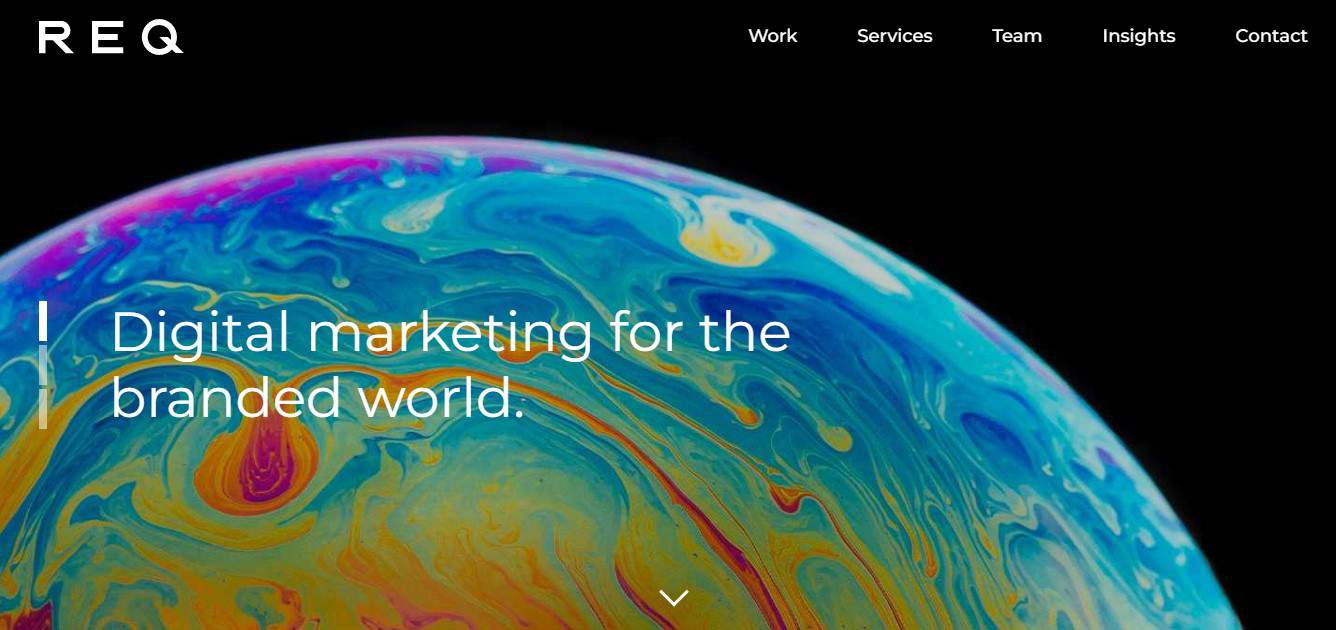 REQ is a global marketing and communications agency that builds resilient brands, mobilizes advocates, and safeguards reputations. They lead the direct-to-consumer marketing revolution, offering services such as brand strategy, advertising and media, public relations, digital advocacy, reputation management, data and analytics, and more. REQ is well known for its work in public relations (PR), owning the news cycle for its clients. Some top brands partnering with REQ include eBay, SolarWinds, and PayPal. REQ has a proven track record of delivering results, with case studies for Rip Curl, the Empire State Building, Constellation Energy, and more.
The REQ PR agency has received numerous awards and accolades, including the 2022 UpCity Best of DC Award, the 2022 US Search Award Finalist in 5 Categories, and being named a Global Leader by The Manifest in 4 Categories. REQ was also named to the Adweek 100 and the Inc. Magazine's Best Workplaces. REQ's dedication to excellence is demonstrated by its many industry partnerships and credentials, including being a Premier Google Partner, a Google Analytics Certified Partner, a Microsoft Advertising Partner, and more.
REQ's comprehensive services include branding, advertising, search engine optimization, online reputation management, content creation, design, social media strategy, technology solutions, and analytics. REQ focuses on delivering measurable results that achieve specific business outcomes for its clients. If you're interested in choosing REQ as your digital marketing agency, contact them to discuss your goals and how they can help you realize them.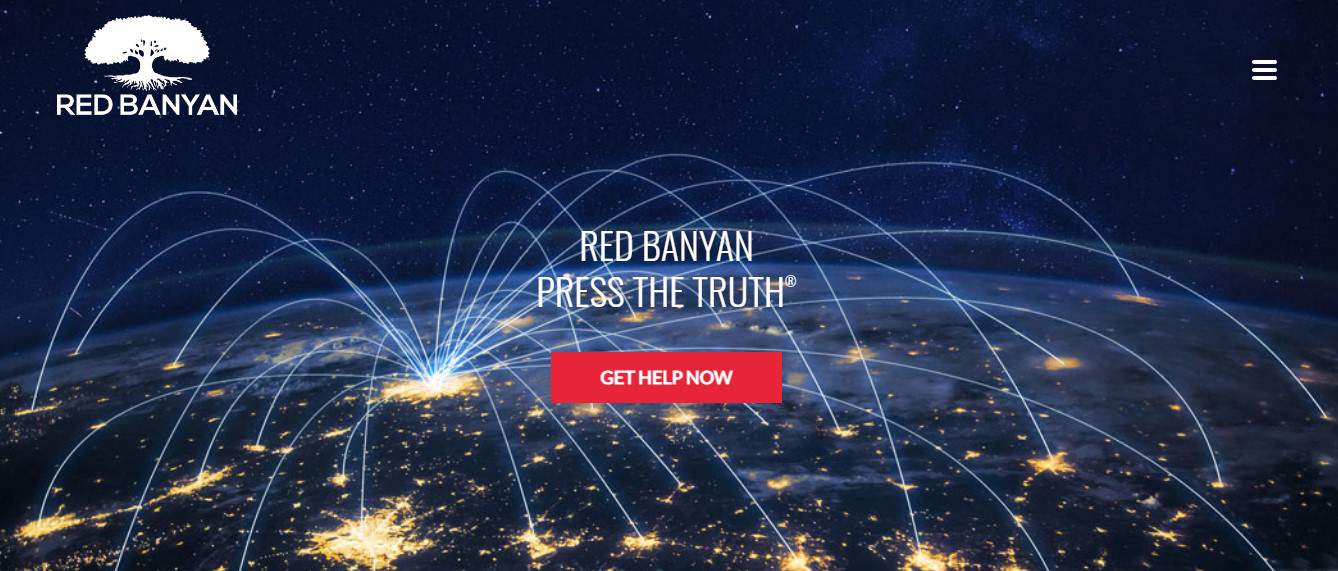 Red Banyan is a renowned PR agency that has been providing its expert services since 2010. Red Banyan's strategic approach to public relations (PR) and communication is unique and cutting-edge, maintaining longstanding relationships with global media. The agency is committed to achieving the goals of organizations and individuals who trust its expertise. Red Banyan offers its clients two types of services: those who want to get into the press and those who need to get out. The agency specializes in building and bolstering its clients' brands, crafting perceptions that become a reality, influencing public opinion, and protecting reputations and bottom lines.
Red Banyan's services are classified into three broad categories: educate, elevate, and mitigate. They properly position their clients, helping to promote the value of their products and services. They also build brands and elevate leaders using their unique strategic communications approach. In addition, they are known for their expertise in containing crises and managing social media meltdowns across a wide range of industries.
Red Banyan has a diverse clientele from different industries, including government agencies, non-profit organizations, corporations, and prominent business leaders. They have helped their clients successfully navigate complex public sentiment and recover following problematic or misinterpreted actions. The agency specializes in repairing and defending its clients' most valuable asset, their reputation.
Red Banyan has successfully managed various crises, such as political backlash, personal reputation, corporate PR, bankruptcy PR, social media, whistleblower, and crisis communications. Their team has worked with sovereign nations and institutions on various initiatives involving the US and international media. They are well-versed in working with foreign governments and navigating political sensitivities when the stakes are high.
Red Banyan is proud of its digital and PR specialists who Press the Truth®, ensuring clients receive a fair shot at countering false or misleading information and setting the record straight. The agency also provides complete social media management services, including community monitoring, content creation, and ongoing strategic guidance that help increase overall engagement across platforms.
Strategic Objectives, the PR agency of the year in Toronto in 2021, is Canada's most awarded public relations agency. Still, their goal is to tell stories that grab attention, change minds, and drive sales. They help clients engage with their target audience by crafting campaigns and developing innovative strategies that build trust with consumers and stakeholders.
Strategic Objectives offers various services, including media/blogger relations, brand identity consulting, market analysis, influencer marketing, events, experiential activations, and reputation management. They believe that creating shareable and newsworthy stories requires years of experience, targeted strategy, and outside-the-box thinking. Therefore, they approach each project with ferocious curiosity and assemble the right team of talented communication specialists chosen from their deep bench.
This PR agency develops creative strategies for telling multi-faceted, highly-targeted stories to the key audience of clients. From social media and influencer marketing to special events and mainstream media relations, they carefully choose the right mix to achieve business objectives. The Strategic Objectives team is progressive, a trend-spotters, and ready for any challenge. Their goal is to reimagine what it means to connect with consumers authentically and credibly.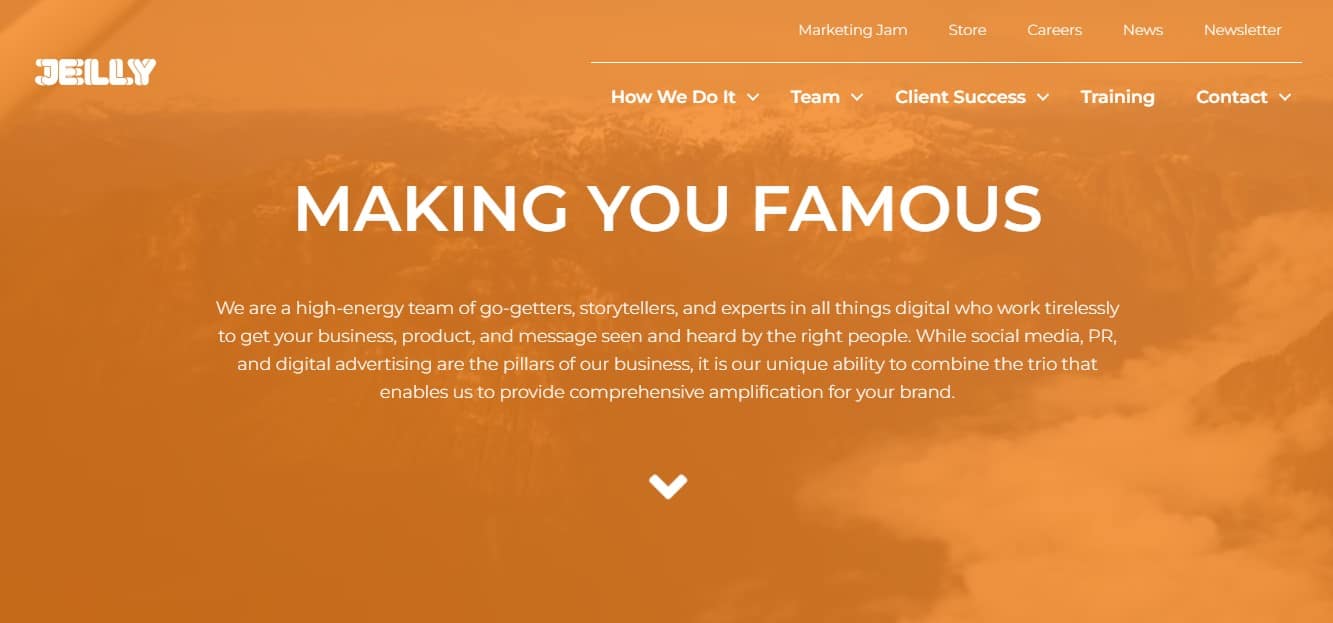 Jelly Digital Marketing & PR is a well-rounded digital marketing, Vancouver SEO, and PR agency with expertise in all things digital that works tirelessly to get your business, product, and message seen and heard by the right people. As a top PR agency, they offer services ranging from press releases to digital advertising and media events to tailored invitations to journalists and bloggers.
Jelly Marketing's team consists of master communicators and organizers who are agile and responsive, taking pride in building authentic relationships both online and offline. The agency's absolute transparency is key to building successful campaigns through congruency. Their PR department is a group of storytellers who aim to effectively tell your story by understanding your brand, what drives it and what sets it apart from your competitors. Jelly Marketing uses its resources as a digital marketing agency to compile a list of relevant media outlets and influencers for your campaign. Their Public Relations initiatives involve blog writing, collaborations and brand partnerships, and experiential PR, such as events, viral videos, hosting a booth or putting on a university-wide scavenger hunt.
Jelly Marketing has worked with clients such as La-Z-Boy Furniture Gallery, Lego, and Ten Thousand Villages. They have been featured in Forbes, Entrepreneur, and Digital Agency Network publications. If you want to learn how to tackle the world of digital marketing and PR, Jelly Digital Marketing & PR can teach you how.
Well, you've got a sufficient list of the fifteen best PR agencies that are a popular and good choice in 2023. I hope you will find the one that will enhance your business's relations with the public.
To Sum up
The world of PR agencies will be as big and diversified as ever in 2023, with businesses of all sizes and varieties competing for a position at the top of the sector. Businesses are looking for new methods to communicate with the public and enhance their public image. PR agencies are in great demand from major, multinational enterprises with locations around Europe to tiny firms tucked in the city's center.
For instance, Ogilvy has expanded their advice section by utilizing their scale and resources. In contrast, other agencies have concentrated on specialized areas like celebrity or beauty PR or become eCommerce and online branding authorities.
No of their size or area of expertise, PR agencies are aware of the need to develop enduring relationships with the general public. As a result, many people have discovered strategies to establish themselves as reliable partners in this endeavor. They approach their work with creativity, strategy, and attention to detail because they like it.
These PR agencies specialize in generating buzz and achieving outcomes, whether in the center of a busy city or a peaceful park. However, they always improve their craft to stay ahead of the competition since they know the devil is in the details. Therefore, whether you're a major corporation or a small start-up, the right PR agency can assist you in realizing your objectives and growing your company.