Kick off your digital adventure with an SEO audit—a comprehensive check-up for your website, digging deep to identify areas of improvement. Leveraging the right tools, you can catapult your website to the zenith of search engine results. No magic spells, just meticulous evaluation and strategic implementation. ⚡?
Your SEO audit checklist should include:
By inspecting these factors, you can ensure that your website matches the SEO standards. Websites from various niches, be it healthcare, fashion, or e-commerce, can greatly benefit from such audits. Audit results provide a blueprint to shape up your site, streamline its functionality, and enhance user engagement. Remember, a well-audited website is like a well-oiled machine—it operates smoothly, attracts, and retains more visitors.
Leverage the Plerdy tool for a holistic SEO & UX audit—it's the only tool you'll ever need! Unearth your website's full potential and start optimizing your site today. Empower your digital growth journey and propel your website visibility with an SEO audit. ⚡
What is SEO Audit? Several facts

Diving straight into the heart of digital marketing, SEO audits offer a comprehensive scan of your website's performance across multiple search engine landscapes. With an SEO audit, you gain deep insight into the intricacies of your online footprint. Essential components typically include:
Take the tourism sector, for instance. An SEO audit would shed light on how well your site ranks for terms such as "best beach resorts" or "luxury mountain cabins". Similarly, in the fitness niche, you'd discover your performance for "home workout plans" or "organic supplements". More than mere visibility, an SEO audit bridges the gap between your online presence and potential customers. Comprehending and implementing the audit's findings aligns your website with search engine requirements, positioning your brand for a significant uptick in organic traffic, customer engagement, and ultimately, conversions. Through this vital process, your website's search engine viability matures, making way for sustainable growth.
Importance of SEO Audits
SEO audits are the lifeblood of a successful digital strategy, acting as a magnifying glass that brings your website's strengths and weaknesses into sharp focus. A well-executed SEO audit uncovers the underlying issues hampering your site's visibility, enabling you to craft tailored solutions that boost your online performance.
Consider this—say you operate an online bookstore. You're dealing with a high bounce rate, dwindling sales, and poor user engagement. Enter the SEO audit. It meticulously evaluates factors such as:
The relevancy of your keywords—"crime novels," "children's books," or "historical fiction."

How entertaining, well-written, and valuable is your content?

Your site's mobile responsiveness—how seamlessly does your website perform on handheld devices?
In another scenario, if you're a SaaS provider, an audit would assess your landing page's performance for "project management software" or "CRM solutions." Leveraging the insights gained from SEO audits, you can strategically fine-tune your website to align with search engine algorithms—leading to a surge in organic traffic, improved ranking, and, ultimately, amplified conversions. When viewed through the prism of SEO audits, every challenge is an opportunity for growth, driving your digital journey to success.
The SEO Audit Process
The SEO audit process is akin to a detective sleuthing for clues. Whether it's a digital magazine or an online bakery, an audit unveils areas for improvement, increasing your website's visibility in search results. Each website needs a unique strategy.
Here's a high-level glance at the process:
On-Page SEO Analysis: Ensures quality content, correct meta tags, and optimal keyword placement.

Off-Page SEO Analysis: Focuses on backlinks, social media presence, and online reputation.

Technical SEO Analysis: Checks website speed, mobile responsiveness, XML sitemap, and security protocols.
Take a digital magazine, for instance. The audit would dig into how articles are optimized, cross-check backlinks, assess mobile viewing experience, and more. For the online bakery, the SEO audit could highlight the need for recipe optimization, customer reviews promotion, or mobile ordering efficiency improvements. This meticulous approach creates a roadmap for an SEO strategy that truly delivers.
Pre-audit Analysis
A pre-audit analysis is like mapping out a journey before embarking on it. As the first step in the SEO audit process, it provides the initial insights and baselines for your website. In the case of an e-commerce platform, it evaluates how well product pages are optimized. For a local restaurant's site, it assesses local SEO efforts.
This analysis revolves around key areas such as:
Current Keyword Ranking: Determine how your website ranks for targeted keywords.

Traffic Sources: Evaluate direct, organic, referral, and social traffic.

Competitor Analysis: Identify top competitors and their SEO tactics.
Let's say, for a yoga instructor's website, we first need to understand what keywords the site is ranking for, like "yoga classes," "online yoga," etc. We want to know where farm-to-table restaurants get most of their traffic—organically or through referrals. Only after this thorough pre-audit analysis, can we devise an effective SEO strategy and focus on areas that need enhancement. The pre-audit analysis forms the groundwork for further comprehensive SEO audit steps.
Conducting the SEO Audit
An SEO audit dives deep into the digital ecosystem of your website, unearthing data and insights. Picture a boutique fitness center aiming to improve their online reach. The audit commences with a comprehensive exploration of the website structure, followed by content analysis and ends with a detailed backlink examination.
Key steps in an SEO audit include:
Website structure analysis: Examining site architecture, navigation, URLs, and overall user experience.

Content evaluation: Reviewing page content for optimization, keywords, and quality.

Backlink analysis: Understanding the strength and quality of inbound links.
The fitness center's website might reveal URL inconsistencies or confusing navigation – issues that affect user experience and search engine ranking. The content review could uncover pages without adequate keyword usage or possibly duplicated content. A backlink analysis might find poor-quality inbound links which could harm the site's reputation.
Post-audit, an action plan is designed to address these identified shortcomings, ensuring the website is fine-tuned to climb up the search engine results pages. An SEO audit provides an in-depth understanding of your website's digital health, enabling you to craft strategies that drive impactful changes.
Post-audit Actions and Strategy
Post-audit actions and strategy turn the insights from your SEO audit into a roadmap for website enhancement. For instance, an organic grocery store's website SEO audit might have spotlighted URL inconsistencies, keyword deficiencies, and low-quality backlinks. Armed with this information, the store crafts a robust strategy:
URL streamlining: The store simplifies its URLs to make them user-friendly and keyword-optimized.

Content revamp: Pages without sufficient keyword usage undergo a content makeover, adding keyword-rich, high-quality content.

Backlink improvement: The store replaces poor-quality backlinks with authoritative and relevant ones.
Each action is designed to upgrade the website's SEO health, aligning it with search engine algorithms for better visibility. The grocery store website starts attracting more organic traffic, paving the way for increased conversions and sales.
Remember, post-audit actions aren't a one-time fix but an ongoing commitment. Google's algorithms evolve, consumer behavior shifts, and your website must adapt. Continuous monitoring, frequent audits, and agile strategies form the bedrock of a dynamic SEO approach, driving sustainable growth. With SEO audits and responsive strategies, your website transforms into a high-performing, traffic-magnet platform.
On-Page SEO Audit
On-page SEO audits are akin to a compass guiding your digital strategy right on track. They delve into the core aspects of your website's content and design, providing actionable insights to elevate your online presence.
Imagine you are the owner of a high-end burger restaurant. An on-page SEO audit would assess how effectively your site uses the keyword "best gourmet burgers" within your content, titles, meta descriptions, and headers. Crucial components of this audit include:
Keyword Analysis: Ensuring optimal keyword placement and density.

Content Assessment: Verifying that your content is original, relevant, and engaging.

Site Navigation: Checking your site's ease of navigation and user-friendliness.

Internal Linking: Examining the links within your site for better user experience and SEO.
Alternatively, if you're an online clothing store, the audit would analyze your website's performance for terms like "summer dresses" or "men's formal wear". It's about refining every digital corner of your site. The on-page SEO audit methodically turns every stone, ensuring your website is a well-oiled machine primed for search engine success.
Off-Page SEO Audit
Off-page SEO audits act as detectives, sleuthing out your website's reputation in the larger digital neighborhood. It's all about perception—how others view your site based on factors beyond your immediate control.
For instance, consider you're a blog specializing in "sustainable living tips". An SEO audit would evaluate your off-page reputation, focusing on:
Backlink Profile: Assessing the quantity, quality, and relevancy of sites linking back to you.

Social Media Presence: Checking your social signals—shares, likes, and comments across platforms.

Online Reviews: Surveying feedback about your site across various review platforms.
This external perspective provides valuable insights, helping identify potential gaps in your SEO strategy. Say, you run an online art supplies store; an off-page SEO audit can reveal if your brand is gaining traction among the "DIY craft enthusiasts" on Pinterest or Instagram. A thorough off-page SEO audit delivers the bigger picture, offering the necessary leverage to strengthen your site's online stature and popularity.
Technical SEO Audit
Technical SEO audits venture into the core of a website's performance, focusing on the mechanics that ensure smooth and efficient functioning. Imagine a bustling e-commerce site selling vintage vinyl records – a technical SEO audit would be the equivalent of a detailed check-up ensuring every cog in this intricate machine runs smoothly.
Key components include:
Crawlability: Evaluating how well search engines can scan your website.

Site speed: Assessing how swiftly your pages load – every second count.

Mobile-friendliness: Making sure your site performs flawlessly across various mobile devices.

HTTPS: Ensuring your site is secure for users and boosts SEO.
During an audit for a high-traffic blog site, a slower-than-usual load speed may get flagged. The audit might also point out missing alt-text on blog images – an oversight hindering the blog's visibility in image searches. By addressing these, the blog's performance perks up, pleasing both users and search engines. That's technical SEO audits – all about details and precision.
19 examples of SEO audit
Embarking on an SEO audit voyage, you unravel the intricate tapestry of your website, highlighting both its triumphs and hurdles. A well-executed audit, like a trusted co-pilot, navigates your website through the fluctuating digital currents, ensuring it stays on course in the vast SEO ocean. It's a complete plan to boost your website to the top of search engine results and make it an authoritative beacon in the midst of online competition.
1. Main website mirror and URL format
When you conduct an SEO audit, it's necessary to define the main site mirror (with or without the www prefix) and make a 301 redirect the secondary mirror to the main one.
The main mirror with the www prefix is https://www.apple.com/. If a user tries to visit the page without www (e.g. https://apple.com/), the server shows the 301 status code.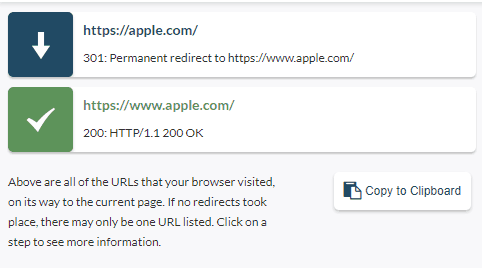 If a user goes to the page without the www prefix but with HTTP, the 301 redirects are activated.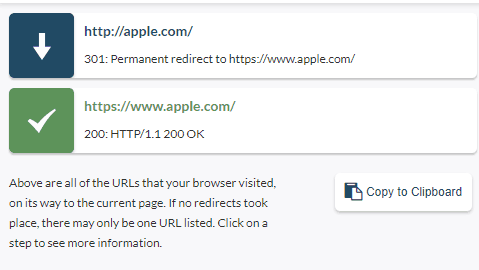 If we remove / at the end of the link, the 301 redirects are activated on the category pages but not on the main page.

2. Robots.txt and sitemap.xml files
The robots.txt  file is used to prevent different search bots from indexing some or all pages of a website. That's why it is so critical for SEO.
In this case, the robots.txt file is correctly configured and available at https://www.apple.com/robots.txt.
It separately indicates the search bots that are disallowed to scan the page, including Baiduspider (a search bot targeted at the Chinese market), HaoSouSpider (a search bot of the Chinese search engine HaoSou.com), and Sogou web spider (a browser virus which is now actively spread in the web. The recent studies have shown that it primarily targets the computers are located in China).
Another interesting fact is that in China, the indexing of the pages with red Apple products is disallowed.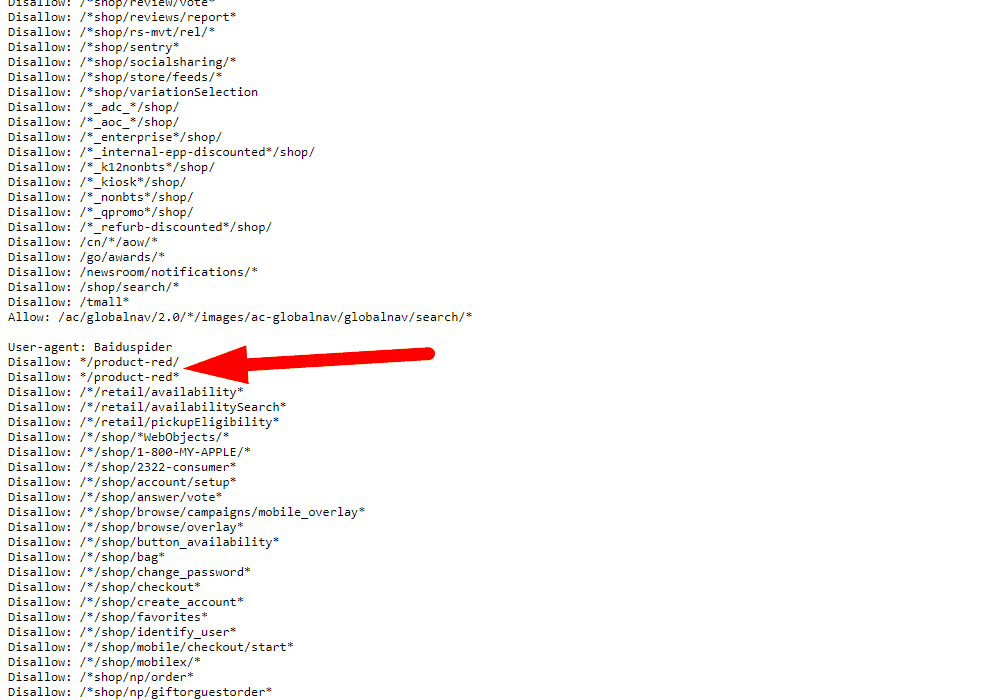 If a user selects the Chinese language and goes to this category, the double redirect to the main page is activated.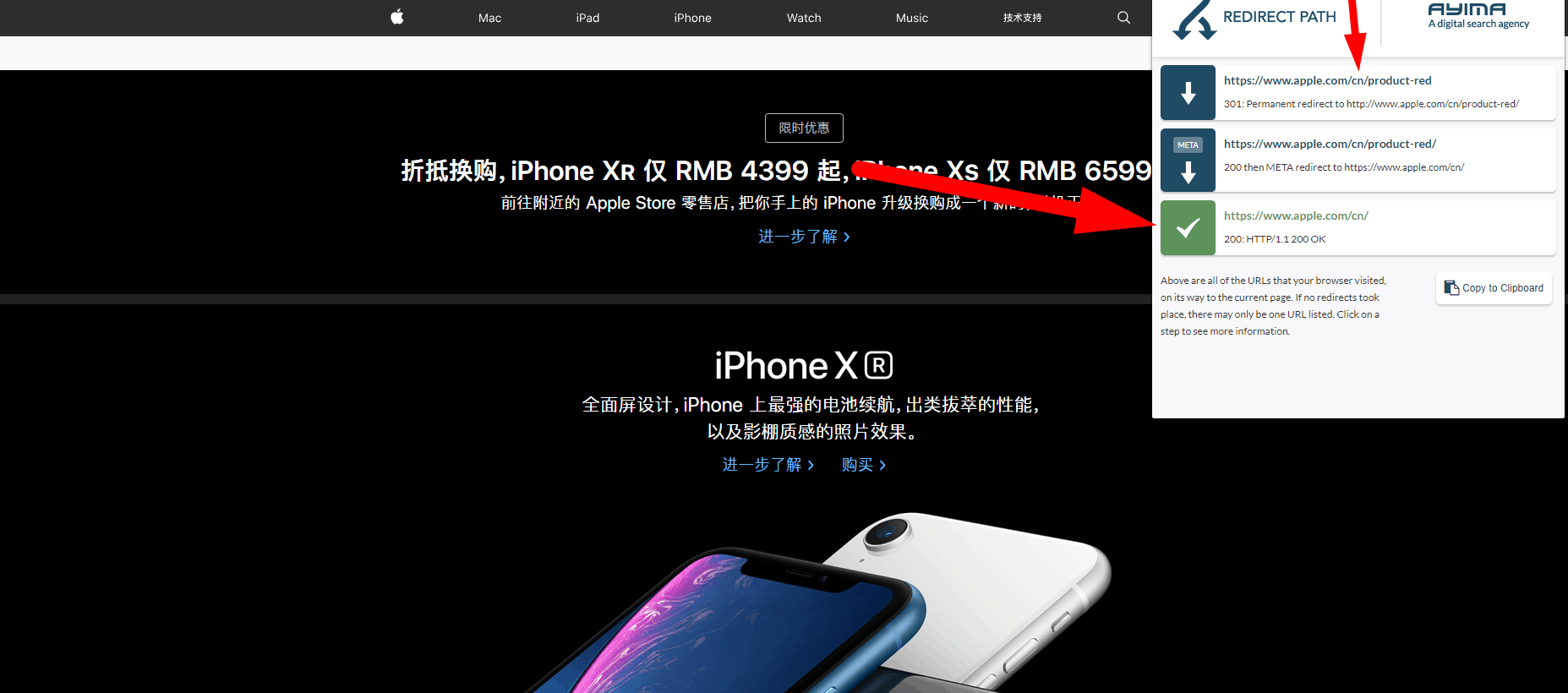 By the way, China bans many products, so its market is highly regulated.
3. HTTP headers of server responses
When a URL is accessed, a server returns an HTTP header with various data, including a server response code, last change date, coding of the document, and expiration date (the period during which the URL's content is relevant).
The main page correctly returns a 200 server response code.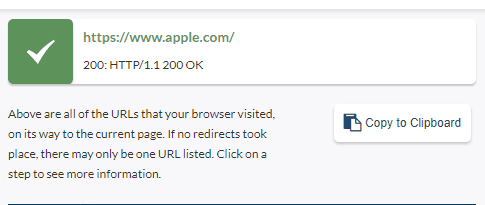 4. Design of the 404 error page
If there is no page at the specified URL, a server must return a 404 mistake. So take care of the design of your 404 pages to make sure a user landing on it continues working with the website. That's why specialists assess this factor during SEO audits and include it in SEO reports.
In apple.com, the 404 error pages work correctly (a 404 Not Found code is returned) and support the overall website design.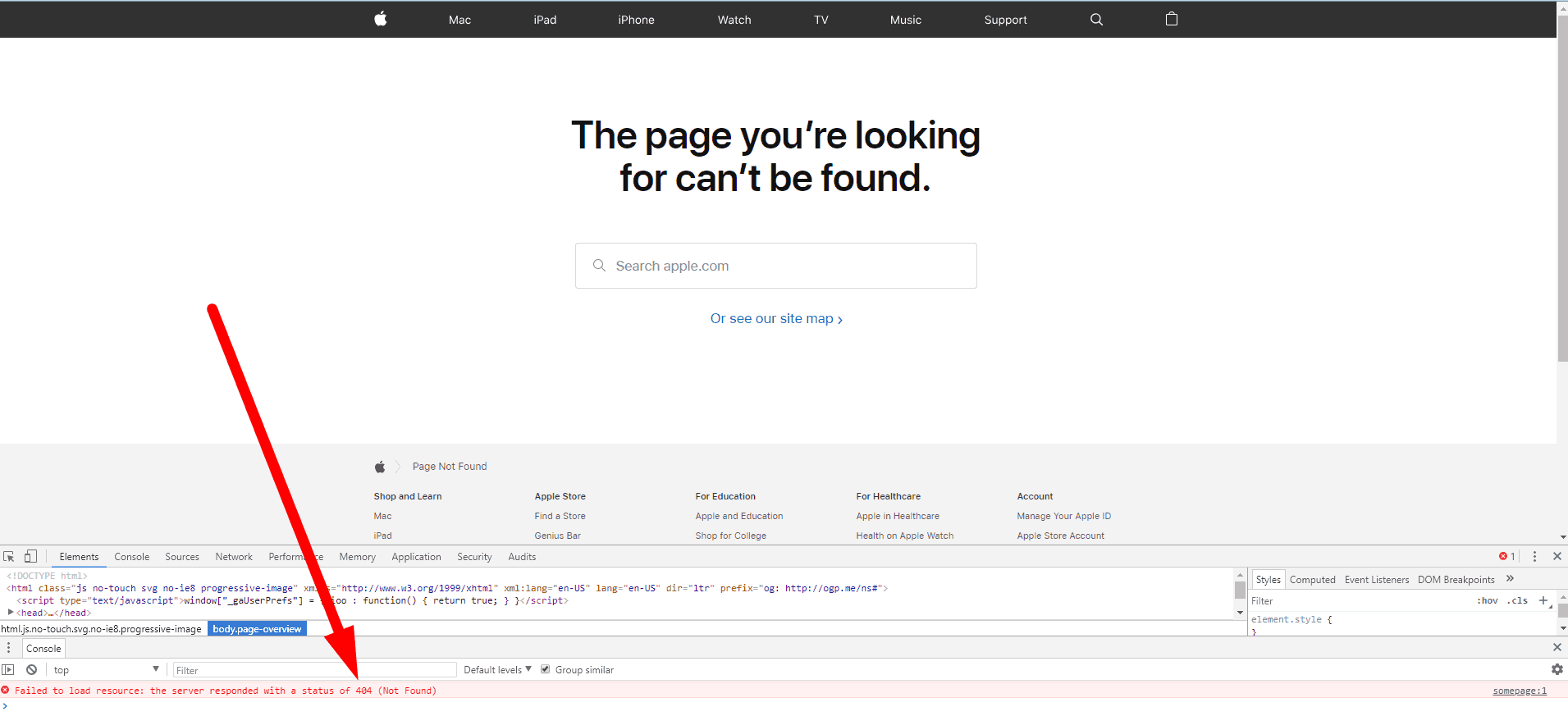 The code shows that this page is closed from indexation, but we have several remarks and tips. Canonical must link to the main search page, namely https://www.apple.com/us/search.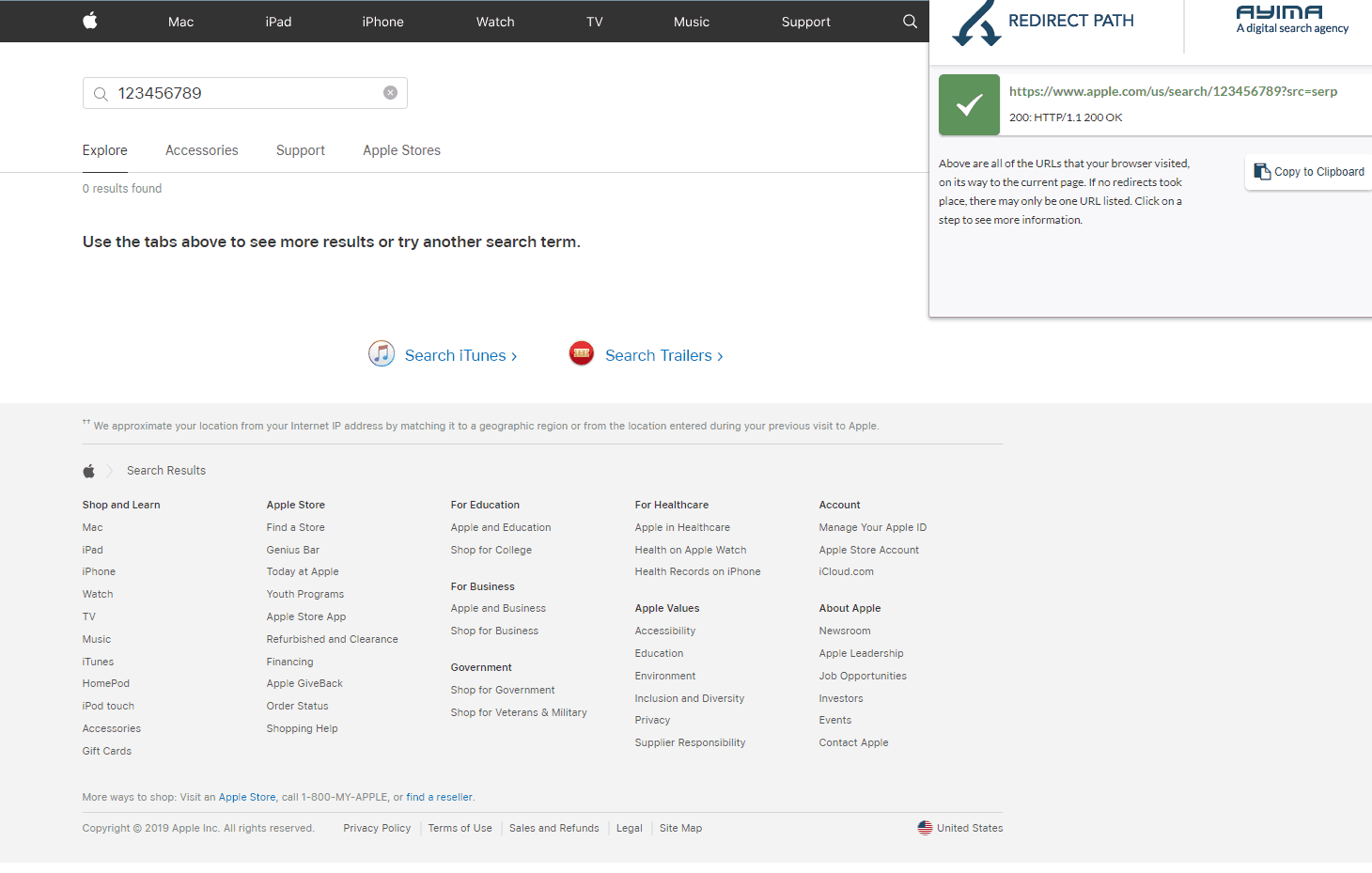 5. Broken 4xx links
A broken link is a hyperlink that leads to non-existent pages, documents, files, or images.
The SEO audit of apple.com has found some broken links. For example, there are 403 and 404 errors.

For example, the page https://www.apple.com/retail/business/ includes the links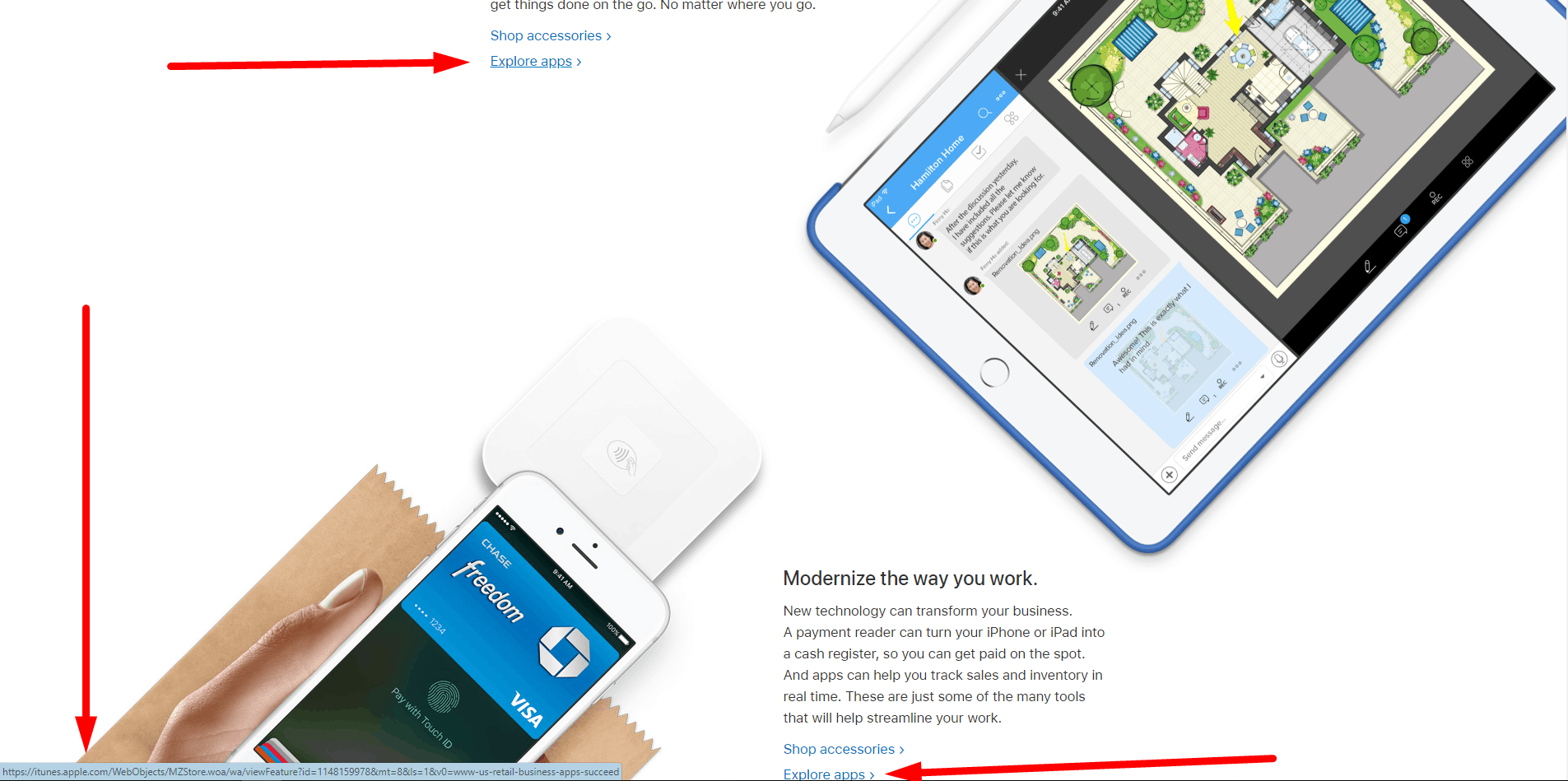 leading to the 404 page

403 errors are server errors which mean that some users are disallowed to access certain pages. These pages are active and throw the error only for the selected countries and regions. For example, https://www.apple.com/pl/tv/ and https://www.apple.com/tv/ return a 200 code, whereas the https://www.apple.com/in/tv/ page is no longer available since it has another URL https://www.apple.com/in/apple-tv-4k/.
6. Clean URLs
Clean URLs are user-friendly URLs that SEO specialists recommend using for all website pages during its promotion. Visitors may perceive long URLs as unclear and difficult or similar to encryption (e.g., site.com/?pag=1&24%). Choosing a friendly structure of URLs makes them more appealing (e.g., site.com/catalog).
You probably know that the URL of a page in Google Search results is displayed under the page title and above the snippet (brief information about the page displayed in search results). Similar to the title and snippet, the URL segments that match the query will be semi-boldened.
7. Meta description and meta headers
A title tag indicates the title of a page that tells users and search engines its name. The title tag is placed within the head tag of an HTML document. To make website promotion really effective, ideally, every page must have a unique name.
Example of the title tag from the main website of Samsung.

Meta description tag provides search engines with a short description of a page. Whereas a title tag should include only one sentence, a description may contain several sentences (small paragraph). As well as the title tag, the description must be entered within the head tag in the HTML code of a page.
For quality website promotion, all website pages must have unique descriptions. This is because it's beneficial for both search engines and users. However, if a website has many pages, you often won't enter descriptions manually. In this case, you can automatically create the description of every page based on its content.
Example of the meta description tag from the official website of Samsung.

We haven't noticed such a problem. For example, a title tag is present on all pages, whereas a meta description tag is missing.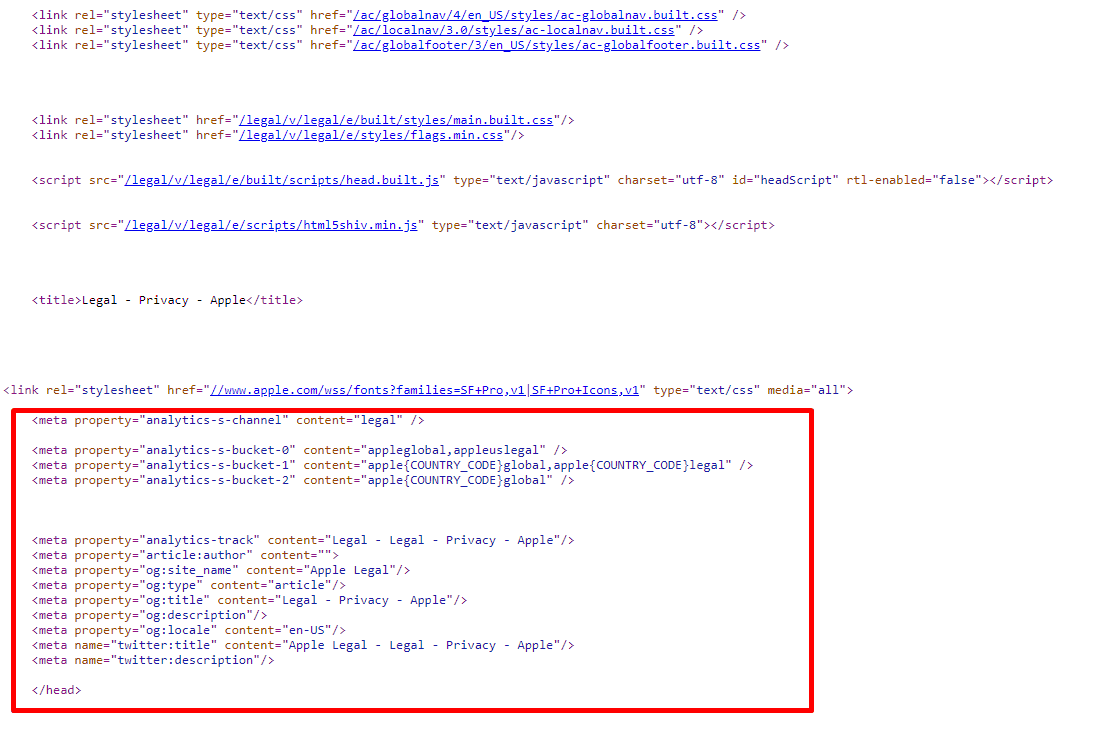 The website needs to optimize its titles and descriptions based on the semantic kernel.
8. Headers
To highlight the important text, it's necessary to use header tags (don't confuse them with an HTML head tag and HTTP headers). This is also crucial for website promotion since they help create a page structure that would be clear to users. There are 6 sizes of headers – from the largest H1 to the smallest H6.
The text inserted in header tags is larger than the rest of the text on a page. This highlights it and shows its importance in helping visitors understand the content below the heading. In addition, the different sizes of all levels of headers create a hierarchical structure of the content which simplifies the navigation.
Don't:
Use header tags when p (paragraph), span or strong (semi-bold font) tags are more appropriate
Randomly switch from one size of headers to another. Make sure to save the right hierarchy.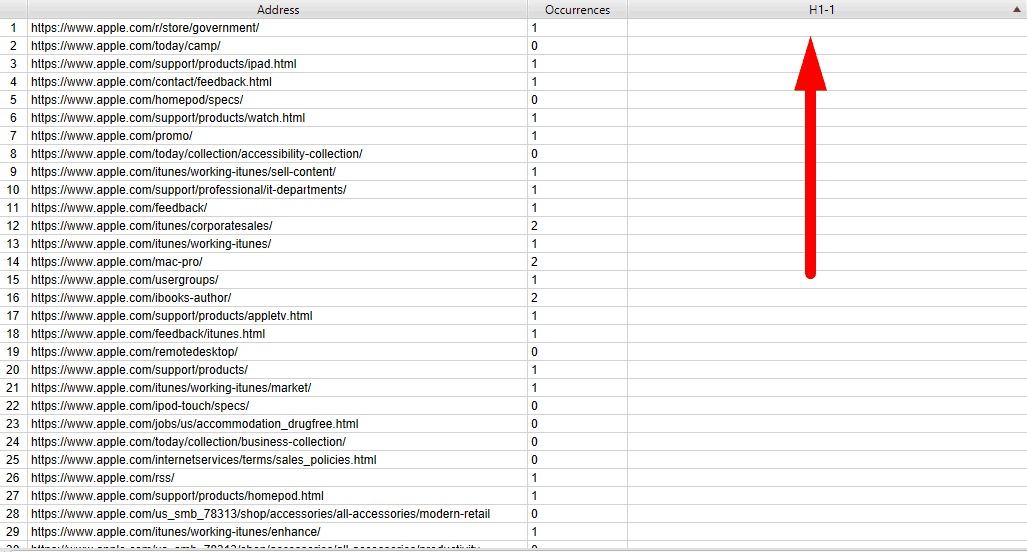 For example, the https://www.apple.com/homepod/specs/ page doesn't have an H1 header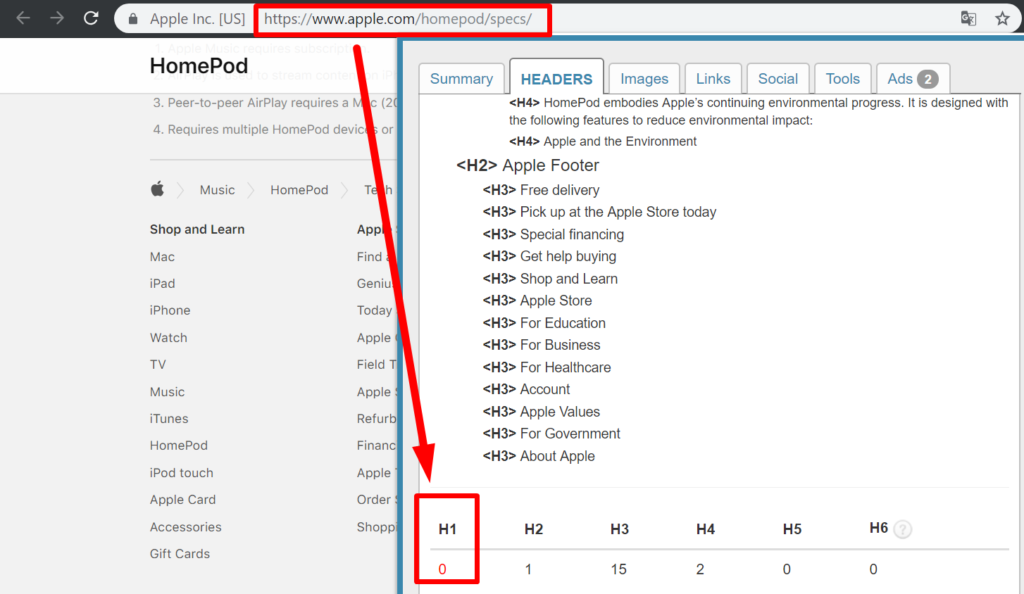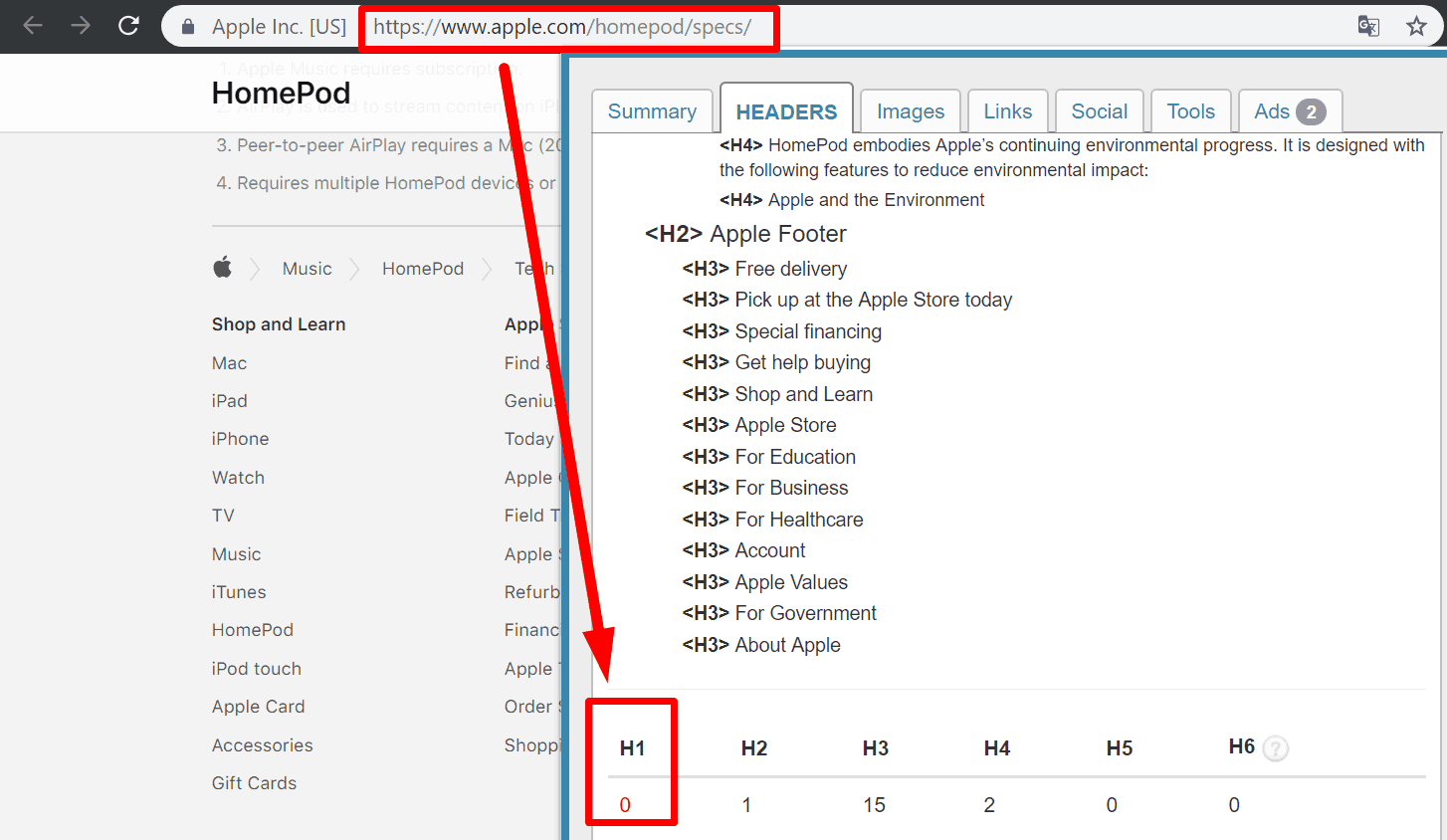 9. Redirects on the website
Conducting an SEO audit, make sure a website doesn't have many pages linking to old URLs used for redirect. This complicates user interaction with the resource making visitors load extra data and generally increases the load time, which, in its turn, reduces the effectiveness of website promotion.
There are 301 redirects on the website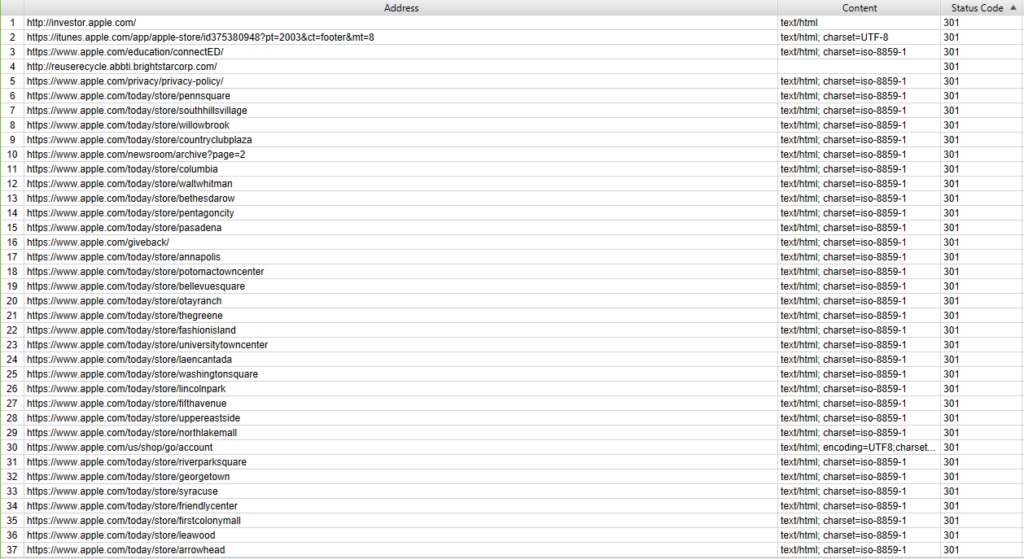 as well as 307 and 303 redirects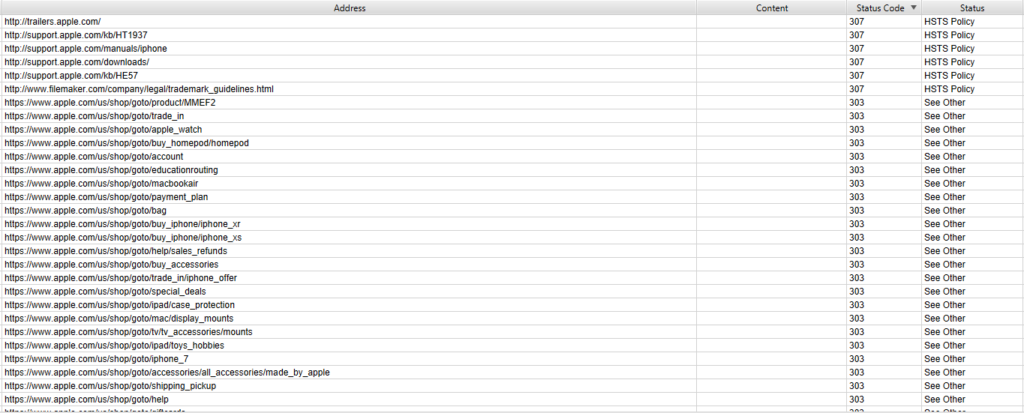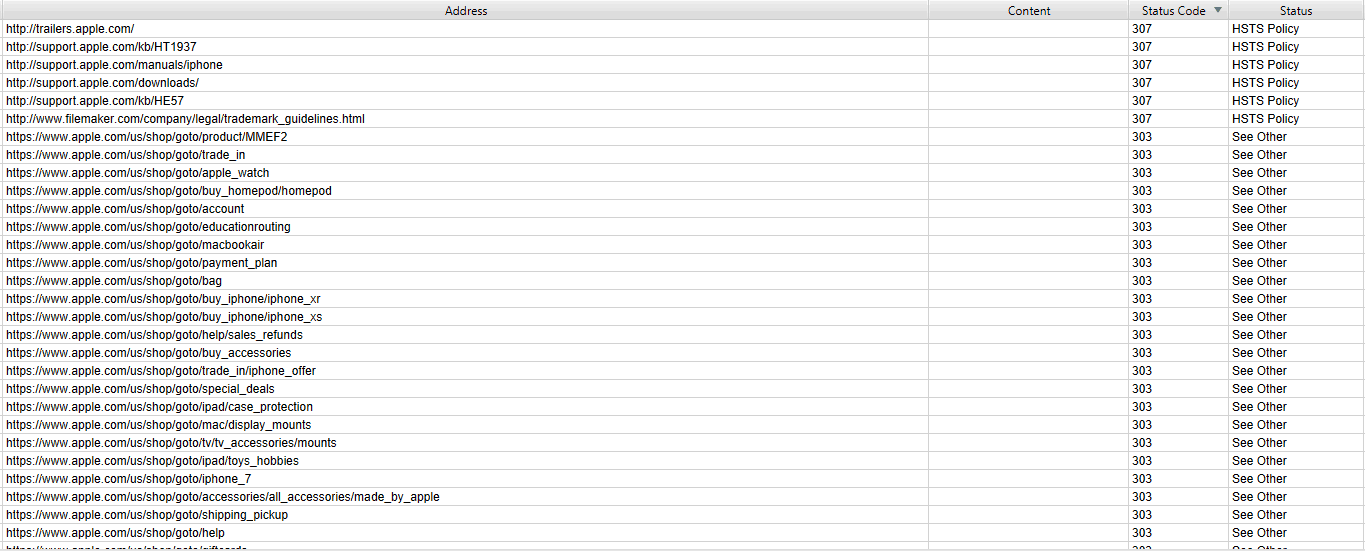 A 303 redirect (See Other) is a special redirect that means a document has been found but needs to be accessed using the GET method.
Here the main page links to the Investors page using a double redirect.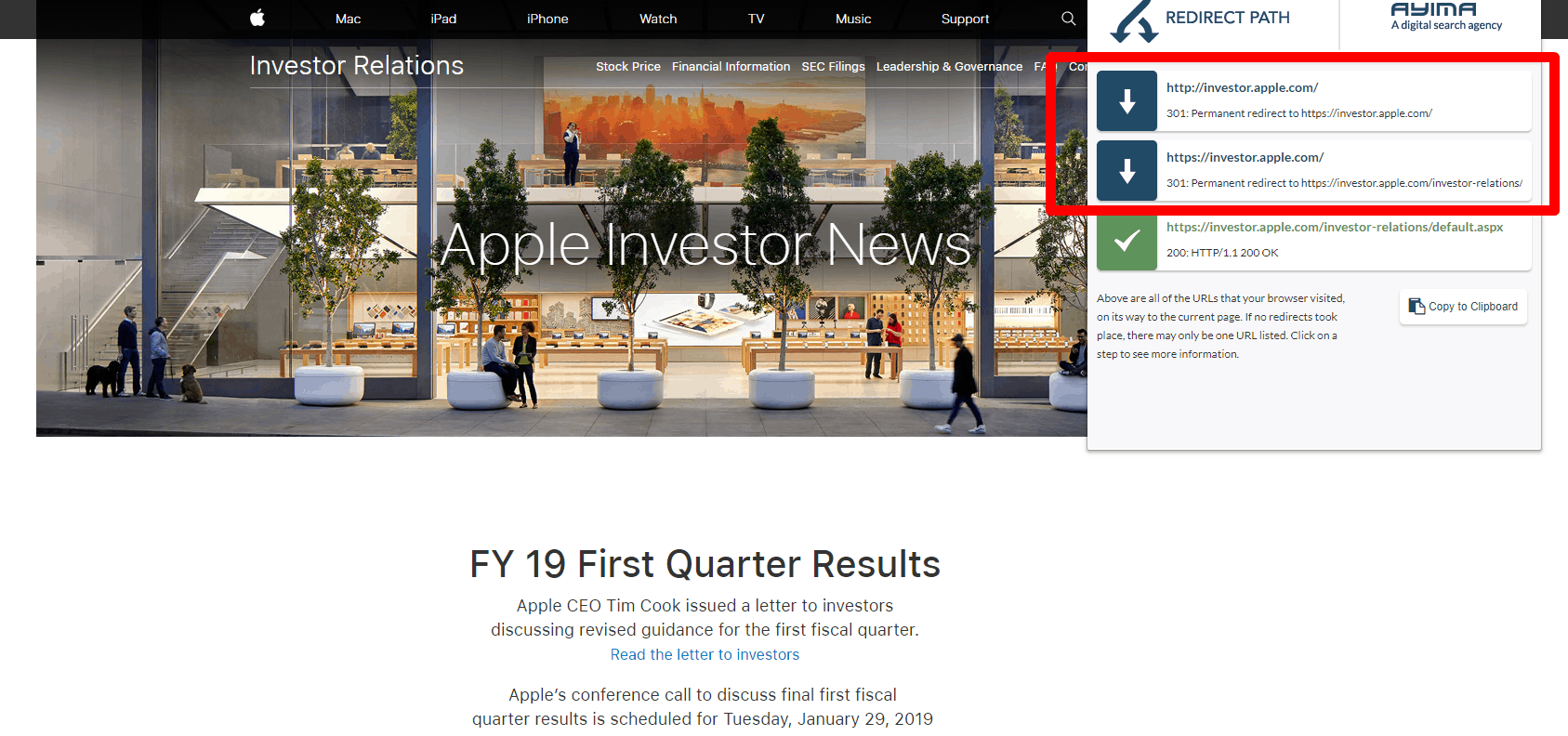 10. Page speed
Research shows that approximately 75% of users leave pages when loading takes more than 4 seconds. Moreover, around 50% of users expect that pages must load in less than 2 seconds. Thus, you definitely must evaluate this factor in your SEO analysis report.
In apple.com, the first loading of the main page took 759 ms, which is great.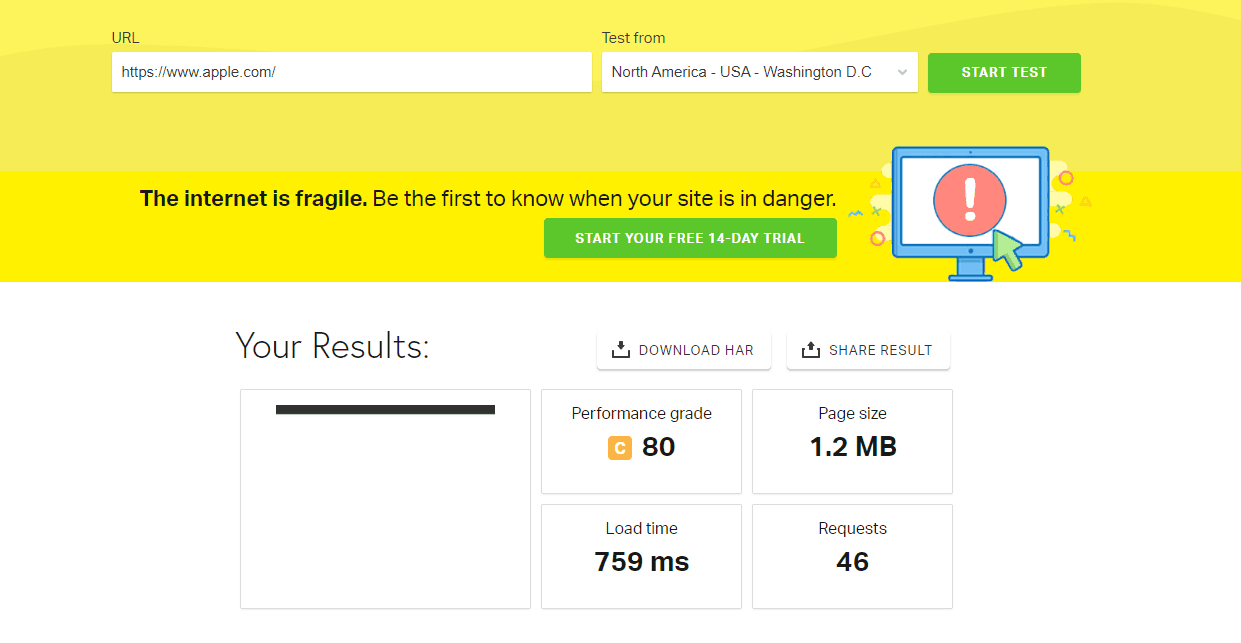 Category https://www.apple.com/ipad/ – 608 ms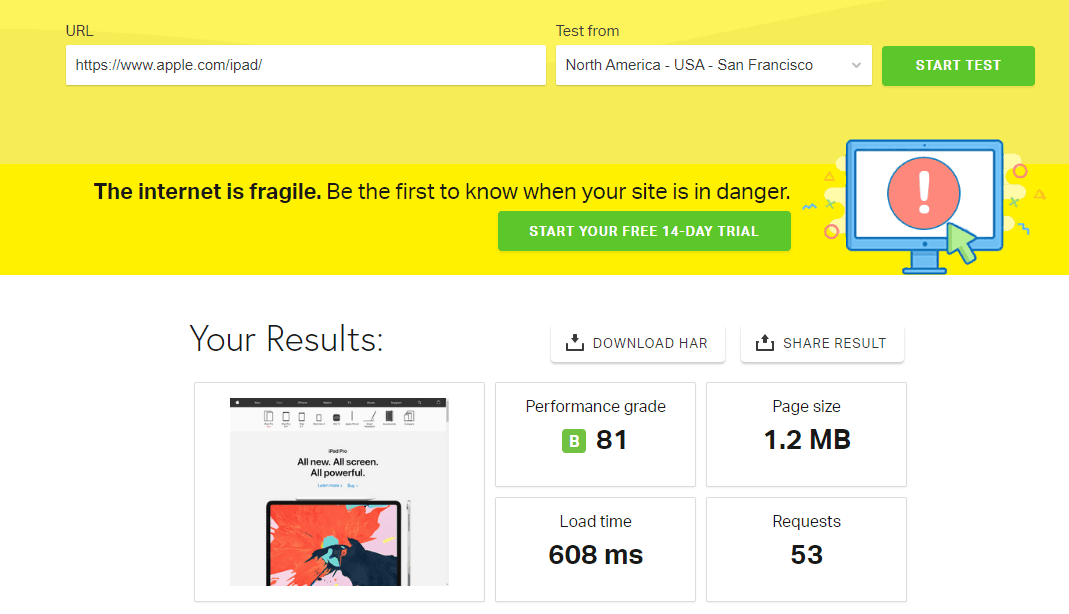 Product https://www.apple.com/shop/buy-ipad/ipad-9-7 – 1,88 s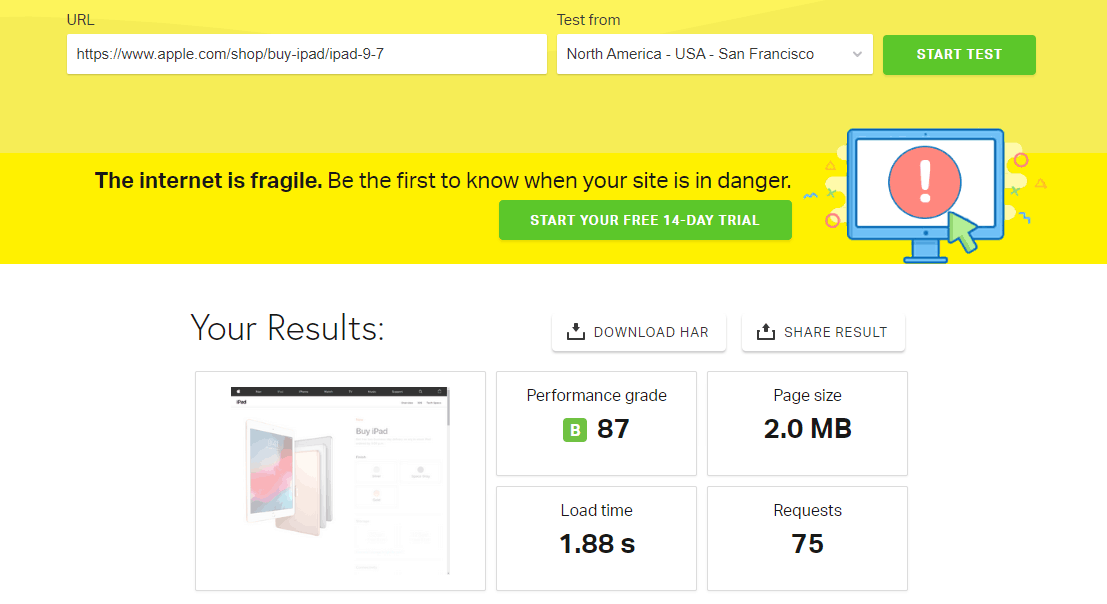 Website check with Google Page Speed:
Mobile version
Desktop version
Website check in GTMetrix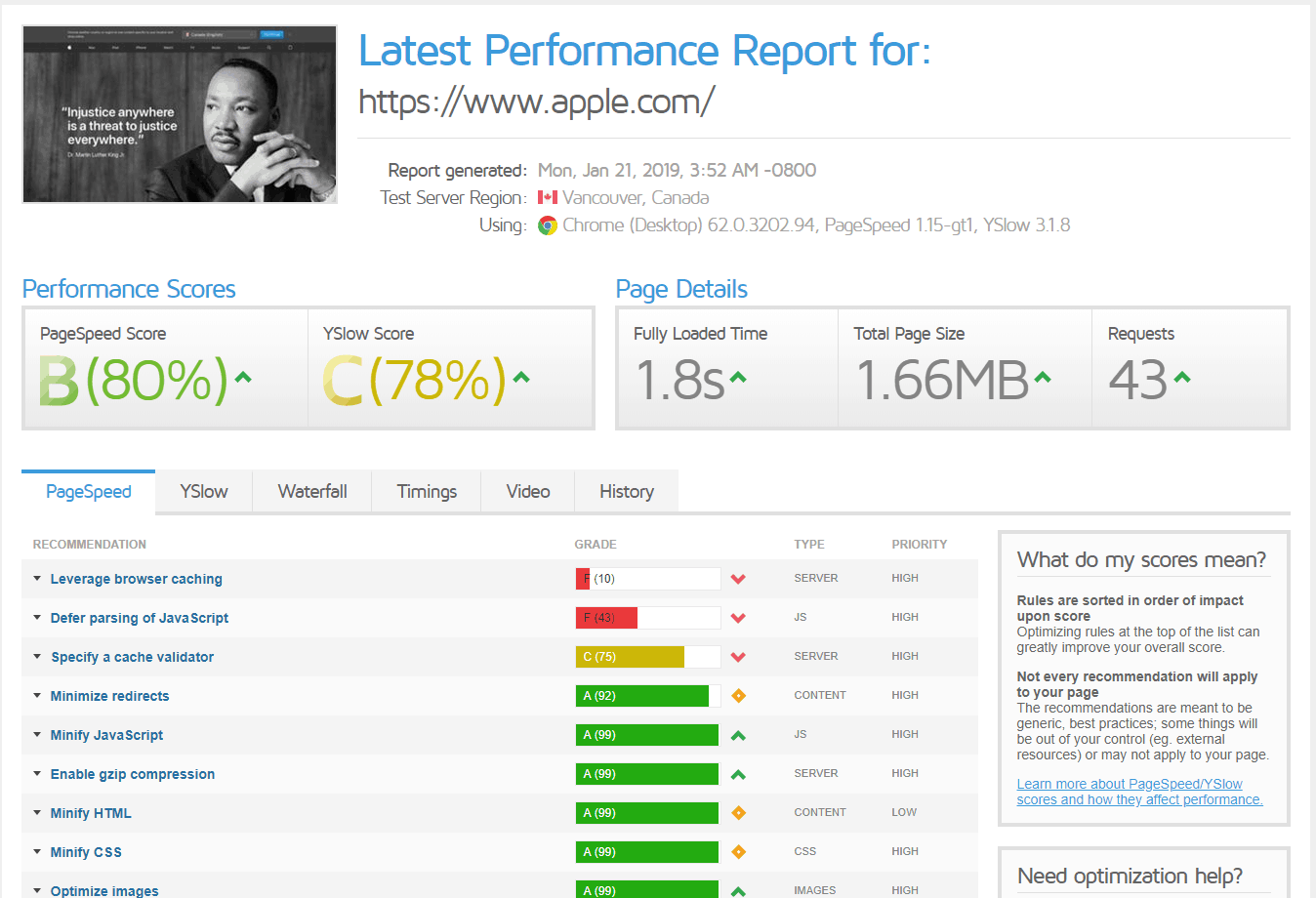 Product page check-in GTMetrix
11. Micro-markup
Micro-markup (or semantic markup) is necessary to make the Internet and web pages more structured and easy to understand. It helps search engines and special programs extract and process the information to display it in search results in a user-friendly format. The correct markup speeds up website SEO advertising and helps attract more visitors.
The analyzed website has the markup for breadcrumbs, but there is a mistake.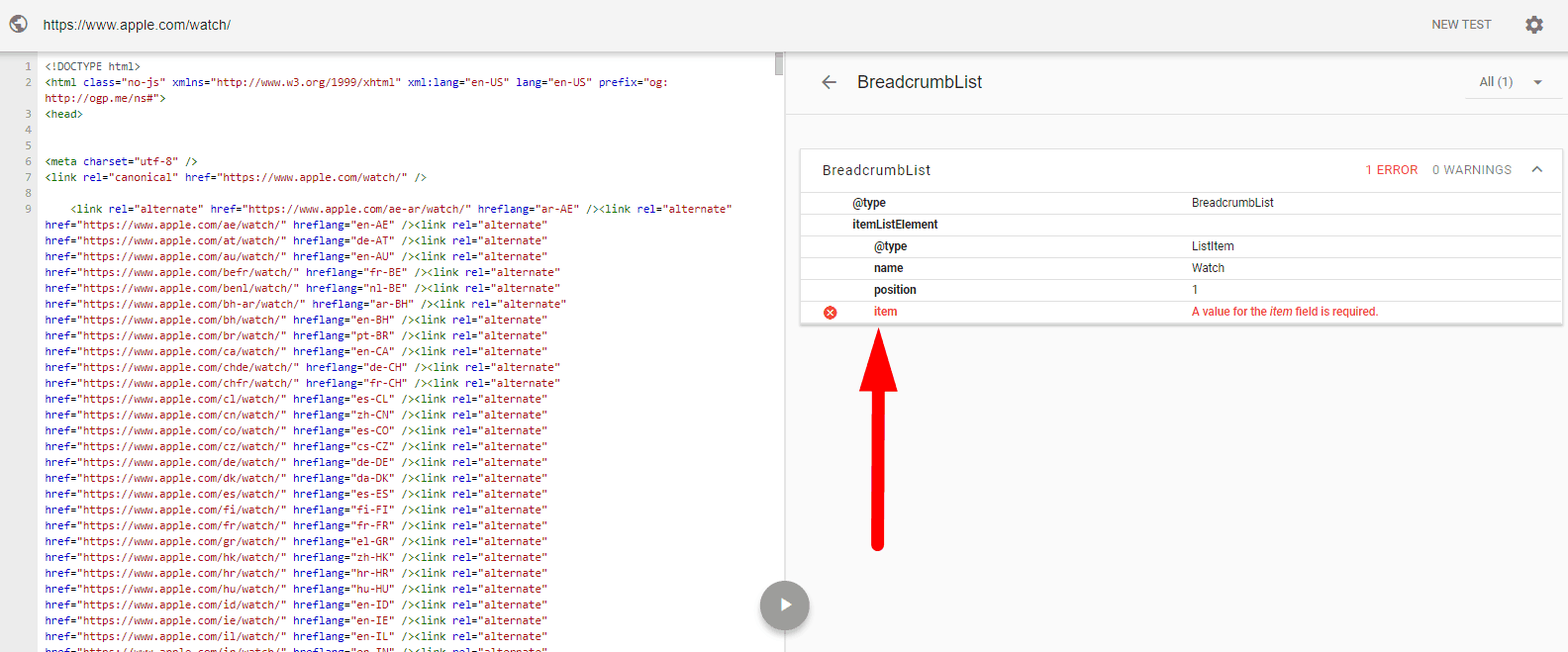 Here is an example. Id with a link must be added to the item category.

The website has the Schema.org micro-markup.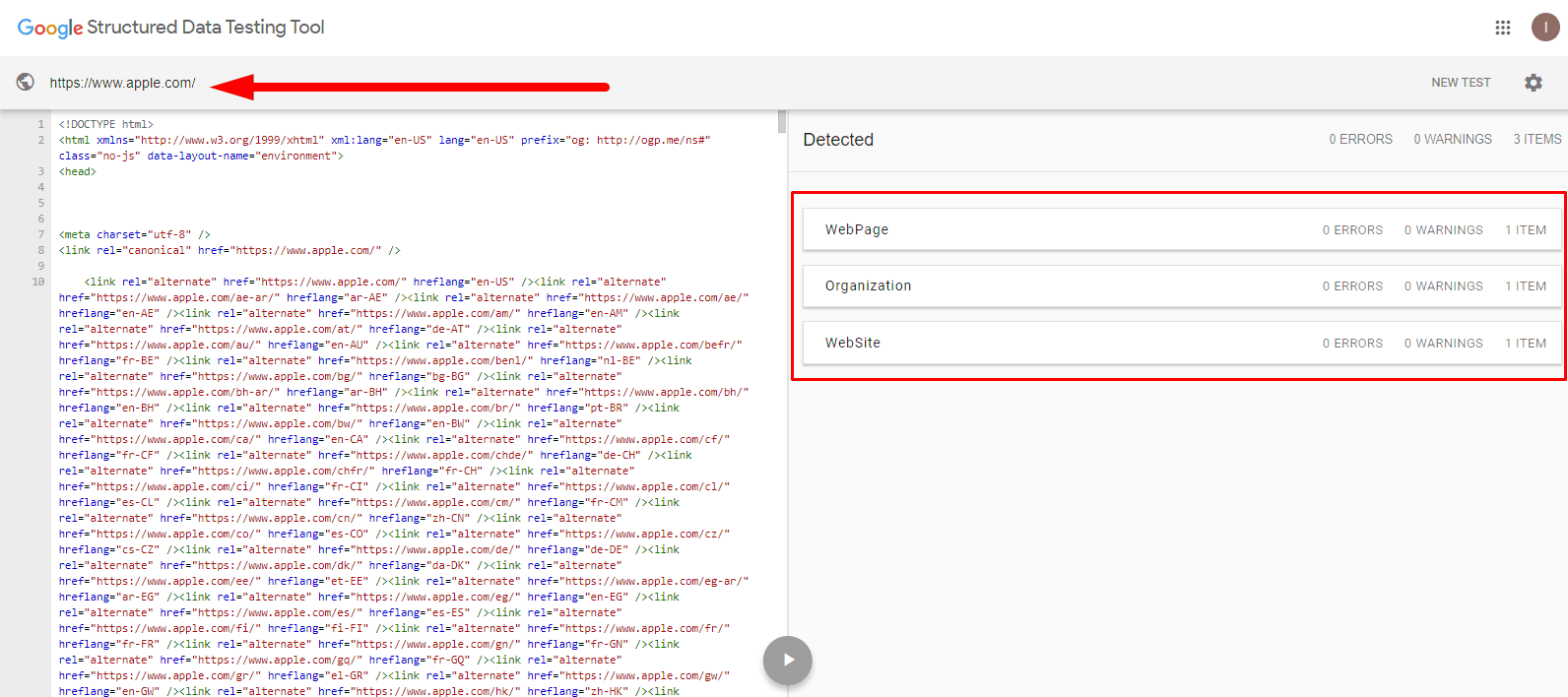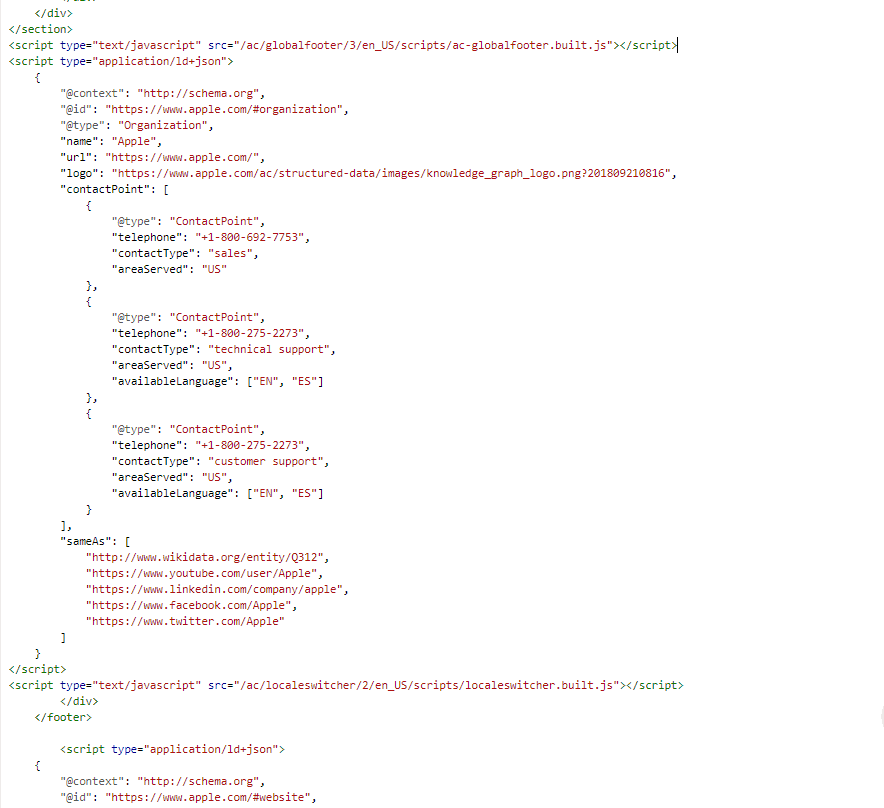 But the micro-markup for the product is missing.

The example of schema.org markup is used for a product page.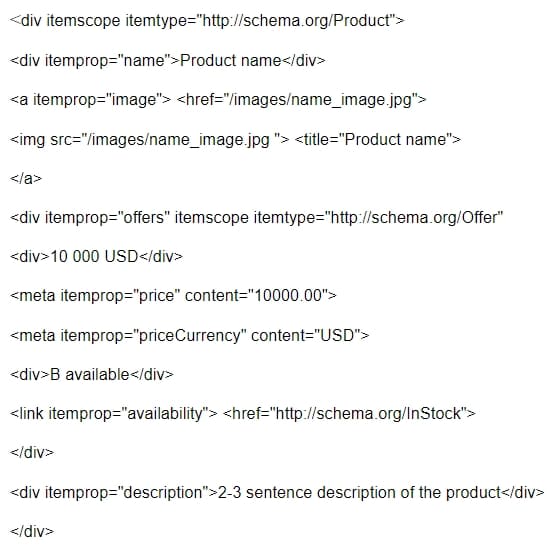 The micro-markup of product pages is extremely important in an online store. They provide the search bot with plenty of additional information, creating an appealing and noticeable snippet in search results. Such a snippet attracts more attention and, as a result, generates more visitors.
Open Graph micro markup for social media
The analyzed website has an Open Graph micro markup, but the meta description exceeds the limit recommended for effective website promotion.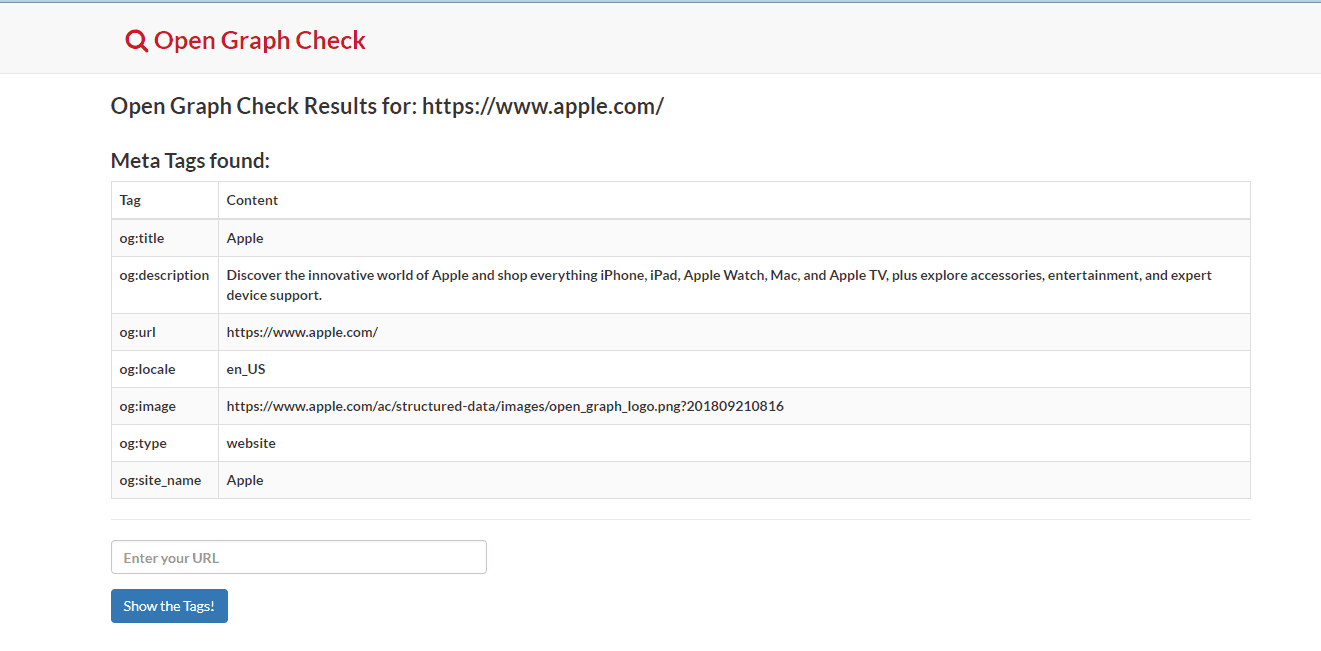 12. Extra code on website pages
Extra code may include extensive comments, style descriptions in code tags, style tags, scripts in code tags, and more. This affects the ratio of textual content to code and limits the caching of duplicated code sections.
The page https://www.apple.com/shop/accessories/all-accessories/whats-new. The scripts must be moved to a separate JS file.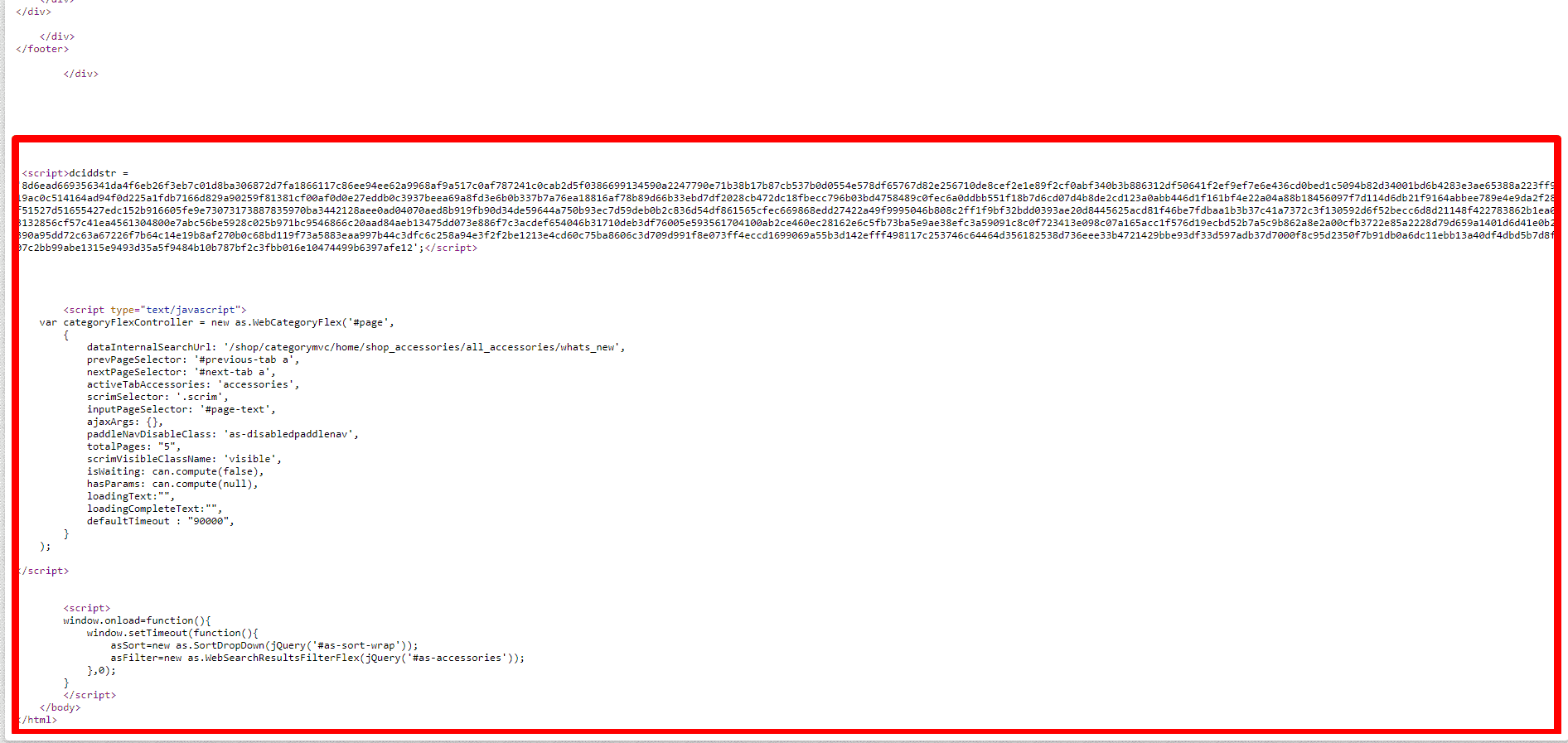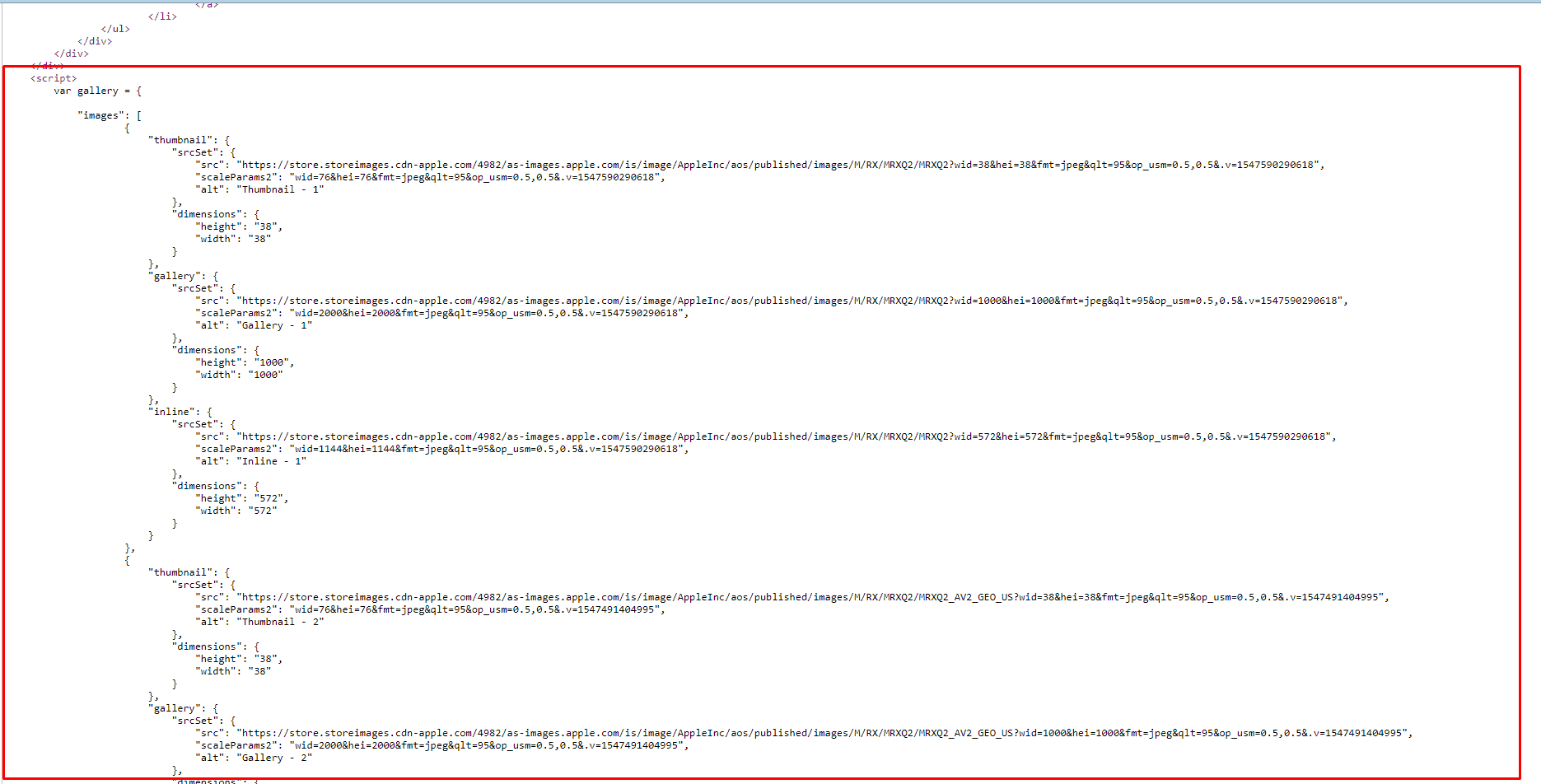 13. Duplicate website elements
Duplicate text can harm a website. Therefore, pay attention to this issue during a website audit. Such a problem often occurs on the pages of pagination, filters, short product descriptions, etc.
There are duplicate meta descriptions, H1 and H2 headers.
For example, on the page https://www.apple.com/ipod-touch/, H1 and H2 headers are the same. This is duplicated content.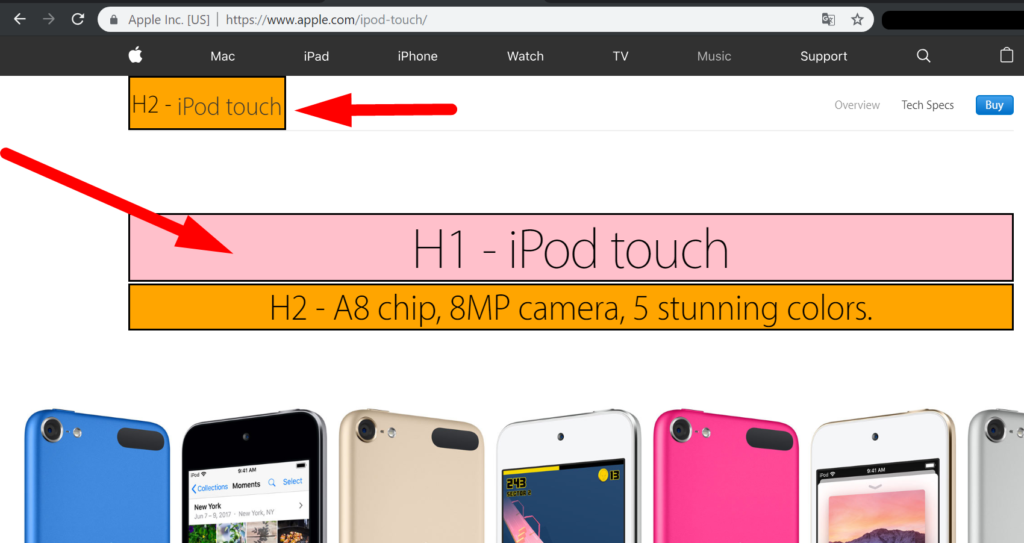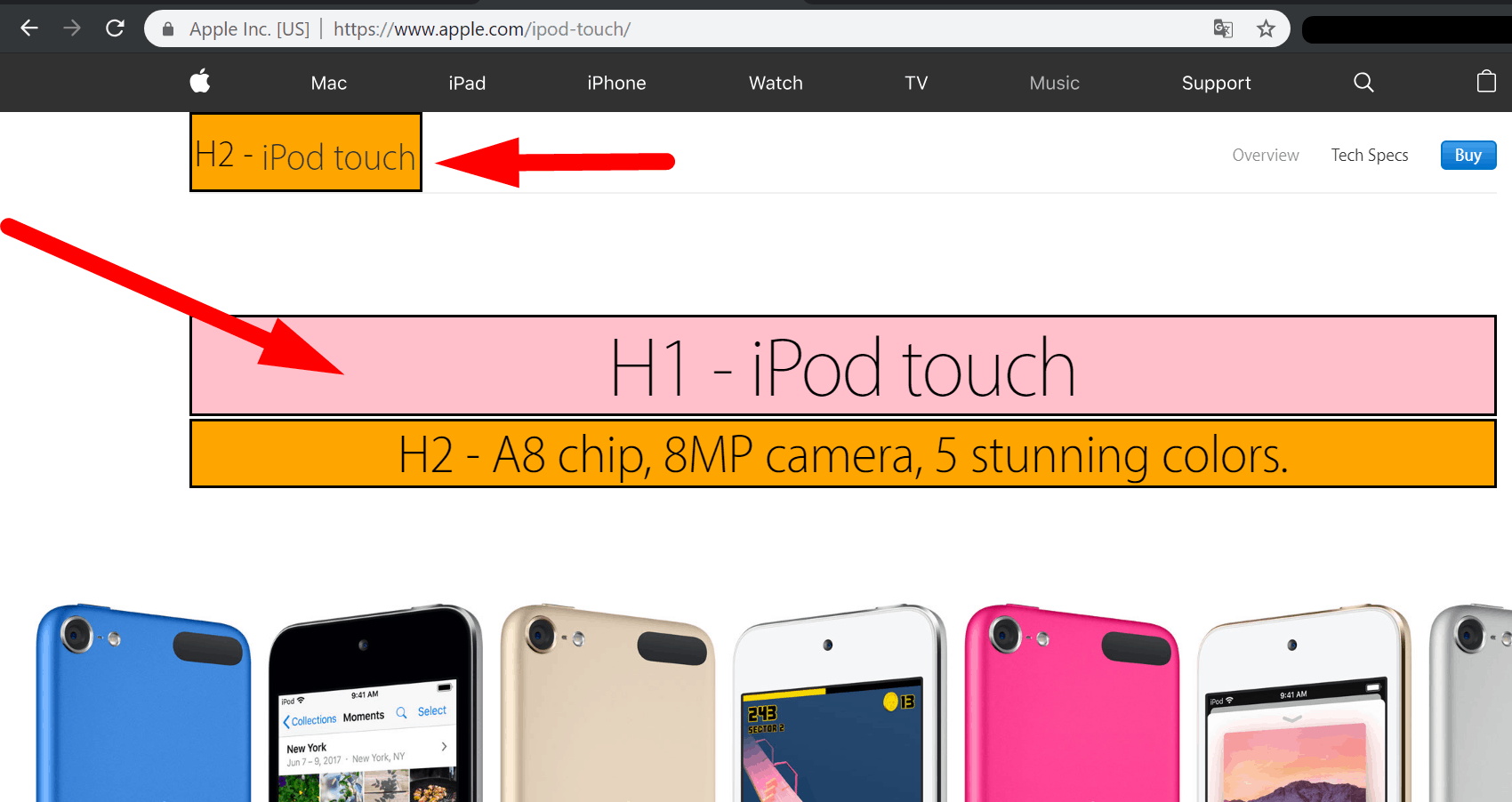 14. Number of tags lining to a product page
Since search engines prioritize the first link to a page in the code over other links, it's important to set the right anchor.
There is only one link to the product with the correct anchor for the whole block.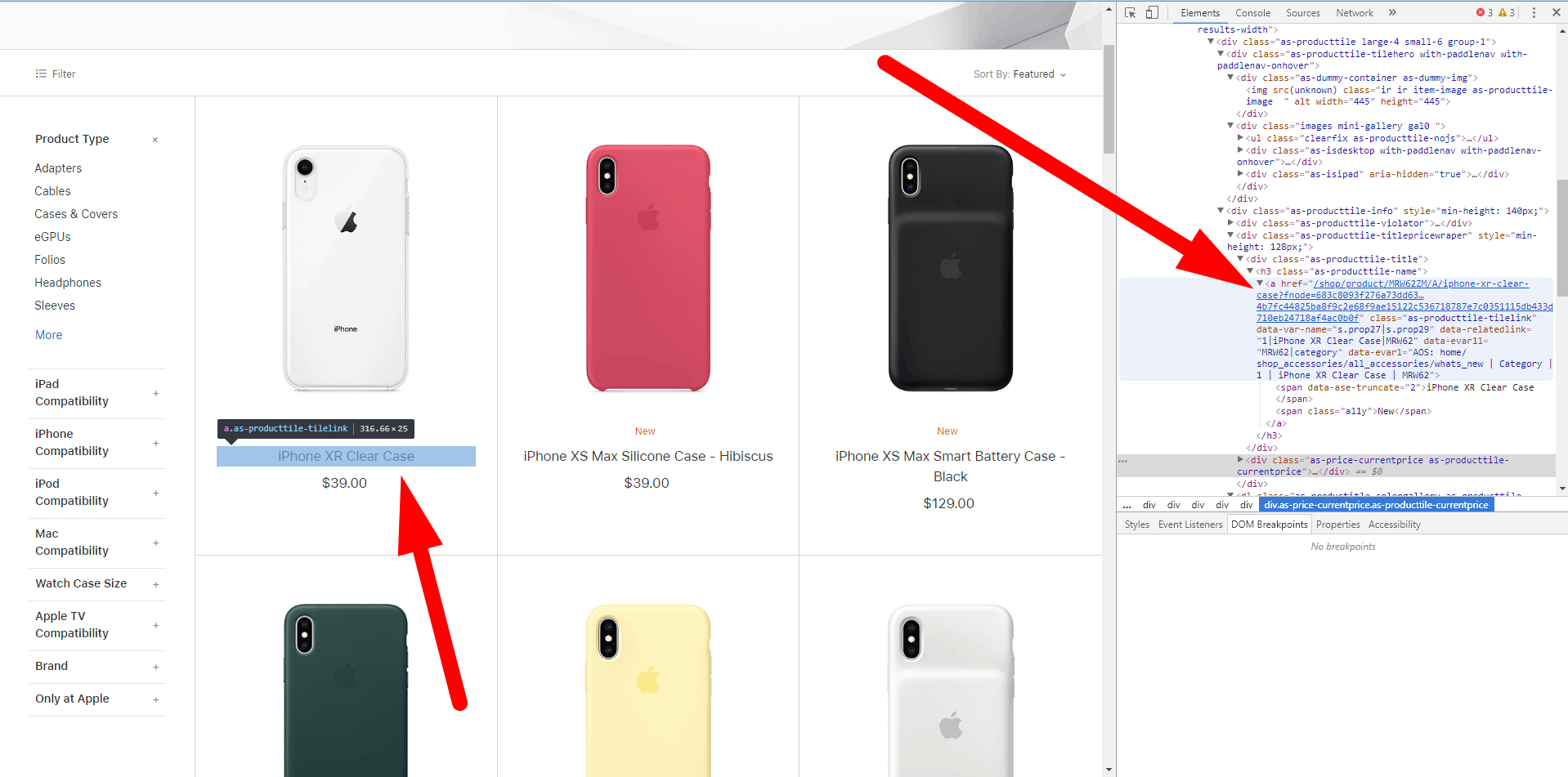 15. Display of snippets in the search
A snippet is a small segment of text displayed in search results along with a link.
The snippets of other websites look more attractive and complete than the official website snippets.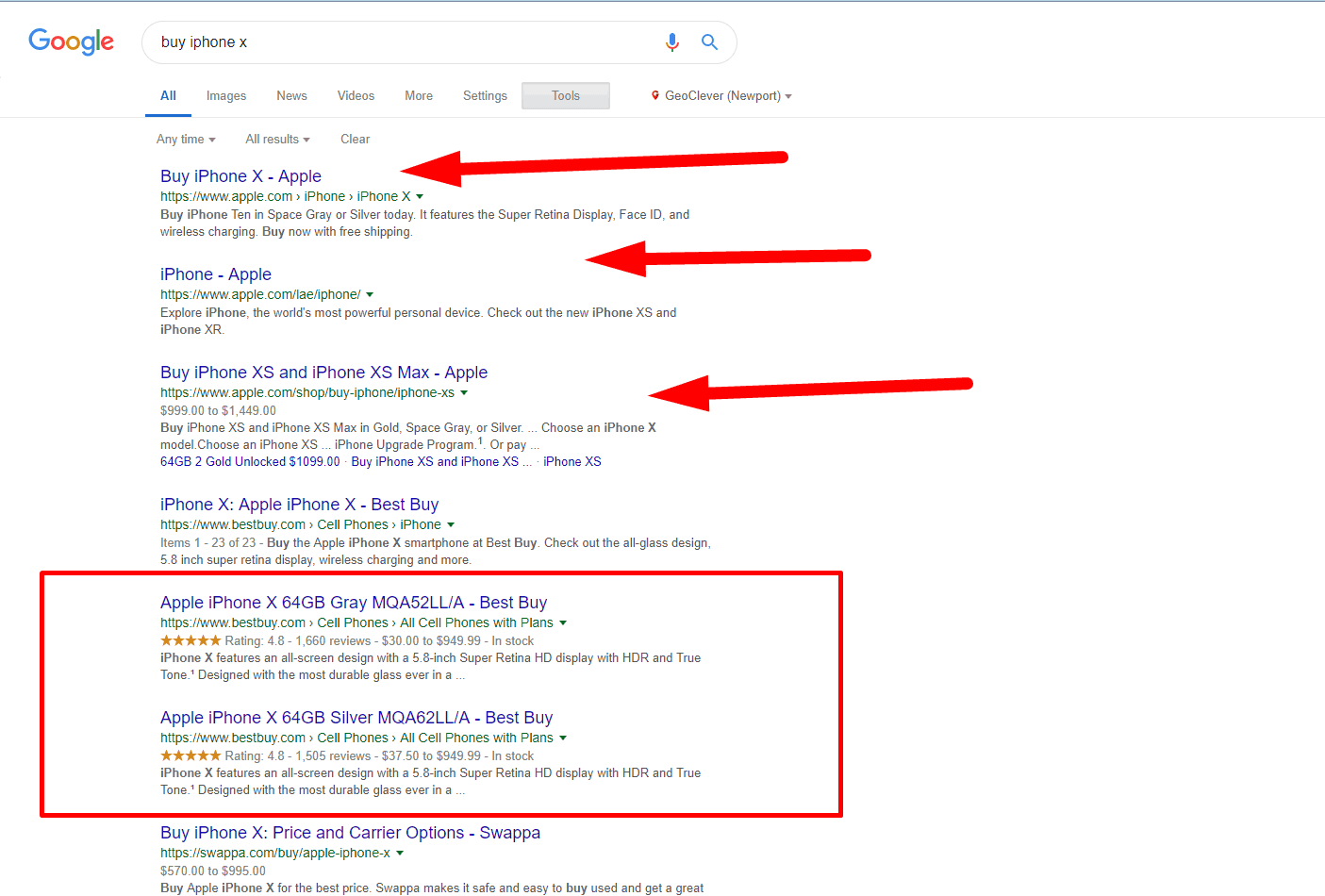 16. Quality of image optimization
Images are often mistakenly perceived as the simplest element. Yet if you optimize them, you will be thrilled with the result. Make sure to check images during your website analysis.
An Image Title tag is the text displayed when users hover over the image with a cursor. It's slightly less important for website promotion than an Alt attribute.
The Alt attribute is missing.

Example: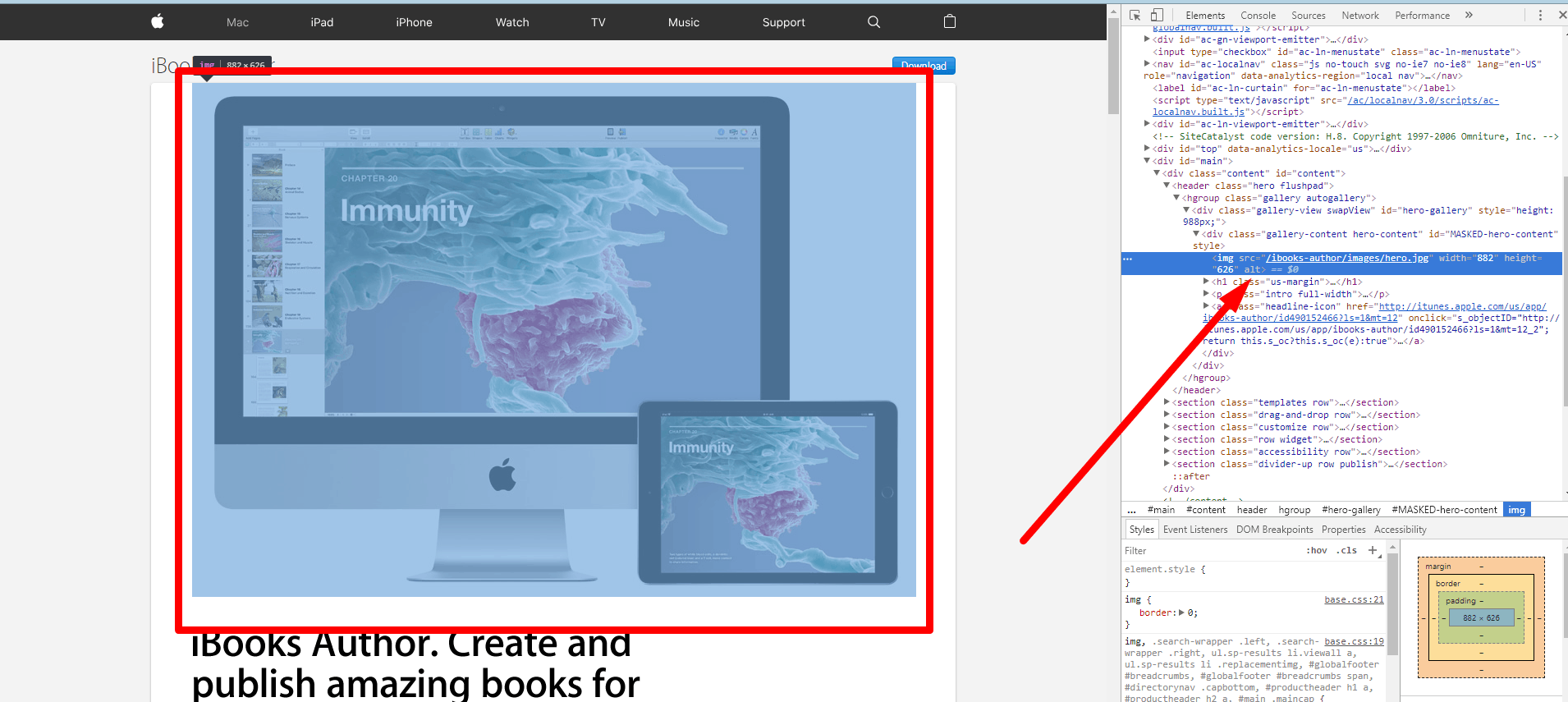 17. Quality of outbound links
Don't link from your website, especially online store, to third-party resources when it isn't justified (links to your groups in social media, your landings on other domains, etc.). This can hurt the trust of search systems in the resource and your marketing efforts. Moreover, you may lose potential customers that will leave your page.
This website has links to 703 resources.
16 of them are broken


For example, on the https://www.apple.com/ios/home/accessories/ page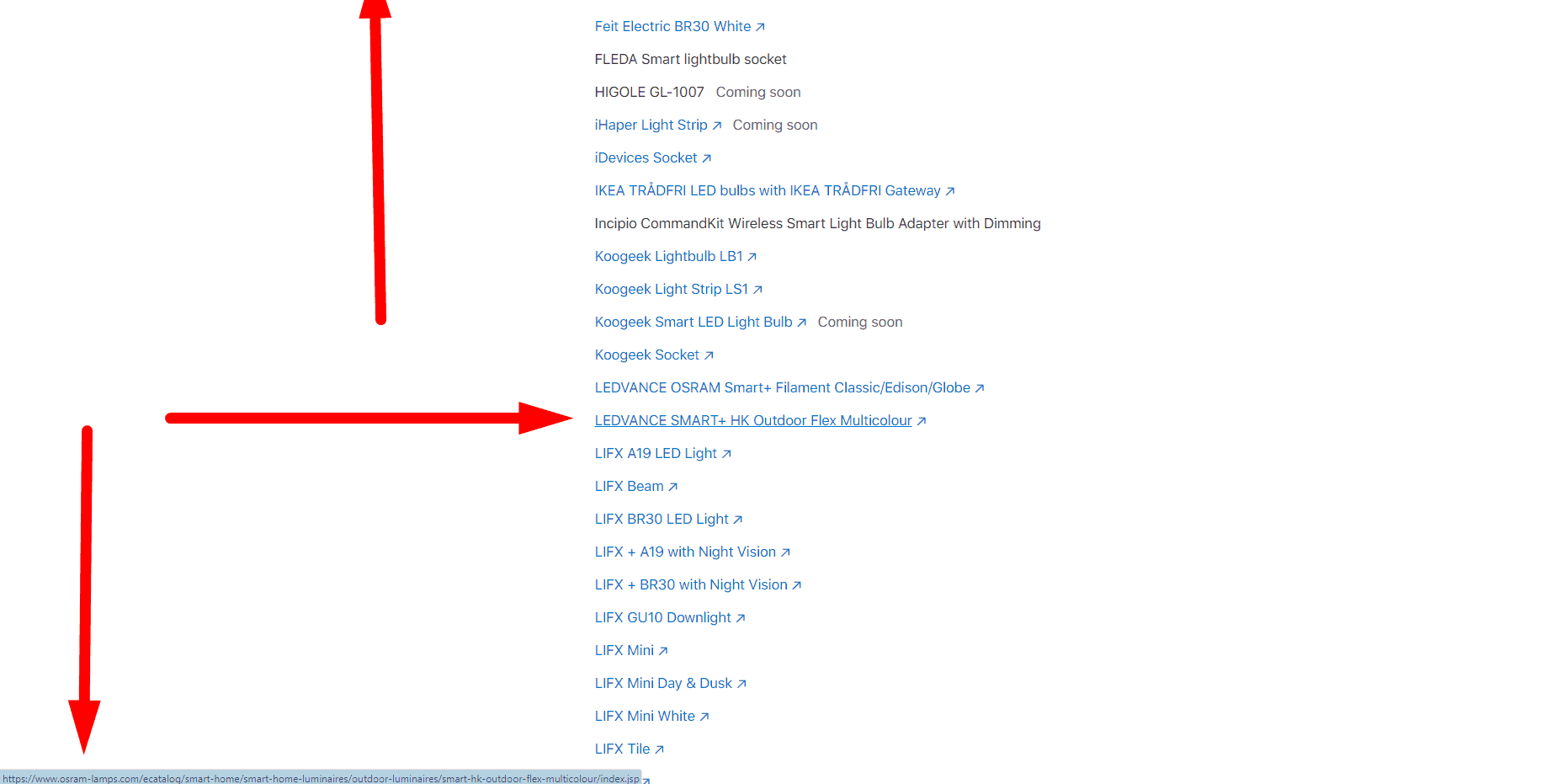 There is an outbound link that forwards users to the 404 pages.


18. Whether the technical pages are closed from indexing
In addition to using no-index commands for technical pages (admin panel, cart page, order page, etc.) in a robots.txt file, it's recommended to specify this for search bots. To do that, add the corresponding meta tags to the HEAD of the necessary page. To make your website promotion more effective, mark the links to these pages as rel = "nofollow." This way, search bots won't try to access the technical pages and index the content these links lead to.


19. Link Mass Analysis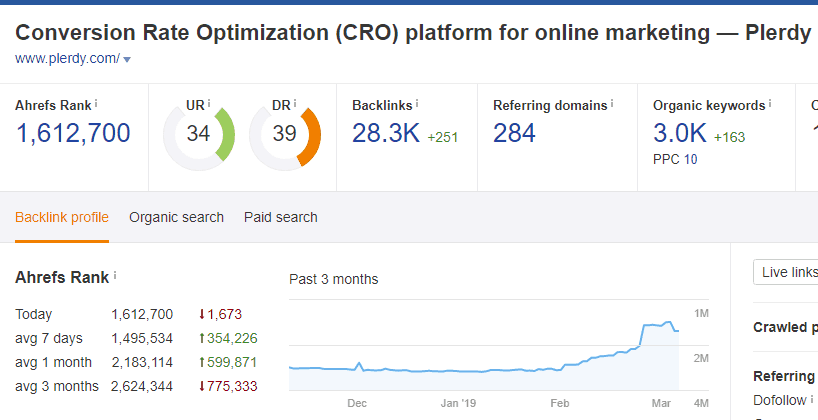 Starting a new project and conducting an audit, an earnest SEO specialist, first of all, analyzes the link mass of a website. The analysis includes both inbound and outbound links. It's like counting money before you take it. Link mass analysis shows the current condition and helps detect spam links, resulting in a Google penalty.
When will we get the desired result? – is a common question SEO marketing specialists usually hear from their customers. Unfortunately, if you talk about the timeline before your check this simple parameter, you may end up in an unpleasant situation when you need to explain to the customer that everything appeared to be worse than you thought.
Sample link mass analysis of apple.com
This resource has a developed link mass.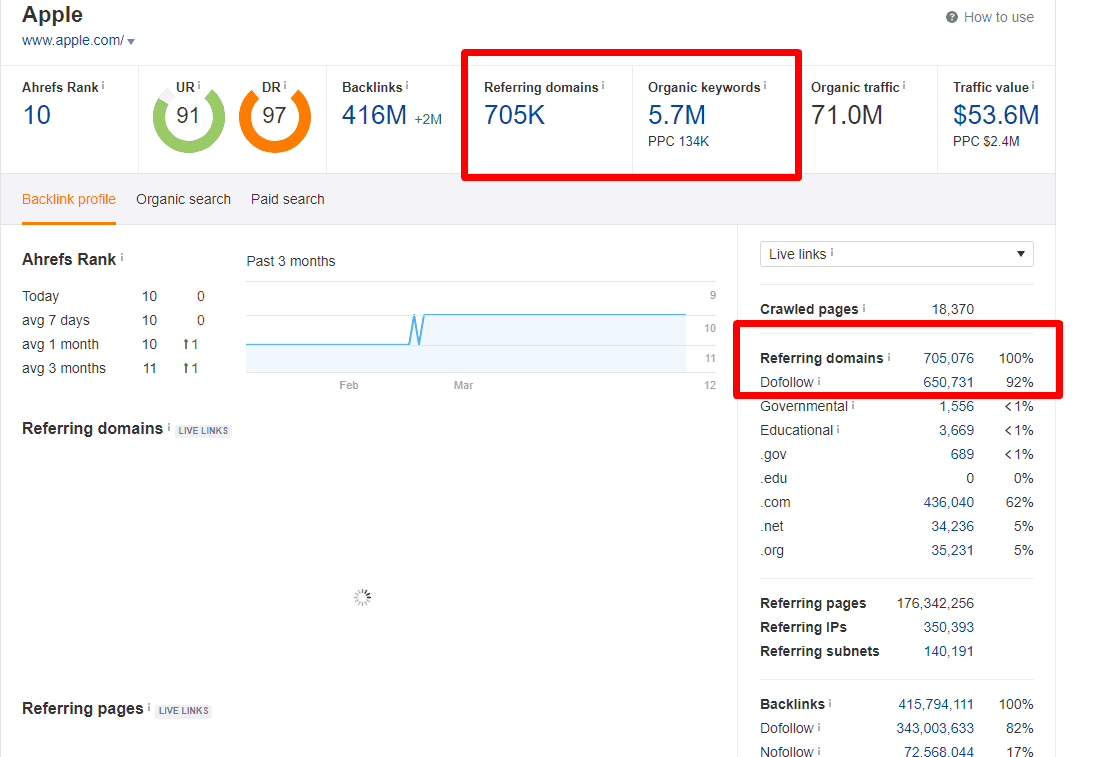 The website is referred by 705,076 domains. The largest number of links belongs to audioboom.com (the music website) with 18,137,453 links.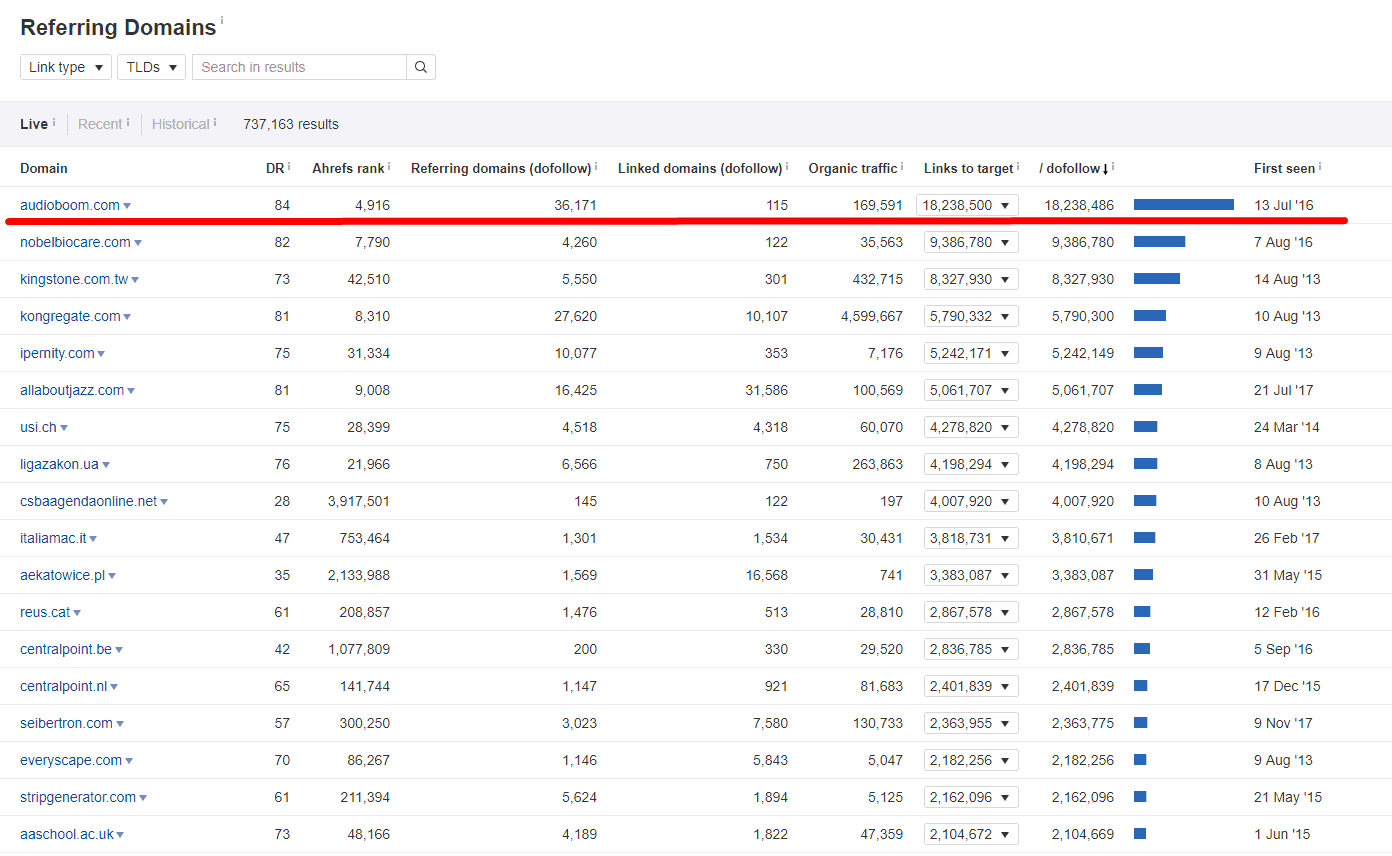 Except for apple.com, the domains with dofollow links (680950), except for apple.com, are mainly various blogs, stores, and forums.
In total, there are 78,560 domains with nofollow links. These are usually different official information portals and online media.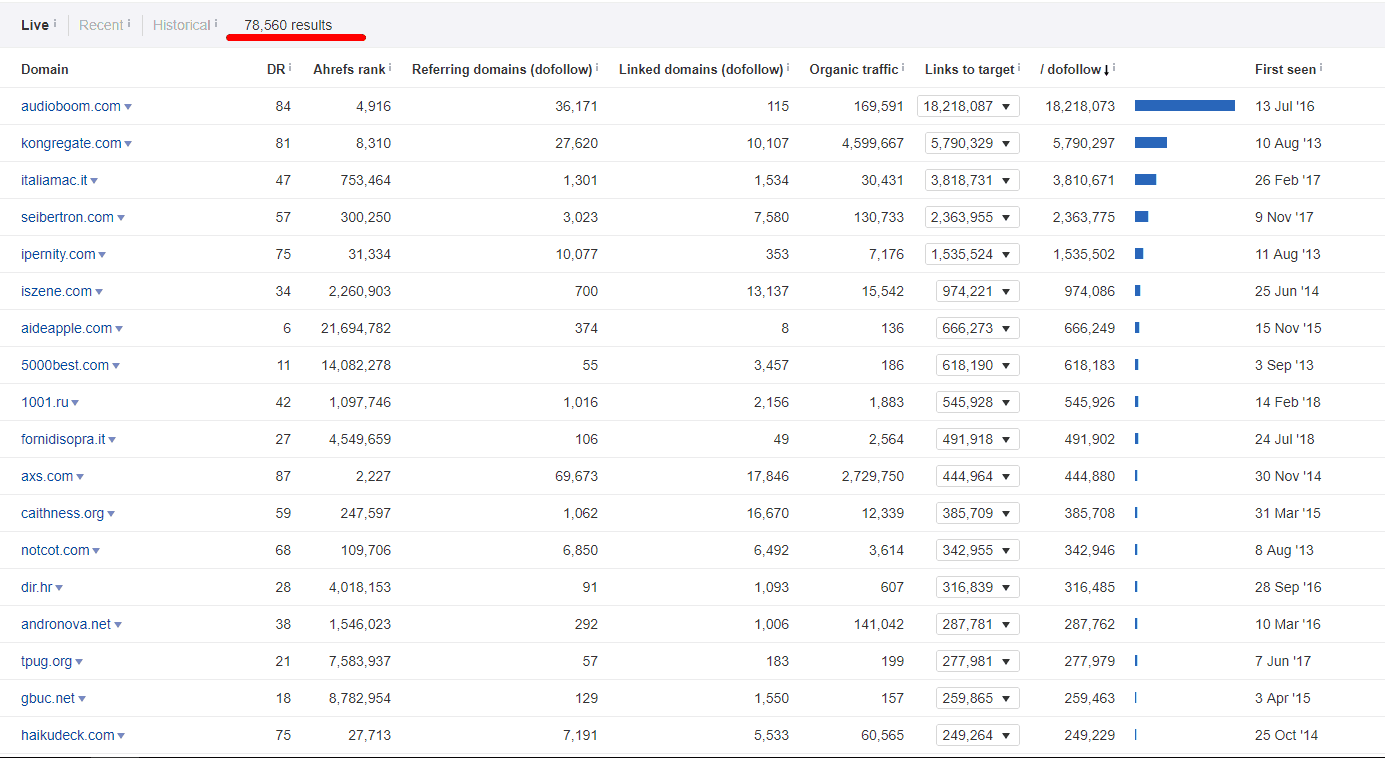 The domains with the highest domain rating are Twitter, YouTube, LinkedIn.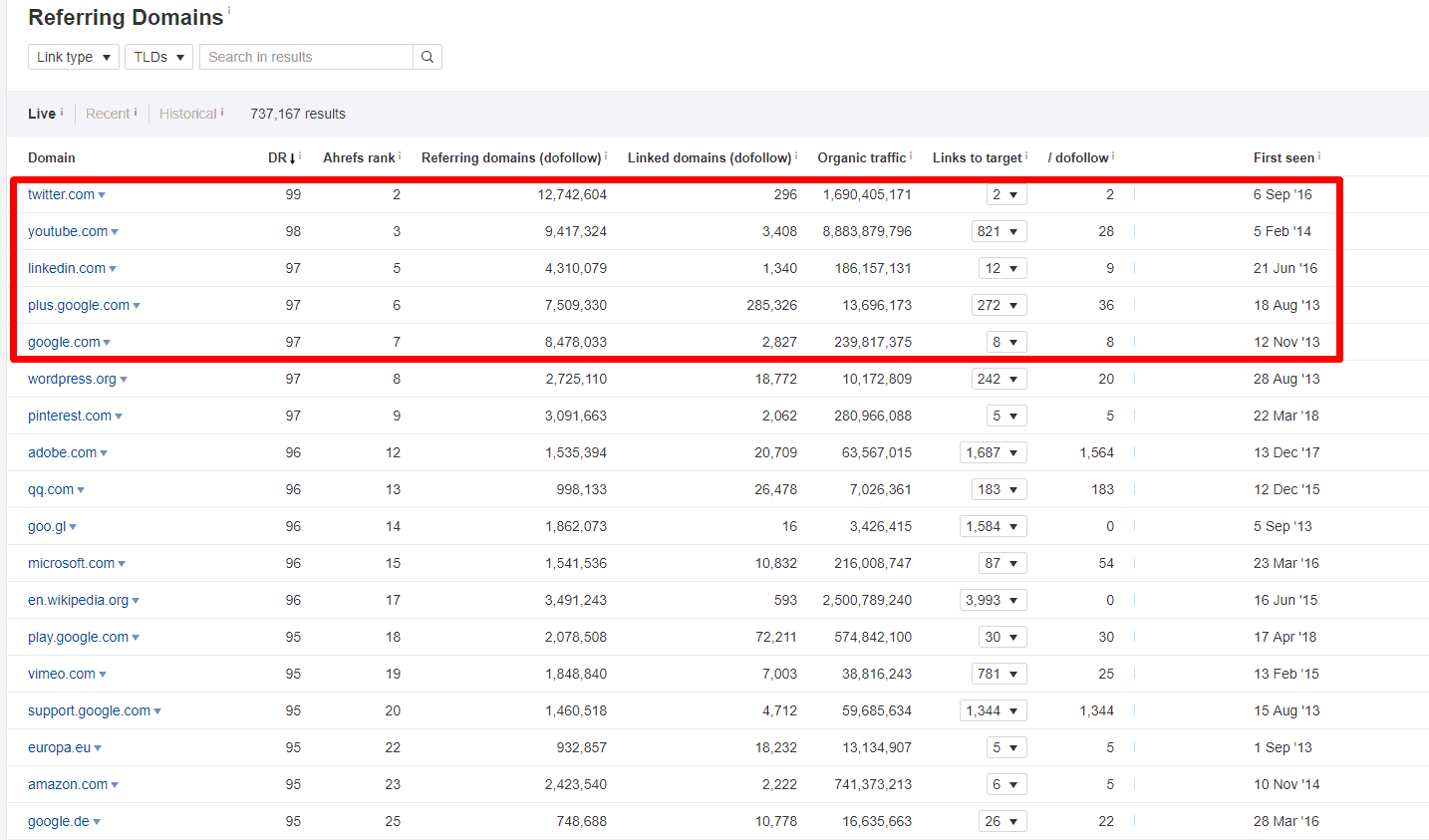 The analyzed resource has 34,007,534 backlinks.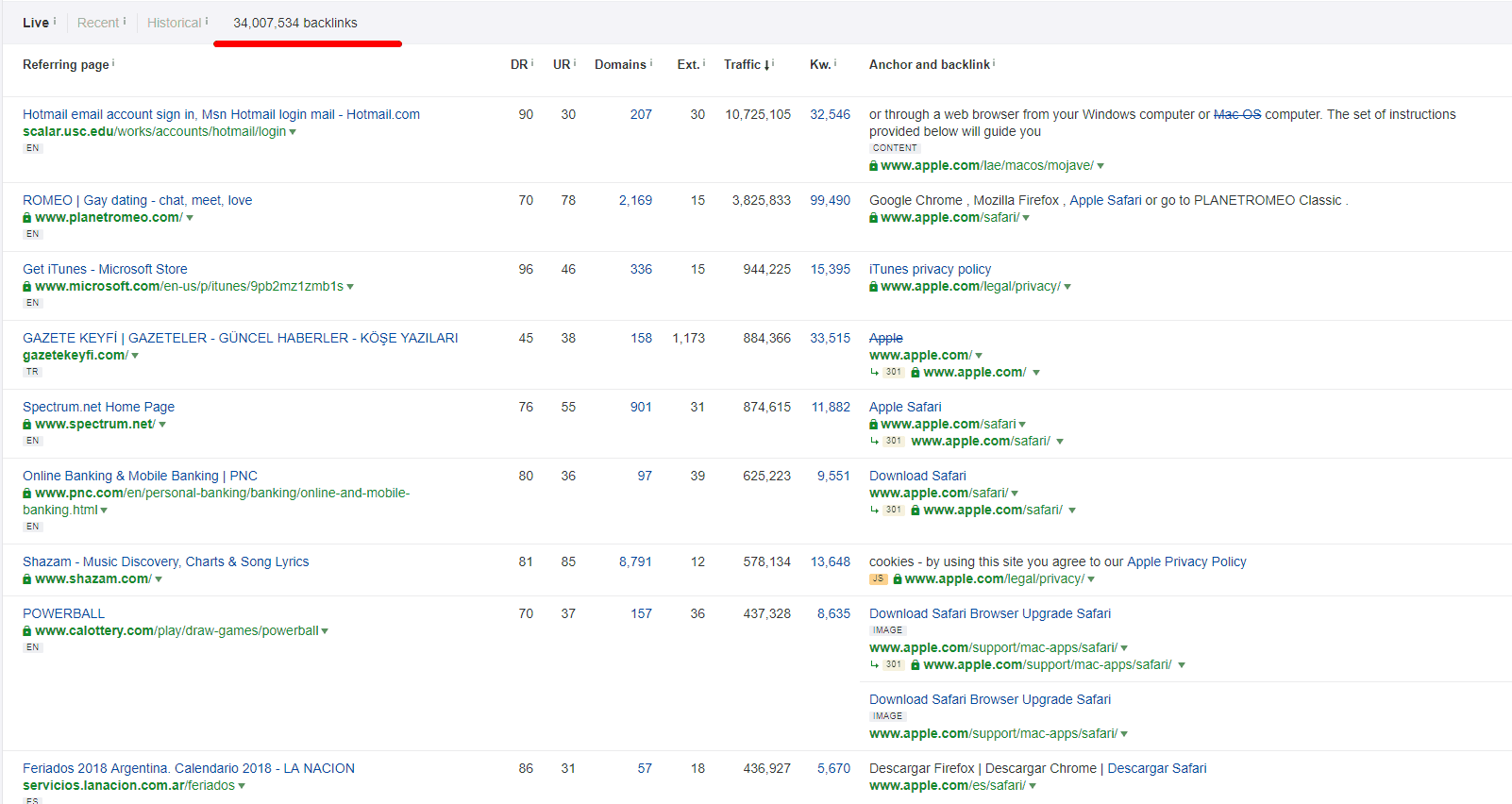 Out of these links, 29,641,413 links are Dofollow that, based on the domains, mainly come from different music and game websites.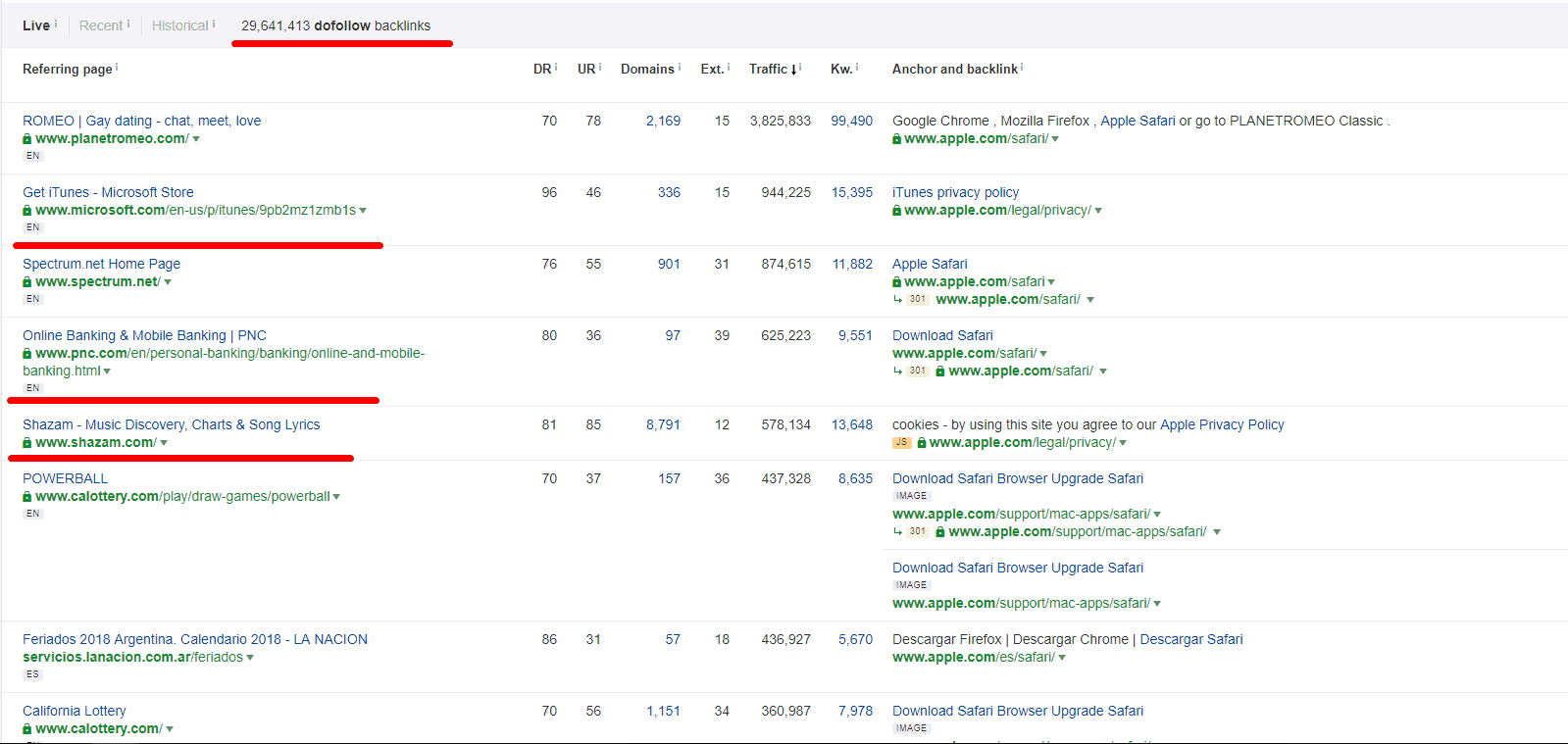 5,887,519 of all backlinks are Nofollow that, based on the domains, mainly come from various official information portals and online media.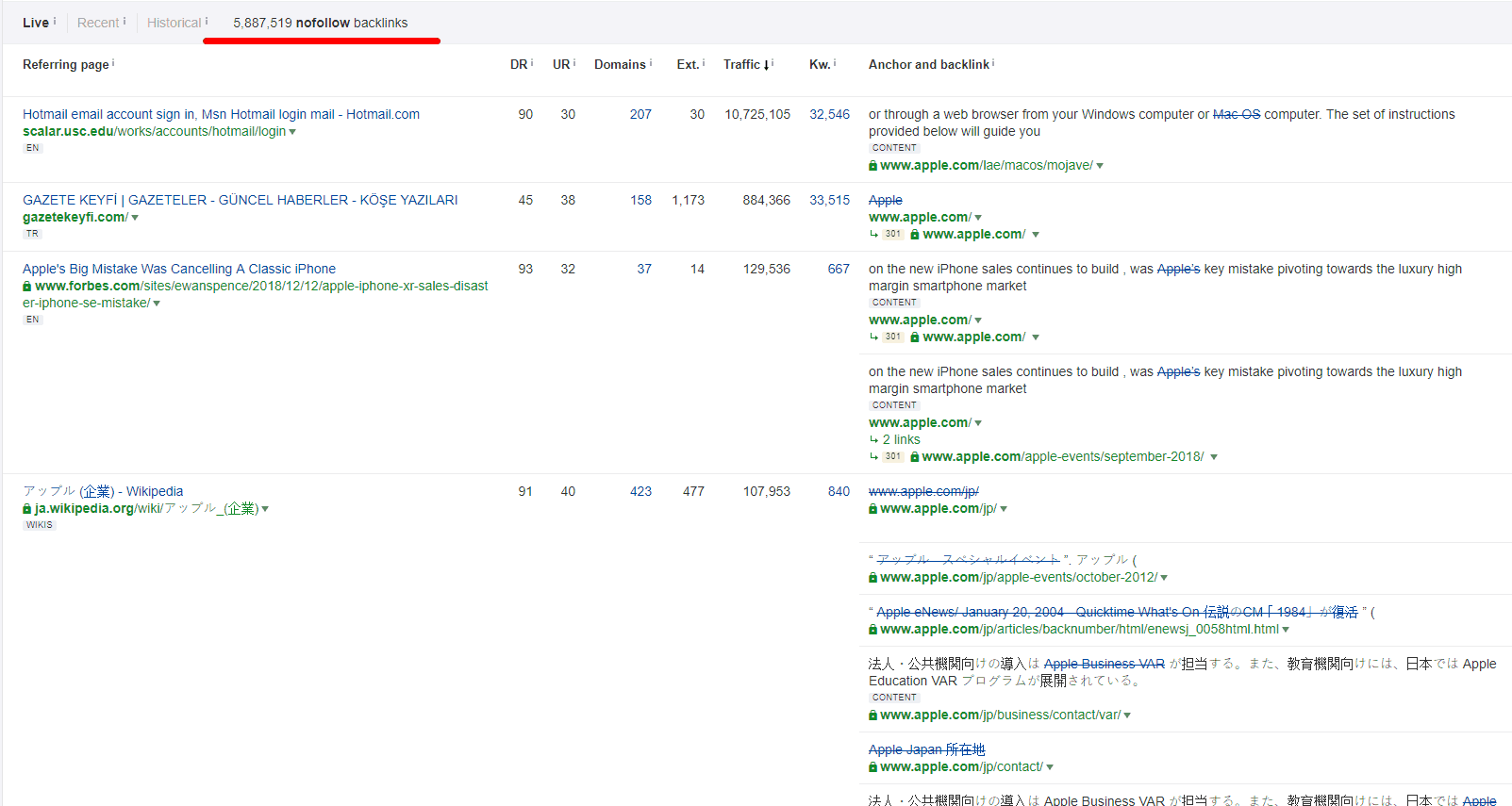 The pages with the backlinks which have the largest number of keywords mostly belong to https://www.planetromeo.com  and https://www.redlobster.com/menu/dinner websites.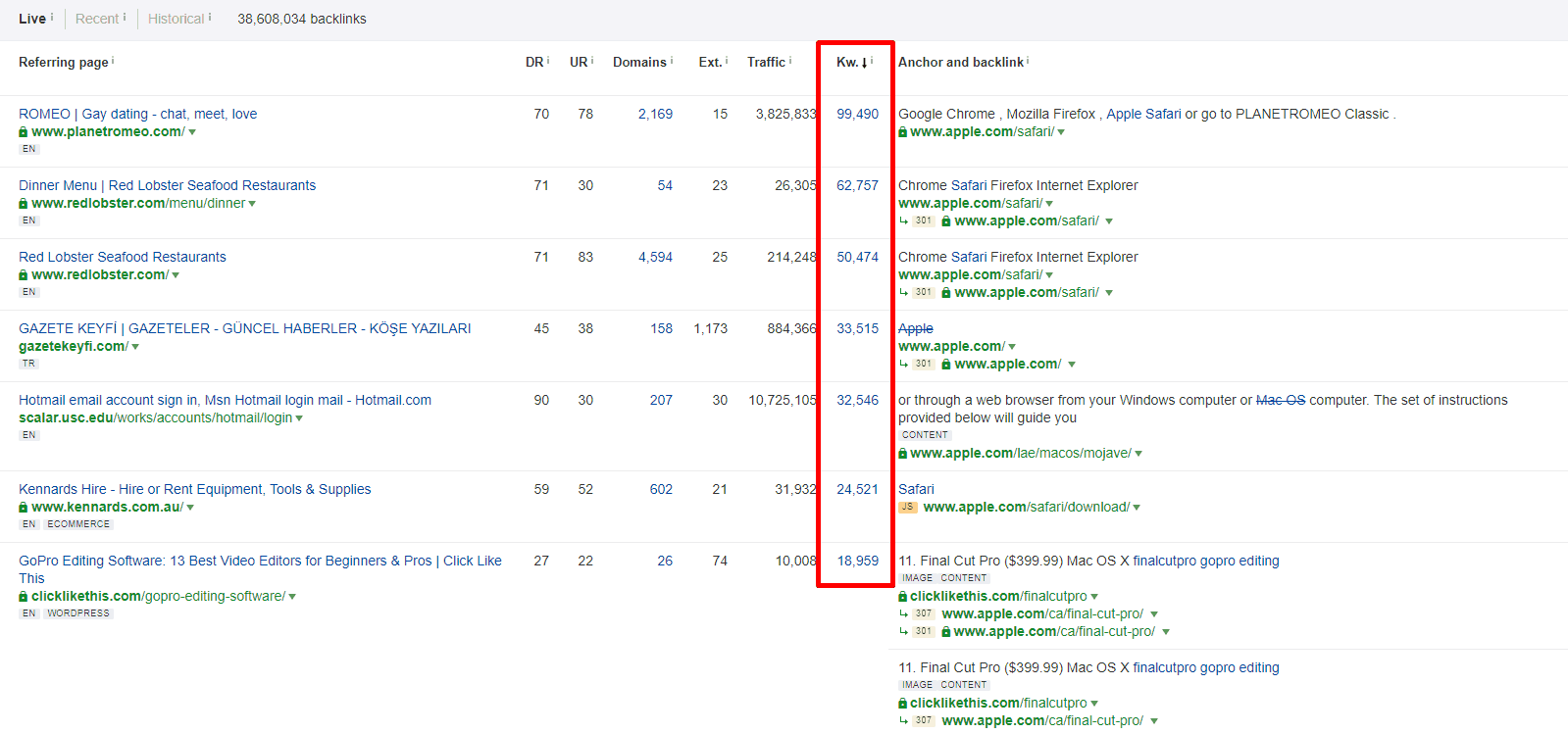 Example of the link on one of such websites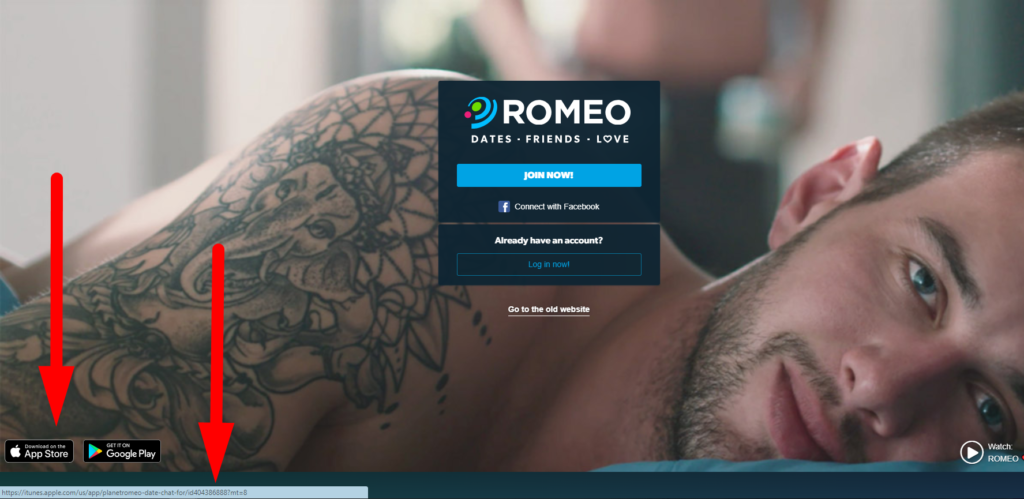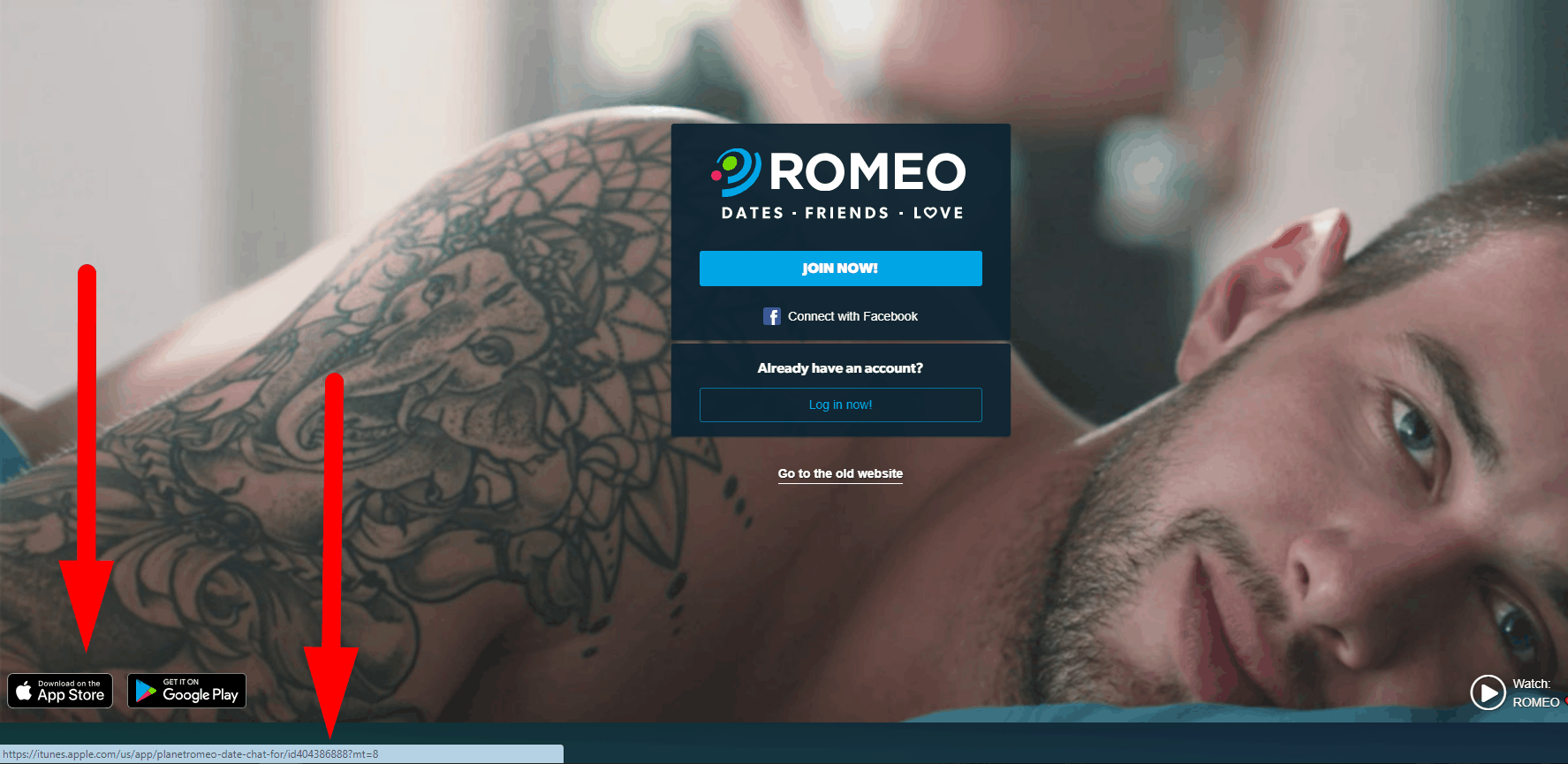 The links to apple.com have 1,731,004 anchors.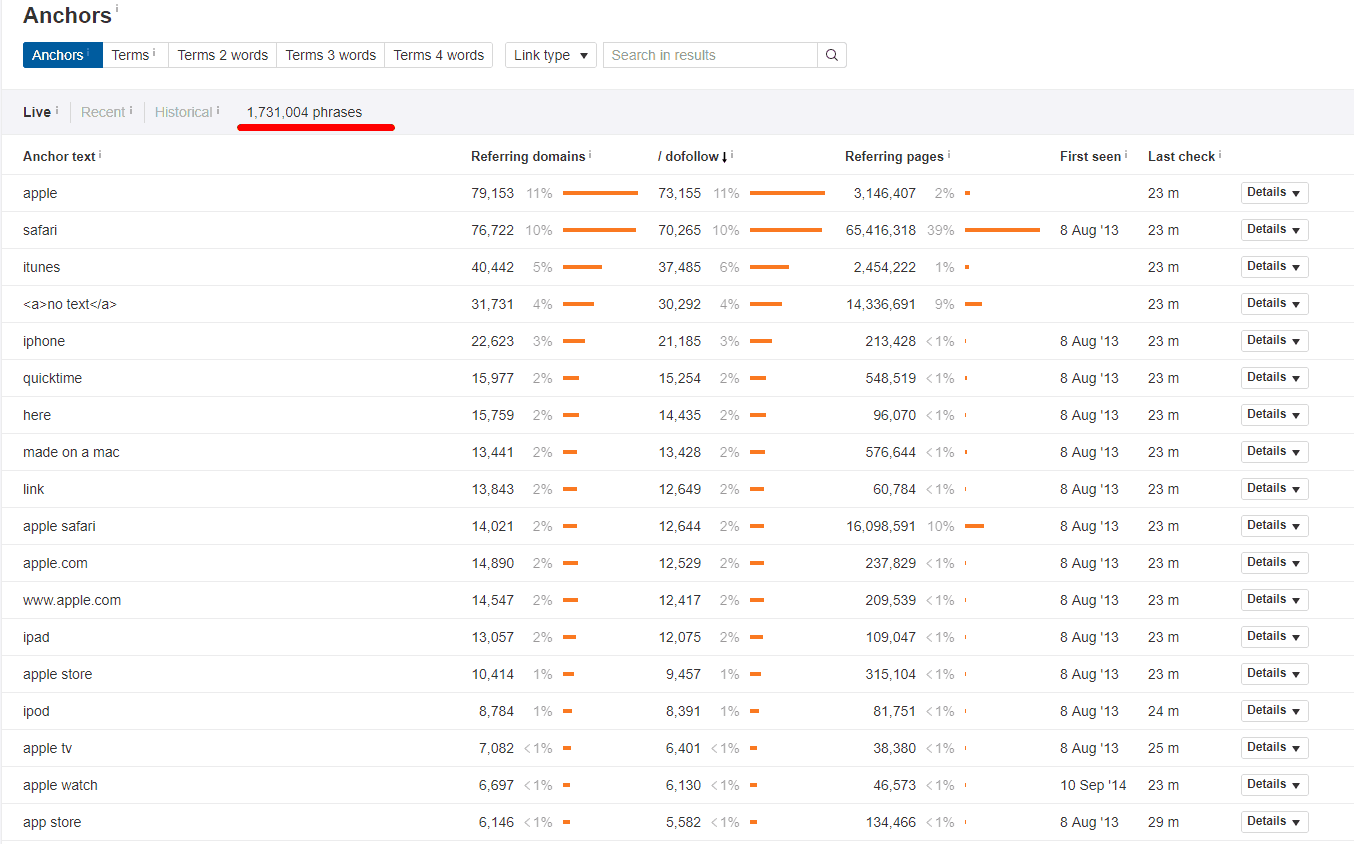 And 32,300 of them are non-anchor.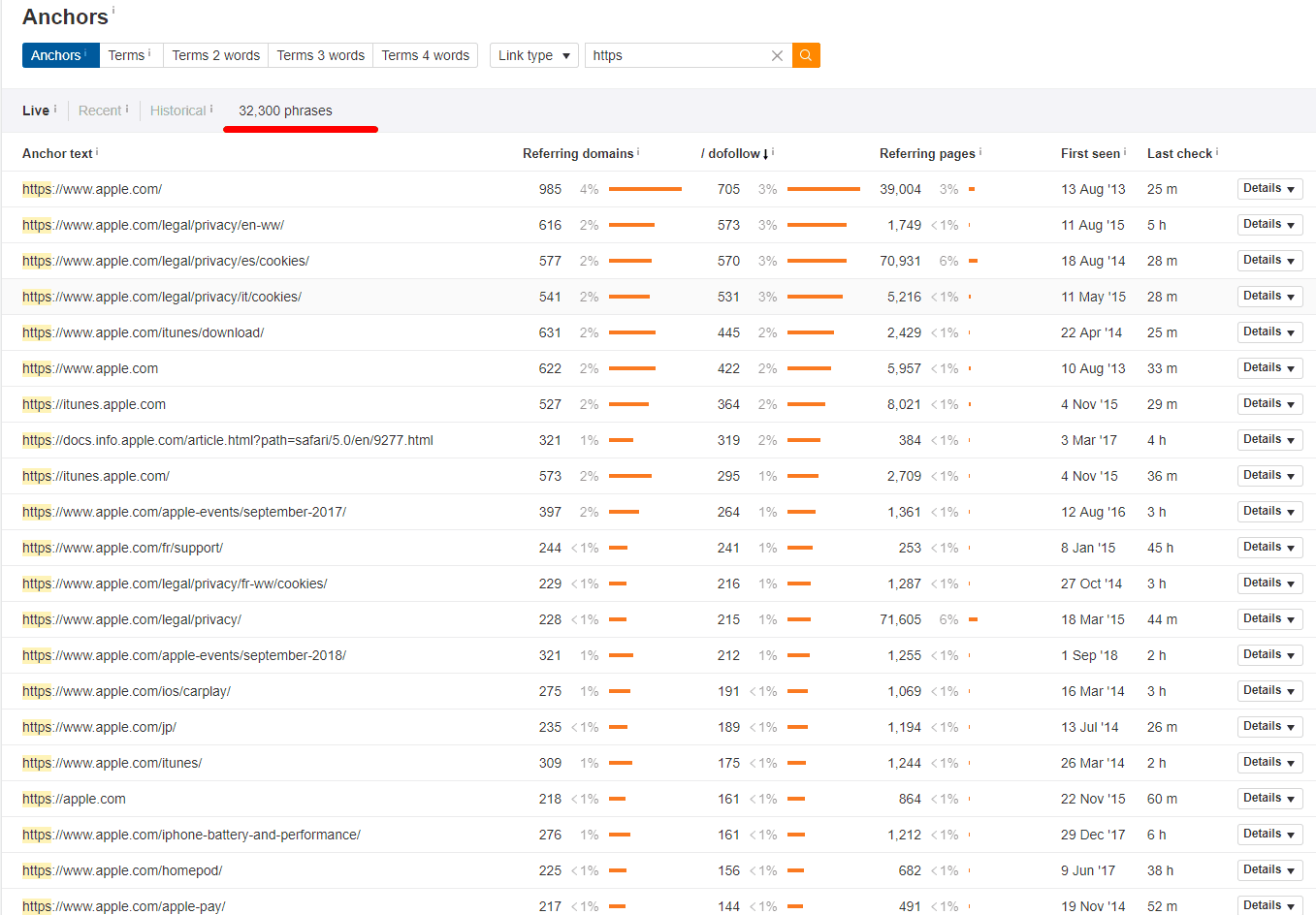 Among the keywords of the analyzed resource, the names of Apple's most popular software, including iTunes, iCloud, and Apple store, have the highest traffic.
Here are the top organic keywords in the USA: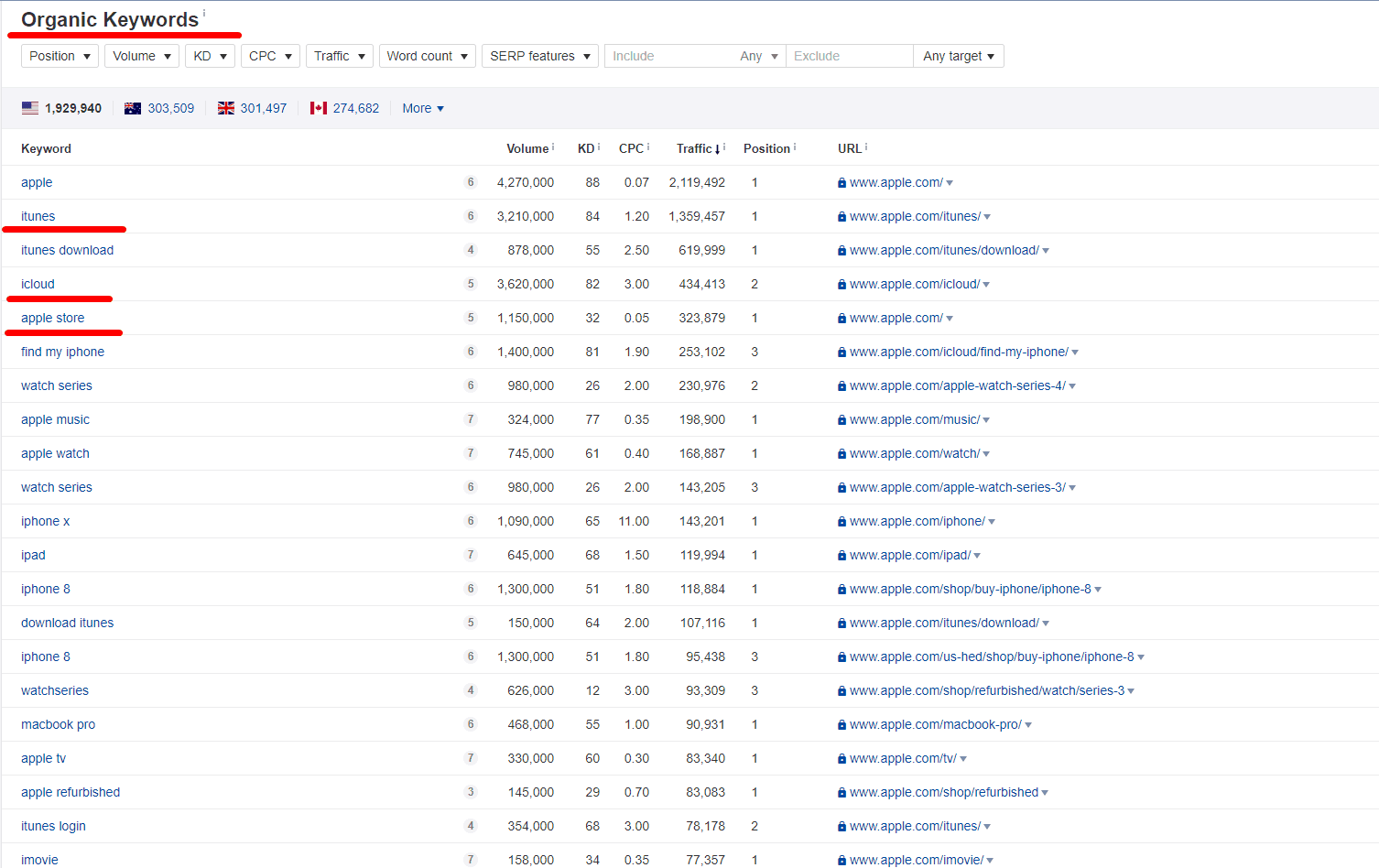 Organic keywords in the UK: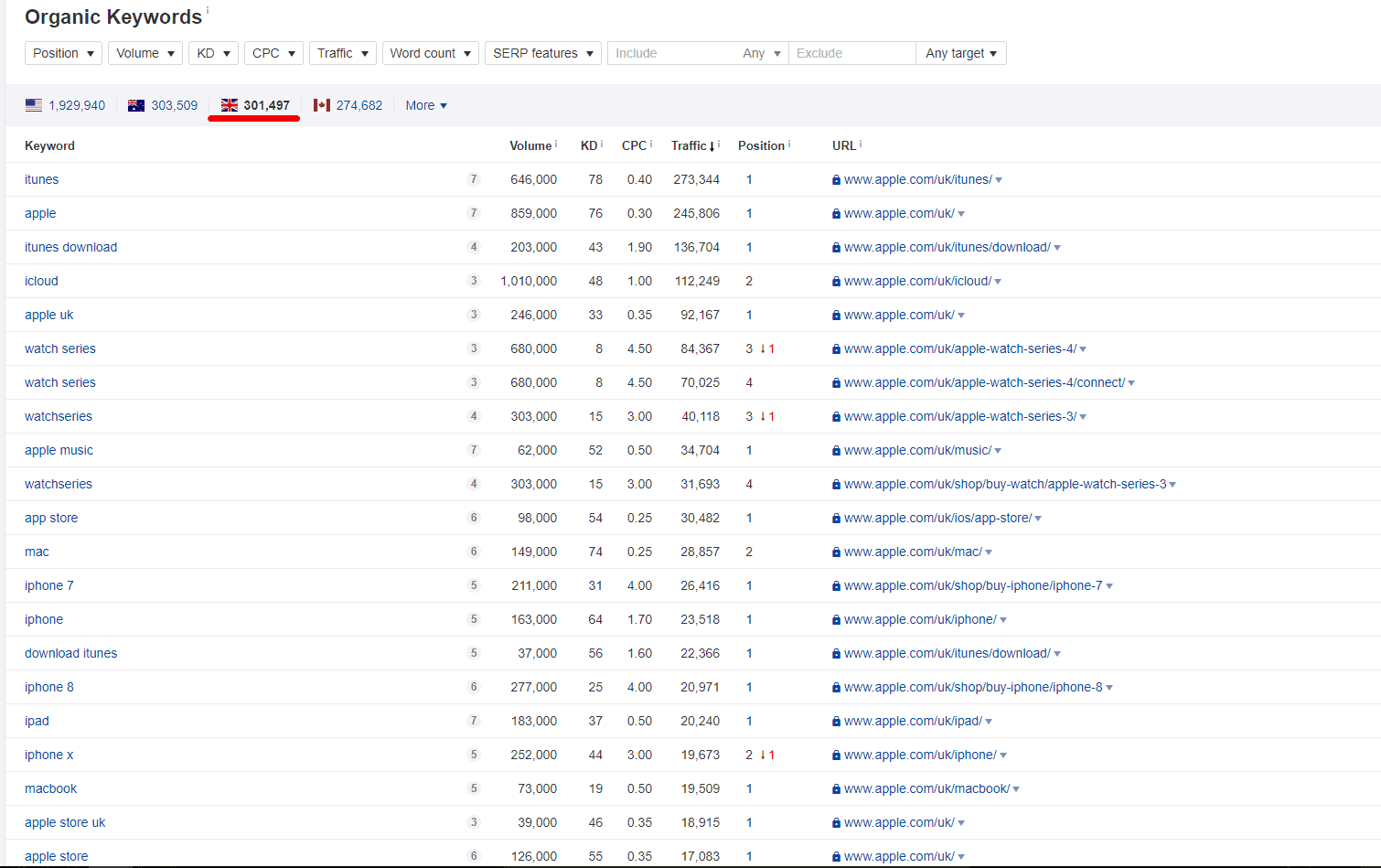 As a result, the following pages get the highest total user traffic: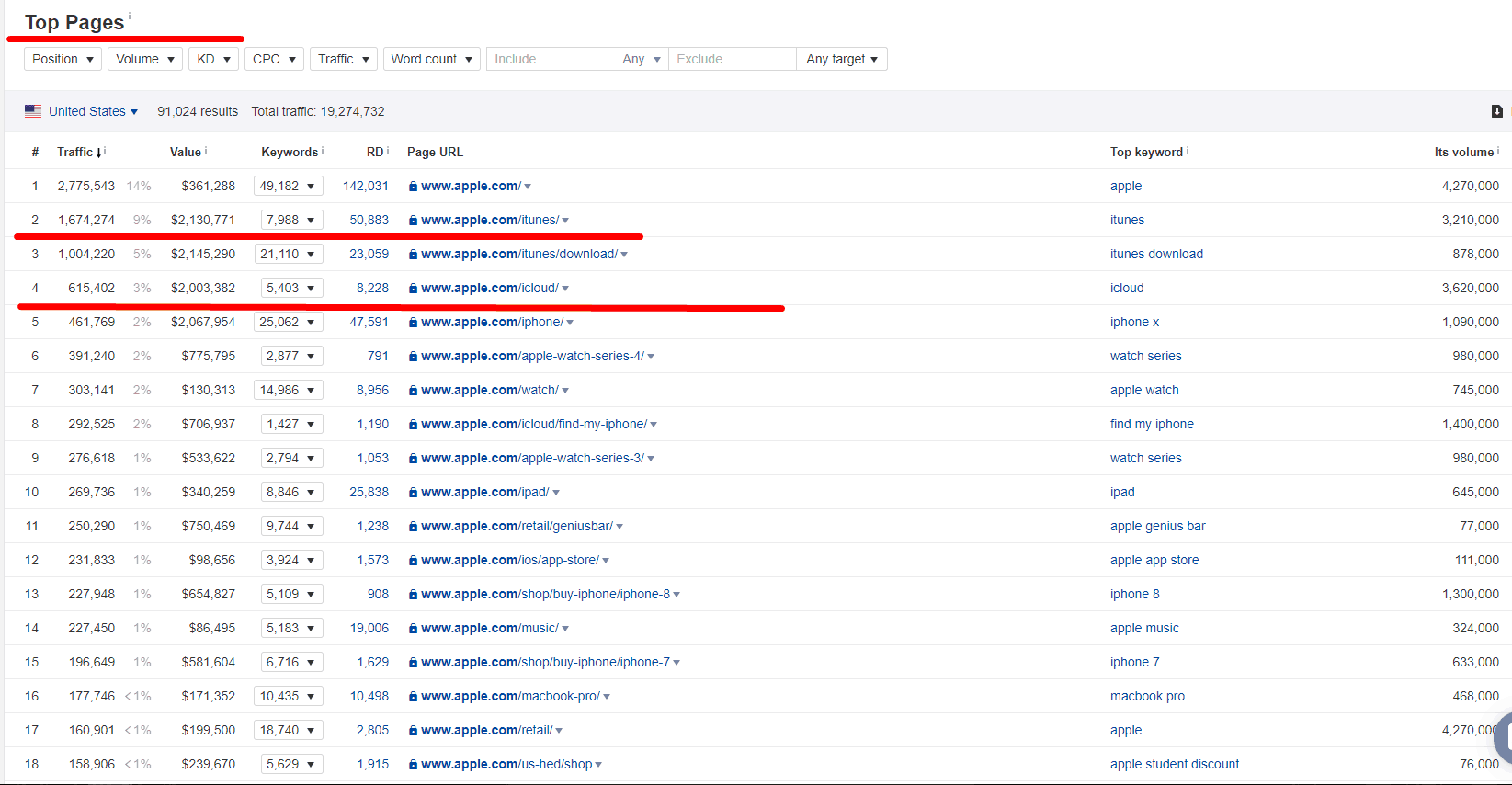 Generally, in social media, the content from Customer Letter – Apple, Watch the Apple Special Event, iTunes, iPhone, Mac is the most popular.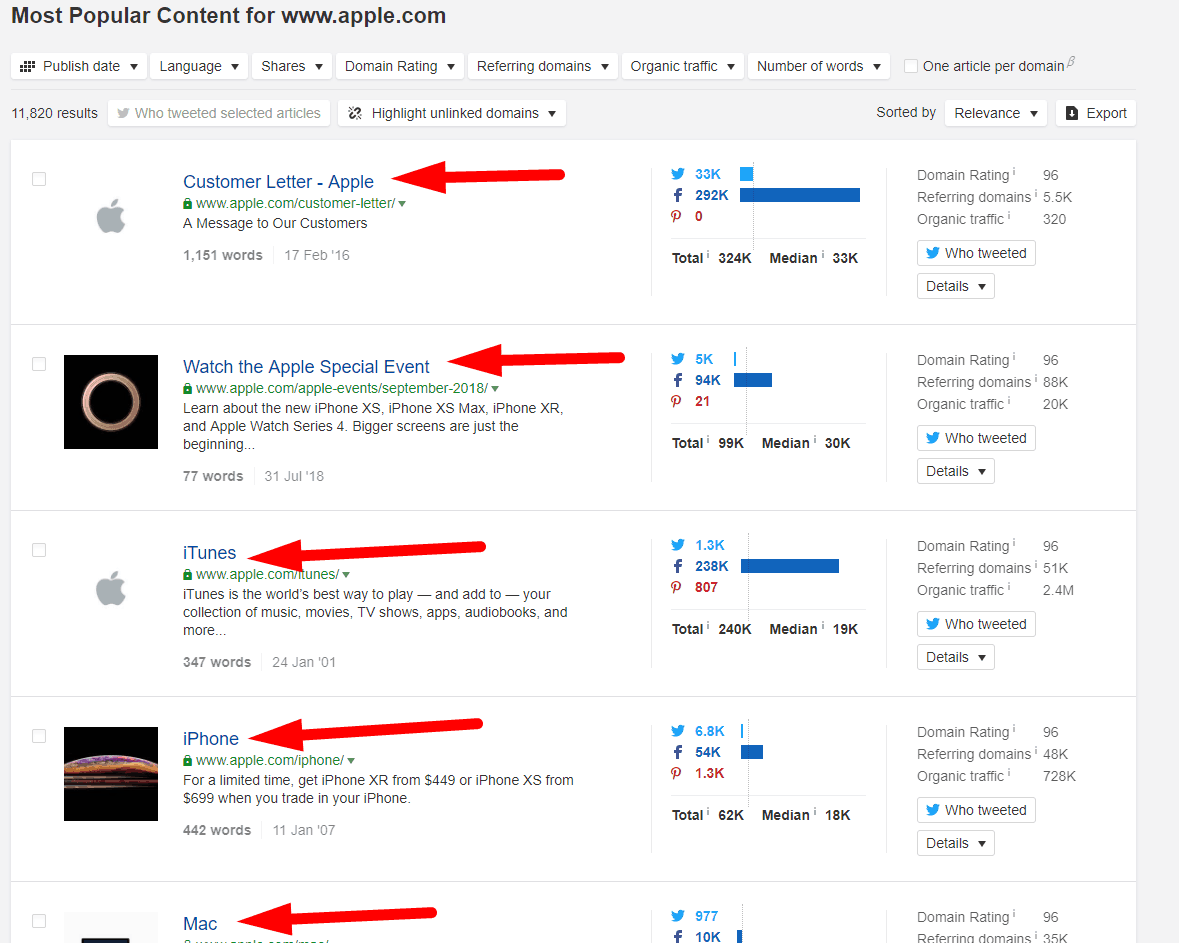 Here are the pages popular on Facebook: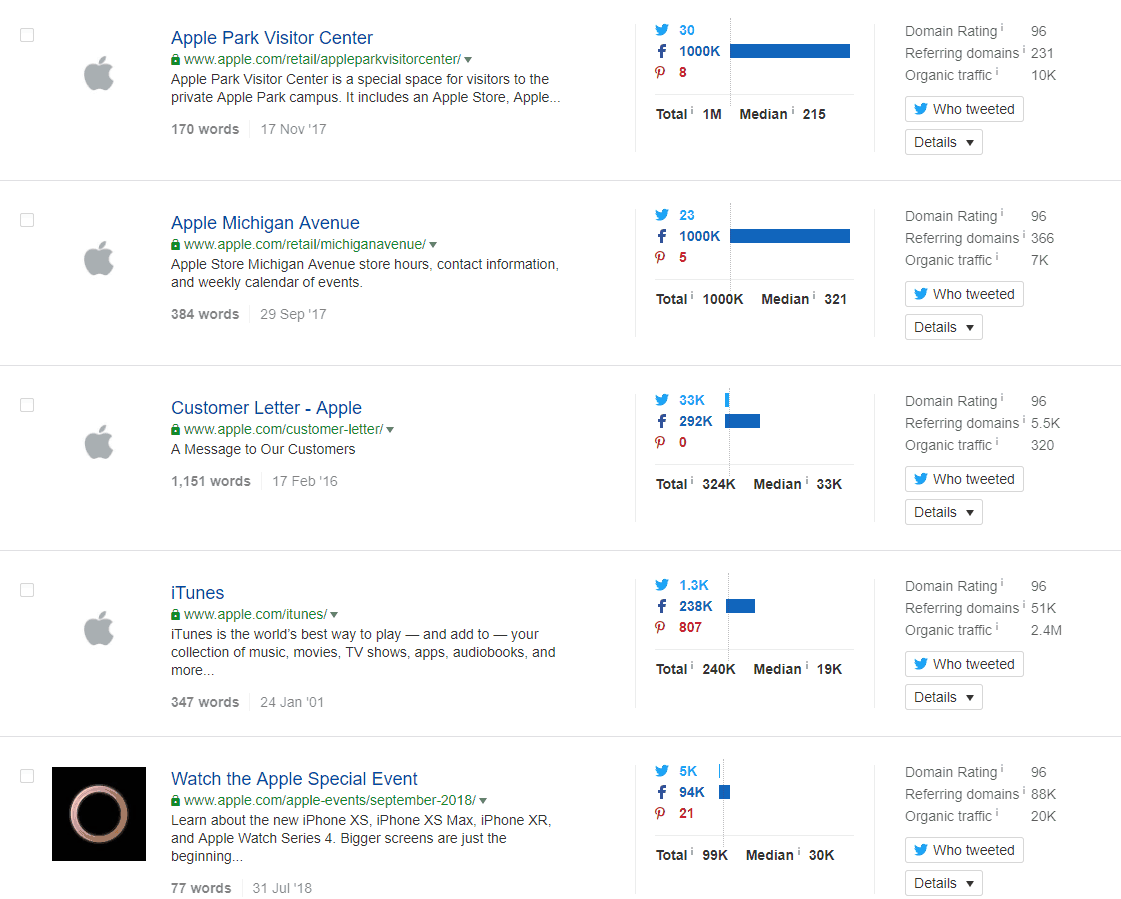 And on Twitter: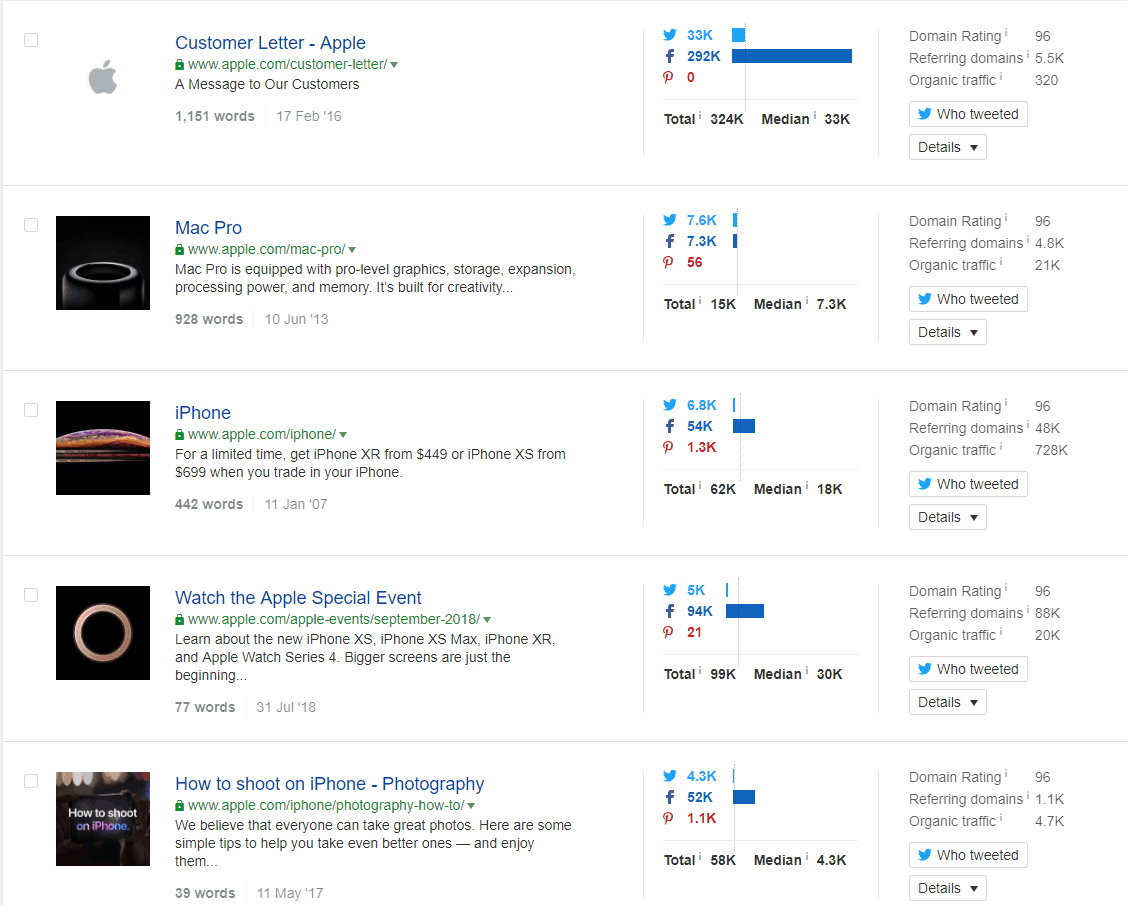 On Pinterest: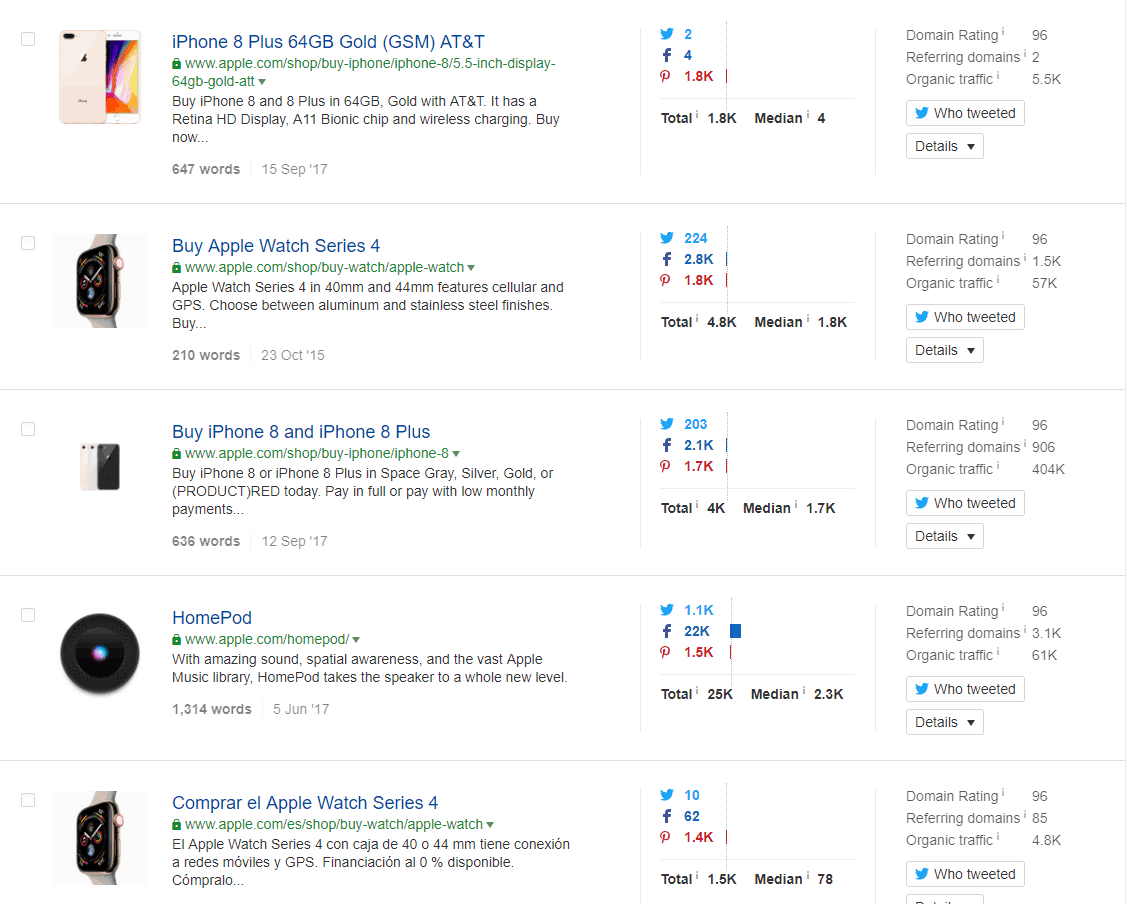 Conclusion
Wrapping up, an SEO audit acts as a beacon, guiding your website towards the apex of search engine rankings. Each audit session inspects the minute aspects of your website—meta descriptions, backlinks, content quality and structure, along with SEO and UX aspects. There's no mystery in this process, just analytical precision. ⚡?
Audit insights serve as a roadmap to align your website with the ever-evolving SEO standards. Regardless of your niche—whether it's e-commerce, healthcare, or fashion, an SEO audit empowers your website to rise above the competition. Remember, a website that passes the SEO audit is akin to a well-oiled machine—it attracts and retains a significant amount of organic traffic.
Harness the power of the Plerdy tool, the ultimate ally in your SEO audit journey. Uncover areas of improvement and start optimizing your website today. The perfect blend of SEO & UX analysis, Plerdy tool fuels your digital growth and skyrockets your website visibility. Don't settle for the ordinary, aspire for the extraordinary. Aim higher, make your website a star in the vast SEO universe. ⚡