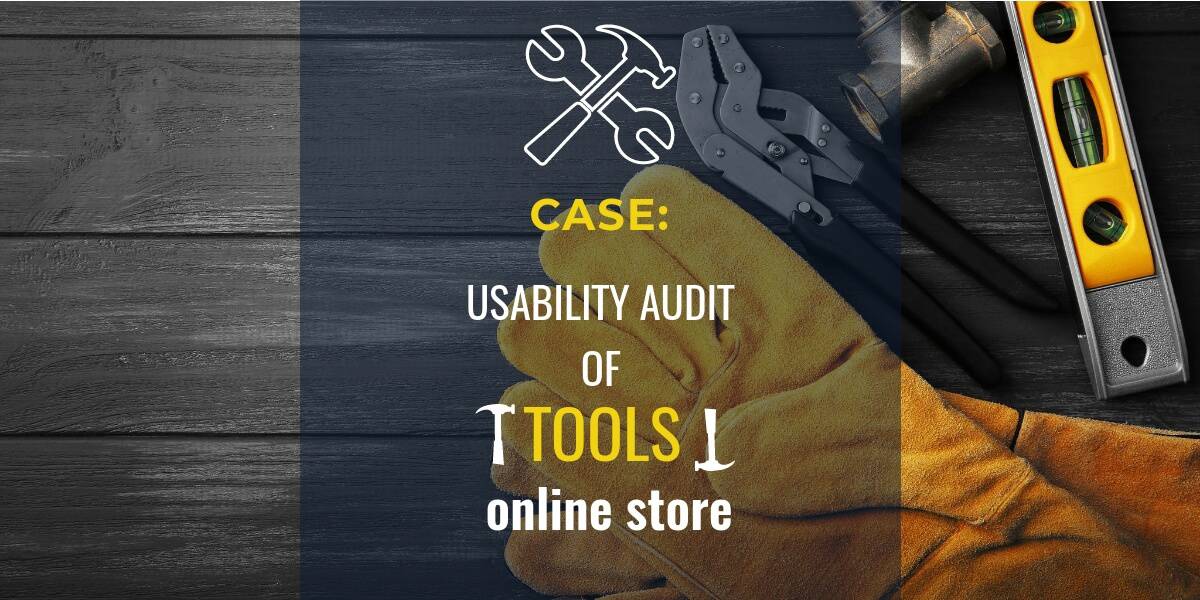 With usability audits based on click heatmaps, you can find out things that are difficult to detect using other website tests. We are talking about user behavior on a separate page. Usually, tools for analytics focus on detecting effective traffic channels, navigating between the pages of a web resource, etc. A click heatmap shows how users perceive a particular page, how they interact with it, and what else can be improved to increase the level of conversion.
We took one of the pages of the electrical tools store, to demonstrate what is a usability audit based on click maps. To learn more, read our example of the user experience audit.
Our task was to find ineffective elements in the website design and offer how to improve them.
To conduct the audit, we turn on the simultaneous display of the "Active tags" and "Other tags" results.
We get the complete click map of the page for one month (22.06–22.07.2018):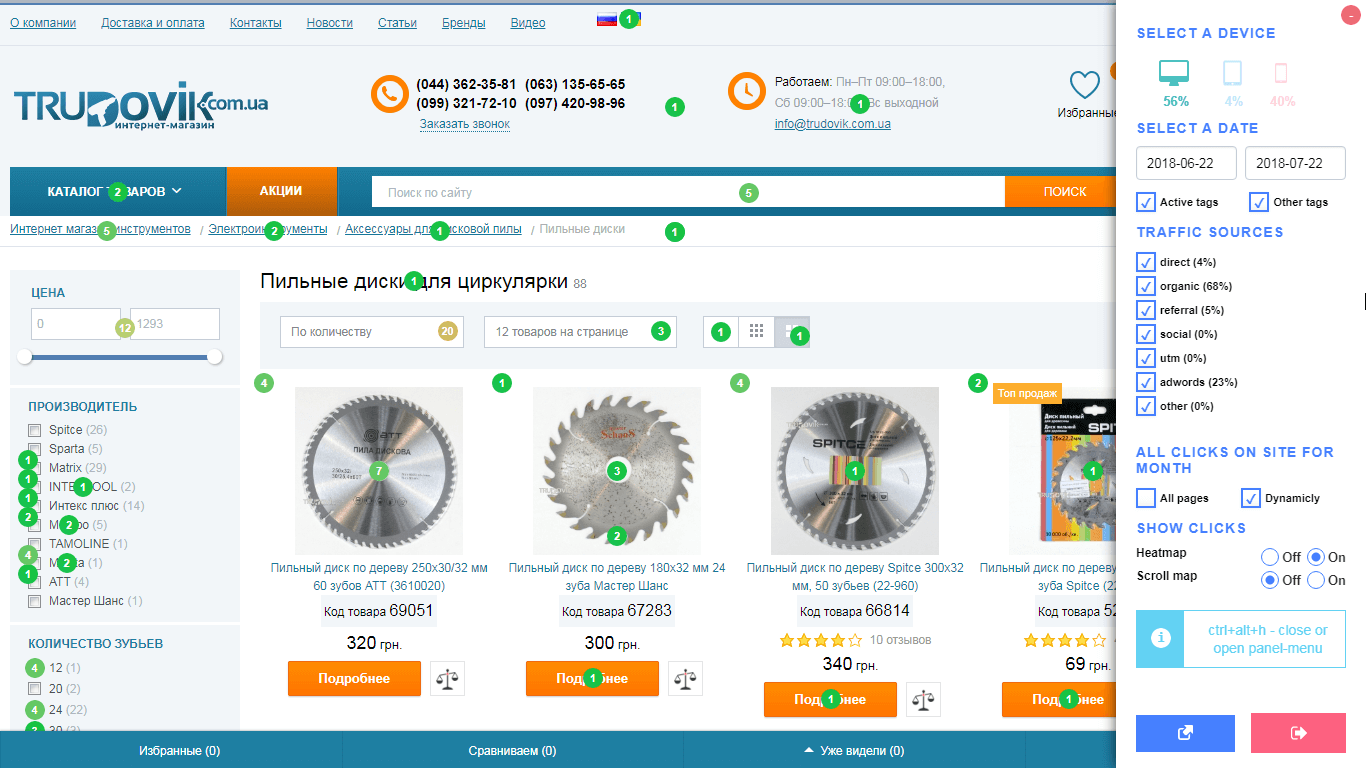 What on this category page attracts your attention?
First of all, the low click count of a fairly large button that opens the main navigation panel of the site:

Of course, you may try to justify this saying that a user who has already come to the page of the necessary category doesn't have to choose another type of products. Yet, this is only an assumption. In fact, the button just got too little clicks during the month.
If you check the overall number of clicks on this element on all similar pages (All pages function), you will find out that it's popular with users: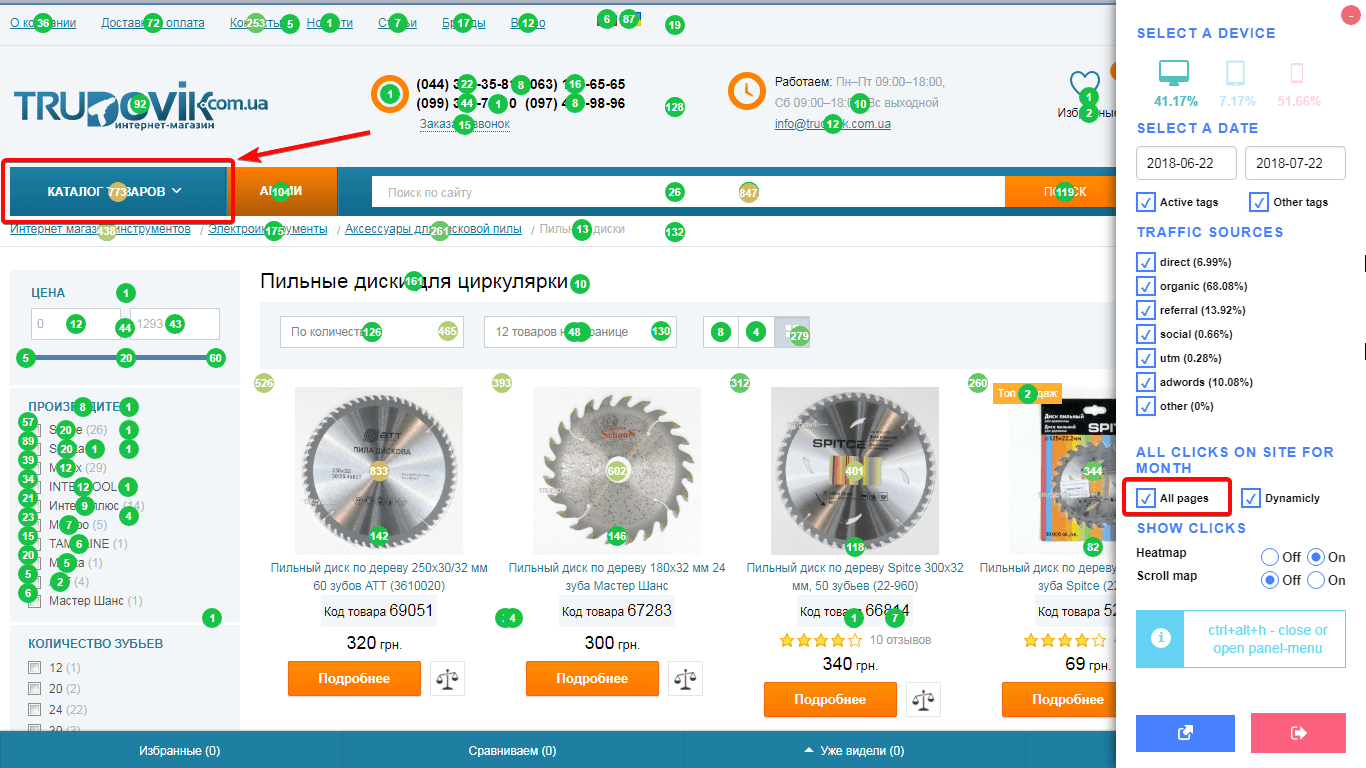 Therefore, as an alternative solution, you can make the menu open on all pages.
An insufficient number of clicks on the Callback button also catches the eye: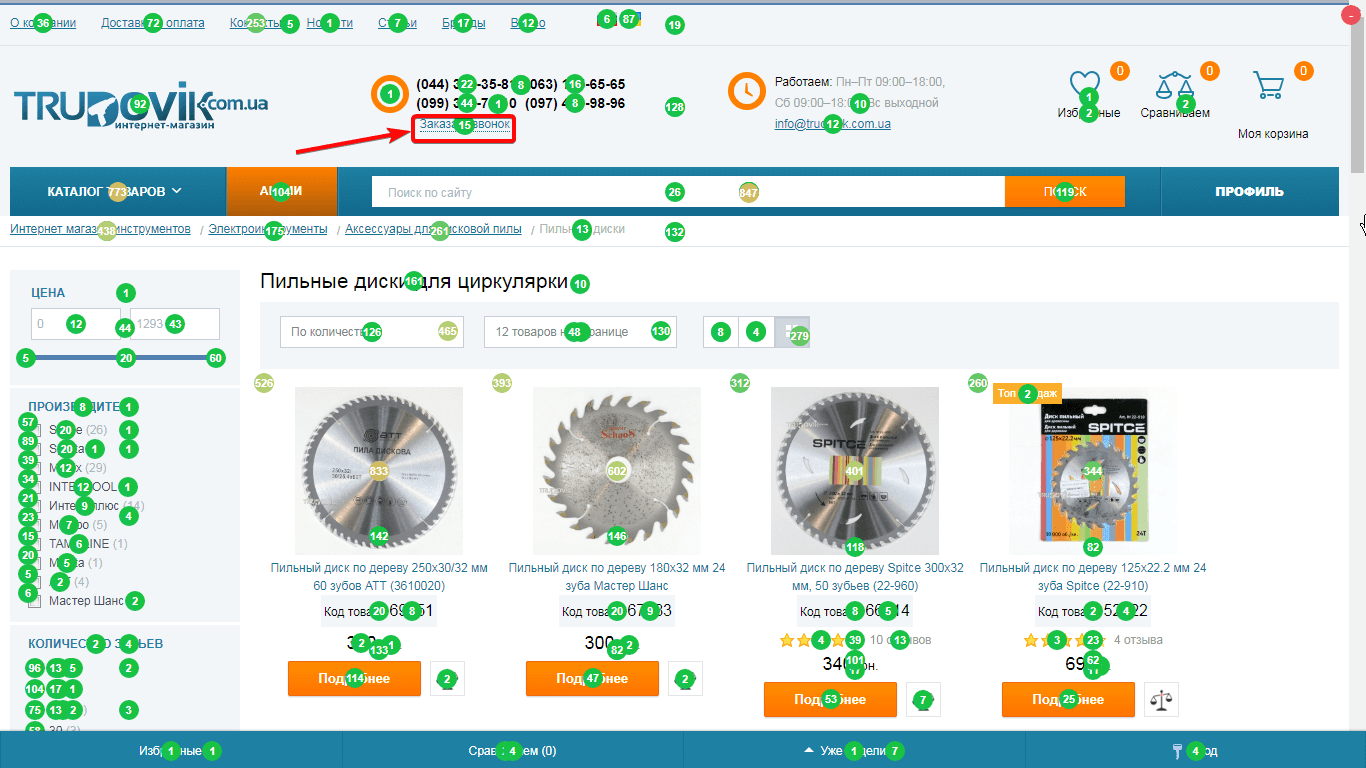 To nudge visitors into using such function, one should show it in a pop-up format on the pages of certain categories.
The third element that draws our attention has no practical use for visitors: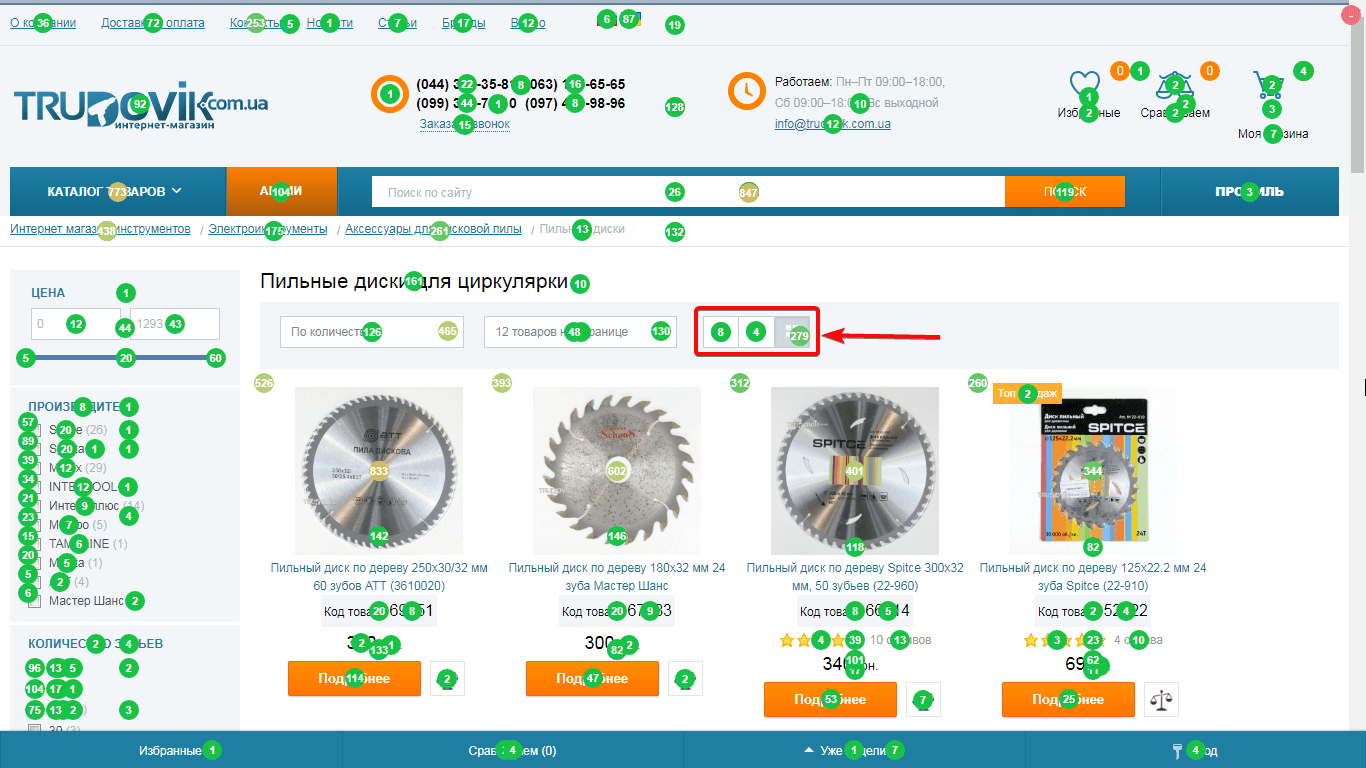 During the month, they changed the look of this page only a few times.
It is interesting to compare two blocks that help users to filter products by certain characteristics (including the pricing):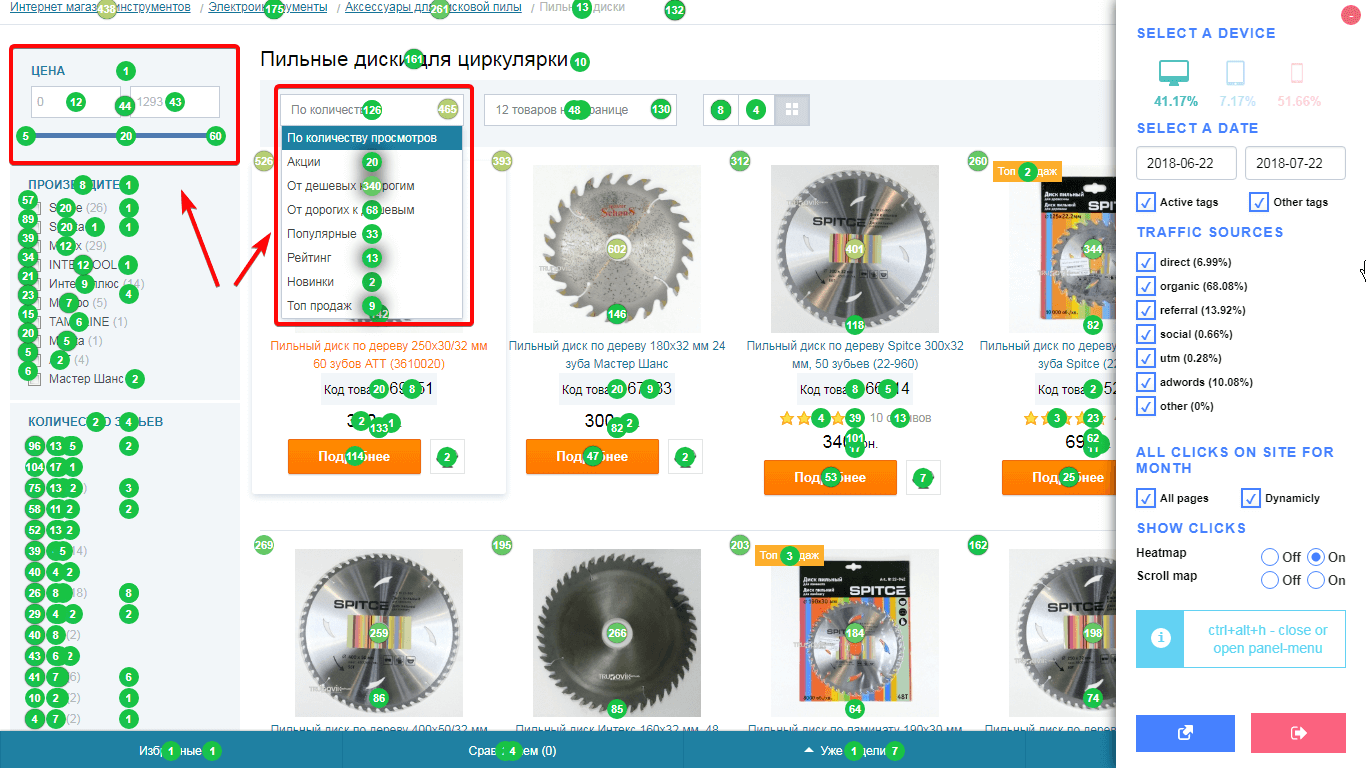 Obviously, one block handles these tasks much more effectively than another. Thus, to optimize the page, the Price block can be removed.
Based on this example of the user experience audit we have discovered several elements of the site that can and should be optimized. In particular, it's necessary to:
Change how the main navigation menu "Product catalog" opens;
Replace the Callback button with smart forms;
Remove the option that changes the look of the product category page;
Delete the Price block, as less useful compared to the filters with multiple options.
Previously, we have also analyzed the usability audit of the catalog page of a travel company.