With eCommerce usability UX audits based on click heatmaps, you can find things that are difficult to detect using other eCommerce website tests. Of course, we are talking about user behavior on a separate page. Usually, tools for analytics focus on detecting effective traffic channels, navigating between the pages of a web resource, etc. A click heatmap shows how users perceive a particular page, how they interact with it, and what else can be improved to increase the level of conversion.
We took one of the electrical tools store pages to demonstrate a usability UX audit based on click maps. To learn more, read our example of the eCommerce UX audit.
Example of Ecommerce UX Audit
Our task was to find ineffective elements in the eCommerce website design and offer how to improve them.
To analyze the behavior of users on the pages of the site, many top companies: TemplateMonster, SoftServ, Hafele, Kyivstar – use Plerdy tools.
1. The element that draws our attention has no practical use for visitors: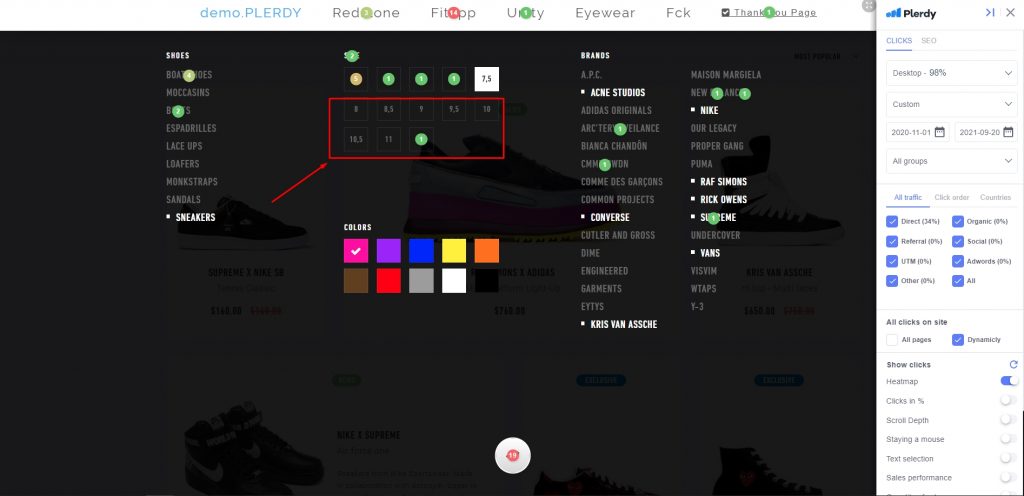 They changed the look of this page on the eCommerce website only a few times. It is better to use these pop-up forms.
2. After analyzing the scroll map, we can conclude that 80% of users do not see this banner.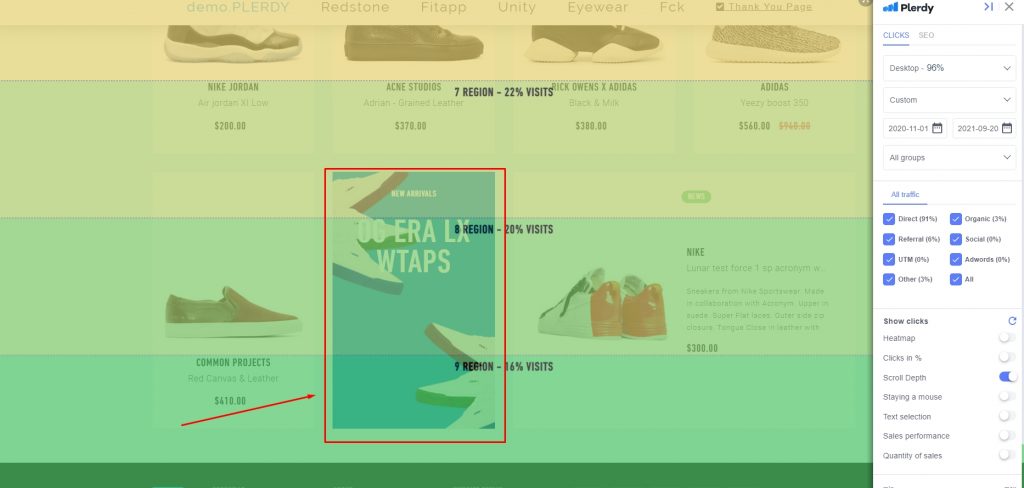 If the banners on the eCommerce website have important information, it is better to show it to the user using pop-up forms.
Features:
Filter clicks by device type and traffic channel.
Segment users into groups and analyze their behavior separately.
Determine which elements of an eCommerce website are least effective.
Benefits for eCommerce:
99% data accuracy.
Clicks on dynamic elements.
Quick UX analysis.
Recording data from SPAs.
Real-time website tracking.
10%+ growth of micro and macro conversions.
3. As you can see, these products do not impact sales. Therefore, these blocks need to be improved on the eCommerce website.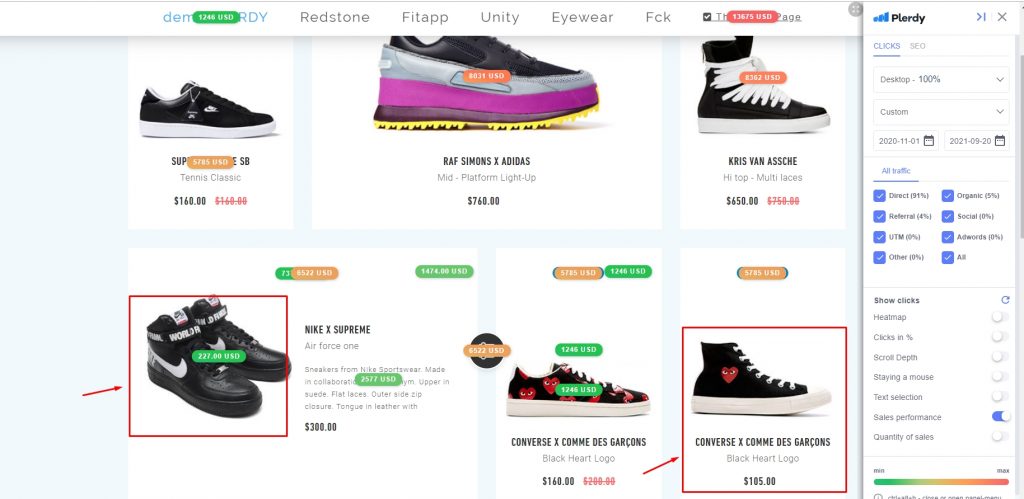 It is worth analyzing these products and possibly placing more relevant products here.
Features:
Analyze the key eCommerce indicators for the selected period.
Find out what elements buyers interact with before the purchase.
Learn what eCommerce website elements don't affect sales at all.
Analyze the impact of eCommerce website elements on sales by traffic channel and device.
Benefits for eCommerce:
More accurate eCommerce data than Google Analytics.
Unique data for UX analysis.
Each element is assigned a price.
Saved time on UX analysis and prioritization.
Real-time data collection and analysis.
Works with all websites.
4. According to the analysis of the recording of user sessions, we see that users came to the page but did not interact with it.



After a detailed review of each video, we can conclude what exactly needs to be changed on the page.
Features:
Choose which URL to record.
Configure the visitors from which countries to record.
Segment videos by event type (clicks, scrolling, input, and cursor movement).
Filter videos by traffic channel.
Analyze mobile and desktop eCommerce website versions separately.
Benefits:
Quick configuration.
Multiple filters.
Add custom events.
Guest access to specific videos.
Based on this example of the user experience (UX) audit we have discovered several elements of the site that can and should be optimized. In particular, it's necessary to:
Replace the Callback button with smart forms;
Remove the Banner block because it is less useful, place it using pop-up forms;
Change products and first screen to more relevant after UX audit;
Analyze each user why he left the page eCommerce website.
Based on this data, build the right hypotheses to improve the eCommerce site.