Many entrepreneurs and business owners use websites to promote their products and services. Unfortunately, not all websites work effectively, and the reasons may differ. SEO webinars can help find problems that stop your website development. You will learn how to promote the website in the top 3 Google search results using a step-by-step algorithm and proven techniques on SEO webinars below. If you are interested in high-quality SEO webinars, you can sign up right now.
7 Best SEO Webinars
Below, you can find 7 of the best SEO webinars that will help you generate more revenue from your website. We choose these 7 SEO webinars because of experts with great experience in SEO promotion.
Landing Page SEO Best Practices & Tips For Success

This SEO webinar was organized by Semrush and SEJ to teach people what content except sales content to use and how to connect landing pages to the website. It took place on December 15 at 2 pm ET (Wednesday) and was presented by Mordy Oberstein, Head of Communications at Semrush. Heather Campbell was a moderator. She is Director of Marketing at SEJ. If you have not attended this SEO webinar, you can watch its record.
2021's Biggest SEO Developments & What They Mean for 2022

This SEO webinar is organized by SEMrush and will take place on January 19, 2022, at 18.00 GMT. It is an advanced SEO webinar. Semrush's experts are people who have an irresistible desire to share their knowledge accumulated over a dozen years with anyone who wants to acquire this knowledge. The presenter will be Aleyda Solis, guest – Dan Shure, and host – Mordy Oberstein.
To attend this free SEO webinar and learn how to promote your website to the top, send an application in the form on the website and get immediate free access. To do this, provide your contact information and click the button "Register now." By taking part in this SEO webinar, you will learn what will change in SEO the next year, how to bring any website to the top in two or three months, how the mobile revolution affects SEO, how to increase brand authority and protect the personal data of users.
SEO in 2022

This SEO webinar took place on December 1 at 5 pm GMT (Wednesday) and gave its attendees advanced knowledge about the search engine optimization process in 2022. More than 60 leading SEO experts shared their thoughts about the future of SEO. Among these experts, you can find Aiala Icaza Gonzalez, Michael Bonfils, Jono Alderson, and Olga Zarzeczna. If you missed this SEO webinar, you could watch its record.
SEO news webinar – looking towards 2022

This is an advanced SEO webinar by Yoast SEO Academy. It will take place on the 21st December 2021 (Tuesday) at 4 pm CET (10 am EST). Very experienced SEO experts will share their knowledge about future SEO processes – these are Joost de Valk (founder and Chief Product Officer at Yoast) and Jono Alderson (digital strategist, marketing technologist, and full-stack developer).
LOCALU ADVANCED MARKETING SEMINAR

LocalU Advanced Virtual took place on November 30, 2021. If you have not attended this SEO webinar, you could watch the videos on demand. They were available to all ticket holders about a week after the event concluded. Among sponsors were PlacesScout, The Transparency Company, WhiteSpark, Enjuris, Bird's Eye Marketing, Brown Bag Marketing, and SEO Advantage.
This SEO webinar addressed issues related to the algorithm Google BERT and RankBrain, low-frequency queries as well as issues of web analytics. This SEO webinar can be called a ready-made plan, using which you will know what and how to do to make your business work and start generating profits much more than what you had before.
Introduction to SEO Training Class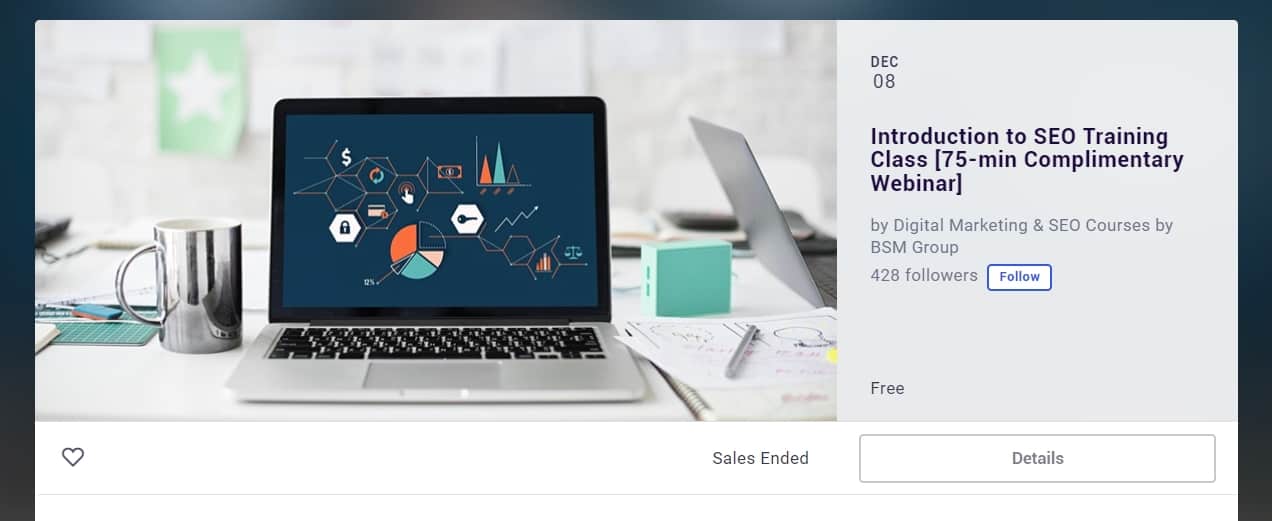 This free 75-min Complimentary Webinar was held on the 8th December 2021 (Wednesday)
at 8:00 PM MSK by Digital Marketing & SEO Courses by BSM Group. Presenters of this SEO webinar were Chris Raulf (founder of Boulder SEO Marketing) and Daniel Burns (Director of Strategic Operations at Boulder SEO Marketing). They introduced to the audience 5 Pillars of SEO methodology.
SEO Fundamentals: Online Webinar

This SEO webinar will take place on the 21st January 2022 (Friday) at 3:00 AM MSK. It will be recorded and available to all registrants. It will help you improve your SEO promotion knowledge and your website ranking in 2022.
Conclusion
SEO promotion of the website and other similar types of work should be done by real professionals. But this process can be done independently. Only a high-quality and comprehensive approach will allow you to count on the perfect result, regardless of the complexity of a particular situation. The SEO mentioned above webinars will help you to understand the intricacies of SEO promotion and allow you to increase the profits from your website.