Dive into the innovative world of content marketing tools with us! Designed to streamline and supercharge your strategy, these platforms empower you to create, manage, distribute, and analyze content with finesse. Whether you're a budding blogger, a tenacious tech startup, or an established e-commerce empire, these tools hold the keys to transforming your content game.
Take a look at the diverse range of tasks they can handle:
Crafting compelling copy.
Curating engaging visuals.
Simplifying social media scheduling.
Extracting insightful analytics.
One standout tool is Plerdy, renowned for its powerful UX and SEO analysis capabilities. It revolutionizes the way you perceive visitor behavior, enabling you to fine-tune your content to boost engagement. Its SEO analysis also assists in identifying and rectifying SEO hiccups – a critical step in climbing the SERPs.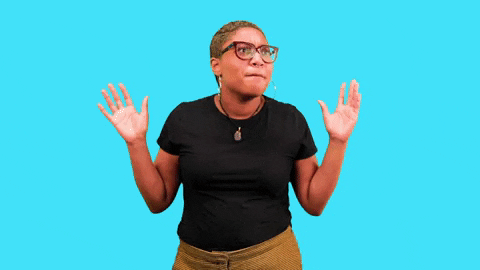 Prepare to embark on a remarkable content marketing journey in 2023, armed with the industry's best tools!
Stay tuned for an in-depth review of each tool in our top 16 line-ups.
Understanding the Role of Content Marketing Tools
In the digital marketing landscape, understanding the role of content marketing tools remains paramount to achieving success. To streamline the creation, distribution, and monitoring of content, these tools act as invaluable aids – serving as the cornerstone of a well-oiled content marketing machine.
Marketers must consistently produce engaging, relatable, and informative content for the health and wellness niche. A tool like HubSpot can offer features such as blog creation, social media scheduling, and analytics tracking, streamlining the process to a single, user-friendly dashboard.
Yet, the functionality of content marketing tools goes beyond mere convenience. They:
Enhance productivity with automation
Enable data-driven decisions with analytics
Foster collaboration in team-based environments
Ensure consistency across various content platforms
Optimize content for SEO purposes without undermining readability
Harnessing these tools amplifies marketing efforts and fosters a coherent brand voice across channels. Such unity in messaging creates a powerful brand image, crucial for capturing the attention of prospective customers. Thus, understanding and integrating the right content marketing tools is the key to unlocking a brand's potential in digital marketing.
How to Choose the Right Content Marketing Tools

Choosing the right content marketing tool can make or break a brand's digital marketing strategy. The process, however, shouldn't be a gamble – instead, it requires careful consideration and alignment with the brand's unique needs.
Consider an organic skincare brand, for instance. It needs to engage with eco-conscious consumers through educational and value-adding content. The ideal tool in this scenario must support the creation of visually compelling, easily shareable content – think infographics, short videos, and engaging blog posts.
The initial step towards picking the right tool involves identifying and aligning your marketing objectives with the tool's features. Key aspects to mull over include:
User-friendliness – minimizes the learning curve for your team.
Versatility – offers an all-in-one solution to reduce bouncing between different platforms.
Integration – allows smooth interfacing with existing systems like CRM or email marketing software.
Scalability – grows with the business, accommodating expanding needs without sacrificing performance.
Finally, budget-friendly – fits within the brand's financial constraints without compromising quality.
The most expensive tool is sometimes the best fit. Prioritize functionality over cost, and maintain sight of your brand's needs. Choosing the right content marketing tool equips you with the power to craft riveting content that resonates with your audience and propels your brand into the digital spotlight. In this digital era, smart tool selection can be your greatest ally in navigating the complex terrain of content marketing.
Review of Top 16 Content Marketing Tools
Brace yourself for a journey into the cutting-edge universe of content marketing tools. With our hand-picked list, you're set to blaze a trail in your marketing efforts, armed with the cream of the crop. This definitive guide will serve as your compass, navigating you through the intricate maze of content marketing in 2023.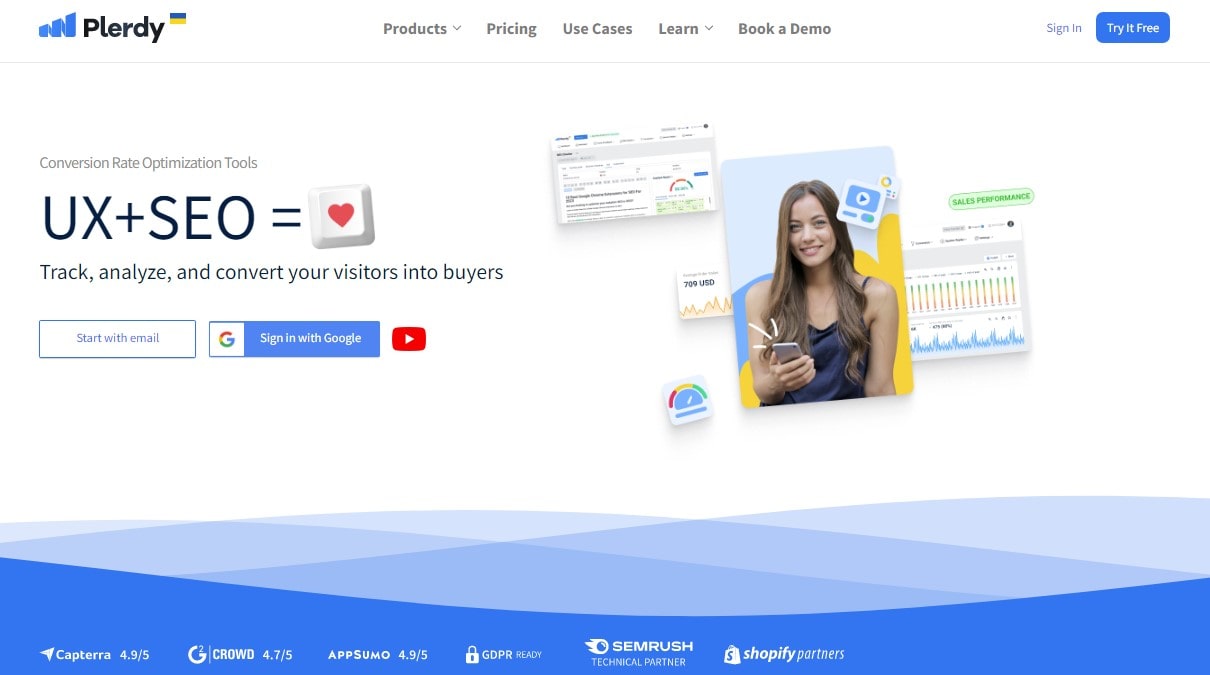 Unleash the power of Plerdy's SEO checker – your one-stop marketing tool for all your website optimization needs. From SEO-health analysis to tracking SEO changes, Plerdy's toolset leaves no stone unturned. Here's a glimpse into its robust features:
SEO-health Analysis: Plerdy's unique algorithm evaluates web page conversion rates, empowering you to boost pages with low SEO performance​.
Track SEO Changes: With a 30-day SEO history for each page, catch the subtlest changes and optimize with a single click​.
Relevance: Enhance your site's relevance. Add more top words to your title, description, or header for better visibility​.
Technical SEO Audit: Identify SEO errors in headers, open graph protocol, canonical, alt images, and more with a detailed technical audit​.
Duplicate Pages: Plerdy spots URLs with identical titles or descriptions, ensuring visitors stay unconfused​.
Disallow Pages: Exclude certain web pages from your search results for a cleaner UX​.
Check SEO Errors Online: Update SEO via URL and verify errors from your Plerdy account.
Filter and Search for SEO Errors: Filter or search for specific data from your SEO reports, tackling the most pressing issues first​.
Single Page Application (SPA) Website: Prepare your SPA website for SEO research with Plerdy's easy-to-use settings.
Export to Google Spreadsheets: Simplify high-volume URL data with easy exporting to Google Spreadsheets​.
Google Search Console Integration: Integrate Plerdy with Google Search Console for enhanced keyword identification and website optimization​.
Plerdy's SEO checker tool – where content meets marketing, and optimization becomes a breeze.

HubSpot is a beacon in content marketing tools – offering an all-in-one solution for businesses navigating the digital marketing maze. This comprehensive platform caters to every facet of content marketing – making it an indispensable asset for businesses of all sizes.
Take, for example, a startup in the eco-fashion industry. They must build a strong digital presence, engage with their audience, and convert website visitors into customers. HubSpot is their one-stop shop, providing powerful features to handle these tasks.
Equipped with an easy-to-use dashboard, HubSpot brings together the following capabilities:
By integrating these features, HubSpot streamlines the content marketing process, giving teams more time to focus on strategy and creative work. It's adaptability and robust features empower businesses to take the driver's seat in their content marketing journey. Utilizing HubSpot means embracing a tool that simplifies content marketing and enhances the reach and impact of every piece of content.

In content marketing tools, SEMRush shines brightly – delivering many features designed to drive successful digital marketing campaigns. This potent tool is a comprehensive suite for businesses, ensuring they remain ahead in the competitive digital landscape.
Imagine a company in the competitive travel industry. Their need to stand out in search results is crucial – and SEMRush steps up to the plate, enabling thorough keyword research, backlink analysis, and competitor monitoring.
SEMRush offers a robust toolkit that includes the following:
Detailed SEO audits: to identify areas of improvement on a website.
Social media tracker: for understanding engagement across platforms.
Content analyzer: providing insights into the performance of published content.
PPC keyword tool: for managing and optimizing ad campaigns.
Using SEMRush, a travel company can fine-tune its content, ensuring it appeals to its target audience and ranks well in search results. SEMRush helps organizations to uncover possibilities and vulnerabilities and optimize their marketing strategy by providing a birds-eye perspective of their digital terrain. Utilizing SEMRush is synonymous with embracing an efficient, data-driven approach to content marketing – propelling businesses toward their digital goals with precision and agility.

Yoast SEO is a potent content marketing tool for businesses rooted in the digital landscape, offering various features designed to optimize online content. This dynamic tool proves indispensable for businesses aiming to climb the ranks of search results and reach a wider audience.
Consider an online bookstore that needs to ensure its catalog pages and blog posts reach book lovers across the globe. Yoast SEO steps in, optimizing its content to attract and engage this audience.
Yoast SEO boasts a diverse array of features, including:
SEO analysis: enabling the creation of search engine-friendly content.
Readability analysis: ensuring content appeals to humans as much as to search engines.
Breadcrumb control: enhancing user navigation and improving search engine understanding of the website's structure.
Duplicate content check: to avoid bad SEO scores.
By implementing Yoast SEO, the bookstore can optimize every piece of content, ensuring it stands out to search engines and readers. This, in turn, leads to increased visibility, enhanced engagement, and, ultimately, higher conversion rates. When integrated into a well-planned content marketing strategy, Yoast SEO is a powerful tool – facilitating growth and success in the ever-evolving world of digital marketing. Leveraging Yoast SEO translates to navigating the digital domain with an astute and reliable compass.

Regarding visual content marketing tools, Canva is a multifaceted platform that makes professional-grade design accessible to all. From small businesses to large corporations, Canva equips teams with a simplified, user-friendly design interface that bolsters their marketing efforts.
Let's delve into the example of a burgeoning artisanal coffee brand. They need to tell their unique story through engaging visual content – and Canva steps up, offering a platform to create stunning graphics, infographics, and social media posts that resonate with coffee lovers worldwide.
Key features Canva brings to the table include:
User-friendly interface: no need for extensive design experience or skills.
Extensive template library: catering to various content types and styles.
Collaboration tools: allowing for seamless teamwork on design projects.
Branding kit: enabling consistent use of logos, colors, and fonts across designs.
With Canva in its toolkit, the coffee brand can whip up visually enticing content that mirrors its artisanal ethos and resonates with its audience. Not only does Canva streamline the design process, but it also ensures the brand's visual content is consistently high-quality and aligned with its identity. When used effectively, Canva can be a powerful ally – transforming visual content marketing efforts and amplifying a brand's digital footprint.

Aiming for optimal content marketing management, CoSchedule steps into the limelight – a robust, feature-rich tool built to streamline marketing workflows. Catering to diverse businesses, it is a unified platform consolidating content planning, creation, and promotion – driving efficient, results-oriented marketing operations.
Consider a digital marketing agency juggling multiple clients accounts across various platforms. The need for organized, cohesive project management is paramount – and CoSchedule fits the bill, serving as the central hub for all their content marketing activities.
CoSchedule presents a set of standout features:
Integrated marketing calendar: for a complete overview of marketing plans.
Social media scheduling: for streamlined content sharing across platforms.
Content organizer: for tracking the lifecycle of each content piece.
Team task management: for monitoring progress and ensuring timely delivery.
With CoSchedule at its helm, the agency can effortlessly manage client projects – scheduling social media posts, coordinating content creation, and keeping a close eye on project timelines. More than just an organizational tool, CoSchedule equips the agency with data-driven insights – analyzing performance and providing actionable tips for improvement. This ability to seamlessly combine organization and analysis makes CoSchedule a must-have in any content marketer's arsenal. Effectively leveraging CoSchedule means navigating the content marketing waters with a reliable, intelligent compass – guiding your strategy, streamlining your operations, and paving the way for consistent, high-quality output.

MailChimp has established itself as a leading marketing tool – essential for the toolkit of content marketers. Known for its strength in email marketing, MailChimp has expanded its offering, evolving into a full-featured marketing automation platform. Its scope now encompasses ad campaigns, landing pages, and customer relationship management – a versatile ally for any content marketer.
For instance, consider a small e-commerce brand seeking to expand its reach and engage customers more effectively. MailChimp is an excellent fit, providing comprehensive solutions for their diverse marketing needs.
MailChimp's key features include the following:
Email campaign creation: for customized, targeted communication.
Marketing automation: for timely and personalized customer engagement.
Detailed analytics: for in-depth campaign performance insights.
E-commerce integrations: for seamless online store management.
Utilizing MailChimp, the e-commerce brand can craft personalized email campaigns, set up automated customer follow-ups, and gain insight into their marketing efforts with detailed reports. Additionally, with the tool's robust e-commerce integrations, managing their online store becomes a breeze – unifying their marketing activities under one roof. As a result, in the world of content marketing, MailChimp stands out – proving its worth not just as an email marketing tool but as a comprehensive platform for businesses to connect, engage, and grow their customer base. As such, MailChimp's rich feature set and intuitive design make it an indispensable tool in modern content marketing.

When it comes to online content marketing, mastering metrics with a powerful tool like Google Analytics can transform your strategies from hopeful guesses to data-driven decisions. An online magazine, for instance, can gain transformative insight into its readership, understanding what content resonates, how long readers stay engaged, and the paths they navigate through the site.
Leveraging Google Analytics, the magazine can focus on the following:
User engagement: Understand reader behavior and what content holds attention.
Traffic sources: Identify where readers come from to optimize promotions.
Conversion tracking: Monitor success rates of specific calls-to-action.
Real-time reporting: Observe and react to live user interaction data.
With these insights, the magazine can tweak its content strategy – highlighting popular topics, engaging readers more effectively, and optimizing calls to action. Furthermore, tracking traffic sources provides invaluable data to guide promotional strategies – enabling the magazine to reach out more effectively and driving traffic to the content that matters. Google Analytics, therefore, becomes more than a tool – it is the lens through which the content marketer views and understands their audience, using data to drive success. In content marketing, mastering Google Analytics is akin to learning a new language – the language of your audience, spoken through the data they generate.

Picture a busy coffee shop – its social media brimming with posts, customer interactions, and promotional content. Managing this dynamic digital landscape becomes effortless with Hootsuite, a comprehensive marketing tool that brings social media under one roof.
With Hootsuite, the coffee shop can streamline its marketing strategy:
Consolidated Management: Simultaneously manage multiple social media profiles.
Scheduled Posts: Plan and time posts for optimal engagement.
Analytics: Gauge the performance of posts and tweak strategy accordingly.
Social Listening: Monitor and engage with customer feedback in real time.
Consider how Hootsuite's scheduling feature allows the coffee shop to cater to their early birds with a morning post about their newest espresso and follow up during the lunch hour rush with a promotion for their sandwich special. Each post is timed to optimize engagement and catch customers when they're most likely scrolling through their feeds.
Moreover, Hootsuite's analytics function illuminates which posts generate the most buzz, guiding future content creation. For example, the post about the new espresso gets a lot of likes and shares. In that case, members are excited about new products – signaling the coffee shop to showcase more innovative offerings. With Hootsuite, every post becomes an opportunity to engage, learn, and refine the shop's content marketing strategy. Hootsuite isn't merely a tool – it's a partner in crafting the perfect social media narrative.

Imagine a gourmet food blog aspiring to create engaging content for its followers. The key ingredient for success? BuzzSumo – a marketing tool crafted to spice up your content strategy.
BuzzSumo provides a banquet of features for content creators:
Content Discovery: Identity trending topics in your niche.
Influencer Outreach: Find and connect with key influencers.
Content Alerts: Stay informed about trending content.
Content Analysis Reports: Understand what's working and what's not.
The blogger, keen to whip up a post that will make mouths water, turns to BuzzSumo's Content Discovery feature. A quick search of "gourmet food trends" lists top-performing content filled with inspiration. In addition, they find a recent surge in the popularity of truffle-infused dishes – a trend they can incorporate in their next blog post.
In addition, BuzzSumo points them toward influencers in the gourmet food space. The blogger reaches out to these tastemakers for guest posts or collaborations, adding star power to their blog.
The Content Analysis Reports then offer a deep dive into the performance of their posts. If the truffle-themed content whets their audience's appetite, evidenced by shares and likes, the blogger knows they've hit a winning recipe.
Simply put, BuzzSumo cooks up a winning content marketing strategy, served hot and fresh for your audience.

Step into the spotlight of content marketing with Ahrefs – a digital stage for SEO and keyword research. Let's conjure an image of a budding eco-fashion brand aiming to weave sustainability into the fabric of its content.
Ahrefs acts as a compass, guiding content strategy with its exceptional features:
Keyword Explorer: Detect trending keywords in the fashion industry.
Site Audit: Analyze and improve your website's health.
Content Explorer: Unearth top-performing content in your niche.
Rank Tracker: Monitor your site's ranking progress.
In this eco-fashion narrative, Keyword Explorer uncovers an upswing in the search term "sustainable denim." The brand weaves this trend into its blog posts and product descriptions, crafting content that aligns with consumer interest.
Next, the brand turns to Content Explorer, unearthing the most shared and liked content about sustainable denim. This feeds their content creation, providing a blueprint for success.
Like a flagship store, the brand's website must be in prime condition. The Site Audit function assesses the site's health, identifying areas for improvement.
As the brand rolls out its denim-focused content, they use Rank Tracker to monitor their SEO performance. As a result, they witness their rankings climb – an undeniable testament to their strategic approach.
With Ahrefs, the eco-fashion brand navigates the sea of content marketing, charting a course toward SEO success.

Navigate your way through the content marketing maze with Asana – your streamlined digital project management tool. Imagine a scenario where a burgeoning health and wellness brand takes its content marketing efforts up a notch.
Asana's prowess lies in its refined suite of features:
Task Management: Organize, assign, and track tasks.
Project Timelines: Visualize work progression.
Reporting Dashboards: Measure performance and outcomes.
Integration Capabilities: Sync with other tools for optimal workflow.
The brand maps out its tasks in Asana – from ideating blog topics around mindfulness to planning social media posts about healthy recipes. Every task is assigned to a team member, ensuring clarity and accountability.
A Project Timeline clearly shows their content journey, enabling the team to visualize their deadlines and keep pace with the plan. As a result, the steady tick-tock of progress rings harmoniously throughout the project.
Meanwhile, Asana's Integration Capabilities sync with their content creation tools. This creates a seamless workflow, allowing them to focus on crafting engaging wellness content.
Finally, the Reporting Dashboards act as a mirror reflecting their efforts and outcomes. As their wellness-focused content begins to resonate, they see their engagement metrics grow.
With Asana, the health and wellness brand smoothly transitions from planning to execution, making its content marketing vision a reality.

Take a journey with us into content marketing, where Trello, an innovative project management tool, reigns supreme. Picture a startup in the sustainable fashion industry, endeavoring to boost its brand awareness with a strategic content marketing campaign.
Trello's arsenal of features provides a robust platform:
Board Organization: Classify tasks on intuitive boards.
Card System: Define individual tasks or projects.
Due Dates: Stay on top of deadlines.
Integration Power: Blend seamlessly with other marketing tools.
Their team sets up Trello boards, delineating each phase of their campaign – ideation, creation, review, and publication. Then, by dividing tasks into manageable cards, they map out an entire campaign promoting recycled clothing, each representing a piece of the marketing puzzle.
Due dates are assigned to each card, creating a clear timeline that keeps everyone sprinting toward the finish line. In addition, they leverage Trello's card system to keep track of guest blog posts about the importance of sustainable fashion and social media content spotlighting their recycled clothing line.
Trello's Integration Power comes into play next, marrying the platform with its content creation tools. This fusion streamlines the process, allowing the team to concentrate on weaving compelling stories about sustainable fashion.
Trello propels its content marketing campaign at every juncture, providing the runway for its recycled clothing line to take flight. Ultimately, their brand story resonates with fashion enthusiasts, driving them to embrace sustainability.

Consider an organic food company foraying into content marketing to connect with health-conscious customers. Their choice of tool? None other than Sprout Social, a social media management platform engineered to enhance audience engagement and grow brand awareness.
Sprout Social, in its role as a power-packed content marketing tool, has a trio of capabilities:
Publishing Suite: Schedule and publish posts across various social media platforms.
Analytics Dashboard: Monitor performance and adapt strategies.
Social Listening: Tune into what customers are saying.
The company kick-starts its journey by scheduling and publishing thoughtfully curated content. They share everything from delicious recipes using organic products to expert advice on healthy living. They easily pull this off thanks to Sprout Social's comprehensive Publishing Suite.
Following each post, they head over to the Analytics Dashboard. This feature unearths insights, helping them comprehend which posts their followers relish. Then, they mold their future content based on these valuable metrics, constantly refining their approach.
They then tap into Sprout Social's Social Listening feature to grasp their audience's sentiments. It lends an ear to online conversations about organic food trends, unmasking its audience's preferences and concerns.
Sprout Social shines in its content marketing strategy, increasing engagement and elevating its organic food brand. They chart a path that positions their content to resonate with their health-conscious followers, seamlessly weaving it into their everyday lives.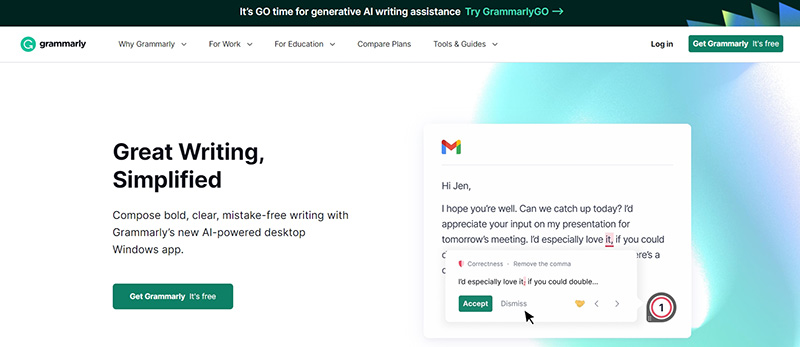 An online fashion blogger strives to connect with her readers, but an overlooked typo could unravel her efforts. The tool that acts as her line of defense? Grammarly – an indispensable content marketing tool designed to polish content, ensuring it's error-free and engaging.
Grammarly provides a suite of services that bolster content quality:
Grammar and Spelling Check: Helps to erase errors and perfect sentences.
Style and Tone Suggestions: Offers advice on refining and setting the tone.
Plagiarism Detector: Scans the content against billions of web pages to ensure originality.
This fashion blogger, with a keen eye for style but only sometimes for spelling, uses Grammarly's grammar and spelling check. This feature fine-tunes her sentences, spelling out a seamless reading experience.
Moreover, writing about fashion trends requires a certain flair – a stylish tone that mirrors the content. But, again, Grammarly's style and tone suggestions come to her aid, providing subtle changes that can turn a dull sentence into a captivating one.
Also, as she often draws inspiration from various fashion blogs, she runs her work through the plagiarism detector to confirm its uniqueness.
Grammarly emerges as a champion in her content marketing tool arsenal. It meticulously checks her posts, ensuring they are word-perfect and radiate the required style and tone. This drives her blog's credibility and leaves a lasting impression on her audience. Moreover, this refined writing places her content at the forefront, attracting a burgeoning base of fashion-savvy readers.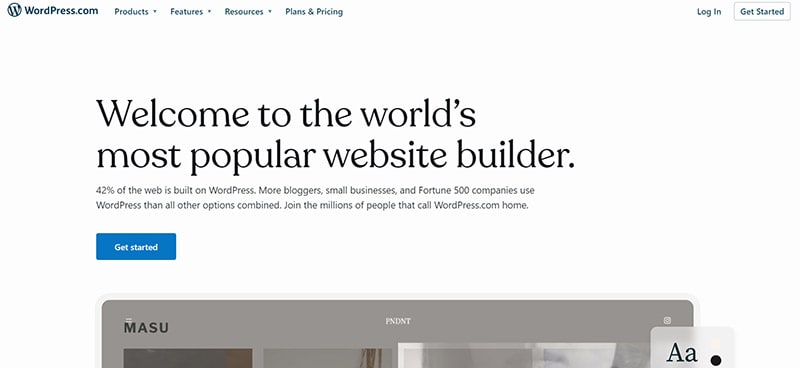 Step into the shoes of a travel blogger, crafting riveting stories about his exotic adventures, using none other than WordPress – a vital content marketing tool. The stories aren't just words; they're experiences shared through a platform that empowers his content and widens his global footprint.
WordPress is the key that opens numerous doors:
Customization: Tailor the appearance and functionality of your site.
SEO-friendly: The platform's built-in SEO features boost your visibility.
Mobile Responsive: Adapt your site to any screen size, increasing accessibility.
Let's imagine the travel blogger wants his website to mirror the thrill of his escapades. So, with WordPress's customization features, he shapes his site, mirroring his sense of adventure in every corner. Whether it's a unique color scheme or a distinct layout, he molds his platform, ensuring it is an authentic extension of his adventurous spirit.
Meanwhile, his content must shine in the sea of travel blogs – WordPress's SEO-friendly nature comes into play. It helps optimize his content, ensuring his stories reach fellow globetrotters far and wide.
Lastly, in a world where smartphones are gateways to global knowledge, WordPress's mobile responsiveness guarantees his travel tales are accessible, regardless of screen size.
In the realm of content marketing tools, WordPress stands tall. It provides a canvas for our travel blogger to paint his journeys, enabling his content not just to exist but flourish. His vibrant narratives, combined with the power of WordPress, connect him with like-minded wanderlust-seekers, making the world feel a little smaller, one blog post at a time.
Bottom Line
As we wind down the road of digital content creation, the valuable role of content marketing tools in 2023 has been brought to light – showcasing their immense impact in optimizing marketing endeavors. The unparalleled functionality of these tools empowers businesses to create, distribute, and measure the impact of content, transforming the marketing landscape. So let's dive into the vast ocean of value they deliver:
Streamlining marketing campaigns with these tools sparks innovation, stoking the fires of creativity.
These cutting-edge utilities broaden horizons, allowing brands to reach for the stars and connect with audiences meaningfully.
The enhanced analysis offered by tools like Plerdy deepens the understanding of user behavior, offering insights worth their weight in gold.
In this fast-paced digital era, keeping pace with advancements is no walk in the park. Thankfully, these tools rescue marketers, propelling them toward their goals. The vast sea of possibilities, so it's high time to dip your toes in. Try Plerdy tools today – the keys to the kingdom of effective content marketing await! ⚡