Most SEO specialists find Google Trends quite helpful for keyword analysis. Based on crawler data, photos, videos, purchases, headlines, etc., the tool delivers real-time information on trends and query popularity. It's free, open-source, easy to use, and doesn't require creating an account. But only some people are using this tool to its full potential.
Google Trends aids in finding terms that are just starting to acquire popularity and following trends that are changing quickly. Quantitative predictions about the volume of traffic are available as well. Therefore, the more relevant key phrases in your content, the higher the traffic to your website will be. Read on to learn how to boost SEO with the help of Google Trends.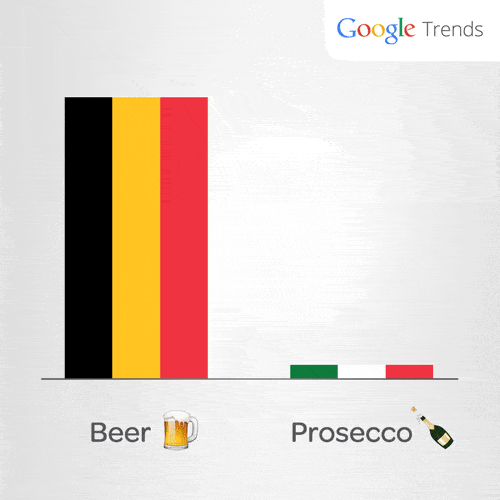 What Is Google Trends?
Google Trends displays the hot subjects currently occupying people's thoughts globally. It shows the relative Google search volume, dynamics, and interest levels from various areas for a given search query. It also indicates how trendy a particular search term is.
Google Trends tracks various events, from large to small, local to worldwide, and everything in between. The tool has two main sections: Explore (primarily for keyword research) and Trending Searches (can also help find popular topics). Another section, called "Year in Search," summarizes the most popular queries of the given year.
It analyzes samples of search data to evaluate user interest in a range of subjects to present the results as a graph. The Google Trends feature keeps tons of information from 2004 to today. The search engine giant's archived data has been continuously updated since 2015.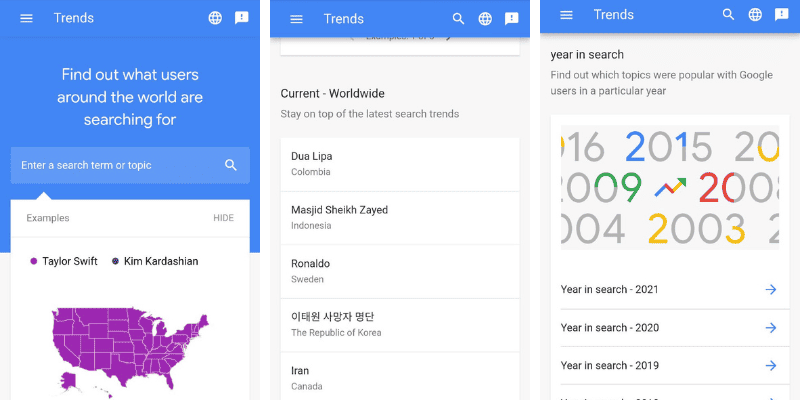 How to Use Google Trends for SEO?
You only need to open Google Trends to start free SEO keywords and market research. Explore particular keywords, search terms, phrases, and business-related topics here.
Keyword Research
Type a search term into the homepage field for free keyword research. By default, it searches the most popular keywords on Google, but you can alter it to YouTube search data. A graph of the query's popularity over the previous 12 months appears. The time frame can be expanded.
You can tell short-term trends from long-term ones by comparing data from the previous two or three years instead of just relying on the data from the last 12 months. The research tool makes it easier to spot keywords that are becoming more popular on Google over time and stay away from the ones losing their hold.
Additionally, Google Trends suggests associated keywords that are currently gathering momentum. Use the primary search phrase as a starting point; the tool will help find better, more pertinent ones for your SEO improvement.
Don't sleep on Google Trends, it is a powerful tool that provides insight into audience behavior, enabling data-driven decisions for optimizing organic search strategies on the fly. By leveraging the vast dataset, you can reliably inform a bullet proof
content strategy
that's both impactul and efficient.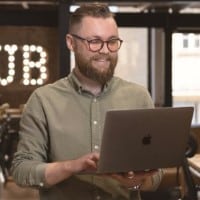 Adam Durrant
SEO Manager | ZOE
When you enter a phrase, Google Trends returns a list of terms closely relevant to the query. These words/collocations are presented in ascending popularity with the precise percent increase in search volume mentioned for each. "Breakout" refers to a keyword that increased by over 5,000%.
The report for the "best eCommerce search" query looks like this: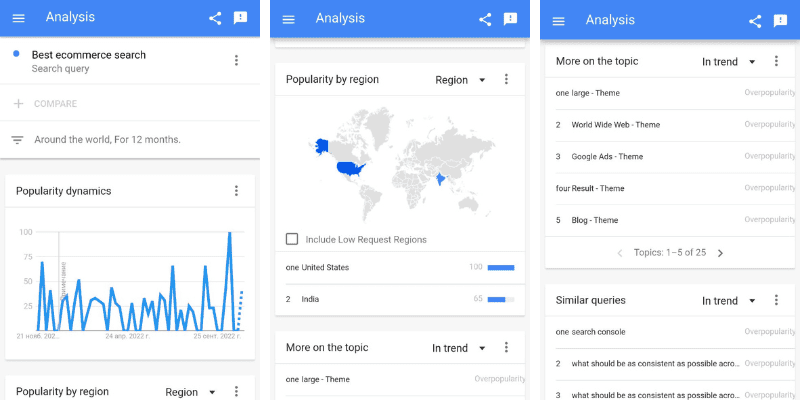 Discovering Related Topics
Google Trends may be used to find related subjects for future posts. Related Topic is a table located to the left of Related Queries. This section provides information on more general matters people search on Google for rather than specific search phrases.
Choose the "Top" filter type to learn which topics are relevant. These words are used frequently. Yousearchingopular companies that consumers are interested in by clicking one of  is commonthe topics.
If you need to focus on specific keywords for any subject you choose to write about, these suggestions will assist in discovering new and popular topics for future content.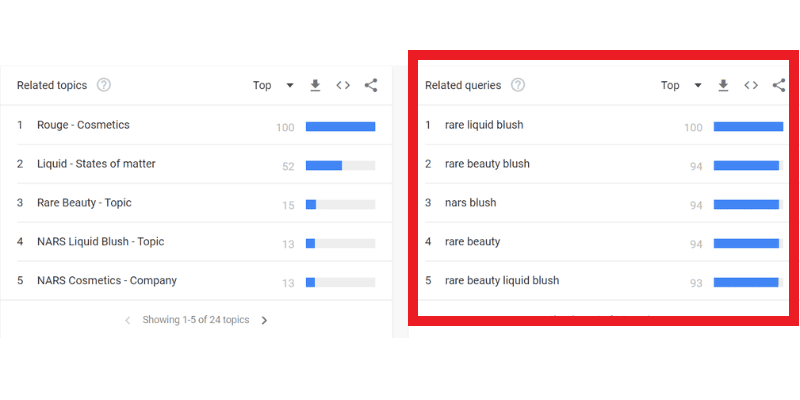 Targeting by Location
The data provided by most tools is the national average. However, Google Trends demonstrates how interest in the topic differs across the country.
The Interest by Subregion section can be found directly beneath the Interest over Time graph. Here, you can see which areas of the country are more interested in the product and where it has become a real trend. To specify the location and learn which cities within the region are driving the searches, click on the subregions shown in the table.
Then, regardless of where you are physically located, you can try location-based advertising to target the regions most interested in the offering. For example, the Google Trends result for the "Hatha Yoga" query is the following: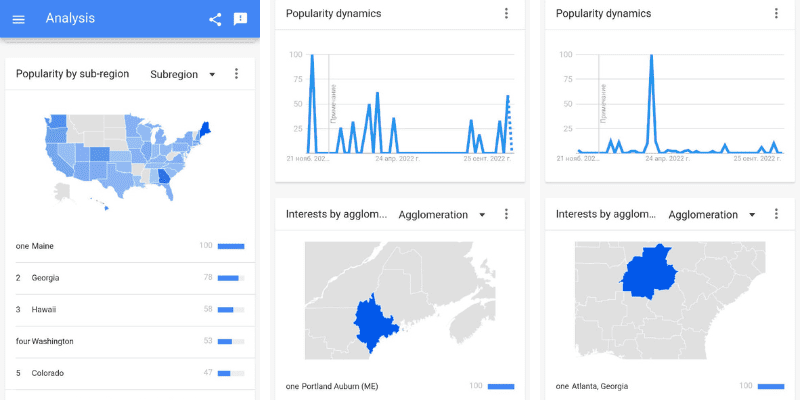 Identifying Seasonal Trends
Unlike the popular daily and real-time requests, seasonal terms typically come at the same time every year and are never fads. However, companies need to organize marketing initiatives in advance.
For instance, searching for anything related to Halloween somewhere in September and October is common. As a result, if your website sells costumes, decorations, or sweets, you should start modifying the content strategy and marketing initiatives in August to have enough time for planning, SEO optimization, indexing, creating holiday content, link building, etc.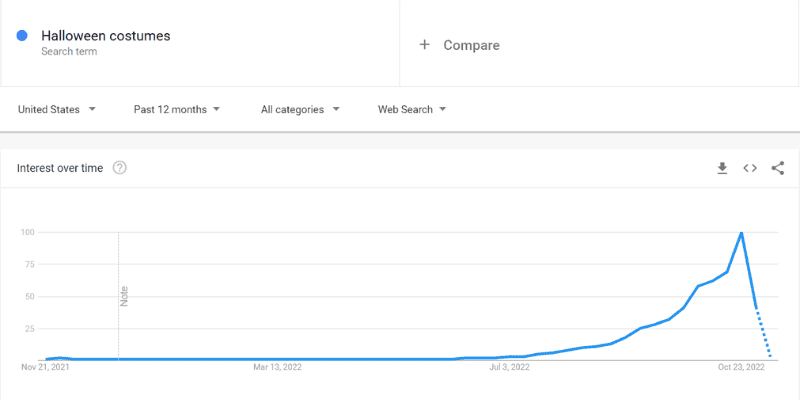 Data for Video SEO Optimization
You may improve the SEO of videos by viewing relevant Google topics rather than just related queries. Consider that you published a video on college applications:
Enter the search word;
Go to YouTube Search instead of Web Search;
Analyze Related Topics;
Analyze Related Queries;
Act accordingly.
The report shows that with the "College application" query, people search for information on financial support, student loans, and some vital application process details for the upcoming year. With this information, you can add relevant titles and descriptions. You can even make other related videos based on trending search results.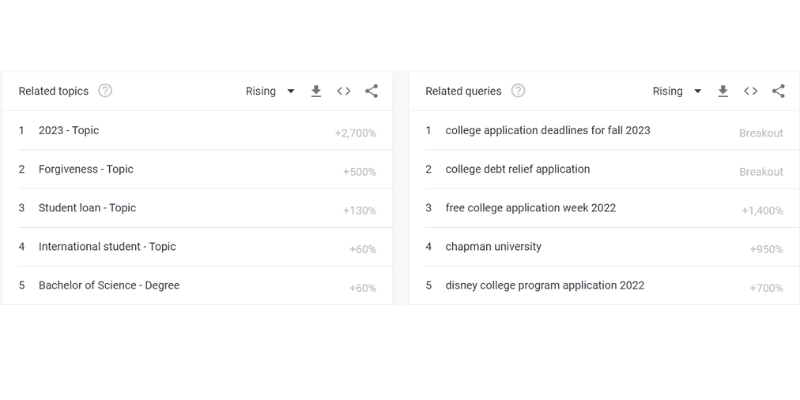 Improving YouTube Content
Web search trends and YouTube search trends differ greatly. Start by looking at the keywords and other pertinent information on Google Trends if you want to develop engaging ideas for the YouTube channel.
Then use the YouTube search filter to look for the trends. After that, analyze the trend's topic to see if creating a YouTube video is worth it. If the content is becoming more and more trendy on YouTube, don't hesitate to create a video.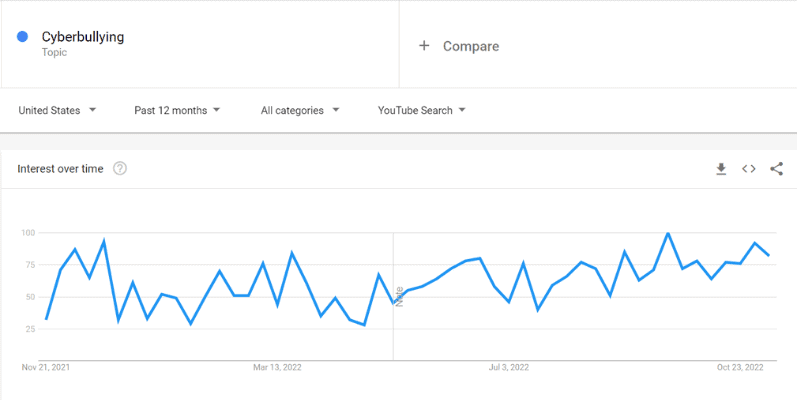 It's hard to overestimate the value of Google Trends for SEO optimization. The data supplied by the tool is more relevant and valuable than ever. For those prepared to go beyond a simple search, unique insights can be gained, from keyword research to seasonal trends identified greatly. The idea is to keep researching until you uncover the answers.
Final Word
By using Google Trends, development is afloat in the changing digital world. The only method to stay on top may be to keep up with current trends and regularly update websites with content and better relevant keywords.
The best thing about the Google Trends tool is that it's insightful, offers incredibly detailed information, and is highly data-reliable. With the tips above, you'll sky-rocket your SEO and consequently get more clients, boost purchases, and increase revenue.