Website analytics is a crucial part of running a successful website. It can help you understand why visitors are coming to your website, what content they're engaging with, and how to optimize your website to improve user experience (UX). However, knowing which tools are right for you regarding website analytics can be challenging. In this blog post, we'll discuss the basics of website analytics and how to choose 👐 the right tool for your website or online store.
How to Choose the Analytics Tool for your Website
When it comes to website analytics, there are a variety of tools available. However, choosing the right tool can be difficult, so knowing what you're looking for is important data.
The first step is to assess your website's analytics needs. What metrics (clicks, scroll, sources, custom events and etc.) do you need to track? What type of data do you need to analyze? Once you clearly understand your analytics needs, you can start looking for the right tool.
The next step is to look for a tool that is easy to use and understand, base on reviews of G2.com. You don't want to spend hours figuring out how to use the tool, so make sure it's user-friendly. Additionally, look for a tool that provides comprehensive data and reporting capabilities.
Finally, look for a tool that offers the features you need. Many analytics tools offer goal tracking, event tracking, and segmentation users, so make sure you choose one with the features you need.
One tool that we highly recommend is Plerdy. Plerdy is an all-in-one analytics and optimization platform that offers a range of features, including real-time website analytics, user segmentation, video sessions, ecommerce tracking, heatmaps, and etc. It's easy to use and understand and provides comprehensive data and reporting capabilities.
What is a Website Analytics Tool?
Are you wondering what a website analytics tool is? Well, it's not as complicated as it sounds! In the simplest terms, a website analytics tool is an analysis system used to track and measure the performance of your website. Picture it like one of those old-fashioned thermometers that doctors used to use to take your temperature – but instead of measuring body temperature, it measures things such as page views and user behavior on your website.
Put simply, if you want to understand how people interact with your web pages and where they're coming from, an analytics tool can provide valuable data about these interactions. Basically, this type of information helps you create better strategies for optimizing your website's UX design and content (blog or pages) so that visitors have an enjoyable experience when they visit!
List of the Best 12 Website Analytics Tools
This selection of website analytics tools is not a ranking. It describes trendy web analytics solutions that can benefit SEO specialists, UI/UX designers, marketers, and website owners.
1. Website Analytics Tools With Plerdy

Plerdy is a website conversion optimization platform with various website analytics tools. After subscription, you get access to all the products listed below.
We have increased conversions by 500% using Plerdy!

Leo K, Writer and Code Wrangler
I tested alternative website analytics tools but like this one best. We use Plerdy to run UX analysis and find out how to improve the websites of our clients

S C, Owner
2. Leadfeeder Website Analytics Tool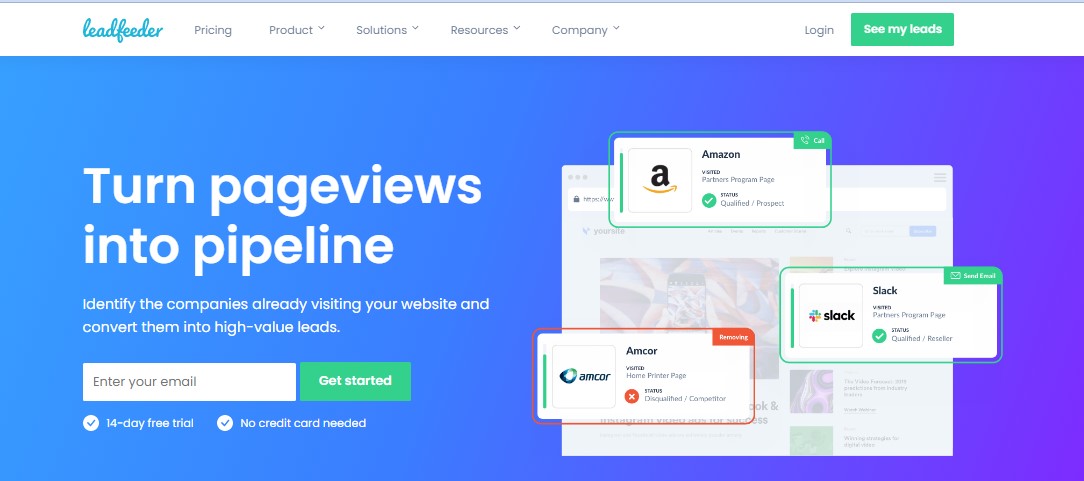 Leadfeeder is a B2B website visitor analytics tool from Helsinki, Finland. It shows what companies and brands have landed on your website to help you establish business relationships with quality leads. Website analytics tool Leadfeeder turns anonymous IP addresses into company names, which alternative website analytics tools cannot offer. It also supports account-based marketing, sales prospecting, and data enrichment.
Leadfeeder is approved by WeBrand, TecSurge, Futurelab, Presidio Inc.
Leadfeeder helps to find the people who are looking at your website and need to contact you. So many people check out your website but are not ready to contact you, so they allow you to access 'warm leads,' which can be utilized as a marketing strategy.

Claire E., Emotional Well-Being Consultant
3. Segment Website Analytics Tool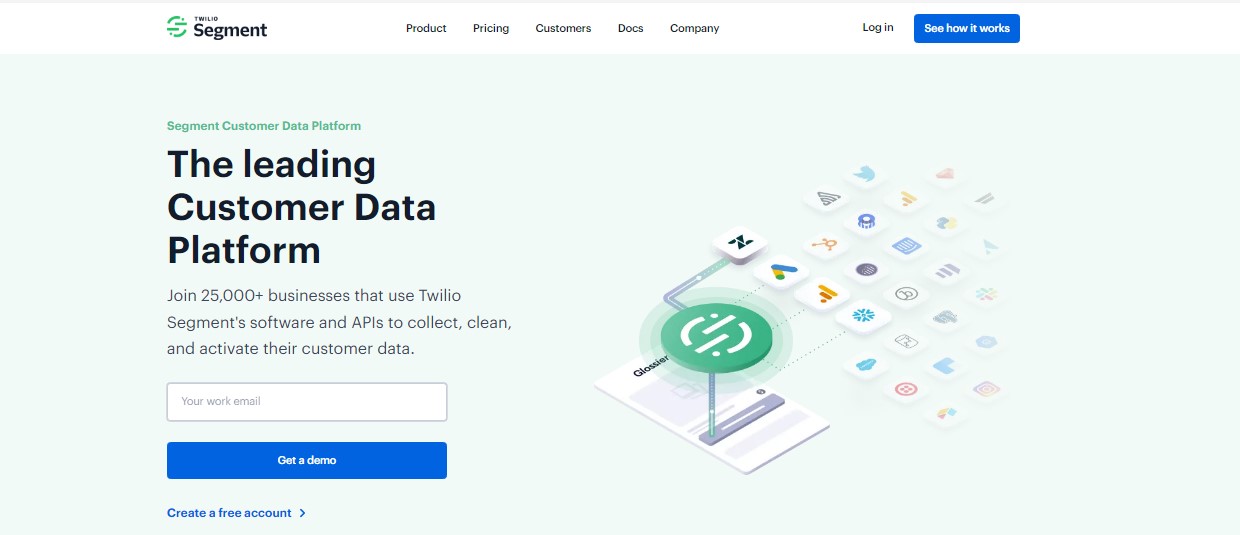 Segment integrates multiple data sources. It cleans and standardizes the information to make it suitable for further use. Segment is an excellent tool for processing big data sets and creating a single customer view for website analytics. It also has unique features, including propensity modeling that predicts the likelihood of purchase.
IBM, Customer.io, Reuters, Instacart, Atlassian, Docker are renowned Segment analytics users.
We use Segment as an intermediary data platform where we push all the customer data that we need to track, then push that data into various other platforms where we need them to be. As a result, we save a lot of time implementing tracking in just one place rather than all the places where we need this data. It saves a lot of time for the Engineering team, and yet our Product and Marketing teams can get the data they need in the format they want.

Giorgi S., SalesOps consultant
4. Pingdom Website Analytics Tool
Pingdom is a Swedish platform for digital experience monitoring and web performance optimization. It offers Synthetic Monitoring that simulates user interactions with a web resource to test the UX. You can check website availability, load performance, and vital site flows. There is also the Real User Monitoring feature with live maps. It shows where users come from, active sessions, bounce rates, and other user experience metrics. In addition to the website analytics functionality, Pingdom supports log management, application and infrastructure monitoring.
Traxo, Simon, Gengo, Livechat, Zuora, Opera, and thousands of businesses benefit from Pingdom.
SolarWinds allows us to manage our web pages, allowing us to obtain important information such as traffic, speed, activity tracking, new registrations, and added payment methods, among other functions; This information is vital for our daily work and our marketing work since it not only allows us to get to know our clients better but also allows us to work to offer them a better service.

Vanessa C., Software Analyst Enterprise
5. SimilarWeb Website Analytics Tool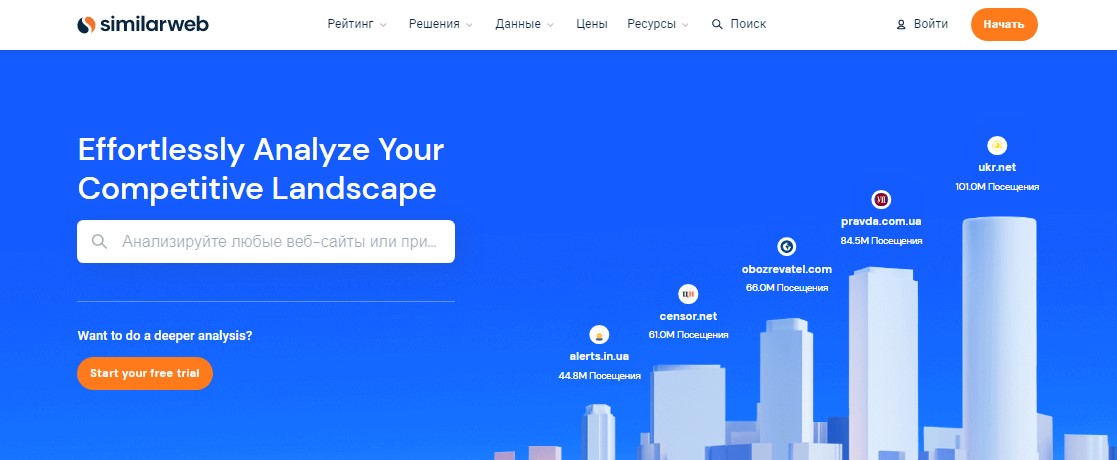 Apply SimilarWeb for digital market research and website analysis. It posts top websites, Android and iOS apps, and 100 fastest-growing online brands for industry trend updates. SimilarWeb also allows you to run competitor analysis, and research target audiences and consumer journeys. It supports a separate Chrome extension called Traffic Rank & Website Analysis for easy website research.
Booking, eBay, The Economist, Walmart, PepsiCo use SimilarWeb.
We can now benchmark our online performance against our competitors. The platform lets us see the trends per month, giving us a helicopter view of our market. It is also great to see which other websites generate traffic to our competitor's website. And it is a great tool for checking the performance of potential marketing partner websites.

Koen M., Online Marketing Lead Enterprise
6. Woopra Website Analytics Tool

Woopra is a solution for real-time customer journey analytics. It supports handy visualizations summarizing how onboarding emails affect conversion, what advertising channels increase signups, what blog categories get the most views, etc. Woopra generates detailed user profiles that show real people behind actions. See what a specific user has recently done to tailor the marketing efforts accordingly. Since Woopra also has trigger-based marketing functionality, you can use this tool to launch personalized campaigns.
Hewlett Packard, Redhat, Informatica, AppLovin, choose Woopra.
Woopra helps us analyze our user acquisition funnel and conversion rates on various pages on our site. In addition, we are using this tool to gather data at the user level for a research project.

Harsh K., Director of technology Mid-Market
7. Kissmetrics Website Analytics Tool

Kissmetrics is an analytics tool for SaaS and e-commerce. When used for product research, it provides statistics on new trial starts, subscriptions, churns, trial-to-signup rate, recurring monthly revenue, and time to new feature adoption. Kissmetrics for e-commerce website analysis records total sales, revenue, new visitors, average revenue/person, visitor/cart to purchase rates, and site searches. These findings help to evaluate website performance and detect room for improvement.
SendGrid, Unbounce, Carvana, Microsoft, Lucidcart prefer Kissmetrics.
We are a memberships business – and we are always trying to find a way to test out different campaigns to find the most efficient path for someone to become a member. This allows us to see how our tests are performing.

Nicholas D., Marketing Small-Business
8. Adobe Website Analytics Tool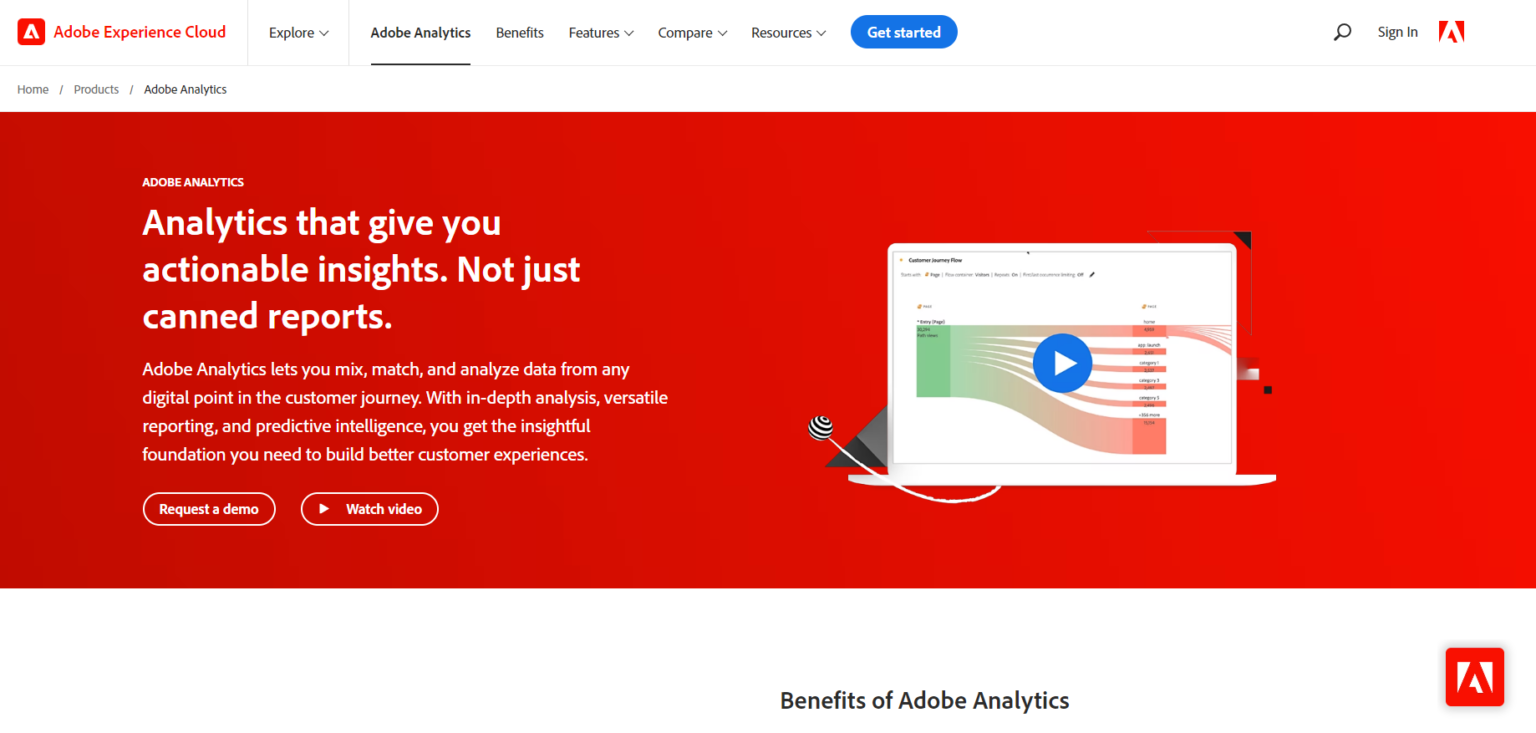 Initially released in 2012, Adobe Analytics belongs to Adobe Experience Cloud, uniting website analytics products. Similar to other Adobe solutions, it enables subscribed users to download the complete collection of tools.
The most prominent feature is predictive analytics which analyzes customer data using machine learning and advanced statistical modeling. It processes large volumes of custom behavioral data to generate a readable summary. With this tool, you can determine patterns and predict future activity, like churn probability.
This tool is favored by Epson, DER Touristik, Progrexion, Asos, Citibank, and Ford.
Adobe Experience Manager offered us the enterprise-level content management solutions that we needed. Large organizations need a product that can scale up and outwards and be reliable enough to ensure minimized downtime. Stability and scalability are two important aspects that we benefitted from.

Jim N. Sr., Director of Digital Marketing Enterprise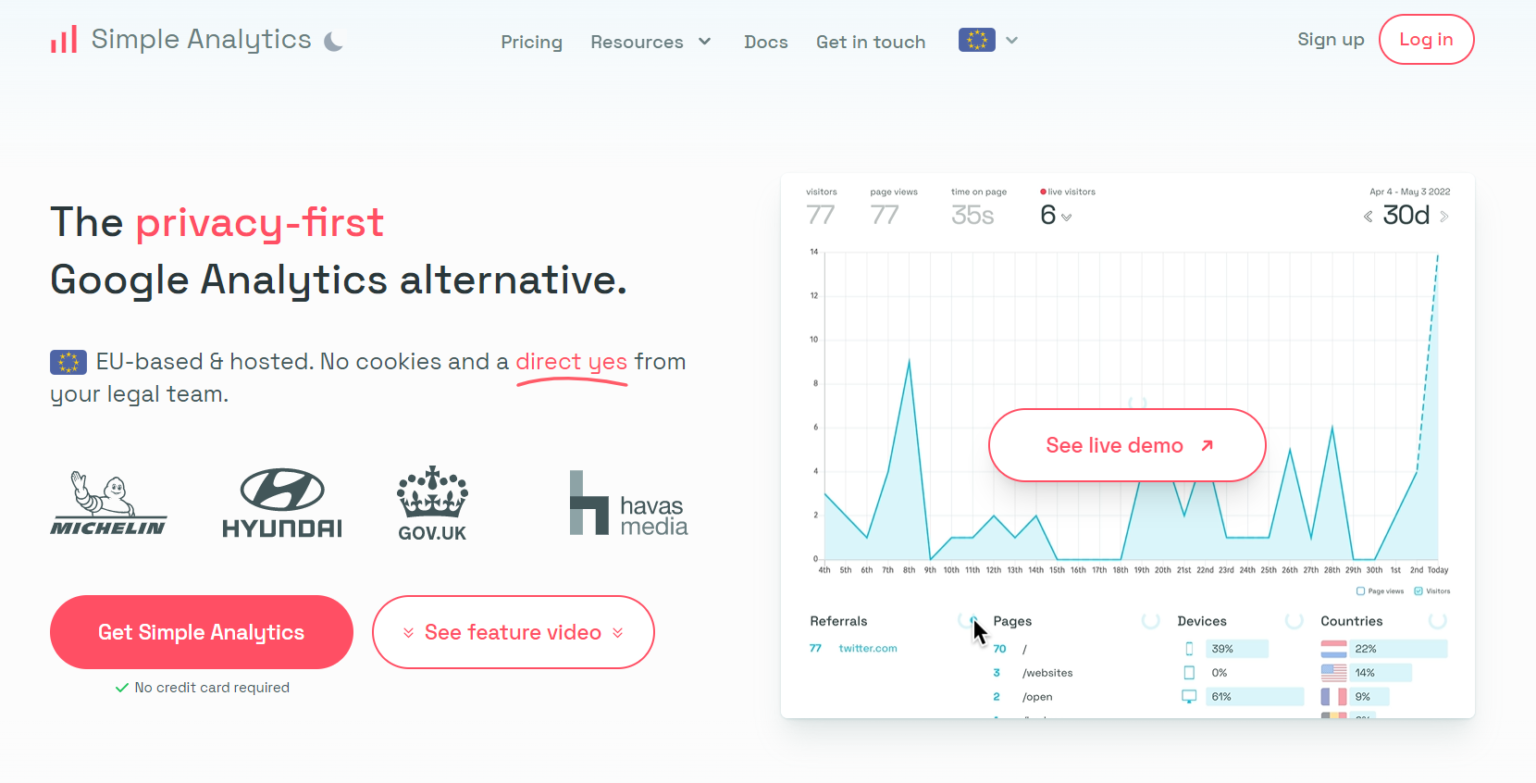 Simple Analytics tool tracks events without tracing individuals. This is a Google Analytics alternative from the Netherlands suitable for EU and EEA areas with slightly different and stricter user data privacy regulations than the US.
Simple Analytics tools always encrypt the collected data, never store personal information about your visitors, and have EU-based services. It is GDPR, PECR, and CCPA compliant. Besides top-notch privacy, you get automated reports, handy graphs on user interactions, and convenient data import from third-party tools.
Michelin, Hyundai, Gov.UK, Havas Media, and CleanShot X use Simple Analytics tools.
I'm pursuing my research work, and for simple data analysis, I use simple analytics and. also, sometimes, I use it or try to experiment with how this can be used in more ways.

Mohammad A., Research scholar
10. Plausible Website Analytics Tool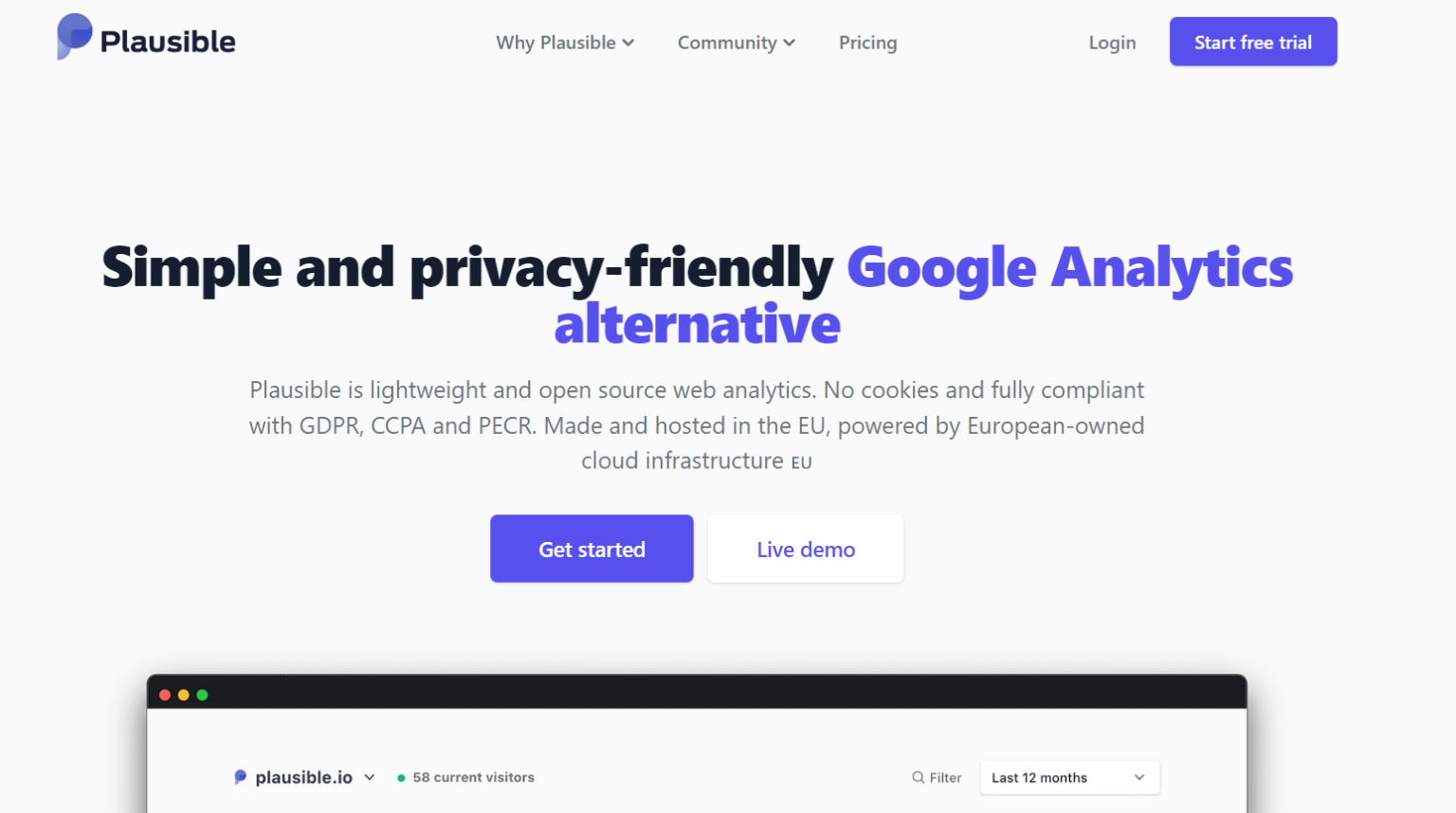 Plausible was born in the EU and is privacy-friendly. It's an open-source project that is entirely independent and self-funded. Founded in 2019, Plausible is available for hosting on your server or as a SaaS solution.
With this analytics tool, you can track events, goals, traffic sources, and campaigns. You can segment the audience based on any metric. Besides, it supports UTM parameters to analyze paid campaigns and dark traffic. Plausible is shareable, so you can make your statistic visible to anyone with the link.
Typefully, Fathom Video, Liveblock, Appsmith, Better Uptime have subscribed to this analytics tool.
Apart from providing Analytics data, Plausible Analytics solves data safety problems.

Olex T., CTO
11. Matomo Website Analytics Tool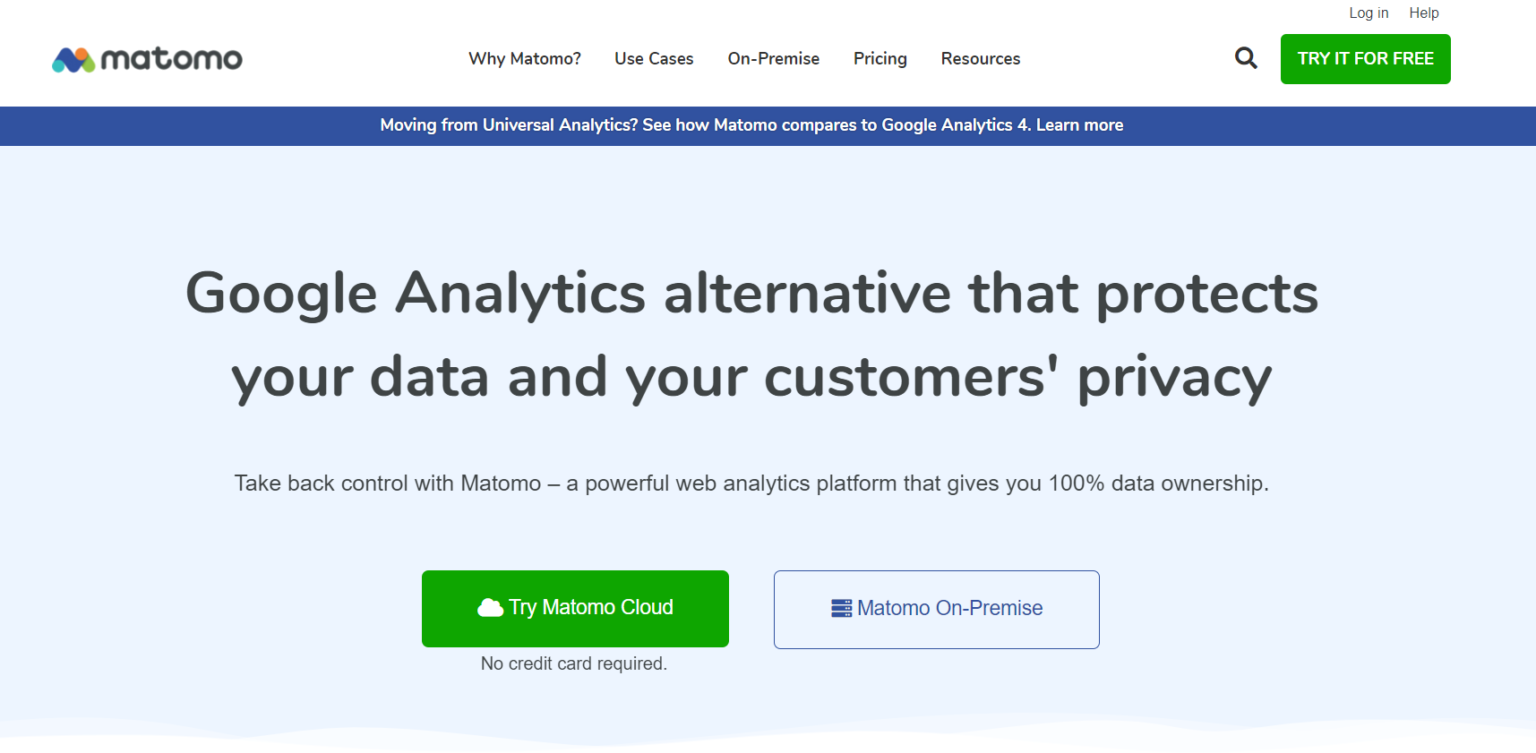 Website analytics tools Matomo creators call it a GA alternative guaranteeing 100% data ownership. Previously called Piwik, it was released over fifteen years ago in 2007. This analytics solution is available as a cloud service and on-premise, so you can self-host it on your own servers.
It's freely available and includes the core website analytics features like funnels, cohorts, SEO recordings, forms analytics. You will also find media analytics to track interactions with your video and audio content.
The United Nations, Amnesty International, Ahrefs, Nasa, and European Commission utilize Matomo analytics.
I'm using it on my website for monitoring traffic and user activities. This allows me to check which page the user is spending much time on; it helps me bring more user-oriented content to my website in the future.

Waqas S., Lecturer Computer Science
12. Cyfe Website Analytics Tool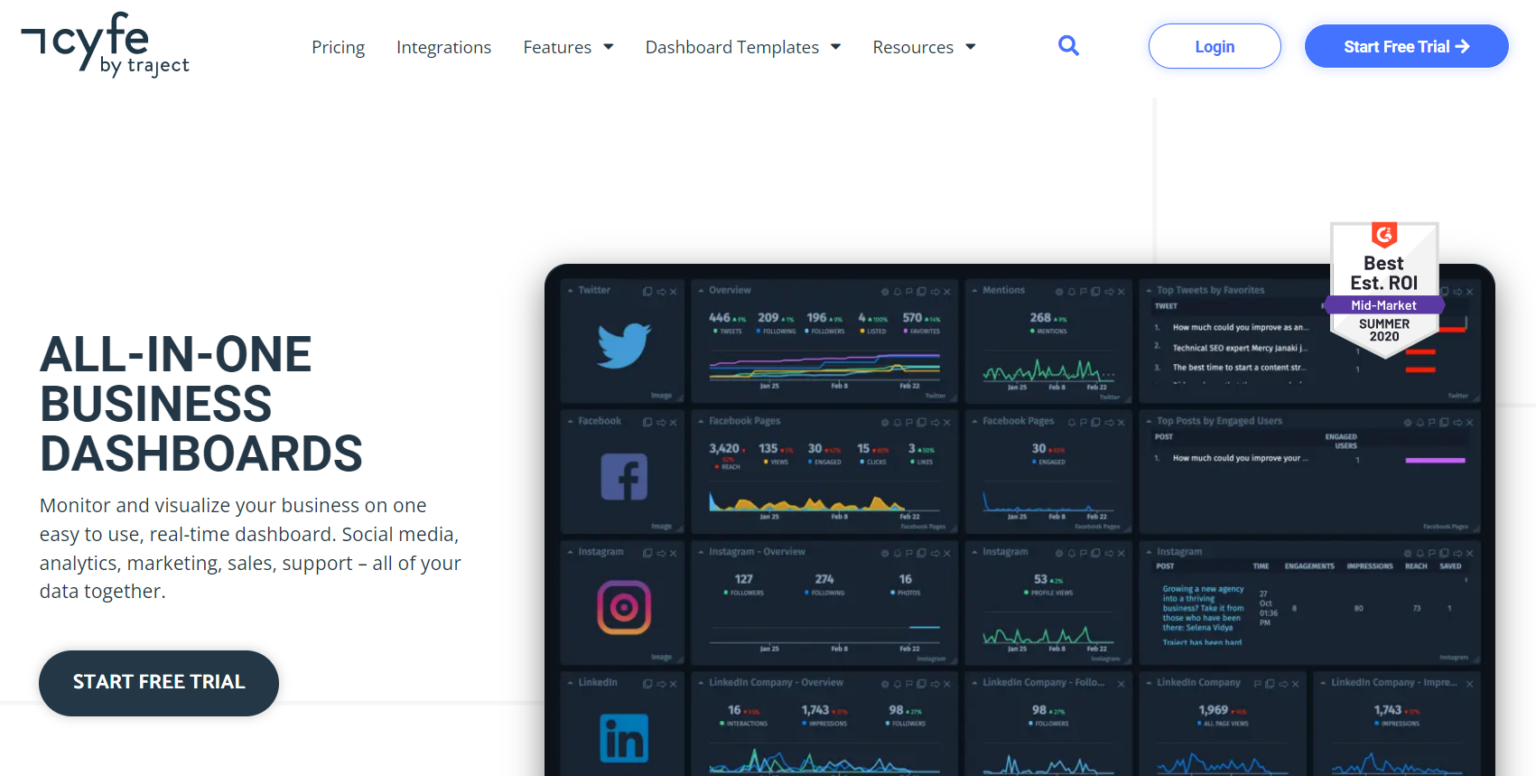 Deven Patel established Cyfe in 2012 Los Angeles, California. It's a self-service BI application that helps companies visualize their business on a single dashboard. Website analytics tools Cyfe is a way to join multiple analytics applications to monitor what's happening in real time. You can pull data from popular services like AdWords or AdSense. Cyfe is suitable for all departments since you can customize the look and content of connected dashboards.
This analytics platform also supports embedded analytics allowing you to share and visualize metrics anywhere.
Cyfe analytics tool is popular with LeSite, SMCo Thrift, and TechWyse.
Cyfe is helping me analyze my data with custom dashboards to see how the company performs.

Before Cyfe, I had to make those reports manually each month, and we had reports in real time.

Leandro F., CTO
Conclusion about Website Analytics Tools
Website analytics tools provide insights into different aspects of website performance. Capture what users do, where they come from, and their preferences.
Plerdy is one of the website analytics tools you should consider for your website. It unites heatmaps, session recording, event tracking, automated SEO checks, and sales performance analysis to match the website analytics needs of any business.
Find out more about Plerdy tools' pricing plans and functionality here.