One would think those who want to become a designer have no problems with finding the theme-specific information. However, the popularity of the design subject has caused turning the abundance of information into its excess: so that to find something in the information field that would meet your expectations and requests, you need to spend time comparable to studying at the Faculty of Design at university. This results in demotivation to development and trying to gain experience and proficiency in such a popular profession.
We've carried out an analysis of the following frequently asked questions from novice web designers:
Where can I find free web design software?
What design software could be recognized as a professional one?
How could I use Open Source web design software?
What is the Adobe web design software?
What is the Adobe software used for in web design?
What is Microsoft's web design software? When do we use it?
What is the difference between Web design software for Mac and Windows?
What software is best recommended for beginners in web design?
What is the best software for web design?
Which of the following web design software would a web designer choose to create videos?
Some resources have realized the existence of such a pain of the creative field "recruits", and have started their own blogs to share their experience. Amongst the texts dedicated to trends and working cases, they provide a selection of software tools useful while working on a new project. The disadvantage of such selections is that they are prepared by copywriters, and given in a list, without a description of why a particular tool deserves to be paid attention to. These selections can be fully understood by a skilled designer who has already experienced the whole underwater roughness of the workflow. But to a beginner with minimal experience, such lists of tools are all Greek.
Today, we present a short, but complete and accessible to the utmost, guide with the description of software tools which are useful for web designers bent on starting their career in the modern Internet market. This article will also work for experienced professionals wondering about what is happening in the world of web design now.
We will go from the general to the specific. First, we'll consider the main trends in web design and discuss which way to move so that to gain experience and be a highly-demanded specialist both in a year or even in five years. Next, there will be a selection of useful resources:
where to seek inspiration for your projects;
the services, automating routine moments of the workflow;
websites and galleries where you can derive inspiration and ideas from the examples of the best web designers in their field;
libraries, drains, and banks, where you can get the necessary materials for projects.
In the article, each service will be supplemented with a description of what differentiates it from similar tools so that the readers immediately understand whether the offered solution will come in handy to them in their work, or whether they should search for some other software resources.
Part 1. The market of web design: the history, realities, and trends
Trends in website design change from year to year, likewise Haute Couture. When website design began to exist as a branch in the 2000s, designers aimed to maximize the artistic design, worthy of exposure in the Louvre.
In the early 2010s, there were enough websites that such a thing as page load optimization appeared. Internet connection dictated the trend: the faster the page loads, the less likelihood of its failure is. In addition, minimalism, coming into fashion, began to gain momentum (Hello, Steve Jobs, and the iPhone fashion). Users required pages to be "more informative, and have less design rush".
In the new reality, the technical team of web development agencies became elated, but the web designers clutched their heads. On the Web and the sidelines of specialized design forums and conferences, they took to worrying about how to defend the design, not sacrificing resource usability.
This dilemma became the arena for the appearance of design solutions, which began to change every season, dictating the trends for development. First, there was a flat design, implying the emphasis was transferred from the use of textures to special types of natural, "dirty" shades. The design itself tended to be primitive, up to the usage of only basic shapes, such as a circle, square, and triangle.
Further, Google, with its algorithms and an army of analysts working in tandem with full-time designers, began to interfere in web trends. Their work resulted in material-design, which appeared in the second half of the 2010s. It featured unusual double shadows, a specific style of icons, and a color palette, which was a slightly expanded version of the flat-design palette.
Сurrent trends in web design
Nowadays, the main focus is still on minimalism. Minimalism reaches extreme values — so extreme that the customer, not in the know of the trend, asks a reasonable question: "There is just white space, and where is the design?". And the specialist has nothing to do but to explain the concept of "emptiness" in the design of web pages.
Both flat and material design are still in trend, only the details change:
the corner radius of buttons, forms, and icons;
the feathering of shadows and volume – from sharp borders to an almost imperceptible gradient;
the quantity and depth of colors in gradients – from multi-color rainbow schemes to peremptory monochrome;
block structure on the website;
the length of pages and their orientation – from multi-screen longreads to a new trend, that us flipping the page like an album or catalog using scroll (more on this below);
interactivity and animation of functional elements.
From words to facts: what is popular in web design at the junction of new decades.
Storytelling
Now we observe an individual approach, the brands, losing the trust of the audience, but at the same time, everyone undoubtedly believes the word of the new caste of bloggers and thought leaders. These conditions dictate manufacturers to forget past formality in communication with potential and existing customers, inherited from the mass marketing of the 20th century.
Now brands tend to be on the same page with their customers, trying to speak with them in the same language, not with all at once, but individually with each customer. What seemed to be undue familiarity yesterday is now a friendly manner of communication, at least as with an occasional traveling companion. And this is the manner, in which brands reveal their stories: briefly, vividly, but simply and clearly. This is aimed at grabbing the audience's attention and letting them understand that this is exactly what they need.
The trend has been called "storytelling". The web interface is also directly involved in narrating the story, but not just as a background for text. Web design is the structure of a story. It consists of the following semantic blocks: the beginning, culmination, denouement, and moral. A web designer becomes a writer and director, dividing the page into these logical blocks, and designing each one so that the block has its own idea. Then all the ideas are put together into a general narration, based on which the user could draw a conclusion.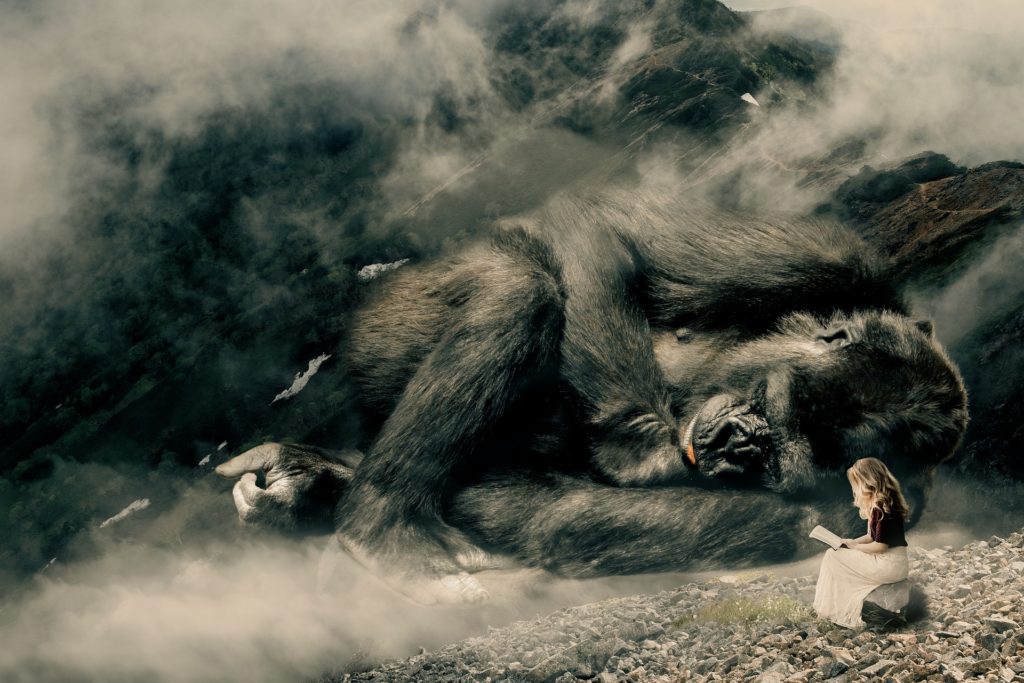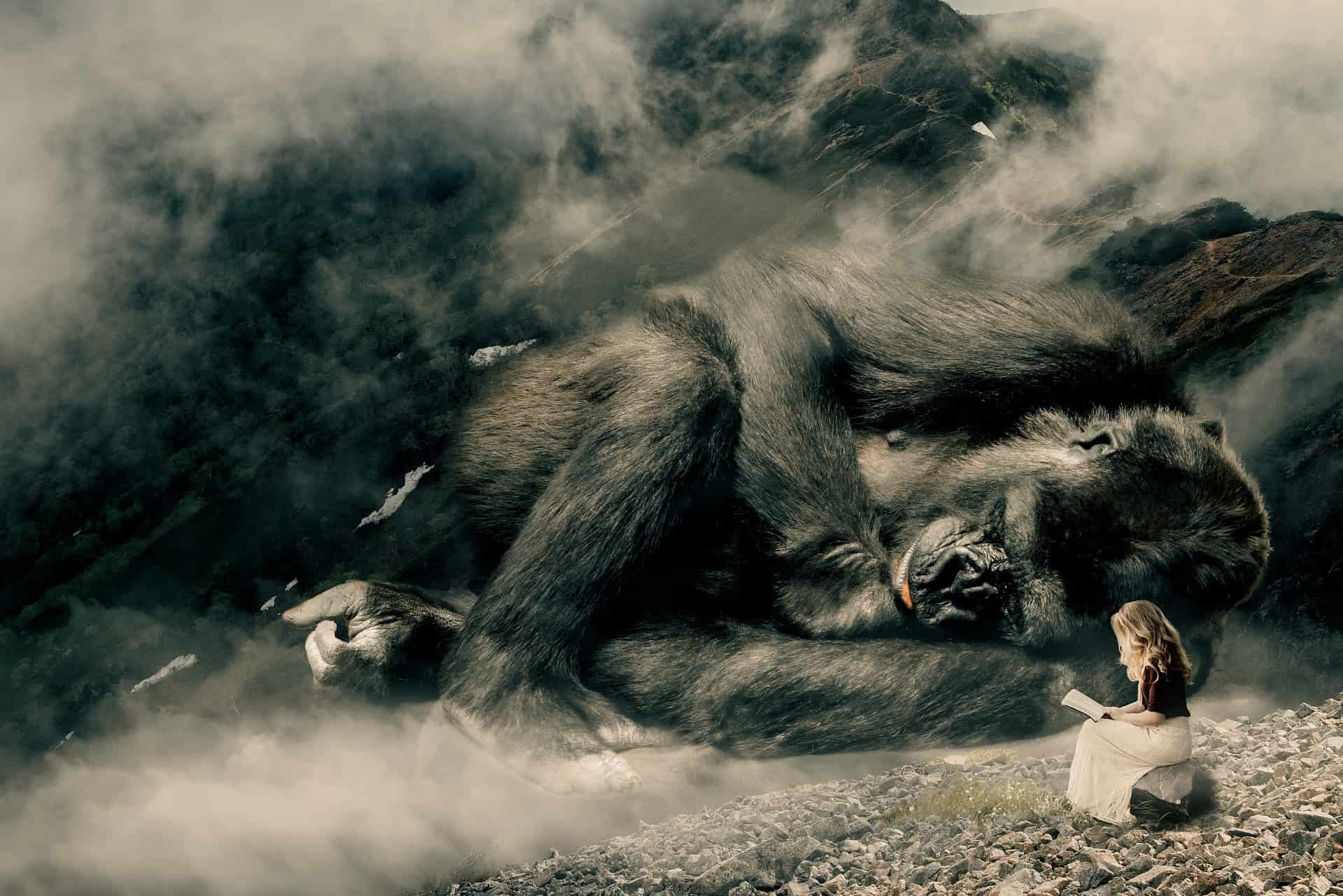 Each business has its own way of storytelling:
e-commerce uses 3D images of the product, which can be viewed from all sides using the cursor or scrolling — just as if the customer turned the product in their hands when buying in a regular store;
sale of services uses spectacular video presentations — not just an interview with the director, but a whole film, demonstrating the situation in which the company's services are used;
already well-known brands apply no less spectacular video back drops with the company's presentation, placed on the initial screen of the site.
Emotional contact
If you fail at storytelling quickly and in common terms, the same opinion-shapers are involved in the case as the ambassadors. Provided that the blogger is known for his competence of narrating a beautiful, interesting and useful story, they are listened to, paid attention to, and are ready to be devoted not the standard 4 seconds, but the whole 5 minutes to.
Without an ambassador, emotional contact between the business and the audience is established by other, non-verbal, methods, such as the usage of recognizable design elements and bright colors, if the business area allows.
Animation and interactivity
When designing websites, the web designer tends to place emphasis on targeted actions. Previously, they were highlighted in color, but this manner became cloying. In addition, if the business area excludes the use of bright and loud design, the animation of key actions and conversational interaction is used in web design to attract the user's attention. An inconspicuous, but interesting animation is observed when performing some simple actions on the website, such as hovering the mouse cursor over a functional element, block, button, or even just changing images when scrolling. All this is laid down by the web designer at the design development stage, thinking through the animation of each interactive element.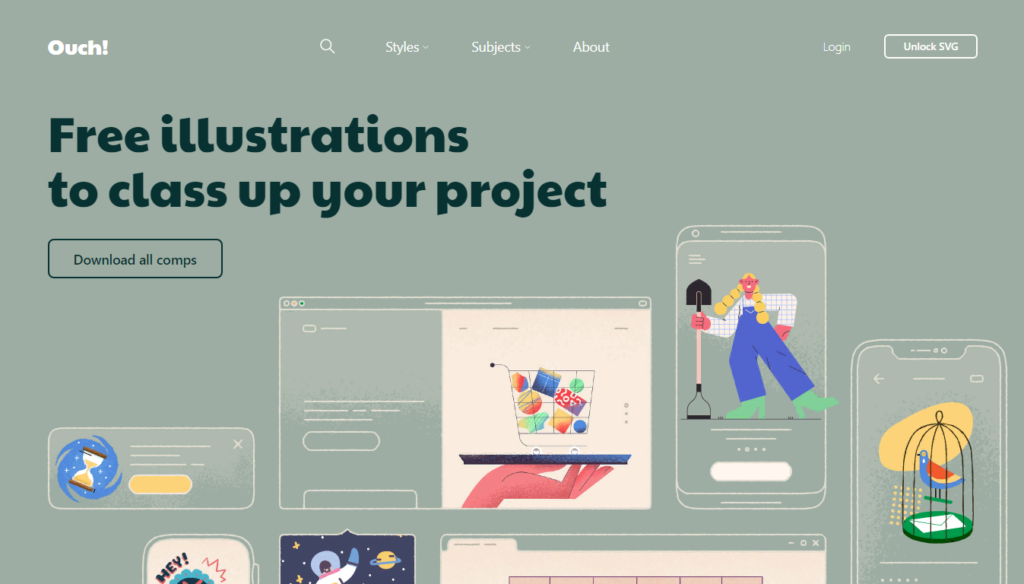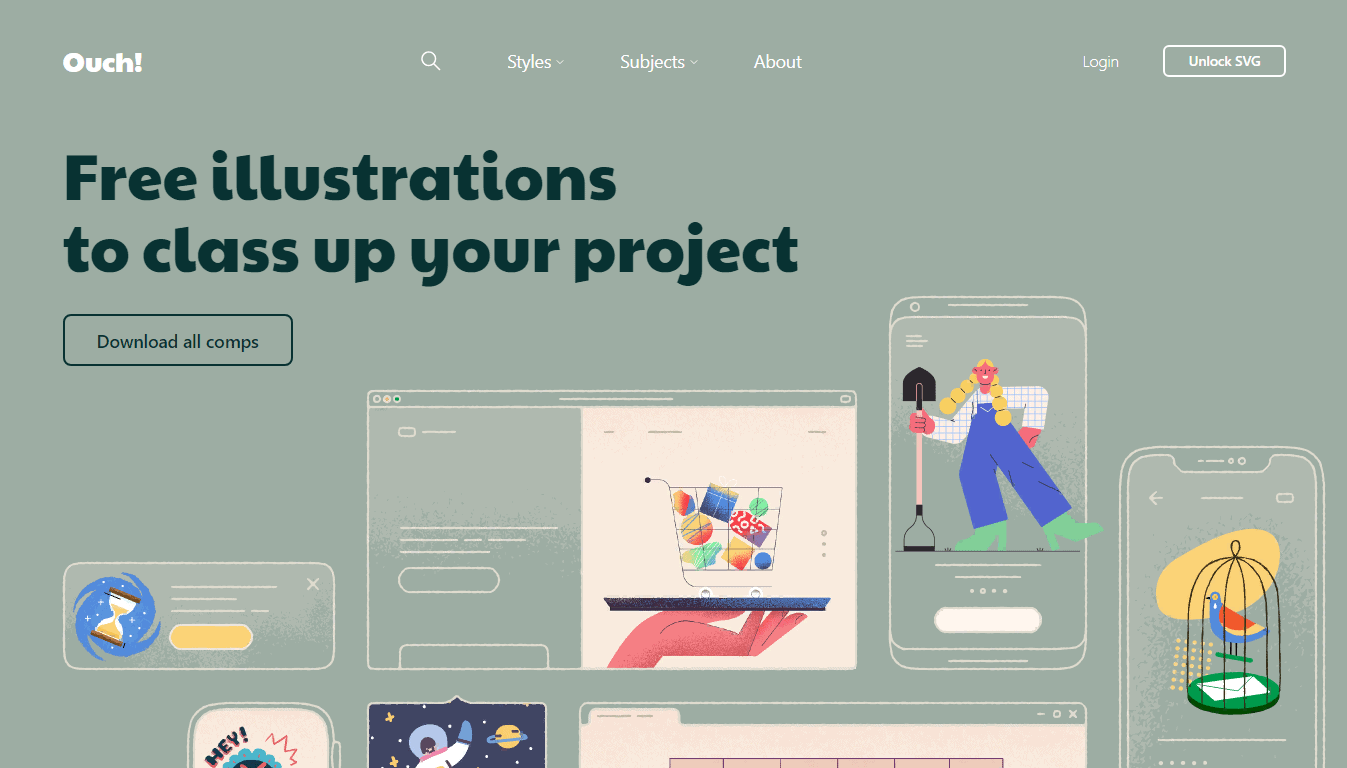 The animated illustrations, inherent to the design of even the most serious companies' websites, are especially effective and beautiful. Such an element brings the playing effect in the interaction with the resource and makes the user pay attention to it at least for a while. Sometimes, this may be enough for the user so that to do what the call-to-action suggests.
Motion Design tools
Once, the underestimated GIF image format gained a new interpretation. It was used for animated emoticons since the format could not satisfy requests for realistic textures and color depth, which existed in the early noughties.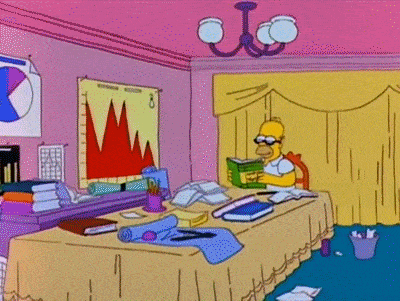 A new era with flat monochrome design elements and saving traffic on loading media content has given GIF a new chance. If a business offers a product or service which can be described with a bright animated GIF illustration, then adding such an element to the initial screen ensures attracting attention and being remembered by the user. Using GIF animations in web design allows one to run with the hare and hunt with the hounds: the web designer gets the opportunity to make great play with usability, and technical specialists – to implement a light resource that does not require anticipation of loading. It's not worse, but even better than the usual video presentation, which significantly slows down the page processing.
Сonciseness, accessibility, speed
With all the will in the world to speak of your offer as much as possible, and to provide the website with as many bright accents as possible, the business has to bear with the realities of the modern Internet user's attitude to everything seen on the web. They can be described with the fabled phrase "You have 15 seconds to get me interested". This is indeed the same argument with developers about the page load performance. Modern web designers walk on the razor's edge, trying to find a balance between future technical optimization of a web resource and bright usability with the most effective storytelling. All other things being equal, the closer they are to the "balance" mark, the higher the website performance indicators are.
Mobile-first web design
Search engines, specifically Google, add more fuel to the fire. In January 2018, the number of users accessing the network via a smartphone exceeded 50%, and their number is constantly growing — at the average, by 4% per year. Soon afterwards, a new rule was announced on Google's official website. It regulated how the search results index would be generated: one of the key ranking factors will be optimizing sites for viewing on mobile devices.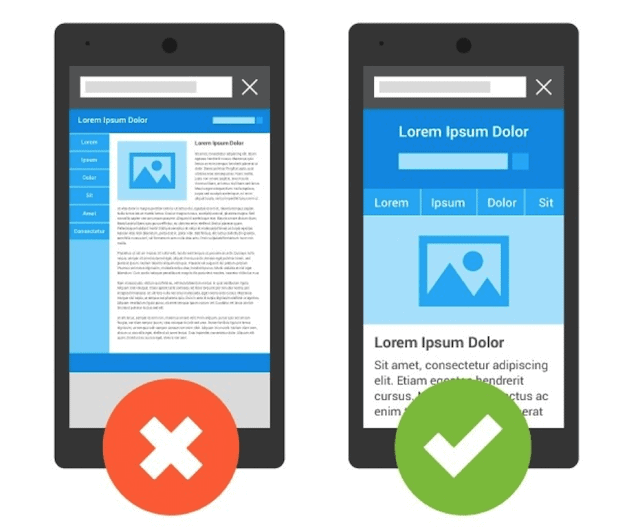 Developers were strongly recommended to optimize, first of all, the websites' mobile versions. No matter how well the resource was optimized for viewing on the PC screen, the site would fall under the filter if it had no mobile version.
For web designers, this meant that the framework for implementing ideas in terms of design and usability was getting stiffened. Now you primarily need to think about the convenience of web design for viewing on a smartphone, and start with sketching on a mockup for a smartphone (and not on a landscape sheet, simulating the desktop screen, as it used to be previously). Now web designers, proceeding to a new project, do not go to Behance, Dribble, or Pinterest software for inspiration, but refresh their memory of guides for mobile development from Apple and Google. The whole idea is to understand: will the button fit in the designated 48 pixels for a tap? Could the user view all the menu items on the same screen without scrolling down? And further down the list of requirements.
Landing page software
The tendency to develop one-pagers with a minimum of information and text was also based on the principle of conciseness and minimalism that took over the web in the 2010s. Still, the popularity of this solution does not fade. The secret is simple: such a website can be studied within minutes, and then, one makes a decision — to be or not to be?
In the period between 2017 and 2018, when the first landing page boom began to subside, and the first prerequisites for commitment to mobile-first appeared, some experts believed one-pagers to become a thing of the past: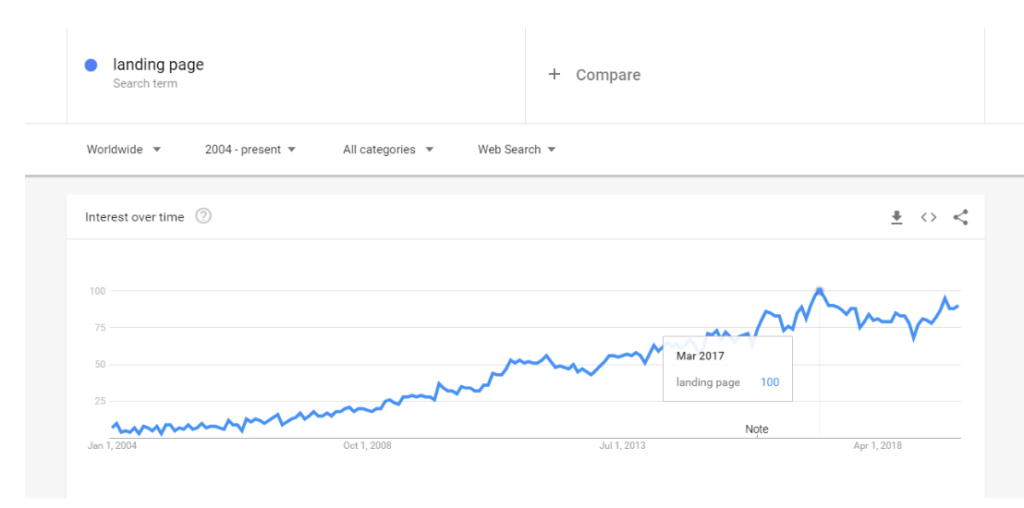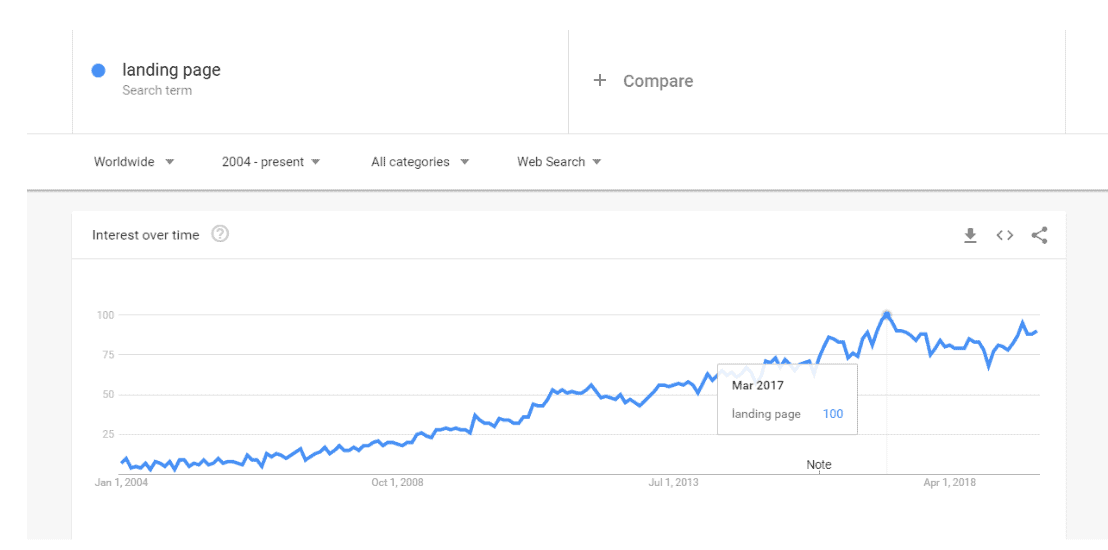 But there are web designers who put ultimate faith in the power of one-pagers. The universality of such websites' model, its affordability, and the ability to quickly sell services and products allowed it to gain a foothold in the world of web design and become a classic. And it remains so up to now.
Separate agencies have fully focused their resources on developing such websites, and they don't hesitate to provide services in this narrow niche. B the way, "narrow" doesn't mean "unprofitable". In light of the popularity, efficiency, and versatility of one-pagers for any business. Notwithstanding the forecasts of some experts.
Typography software tools
The fact that the text has gone to the background of the design does not mean that it is of no importance. Peculiar demands are put forward towards it, as well. Cast aside the content — we are interested in the font.
Users have specific preferences for fonts: they should be interesting, readable, and authorial. A group of web designers moved into a narrow niche of the author's typography development.
From a purely functional element, the font has become a design element. Some designers manage to create a design of a new site just by the successful selecting of fonts, and their sizes, as well as the collating of text blocks, which would let a user's glance dwell on for a long time.
Everything ready at hand
In its time, iconography became widespread, in particular, as a way to schematically denote the features of individual blocks. As it was with the burger icon concealing the main menu items. Click on it — and a window with the website's sections will appear.
At the interface of decades, the jig was up of the buttons, simplifying viewing and hiding entire forms. Fed up with all sorts of web design Easter eggs, the recent trends have been rich in, users now want everything to be ready at hand.
This means that if there is a menu bar, let it be in the limelight. Let it be attached to the border of the screen and lose color if it is not used. It may even occupy the lateral side of the website, covering the main content. But no more burgers or hiding buttons!
The new trend has begun to steadily transform websites into instrument consoles. However, web designers got another woe: how to manage not only to place everything necessary on this functional surface but also to convey the business offer.
Outcomes and forecasts
In short, the current conditions for working as a web designer are as follows:
stick to minimalism;
place all function blocks so that the user has anytime access to the main functions;
manage to combine these two mutually exclusive planes, so that the business reaches the website user, and the web resource itself does not look overloaded with information.
So that the picture does not look sad, let us talk about the long-term prospects in web design, which have not gained strength yet, but already demonstrate great potential.
3D design software
The intricacies of 3D design software are so far actively conceived by those who are in a hurry to go to GameDev. For computer game designers, developing a 3D space with head-snapping realism is a daily routine, aimed at making money for games designed for special 3D monitors.
The target audience of both games and monitors are avid gamers who wouldn't mind paying several thousand dollars for such a version of visual pleasure. An average consumer can't afford to buy a 3D monitor yet. But it's only a matter of time.
For web designers, interested in long-term career prospects, we recommend looking at materials on 3D development for game designers from time to time. The day will soon come when one will need to master 3D Max and Maya instead of Photoshop to enter web design. Mozilla, with its MozVR API and A-FRAME framework, offers developers to practice developing 3D spaces. With the help of these software tools, one can develop 3D scenes using simple HTML.
VR/AR development tools
Virtual and augmented realities go hand in hand with 3D technology. The only difference is that in VR/AR, the hat will be hung not on realism, but on the interactivity brought to perfection. Even today, some developers are slowly implementing these technologies in their projects: VR (virtual reality) proves useful in website development, and AR (augmented reality) is applied in some mobile applications, reacting to separate user's gestures. An example is the use of the palm swipe feature to capture a screenshot on top-of-the-line models of Samsung smartphone: to take a screenshot, just swipe the edge of the hand from left to right, or from right to left on the screen (depending on what the user chooses in the phone settings). Another example is the much-talked-of PokemonGo – a game for mobile devices, working completely on augmented reality technology.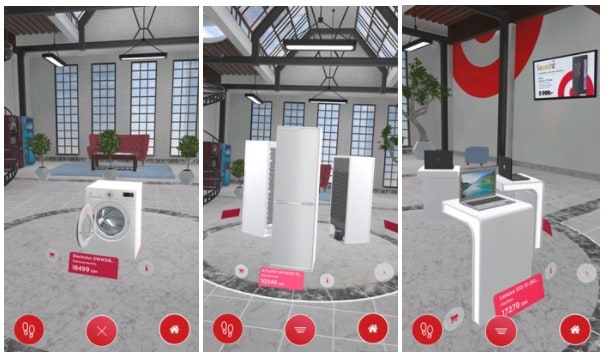 In the coming years, we are already expecting the mass release of devices that will be on a par in technological effectiveness with their counterparts from science fiction films. Like J.A.R.V.I.S., the assistant system of Tony Stark, the Iron Man. It would turn the entire room space into a computer and distinguish commands given not only with a motion of the hand but even with the blink of the eye.
WebVR was developed with the purpose of speeding up this process. This technology turns the browser into a screen for augmented reality, using the special cardboard for $3-4 from Amazon.
All it takes so that to use the technology is to buy the simplest VR glasses, insert a smartphone into them, connect to the Internet — and the user can get into virtual reality. Web designers and developers have done their best to ensure that the user can hear sounds, swipe through the image gallery without a mouse but with the move of the head, switch between screens with a nod, or control video viewing. More details about the technology can be found on the Telegraph website. This material presents other implementation examples.
And this is what is already there by now. WebVR technology will keep progressing so that to allow the user to use not just the currently available head movements, but as many gestures and commands as possible.
Artificial intelligence software tools
Anyway, attaining the independence of Tony Stark's AI system will take some time. Nevertheless, even nowadays chatbots, imitating the behavior of the support agent, allow one to execute a list of commands, find information, and make payments automatically without involving the service company employee.
Artificial intelligence will be implemented in web design. Today, we are talking about the ability of AI to learn by the experience of users and web designers, as well as to create working web pages with a business-specific structure. This phenomenon even triggered the concept of "generative design" or "algorithm-driven design", implying that a machine analyzes data and produces an ultimate product based on examples of similar implementation. Such technologies are used by Medium, Readymag, and Squarespace to provide the user with a ready-made template, thus allowing them to save on designing a web page by a specialist.
Does this mean that AI will substitute the web designer? No. Technologies, including AI, themselves have a limited ability to self-learn without human participation. After all, machines do not make mistakes, and it is the mistakes that training and development are based on. It is completely impossible to replace a live specialist with a machine in web design. However, machines can make their life easier: just make AI their assistant and delegate the responsibility for analyzing user experience data. The machine is still second to none in its ability to process arrays of information.
Get more information on the possibilities of using artificial intelligence in website development and design by following the link https://en.wikipedia.org/wiki/Artificial_intelligence.
Part 2. Helpful tools for the web designer
Having considered the current conditions for website design, let's proceed to the practical part. A few blocks of web software resources and services, given below, help a web designer to master the profession, stay up to date with all trends, and maintain the competitiveness of their services.
Inspirational, instructional, and training software
Let's start with a selection of software resources for inspiration and searching for ideas.
Images processing software tools
The first thing needed for working on a new website is the images. There are universal photo stocks. Moreover, some resources offer images only in a specific, narrow subject, fully satisfying the needs of their users in high-quality images and photos.
Video editing software tools
Using videos is the easiest and fastest way to brighten up your website. You can create a presentation on your own from available material, and optimize it for the web or use a ready one offered by special libraries.
Vectors and illustrations for web design
Illustrations and vector elements can be a more winning alternative to photos. Their advantage is that a flatter background shading, in comparison with full-color photo images, is easier for users to perceive, and fits more harmoniously into the concept of minimalism. From the psychological point of view, a vector or illustration in web design makes the project more professional.
Icon maker software
Iconography stands its ground. The user finds information represented by an icon faster than by the text. Therefore, icon banks enlarge their collections every day.
Typography and font design software
We have already mentioned that some designers are able to create a beautiful web page, making a great play of fonts. Some people have an intuition for favorable combinations. Others use special software tools and are on a par with their colleagues, endowed with the ability to turn their project into a masterpiece.
Graphic editors
No, we won't start with the Photoshop software (although, we've added one Adobe product in the following sections). Let us just provide its analogs, which have their own specific features.
Color gamuts
Artists have spent years refining their skills to match colors. A web designer doesn't have to take a course in color theory to create a good palette for their project. The software tools enabling one to automatically generate a suitable combination, sometimes even without a web designer's participation, are at their disposal.
UX prototyping tools
UX designers have not only paid-for Axure with its limitations and whims. The world of prototyping is developing, and now there is a whole range of software tools enabling one to use the drag&drop interface with the purpose of creating interactive prototypes that are visually close to the finished website.
UI tools and component libraries software
Pressing deadlines happen to web designers when they cannot sit for a long while over each button or other element of the future website. There are also situations when, sacrificing the order, they proceed to work on the design of their portfolios. They can take advantage of the resources with ready-to-use templates, UI-kits, and mockups for the project presentation.
TETHR from InVision is a special UI-kit, provided by the developers of a well-known application for prototyping, which comprises more than 250 elements.
Freebbble is a library of free templates, fonts, backgrounds, illustrations, patterns, mockups, and other useful web design trifles, supplied by advanced Dribbble designers, and collected (carefully adopted) on one resource.
uiPrint software is intended for use by web designers who enjoy drawing by hand. This is a set of templates, mockups, prototypes, and sketchpads for artwork and design engineering on paper that would solve the "clean slate" problem.
Sketchize is another set of mockups for printing and creating page sketches by hand. There are separate sets for smartphones, tablets, and PCs.
Premium Pixels is a library of PSD templates, icons, and other raster elements in thematic collections. A good brainstorming tool, when you need to collect maximum ideas on a specific topic within the conditions of pressing deadlines.
Freebiesbug software offers free PSD, AI, and Sketch for almost any situation occurring during work on the development of a website or application. Here you can come across layouts, fonts, UI-kits, icons, templates, patterns, and much more needed for quick project work.
DesignerMill is a regularly updated library with modern mockups for portfolio design and presentation of its websites, mobile applications, and trademark products on a network.
UI Space comprises more than 700 SVG icons, fonts, vectors, a selection of mockups and UI-kits, designed manually and carefully collected by a professional design team. It can be used freely and at zero cost.
https://sketchrepo.com/ – the design community has assembled a collection of elements to make it easier and faster for fans of Sketch to work in the app. The resource provides more than 1000 mockups, prototypes, templates, UI-kits, plugins, and much more.
365PSD is a library with the collection of PSD templates, vectors, and UI-kits, daily replenished. Having paid for the subscription, one can access premium content. Pixeden is the resource providing access to a large collection of logos, WordPress themes, icons, vectors, and mockups to present your designs. Each section has a free subsection with quite a large selection available for free use, including for commercial purposes.
iOS GUI Tools from Teehan+Lax Studio is a section of tools from Teehan+Lax Studio, where users can come across UI-kits for iPhone, iPad of different releases, and models in pixel-perfect execution.
Sketch App Sources is a library of doo-dads and resources for Sketch providing the ability to receive weekly additions by email.
PlaceIT is a library of smart templates for presentations, video creation, photo collages, mockups for web design, and trademark products. They all can be downloaded directly to your own storage on Dropbox.
Other useful software tools
In this chapter, we will add the remaining tools not fitting into the categories above. These are converters of images and codes to different formats and random data generators.
Outcome
We have described only a small portion of the existing software tools for web designers. The collection of tools is updated each and every day. However, this set will be enough to feel confident and spend less time on project work.
But we will keep a wary eye on advanced developments and timely provide new collections of the best solutions in the world of web design. Stay tuned!