Welcome to the ultimate guide for the 15 Best Web Design Software Tools of 2023 ? ! As a web designer, it's crucial to analyze website usability and user behavior to enhance the overall user experience (UX). This is because ineffective design can lead to lost revenue, low conversions, and disappointing sales. In this article, we'll unveil the top tools that will empower you to create visually stunning websites while optimizing UX, ultimately boosting your clients' businesses. With these software solutions in your arsenal, you'll be ready to tackle any web design challenge and deliver fantastic results!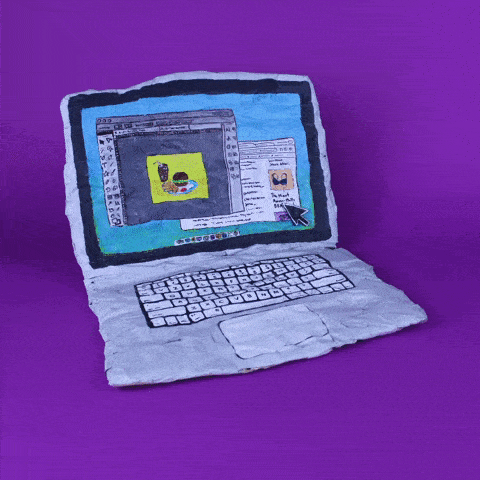 Web Design Software: Top Factors to Consider
Looking for the perfect web design software? Hold your horses! Here's a list of crucial factors to keep in mind when browsing through your options:
User-friendly interface: It's crucial to pick a tool with an intuitive UI that won't leave you pulling your hair out. Time is money, after all.
Responsive web designs: A top-notch web design software should cater to various devices and screen sizes, ensuring your site looks dapper on all platforms.
Built-in SEO tools: Gain the upper hand in search rankings with an arsenal of integrated SEO tools at your disposal.
Customizability: A little personal flair goes a long way. Make sure the software enables you to tweak the web design elements to your heart's content.
Integration capabilities: Streamline your workflow by choosing software that plays well with other essential tools in your digital marketing toolkit.
Budget-friendly: A penny saved is a penny earned. Opt for a tool that offers a bang for your buck without compromising quality.
Think of a tool like WebFlow, which features a drag-and-drop user interface, responsive design capabilities, and smooth interfaces with well-known tools like Google Analytics. By keeping these factors in mind, you'll be well on your way to picking a web design software that'll have your website turning heads quickly.
List of The Best 15 Web Design Software Tools
Dive into our curated collection of the 15 Best Web Design Software Tools for 2023, handpicked to elevate your design game. Our comprehensive review covers each tool's unique features, strengths, and benefits, giving you the insight to make informed decisions. So stay ahead of the curve and unleash your full creative potential with these cutting-edge resources!

Introducing Plerdy, a game-changing web design tool that revolutionizes the e-commerce experience by tracking, analyzing, and converting visitors into buyers. With Plerdy, your team can save more than 30 hours monthly on SEO, 20 hours on UX web design, and 10 hours on digital marketing and analytics. This powerful platform offers website funnel optimization and conversion growth, resulting in increased average revenue per user, lower cart abandonment rates, and reduced bounce and churn rates.
Plerdy's features include heatmaps, scroll depth analysis, real-time website tracking, and visitor session recordings. With 99% data accuracy and support for SPA sites, Plerdy allows you to segment users into groups, analyze their behavior separately, and uncover the least effective website elements. Harness the power of Plerdy's Google Optimize integration to launch A/B tests and optimize your website for maximum efficiency.
Experience the benefits of Plerdy's pop-up forms, SEO checker, event/goal tracking, and conversion funnels. With eCommerce tracking, you can analyze key indicators, discover what elements influence sales, and optimize user interactions. Plus, Plerdy ensures data security and GDPR compliance without slowing down your website, making it the ultimate all-in-one solution for a thriving e-commerce business.

Figma is a powerful platform that combines a range of web design features, enabling users to design on their terms, with less time spent on menial tasks and more time spent iterating. With features specifically designed for the web, Figma is perfect for businesses and experts seeking a more efficient workflow. Figma's web design features include a modern pen tool, vector networks, arc tools, and OpenType. Its Auto Layout feature makes designing responsively easy, allowing buttons to resize with text and lists to rearrange themselves. Figma's plugins and widgets help automate repetitive tasks, bring in data, and power custom workflows, with private extensions available for organization customers. Figma's design system is flexible and efficient, with libraries accessible from anywhere with internet access. Collaborating with developers is simple, with easy handoff features, including unlimited viewers and design file inspection. Figma is available in various pricing plans, including a free starter, professional, organization, and enterprise plans. Figma has received excellent reviews from web designers, including a verified current user who describes it as a "seamless and collaborative platform for designing and prototyping user interfaces."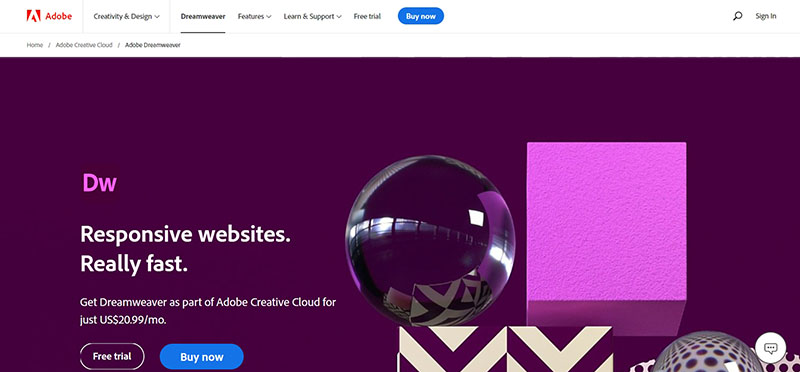 Adobe Dreamweaver is a nice web design tool that enables users to build responsive and dynamic websites in fewer steps. It supports HTML, CSS, JavaScript, and other web standards, making it a powerful tool for web designers, specialists, and experts. With Adobe Dreamweaver, you can quickly create and publish web pages almost anywhere. Its smart coding engine provides code hints that help you quickly learn and edit HTML, CSS, and other web standards. The software also features visual aids that reduce errors and speed up site development.
One of the most notable benefits of Adobe Dreamweaver is its seamless live view editing feature, which allows you to edit text and image properties, add classes directly in Live View with one click, and preview changes instantly. Additionally, it comes with starter templates that you can customize to build HTML emails, About pages, blogs, e-commerce pages, newsletters, and portfolios, allowing you to get your sites up and running faster.
Dreamweaver's modern and clutter-free interface allows users to customize their workspace to show only the tools they need to code. Collaboration is also easy with Git support. Users can manage all their source code within Dreamweaver and perform all common operations right from the Git panel. With step-by-step tutorials covering everything from the basics to advanced techniques, getting started with Adobe Dreamweaver is fast and easy.
Adobe Dreamweaver is available as a single app for $20.99/month or as part of Creative Cloud All Apps for $39.99/month (first year only, ends Feb 27). The latter option saves over 25% on 20+ apps, including Photoshop, Illustrator, and more. It also offers a range of plans for students, teachers, and businesses, making it accessible to everyone.

Webflow is a website design tool that allows designers, marketers, and developers to build beautiful, custom websites without coding. With over 3.5 million users, Webflow empowers teams to create and collaborate on visually stunning websites that meet their specific needs. The platform offers a range of features that give users the creative power to build any website they can imagine, from content-driven web designs to custom e-commerce stores and memberships. Webflow writes clean, semantic, standards-compliant code, making it easy to integrate custom code or leverage their CMS API to push projects further.
Webflow provides marketers with a tool that lets them own website publishing, launch campaigns faster, supercharge content marketing, and iterate quickly. The Webflow Designer lets web designers build websites with the full power of HTML, CSS, and JavaScript in a visual canvas, offering creative power beyond templates. Additionally, Webflow is optimized for marketing and backed by design, with SEO fine-tuning settings and markup, an intuitive editor to publish, update, and edit content, and a logic feature that captures information and connects all sites. Finally, Webflow is built for enterprise-scale growth, with fast and scalable hosting, advanced security, and dedicated partnership. Webflow has been used by notable companies, such as Zendesk, Rakuten, Dell, Upwork, Lattice, PWC, Getaround, Hellosign, Petal, and Vice. With Webflow, you can build your site without dev time.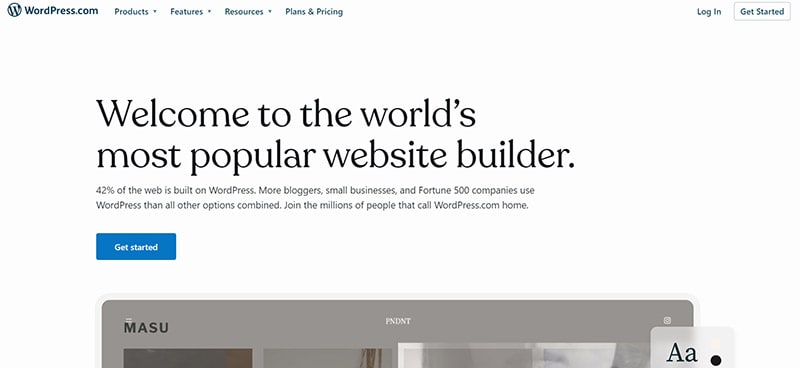 WordPress.com is a platform that offers a range of web design tools and software for businesses and individuals. This platform has everything possible, from creating websites to running an e-commerce store. WordPress.com offers a variety of features such as designing tools, stats and insights, SEO tools, social media tools, monetization tools, and more. With WordPress.com, users can start building their websites right away. They can also monitor their site traffic and engagement using Jetpack Stats and Google Analytics without writing a single line of code. WordPress.com provides hundreds of pre-made, professionally-designed, customizable templates so users can kickstart their site quickly. For advanced web designers, a Block Editor allows users to use intuitive drag-and-drop tools to arrange, rearrange, and organize their content and media. With the ability to upload any media type, users can create designer-worthy photo galleries and embed audio, video, documents, and more. WordPress.com also offers powerful built-in SEO tools, access to premium plugins, including Yoast and Rank Math, automatic social media tools, and monetization tools such as Word Ads and WooCommerce. WordPress.com also provides high reliability and security to its users, including 24/7 expert support, unmetered bandwidth and traffic, backups and restores, and DDoS and WAF protection. With WordPress.com, users can have beauty, speed, simplicity, and the power to grow. They offer plans for every need and budget, so whether you want to share your ideas, start a business, or run a store, WordPress.com has a plan for you.

Web designers require top-of-the-line tools to unite the people, tools, and work for any project. Fortunately, InVision's Freehand is an all-in-one collaborative online whiteboard offering everything your team needs to complete their work. IBM, American Express, Target, Verizon, Capital One, and Priceline are among the companies that have benefitted from InVision's excellent tool. With the multiplayer whiteboard, teams can plan, brainstorm, and collaborate in real time or asynchronously. With the pre-built templates, organized spaces for project management, and interactive widgets and reactions, InVision's Freehand centralizes your entire workflow so that you can ensure alignment at every stage of your process and get work done. The tool also enables you to connect seamlessly to the tools you use every day. So whether you want to turn ideas into tasks in Jira or Asana, edit your Google Docs or collaborate via video chat with Zoom or Webex, InVision's Freehand has you covered. Moreover, Freehand gives you all the critical features at half the cost of the other Leading Visual Collaboration tools. Try InVision Freehand today!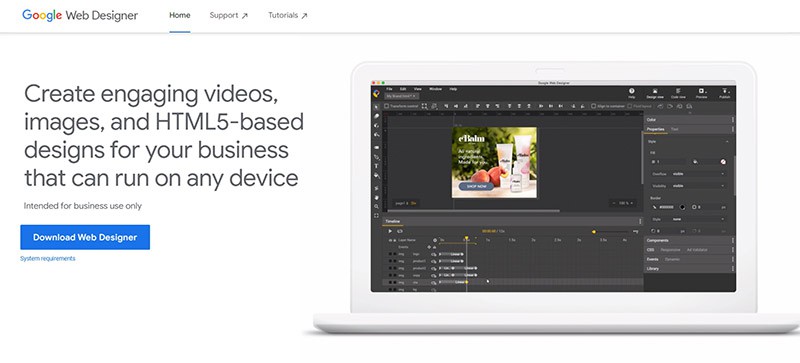 Google Web Designer is a powerful tool intended for business use only that allows designers and businesses to create engaging videos, images, and HTML5-based web designs that can run on any device. This platform is ideal for businesses to bring ideas to life, as it has many features that help. For example, the tool enables designers to use animation and interactive elements to build their creative vision. Google Web Designer has two modes that allow animating by stringing together simple scenes in Quick mode or using layers on a timeline in Advanced mode. Additionally, the platform has Workflow Google Integrations, Templates, Flexible Dynamic Workflow, and Interactive Events. One of the biggest advantages of Google Web Designer is that it allows web designers to switch between Design view and Code view, making it easy to see how changes render. The tool is free of charge and can be downloaded directly from the website. Furthermore, designers can browse through a range of pre-made layouts for inspiration or an easy starting point, adjust any aspect of the template to fit their needs, and save custom templates for future use. The platform suits web designers and developers, providing a full design suite and the ability to edit HTML, CSS, and JavaScript directly.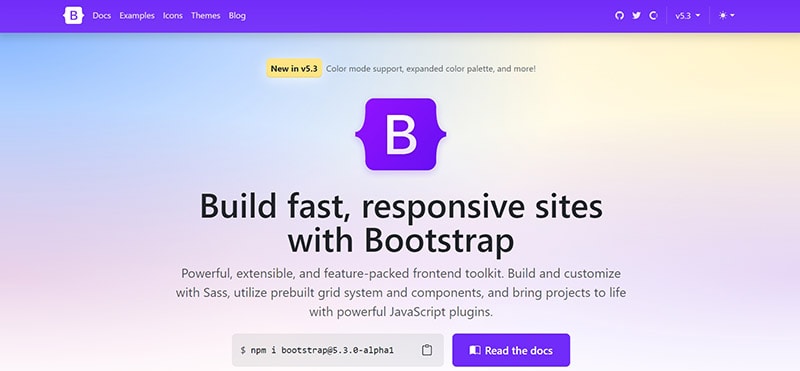 Bootstrap is the world's most popular framework for building responsive mobile-first sites. jsDelivr and a template starter page are a breeze.
To quickly add Bootstrap to your project, simply use jsDelivr, provided for free by the folks at jsDelivr. If you need to download the source files, head to the downloads page. To load Bootstrap's CSS, copy-paste the stylesheet link into your head before all other stylesheets.
Bootstrap also requires using JavaScript to function, specifically jQuery, Popper.js, and Bootstrap's own JavaScript plugins. Place the necessary scripts near the end of your pages, right before the closing body tag, to enable them. You can use the slim build of jQuery or the full version if you prefer.
If you need clarification on the general page structure, don't worry. Bootstrap has a starter template that you can use to ensure your pages are set up with the latest design and development standards. Then, simply copy the code and customize it to your liking.

Balsamiq is a perfect web design tool that helps businesses, website designers, and specialists capture their ideas, collaborate on their designs and get everyone on board. Wireframing is essential to creating websites, app screens, or software states. With Balsamiq, the wireframing process is effortless, and the UI sketching feature ensures that you focus on the structure and usability of your web design instead of pretty colors. The tool's sketched style elicits honest feedback and ensures no one confuses your wireframes for the final product. Balsamiq is designed for non-technical people, and its drag, drop and resize feature makes it perfect for PMs and CEOs. The tool is incredibly fast, and you can wireframe at the speed of thought. Balsamiq is also super collaborative and allows you to quickly review, iterate, and get everyone on the same page. The tool offers enough prototyping only when needed, making it elegantly powerful.
Balsamiq is the industry standard and the undisputed leader of the UI wireframing market. It was started in 2008, and over 500,000 customers use the tool. Balsamiq offers three plans, including 2, 20, or 200 projects charged per space. The two projects plan is perfect for kickstarting your project, and you can work on up to two projects at a time. The 20 projects plan is the most popular and suitable for most companies and teams. Finally, the 200 projects plan is for bigger teams that have more than 20 projects happening simultaneously or like to keep old projects accessible for a long time. All plans include unlimited wireframes and unlimited users. Balsamiq offers a free 30-day trial, and you can sign up quickly with your company email or Google Authentication.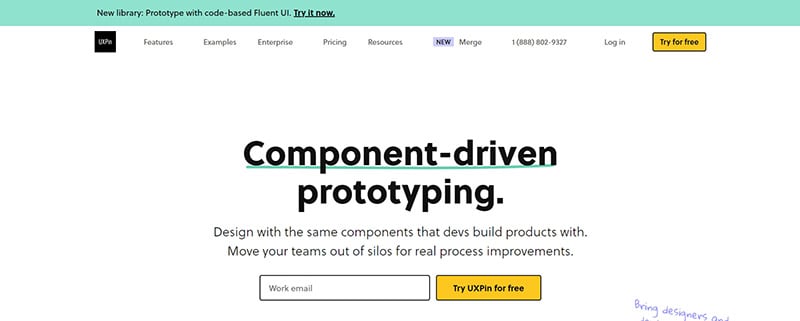 UXPin is a software tool that allows designers to create web designs, wireframes, prototypes, and other visual design elements. One of the primary benefits of using UXPin is that it allows you to manage your entire UX process within one tool. From wireframing to advanced prototypes, designers can verify their ideas and iterate designs quickly, ensuring the design moves in the right direction. With UXPin, designers can build wireframes quickly, gather feedback, and move to hi-fi designs and interactive prototypes without switching between different tools. Early-stage wireframes also help the team and stakeholders understand the user path and UX patterns that will be applied. UXPin's UI components help maintain design consistency, allowing designers to create and manage consistency across projects, organize them in libraries, and share them across the team.
Moreover, with the power of UXPin Merge, designers can accelerate their web design process and scale with the power of code components. Finally, sharing designs with clients and stakeholders is easy – web designers can share preview links to different stages of their work with just a few clicks. Therefore, UXPin is recommended for businesses, startups, and specialists who want to centralize their design process and simplify their development process.

Sketch is a design tool that has been around since 2010, and it's a complete design platform made by a sustainable indie company. It's a Mac app for designers to create, team up, prototype, and more. Sketch offers a web app for everyone else to browse, give feedback, inspect, and handoff — in any browser. Sketch is where great web design happens, used by product designers, illustrators, and UX designers. With Sketch, you will love designing on your Mac, thanks to thoughtful features that simplify mundane tasks, an intuitive interface that won't interrupt your flow, and an array of tools to help you create, from early wireframes to flexible design systems. Sketch offers powerful vector editing, easy, intuitive prototyping, shared libraries, styles and components, control over color profiles, variable and OpenType font support, and more. Sketch's workflows are designed to adapt to you, whether you're working solo, starting small, or scaling up. You can use a solo web design or real-time collaboration, store and sync your work, and share feedback in the app. You can even distribute design systems thanks to powerful file organization and open .fig files. Sketch offers a powerful Native Mac app and customizable toolbars optimized for Apple Silicon. Discover web designing in Sketch with a web app for sharing, feedback, and handoff. Bring people and projects together in any web browser to replace back-and-forth pings, email attachments, and endless revisions. Sketch offers browser-based tools for everyone to make the most of, store, sync, and share documents, add viewers for free, document and project permissions, and easy workspace admin. You can test prototypes in any browser, use developer handoff tools, and invite clients, project managers, and developers as free viewers.
Sketch is a great tool for designing websites, prototyping, creating icons, receiving feedback, and designing apps, symbols, illustrations, and design systems. It has zero learning curve, and you can view comments and handoff for free. Sketch is perfect for both experts and beginners. Starting with Sketch is easier than you think. You can kickstart your projects with ready-made templates or get up to speed with self-paced courses. Sketch offers Sketch 101 for beginners and Sketch 102 for those who want to supercharge their designs. You can get inspired by reading Beyond the Canvas blog posts or subscribing to their newsletter. Whether you're new to Sketch or just back to see what's new, Sketch will set you up and ready to do your best work in minutes.

Canva is a web-based design tool that allows users to create professional-looking graphics, including social media posts, presentations, letters, and more. Launched in 2013, it has quickly become a popular tool for designers of all levels, offering over 10 billion designs created by its 2,000+ employees across 190 countries in over 100 languages. Canva has three subscription plans, including a Free plan, a Pro plan, and a Teams plan, which caters to every type of user. The Pro plan, for individuals, offers everything the Free plan does, plus 110 million stock photos, videos, audio, and graphics. In contrast, the Teams plan includes built-in design approval workflows, real-time collaboration and commenting, and team control. Users of all levels love the tool because of its ease of use, and Canva has received numerous awards and accolades, including the 2019 Enterprise Tech 30 award and the 2019 Google Play Award. One user, Madalyn W., says, "Canva is SO SIMPLE… I am not a graphic web designer, so starting a project with a template and then working things around makes my various projects super simple". Another user, Cassandra C., says, "The Perfect Tool to Create Amazing Designs."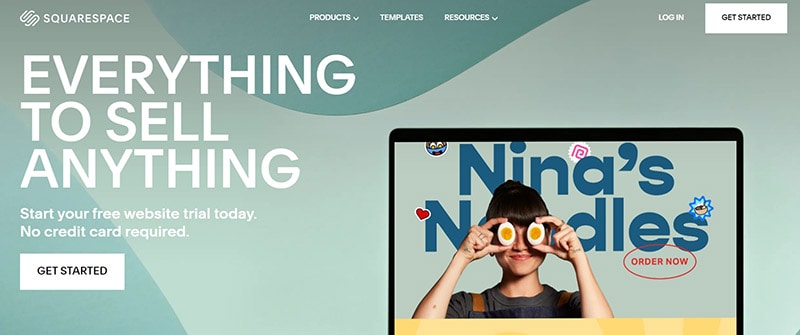 Squarespace is a web design tool that provides an all-in-one platform to help designers, website specialists, and business experts create and customize websites. With Squarespace, it's easy to create a website, thanks to their industry-leading website templates, designer fonts, and color palettes that can be personalized to fit your professional needs and personal style. Squarespace's website builder makes it easy to explore different website templates for various purposes, including local business, portfolio, blog, restaurant, and personal & CV.
Squarespace makes e-commerce easy. It offers powerful e-commerce website builder tools to help businesses grow. Squarespace lets clients book online appointments and schedule classes.
Marketing your business with Squarespace is also simple. You can create email campaigns that pull in your site's styles, products, and blog posts to communicate your message effortlessly. Also, with Squarespace's social tools, you can create stunning and professional-looking content for all your social channels and manage the links in your bio with the Unfold app.
Finally, you can get inspired by a collection of websites made by Squarespace users, including creative professionals, photographers, and web designers. Squarespace offers a modern solution to help turn any idea into an online reality. So start your free website trial today, and get everything you need to sell anything.

Wix is a great platform that provides designers with limitless possibilities in creating, designing, managing, and developing their web presence. You can try Wix without any commitments since no credit card is required. You can create a website with a complete suite of advanced functionalities that brings your vision to life.
Wix offers built-in marketing and business solutions that make it the place for growth. You can choose from over 900 free, customizable website templates strategically researched and tailored for every industry or start from a blank canvas on the website builder. With Wix, you can build more than a website since it allows you to sell online, start a blog and organize events, promote your business, and build your community.
Wix comes with AI technology that creates a site for you, and you can edit the website your way with a smart drag-and-drop editor, 1000s of advanced web design capabilities, a custom domain, a logo, and more brand tools. Wix is designed for performance so your site can load faster, get SEO capabilities to optimize your site for search visibility, and keep your site and visitors' data protected 24/7. The platform also provides multi-cloud hosting, ensuring 99.9% uptime even during traffic spikes.
Finally, Wix offers built-in accessibility tools to make your website inclusive. You can establish a strong brand identity with a customizable logo, color and text themes, and more branding tools.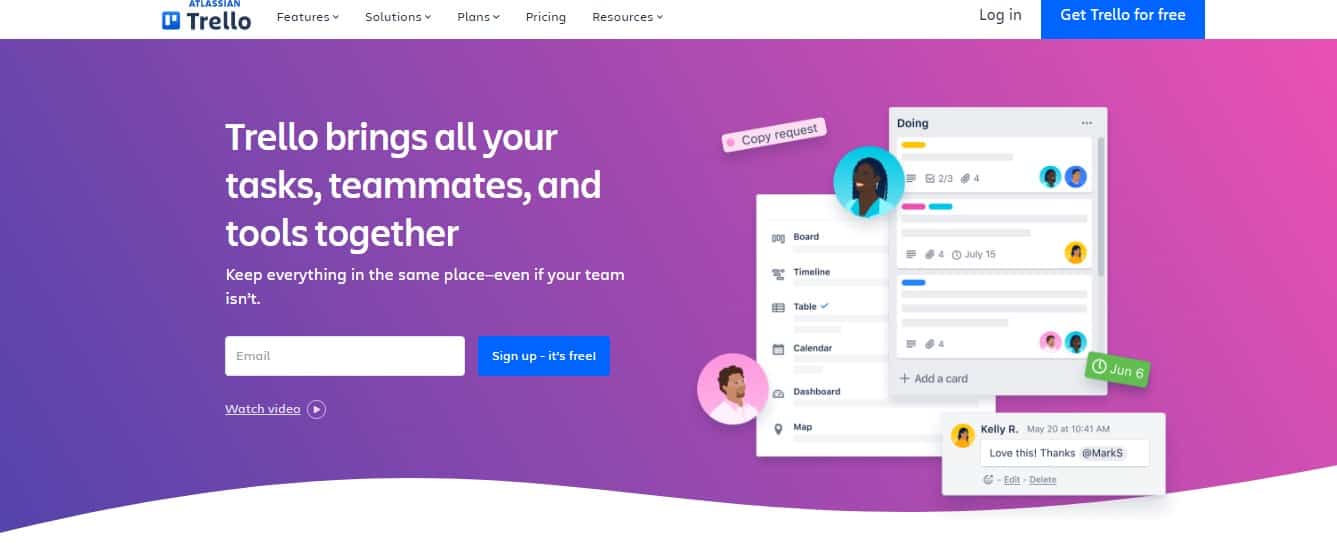 Trello is a user-friendly visual tool web designed to help teams manage different types of projects, workflows, and task tracking. This tool offers customizable features like files, checklists, and automation, making managing and monitoring your team's work progress easier. With a simple sign-up, you can create a board and use Trello to enhance your team's productivity. Boards, lists, and cards are used to view who is responsible for what and what needs to be done, making it a simple yet powerful productivity powerhouse. Cards hold all the relevant information and details about each task, such as due dates, attachments, and comments, making it easy to assign team members and keep them accountable for their projects and tasks. Trello offers integrations with apps and services like Slack, Gmail, and Salesforce to streamline your workflow, and you can even build bespoke workflows that turn Trello into just about anything you need. Trello offers a variety of customizable features that can be tailored to meet your team's unique needs, including custom fields and built-in automation systems. With industry-leading compliance certifications and 99.99% uptime YoY, Trello offers peace of mind that your team's work will always be secure and accessible. Millions of people worldwide trust Trello to manage their projects, and it is free for your whole team, with unlimited cards and up to 10 boards per Workspace.
Bottom Line
The bottom line is web design is a critical aspect of every business in today's digital landscape. With 15 fantastic web design software tools in 2023, you'll find the perfect fit for your needs. These tools cover everything from illustration and animations to mobile responsiveness. So whether you're a freelancer or agency, these software options will help you create stunning designs.
Some standout tools include Visme, for its extensive library and customization options, and Affinity Designer, known for its top-notch typography and smooth performance. Percy and Lunacy also cut, with their impressive features and user-friendly interfaces.
Don't forget to check out Plerdy while exploring these web design tools! Plerdy offers a comprehensive solution for all your digital marketing needs, complementing your web design efforts to maximize results. Sign up for Plerdy now and witness your online presence flourish like never before.
Ultimately, selecting web design software that caters to your specific requirements and skill level is essential. With the right tools in your arsenal, you'll be well on your way to crafting eye-catching, functional, and engaging websites that leave a lasting impression. So, dive in and explore the vast world of web design software tools to create a masterpiece that stands out. Happy designing!