Welcome to our definitive guide on the ? Best 12 All-In-One Marketing Platforms ? – your ultimate resource for optimizing and supercharging your marketing efforts! This must-read post will explore all-in-one marketing platforms and reveal the top 12 solutions changing how businesses market.
These all-in-one powerhouses are designed to help you:
Streamline your marketing campaigns
Boost audience engagement
Analyze data for better decision-making
Save time and resources
As a marketing aficionado, I've spent hours studying and testing platforms to discover the best. Our article reveals each platform's features, advantages, and noteworthy attributes.
To ensure our guide is top-notch, we've even incorporated Plerdy keywords analysis to make it a valuable, SEO-optimized resource easily discoverable by those searching for marketing greatness.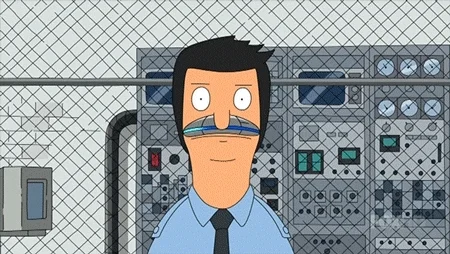 So, buckle up and get ready to explore the very best all-in-one marketing platforms out there! You're about to start a fantastic journey to change how you market and boost your business. ??
What Is An All-In-One Marketing Platform?
Staying ahead in today's fast-paced digital market requires a top-notch all-in-one marketing platform. This game-changing solution streamlines your entire marketing process, combining various tools and features into one convenient package.
Imagine this scenario: You're juggling different platforms to manage your social media, email campaigns, and SEO – it's exhausting! But with an all-in-one marketing platform, you can:
Plan and schedule social media posts
Design and send email newsletters
Analyze website traffic and SEO data
Manage customer relationships (CRM)
Run paid ad campaigns
With everything under one roof, you'll save time, reduce stress, and enhance efficiency. It's like having your marketing dream team at your fingertips!
I remember when I struggled to keep track of all my marketing efforts, switching between various platforms and tools. It felt like trying to piece together a puzzle with missing pieces. Then, I discovered an all-in-one marketing platform, and my world changed. I could finally see the bigger picture, and my marketing strategies started to click.
An all-in-one marketing platform is the Swiss Army knife of the digital marketing world. It simplifies your marketing demands so you can focus on building your business and communicating with your target audience. So, jump on the bandwagon and elevate your marketing game with an all-in-one platform today!
Which Businesses Can Use All-in-One Marketing Platforms?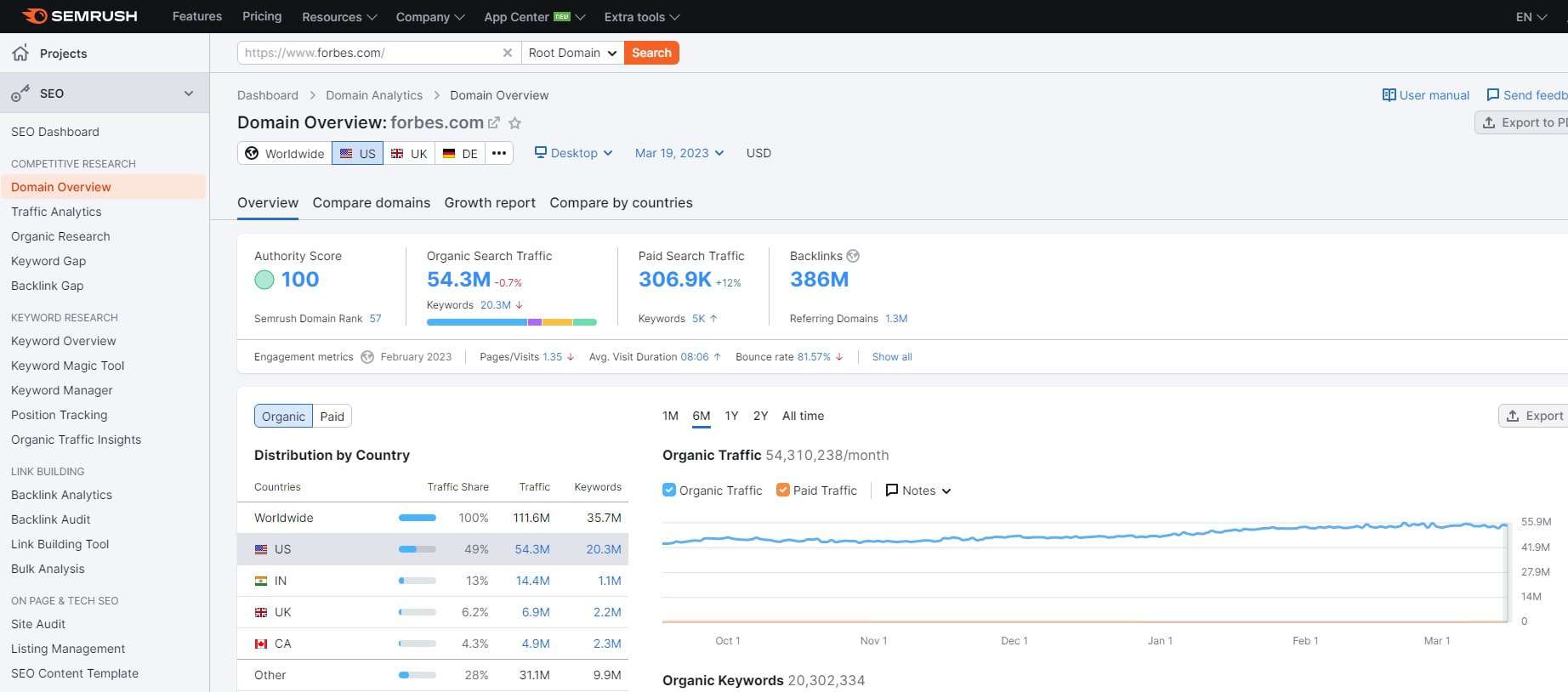 An all-in-one marketing platform is a versatile powerhouse catering to businesses of all shapes and sizes. Whether a solo entrepreneur or a multinational corporation, this incredible tool can seamlessly integrate into your marketing efforts. The beauty of these platforms lies in their adaptability, enabling a diverse range of businesses to reap the benefits:
Startups looking to make a splash
Small and medium-sized enterprises (SMEs) seeking growth
Large corporations aiming to streamline operations
Non-profit organizations looking to boost awareness
Freelancers and agencies managing multiple clients
Picture this: your close friend, who runs a thriving e-commerce store, can't stop raving about the wonders of their all-in-one marketing platform. They've seen a surge in sales and customer engagement – all thanks to the consolidated toolkit that makes managing their marketing campaigns a breeze.
Similarly, I've witnessed first-hand how an all-in-one marketing platform helped a local non-profit organization increase donations and spread its message. They used the platform to coordinate email campaigns, social media outreach, and event promotion, resulting in a massive uptick in support.
An all-in-one marketing platform helps businesses optimize their marketing. These platforms are essential for marketers because of their diversity and simplicity. So don't miss out—use an all-in-one marketing platform and watch your business explode!
As a marketing expert, I've chosen the best all-in-one marketing platforms to boost your game. Each platform on this elite list boasts innovative features to make your marketing endeavors a breeze. So, gear up to streamline your tactics and propel your business into the stratosphere with these top-tier solutions!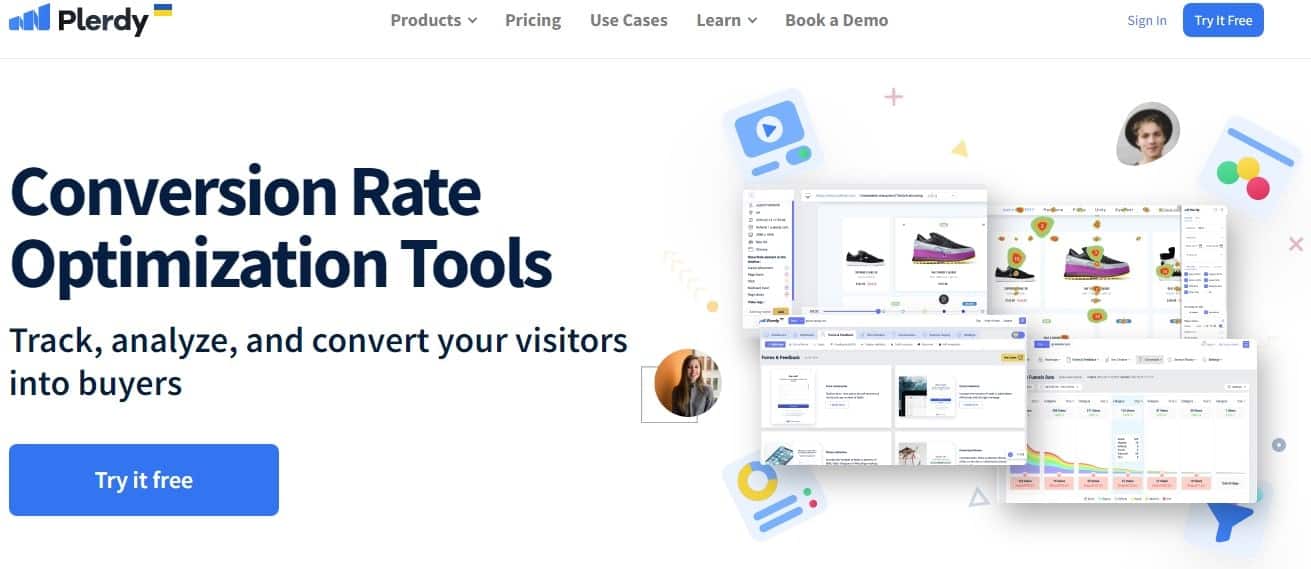 Dive into the world of Plerdy, an all-in-one marketing platform turning heads in the industry. Trusted by over 20,000 companies, Plerdy is a powerhouse for digital marketing experts, providing tools and features to help you track, analyze, and convert visitors into buyers. This platform is favored by businesses of all sizes, from startups to multinational corporations, across various sectors, including technology, banking, automotive, and eCommerce.
Plerdy's comprehensive suite of features includes:
Heatmaps for visualizing visitor click patterns
Real-time website tracking and accurate data collection
Session recordings for in-depth user behavior analysis
Pop-up forms and custom banners for lead generation
SEO-checker for automated site audit and optimization
Event/goal tracking to monitor specific user actions
Conversion funnels for identifying bottlenecks in the customer journey
By implementing Plerdy, digital marketing experts can expect:
Time savings for SEO, UX design, and data analysis tasks
Enhanced website funnel optimization and conversion growth
The increased average revenue per user and customer retention rate
Decreased bounce rate, churn rate, and cart abandonment rate
Improved micro and macro conversions
With Plerdy in your marketing arsenal, you'll unlock the full potential of your digital marketing strategy, drive better results, and watch your business soar to new heights.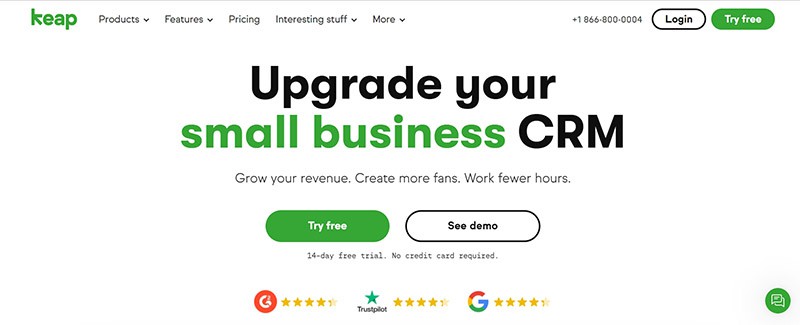 As a digital marketing expert, you're always on the hunt for tools to simplify your work and boost results. Keap, an all-in-one sales and marketing automation platform, can help your small business develop. With Keap, you'll reap the benefits of an easy-to-use system that can:
Collect new leads with minimal effort using a consistent, repeatable process.
Organize customer records and automate the next steps in the sales process.
Save time with personalized automation that sounds and converts just like you.
Send targeted emails and texts using curated templates to segmented lists in your CRM.
Keep your business and personal life separate with the Keap Business Line.
Keap's features continue beyond there. The platform also boasts:
CRM for small businesses
Small business automation
Email & text marketing
Business line management
Expert help, coaching, and strategic guidance
A partner program to help you grow as you help others
Access to Keap Academy and the Keap User Community for learning and networking
A content library to fuel your entrepreneurial growth
With Keap, you'll gain the tools to grow your revenue, create more fans, and work fewer hours. So say goodbye to manual processes and hello to a streamlined, automated marketing platform that drives real results.

Need help generating a constant flow of customers? Look no further than ClickFunnels, the all-in-one marketing platform designed to make your digital marketing efforts a breeze. ClickFunnels streamlines attracting and converting potential customers, allowing you to market, sell, and deliver like a pro.
With ClickFunnels, you'll enjoy benefits such as:
Proven funnel templates to simplify the process
A user-friendly drag & drop editor for easy customization
High-converting checkout systems to maximize sales
Member areas for courses and exclusive content
In-depth analytics and insights to optimize your strategies
A/B split testing to ensure you're always making the best choices
World-class entrepreneurs like Daymond John and Tai Lopez rave about ClickFunnels, and it's no wonder why. This powerful platform requires zero computer skills for every business type. So, whether you're selling courses, books, live events, or physical products, ClickFunnels has you covered.
In summary, ClickFunnels offers:
A comprehensive, all-in-one marketing solution
Streamlined processes that save time and effort
User-friendly tools for even the least tech-savvy users
Proven strategies and templates to maximize your success
Get started with a free trial today and watch your online business soar!

Picture this: a one-stop-shop marketing platform offering a seamless, powerful, easy-to-use experience. HubSpot is the answer to every digital marketer's dream, with its all-in-one CRM platform connecting marketing, sales, content management, and customer service under one umbrella.
With HubSpot, you'll enjoy the following benefits:
Lead Generation: Attract more potential customers with advanced lead generation tools.
Marketing Automation: Simplify your campaigns and save time with intuitive automation.
Analytics: Keep track of your performance and make informed decisions.
Sales CRM: Manage prospects, schedule meetings, and close deals faster.
Customer Service: Enhance customer satisfaction and build loyalty.
Why settle for less when you can have it all? HubSpot's premium software has powerful features like drag-and-drop editors, SEO recommendations, and website themes. Plus, you can streamline your operations with data sync, programmable automation, and data quality automation.
Here's a quick rundown of HubSpot's product offerings:
Marketing Hub: Drive traffic, convert visitors, and scale your inbound marketing campaigns.
Sales Hub: Gain deeper insights into prospects and close deals faster.
Service Hub: Connect with customers, exceed expectations, and create loyal promoters.
CMS Hub: Enjoy a flexible content management system for marketers and developers.
Operations Hub: Sync your apps, clean customer data, and automate processes.
Don't miss out on this game-changing platform that's helped over 167,000 customers in 120 countries grow their businesses.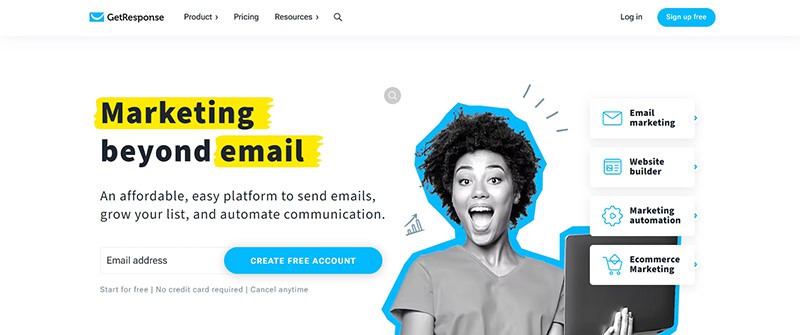 GetResponse is the all-in-one marketing platform for digital marketing experts seeking to take their businesses to new heights. This cutting-edge platform goes beyond email marketing, providing an affordable and easy solution to send emails, grow your list, and automate communication.
GetResponse offers a plethora of valuable features, including:
Email marketing for tailored messaging
Website builder for crafting professional sites
Marketing automation to streamline processes
E-commerce tools for boosting online sales
These features cater to diverse users such as entrepreneurs, online marketers, marketing managers, and large companies. As a result, GetResponse has gained the trust of big and small brands alike, including IKEA, Zendesk, and Stripe.
Some of the remarkable benefits offered by GetResponse are:
Seamless online business setup with free marketing tools
Rapid audience growth with lead generation tools
Enhanced customer engagement through targeted online communication
Increased online sales and returning customers
With unbeatable prices and tailored plans for businesses at every growth stage, GetResponse has carved a niche in the marketing landscape. It's time to revolutionize your marketing strategy with GetResponse and experience exponential growth in your digital marketing endeavors.
Empower your agency with HighLevel, the ultimate all-in-one marketing platform for agencies and marketers. HighLevel offers an extensive range of features to help your agency thrive in the competitive digital marketing landscape:
Comprehensive sales and marketing tools: Capture leads with landing pages, surveys, forms, calendars, and an inbound phone system. Nurture them through automated messaging, including voicemail, forced calls, SMS, emails, and Facebook Messenger. Close deals by collecting payments and scheduling appointments.
Robust page builder: Create captivating full websites, funnels, and landing pages easily.
Built-in appointment scheduling: Streamline the booking process with an integrated calendar application.
Follow-up campaign customization: Automate engaging follow-ups across multiple channels and devices.
Pipeline management: Track leads, collect payments, and monitor analytics in one place.
Here's why HighLevel is the go-to choice for over 20,000 agencies:
Trusted by 1.2 million businesses
Generated 622.3 million leads
Facilitated 9.2 billion conversations
Don't miss out on the chance to elevate your agency with HighLevel's all-in-one sales and marketing platform. Join the ranks of successful digital marketers and take your agency to the next level.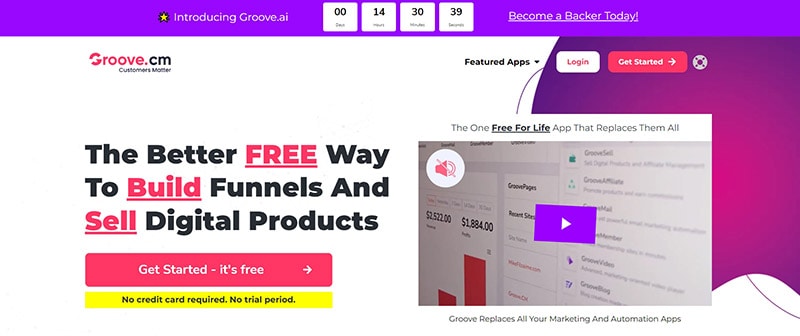 Step into the future with Groove, the one-stop shop for all your digital marketing needs. This robust platform is a game-changer, offering many tools to streamline your marketing efforts and boost your revenue. Here's how Groove can revolutionize your digital marketing strategy:
No more juggling multiple apps: With Groove, you'll have access to everything you need under one roof. This platform covers you, from building stunning websites and creating high-converting funnels to managing email campaigns and selling online.
Features galore: The platform offers an extensive list of tools and features, including:

GroovePages: Build responsive websites with ease.
GrooveFunnels: Skyrocket conversions with ready-made funnels.
GrooveMail: A fully integrated email marketing app.
GrooveAffiliate: Create loyal affiliates and explode your revenue.
GrooveMember: Monetize your knowledge with high-impact memberships.
GrooveVideo: Unleash the power of video marketing.
GrooveKart: Your one-stop-shop e-commerce platform.
GrooveBlog: Attract traffic and build authority with easy blogging and SEO.
GrooveWebinar: Generate sales on autopilot with conversion-focused webinars.

Budget-friendly: Say goodbye to hefty subscription fees! Groove offers a free plan with no credit card required, giving you access to many tools without breaking the bank.
Seamless integration: Groove is designed to replace multiple platforms, saving time and money. It easily integrates with popular apps like ActiveCampaign, MailChimp, Aweber, Kartra, Wix, Squarespace, ClickFunnels, and more.
Expert training: The GrooveDigital Academy offers comprehensive training on using the platform, ensuring you make the most of Groove's incredible features.
In conclusion, Groove is the all-in-one marketing platform you've been searching for. With its extensive features, seamless integration, and budget-friendly pricing, it's time to elevate your online marketing game with Groove. ?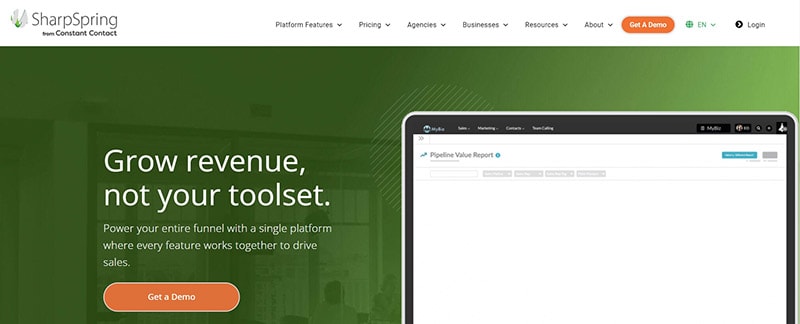 SharpSpring's all-in-one marketing platform boosts agency and SMB growth. Say goodbye to siloed systems and hello to a seamless, integrated approach that drives sales and automates your entire funnel. With SharpSpring, you can:
Reach and engage a wider audience with marketing automation
Equip sales teams to close deals faster through sales automation
Capture and convert more opportunities with a comprehensive CRM
This game changer unifies all the essential marketing tools under one roof, eliminating the need to juggle multiple platforms. With SharpSpring, you can expect:
Full-funnel marketing and sales automation plus CRM
Email marketing that compels leads to take action
Personalized marketing automation for better customer conversions
Sales engagement tools to save time and boost productivity
Integrated CRM for tracking sales opportunities
Social media management to streamline your online presence
Retargeting ads to bring back potential customers
Tracking and analytics for actionable insights
Enjoy the benefits of a platform trusted by more than 2,000 agencies and 10,000 businesses:
Agency-focused pricing and support
Business-friendly features and interface
Time-saving automation and unlimited support
Built-in and third-party CRM integration
Take your digital marketing strategy to the next level with SharpSpring, the all-in-one marketing platform that supports your entire customer lifecycle.

Meet MailerLite, the all-in-one marketing platform that empowers you to quickly grow and nurture your audiences. Get ready to unleash your inner marketing maestro with features like:
Drag & drop builders and templates: Craft professional email websites more easily.
Email automation: Send perfectly-timed and targeted emails automatically.
Sell digital products: Monetize your content by selling ebooks, downloads, and other digital goods.
Signup forms: Expand your audience with effective subscription forms.
Paid newsletter subscriptions: Set up recurring payments for paid subscriptions with ease.
Join over 1.4 million happy customers worldwide using MailerLite to turbocharge their marketing efforts. With a simple and beautiful UI, MailerLite stands out with its attentive customer service and seamless integrations with popular apps like Stripe, Zapier, Shopify, WordPress, and more.
In addition to its core features, MailerLite also offers:
24/7 customer support: Get assistance anytime you need it, with an average response time of just 5 minutes on live chat.
Performance tracking: Monitor your campaigns to find what works best for your business.
Templates that work: Jumpstart your web pages and newsletters with designs that fit your business needs and are easy to customize.
Make your business shine with MailerLite's easy-to-use tools, integrations, and top-notch customer support. Experience the difference between an all-in-one marketing platform designed to help you succeed.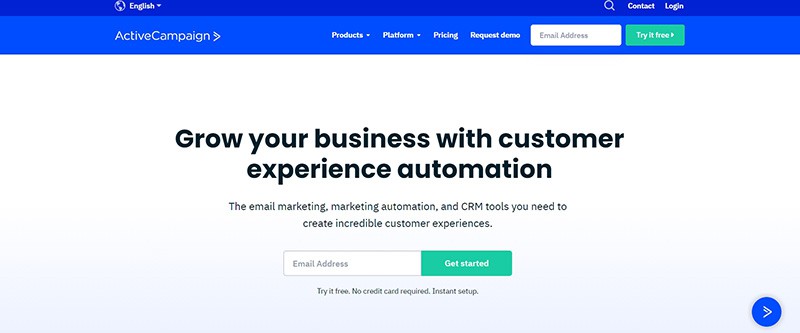 As a digital marketing expert, you understand the importance of leveraging a powerful all-in-one platform that streamlines your marketing efforts. Look no further than ActiveCampaign, the customer experience automation platform that combines email marketing, marketing automation, CRM, and sales tools to create incredible customer experiences. Here's why ActiveCampaign stands out:
Comprehensive Customer Journey: ActiveCampaign's robust features allow you to reach, nurture, convert, and grow your audience throughout their journey.

Precise targeting with website tracking, email segmentation, and subscription forms
Tailored guidance through marketing automation, messaging, event tracking, and dynamic content
Well-timed calls to action via landing pages, CRM, lead scoring, and pipeline automation.
Delight customers with personalized emails, split testing, predictive sending, and web personalization

Powerful Marketing Automation: Save time and money by automating your marketing campaigns, contact management, and lead nurturing. Automation helps 95% of businesses achieve results they couldn't get independently.
Sales Automation for Increased Revenue: A CRM with email and sales automation keeps all customer data organized in one platform, resulting in a 110% increase in qualified leads annually.
Effective Messaging & Live Chat: Connect with your customers by answering questions, recommending products, or offering sales at the most engaged moments.
Automation-First Sales Engagement: Sales engagement automation uses rich customer data to automate unique messages at the right time, improving customer win rates by 94%.
ActiveCampaign is the ultimate marketing platform for experts who want to save time, increase sales, and create unforgettable customer experiences. With 870+ integrations available, you'll have all the marketing tools you need to succeed.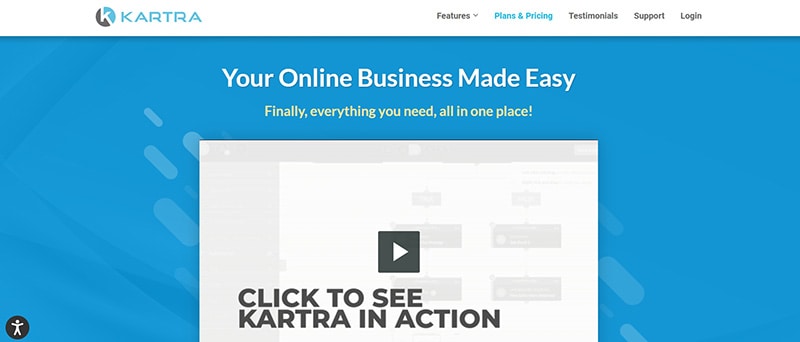 Discover the power of Kartra, the ultimate all-in-one marketing platform, to make your online business a breeze. Say goodbye to duct-taped solutions and hello to seamless integration with Kartra's incredible suite of tools:
Checkouts: Securely sell products or services with a stunning credit card and Paypal payment checkout forms.
Pages: Create eye-catching pages using a drag-and-drop builder and hundreds of professionally designed, mobile-optimized templates.
Leads: Organize your leads, prospects, and customers into theme groups with lists and custom tags.
Funnels & Campaigns: Engineer multi-page funnel flows to turn visitors into leads, customers, and repeat clients.
Email: Connect and engage with your audience through live or automated email/SMS marketing campaigns.
Memberships: Build sleek membership portals to deliver content, courses, or training materials.
Surveys & Quizzes: Utilize lead segmentation and analytics to provide top-notch products and services tailored to customer needs.
Videos: Enhance your video marketing with pop-up offers, lead capture forms, and multi-video playlists.
Helpdesks: Offer integrated support with a helpdesk portal featuring ticketing and live chat.
Calendars: Schedule and manage one-on-one sessions with customers from a single dashboard.
Forms: Design beautiful lead capture forms with custom fields, powerful tagging, and automation rules.
Affiliates: Recruit, track, and manage affiliates promoting your products, complete with flexible commission structures.
Agency: Manage multiple clients accounts from a centralized console.
Marketplace: Sell marketing funnels, and services, or discover resources from other Kartra users.
Kartra eliminates points of failure and stress, providing a single platform and support team to streamline your online business. It's perfect for beginners and seasoned pros, offering an intuitive experience and the power to build advanced marketing campaigns. With Kartra, you'll save time, money, and enjoy a fully integrated marketing experience.

Introducing Kajabi, the all-in-one marketing platform that's a game-changer for digital marketing experts. This remarkable platform allows you to transform your knowledge into lucrative online courses, coaching programs, memberships, podcasts, and more, all while enjoying zero revenue fees.
Why Kajabi is a digital marketing expert's best friend:
All-in-one toolbox: No more juggling multiple tools! Kajabi packs everything you need into one seamless interface.
User-friendly: Even if you need to be more tech-savvy, Kajabi makes creating and managing content easy.
Impressive track record: With over $5 billion earned, 100,000+ businesses built, and 300,000+ products created, Kajabi's results speak for themselves.
Kajabi's Key Features:
Create: Showcase your expertise through online courses, coaching programs, podcasts, memberships, and more.
Grow: Utilize Kajabi's marketing tools and templates suite to build content, campaigns, and funnels quickly.
Manage: Keep track of growth with built-in CRM, accept payments through Stripe and PayPal integrations, and make data-driven decisions using analytics.
Kajabi provides you with a comprehensive set of tools and offers valuable resources like the Kajabi Blog, Kajabi Edge Podcast, Kajabi University, and the Kajabi Hero Community to keep you informed and connected with fellow creators.
With Kajabi's affordable pricing plans and a 14-day free trial, you can choose the perfect plan that aligns with your budget and business goals. Join the satisfied creators and entrepreneurs who trust Kajabi to help them earn more and grow their businesses.
Bottom Line
Our comprehensive guide to the "Best 12 All-In-One Marketing Platforms" has been a thrilling deep-dive into the world of cutting-edge marketing solutions. These cloud-based solutions help businesses streamline marketing, improve customer interactions, and use data-driven insights for smarter decision-making.
From market-leading giants like Marketo to hidden gems like Builderall, our expertly curated list showcases platforms that cater to various needs and budgets. Whether you're looking for robust automations, outstanding deliverability, or highly-rated reporting capabilities, you'll find a platform that ticks all your boxes. You can also evaluate vendors' features, pricing, and benefits to make the greatest business option.
As a little cherry on top, we've sprinkled in Plerdy – an invaluable tool for tracking user interactions and gaining valuable insights. With Plerdy's powerful analytics and reporting features, you can take your marketing game to the next level.
So, what are you waiting for? Give these all-inclusive platforms a try and experience the difference they can make in your marketing endeavors. Remember, the right platform can unleash your business's full potential, turning your marketing ideas into a reality. Don't miss out – get started with one of these top-tier marketing platforms today and watch your business soar!