As an e-commerce business owner, you know that keeping customers and making money are the keys to success. With the right subscription Shopify app, you can create a loyal customer base that generates recurring revenue for your business.
In this article, we'll showcase the top 10 subscription apps for Shopify in 2023. Each app has features to help you increase sales and build lasting customer relationships.
One effective strategy to boost your subscription rates is to create on the Plerdy and display a pop-up form with an intriguing message. Doing so increases the chances of generating leads and converting them into loyal subscribers. Ultimately, our main goal is to help you stand out from competitors and achieve a high conversion rate.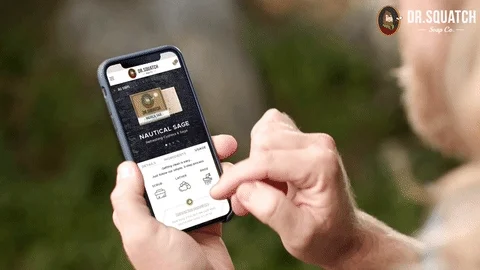 So, let's get started and discover the perfect Shopify subscription app!
What is a Subscription App for Shopify?
A subscription app for Shopify is a valuable tool for merchants who want to offer subscription-based products or services to customers. With these apps, merchants can easily manage subscriptions, track billing, and handle payments. The subscription business model is becoming increasingly popular as customers pay a fee to access a product or service.
Shopify subscription apps are the go-to. Shopify subscription apps increase customer retention and revenue by automating purchases with recurring monthly or annual fees. Setting up a subscription requires altering how businesses operate and establishing membership value measurements, providing excellent customer support.
Mechanization plays a crucial role in subscription enterprises, and Shopify subscription management apps support this functionality. In addition, cloud-based tools allow sellers to control subscription life spans, which is essential for success. If you're planning to set up a subscription business on Shopify, consider the following elements to ensure your business is set up for success.
Choose a subscription model.
Set pricing and value metrics
Create a customer retention strategy
Automate billing and renewals
Provide excellent customer support
Use a Shopify subscription management app to support your subscription business.
How to Choose the Best Shopify App for Subscription?
Choosing the best Shopify subscription app for your online store is crucial to success. Here are some important things to think about when choosing the best Shopify app: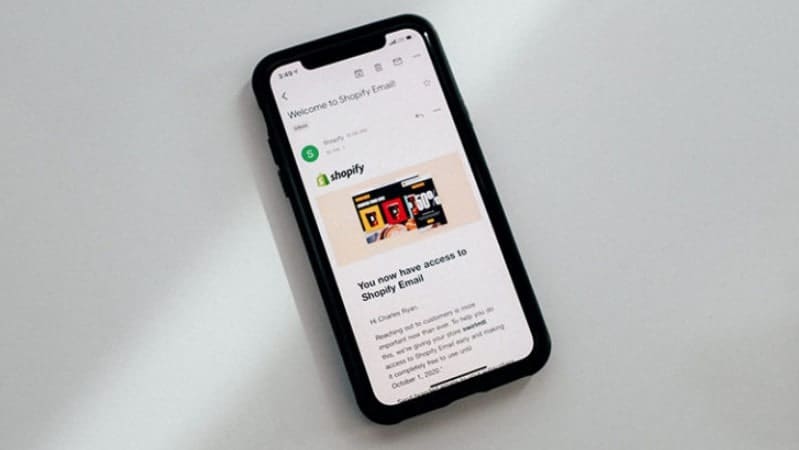 Determine your business goals for using a Shopify subscription app, such as increasing customer loyalty or making it easier for customers to sign up for your service.
Consider what features you require from the app and ensure it can provide those functions. For example, determine if it handles the planned subscription regularity and if it works with the kinds of goods you sell in your store.
Determine the cost of the app and whether it imposes a one-time fee or additional charges with each transaction.
Read app store reviews and browse through help communities to determine if consumers frequently discuss issues. Keep in mind that applications may cause a sluggish Shopify site.
Determine if a free trial is available for the app so you can try it out in your shop.
Implement a solid customer service system that responds to all client questions and issues. Consider setting up a self-service website on your membership management app to assist you with real-time activity monitoring.
Streamline your monthly subscription administration by automating the creation of personalized invoices, taking payments in various ways, executing commercial transactions on a routine basis, and keeping track of and comparing financial records.
By carefully considering these factors, you can choose the best Shopify subscription app for your e-commerce business and set yourself up for success.

Plerdy is a top-tier analytics tool that integrates directly with Shopify stores. The Plerdy Shopify app helps e-commerce businesses understand why visitors need to convert by providing in-depth data on user behavior, including heatmaps that track clicks, cursor movements, and scroll depth. With Plerdy, you can also record video sessions to see what visitors do in your store. The app includes a pop-up feature to survey visitors and offers product discounts. Plus, Plerdy's SEO tool lets you analyze titles, descriptions, keywords, and Google Search Console to optimize your search engine rankings.
The Plerdy Shopify app has a free plan and a 14-day free trial. The app is rated 5 out of 5 by its users and has received rave reviews, with customers praising its ease of use and excellent support. Plerdy integrates with popular tools such as Mailchimp, GetResponse, and Google Analytics.
The Plerdy Shopify app also offers pop-up software that enables you to create powerful website pop-up forms without hiring developers or designers. These forms help you collect website subscription, and visitor feedback, improve conversions, increase sales, and conduct surveys. With Plerdy's pop-up software, you can create effective conversion funnels, increase user satisfaction, and boost sales.
List of The Best 10 Subscription Apps for Shopify
The "10 Best subscription apps for Shopify in 2023" list to uncover the best solutions for online merchants looking to add recurring revenue streams to their business. From robust automation features to flexible pricing models, these apps offer a range of options to fit any business model. With the right subscription app, Shopify merchants can unlock new revenue streams, enhance customer loyalty, and streamline operations.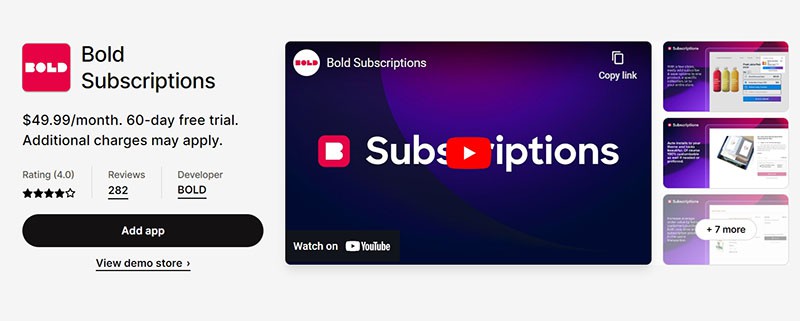 Bold Subscriptions is one of the best subscription apps for the Shopify store. It is an incredibly useful Shopify app that can help any website, specialist, expert, or business add subscriptions to its offerings. With Bold Subscriptions, you can convert more shoppers to more places, making subscriptions your superpower. You can also use price rules to manage pricing and promotion and make payments more flexible. There are several use cases for Bold Subscriptions, such as Custom Checkout Logic, Sell Anywhere, Increase Conversion, Grow Average Order Value, and Improve Customer Lifetime Value. Bold Subscriptions Shopify app can help you create a subscription experience your customers will love by adding subscriptions to a single product, a collection, or a store with just a few clicks. The subscription pages and customer portal are fully customizable, and you can easily manage subscriptions by pausing, swapping, skipping, snoozing, or canceling them. With Bold Subscriptions, you can upgrade checkout on leading platforms with featured integrations that allow you to launch faster with pre-built payments and technology integrations or sync to any front or back-end services with our API-first headless architecture.

Recharge Subscriptions is a trusted subscription management app for Shopify stores. With a 30-day free trial, this app offers scalability and customization for your subscription business. It also boasts seamless integration with various tech stacks, including Klaviyo. Recharge's mission is to turn one-time shoppers into loyal customers.
One feature that makes Recharge Subscriptions stand out is the Customer Portal, which lets you customize the store's customer portal interface. Customers can manage their subscriptions through SMS with RechargeSMS, and the API is powerful and flexible enough to let you fully customize the subscription experience. For example, the Build-a-Box feature allows you to leverage Recharge Bundles for cross-sells and upsells, while the Unified Checkout ensures a single checkout process, no matter the cart's contents.
Reviews for Recharge Subscriptions Shopify app are generally positive, with a rating of 4.6 out of 5 and over 1,343 reviews. Customers have praised the excellent customer service, ease of use, and great features. However, some criticisms include difficulty managing account settings and the lack of clarity on managing plans and seeing cumulative fees. Pricing for Recharge Subscriptions starts at $99/month for the Standard plan and $499/month for the Pro plan.
Recurpay is one of the top subscription apps on Shopify, and subscription applications are a crucial for companies of all kinds. Businesses can easily set up prepaid or continuing subscriptions on their websites using Recurpay and provide their customers with a wide range of perks. Consumers can update, skip, postpone, and cancel subscriptions using their customer site, and businesses can bundle or design a subscription box with discounts and free shipping. Moreover, Recurpay offers multicurrency subscriptions as well as one-time and recurring transactions. Quick live chat assistance and powerful APIs allow businesses to easily migrate from other subscription programs and develop a subscription flow in their unique mobile app, online store, or blog.
Recurpay also supports Shopify, Stripe, and other subscription services and automated syncing of the most current product pricing from the shop for subscription orders. Recurpay offers a free everlasting plan, fully automated features, and committed support at a competitive price. Top brands in a variety of industries, including adult diapers, feminine hygiene for women, coffee (beverage), apparel, healthy snacks, socks (wearables), pet stores, health drinks, household products, steam toys, tea (beverage), trust Recurpay. The dashboard for Recurpay offers daily analytics and insights that make it simple for businesses to keep track of sales and other metrics. Recurpay Shopify app solves your client retention problem in the nascent subscription era. Sign up for free and experience the difference.

Appstle is undoubtedly worth checking out if you're seeking the best subscription app for your Shopify store. The most powerful recurring order capabilities in e-commerce are provided by this program, which has an easy user interface and strong merchant tools. You can easily set up and manage subscriptions with Appstle, including loyalty rewards, churn prevention, and box subscriptions. It is understandable why some of the most well-known e-commerce companies in the world, like Universal Audio, Blue Earth, Inspired Go, and Skin Authority, have chosen Appstle to quickly and superbly deliver subscription experiences to their stores.
Selling regular and prepaid memberships, free trials, building a box, and other features, is simple with Appstle Shopify app. The Shopify app also has tools for gifts, custom shipping, and tier savings. The customer portal offers one-click login, rapid action buttons, and many features. The Appstle Menu template develops a menu centered on the customer experience to promote conversion. Use solutions for mass automation, retention, and upsells to increase your ROI.
Starting with a free plan and continuing until your store generates $500 per month in subscription revenue, the Appstle Shopify app offers a variety of price options that can suit varied revenue levels. The Business Premium package's pricing structure is scalable to up to $100,000/month in subscription income. You may be confident that you have access to the greatest customer service possible thanks to Appstle's round-the-clock assistance and extensive knowledge base. Ultimately, if you want to create amazing subscription experiences for your consumers, Appstle is the Shopify app.

The Seal Subscriptions Shopify app is your best option for finding new opportunities and realizing the promise of recurring income.
The Seal Subscriptions app has never been simpler. Installing the app and establishing your first subscription rule to receive lovely recurring cash. With a fantastic support team, this Shopify app gives you complete control over your customers. Seal Subscriptions, a European company, enables you to sell both traditional and prepaid subscriptions.
With the Seal Subscriptions Shopify app, you can provide loyalty incentives like tiered discounts, personalized shipping, gifts, and more. With the help of magic links, your customers can simply access subscriptions, and you can gain valuable business insights thanks to fantastic statistics, a payment calendar, and other tools. You can even utilize private email addresses with white-label branding.
Three different subscription plans are available on the Seal Subscriptions app, with the SuperSale costing $4.95 per month, the Rising Star $7.95 per month, and the Legend $20 per month. Each choice has unique features and subscription restrictions to meet your company's needs.
The Seal Subscriptions Shopify app, which has received over 600 reviews, is the best way to launch a subscription business. It is simple to set up subscriptions and prepare to grow your business.

Recharge Shopify app is a well-regarded subscription management tool that helps businesses make the most of their customers. Recharge aims to convert one-time buyers into devoted patrons. Businesses may expand their subscription business and allow customers to manage their subscriptions right from their Shopify store using Recharge. With Recharge's adaptable features, the subscription experience may be tailored to the business owner's vision. Recharge Shopify app also offers turnkey connections, making it simple for companies to integrate their tech stack. Customer Portal, RechargeSMS, Robust and Flexible API, Design a Box, and Unified Checkout are a few of Recharge's standout features. Recharge offers a 30-day free trial, a $99 monthly basic plan, and a $499 monthly pro plan as payment choices. Recurring billing, an integration library, Recharge API, Recharge SMS, a customer portal, and payment processing are all included in the standard plan. The pro plan adds better analytics, custom domains, bundles, and programmable API rate restrictions to the standard plan's capabilities. The customer base of Recharge comprises a variety of retailers from diverse industries, including, among others, those in the food and beverage, fashion and apparel, home goods, health and wellness, and beauty and personal care sectors.

Loop is one of the best subscription apps for Shopify, which helps brands deliver an ideal post-purchase experience. Loop is customizable to address specific needs at every stage of growth. With Loop, you can empower your business with the tools to optimize return costs, transform returns from a cost center to a profit center, and proactively reduce return rates. Moreover, Loop prevents return losses and abuse without punishing your best customers. Loop's automated platform drives customer lifetime value and saves more sales by creating a shopping experience inside the returns experience. It offers cost-effective, premium returns experiences. Loop Shopify app has helped brands like Princess Polly, Allbirds, and Marine Layer improve their customer retention, their upsell value, and make returns stress-free for their shoppers. Loop has usage-based plans, flat-fee plans, and essential and advanced plans that start at $29/month and go up to $375/month for merchants who want to capture more returns revenue. Loop's subscription management app is a full-stack app that increases subscription revenue and reduces cancellations through gamification and intelligent flows. With Loop, you can gamify the subscriber journey with rewards and discounts to reduce cancellations. Loop also offers a smart dunning management system that recovers lost revenue due to failed card payments. Loop is fully customizable and mobile-friendly, with changeable text, videos/GIFs, brand colors, and custom CSS. Loop works perfectly with all popular Shopify apps and offers custom integrations.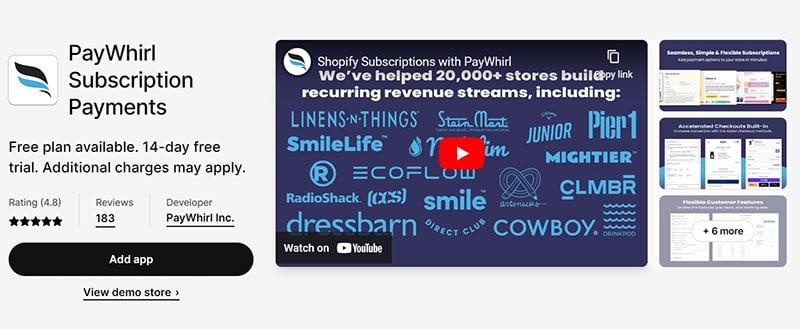 PayWhirl is the finest solution for developing, launching and managing simple and adaptable subscriptions for a Shopify store. With its robust subscription payment options, you can quickly create recurring revenue streams and automatically reload consumers. This app enables for easy connection with product pages, shopping carts, and customer accounts using drag-and-drop app blocks. You may quickly add subscription payment choices to your existing items or services and manage subscription order scheduling without coding experience. Furthermore, the platform provides developers with sophisticated APIs, webhooks, and tag workflows.
PayWhirl Shopify app has the advantage of making it simple to save payment information and provide membership savings. Churn can be reduced by using subscription cancellation processes and automatic payment retries. It offers over ten customized notifications for efficient communication, strong subscription analytics, churn statistics, and data exports.
PayWhirl's transaction costs range from 3% to 0.5%, with price options ranging from the most basic to the most expensive. The platform offers a 14-day free trial and unlimited subscriptions, installation, and support.
PayWhirl Shopify app is an excellent subscription tool for any Shopify store wanting to create recurring revenue.

With Yotpo, one of the best Shopify subscription apps, online merchants of any size can easily collect high-quality product reviews to encourage social proof, thanks to a widget driven by artificial intelligence. This Shopify app makes it easier for customers to leave ratings and reviews on social media and search engines like Google. It helps companies collect and showcase UGC-like customer ratings and reviews as social proof. Using Smart Filters, Yotpo Reviews may help businesses increase customer confidence while also helping unlock SMS and loyalty synergies. Yotpo's branded reviews widget for any online shop is a welcome feature, and it's simple for marketers to use. In addition to making businesses more visible in search results, the Yotpo Shopify app integrates with partners like Google Seller Ratings and Google Shopping AdWords. The app's pricing is extremely reasonable, beginning with a free package including automatic review requests, moderation, and 24/7 chat support. Yotpo is the engine that drives revolutionary companies like Parks Project, Revolution, and Chubbies, with products like SMSBump, Loyalty and Referrals, and Visually User Generated Content that boost participation, word of mouth, and customer loyalty.

The powerful subscription management Shopify app made it easy. Ongoing is a subscription app made in the USA that offers premium recurring billing services for Shopify store owners. Creating a "Subscribe & Save" option on products with automatic recurring charges and scheduled orders is easy. With Ongoing's flagship Build-a-Box feature, customers can subscribe to many products at once, helping to increase the average order value. You can even offer up-sell incentives such as product bundling, minimum order amount, and discounts based on frequency. Ongoing can fit any business size or budget with three different pricing plans.
But there are more things the Ongoing Shopify app has to offer. Ongoing offers a competent Warehouse Management System (WMS) if you're a logistics-intensive business. With around 10,000 users handling thousands of orders daily, Ongoing WMS is the most used cloud-based WMS in Scandinavia and Europe. Ongoing WMS has a large network of integrations to various common software services such as e-commerce platforms, ERP systems, Delivery Management Software, Transport Management Systems (TMS), and Automation Systems. Its smart features increase warehouse effectiveness, and its software-as-a-service (SaaS) business model means you can get started quickly without a big investment or time-consuming installation. Plus, all Ongoing Shopify app customers are assigned a personal contact easily reached by phone or email for personal and effective customer service. Book a demo today and see how Ongoing can help take your business to the next level.
Bottom Line
Subscription apps have become an essential tool for e-commerce businesses in 2023. With Shopify's platform, businesses can access many great subscription apps, which offer numerous benefits, such as acquiring new customers, reducing churn, and measuring performance. Whether you're a small business or a large enterprise (Shopify Plus), there is a subscription app that can match your needs. These apps are user-friendly and customizable and can help you engage with your customers on a deeper level. As you migrate to a subscription model, learning from case studies and expert tips is crucial to ensure a smooth transition. We recommend trying Plerdy, an all-in-one tool for enhancing your website's engagement and conversion rate (CR & UX). Take advantage of the opportunity to send your online store to the top of the market!