Search engines are becoming more and more selective every year, so buying backlinks is becoming increasingly dangerous. Many companies have already abandoned link building in favor of more natural methods of getting backlinks.
The primary purpose of link building is to get external mentions to the website, with mentions as good as possible, in order not to cause suspicion among search engines. Today, we're going to talk about the best way to get natural links for a website?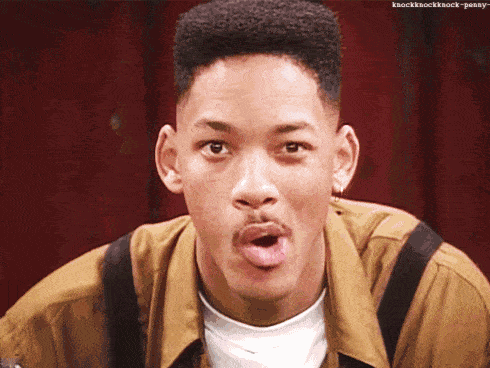 What are Backlinks & Why build them?
As we know, backlinks are links from external resources, and they significantly impact the website's search engine ranking.
Search engines rely on these links between websites to find and index information because search engine crawlers navigate the web by following links. Links are thus not just the cornerstone of the Internet but also crucial for search engine optimization (SEO).
Building backlinks is important in SEO because they allow search engines to understand which websites are commonly cited for a specific topic and thus relevant to it. Aside from optimizing the website (= on-page SEO), you should also guarantee that you are referred to other websites through link building (= off-page SEO), as backlinks can be interpreted as a recommendation for the website and are one of the most important SEO ranking factors. The greater the number of backlinks, the greater the link building and relevancy of your website because each good quality backlink passes some equity to the website. All favorable attributes of a link that are passed on to the page are referred to as the "link weight".
How to Get Backlinks: 5 Easy Strategies for SEO
In the context of search engine optimization (SEO), link building is an incredibly significant work; nevertheless, not every link is equally beneficial. We will discuss the advantages and disadvantages of various approaches to link building and then conclude with some general advice.
You will need to put in consistent effort, as with any other aspect of SEO. Though link building requires more effort than most strategies, it will be rewarding and last for a long time.
If you don't have good
content
quality, backlink quality won't matter. The reverse isn't true. So content quality is table stakes, and backlinks are a performance booster. You need both to win in your niche, but the primary focus should be creating content that people like and need.
Create Skyscraper Content
When it comes to content creation, you can also create a skyscraper content piece to obtain backlinks building. The goal of skyscraper content is to create a piece that covers all areas of the issue in-depth and outperforms the competition. As a result, you can entice other websites to mention your post, resulting in a large number of backlinks. Why is this technique so good? "On April 18th 2013, I published Google's 200 Ranking Factors: The Complete List. After executing "The Skyscraper Technique", the number of backlinks to that page shot up like a rocket," — Brian Dean shares in his article. And it worked; look at Brian's screenshot: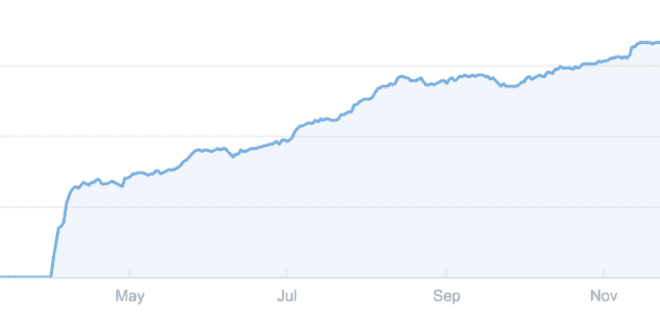 You can begin by simply searching Google for a topic in a proper niche. Then carefully examine the results because these are the pages that received a large number of backlinks and made it to the first page of Google.
Suppose, you're writing about content marketing. Look up the search results browsing the information on each page. Then start writing your post that is 10 times better.
Once you've already written skyscraper content, the next step is to promote it with link building and there are several ways to do this.
To begin, contact all the people, influencers, companies, tools, and sources referenced in your article. Inform them that you found their platform valuable and that if they enjoyed the piece, they could share it with their audience.
As word spreads about the skyscraper guide, others will begin to pick up your content, and you will begin to receive backlinks.
Finding websites that have already backlinked to current posts and pushing material as a superior alternative is another link-building strategy to promote posts.
You can accomplish this by utilizing SEO tools such as SEMrush or Ahrefs. Simply enter the URL of each of the top ten results into the tool to get a list of websites that referred to the original post.
Then contact these listed websites and introduce them to your skyscraper content. Explain how your piece is superior to theirs and ask them to provide a mention to a post.
With any luck and enough dedication, the Skyscraper Technique is an extremely targeted link-building method that can yield serious results.
Start Guest Posting
Marketers believe that guest posting is the most significant way to increase brand exposure, backlink potential, authority, link building, and other benefits. Let's examine the advantages one by one.
Benefits of Guest Posting
Writing guest posts is an excellent backlink strategy to increase traffic to your website and reach out to new individuals. In other words, it's an excellent method for increasing brand recognition. Second, guest posting improves SEO, increasing rankings for our target keywords.
Creates more potential for backlinks
The main advantage of guest articles is that you can decide which pages of your website you refer to and which anchor text you use. The majority of other link-building strategies will result in a backlink to your home page. This is less helpful for SEO than a link to a significant product or service page or blog post.
You may include one or two links in your guest post. This is why you should write a guest post for a website with a greater domain authority than yours. Another benefit is the exposure to the new audience that might not have seen the website otherwise.
Increases your authority as a content provider in your industry
Posting quality content on a recognized website with good editorial standards will benefit your Internet presence and SEO promotion. People will eventually seek you out and ask for guest articles since they've seen the material you've created, which eliminates the need for all research and outreach.
Writing guest posts can help you quickly establish yourself as an authority in your niche. You should generate valuable content and give useful ideas that the audience won't find anywhere else. Guest posting lets you tell the right audience what your firm does and how it can solve their problems.
Builds connections with a new audience
The most significant advantage of guest posting for SEO is reaching a larger audience. You can double or triple reach by posting on multiple respected websites. These guest posts must be of high quality for the brand to be connected with high-quality content.
One of the biggest advantages of guest posting is exposure. Getting your brand on a popular website similar to your market can mean a big bump in traffic, SEO promotion and potential sales. Regarding link building, being on a high domain authority website can mean more search exposure for the website owing to potentially higher positioning.
The updates that have been rolled out in recent months by search engines, especially
Google
it's evident that content quality has a significance over backlinks. The improved ability of NLP (natural language processing) and the concept of E-A-T (Expertise, Authoritativeness, and Trustworthiness) indicate the importance of content quality. Through AI content generator tools are in surge however human intervention is still required as these AI tools lack expressions, briefness (too wordy), insightfulness which makes it detectable.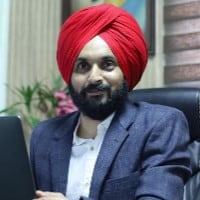 How to Find Opportunities to Publish Guest Posts
To find a donor website for a guest post with a backlink, you can use all available search methods: search engines, social networks, specialized events, specialized services, etc. Combine them, and you will definitely succeed!
For example, Google top results are a powerful free database of trusted websites for your guest blogging and getting backlinks. Search operators will help you to get more accurate results by refining the query and making the results more relevant to your goals. For example, your website is about sports, and you want to publish a guest article. To do this, use the search operator "sports intitle: "write for us", and this is what we get (look at the screenshot). Surely, the owners of the site may want to get money for publicating your post. If you are about paying for links, you should know how to do it right.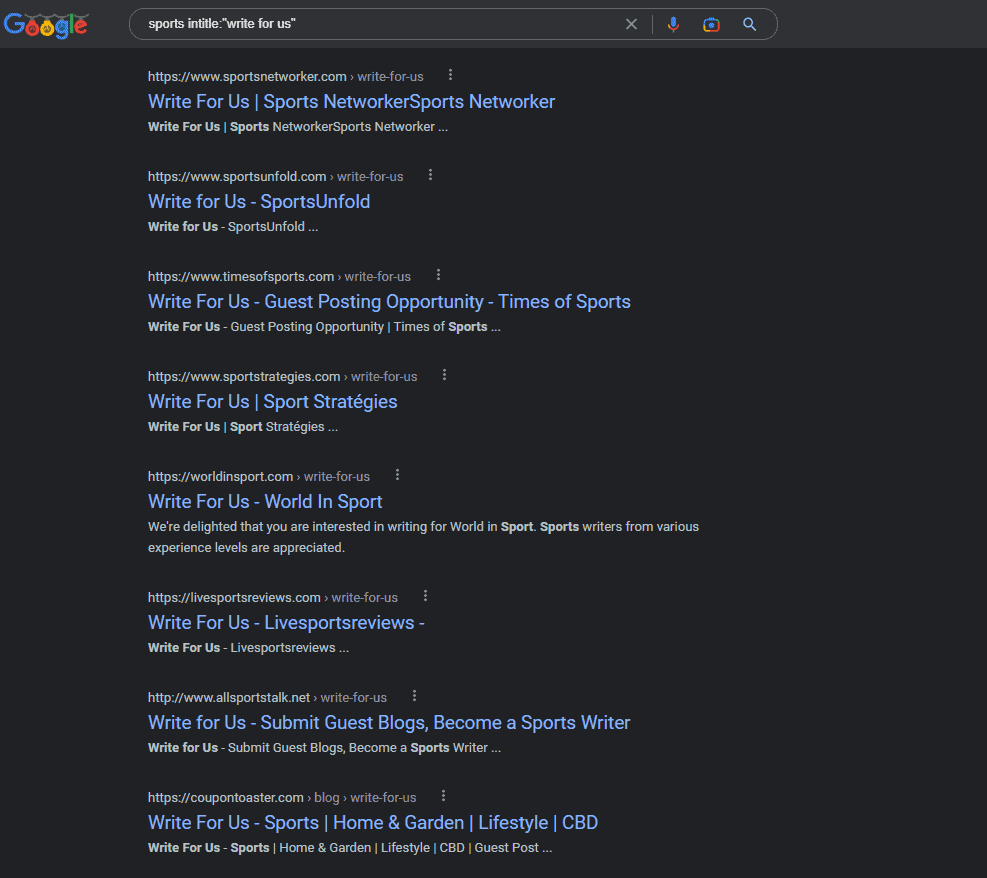 For more professional and fast prospecting, use specialized SEO services such as Ahrefs, Serpstat, Seranking, etc. They are paid, but you can choose a tariff that suits your capabilities and goals. In addition, they help find donor websites for backlinks in various ways (e.g., top pages, competitor research and other features)
For example, with the help of Serpstat, you can spar the top websites by the indicators that are important to you in your niche. Their competitor research functionality will help you compile a list of blogs in your niche that might be interested in partnering with your website or service and exchanging backlinks. For example, let's take the topic of sports and see the top pages for this query in the U.S.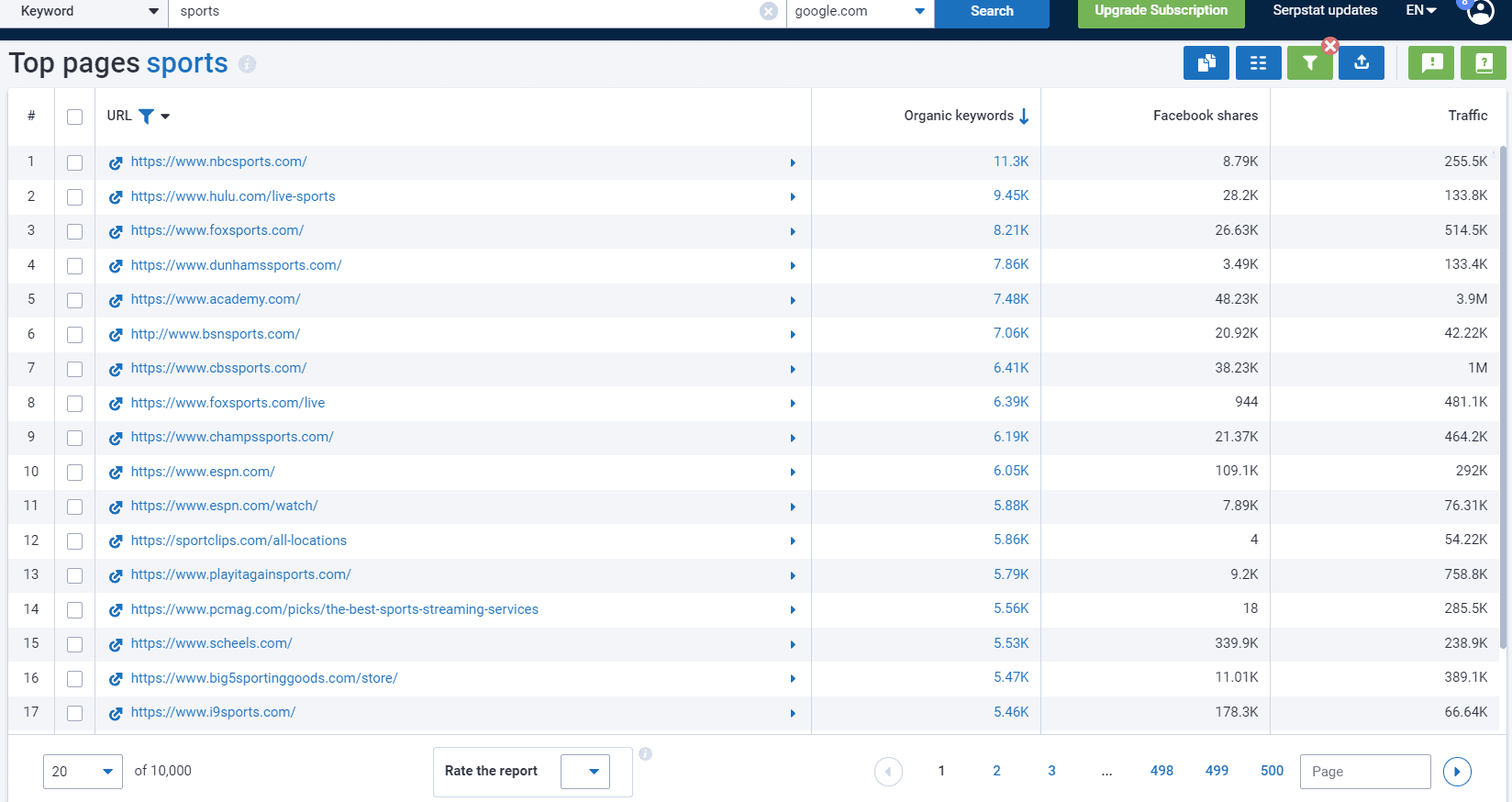 Feel free to write to editors and offer to publish your author's guest post with a backlink to the page you need. The process of manual selection of websites, searching for contacts of website owners and communicating with them is time-consuming and time-intensive for an outreacher. Specialized guest posting services that have already done a significant part of the work for you will help here.
For example, the Collaborator service was originally designed for PR and link building. This marketplace allows you to save time and costs while simultaneously increasing the quantity and quality of backlinks to your website. Having a Collaborator on your side will make business transactions easier and more productive.
As of December 2022, the Collaborator's catalog has more than 13 thousand websites — potential donors for your guest article. Every day, the selection of websites expands further.
In the interface, you will find all the data essential to select websites by topic, geography and indicative SEO metrics such as DR, trust, traffic, number of backlinks and referring domains, etc. These indicators and graphs are continuously updated, so you can understand the website development dynamics. You can select websites for cooperation rapidly and efficiently thanks to the flexible filtering and sorting options.
How Many Links are Allowed in a Guest Article
When preparing a guest post, Many novice authors wonder how many backlinks they can include in the text without the editor noticing that it is advertising. A guest article should have one link for every 500 words written, for a total of two per 1,000 words. On the other hand, a guest article can have more mentions than this recommendation if it improves the user experience, which will positively impact your link-building strategy.
This is just a general guideline for how many links to your website should be included in a guest post. References to other websites can also be included throughout the content if they add value to the reader.
A good mixture of mentions improves your link-building profile, user experience and the quality of the guest article.
Use the Broken Links Method
Broken link building entails locating broken links and contacting web specialists to replace them. It can be a useful tool in link-building armory.
There are two methods for locating broken links for a better link-building profile. The first, more general strategy entails searching for broken links across domains. Normally begin by utilizing sophisticated search commands like:
"example of resource" inurl:resources
After that, use an SEO tool called LinkMiner to identify broken links on a page. While pressing the miner extension, look for resource banks where a piece of content would be a good fit. The advantage of LinkMiner (unlike other broken link extensions) is the ability to sync with your Majestic or Ahrefs SEO tools account to better understand how much broken link jackpot each link carries.
Advantages of broken link building:
Broken link building is a solid strategy for gaining quick wins from relevant web pages referring to content no longer active on competing websites. Web experts are incentivized to replace dead links if they have great relevant content to build.
Broken link building boosts your SEO authority by obtaining mentions from highly relevant web pages.
So it's a good way to build backlinks. First, because this content is already ranking in search engines, you get a good link. Second, this process is easier than creating skyscraper content and promoting it or creating roundups.
Get on the "Best X" List

Before making a purchase decision, today's shoppers research all available options. They frequently consult comparison websites or publications to see what others recommend.
For example, "The 15 Free Content Creation Tools" is one of the best pieces since it delivers various actionable advice straightforwardly.
An ideal listicle is targeted enough to score well for certain industry terms but broad enough that readers are likely to find something relevant to them, even if they can't implement every suggestion.
Listicles and How To/Guides generate 38% more traffic than other types of articles. Use a keyword research tool and look at monthly search volume to get a feel of how popular these Best X articles are in your sector.
Having your company listed in articles that list the finest items similar to yours is a great approach to strengthening your brand and building new links, getting more people to test your product, and, of course, getting high-quality dofollow backlinks.
In other words, this strategy goes beyond link building and taps into the potential for acquisition and brand awareness.
Start with a simple Google search to find high-ranking blogs that write about the product or industry to get your product or service included in a list round-up and build a new quality backlink.
Here are some search terms that will help you find relevant prospects:
Best [X]

Best [X] for [Y], for example, The best CRM for business owners

Top [X]

Top [X] for [Y], for example, Top 10 CRM Software for Small Businesses
Make a list of the most relevant prospects and rank them according to domain authority, backlink profile, and referral traffic potential.
Once the final list is completed, write a brief pitch for the author to demonstrate why a product or service deserves to be mentioned on their list.
A short, persuasive pitch and a customized email will help you stand out in any outreach campaign.
Publish Roundups
Roundups are curated collections that contain the most interesting and useful newly published content in a particular industry, typically from the previous week or month. Because the authors of these blogs are continually searching to build relevant content to refer to their subsequent roundups, relating to fresh material through their posts is a simple process.
Here's an example of a content roundup from WordStream, a website dedicated to Internet marketing: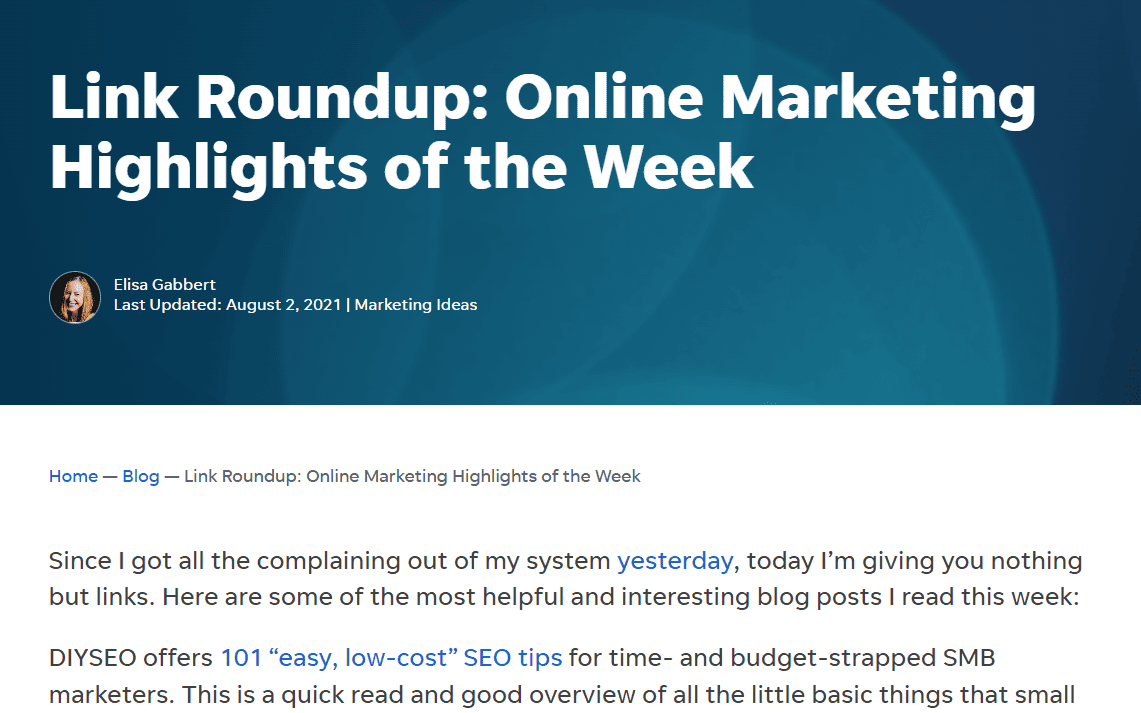 Where to Look for Content Roundup Opportunities?
There are many different ways to search. But we have found the best of them and will tell you more about the 3 techniques.
These operators allow you to filter the search by instructing Google which terms must appear together and where they must occur on the website or in the URL. For instance, enter "seo + intitle:content roundup."
Although the tools for searching for material on LinkedIn leave a lot to be desired, the authors of those roundups will share the vast majority of the content roundups you find. Because of this, pitching is a lot easier.
Highly authoritative websites will sometimes give their material roundups amusing names. You may prevent missing out on valuable backlinks by compiling a list of high-domain authority websites in your field and personally searching them.
You can also browse top websites in your vertical to find material with many backlinks. Scan the content using a backlink tool for URLs that appear to be content roundups — they will contain phrases like weekly, monthly, best articles, collection, content blast, and similar.
Do Roundups Still Work in 2023?
Roundups are frequently the simplest type of backlink to obtain. The reason is straightforward. People who create those curated lists of content constantly look for new content on Google, using various search operators and advanced search filters. Roundups can be used to build links back to the website and relationships with people in the industry.
So we looked at 5 different link-building techniques. Will any of them bring you success? Definitely yes! If you experiment and combine these strategies?
Conclusion
Backlinks are vital to any SEO plan, but they do not arise by chance. Rather than waiting for things to happen, be proactive and build a linking profile asking for them.
Creating content that others want to mention and cultivating relationships with the real people behind other websites across the Internet will help enhance the backlink game and start seeing real gains in SEO results.
Creating a digital footprint that streamlines the user's ability to locate websites on the Internet should be the ultimate objective of any SEO strategy. Building backlinks is one of the most important factors to consider when it comes to ranking a website in the search engine results.000