Mouse tracking can become a key to improving various aspects of your e-commerce business, including websites, applications, and other digital products. Online business owners realize that whenever visitors leave their web pages, they lose potential clients, consequently losing potential purchases. Mouse tracking tools help you generate leads, as they detect issues that might be bothering your customers and interfering with the sales process. Furthermore, mouse trackers enable you to identify the strong points of your website design and provide you with some new ideas.
What Is Mouse Tracking?
Mouse tracking is a technology that helps detect and gather user interactions with different web page elements during website visits. This tech is applied to run website usability testing. In addition, you can benefit from mouse tracking tools alongside utilizing some other techniques for usability analysis, including think-aloud protocol. It will lead to a more detailed cursor movement model.
You can conduct mouse tracking in several ways. First of all, it is possible to carry out mouse tracking in a laboratory using particular IT systems. Moreover, you can perform it remotely. This method requires the installation of local tracking software. On top of that, there is one more option to conduct mouse tracking: a JavaScript code is added to your web page. It enables developers to detect and collect users' clicks, cursor movements, and scrolls by entering code lines on a page. The tool records all the data for further evaluation. The main advantage of this method is that no additional software installation is required. Most importantly, the use of JavaScript does not affect the performance of the users' devices.
Why Is Mouse Tracking important?
If you want to perform detailed user experience testing of your digital product, mouse tracking software will come in handy.
Mouse tracking has an extensive range of benefits. First of all, unlike surveys, mouse movement trackers provide you with the analysis of real user behavior. It implies that the information that you receive is natural and contributes to accurate insights into visitor interactions.
Other significant advantages of mouse tracking solutions include:
identifying the areas that users see most frequently & the elements that they commonly overlook;
tracking interactions with various website elements (landing pages, pop-up forms, video players, sliders, etc.);
providing usability feedback in the beta stage of your digital product;
suitable not only for e-commerce site owners, but also for email marketers, bloggers, or affiliates;
choosing the best design for newsletters.
What is more, mouse tracking is essential, as it is not limited to conventional samples. Thanks to the JavaScript code on your website, each visitor represents a part of your sample, making the sample unconfined. Moreover, you have an opportunity to cross-reference against returning visitors and new users, and potentially find out about what sticks in the memory.
Summarizing the above, mouse movement tracking software helps you acquire a better understanding of your target audience. You can learn more about their goals, expectations, and behavioral patterns. Besides, mouse tracking tools identify current bugs and issues that prevent your potential customers from making purchases. Subsequently, after careful data estimation, you can optimize your website design to cater to the users' needs and increase your revenue.
Mouse Tracking with Plerdy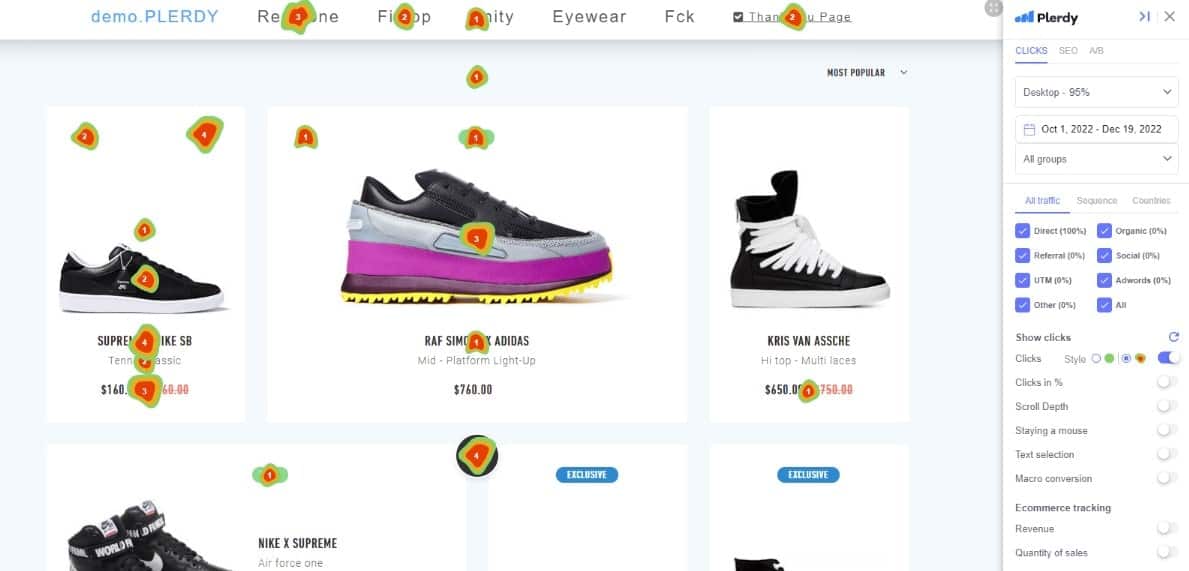 Rajesh, an agency owner, points out that Plerdy's mouse tracking tool removed the guesswork in determining how potential clients move across the website. It helped him and his employees identify where they were losing visitors in their marketing funnel. As a result, his agency was able to improve conversions. Furthermore, Rajesh mentions having used other heatmap tools in the past. However, he concluded that Plerdy offers much more than just heatmaps.
According to David, a CEO, the mouse movement tracking solution from Plerdy is helpful for growth hacking, because it supplies a lot of actionable information. He also notes the level of data accessibility, as the heatmaps are shown over the website itself. With the help of this mouse tracking software, David's company is improving its website interface and thus solving bounce rate issues.
Website Heatmap Tools. Heatmaps from Plerdy provide you with a clear picture of how clicks are distributed across the website by using the following features:

recording clicks in real-time;
displaying only necessary user actions;
user segmentation.
For instance, when you use Plerdy heatmaps, your website is divided into ten equal parts. The tool provides statistics on user clicks performed on each of them. Based on this information, you can learn if the important stuff gets enough customer attention. Consequently, you can implement data-driven improvements that will help increase conversion rates.
Session Replay Software. Session replay solution enables you to analyze usage patterns by watching customers' actions in video format. As a result, it provides a valuable opportunity to determine why the visitors bounce, hesitate, or perform unexpected actions. Moreover, you can analyze more videos by using fast-forward option. In addition, the software does not display any personal data of your customers on video recordings.
Event and Goal Tracking. Plerdy's event and goal tracking tools give you statistics on specific events you are interested in (interaction with a particular link, button, or object). Event tracking is crucial for:

 identifying issues that increase bounce rates;
 detecting elements that distract customers;
 tracking only prioritized events.
How to Choose a Mouse Tracking tool?
Consider your needs and goals when looking for the best mouse-tracking tool for website and usability analysis. Then, here are some more detailed steps to help you make an informed decision:
Define your goals and objectives: What kind of analysis do you want to perform on your website? Are you looking to track clicks, scrolling behavior, or something else? Understanding your macro and micro goals will help you select a tool best suited to your needs.
Integrate with your website analytics platform: Look for a tool that integrates seamlessly with your existing website analytics platform. This will ensure that all the data is in one place, making it easier to analyze and understand.
Features: Heatmaps, session replay, and user-behavior analysis (UX) are some of the most important features to look for in a mouse-tracking tool. Ensure that the tool you choose has all the features you need to effectively analyze user behavior on your website.
Cost: Evaluate the cost of the tool and ensure that it fits within your budget (start about $29 per month). Some mouse tracking tools offer free plans with limited features, while others require a paid subscription.
Try before you buy: Before committing to a tool, try out a demo or free trial to get a feel for its features and usability. This will give you a better idea of whether the tool is right for you.
By following these steps and paying attention to the nuances of mouse tracking, you can select a tool that meets your needs and helps you gain valuable insights into user behavior on your website.
Pros & Cons using Mouse Tracking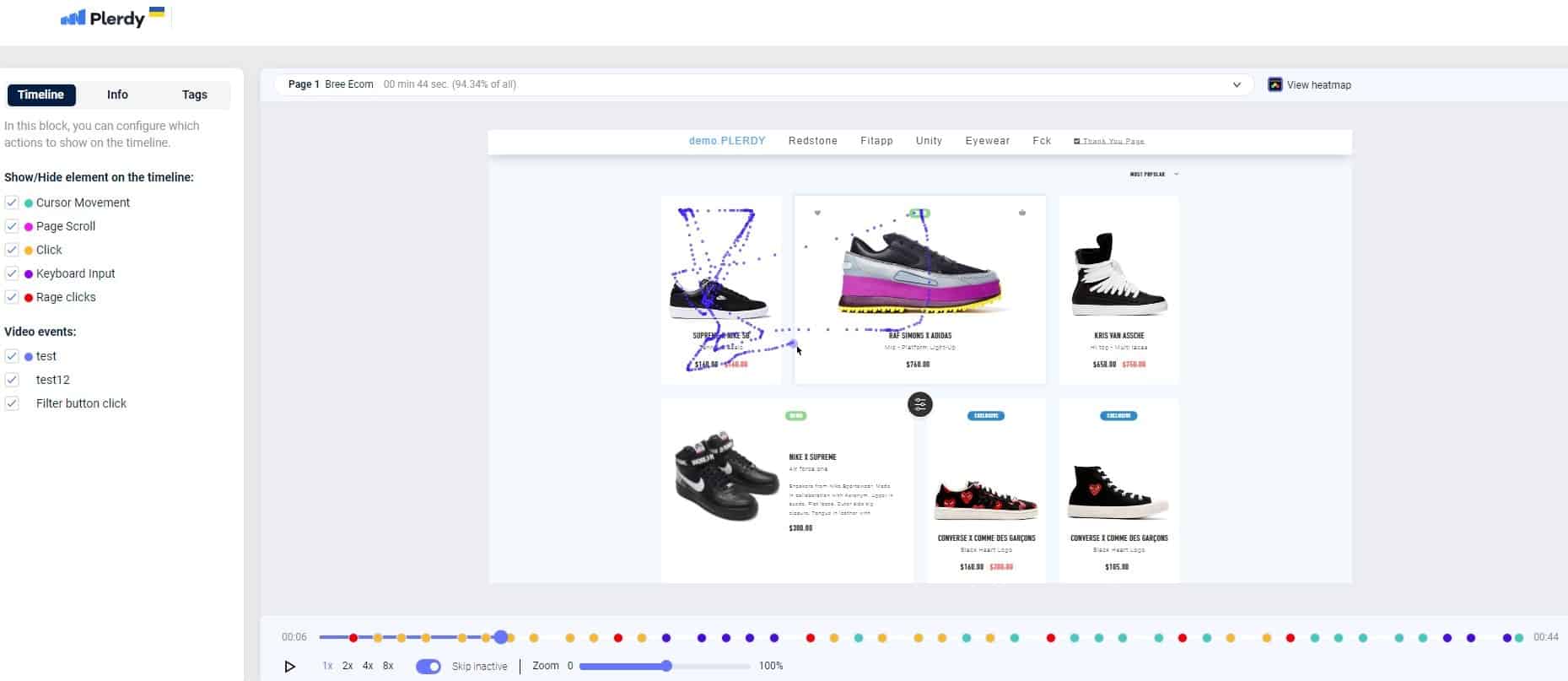 Mouse tracking is a type of software that provides website usability data by tracking the movement of a user's mouse. The software is installed in the website's code, starts collecting UX data, and provides valuable information on how users engage with the website. Mouse tracking can determine where the mouse goes, how long it lingers in certain areas, and how confident the user is when clicking. With mouse tracking, every visitor to the website becomes part of the sample, making it an unlimited data source. The cost of mouse tracking is low compared to other research materials. It also has the advantage of providing data in a natural environment where users navigate the website unaware that they are being tested. However, mouse tracking has the disadvantage of not allowing pre-defined tests and relying on the visitors' behavior, which may not reflect the website owner's, UX specialist's, or digital marketers' goals.
How to Use Mouse Tracking
Mouse tracking is a way to study how people use a website by tracking how they move and click their mouse. In this guide, we will discuss the steps and nuances involved in using mouse tracking to analyze user behavior on an e-commerce website:
First, subscribe to a mouse tracking tool, like Plerdy or Hotjar.
Next, navigate to the website you want to analyze and open the heatmap report.
Go to the page URLs and select a specific page on the website to analyze.
Choose the click order and select "first clicks." This will give you an understanding of what users notice first and what stands out on the page.
Filter the data by traffic sources, such as direct traffic or Google Ads. This will give you a better understanding of users' behavior from different sources.
Once you have analyzed the first clicks, you can then analyze all clicks by hovering the mouse over specific elements, such as a filter button.
Check the data about clicks for each element, such as the number and sequence of clicks.
Use this information to identify areas of improvement on your website. For example, if many sessions are without clicks, you may need to dig deeper and understand why. Suppose users are clicking on elements that are not clickable. You may need to create a specific page or make the elements more visible.
Finally, analyze the elements you want users to click on but are not, such as a filter button, and make improvements to increase user engagement.
By following these steps and analyzing how people use your website with mouse tracking, you can make data-driven changes to improve the user experience and make your website better.
Conclusion
The mouse tracking website for UX analysis provides valuable insights into how users interact with website content. It allows partners to discover the correlation between user activity and the impact it has on the website. By using heat representation, the mouse tracking website provides an overview of the user's gaze and eye position on the screen in real-time, making it a fast and alternative way to experiment with user behavior. The website provides a clear representation of user behavior through mouse movement and clicks, which can be used to resolve cases and calculate results. With integrations for compliance and content watch, the website is a great tool for analyzing user behavior and improving website functionality. The mouse tracking website is evidence of the fact that human behavior can have a significant impact on website activity and provides valuable information to turn user behavior into actionable insights.