Welcome aboard ?! Our exploration of the "Best SEO Companies in USA in 2023" is about to commence. No smoke and mirrors here – just a bold, discerning peek into the heart of the American SEO landscape.
These companies aren't one-trick ponies. They masterfully blend technical acumen, savvy content strategies, and perceptive link-building into a compelling SEO symphony. An SEO firm from the tech sector, for instance, that has driven Silicon Valley startups into global powerhouses, or a company from the healthcare industry, adeptly transforming complex medical lingo into SEO-friendly content.
Your 2023 SEO voyage features:
Firms with exceptional command over various optimization tactics.
SEO successes spanning diverse industries.
Stellar reputation within the labyrinth of American digital marketing.
Exemplary transparency and reliability.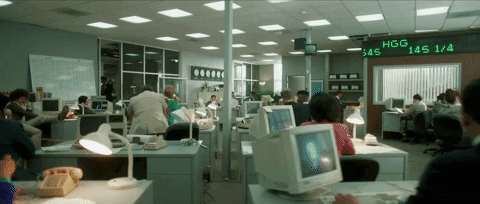 Lastly, let's give a nod to Plerdy, a remarkable tool for Conversion Rate Optimization (CRO) and User Experience (UX) that compliments any SEO campaign.? Remember, the right SEO company not only revamps your website, it breathes life into your brand. So buckle up, it's time for a front-row seat to the finest SEO spectacle in the United States. ? Let's dive right in!
How To Choose An SEO Company In The USA
Choosing the ideal SEO company in the United States isn't an easy endeavor – it's akin to selecting the perfect wine from a vineyard brimming with exquisite blends. Your choice needs to resonate with your brand's unique needs and expectations. It demands a comprehensive understanding of the SEO landscape and a focused strategy.
Prioritize a company well-versed in the delicate art of optimization – one that cultivates success stories like a gardener nurtures flowers. Look for a company boasting a portfolio laden with successful SEO campaigns. For instance, an SEO firm that's transformed a fledgling e-commerce platform into an online shopping juggernaut is a prime contender.
Evaluate the company's modus operandi. The best SEO companies in the United States utilize a holistic approach – a blend of technical optimization, content strategy, and link building. They dissect your website meticulously, leaving no stone unturned in their quest for optimization excellence.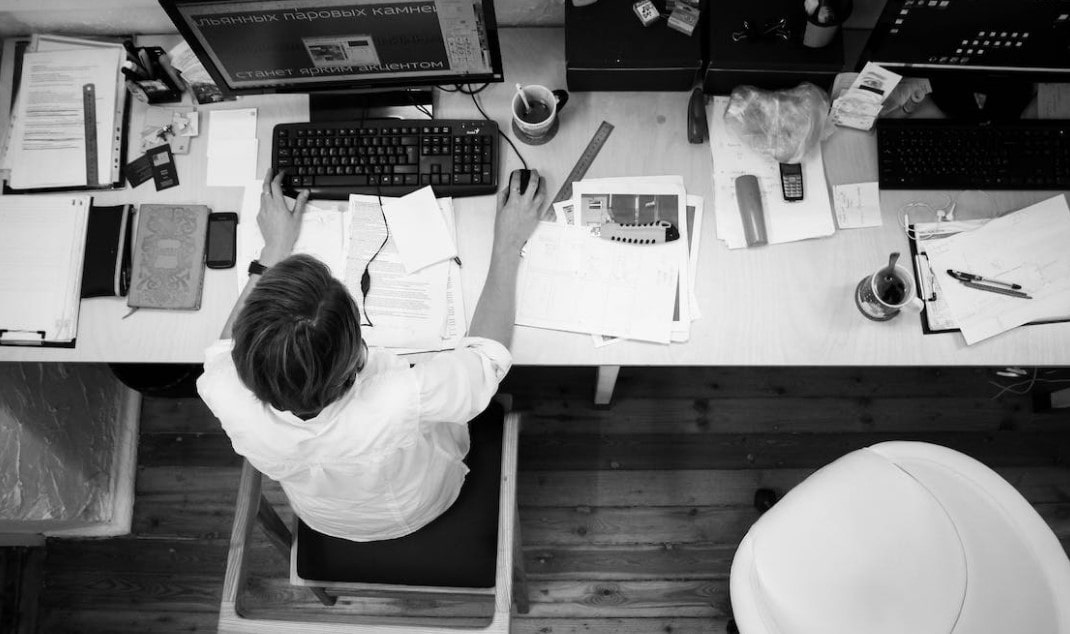 The company's industry expertise should be another deciding factor. A prime example is an SEO firm specializing in the healthcare niche, successfully navigating the intricate maze of medical terminologies and patient confidentiality.
Consider these aspects when choosing an SEO company in the United States:
Expertise in diverse optimization strategies.
Success stories across various niches.
In-depth understanding of technical optimization.
Proficiency in managing and interpreting analytical data.
Stellar reputation in the industry.
Ensure that the SEO company emphasizes transparent communication and respects deadlines. Their updates should be like a lighthouse guiding you through a stormy sea of data, not leaving you adrift in an ocean of confusion.
In conclusion, an SEO company in the United States should be a master in the optimization sphere, crafting unique strategies that catapult brands to success. Your choice should echo your vision, resonate with your niche, and result in tangible growth.
List Of Top 16 SEO Companies in the United States
Navigating the "Best SEO Companies in USA in 2023" feels like sailing through a sea brimming with potential. Each SEO firm, unique in its approach to optimization, beckons you with the promise of digital alchemy – turning your brand's online lead into golden opportunities. Like seasoned sommeliers, they offer diverse flavors of expertise, ensuring your brand uncorks the perfect blend of the United States' top-tier SEO strategies.

In the panorama of digital marketing and SEO optimization, WebFX stands out as a stalwart champion, firmly rooted in the United States. The company integrates a client-centric approach to SEO optimization with a focus on metrics that catalyze business growth—leads and revenue. More than a simple account manager, WebFX offers a complete marketing team brimming with SEO specialists and web developers dedicated to enhancing site optimization and boosting online channel revenue.
Key offerings include:
Comprehensive marketing automation via MarketingCloudFX
Full-spectrum digital marketing services
Data-driven strategies backed by decades of experience and extensive data analysis
Supporting strategies such as content marketing, PPC, and web design.
WebFX's proprietary tools and platforms allow the company to offer unrivaled tracking and reporting on ROI, making performance tracking a breeze. When All Pro Trailer Superstore partnered with WebFX, they experienced a significant increase in web visits, SEO conversion, and SEO users.
Focusing on data, not hunches, WebFX utilizes billions of data points to formulate strategies that have already contributed to their clients' earning over $3 billion in revenue and 7.8 million qualified leads. With WebFX, your ROI from digital marketing is no longer an enigma but a defined and trackable value.
The company doesn't merely implement SEO; it weaves a fabric of success by converging diverse channels for maximized visibility, conversions, and revenue. Trust WebFX to offer a tailored plan aligning with your company's unique needs and goals, fueling digital marketing success.

KlientBoost stands as a trailblazer in the SEO and optimization landscape, steering businesses to phenomenal growth with an uncanny knack for ranking websites. Not your run-of-the-mill SEO company, KlientBoost supercharges your online visibility, transforming organic traffic into tangible revenue.
Boasting a multi-talented squad of SEO wizards, their approach aligns perfectly with the digital marketing sphere—predominantly organic search. This is one company that walks the talk—their website traffic is a testament to their prowess, leaving other SEO companies green with envy.
KlientBoost deftly navigates the SEO terrain, offering a smorgasbord of marketing services:
Tailored content
Link-building strategies
Local SEO initiatives
Social media integration
In contrast to a random digital marketing company, KlientBoost commands a formidable position on the first page—a tribute to their relentless optimization efforts.
They bring to the table a robust set of SEO recommendations, borne from a wealth of experience across 250+ clients. This unprecedented access to invaluable data kickstarts your growth, replacing the need for run-of-the-mill protein powder.
Their expertise spills into the creation of engaging content. Furthermore, they don't stop at high-performing SEO—expect a full-service experience including conversion rate optimization, omnichannel content distribution, retargeting ads, and editorial calendar strategies.
KlientBoost's philosophy revolves around personalization—eschewing the one-size-fits-all approach. Whether you need ongoing SEO management, a one-time audit, or consulting, they've got you covered.
To top it off, KlientBoost doesn't limit themselves to SEO. Their expertise extends to paid advertising, email marketing, and conversion rate optimization. You can count on them for consistent communication and comprehensive reporting, making them an integral cog in your business engine.
Simply put, tapping into KlientBoost's SEO expertise could be the best decision you make for your business. No fillers, no fluff—just top-notch SEO that fuels your success.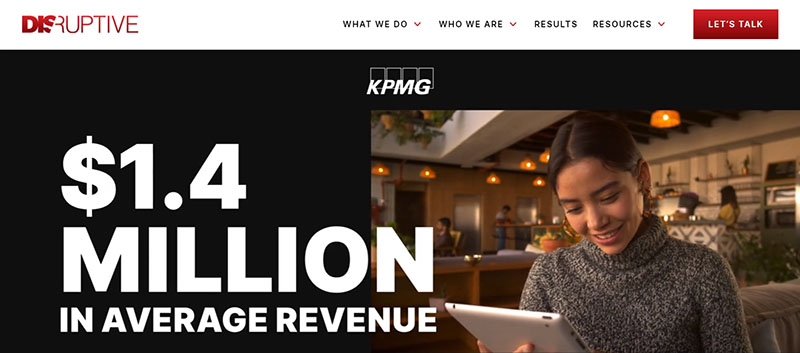 Disruptive Advertising transcends the ordinary, fulfilling the gap in the market for a proactive, strategic company partner equipped with the vision and expertise to drive enduring online results. They've cultivated an environment where both employees and clients are primed to learn, grow, and triumph.
Pioneering the digital space, they've empowered brands and organizations to instigate change through their innovative marketers. With Disruptive Advertising, your business claims the coveted top spot on search engines—becoming an industry authority and the first choice for customers searching for your product or service.
Consider this – 94% of clicks in the SERPs gravitate towards organic results, and 75% of searchers never venture past the first page. Here's how Disruptive Advertising empowers your marketing strategy:
Harnessing 53.3% of all website traffic coming from organic search
Capitalizing on the 49% of marketers reporting organic search yielding the best ROI.
Shaking off the constraints of a cookie-cutter approach, Disruptive Advertising treats each client as a unique case. They craft tailored solutions for each brand, providing a fresh perspective on the campaign.
With Disruptive Advertising, businesses can anticipate:
An influx of improved leads
Superior positioning against competitors
A surge in website traffic
Their focus on actual sales engagement rather than vanity metrics solidifies their position as an exceptional SEO company with a track record to match. Their specialists have weathered the storms of Google algorithm updates, navigating the ever-changing SEO landscape with finesse. With Disruptive Advertising, you're in capable hands.
Stepping into the spotlight, Straight North propels thousands of companies on their digital journey, providing expert SEO services, paid advertising, innovative web design, and creative services as the leading SEO company in the United States.
With over two decades of SEO optimization experience, they masterfully run both national and local SEO campaigns. Whether it's a neighborhood store, a multi-location company, or a large franchise business, Straight North brings clarity to the intricate process of SEO. To illustrate:
Their National SEO campaigns are strategically planned and executed, consistently boosting visibility, generating leads, and enhancing revenue for growth-minded businesses.
Local SEO services are tailored to local businesses, enhancing their presence in local search results and driving targeted traffic, sales, and revenue.
Specialized in ecommerce SEO, they handle technically complex issues, persuasive copywriting, and link acquisition, ensuring an increase in organic traffic, sales, and overall revenue.
For large organizations requiring enterprise SEO, Straight North delivers consultative approaches, unifying departments in the pursuit of positive SEO results.
In every case, Straight North provides services that improve credibility, increase search rankings, and enhance brand visibility. As a beacon in the industry, they keep their clients informed about the strengths, challenges, and results of the campaigns— fostering transparency and open communication.
Leaning on Straight North, businesses from various niches are perfectly positioned to navigate the digital landscape of the United States. They have embarked on a journey, and Straight North, as their trusted company, steers them on the right course, championing their online success.

Ignite Visibility is a renowned full-service digital marketing company founded in 2013 and rooted in sunny San Diego, California. This award-winning company is consistently heralded as one of the top SEO agencies in the United States, demonstrated by a prolific collection of over 200 five-star online reviews.
Adorned with a multitude of accolades from Clutch.co and other industry giants, Ignite Visibility stands out from the crowd not just for its SEO expertise but for its wide-ranging digital services. This versatile company integrates SEO with a strategic blend of social media, CRO, SEM, content marketing, and public relations.
Their multifaceted approach offers:
Customized SEO services tailored to individual business needs
An industry-leading team of over 85 full-time expert employees
Experience teaching SEO and web analytics at UC San Diego
But the journey with Ignite Visibility doesn't end with robust SEO strategies and sterling digital solutions. Their unique value proposition is fortified by a commitment to:
Consistently deliver measurable results without tying clients to long-term contracts
Provide an elevated customer experience, evidenced by the glowing testimonials from happy clients
Boasting an impressive client roster that includes Tony Robbins, 5 Hour Energy, The Knot World Wide, and Sharp Healthcare, Ignite Visibility's unwavering commitment to forging strong relationships, rapid responsiveness, and quantifiable results truly sets them apart as a digital marketing leader. Their dedication to their craft, coupled with their ability to consistently meet and exceed KPIs, makes Ignite Visibility the preferred choice for any business seeking to amplify its online impact.

Intero Digital, a top-tier SEO company in the United States, stands out in the bustling marketplace of SEO. Recognizing the distinctive needs of e-commerce businesses, they offer a unique take on SEO services, ensuring a focus that traditional local or national SEO might not fully encompass.
Recognizing that e-commerce SEO requires deft keyword navigation to guide traffic to specific pages and products, Intero Digital crafts strategies that:
Enhance on-page e-commerce optimization, boosting conversions significantly
Include competitor research, ensuring you're ahead in your industry
Align all SEO solutions for maximum uplift for your brands and business
Improve site speed, reducing friction once consumers land on your site
With an arsenal of services beyond the realm of e-commerce, Intero Digital offers comprehensive Local SEO solutions. Their strategies are designed to help businesses:
Dominate industry-specific keywords
Enhance brand credibility for search engine bots
Optimize rankings for mobile searchers via Google+ and Maps
In the sphere of National SEO, they employ advanced keyword research based on historical and predictive data, focusing on the strategic use of all Google's assets and ensuring your on-site content mirrors your national SEO goals.
Intero Digital's comprehensive portfolio includes other digital marketing services that complement SEO, like paid media advertising, content marketing, digital PR, and Amazon marketing. In a nutshell, Intero Digital offers robust SEO solutions tailored for every level – local, national, and e-commerce – delivering measurable success.

Meet Coalition Technologies, your ultimate SEO and optimization company. This United States-based powerhouse takes the guesswork out of SEO, ensuring your online presence is not just seen, but revered.
Ranked as the #1 SEO services company, Coalition Technologies' remarkable achievements speak volumes about their expertise. With 780+ case studies, 4.7★ rating on Google (110+ reviews), 4.8★ on Facebook (50+ reviews), and a whopping 4.7★ rating on Featured Customers (1,200+ reviews), it's clear that this company is universally acclaimed.
How does Coalition Technologies deliver? It's all about their rigorously-tested and robust SEO strategies. Driven by data and research, they fine-tune every aspect of your business—from the website to the customer base. Their custom-developed software, optimized for ultimate efficiency, ensures promising results.
They begin with a comprehensive analysis of your website, products, and industry.
Strategic keyword and competitor research helps maximize your audience reach. • Analytics setup and review ensure seamless monitoring of SEO progress, trends, and growth.
Their link-building campaigns increase your website's authority and draw in high-value traffic.
Social media campaigns, tailor-made for your audience, amplify your reach and impact.
They provide insightful search engine ranking reports to optimize SEO plans.
Constant keyword research keeps you ahead of competitors, always!
If you are in the eCommerce business, Coalition Technologies offers targeted keyword research, engaging blog content, and optimization of your website structure. Moreover, their diligent PR outreach and problem identification ensure your website remains streamlined and highly visible.
When you partner with Coalition Technologies, you're not just signing up for an SEO service; you're entrusting your online footprint to a team of world-renowned professionals that deliver real results. This is why Coalition Technologies continues to be the gold standard in the SEO and optimization landscape.

Thrive Internet Marketing Agency – an unrivaled SEO company in the United States, faithfully serving hundreds of clients for more than 15 years. As a paragon of optimization solutions, Thrive focuses on resolving issues like decreased website traffic or dwindling incoming leads. Instead of merely providing a service, the company empowers clients, preparing them for the ever-evolving Google algorithm.
This digital company crafts bespoke SEO strategies by comprehending your specific niche. Their services include:
Keyword Research & Strategy: Constructing a robust keyword portfolio to boost your ranking.
Link Building: Generating high-quality, relevant backlinks to enhance search result positioning.
Technical SEO: Optimizing your website's back-end for improved rankings.
Local SEO: Leveraging Google Business Profile for higher local rankings.
On & Off-Page SEO: Enhancing online visibility and establishing brand credibility.
In specific niches like eCommerce, Thrive intensifies the digital presence of online stores and fosters improved customer retention. They also focus on Amazon SEO, promoting your products to the right audience, and enabling your brand to stand out among millions.
Besides the core services, the agency excels in content writing and conversion rate optimization (CRO), providing SEO-friendly content and increasing online revenue, respectively. Trust Thrive, and invest in a future replete with online success.
Searchbloom, a premier SEO company based in the United States, has cracked the code for digital prominence with its distinct, data-driven approach to optimization. By harnessing potent SEO strategies, they consistently deliver stellar marketing solutions and drive tangible results.
Here's how they do it:
Local SEO Services: Amplifying your local online visibility, they craft bespoke campaigns to set your business apart.
National SEO Services: Having triumphed in the fiercely competitive SEO sector, they translate this expertise into significant benefits for your business.
ECommerce SEO Services: Possessing deep technical proficiency, they embrace the complexity of ECommerce SEO, a niche where 43% of traffic springs from organic Google searches.
With ECommerce sales hitting stratospheric levels, it's pivotal to engage with a specialized digital marketing firm. Searchbloom stands ready, armed with a squadron of ecommerce SEO savants. They meticulously audit and analyze your online store, spot deficiencies, and engineer a winning ecommerce SEO strategy. In the process, they remove the SEO guesswork, enabling you to focus on your core business.
Whether you are a burgeoning business or a giant in your sector, Searchbloom offers scalable strategies to surmount technical challenges posed by large ecommerce websites. By increasing targeted keyword rankings, driving relevant organic users, and growing overall sales and revenue, they ensure your ecommerce store thrives.
Their approach is a well-structured blend of targeted keyword research, rigorous keyword mapping, website technology enhancement, brand trust building through outreach, structuring your site properly, and content optimization.
As online competition escalates, partnering with Searchbloom—an ecommerce SEO company at the vanguard of SEO trends—is an investment that guarantees returns. They promise not only the growth of your ecommerce business but also a fruitful partnership that goes beyond client relationships.

Picture an SEO company that blends technology and expertise, crafting sterling digital experiences that amplify the online visibility of businesses in the United States – SEO Brand is that company. This diligent company's mission is crystal clear – delivering remarkable optimization results that not only meet but exceed clients' expectations.
Pioneers in the SEO industry, SEO Brand exudes prowess in an array of niche markets. For instance:
B2B, B2C, and SaaS companies witnessing profound shifts in their digital marketing landscapes.
eCommerce and lead generation-type businesses striving for the competitive edge in their markets.
Business owners grappling with outdated websites in need of a contemporary touch.
At SEO Brand, the optimization journey kicks off with "The Discovery Process." A committed SEO team and an Account Manager are assigned to each client. They meticulously analyze your business standing, identify potential improvement areas, and unearth valuable consumer insights, providing tailored SEO solutions.
The services SEO Brand offers include:
In-depth competition research to inform your SEO strategy.
Detailed keyword research to align with your business needs.
On-page SEO strategy services for higher ranking and traffic.
Local SEO to connect with your local audience effectively.
SEO content writing for engaging, conversion-optimized content.
Off-page SEO services for stronger brand recognition.
Link building to drive more organic traffic and elevate your search engine ranking.
A full technical audit to fix issues affecting your site's performance.
Technical SEO for a smooth user experience across all devices.
SEO Brand's relentless pursuit of excellence has cemented its reputation as a trusted SEO company. They take pride in fostering their clients' growth, arming them with the tools to claim the top spot in the digital landscape.

Amp up your digital footprint with Comrade Digital Marketing Agency – a premier SEO company in Chicago, USA, with a nationwide reach. Our specialization in search engine optimization propels businesses to the zenith of online visibility. We are not merely an company, but your dedicated partner, driving your success with a potent blend of expertise and innovation. We've brought over 300 companies to Google's first page and promise the same exceptional results to your enterprise.
Our agency's unique selling points include:
Tailored SEO solutions to cater to various businesses from law firms to eCommerce platforms.
A slew of service packages – "Steady Growth", "Faster Growth", and "Full Speed Growth". Each designed meticulously, considering key phrases, website pages, and other SEO specifics.
A proven track record showcasing an average SEO traffic increase of 175% after one year, 240+ SEO projects completed, 65% average ROI increase from SEO, and a 35% conversion rate increase.
Our comprehensive SEO services cover every aspect you might need. This includes competitive research to stay a step ahead, expertly conducted keyword research & optimization, SEO strategy development, local SEO, on-page SEO, and off-page SEO, including link-building.
To ensure the high quality of your online content, we offer comprehensive content marketing. Our technical SEO services aim to optimize your website's performance. We incorporate modern SEO analytics and reporting tools to keep you informed and updated. Plus, our SEO consulting services and SEO audit services are ready to boost your business's digital performance. Embrace the future with our AI SEO services that intertwine technology with traditional SEO practices.
We've mastered the unique SEO requirements for WordPress, eCommerce platforms, franchises, lawyers, contractors, and small businesses. Thus, we provide a perfect blend of versatility and specialization, propelling us as the SEO company of choice across the United States. Trust us, Comrade Digital Marketing Agency, to illuminate your path to digital success.

Infront Webworks — a premier optimization company in the United States — embodies the paragon of enterprise SEO services. Unsurprisingly, they clinch the top spot as the #1 SEO Agency in Denver SEO and rank nationally in the top ten by acclaimed company rating services, including Clutch.
Powering comprehensive digital marketing strategies for over two decades, the company has built a robust reputation, sustained by a 4.9-star rating from 150+ Google reviews and an A+ rating from the Better Business Bureau. They specialize in myriad areas, including serving Fortune 500 companies and managing large e-commerce enterprise sites, making them a versatile company.
Infront Webworks offers full-spectrum SEO services, from ongoing content marketing and technical audits to consultancy.
They boast a stellar track record of boosting traffic, leads, sales, and non-branded organic search queries.
Their team constitutes expert digital marketers with a collective 112 years of experience.
It's easy to see why they are recognized among the best in the country, given their impressive stats: an annual client retention rate exceeding 90% for 5 years and an astounding average organic growth of over 524% per client in 2021. Unwavering in their commitment, Infront Webworks champions a win/win business model, putting customer ROI first and fostering a team that shares this ethos.
While expert SEO consultants form the backbone of the company, it's their relentless pursuit of excellence that truly sets them apart. Their proven track record, coupled with a repertoire of high-profile clientele, exemplifies their industry-leading approach. Furthermore, they navigate even the most intricate SEO landscapes with finesse, making Infront Webworks the go-to destination for comprehensive, enterprise-level SEO and digital marketing strategies.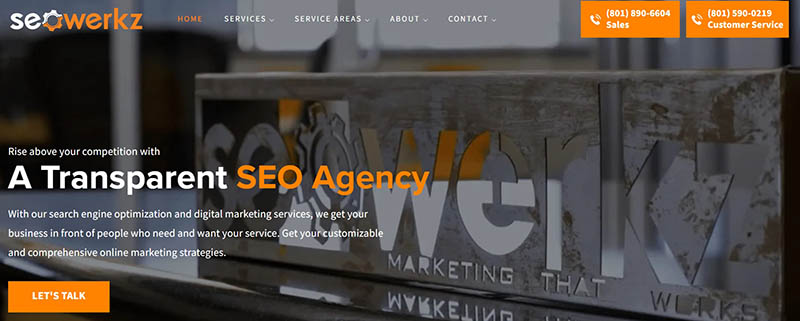 Boasting mastery in search engine optimization, SEO Werkz stands tall among its peers as a top-tier SEO company in the United States. Our proficient team breathes life into your digital strategy, ensuring your business appears promptly to those seeking your services. A key commitment at SEO Werkz is transparency—we showcase the meticulous work done for every penny spent, implementing a definite number of tasks to complete.
Success isn't a mere coincidence—it's the outcome of adherence to algorithm alterations and the application of the finest white hat techniques. Earning client loyalty, we consistently deliver a positive return on investment and refrain from binding contracts, offering you complete flexibility.
Struggling with an underperforming website while your competitors triumph? SEO Werkz is ready to level the playing field. We weave digital marketing campaigns that work wonders. No shortcuts, no black hat tactics, we are guided by best practices to drive sustainable results for your business.
Our service palette is broad and inclusive. For example:
We enhance your website's on-page optimization and develop sophisticated link building strategies.
We facilitate in-depth keyword research, creating new opportunities to attract your target audience.
We manage your social media profiles, nurture your online reputation, and revamp your existing web pages.
We craft individualized campaigns tailored to meet your unique objectives, offering a multitude of benefits:
Short and long-term "wins"
Insightful advice appreciated by clients
Customer-centric approach
Innovation in our DNA
Let's together plant the seed of success in the fertile soil of SEO, nurturing it to bloom into a flourishing garden of growth and prosperity. SEO Werkz—your reliable partner in the digital marketing journey.

Rankings.io takes center stage in the United States as a powerhouse SEO company specializing in personal injury law firms. Their philosophy – focus on what they do best: SEO optimization, and let law firms stick to their expertise – justice.
They unveil the hidden potential of a website with their meticulously tailored Attorney Rankings System – an unparalleled, comprehensive SEO approach in ultra-competitive sectors. This system encompasses key strategies:
Content Creation: Devising an editorial calendar and developing high-quality content for lucrative keywords.
Onsite Optimization: Enhancing site structure and speed, working in streamlined, prioritized phases for optimized performance.
Local SEO: Ensuring your firm isn't just on the map but dominates it, boosting local visibility and reputation.
Link Building: Securing high-value links from esteemed publications, establishing your site's credibility.
Rankings.io steps up and takes care of content creation, delivering attorney-approved content that drives conversion. They put local SEO into overdrive, ensuring your law firm is seen in all relevant places. With strategic link building, they strengthen your firm's online reputation.
Their commitment to transparency separates them from the crowd. Every link built, every outreach executed – nothing is left in shadows. This company isn't about making promises, they're about delivering results. Specialization is their strength, accountability their asset, and transparency their touchstone. Don't be just another client, become a partner with Rankings.io and experience a symbiosis that's engineered for success.

Agency Jet, an eminent SEO and optimization company based in the United States, holds the power to turn around your company's digital footprint. Their strategy pivots on results-driven operations and absolute transparency, setting them apart in the industry. They deftly employ a tri-fold approach:
An exhaustive discovery process to comprehend your unique offerings and align them with public search behaviors.
Implementation of SEO health checks, cleaning up dead links and organizing sitemaps.
Content creation precisely crafted to meet the expectations of Google's algorithms.
Agency Jet then goes a step beyond, placing you on high-authority websites, thereby increasing your brand visibility in spaces frequented by search algorithms. As an example, consider the success story of 'Tile This', an e-commerce platform. After coming onboard with Agency Jet, they saw their organic visits per month surge from a few hundreds to over 4000.
Agency Jet goes all out to make its clients feel secure and in control, offering:
Guaranteed results and full ownership of the created content.
Weekly email reports and access to a 24/7 dashboard.
Consistent communication through recorded calls and a dedicated Project Manager.
Their white-hat SEO techniques ensure that your visibility gains are not short-lived flashes but consistently grow, ensuring long-lasting results. Agency Jet – your reliable partner in the journey of SEO optimization.

DIGITECH, an award-winning SEO company based in Austin, catapults brands to unparalleled heights with state-of-the-art search engine optimization. As industry pioneers, we lead the charge, boasting an exclusive SEO process crafted from a decade of meticulous research. With the might of Google's Entity SEO, E-E-A-T, and Quality Raters Guidelines on our side, your brand is set to eclipse the competition.
At the heart of DIGITECH, the vision for the future gleams bright. By harnessing the power of avant-garde Google technologies, we future-proof our client's websites against impending algorithm updates, including Google AI–Bard. Our specialty? Creating content and authoritative backlinks in a manner that perfectly aligns with Google's algorithm, all thanks to our mastery of Entity SEO.
Some pillars of our exceptional SEO strategy include:
On-Page Optimization: We don't just stop at meta titles & descriptions. We create advanced schema built around Google entities, architect your content with an entity-based SILO, leverage Google's NLP algorithm for keyword alternatives, and so much more.
Content Marketing: Each piece of content we create serves a dual purpose—engaging users and generating leads. We design an intricate network of topical pages around each relevant entity for your business, anchored by cornerstone or pillar pages.
Backlink Building: Quality trumps quantity. We choose only the best links, integrating them naturally across top-tier publishers to increase your domain rating.
What's more, our Austin SEO specialists manage all aspects of your web presence, from on-page optimization to design changes, speed optimization, content optimization, and our exclusive backlink-building process. DIGITECH guarantees a seamless transition to the peak of Google rankings—no contracts, no hassles, just unrivaled SEO solutions.
Conclusion
After diligent research, we've named the leaders in SEO across the United States in 2023, revealing a diverse range of companies excelling in optimization strategies and techniques. In this constellation of SEO stars, the likes of WebFX and OuterBox shine the brightest, delivering unprecedented results for their clients ?. They've been persistent in offering unparalleled SEO services, helping companies collect significant traffic and generate leads effectively. As influencers in the SEO realm, they're spearheading online strategies and setting benchmarks for others to follow.
New York, Los Angeles, and Miami are fostering promising SEO companies. They're innovatively utilizing platforms like YouTube, LinkedIn, and Instagram to boost their client's online visibility and visitor sessions ?. They also deal in PPC strategies and web development, among other services.
In this ever-evolving digital world, SEO tools like Plerdy have become indispensable in the mix. Try Plerdy's SEO & UX analysis to finetune your website, optimize user experience, and increase visitor interaction. Plerdy – unlocking the full potential of your website ?.