Welcome to "14 Top Shopify Shipping Apps in 2023"! ?
Online business owners know how crucial a good shipping process is. Unfortunately, too many shipping apps make it hard to pick. We've gathered the top 14 Shopify shipping apps for 2023.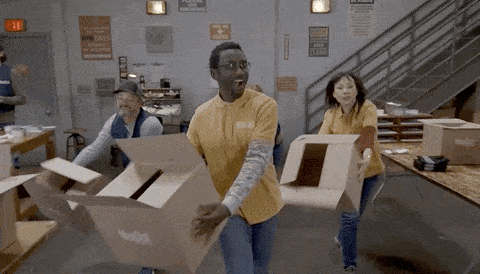 These apps simplify shipping so you can focus on other company matters. In addition, these apps can track packages and calculate shipping prices to improve customer service.
Before improving delivery, use Plerdy to examine your store's UX and SEO. Staying ahead of competitors requires fast marketing insights.
Analyze UX During the Campaign Launch

Plerdy is the best Shopify app for eCommerce tracking and analytics. It offers a variety of features, including heatmap tracking, session replay, SEO analysis, pop-up surveys, and more. With Plerdy, you can find out why your store needs to convert visitors into customers by analyzing the reasons for design, buttons, banners, and marketing. The app provides valuable data on user behavior and offers popup surveys that can help increase sales and collect emails.
Plerdy offers four pricing plans, including a free option with limited features. Its paid plans start from $29/month for the START plan, $59/month for the BUSINESS plan, and $99/month for the PREMIUM plan, and all charges are billed in USD.
Plerdy has received 28 reviews, all with an overall rating of five stars. Customers have praised the app's ease of use and effectiveness in optimizing client sites. They also appreciated the excellent customer support provided by the team, which responded quickly to their questions and helped them set up the app.
If you want to improve your store's performance and optimize your customer experience, Plerdy is the app. Try it out for free with its 14-day trial and see how it can help your business grow.
Let's uncover the finest Shopify shipping applications of 2023 for your e-commerce ? business!

This Shopify app offers the best carrier rates & end-to-end shipping features, all within an easy-to-use app. With access to dozens of carriers globally, including UPS, USPS, FedEx, and regionals exclusively on Shippo, businesses can save time and money on shipping costs. Shippo's end-to-end shipping solution automatically syncs orders with Shopify, allowing users to bulk-print up to 100 labels and create labels faster with pre-filled shipping details. With automation workflows, businesses can simplify their entire fulfillment journey and build branded & post-purchase experiences to grow their business. Shippo also provides excellent support from experienced shipping experts to help every step of the way.
Shippo's features include tracking, branded experience, automation, insurance, and returns. The app syncs order & package info to Shopify, allowing businesses to stay updated in real time. They can also create customizable pages, emails, packing slips, and more to provide their customers with a branded experience. Shippo's automation feature enables users to access rates, generate labels, import orders, batch print & more. Protecting orders by adding shipping insurance is also available. Shippo Shopify app also offers a flexible & easy return process to improve the customer experience. With 529 reviews, Shippo is the best app for online stores that want to make shipping easier.

AfterShip is a highly rated Shopify shipping app that can help businesses of all sizes proactively track their orders and optimize delivery performance. Customers can stay informed and confident about their purchases by offering live shipment updates through a branded tracking page and automated notifications, reducing WISMO (Where is my order?) calls and increasing buyer confidence.
AfterShip's shipment analytics dashboard allows users to monitor and analyze carrier transit times, on-time rates, and exceptions, allowing them to identify potential issues before they become significant problems. Additionally, businesses can install an AI-powered delivery estimate widget on their product description and checkout pages, which provides accurate estimated delivery dates to reassure anxious customers.
One unique feature of AfterShip is the ability to create branded tracking pages with personalized product recommendations. This can help businesses increase sales and customer engagement by providing a more customized experience.
AfterShip Shopify app offers a range of pricing plans, including a free 7-day trial with up to 50 shipments per month and a free plan with limited features. Paid plans range from $11/month for the Essentials plan to $239/month for the Premium plan, which includes advanced email triggers, transit times reports, and AI predictive estimated delivery dates.

Shipping Rates ‑ Shipeasy is a powerful Shopify shipping app that helps businesses of all sizes automate their shipping and save time and money. With advanced shipping rules by product, weight, zipcode, postcode, and vendor, this app provides accurate shipping rates that can be set by over 20 parameters, including rates per item and origin for businesses like drop shipping. This app also offers rate blending, allowing users to define how rates from different rule sets should be combined and special rates by customer.
This Shopify shipping app can be used in all countries supported by Shopify in the currency of their choice, with Shopify's Carrier Calculated Shipping API needed for the app to work. Shipping Rates ‑ Shipeasy also provides complete flexibility with custom shipping rules by customer, supplier, country, dimensions, carriers, and product dimension-based rates for custom products. It helps businesses avoid losses by calculating rates by zip code, postal code, and distance.
Shipping Rates ‑ Shipeasy Shopify app offers a 30-day free trial, and users can choose from three different plans – Starter, Smart, and Advanced – based on their needs. The Starter plan costs $9.99 per month, while the Smart and Advanced plans cost $14.99 and $19.99 monthly, respectively. This app provides users with unlimited scenarios and zoom/email/chat support. Schedule a call with the Shipeasy team for complete setup assistance for free.
Easyship is a powerful shipping app that provides a one-stop solution to streamline global logistics, access discounted rates, and compare shipping options. This all-in-one platform is perfect for a business founders, marketers, and specialists needing a shipping app. Easyship syncs with your store in minutes and provides instant access to exclusive shipping rates or allows you to add your courier accounts. With dynamic rates at checkout, you can compare shipping costs and delivery times, increasing conversions. The automated tax and duties calculation enable businesses to grow internationally while personalizing shipping with custom-branded tracking and labels. Easyship allows you to add insurance at checkout, which gives buyers confidence and protects their shipment. The platform offers a 14-day free trial to all new users, and after that, they offer three pricing options, ranging from free to $69 per month. The Easyship Shopify app pricing options provide shipment tracking, email and community forum support, tax and duty calculation, and documentation. Easyship has integrations with leading eCommerce platforms and marketplaces and its network of 3PL partners to deliver a seamless experience to delight customers.

If you are an e-commerce business looking for a reliable, customizable shipping app for your Shopify store, Parcelify is a perfect choice. It provides you with many features that cater to your shipping requirements. For example, with the Parcelify Shopify app, you can create custom shipping rates for every location, shipping zone, collection, and the product you have. This helps you to protect your margins by charging a fair price for shipping while driving sales with promotional shipping rates. You can also use it to reduce abandoned carts by building custom rates that collect just enough to cover shipping and handling fees.
Moreover, you can offer in-store pickup or local delivery to give local shoppers faster and cheaper options for getting their orders. Parcelify app allows you to define shipping zones based on countries, states/provinces, cities, or zip/postal codes and calculate the rate based on the combination of products, boxes, weight, and order price. Additionally, you can define rate conditions to offer a speed when the order includes or excludes certain products or meets Min/Max conditions for weight or price. If you need help getting started or have a more tricky problem to solve, Parcelify's team provides excellent support.

You can confidently ship your orders, save on top carriers, and automate your processes with ShipStation. ShipStation is the best Shopify shipping app that allows you to create an impactful delivery experience. This fantastic tool connects your Shopify store in seconds and syncs your tracking information to deliver your products with the lowest rates to customers. With just a few clicks, you can print your whole day's shipping labels, cutting hours out of your day's work by automating, tagging, splitting, and batching. You can instantly update tracking information to the selling channel and your customers. Deliver an exceptional experience with custom emails, SMS, and branded tracking to enhance customer satisfaction.
ShipStation Shopify app offers a month free trial and different pricing for Europe, the UK, Australia, and New Zealand. There are four pricing plans to choose from, depending on the size of your business. The starter plan costs $9.99 monthly and offers 50 shipments, while the enterprise plan offers over 7,500 loads for $229.99. ShipStation Shopify app supports over 180 integration partners, including Amazon, Walmart, and BigCommerce, enabling you to connect to more carriers and selling channels. With over 130,000 merchants saving more money, printing faster, and spending less time shipping with ShipStation, you can join the successful entrepreneurs who enjoy this fantastic tool's benefits.

The best shipping automation platform in Europe, Sendcloud provides Shopify with a specialized, scalable, and error-free shipping workflow. Businesses can brand the tracking experience with Sendcloud, give customers the best delivery options during checkout, and get more information about orders and returns in a simple dashboard. Users of the app can connect with more than 80 different carriers, add full shipping functionality to any system, and select from more than 50 integrations.
Customers can save money with pre-negotiated shipping rates, cut their shipping time in half, and gain access to a plethora of options with Sendcloud's APIs. With the app, you can quickly create shipping labels, manage everything in a single handy location, and even set up shipping rules to automate specific tasks.
Users of Sendcloud highly recommend the application due to its quick label printing and simple carrier integration. With Pack & Go, the app's users can pack their orders like pros while having their shipping labels and customs forms created automatically. Start your free 14-day trial now, set it up in five minutes, and use the best Shopify shipping app features.

Do you want to ship your products at the best prices in Canada? You don't need to look any further because one of the best Shopify shipping apps is here – netParcel! This app allows Shopify merchants to compare rates and ship with all major carriers in Canada and several regional couriers. With expert-negotiated rates, you can save up to 70% on domestic shipments within Canada, the US, and internationally. netParcel offers real-time rates at checkout, and you can seamlessly purchase shipping labels with order info pre-populated, making shipping a hassle-free experience. You can get started with netParcel in just a few clicks. Sign up, select your preferred service, and ship away! You can drop off your packages or schedule a pick-up. netParcel provides live support via email or phone to ensure a seamless shipping experience.
The netParcel Shopify app lets you enjoy negotiated rates with carriers such as UPS, Purolator, DHL, Canpar/Loomis, and GO Logistics. You can provide your customers with the best shipping options with real-time rates at checkout. The Shopify app lets you import orders and share updated tracking status, smoothing the shipping process.
You can benefit from netParcel's excellent services by checking out some positive reviews from satisfied customers. Customers like Nordquist Designs Inc. and Red Carpet Telescopes have commended netParcel for their great savings on international shipping and excellent customer service. PADL Boards and Folklor also love how the app diversifies their shipping options at an affordable rate. These reviews are a testament to the efficiency and reliability of the netParcel app.

Shipping costs and delivery options can harm your online business's success. Abandoned carts directly result from customers needing help finding suitable shipping options. But, with the best Shopify shipping app, Intuitive Shipping, this is no longer a concern. Instead, this app can turn your customers' primary pain point into a competitive advantage, allowing you to customize the shipping step of your checkout with available shipping options and delivery estimates.
Intuitive Shipping offers over 40 mix & match conditions to control when rates appear at checkout and why. The dimensional shipping feature ensures accurate real-time shipping rates while allowing you to display descriptions below shipping options for a seamless checkout experience.
Connecting your ShipStation account allows you to receive discounted rates with major carriers. You can also customize the names of blended shipping rates for a cohesive buyer's journey, resulting in more conversions. With the Intuitive Shipping Shopify app, you can fine-tune every aspect of your shipping costs and charge your customers the correct price.
Their pricing plan starts with a 15-day free trial, sandbox, and a free version. They have different payment tiers to suit your business, including silver, platinum, and prestige. Intuitive Shipping lets you control your shipping costs and options displayed at checkout.

One of the top Shopify shipping apps is Advanced Shipping Rules. This app makes setting up simple to complex shipping rate requirements possible and simple for business owners, digital specialists, and experts. It distinguishes itself from other Shopify shipping apps with a variety of features. The conditional logic in the app is adaptable, simple to express, and has a wide range of variables. Thanks to advanced real-time carrier rates, users can obtain accurate information on carrier rates. App users can also decide how to combine rates and what shipping rate titles appear. Users can limit the shipping of some products to particular regions using the app. Finally, users of Advanced Shipping Rules can rely on its highly-rated, beneficial email and phone support when they run into problems with their shipping rates.
The app's pricing is reasonable and flexible; users can try it out for seven days without paying anything. Depending on their needs, users can choose between four pricing tiers: LITE, STANDARD, PRO, and UNLIMITED. The app has a variety of features that are tailored to various business models. For instance, it is ideal for stores that use multiple dropship vendors because users can specify different shipping guidelines for various product categories and manage how they are combined. The app makes it simple for on-demand printers to set their flat rates because it directly integrates with Printful, Pixels, and Printify shipping rates APIs. It is also appropriate for companies that offer local delivery for some products, free shipping or free + shipping, method and zone restrictions, and small vs. heavy items. Users can set different rates for various product categories using Advanced Shipping Rules or develop their own rule-based rates based on factors like item, price, or weight. The app also uses postal codes to divide their Shopify zones into sub-zones, each with different product prices.

The top Shopify shipping app on the market is Packlink PRO, so look no further. You can streamline your shipping operation from a single dashboard by automating each step of your shipping process with Packlink PRO, from importing orders to printing shipping labels to picking and packing orders. As a result, you can focus more of your time on expanding your business and less on logistics.
More than 30 carriers are accessible through the app, including special pre-negotiated rates for domestic and international carriers. To make it simple for your customers to select the delivery option that best suits their needs, you can easily offer home delivery, same-day delivery, evening delivery, and any other delivery method you can imagine.
Packlink PRO Shopify app provides free installation without additional fees or registration requirements. You are only charged for what you ship; all fees are USD. With Packlink PRO, you can create a unique workflow to pick, pack, and print shipping labels quickly. You can also sync and automate your Shopify orders and other marketplaces.
Packlink PRO Shopify app can help you save time and money with your monthly shipments, whether you are a website specialist, an expert, or a business owner. It provides wherever and whenever you want international shipping services with industry leaders. So why not give Packlink PRO a try and see how it can improve your shipping process when over 40,000 online vendors rely on it for their shipments?

If you want to increase customer satisfaction while lowering your support costs, Tracktor Order is the best Shopify shipping app for you. Founded in 2012, this app has over 10,000 customers and 309 views. It has integrations with major carriers like Shopify, FedEx, United States Postal Service, and UPS. It stands out from the competition because of its impact on third-party integrations, mobile-friendly, and white-label weekly email report features.
What is Tracktor?
Tracktor is an app that adds professional-grade order status and package tracking to your website. It gives you and your customers visibility into the status and location of packages in transit. Every tiered plan includes customizations, such as designing your tracking page to match the rest of your site and adding recommended products to the page to increase repeat purchase frequency.
What makes Tracktor different from competitors?
Run by ShopPad Shopify app, which has been in the Shopify and Shopify Plus ecosystem since the beginning. Tracktor's dedicated service team is committed to helping merchants maximize the app's benefits. For example, it has been proven to reduce customer service requests and eliminate nearly 100% of "where's my order" tickets for customers under age 50. Key metrics to track include the number of order lookups from Tracktor and the number of purchases after visiting the Tracktor page.
Is Tracktor right for my store?
If you are investing in any customer service resources or want to improve your post-purchase customer experience, Tracktor can be a great tool for you. It is also a great fit for drop-shippers. However, it is a Shopify-only tool, so it may not be suitable for you if you offer digital products or services and do not ship anything. Tracktor is easy to install and manage, making it a set-and-forget tool that saves you time and money or makes your customers happy.

The best Shopify shipping app is ShipNerd, which can save your company money and streamline shipping procedures. The shipping platform provides strong tools, batch printing, order and product syncing, and more to support real-time visibility in managing your shipments. You can choose from discounted shipping rates based on transit time using our multi-courier shipping platform without making volume commitments or paying a monthly fee. Thanks to our strong relationships with top couriers, your shipments will be delivered safely, at competitive rates, and without volume commitments. With the ShipNerd Shopify app, you can manage and track your shipments, schedule pickups, print in bulk, and get thorough packing slips for each shipping label. You can also get discounted shipping and insurance rates. To automate your shipping workflow, ShipNerd's Smart-Sync technology intelligently syncs your orders, packages, and products. There are no additional costs or obligations; you only pay for what you ship. Visit our website to create your free account immediately and start choosing your shipping methods more wisely.
Bottom Line
Choosing the right shipping app can make a big difference in the success of the Shopify store. With the 14 best Shopify shipping apps of 2023, you can expect awesome features like automatic tracking, large discounts on shipping rates, and various shipping box types. Plus, if you use data-based tools like Plerdy to analyze the store's UX&SEO, you can boost your marketing efforts and stay ahead of the competition. So, look at our list, pick the right app, and keep your shipping process running smoothly. Then, remember to check out Plerdy to take your online store to the next level!