The main factors that modern users highly appreciate are the intuitive design of the website and easy navigation through pages. Today's marketers and web designers consider these and other aspects that matter for user-friendliness. User experience testing is the way to get insight into end-user satisfaction and improve UX.
What Is User Experience Testing?
The definition of "user experience testing" can be formulated as the set of checks and tests undertaken to collect qualitative and quantitative data, perform UX-driven changes, and improve user satisfaction.
It helps make your website highly efficient, generate more traffic, and bring more conversions. User experience testing methods are focused on the following:
This way, you get a detailed explanation of how your visitors perceive your website design. If you want increased online outreach and a customer-centric approach for your business, it is important to regularly analyze users' interactions and feedback reports. User experience testing tools detect issues that harm UX and fix these defects timely.
Why Is User Experience Testing Important?
Websites and applications should be tested in the context of their user experience for the most effective design updates and tech improvements for the absolute satisfaction of all the end-users. Suppose people who visit your digital platform get everything they want and stay pleased with interactions on the website or app. In that case, the chances of converting leads into standing clients and loyal audiences are significantly higher.
User experience web testing is necessary for many reasons. For example, this is how to get relevant feedback and update your website according to the users' expectations. Additionally, present-day user experience testing software offers to check, monitor, and improve the following aspects that are critically important for UX:
Mobile-friendliness & responsive design;
Clickability rates and SEO;
Remember that user testing experience helps save business representatives time and money on promotions, advertising, and website tech updates.
User Experience Testing with Plerdy
"I have an opportunity to keep track of all the interactions with my dynamic website element! Only live insights and extremely efficient improvements for my websites are Plerdy."
Jonathan P. (Entrepreneur)
"Plerdy is one of our must-have tools because it offers a wide range of helpful options for search engine optimization. We regularly use Heatmaps, Events Tracking, SEO integration with Google Search Console, and other services available in the Plerdy user experience testing tool!"
Anastasia (SEO specialist)
Plerdy is one of the most top-ranking software on the modern market that makes it possible to analyze user behavior and interactions with website elements more effectively. The Plerdy user experience testing checklist for comprehensive UX analysis is reviewed below. Take a closer look at the main services and tools for a better user experience.
The Plerdy Heatmap tool is the best way to determine the sequence of clicks on your website pages and find the most click-friendly elements. User experience web testing is impossible without analytical background based on user interactions. The heatmap tool by Plerdy also detects CTA buttons, content, and other blocks rarely clicked. It is possible to explore traffic channels and divide users according to their clicks, behavior, etc.
One good example of the heatmap tool in work is a Kredobank case. The Plerdy software was used for deep analysis of users' interactions on the official website of this banking structure. The UX report contained not only relevant data on visitors' experience (click-based statistics, bounce rates) but recommendations like:
To delete all the useless content from the main page;
To replace "hot" (CTA) buttons and contact information with the click-friendly place;
To delete outdated on-page elements that slow down conversion algorithms.
Martin Bachmann, CTO at insign gmbh:
"Thanks to Plerdy click heatmaps, we found out that visitors omitted our most essential navigation entries. We could not have supposed this, and no SEO or A/B testing tool would have told us. Plerdy heatmaps are great for user experience testing."
Ben Currier, Owner & Founder at Excel Exposure:
"You get fewer junk data and fewer illogical clicks. It meets the promise I visualized when I started using it for user experience testing."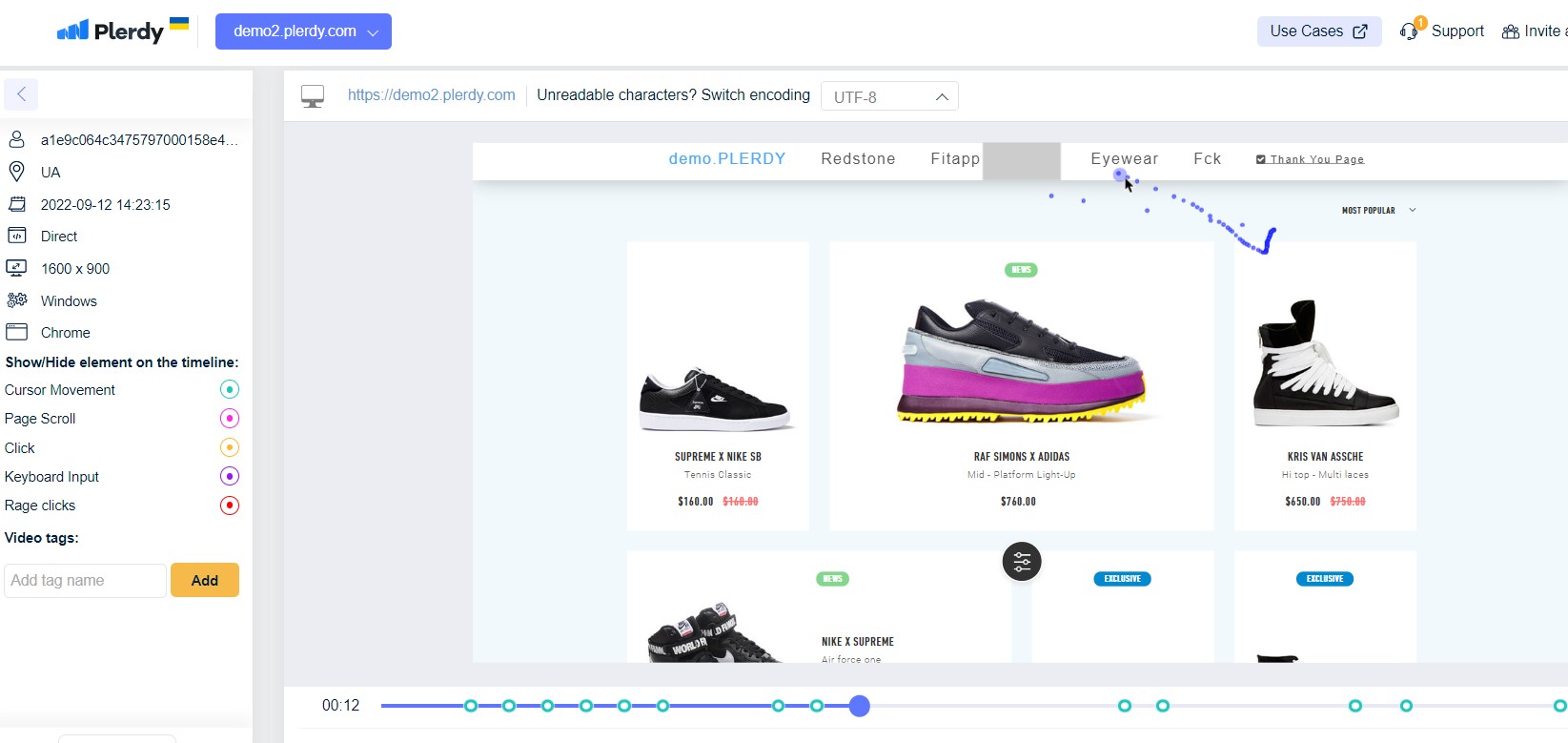 Online user experience testing requires session recordings and their replay to understand user behavior in the live mode. If you want to explore your customer's journey firsthand, Plerdy's session replay option comes in handy. It will be suitable for marketing campaign development with tailored solutions based on real end-user interactions (cursor moves, scrolling, screen capturing, clicks, etc.).
Additionally, there are many filters applicable for gathering customer data. You can investigate each interaction separately or analyze them all together. The session replay service is essential for timely on-page configurations. It is worth noting that this option is available both for desktop and mobile versions of websites to provide more accurate UX-driven insights.
Eric Tan, CEO at Ikeda Group:
"Video recording helps to give me insights into the user experience on my website."
Ivan Shariy, SEO copywriter at IdeaSoft:
"With video session recording, heat maps, pop-ups, and Google Search Console, Plerdy is a swiss knife for user experience testing."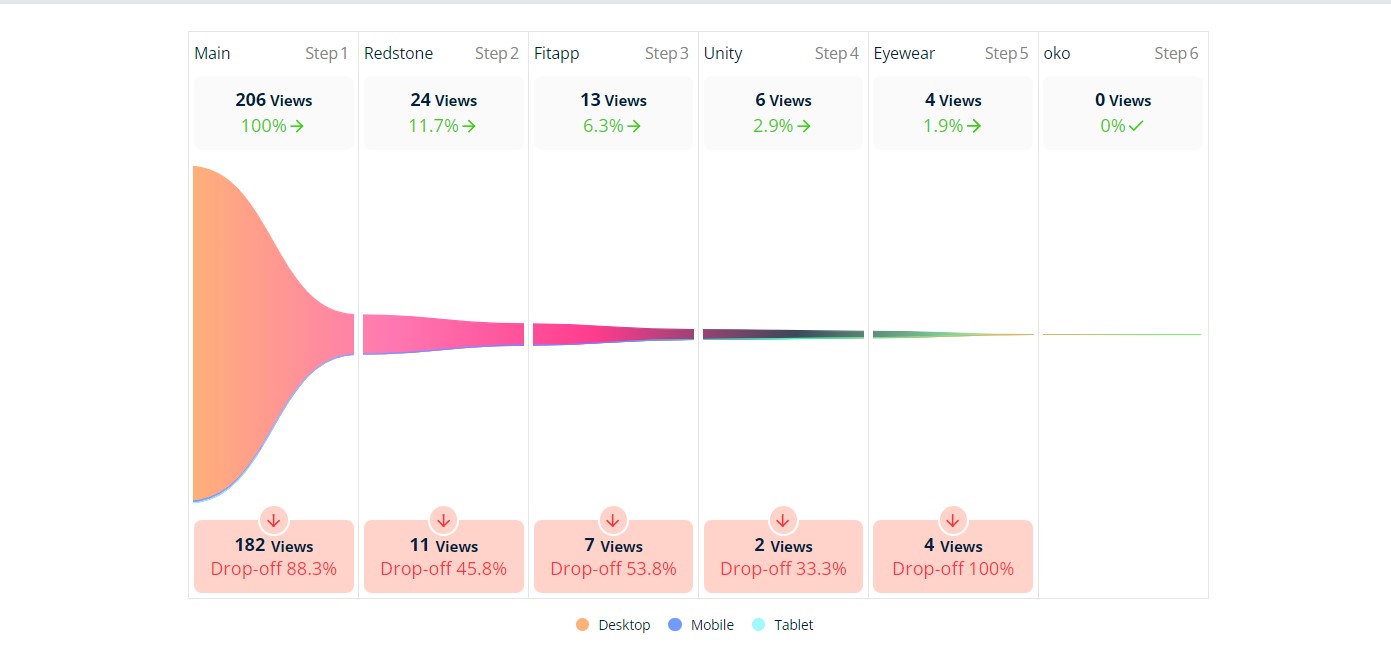 This procedure is notable by the analysis of conversion leads into payable customers. All the movements through the pages are taken into account. You can improve user experience with the help of the Plerdy conversion funnel analysis that includes:
Detection of shifts in user behavior;
Determination of reasons why leads abandon the funnel;
Monitoring of users' interactions with new on-page elements;
Analyzing each phase of the conversion funnel by leads.
Marketers have an opportunity to pick sides with the optimal funnel type according to available insights. Sometimes a horizontal one is better than a former vertical one and brings more ready-to-convert leads.
Walter Adamson, Founder & Principal at Digital Investor:
"Conversion funnel analysis is a great user experience testing tool to see where they drop off and how to better judge them to the conversion I desire."
David Taggart, Founder/Chief Market Strategist at Process Driven Macro:
"It covers the entire user experience and lets me track my funnel perfectly."

The Plerdy software allows marketers and business representatives to get information on users' activities in the context of special-purpose events and goals. For example, you can keep track of your website visitors' interactions with some online forms, links, surveys, etc.
Besides the page view calculation option available in many testing tools, Plerdy offers synchronization of events and goals of your interest with Google Analytics. Inefficient on-page elements and useless events can be easily removed from the analysis.
Naz Haque, Marketing Consultant at Congruent Marketing:
"I particularly like how easy it is to set up events for user experience testing."
Tim Roberts, Entrepreneur:
"Plerdy helps us optimize our site and user experience. With it, we collect more valuable (potential) client details."

This option is helpful for business representatives who would like to analyze their revenues for a certain time. E-commerce sales performance is well-visible through monitoring the following parameters in Plerdy:
The efficiency of website blocks (on-page elements that speed up or slow down conversions);
KPI where key performance indicators demonstrate the effectiveness of the optimizations;
The number of orders after these or those interactions (CPAs, notifications, links, special offers, etc.);
Marketing and ads statistics to estimate results of the digital campaigns and provide new tailored ones.
Martin Corona, Owner at Ionws:
"Plerdy is a must-have tool for every Website Design or Marketing Agency to properly test the user experience!"
Russell Kipnis, CEO at Kipnis Creative Marketing Group:
"E-Commerce Sales Performance by Plerdy is a great tool for adjusting user experience on the commercial website."
10 User Experience Testing Methods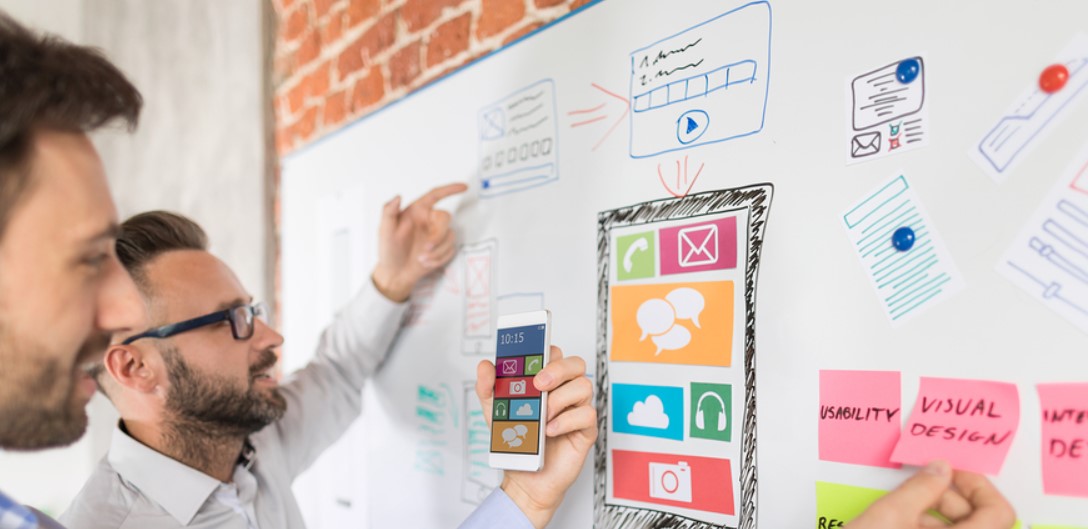 Your care about seamless user experience is what makes you competitive in the market. There are numerous approaches to test how users behave on your website and how to increase its user-friendliness. Let us consider the most popular user experience testing methods below.
Unmoderated usability testing
Unmoderated usability testing is a versatile and scalable way to assess user behavior. It suggests no moderator guidance for the respondents. Notably, you can engage an unlimited number of participants in unmoderated usability testing. In practice, your actions are as follows:
prepare a quick or multi-task study, depending on your needs;
recruit the needed number of respondents;
collect feedback regarding their experience on your website;
give interpretation to the obtained testing results.
Unmoderated usability testing is a quick and simple way to gather information about your user behavior.
Moderated usability testing
Unlike unmoderated usability testing, here, the presence of a facilitator is a must. This person is supposed to moderate the study running. A moderator will directly cooperate with the respondents, guiding them throughout the tasks, explaining details, and answering questions if any arise. Thus, you gain more control over the testing process. Plus, you can conduct moderated user testing either in person or remotely. As a result, you will assess user satisfaction with their experience on your website and outline further steps for its improvement.
Guerrilla usability testing
You can conduct Guerrilla usability testing to analyze user experience at any stage of your project life cycle. This is a quick and cheap way to identify UX issues and collect qualitative data related to user experience. Importantly, there is no specific targeted audience for Guerrilla usability testing. This approach implies encouraging random people to participate in your study. Where to find them? – Anywhere you would like to (a cafe, a library, a park, etc.). However, ensure you've explained to them who you are and what you need and received their contest to process their responses.
Lab usability testing
This is a traditional approach to UX testing. It usually involves 6-12 carefully selected participants that meet all research criteria. This testing approach requires putting participants in a specifically designed laboratory where their activities (both screen and live) will be recorded for about 45-60 minutes. To properly assess user experience, you can either observe the study in real-time mode or analyze the results based on the recorded materials to obtain rich UX insights.
A/B testing
Also known as split testing, A/B testing presupposes splitting your audience to compare two versions of your web product. So you divide your respondents into groups, provide them with different materials, and analyze which piece of marketing content – an original testing variable (the control) or its new version (the variation) – performs better. This approach to UX testing helps gather both qualitative and quantitative user insights and identify which version is user-friendlier and, thus, will ensure a greater user experience.
Contextual inquiry
Less formal than lab-based research, this UX testing type implies interaction with the study participants within their usual context. In other words, they do not come to your lab to undergo the test. It is you who goes to their homes/workplaces/etc. to get them to complete your tasks. Meanwhile, you'll watch them go through the test tasks and gather valuable data related to their experience on your web page. Although expensive and time-consuming, this method gives you comprehensive and more complete results than observations made outside the user's natural context. To get the most out of contextual inquiry testing, you should better conduct it at the beginning of digital product development. Thus, you will faster ensure a seamless user experience.
Qualitative attitudinal user testing
In the case of qualitative attitudinal user testing, UX researchers study small groups of users to comprehend how they feel about a product, architecture, or design. It demands a few more users for testing than qualitative behavioral testing.
Attitudinal user testing gathers qualitative insights into the user's beliefs, emotions, needs, attitudes, and motivations.
Qualitative attitudinal user testing primarily aims to categorize attitudes or collect self-reported data to track or find essential issues. Attitudinal user testing usually aims to comprehend or measure people's stated beliefs. It is great for user experience evaluation.
Card sorting
Card sorting is a user experience testing procedure that can help determine how users comprehend and categorize information. Here, contributors sort "cards" containing various items into groups. Card sorting has numerous applications — from figuring out how content should be grouped on a website to how to organize objects in an online retail shop.
These two types of card sorts are the most popular:
Open card sort: contributors put objects in groups and name the categories.
Closed card sort: contributors put objects into predefined categories.
Card sorting as a user experience testing method is helpful if you're attempting to:
Grow the findability of your website's content
Learn how users comprehend various concepts
Discover the proper expressions to create your navigation
Adapt to user needs
You definitely should try this user experience testing method.
Availability and accessibility
In availability and accessibility testing, you test how effortlessly the content can be accessed with keyboard-only navigation and assistive devices. This testing helps you understand whether users who have temporary or permanent disabilities can have equivalent access to the website content. Including availability and accessibility testing early in product development saves time and funds in developing websites, decreasing the risk of later costly fixes. Availability and accessibility testing for user experience evaluation is multifaceted, including code and design checks.
Brand consistency testing
A brand should present itself clearly and purposefully before becoming a component of a new market. It should explicitly show what it will deliver to the end user. You should check for brand consistency across all media and collateral. Test the following to comprehend where your users see inconsistencies:
Mobile website or app
Ads
Marketing collateral
User feedback is vital, so having users check your brand consistency across all media will help you to enhance your brand power. This method is great for user experience testing.
Final Words
It is essential to offer a user-friendly digital product to perform well in the online environment and catch the target audience's attention. UX-driven audit and deep analysis of user experience parameters help business representatives understand how website visitors interact with their companies, products, services, etc. This is a comprehensive analytical background based on the end-users feedback.
Use UX testing methods presented in special-purpose tools like Plerdy (heatmaps, session replay, conversion funnel analysis, etc.). Determine weaknesses and low-converting tactics faster. As a result of UX testing with Plerdy, you get higher conversion rates, increased traffic with higher ROI, and boosted sales.