Inexperienced marketers think that analytics is linked with numbers and mathematics. But oftentimes, analytics is about understanding user behavior processes taking place. Metrics can help explain problems, but behavioral analytics is much more effective for some tasks.
On 25 February 2021, we held the CRO&UX Party conference. Its mission was to help businesses improve e-commerce indicators (conversion, average check, positions) through user research. View the recording for some practical insights.
User Behavioral Analytics Example
A website has begun to bring you less profit than earlier. Hence, you analyze your e-Commerce website performance by comparing 2020 and 2021. The research shows that:
Bounce rate has increased
Conversion rate has decreased
Number of viewed pages has decreased
Average time on the website has lowered
Mobile traffic has grown while desktop traffic has declined
Once you understand the issues, analyze what led to the deteriorating performance of your website. Look for the elements you can change to improve your earnings from the website. The most common causes of website sales decline are:
New competitors
Transition to mobile
Usability and conversion funnel errors
No changes in the website structure
Your website may have other flaws. Analyze them using behavioral tools from Plerdy and find the real reason yourself.
What is Behavioral Analytics?
Behavioral analytics provides information about people's actions online. It is used in e-commerce, gaming, social media, and other fields to identify optimization opportunities for specific business outcomes.
Behavioral analytics is based on hard data collected, analyzed, and used for specific business decisions. It allows you to make hypotheses, experiment, and evaluate the outcome. Most companies aim to increase conversions, so if a change makes things worse, that hypothesis is wrong.
Behavioral Analytics Methods
The eye-tracking method is very famous and used for heatmaps. Studies have confirmed a direct correlation between where people look and where they click.
Site map scrolling is another prominent approach. For example, you want visitors to finish the website to the end, but they stay on the first two pages. Or vice versa, you need to nudge visitors to the action, but they get stuck with reading and thinking. Both cases can be fixed (swap website blocks, remove unnecessary ones, etc.).
Some other behavioral factors in analytics include bounce rate, pages viewed, categories of visitors' interests, clicks, and taps.
Why is Behavioral Analytics Important?
Analytics enables you to change your website for conversion rate optimization. Website visitors are lazy, so their path to target action must be as short as possible.
Reliable data helps you understand what is useful on your website to convert website visitors and what is not. These factors usually have no impact on conversions:
Obscure CTA
Identical elements
Non-obvious icons
Main page banners
Below, you see a webpage with pop-up icons. People visiting this web page don't know what icon to click.
How to facilitate the navigation? Specify the names of the elements. This way, the navigation process will become smoother.
Behavioral Analytics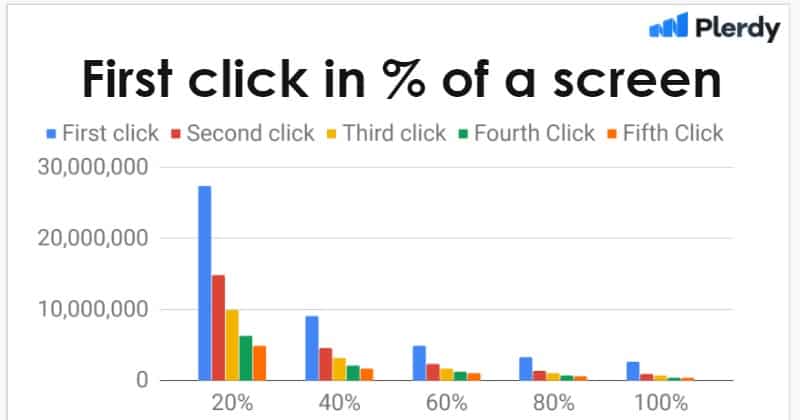 If to talk about the first clicks, this greatly affects the design. The first clicks on the screen are on the first part of your website. If you divide the website into five equal parts, most clicks will be at the beginning. Most of all, these clicks are done using the desktop version of the site. But the mobile version is not far behind.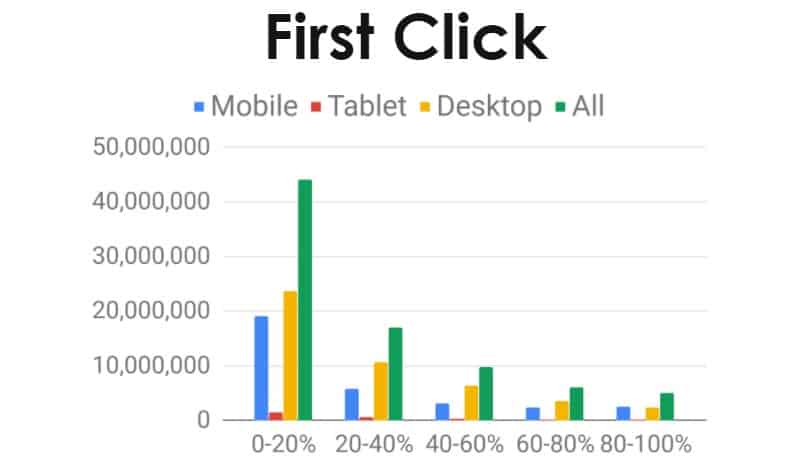 If to talk about cursor hover, here it is something more complicated. Here the website is divided into ten equal parts. Most people will stay within the webpage in its second part. This shows that despite the fact first part has a lot of important information, the second part is no less important.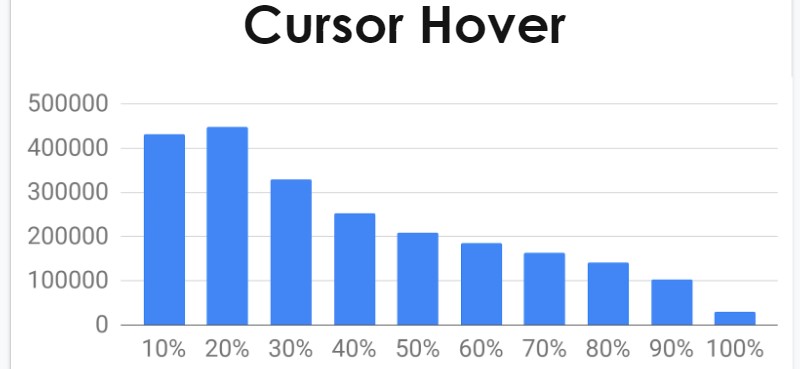 4 Core Behavior Analytics Tools by Plerdy
The Plerdy conversion rate optimization platform includes several valuable tools for behavior analytics. Using behavioral tools from Plerdy, you will get statistics to study visitors' behavior. You will find an SEO checker, net promoter score (NPS), session replay software, and other functionality. Prom, Subaru, Honda, SoftServe, Precoro, Hotline Finance, WebPromoExperts, and Kredo Bank already use our platform.
Here are the most beneficial solutions for behavior analytics:
1. Website Heatmap Tools
Heatmap tools allow you to track specific behavior on website pages, like clicks, hovers, scrolls, etc. These are color-based maps where warm tones mean high activity, while cold ones show that few people interact with the element.
This Plerdy tool also has advanced segmentation. You can divide users into groups to watch them separately or filter behavior by device and channel. A/B tests are also available through Plerdy's integration with the Google Optimize tool.
"I like behavior analytics with heatmaps most! We've tested many tools before and found lots of bugs. Plerdy is nothing like that. It's easy to use and collects data for every page automatically."
"The behavior analytics platform is more affordable than other expensive CRO tracking leaders. It's easy to install on any site to get heat tracking, scroll depth, funnel conversion rate, SEO page analysis, live sessions, and more."
2. Session Replay Tools
With Plerdy's session replay tool, you can record activity on all or specific pages in video format. View these videos to step into your users' shoes and identify obstacles they face while navigating.
Session recordings support segmentation by device and event type. Besides, you can check mobile and desktop website versions separately.
"Heat map tables and sessions are behavior analytics features I like the most. They provide essential information to see what website elements work and what do not."
"Session recordings & replay functions are another great behavior analytics tool available through Plerdy. Users can access live footage of the connected website. No guesswork about why things happened the way they did."
3. Sales Performance
The Sales Performance (or eCommerce analytics) tool processes user behavior data to detect the elements users interact with before purchasing. It also highlights the aspects that don't affect sales at all. It's unique behavior analytics data for UX analysis since you get clear hints on improving your design.
"Quite importantly, customer service has been very responsive since we are not technical. The Plerdy behavior analytics tool is a solution we could implement ourselves."
"Plerdy brings tons of behavior analytics tools under one roof, making it convenient to get engagement and analytics data about any site. You see weak and strong points using a standard one-line deployment."
4. Event Tracking
The Event Tracking behavior analytics tool tracks actions related to a particular goal (e.g., tapping the Download button, etc.). You can set events using an item or class ID, automatically transfer events to Google Analytics, and aggregate event data from a specific page. Such functionality lets you summarize information or take a more granular look at user behavior.
"The integration of Search Console is perfect. I particularly like the ease of setting up events for behavior analytics. The coding is minimal."
"Simple goal tracking is my favorite Plerdy feature. So UNDERRATED. Not every behavior tracking tool allows triggering an event and transferring the info to GA."
6 Best Behavior Analytics Tools
Plerdy is only one of multiple behavior analytics tools so you can choose any alternative. Below, we cover six other solutions for behavior monitoring to consider.
Pendo captures user behavior across web and mobile products, enabling development teams to enhance the software. It includes two subproducts: Product Experience (for customer-facing software) and Digital Adoption Solutions (for employee-facing products). They help you measure user interactions and find ways to simplify the navigation.
"I love that if you tag something, the historical data on behavior is provided. You don't lose the history with this behavior analytics tool."
"Pendo is an excellent behavior-tracking solution for products. The only recommendation is to improve the documentation on how to use it. During my first use, I had difficulties understanding the logic of Auto-Events and Apps within the Subscription Settings page."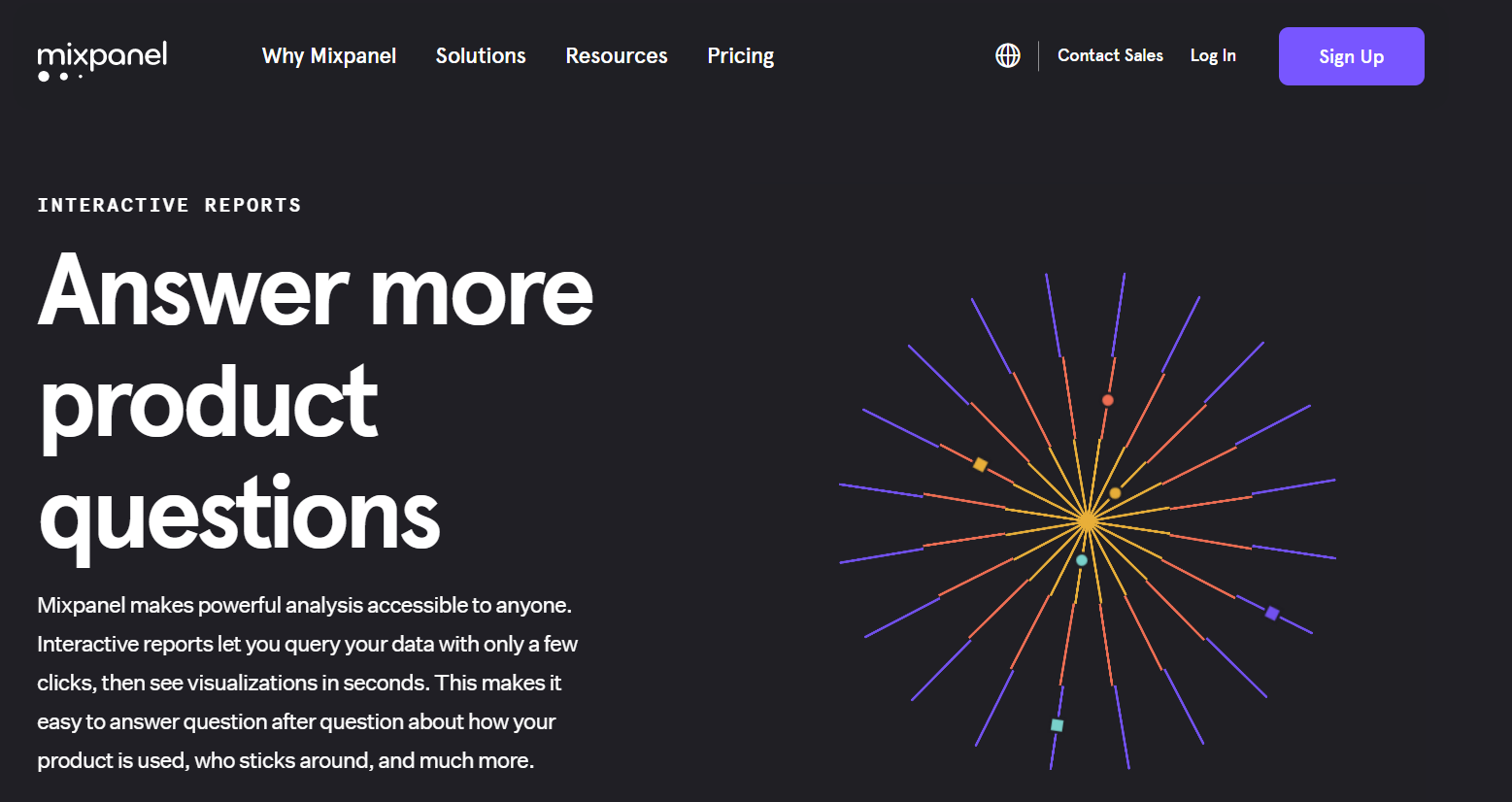 Mixpanel offers interactive user behavior reports that allow you to slice and dice behavior trends. See the actions people complete after signing up and map top user flows throughout your product to detect where people get stuck. This behavior-tracking solution also helps learn whether new launches deliver results or harm the UX.
"Mixpanel behavioral analytic tool automatically tracks properties like device info, app version, session length, app updates, and geo data."
"Even though I utilize Mixpanel, many times I have to resort to other platforms to do analysis. Hoping in the future, it can have enough integrations so I can move all the analysis there."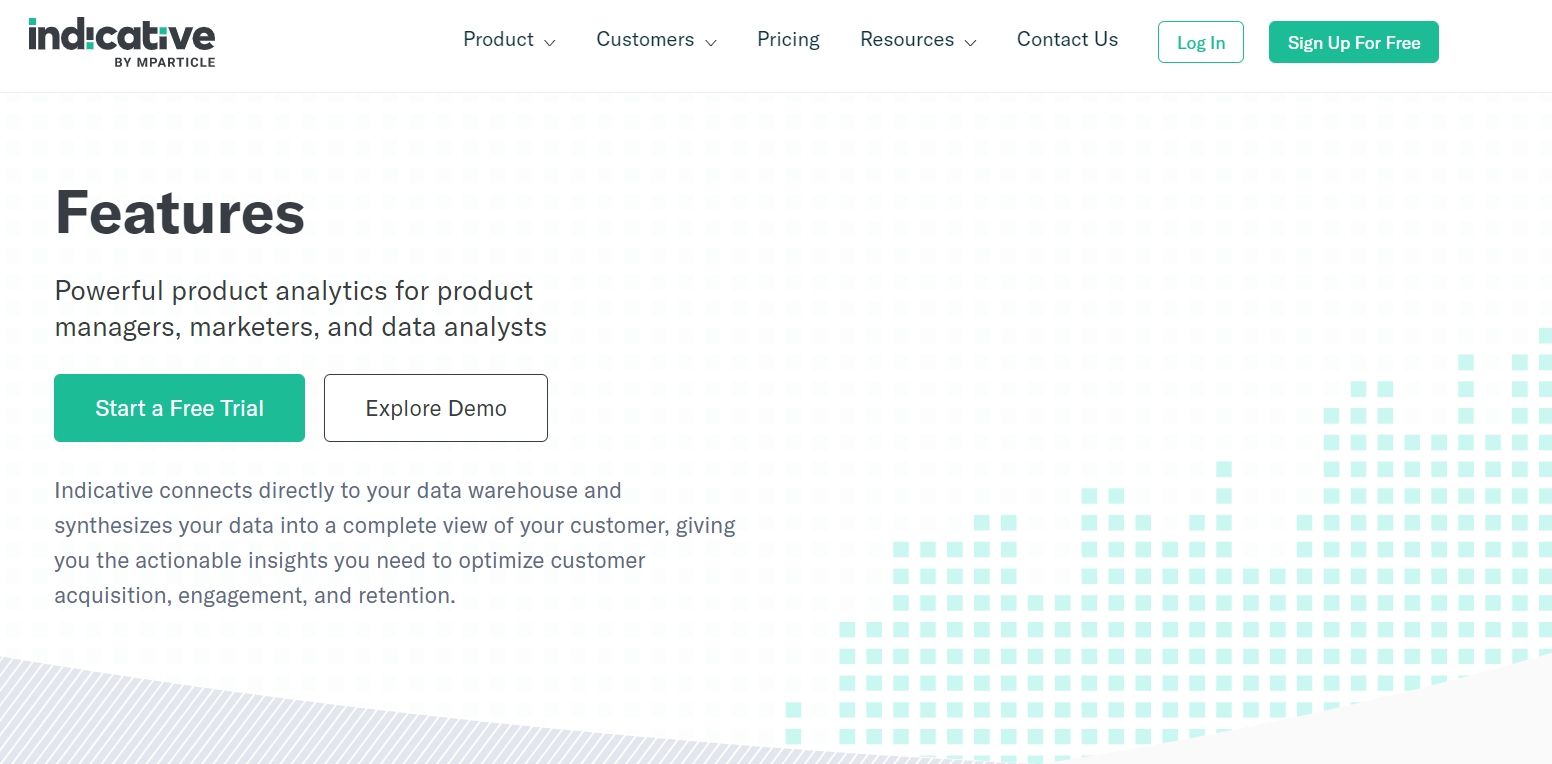 This product analytics tool connects directly to a data warehouse and generates actionable insights throughout the customer journey. You don't need to be proficient with SQL or coding. Behavior monitoring is available in the People Insights feature. Here you can check a list of users that performed a specific action and check chronological user-level event timelines.
"I like the untraditional charts the Indicative behavior analytics platform has instead of standard pie charts. Their graph, bubble-based funnel allows seeing the same data differently."
"The product is a bit glitchy, but this flaw does not affect day-to-day functionality."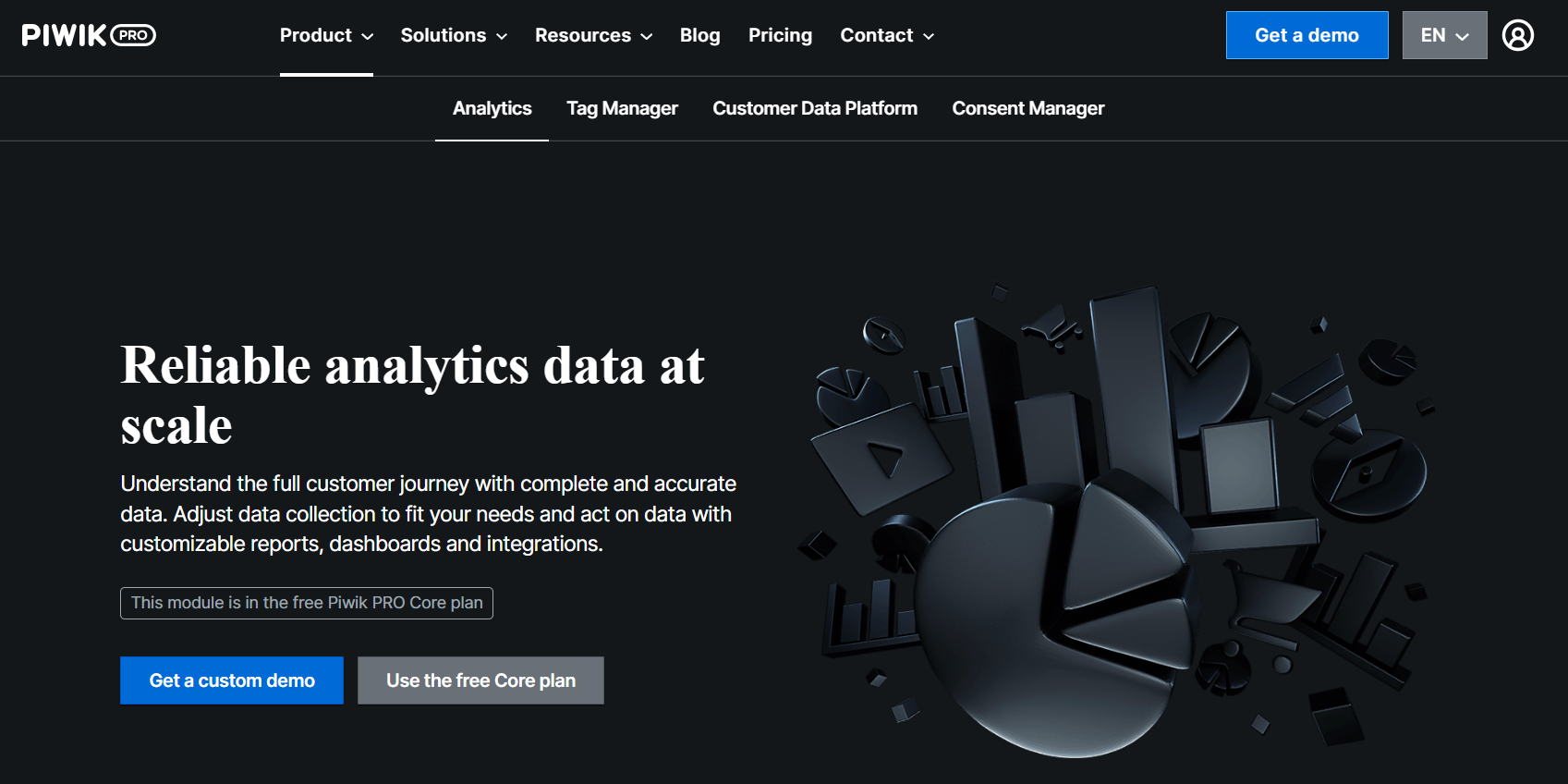 Piwik, now Matomo, is a free and open source app with analytics capabilities for web&mobile apps and product teams. A well-organized dashboard features data on traffic, page speed, SEO, engagement, and conversions. There is also the Consent Manager feature to add customizable consent forms matching each web design.
"Few downsides when using Piwik PRO behavior analytics tool. One worth mentioning is the price of an enterprise subscription. Moving from a core account up is quite the costly jump."
"Delightful interface. You can get all details about your site visitors in one tool."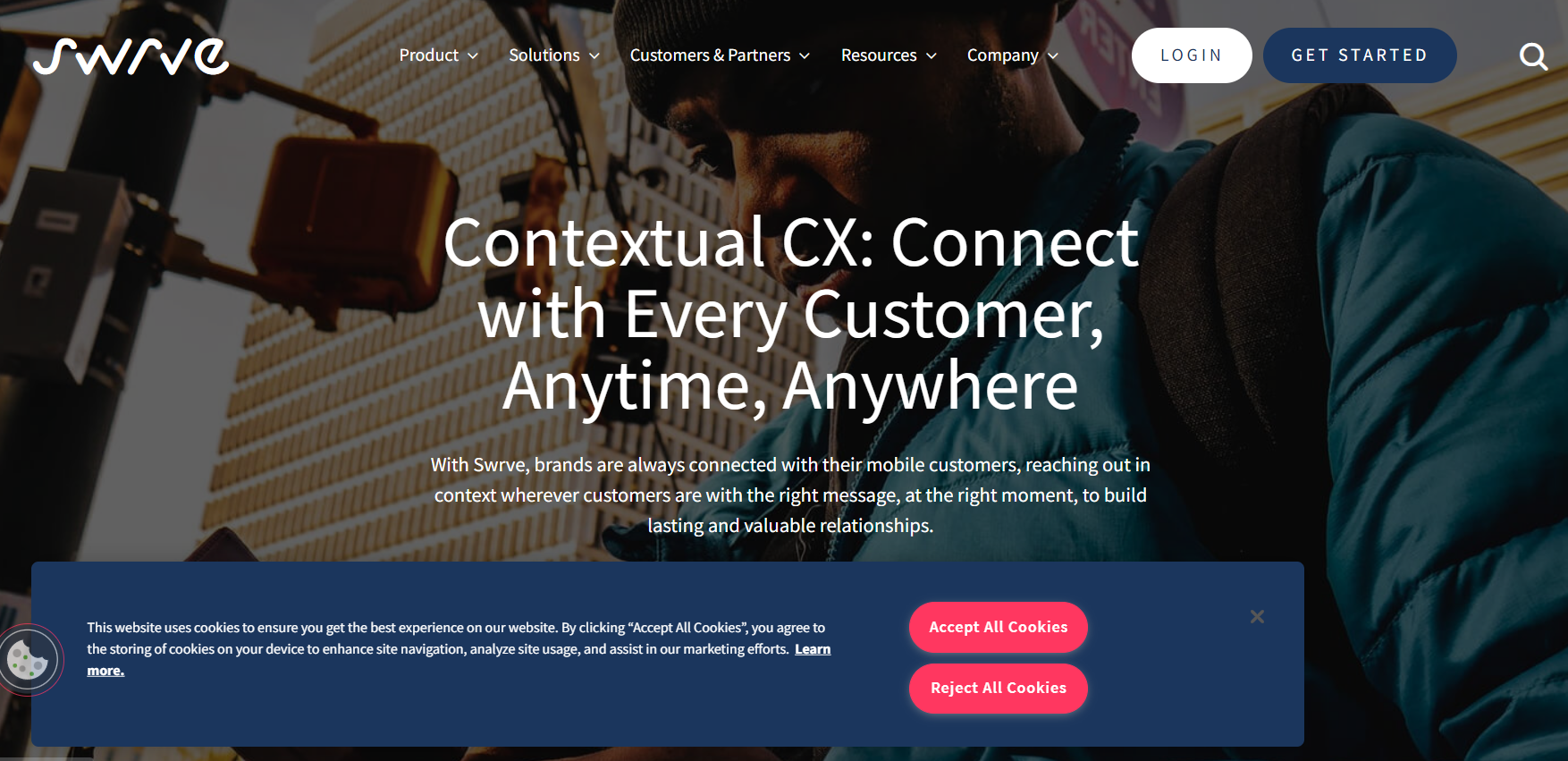 Swrve is an open analytics platform that integrates with major marketing clouds to deliver contextual CX across channels. Its unique feature is called AI Predictive Decisioning and Propensity Models. It leverages smart algorithms to interpret customer behavior. For example, you can learn the exact time an individual is likely to engage with a push notification. It eliminates the need to track behavior and manually plan campaigns.
"I appreciate the variety of options in this behavior analytics tool, the fullness of the interconnectivity, and multi-channel options for your outbound campaigns."
"It may be cumbersome to manage two campaign profiles for Android and iOS separately. It means duplicating everything."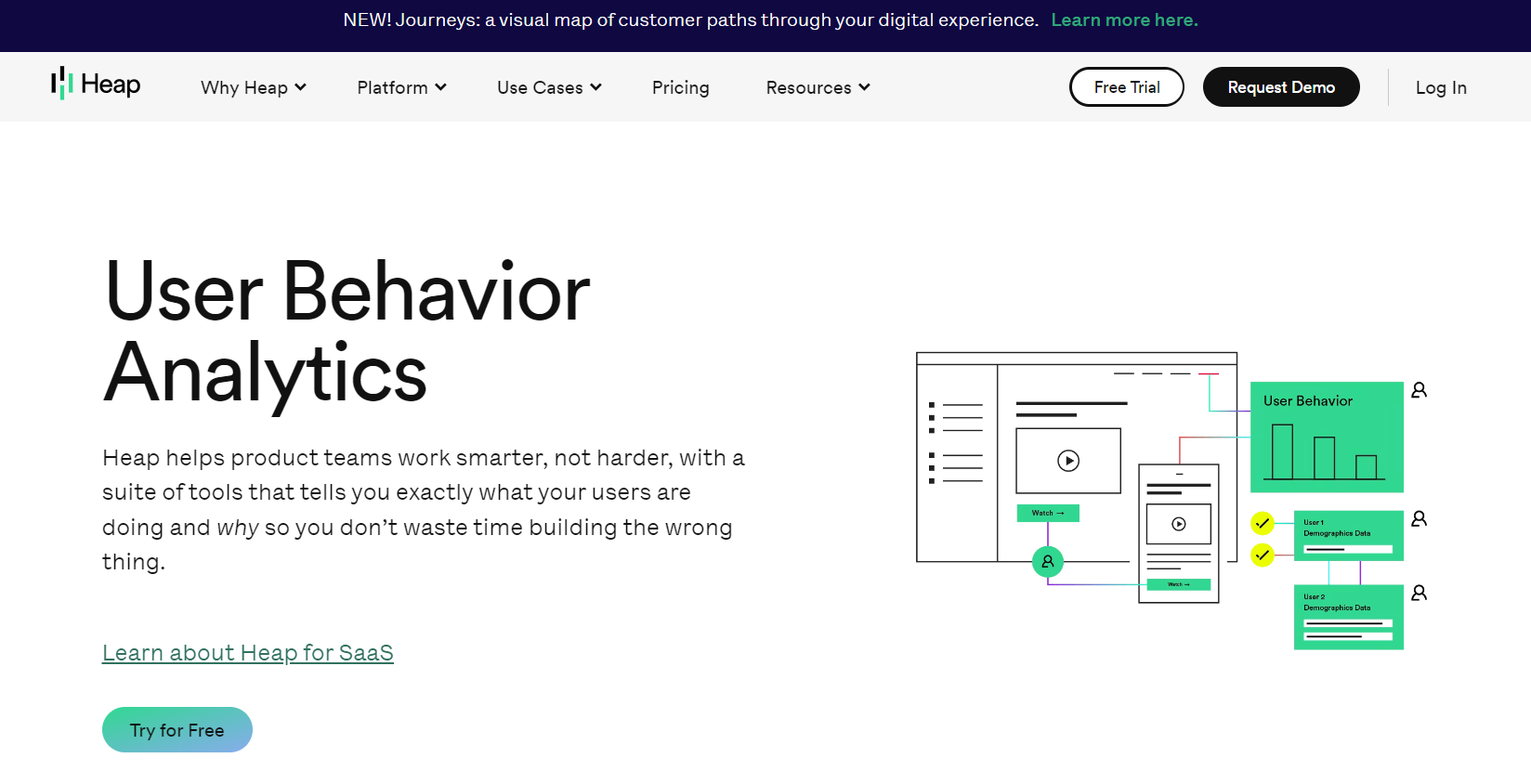 Heap has many features other listed tools don't include. To collect standard user behavior data, you use the CAPTURE feature. ILLUMINATE pinpoints hidden frictions and opportunities to give you specific tips on what to change. ENRICHMENT allows you to connect multiple data sources for a deeper understanding of the customer journey.
"Heap behavior analytics tool is fast! If I'm doing an adhoc analysis, I can open it and generate a view/chart in just a couple of minutes or less."
"They offer frequent training, and I notice regular upgrades that show they're listening."
Benefits of Behavioral Analytics
Behavioral analytics often shows that desktop website pages are not optimized for mobile. Thus, you must pay great attention to mobile pages to guarantee they are as effortless to use as desktop versions.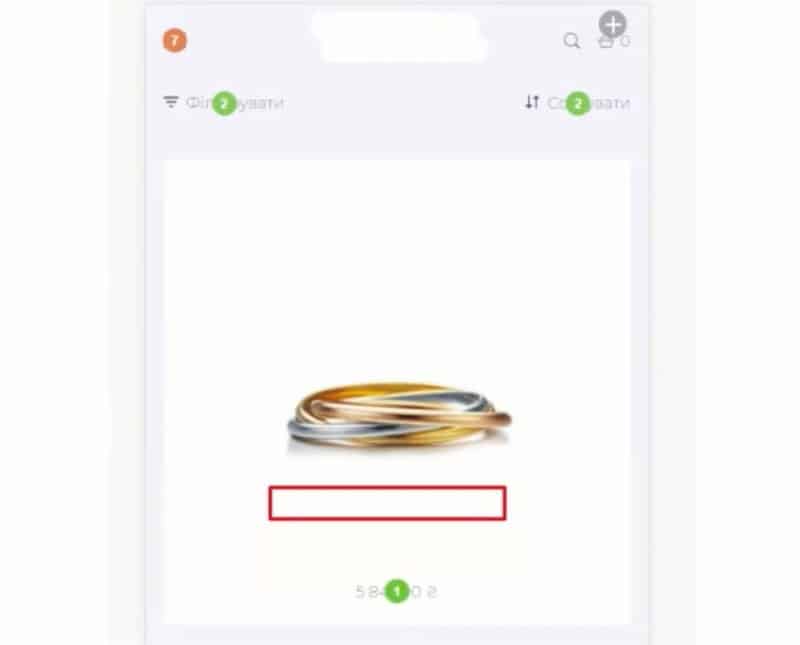 Let's take a closer look at this mobile version of the webpage. It includes less information than a desktop-based website. So, you may add extra details to enhance the user experience.
With the help of behavioral analytics, you can discover web pages with bad usability. Here's an example: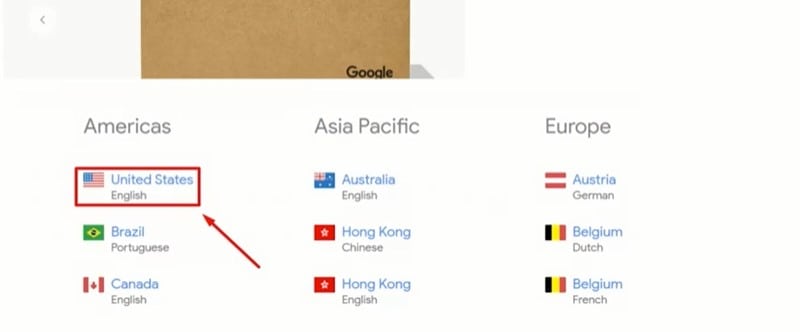 After entering this website, you specify the language and country. We chose the USA, but when we entered the website page from a different browser, we were redirected to the same page to select language and area. This is inconvenient because we are forced to repeat the same action.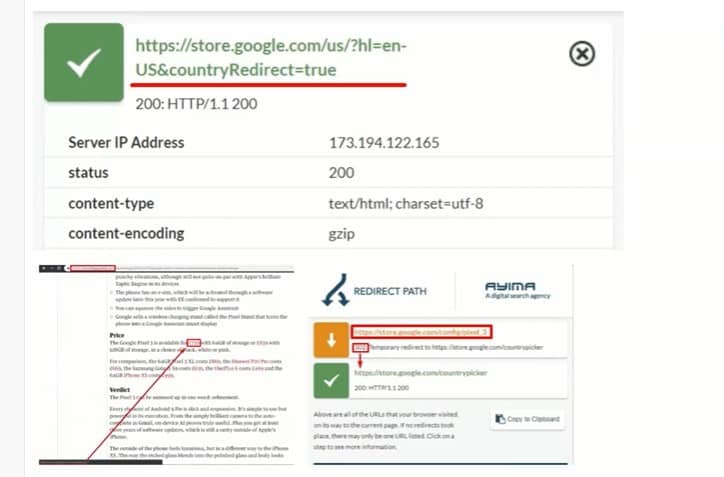 To test this website in more detail, we googled its article and entered the website via it. Again, we went to the language selection page.
Making the third attempt to enter the site, we found the product on the Internet and visited the website this way. We found Pixel Cases in Google Store and opened the links in a tab. The first page was the same.
This is a great example of bad usability because it takes too many steps to enter the site. People have to put the same information again.
So, our advice. Check your website as many times as possible to ensure it's logical and convenient. You can research your website with the help of behavioral analytics tools from Plerdy.
Conclusion
Behavioral analytics is essential for anyone who manages websites. By analyzing the audience's behavior, you can understand why they come to the website, leave, or do not make orders.
Use Plerdy to get all core behavior analytics tools in one platform. MOYO, Huggies, Netpeak, Echo, Ringostat, Fiorelli Fragolino, Anex Tour, Template Monster, MyDutyFree LLC, and UKRPOSHTA trust us with their behavioral analytics.