With the e-commerce boom in full swing, choosing the right platform to boost your online sales is paramount. Shopify, the iconic leader in e-commerce solutions, has dominated the market for years – but it's not the only fish in the sea ?. This year, a plethora of Shopify alternatives have risen to prominence, offering diverse features tailored to different business needs. Dive into our curated list of the top 14 Shopify alternatives in 2023:
Dynamic design customization
Seamless integration options
Robust security features
Advanced analytics insights
And there's more! E-commerce isn't just about selling; it's about understanding user behavior. Enhance your store's conversion rates and user experience with Plerdy – a quintessential tool for CRO & UX ⚡. By blending a perfect platform from our list with Plerdy's expertise, your e-commerce journey can ride the waves of success smoothly. Dive in, explore the options, and elevate your e-commerce game today! ?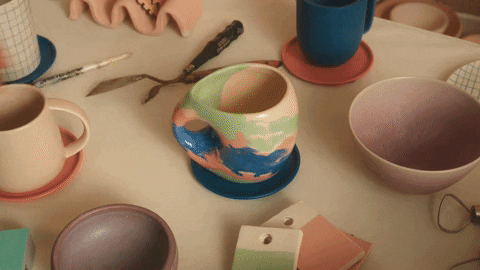 What is Shopify?
In the online retail industry, Shopify is among the most prominent systems. As an all-in-one solution, it provides businesses – whether you're dabbling in handcrafted jewelry or venturing into the vast expanse of fashion apparel – with all the necessary tools to craft an online store. But like any popular service, its limelight inevitably leads to the rise of worthy competitors.
Reasons to consider alternatives:
Customization Depth: While Shopify shines in many areas, some businesses crave a platform with more flexibility – think artisans wanting a unique storefront or tech startups desiring intricate features.
Pricing Tiers: It's possible there are more affordable alternatives for individuals just getting their feet wet in the world of internet retail.
Niche Needs: Certain sectors, like digital downloads or subscription boxes, may find platforms tailored specifically to their needs more appealing.
In the digital age, having a range of choices is paramount. That's why exploring the best Shopify alternatives can give businesses an edge, offering solutions tailored more closely to individual needs. With platforms like BigCommerce, WooCommerce, and Squarespace Commerce vying for attention, it's clear there's no shortage of top-tier options for ambitious entrepreneurs. Dive into the expansive ocean of eCommerce solutions, and you might just find the perfect platform tailored to your unique business needs.
The Rise of eCommerce Platforms
In recent years, the eCommerce landscape has undergone rapid transformation. With the advent of platforms like Shopify, businesses of all sizes found the means to break into the online selling space without breaking a sweat. But as this digital marketplace expanded, so did the demands and desires of its occupants. Enterprising merchants, eager to stand out, began to branch out and consider the best Shopify alternatives to better serve their unique needs.
Niches that benefited from specialized platforms:
Handmade Crafts: Artisans, keen to distinguish their products, sought platforms offering deeper customization options.
Subscription Services: Those in the recurring delivery sector found tailored solutions beyond Shopify's baseline offerings.
Digital Product Sellers: Platforms designed to handle digital downloads or streaming services emerged as frontrunners for this group.
The digital storefront evolution continues, fueled by a dynamic blend of technology, market demand, and the human touch. Entrepreneurs have cast their nets wider, moving beyond the confines of Shopify, leading to the surge of a multitude of platforms. Each offers unique tools and services, ensuring that there's a solution out there tailored to every merchant's dream. The golden age of eCommerce is upon us, with endless opportunities waiting to be seized.
Why Consider Alternatives to Shopify?
Shopify, a titan in the eCommerce space, consistently draws in merchants with its robust toolset and seamless user experience. Yet, savvy entrepreneurs recognize that one size doesn't fit all. This understanding sparks interest in the best Shopify alternatives, which cater to more diverse needs.
Niches and their specific requirements:
Rare Antiques: Dealers often gravitate towards platforms that offer advanced security features, ensuring their high-ticket items are presented and processed securely.
Local Farmers Markets: Those selling fresh produce online may opt for platforms that streamline local deliveries and pickups.
Self-Published Authors: Writers selling their narratives might lean towards platforms that effortlessly handle digital downloads and allow for sneak-peeks.
Embracing these alternatives often boils down to a deeper desire for customization, better pricing structures, or tools tailored for a specific trade. The digital commerce landscape thrives on variety, giving businesses the freedom to pick, choose, and ultimately settle on platforms that align perfectly with their vision. While Shopify remains a powerhouse, the ecosystem of eCommerce is vast, teeming with platforms eager to offer specialized solutions. Modern merchants keenly tap into this diversity, ensuring they harness the ideal platform that aligns with their unique brand and vision.
List of Best 14 Shopify Alternatives in 2023
Navigating the vast ocean of e-commerce platforms, Shopify has been the flagship for many; yet, there's more than one way to chart these digital waters. Our comprehensive roundup of the "14 Best Shopify Alternatives in 2023" serves as your compass, guiding you through lesser-known yet equally vibrant harbors. Whether you're setting sail on a maiden voyage or an old sea dog in online retail, these alternatives promise uncharted territories of opportunity.
Alternative to Shopify #1: BigCommerce

BigCommerce, a rising star in the ocean of online commerce, is quickly becoming one of the most viable alternatives to Shopify for ambitious entrepreneurs. With its powerhouse features and intuitive design, businesses find themselves perfectly poised to reach unprecedented milestones. BigCommerce doesn't just cater to broad markets; it delves deep, offering tailored solutions for specialized sectors.
Key niches reaping BigCommerce benefits:
Eco-Friendly Products: Sustainable brands find the platform's green integration options appealing for their earth-friendly ventures.
Bespoke Furniture Crafters: With rich visual options, these artisans can showcase their pieces in captivating, high-resolution galleries.
Gourmet Food Outlets: The platform's efficient inventory management tools mean perishable goods maintain optimal turnover rates.
When merchants dream big and seek to carve out their digital territory, BigCommerce steps up, delivering a robust platform packed with tools to shape those dreams into tangible realities. In the grand tapestry of online commerce, while Shopify holds its own as a revered giant, BigCommerce threads its unique narrative, offering features and flexibilities that certain merchants not only want but genuinely need. Entrepreneurs eager to push boundaries, challenge norms, and sculpt unparalleled shopping experiences often find their match in BigCommerce, bridging gaps that other platforms might overlook.
Alternative to Shopify #2: Wix

Wix eCommerce, in the thriving landscape of digital storefronts, stands out as a contender that gives some of the industry giants a run for their money. Among the most viable alternatives to Shopify, this system provides a rich set of features and customization options for online stores to better reflect their individual identities. With Wix, even the most niche markets find a home.
Highlighted niches thriving on Wix eCommerce:
Vintage Apparel Boutiques: Retro fashion enthusiasts revel in the visually stunning templates that capture bygone eras.
Handmade Candle Crafters: This community appreciates the platform's sensory-rich design options, lighting up online spaces with their aromatic wares.
Specialty Coffee Roasters: Wix's seamless checkout system ensures caffeine aficionados swiftly get their brews.
Wix eCommerce doesn't merely serve as a digital shop window. It acts as an artist's canvas, enabling merchants to paint their vision with precision and panache. While Shopify continues its dominance, Wix carves its path, appealing to those who wish to blend simplicity with sophistication. As more brands decide to break free and chart their own courses, Wix emerges as a beacon, guiding them with innovative tools and unmatched customization, ensuring that their digital narrative is nothing short of a masterpiece.
Alternative to Shopify #3: Magento

Magento, a stalwart in the digital commerce sphere, consistently pushes boundaries, offering expansive tools tailored for businesses keen on bespoke online experiences. Recognized among the best Shopify alternatives, Magento's flexibility caters to a broad spectrum, from startups to well-established enterprises.
Niches thriving with Magento's offerings:
High-End Jewelry Retailers: With Magento's impeccable security features, these merchants ensure their treasures transact safely.
Tech Gadgets Innovators: Cutting-edge product launches pair perfectly with Magento's robust feature set, ensuring seamless unveilings.
Luxury Travel Agencies: Curating elite getaways demands a platform that can elegantly display sumptuous escapes, and Magento delivers.
Magento doesn't just play the eCommerce game; it sets standards. Its modular architecture empowers merchants to mold their storefronts precisely to their vision, far beyond cookie-cutter solutions. While Shopify champions user-friendliness, Magento beckons to those who dream bigger, pushing the envelope of what's possible in online commerce. In the bustling marketplace of digital platforms, Magento holds its ground, not by simply keeping pace but by often leading the charge. Brands seeking to truly stand out often find their digital home here, harnessing the power and potential that Magento boldly offers.
Alternative to Shopify #4: WooCommerce

WooCommerce, WordPress's trusted sidekick, has carved its niche as a formidable force in the sprawling e-commerce domain. Often touted among the best Shopify alternatives, this plug-and-play solution brings versatility and scale to the digital storefront. When merchants aim to weave intricate online tales, WooCommerce stands ready with its expansive toolkit.
Highlighted niches flourishing with WooCommerce:
Boutique Bookshops: Literary havens employ WooCommerce's intricate categorization, letting readers dive into curated collections.
Handcrafted Pottery Studios: Artisans treasure the platform's visual depth, letting each creation shine in digital galleries.
Ethical Fashion Lines: Conscious labels sync seamlessly with WooCommerce, connecting eco-warriors to sustainable styles.
With its adaptability, WooCommerce doesn't merely fit into diverse business molds—it allows dreams to take flight. From its inception, the platform has been geared to match the pulsating heartbeats of entrepreneurs, big and small. While Shopify remains a user-friendly titan, WooCommerce emerges as the choice for those looking to stretch their wings, blending creativity with commerce. As more brands pivot to carve digital legacies, WooCommerce stays a step ahead, offering customization layers that transform ordinary shops into extraordinary experiences. For merchants setting sail in e-commerce waters, WooCommerce offers the navigation tools to chart a unique journey.
Alternative to Shopify #5: Volusion

In the bustling e-commerce landscape, Volusion shines bright, rising above the noise with its robust toolkit tailored for digital merchants. As one of the best Shopify alternatives, Volusion harnesses a blend of flexibility and power, laying out a canvas for businesses eager to paint their online vision.
Niches where Volusion makes a mark:
Organic Coffee Roasters: Local cafes spotlight their signature brews, connecting caffeine enthusiasts to their next cup.
Vintage Vinyl Stores: Audiophiles revel in the rich discography, drawn into stories behind each track.
Artisanal Soap Makers: With a keen focus on aesthetics, these creators detail their scents and ingredients, luring in self-care aficionados.
Navigating the digital market space, Volusion emerges as a beacon for those keen to stand out. Its intuitive interface empowers retailers, letting them roll out stellar shopping experiences without getting bogged down in the technicalities. Where Shopify captivates with its simplicity, Volusion ventures deeper, allowing brands to tweak and tune each element to perfection. The platform serves as a reliable ally for businesses that don't just aim to set up shop but aim to tell their story, engage with audiences, and build lasting relationships. For anyone setting their sights on a distinctive e-commerce voyage, Volusion offers the rudder and compass to navigate uncharted territories.
Alternative to Shopify #6: Square Online

Square Online bursts onto the e-commerce stage, making waves as one of the top Shopify alternatives. It's not just about transactions; this platform takes sellers on a journey, blending efficiency with elegance and wrapping it all up in a user-friendly package. From pop-up shops to bustling online storefronts, Square Online ensures businesses shine, and transactions glide smoothly.
Success Stories With Square Online:
Bespoke Jewelry Designers: Crafters of custom trinkets showcase their glittering creations, enticing couples and individuals alike.
Local Bakeries: Gourmet pastries and decadent cakes get their spotlight, drawing in dessert enthusiasts with tantalizing visuals.
Home Fitness Gear: As health takes center stage, these vendors showcase equipment that turns living rooms into gyms.
Where other platforms lay out the groundwork, Square Online dives deep, tuning into the heartbeat of businesses and translating it into digital gold. It's more than just setting up an online presence – it's about crafting an experience. Whether it's the straightforward checkout process, seamless integrations, or visually stunning storefronts, Square Online nails down the essentials. For entrepreneurs hungry to break free from the typical and venture into the extraordinary, Square Online stands ready to amplify their voice and vision, turning aspirations into thriving digital realities.
Alternative to Shopify #7: Big Cartel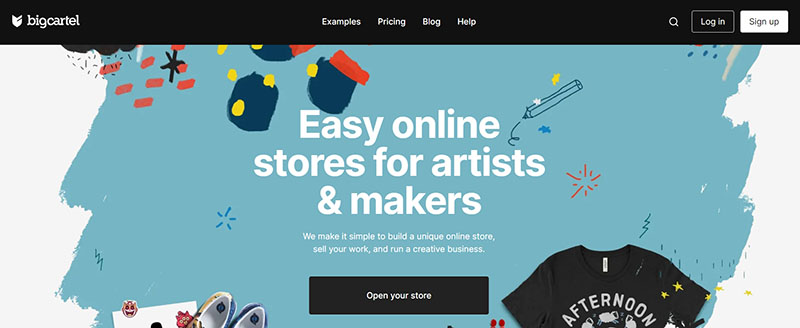 Big Cartel, stepping into the spotlight, showcases its prowess as one of Shopify's toughest competitors. Tailored for artists and makers, this platform captures the essence of creativity, turning it into e-commerce magic. Those wishing to give their brand's identity a voice might consider using it because of how well it syncs with the pounding hearts of creators.
When Big Cartel Shines:
 Independent Musicians: Budding artists showcase their tracks, vinyl, and merchandise, striking a chord with their fanbase.
Art Print Enthusiasts: Vibrant canvases and detailed sketches find their digital home, attracting art lovers from every corner.
Handcrafted Apparel: Fashion-forward designers lay out their collections, setting trends and pulling in style-seekers.
While many platforms offer the basics, Big Cartel steps up by focusing on the artist's journey. From the moment you set up shop, to the intricate details of product listings – it's all about the creator's vision. Built to amplify the voice of independent artists, it stands out in a sea of e-commerce giants. Those keen to carve out a niche and step away from the mainstream often turn to Big Cartel, transforming their passions into tangible sales. It's the digital canvas waiting for artists to splash their unique shades and make their mark in the e-commerce galaxy.
Alternative to Shopify #8: 3dcart

3dcart, rebranded as Shift4Shop, takes a bold stance amidst the best Shopify alternatives. Pioneering e-commerce solutions, this platform delves deep into merchants' needs, presenting tailored functionalities that seal the deal. With its robust set of tools, businesses of all shapes and sizes find their rhythm, reaching audiences far and wide.
Spotlight on Shift4Shop's Features:
Adaptive Templates: Dive into design flexibility, ensuring brand resonance.
Integrated Payments: Streamline transactions, taking the hassle out of checkouts.
SEO-Optimized Framework: Drive traffic, ensuring a buzz around your brand.
Every e-commerce trailblazer values platforms that offer a seamless blend of user experience and backend operations. Shift4Shop excels here, marrying intuitive interfaces with backend power, making it a breeze for merchants to navigate the digital marketplace. This platform stands tall, pulling in merchants keen to capture audiences, enhance brand loyalty, and skyrocket sales. Those wanting to venture beyond Shopify's boundaries frequently find their stride with Shift4Shop. It's a powerhouse in its own right, sculpting e-commerce landscapes and setting benchmarks for others to follow. Shift4Shop is, without a doubt, a masterstroke in the e-commerce narrative.
Alternative to Shopify #9: Weebly

Weebly eCommerce, a gem in the treasure trove of online shopping platforms, sets itself apart in the bustling lineup of best Shopify alternatives. What makes it shine? It's the perfect blend of simplicity and power. Even for those who are only putting their toes into the ocean of online sales, Weebly makes creating a shop window a breeze.
Distinctive Features of Weebly eCommerce:
Drag-and-Drop Builder: Personalize your store without breaking a sweat, offering a hands-on, intuitive approach.
Mobile Optimization: Reach on-the-go customers with sites that adjust seamlessly to any device.
Integrated Marketing Tools: Forge deeper connections with customers, cultivating loyalty and repeat business.
From handmade jewelry artisans to gourmet food curators, various niches find Weebly an irresistible platform to parade their goods. The platform boasts a unique way of streamlining online operations, ensuring businesses can focus on what they do best – delivering unmatched value to their clientele. Ditch the complications, embrace simplicity, and let Weebly eCommerce be the driving force behind your online venture. For brands ready to branch out from Shopify's embrace, Weebly offers a refreshing take, marrying functionality with user-centric design. In the e-commerce narrative, Weebly eCommerce truly leaves an indelible mark.
Alternative to Shopify #10: PrestaShop

PrestaShop boldly stands out among the best Shopify alternatives, offering businesses an opportunity to carve out their unique digital space. With an intuitive interface, this platform ensures you don't get bogged down in complexities. Instead, you set up shop, dazzle your audience, and cash in on your brand value.
Highlights of PrestaShop:
Customizable Core: Tailor your online store without limits, ensuring it aligns perfectly with your vision.
Vast Add-on Marketplace: Elevate your store's functionality with over 3,000 modules and themes.
Global Reach: Break barriers with multi-language support, taking your brand to international audiences.
For budding fashion brands to established tech suppliers, PrestaShop acts as a cornerstone for online success. The platform shines in its ability to adapt, catering to diverse business requirements. Brands thirsty for a Shopify alternative often turn to PrestaShop, seeking its flexibility and robust toolset. It's not just about selling products; it's about crafting unforgettable shopping experiences. With PrestaShop, you're not only setting up an online store – you're constructing a digital empire, fortified with unparalleled features and consumer-focused solutions. In the tapestry of e-commerce solutions, PrestaShop threads a path of innovation, challenging norms and setting the standard.
Alternative to Shopify #11: Ecwid

Ecwid stands tall among the best Shopify alternatives, seamlessly embedding itself into any existing website. This platform's versatility ensures businesses of all sizes can branch out and shine without overhauling their primary digital footprint.
Key Features of Ecwid:
Universal Integration: Embed your store into websites, social media platforms, or even on multiple sites simultaneously.
Mobile Optimized: Ensure shoppers experience your brand consistently, whether on desktop or on-the-go.
Marketplace Sync: Seamlessly connect with major online marketplaces, amplifying your reach and influence.
Ecwid breaks the mold by offering a plug-and-play solution that doesn't demand a complete digital redesign. From boutique jewelry designers to burgeoning organic food suppliers, Ecwid becomes the bridge between unique products and eager consumers. When businesses feel constrained by Shopify, they pivot to Ecwid, drawn by its promise of flexibility and wide-ranging applicability. Transitioning to e-commerce or expanding an existing venture becomes less about technical hurdles and more about storytelling and brand-building. With Ecwid, the spotlight remains on what truly matters: the products, the story, and the audience. In the bustling landscape of e-commerce platforms, Ecwid crafts a narrative of ease, adaptability, and customer-centric innovation.
Alternative to Shopify #12: OpenCart

In the e-commerce ecosystem, OpenCart stands out as a robust contender among the best Shopify alternatives. This open-source platform brings flexibility and customizability right to the fingertips of business owners.
Spotlight on OpenCart Features:
Customizable Dash: Tailor your admin dashboard, keep tabs on key metrics, and manage your online store with unparalleled precision.
Multi-Store Capabilities: Run multiple stores from a single interface – ideal for businesses that cater to diverse markets or offer varied product lines.
Extensions Galore: Amplify functionality with over 13,000 extensions, from payment gateways to shipping methods.
With OpenCart, boutique bookstores can flaunt their literary collections, while artisanal coffee roasters can share their rich blends with the world. The platform's adaptability makes it a great option for companies seeking a unique web storefront. It's not just about setting up shop; it's about crafting a digital experience that echoes the brand's voice and ethos.
Whether you're just testing the waters of online retail or looking to make a switch, OpenCart is a strong option to consider. It strips away the constraints, offering the tools and freedom to innovate. OpenCart isn't merely an alternative; for many, it's the primary choice for online business done right.
Alternative to Shopify #13: Jimdo

Venturing into e-commerce, many businesses stumble upon Jimdo – a standout among the best Shopify alternatives. Recognized for its user-friendly interface and dynamic tools, Jimdo paves the way for both budding and seasoned entrepreneurs.
Distinct Jimdo Advantages:
Drag-and-Drop Excellence: Set up your digital storefront effortlessly, no coding needed.
Mobile Optimization: Ensure shoppers enjoy a seamless experience, regardless of the device they're on.
Tailored Templates: Select from diverse design options, each echoing a unique brand voice.
Consider a handcrafted jewelry designer eager to showcase intricate designs online. With Jimdo, they can craft an online presence as detailed and polished as their creations. Similarly, an organic skincare line can use the platform to highlight the purity and premium nature of their products, connecting with eco-conscious customers with ease.
Jimdo's emphasis on simplicity blended with functionality makes it a preferred choice for those who wish to steer clear of complex setups yet desire a professional-grade online store. With a slew of features catering to a variety of business needs, Jimdo stands tall as not just an alternative but as a formidable e-commerce solution for modern businesses. Dive into the Jimdo experience and redefine your e-commerce journey.
Alternative to Shopify #14: Squarespace

Navigating the e-commerce landscape, Squarespace Commerce emerges as a leading choice among the best Shopify alternatives. Its sophisticated design capabilities, combined with robust e-commerce tools, set businesses on a trajectory for online success.
Why Squarespace Commerce Stands Out:
Stellar Designs: Dive into an array of professionally crafted templates tailored to amplify brand aesthetics.
Integrated Marketing: Harness built-in tools to engage and grow your audience seamlessly.
Streamlined Operations: From inventory management to secure checkouts, handle every aspect with finesse.
Imagine a boutique tea brand wanting to exude an aura of luxury and heritage. Squarespace Commerce enables them to curate an online platform mirroring the sophistication of their blends. In another scenario, an artisanal leather craftsman can capitalize on the platform's visual-centric design to exhibit the finesse of each hand-stitched wallet or belt.
Squarespace Commerce's all-encompassing solution ensures businesses, regardless of their size or niche, can carve out a distinctive digital footprint. Its balance of aesthetics with operational excellence makes it not just an alternative but a prime choice for those keen on scaling their online ventures. Embrace Squarespace Commerce and set your e-commerce vision in motion.
Conclusion about Best Shopify Alternatives
In the ever-evolving digital bazaar, Shopify has long stood as a pinnacle of e-commerce platforms. Yet, as our in-depth exploration reveals, several contenders in 2023 are giving the giant a run for its money. Each alternative we've assessed carries its own set of pros and cons – catering to unique business needs. Whether you lean towards WordPress, with its vast plugin arsenal, or are drawn to the user-friendly interface of options like Wix or BigCommerce – making an informed decision is crucial. Don't simply take our word for it; delve into the comparisons, performance stats, and user feedback to find the ideal fit for your online storefront. Before you set sail, remember that a seamless user experience isn't just about a snazzy website design. Enhance your site's performance with Plerdy – offering robust SEO & UX analysis tools ⚡. Armed with these insights, you're poised to optimize and refine your digital storefront. The right platform can make or break your e-commerce journey, so choose wisely and stand tall amidst the competition. Ready to embark? Equip yourself with the right tools and set your business on a path to success ⚡.