Fullstory is a Digital Experience Intelligence (DXI) platform for product teams. This solution is convenient for large projects as it smoothly integrates with Jira and Slack. You can use it to detect frustration signals and learn when users are leaving to keep them. Fullstory measures the severity of the negative impact to help you prioritize and fix the most critical issues.
Despite these advantages, Fullstory is not a universal solution for all businesses and developers. Many Fullstory alternatives offer comparable and no less valuable features. Hence, before choosing a tool, you should consider several alternatives. This Fullstory alternatives review will help you with the research.
List of Best 10 Fullstory Alternatives
Below, we'll discuss the main Fullstory alternatives, their features, characteristics, and uses. Then, read on for more options.
#1. Plerdy Alternative to Fullstory

Plerdy is a conversion rate optimization platform for site owners, UX/UI designers, marketers, and SEO specialists. Like other Fullstory alternatives, it offers heatmaps, session recordings, and event tracking. In addition to this standard set of features, Plerdy has an SEO Checker. It automatically scans the connected website for SEO mistakes and instantly notifies you about issues. This data helps get to Google's top and outperform competitors.
Plerdy has many uses, including usability analysis, sales performance tracking, SEO audits, feedback collection, and lead generation.
#2. Smartlook Alternative to Fullstory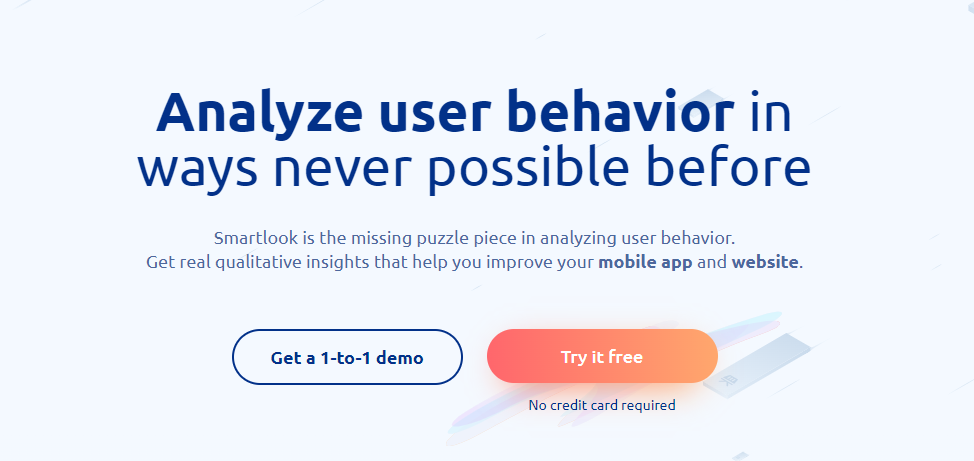 Smartlook is a solution for cross-platform web and mobile app analysis. Launching heatmaps, visitor recordings, and events allow you to discover how users interact with your products.
This tool on the list of Fullstory alternatives stands out with its cross-platform capabilities. You can connect it to your website to monitor visitors from different traffic sources or use it for mobile application analysis. In addition, Smartlook is suitable for native apps, supports the Wireframe mode, and can record games.
#3. Cux Alternative to Fullstory

Cux, a UX & Analytics automation tool, promises a 68% conversion increase overnight. It has standard CRO capabilities powered by several unique products, such as Conversion Waterfall. This feature analyzes real customer journeys to let you find pain points in two minutes. Based on these findings, you can fix your users' experience and nudge them into the purchase or another required action.
Cux also allows you to create behavioral profiles and refine them to improve targeting. As a result, you can segment your target audience to analyze and meet their needs better.
#4. Capturly Alternative to Fullstory

Capturly is a full-scale tool for usability testing, bug fixing, and campaign validation. You can see what people do on your site to channel them in the necessary direction. You can also track sessions, pageviews, average session duration, bounce rate, and actions/visits. Thus, Capturly gives you a big picture of what's happening and provides insight into particular user actions.
You can also utilize Capturly for customer support when you need to discover someone's history. Just replay the critical moment of their previous session to evaluate the problem.
#5. Decibel Alternative to Fullstory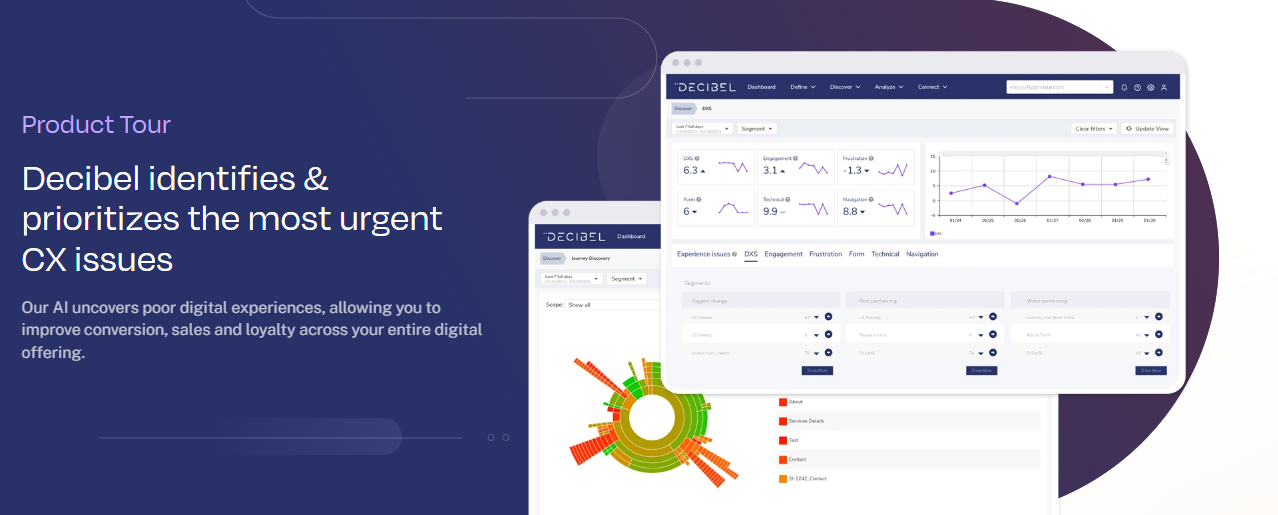 Decibel is a Digital Experience Score (DES) platform that has launched the world's first validated metric for measuring digital customer experience. DXS unites technical, form, navigation, frustration, and engagement scores to give online businesses an understanding of how visitors feel about their websites. Decibel does the estimation with the help of AI.
Hence, this tool is an excellent option if you want advanced information about visitors' experiences. It also has forms, smart segmentation, A/B tools, and other worthy features.
#6. Inspectlet Alternative to Fullstory

Inspectlet is a tool that lets you "stop guessing what your visitors want." You can record individual user behavior, gather clicks, scrolls or do eye-tracking. Inspectlet's functionality mainly overlaps with Fullstory and its alternatives.
Still, Inspectlet is unique with its form analytics and error logging features. Form analytics visualizes where guests hesitate the most or make mistakes on the form. Error logging monitors all javascript errors and network activity on pages automatically for faster troubleshooting.
#7. Hotjar Alternative to Fullstory

Hotjar is probably the most popular online behavior-tracking solution. We must admit that such a reputation is well-deserved. The platform has everything web teams, PMs, designers, and researchers need. You can visualize user activity and ask them for feedback to learn their opinion. In addition, Hotjar has dozens of super helpful integrations and a large community to support you and share advice.
#8. Quantum Metric Alternative to Fullstory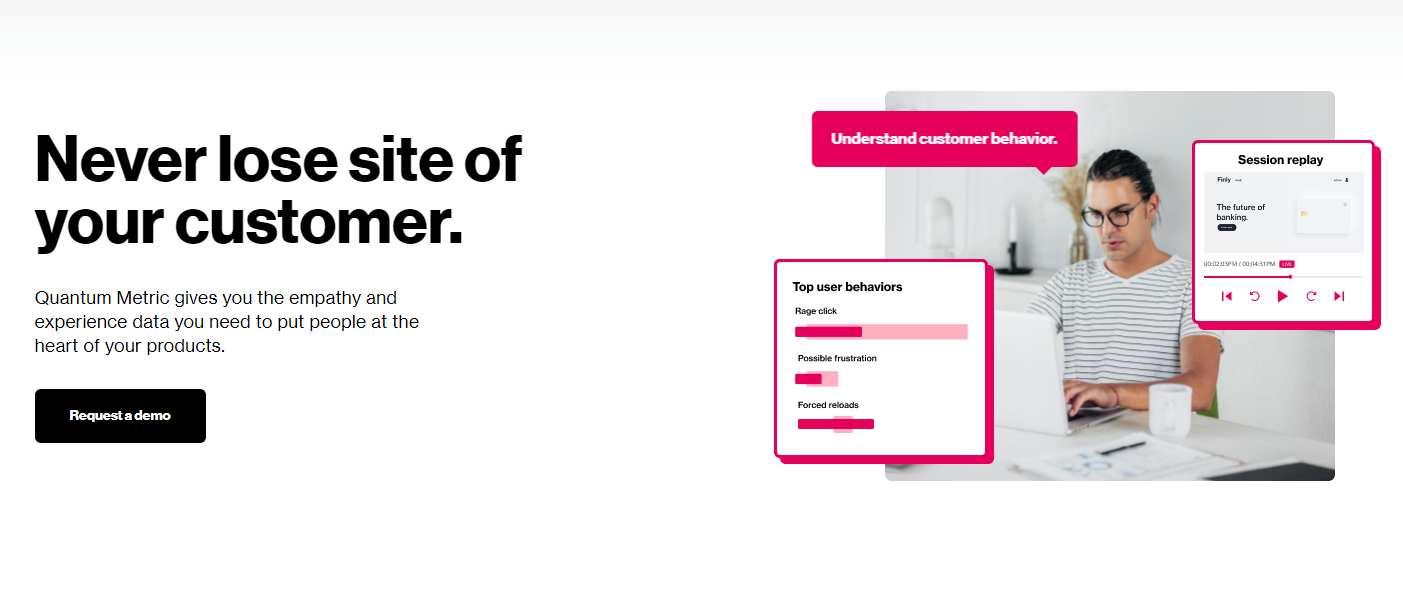 Quantum Metric is for continuous product design and helping businesses improve their sites. Even though its main clients come from retail, financial services, travel, telecom, and gaming, Quantum Metric can benefit any website owner. Quantum Metric leverages machine learning to automate the identification of technical issues and bad user experiences in real time. It also has mobile app analytics, maps user journeys, and monitors performance based on the customer's perspective.
#9. LiveSession Alternative to Fullstory
LiveSession is a powerful user analytics tool with two sets of features: SaaS and eCommerce. The SaaS functionality helps improve your product's acquisition, retention, and expansion by providing detailed information on its users. For example, you can see how users move, organize their paths into funnels, record sessions and filter them to speed up processing, etc. Ecommerce LiveSession focuses on online stores. It tracks behavioral patterns and also offers dev tools to facilitate bug fixing.
#10. Lucky Orange Alternative to Fullstory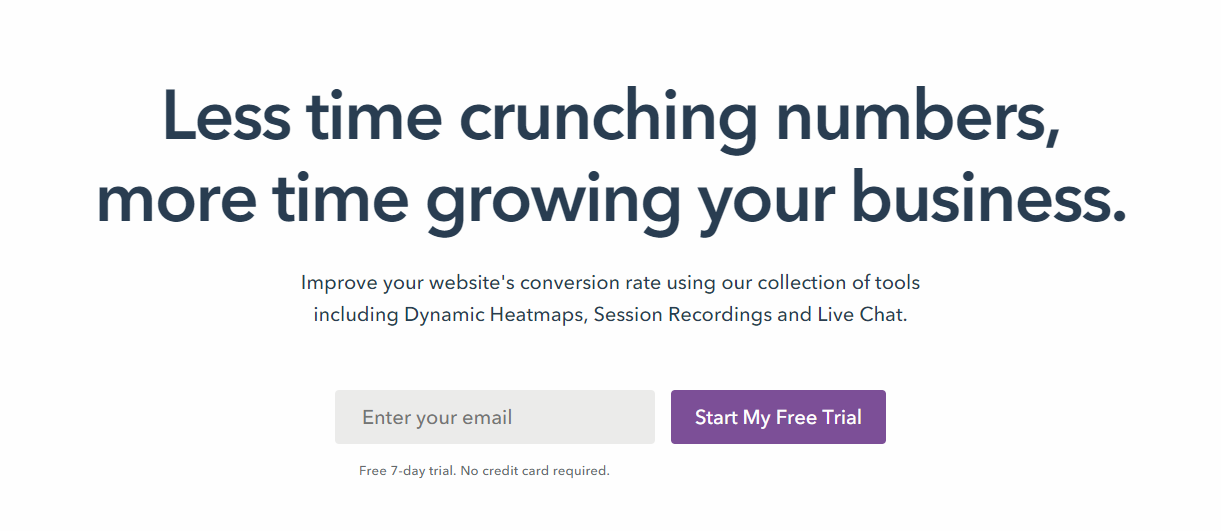 Lucky Orange is a decent option on the list of Fullstory alternatives. Besides activity tracking, it has several great features you may want to test. In particular, Lucky Orange allows you to customize dashboards for each website goal and campaign. It keeps all the crucial information in one place and streamlines management. It would help if you also used it to generate detailed visitors' profiles. Lucky Orange has a visitors' table with flexible filters and captures every conversation with your support.
Pros and Cons of Using Fullstory: What People Say
Fullstory has many users across the globe sharing their recommendations and trouble online. Here are some G2 and Getapp reviews for reference.
"I like that I can check what exactly consumers are doing at any time. It's valuable beyond measure to me as a tech support specialist. We can do a lot with Fullstory, from isolating bugs  and legitimate issues with our software on the client's side to labeling an issue as a "User Error."
"There are a few things I dislike. In rare cases, we cannot retrieve data on a single customer, but we have 8,000 of them, so it's not a big deal.

(Customer Support Supervisor)."
"It has a clean UI coupled with session recordings, which is a great way to understand people's actions and pain points. Compared to other tools, FS is much less daunting to master for inexperienced users (User in Financial Services)."
"The search function and integration with Segment makes the tool easy to maintain for engineers and convenient for product/business teams. Noting and sharing are very handy (CTO)."
"They have a generous free package, excellent segmentation, and actionable data on error reports, slow pages, and rage clicks.

FS has shown us how customers have interacted with the site and its features. It has also raised attention to bugs and elements that must be fixed. Without FS, it would have taken us longer to spot problems. Since it has a free option, there is no excuse not to try it (Support Engineer)."
"It can be pricey for the number of sessions you get. Still, even if you record a part of sessions, you'll get a good understanding of user interactions (Administrator in Broadcast Media)."
About Fullstory
FullStory is a tool that offers complete data capture and privacy by default for your digital experiences. It uses tagless auto-capture technology to monitor and analyze user behavior on your website, mobile app or software platform. This information can then be used to identify areas for improvement and optimize the user experience.
FullStory provides insights into user frustration signals, funnels and conversions, journey mapping, dashboards, user segments, session insights, and replay capabilities. The tool is trusted by over 11,000 popular digital destinations. It is used by various industries, including e-commerce, travel and hospitality, SaaS, finance and insurance, and telecom and media.
With a focus on privacy and security, FullStory provides peace of mind to brands while still allowing for fast optimization. It integrates seamlessly with other tools in your tech stack through its open API and growing catalog of integrations. If you are looking for a powerful and effective alternative to improve your digital experience, FullStory is worth considering.
Fullstory Pricing
FullStory offers flexible pricing plans to meet the needs of different organizations. The plans include Enterprise, Advanced, and Business. Each plan has its own set of features and capabilities. The Enterprise plan is the most comprehensive and includes 100% tagless auto-capture, private and sensitive data excluded by default, retroactive data history, detections, frustration signals, user trends, user segmentation, event funnels, customizable dashboards, page flow analysis, watched elements, journey mapping, conversions analysis, and retention analysis (beta).
The Advanced plan includes many of the same features as the Enterprise plan but with some limitations. The Business plan is the most affordable and includes a base level of sessions and storage. FullStory also offers a free trial for those who want to test the platform before committing to a paid plan. Additionally, the company offers onboarding and Insights+ consulting services to help customers get the most out of their FullStory data.
The Enterprise plan starts at $500/month, the Advanced plan starts at $200/month, and the Business plan starts at $100/month.
Fullstory Features
The platform offers a range of features that help you understand user behaviors and experiences, including:
Complete Data Capture: FullStory captures all your quantitative and qualitative experience data automatically and retroactively, providing a full picture of the digital experience.
Private by Default: Feedback is accessible with retroactive, private-by-default, fully indexed data, ensuring user privacy is protected.
Session Replay and Heatmaps: See problems exactly as they played out with session replay and heatmaps without compromising user privacy.
Product Analytics: Track crucial metrics for your business goals with easily customizable dashboards, conversion analysis, and more.
Journey Mapping: Sync FullStory data with your data warehouse to map the entire omnichannel experience and see every path that leads customers to conversions.
Integrations: FullStory integrates with a variety of tech stacks, allowing you to prioritize changes that have the biggest impact on your bottom line.
In 2022 and 2023, FullStory has continued to innovate and expand its platform. For example, in 2021, FullStory launched its Data Destinations, which allows you to sync your FullStory data with your data warehouse to fuel deeper insights and build stronger customer relationships. Additionally, FullStory has received recognition for its platform, including being named a Leader in the 2021 Gartner Magic Quadrant for Analytics and Business Intelligence Platforms.
While FullStory is considered a leader in the digital experience intelligence space, alternative solutions, such as Hotjar, offer similar features and capabilities. Therefore, it's important to assess your specific needs and choose the solution that best fits your business objectives.
Conclusion
Now that you know more about Fullstory and its alternatives, it should be easier to make the final choice. Nevertheless, you may test several options with free trials if you still have doubts. Testing lets you navigate a platform and see how it works from the inside.