Welcome to the ultimate guide, "18 Best Hotjar Alternatives in 2023" ⚡. Our mission: to arm you with information to help you choose the perfect tool for your unique needs. Whether you're a startup craving a budget-friendly option, or an enterprise-level company seeking advanced functionalities, we've got you covered.
In this deep dive, we'll be:
Breaking down key features of each alternative ?.
Highlighting unique selling points ?.
For instance, if you're in the digital publishing niche, Plerdy UX might catch your eye. It's a tool that excels in providing in-depth SEO analysis and CRO insights – a potent combination to ramp up your website's performance.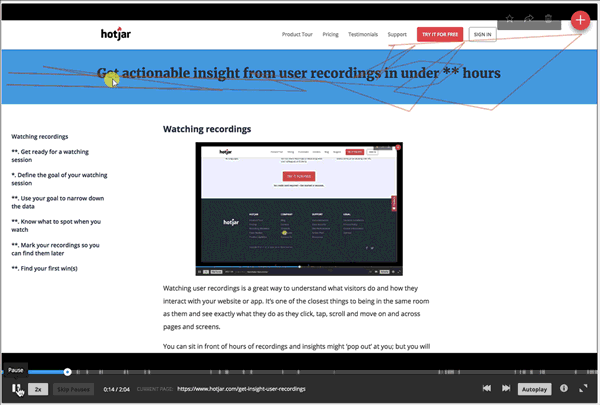 So, buckle up for a journey through the dynamic landscape of Hotjar alternatives. Let's discover together what each contender brings and how they can fuel your digital success story. Let the exploration begin!

Hotjar – a dynamic tool that opens the door to user behavior insights. A comprehensive solution for website owners and developers, Hotjar offers heatmaps, session recordings, and feedback polls – giving you a front-row seat to users' online interactions. Understanding the user journey is paramount to crafting an engaging and intuitive experience in the bustling digital landscape.
Here's a glimpse of what Hotjar brings to the table:
Heatmaps: Visualize where users click, scroll, and linger.
Session Recordings: Witness user actions in real time.
Feedback Polls: Hear straight from the horse's mouth.
While Hotjar shines brightly in its niche, alternatives are also making waves. Tools like Plerdy, Crazy Egg, FullStory, and Mouseflow all offer similar functionalities, each with its unique spin. For instance, Crazy Egg introduces A/B testing, while FullStory emphasizes exceptional session replay quality.
In the fast-paced e-commerce industry, for example, understanding customer behavior is critical. Hotjar's tools can reveal why certain products fly off the virtual shelves while others gather digital dust. Alternatives, on the other hand, might offer different insights – allowing for a more nuanced understanding of customer behavior.
To sum it up, Hotjar presents a splendid opportunity to delve into user behavior – but exploring its alternatives can add valuable depth to your analysis. So, confidently navigate the digital sea with the tools that best serve your unique needs.
Reasons Why People Look For Hotjar Alternatives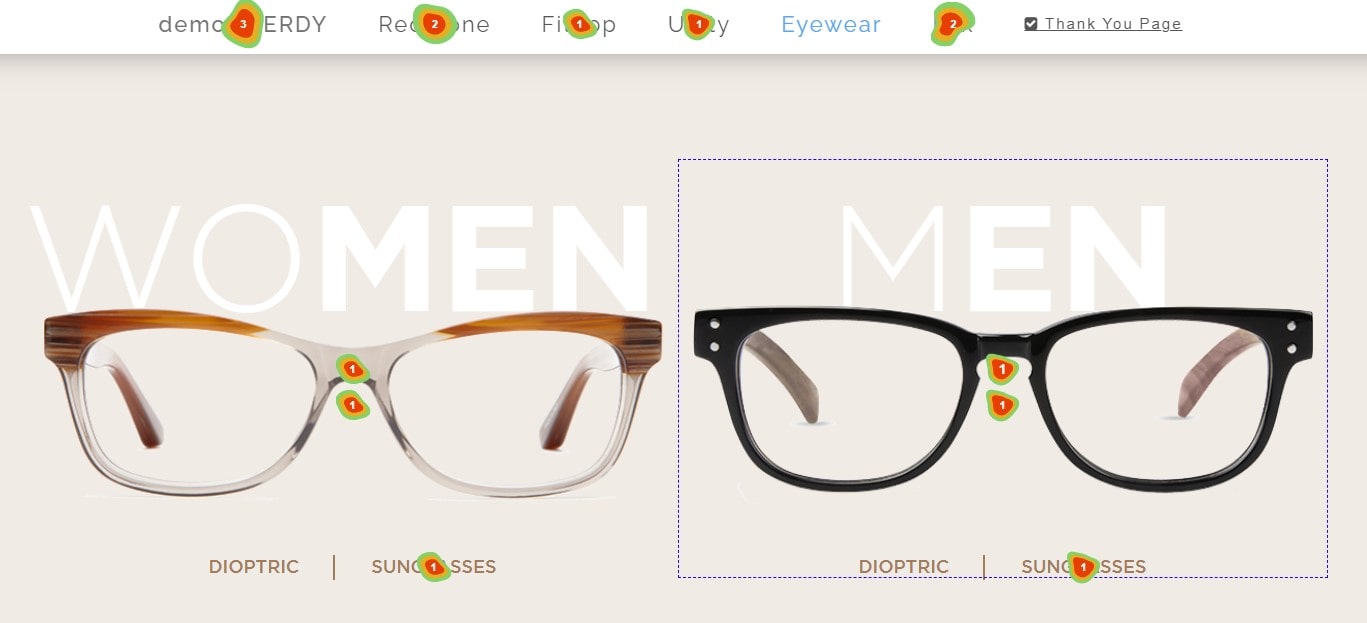 While Hotjar provides a robust toolkit for dissecting user behavior, some users pivot towards alternatives – the reasons are as varied as the options available.
Primary drivers for such transitions could include:
Cost: Although Hotjar presents an excellent value proposition, alternatives like Mouseflow might offer more bang for the buck.
Specialized needs: FullStory's error testing might appeal to those keen on comparison-based insights.
Preference: Plerdy's top-tier session replay could captivate users by favoring precise visual data and SEO tools.
In the realm of online education platforms, tutors prefer Plerdy. It could reveal whether students engage more with video content or written materials, enabling educators to tailor their approach. Conversely, a music streaming service might opt for FullStory, which is keen on tracking users' behavior during song playback with high fidelity.
To summarize, reasons to explore Hotjar alternatives are plentiful – from budget considerations to unique requirements – making searching for the perfect tool thrilling.
Potential Limitations of Hotjar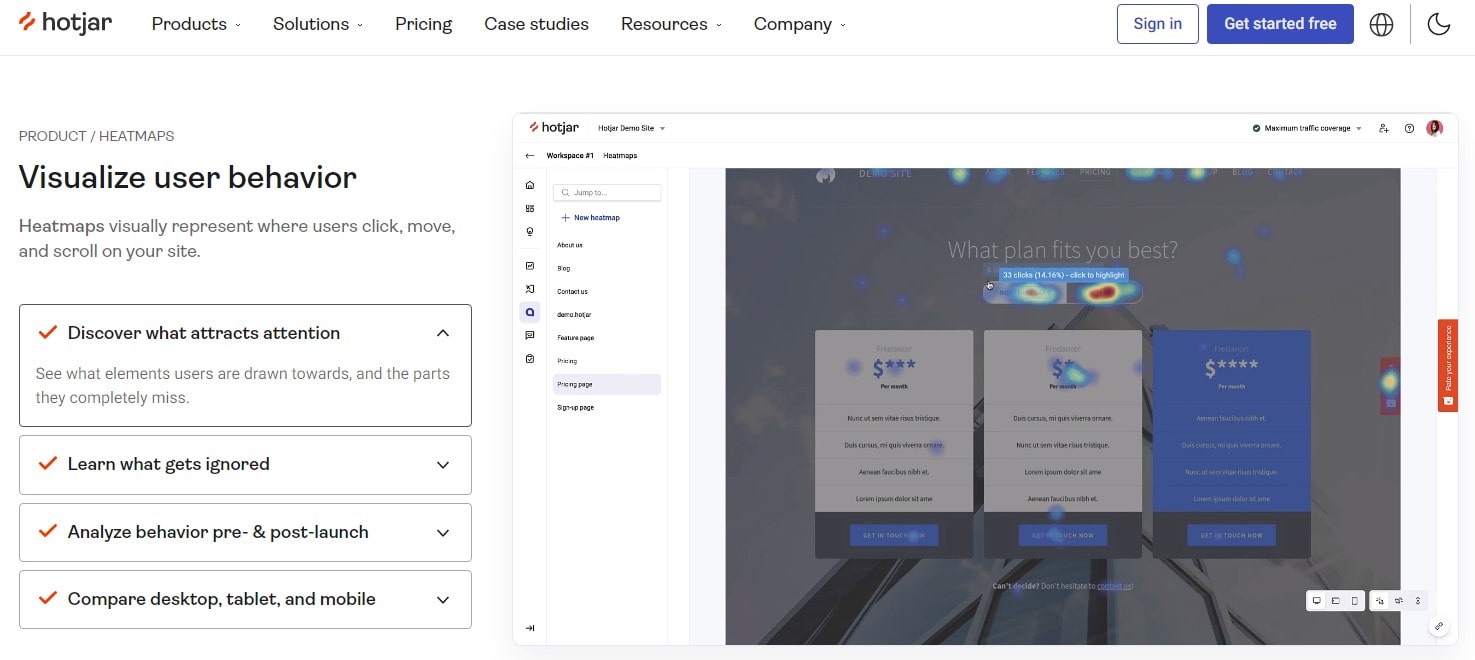 Hotjar, a leading player in the digital analytics arena, is praised for providing comprehensive insights into user behavior. Still, it lacks potential limitations that prompt users to consider alternatives. The platform, though robust, has certain nuances that might sway digital strategists in the direction of its competitors.
For instance, the issue of real-time data – Hotjar doesn't deliver this feature. This gap must be solved for businesses that pivot their strategies based on real-time changes. Additionally, the cap on pageviews can curb the effectiveness of this tool for websites with high traffic. For these sites, restricting pageviews can mean missing out on valuable insights from a sizeable portion of their audience.
Moreover, Hotjar's data storage policies might raise eyebrows among businesses prioritizing data security. Data retention periods, typically spanning a month, might not be sufficient for firms that rely on long-term data analysis. Finally, its lack of advanced filtering options and customization can challenge firms in niche markets. For example, a company in the solar energy industry might need a more specialized solution to understand the behavior of its unique visitor base.
Here's a brief rundown of Hotjar's limitations:
Lack of real-time data
Restriction on pageviews
Limited data retention period
Insufficiently advanced filtering options
Given these factors, it's clear why a range of Hotjar alternatives are gaining traction, offering tailor-made solutions for different business needs.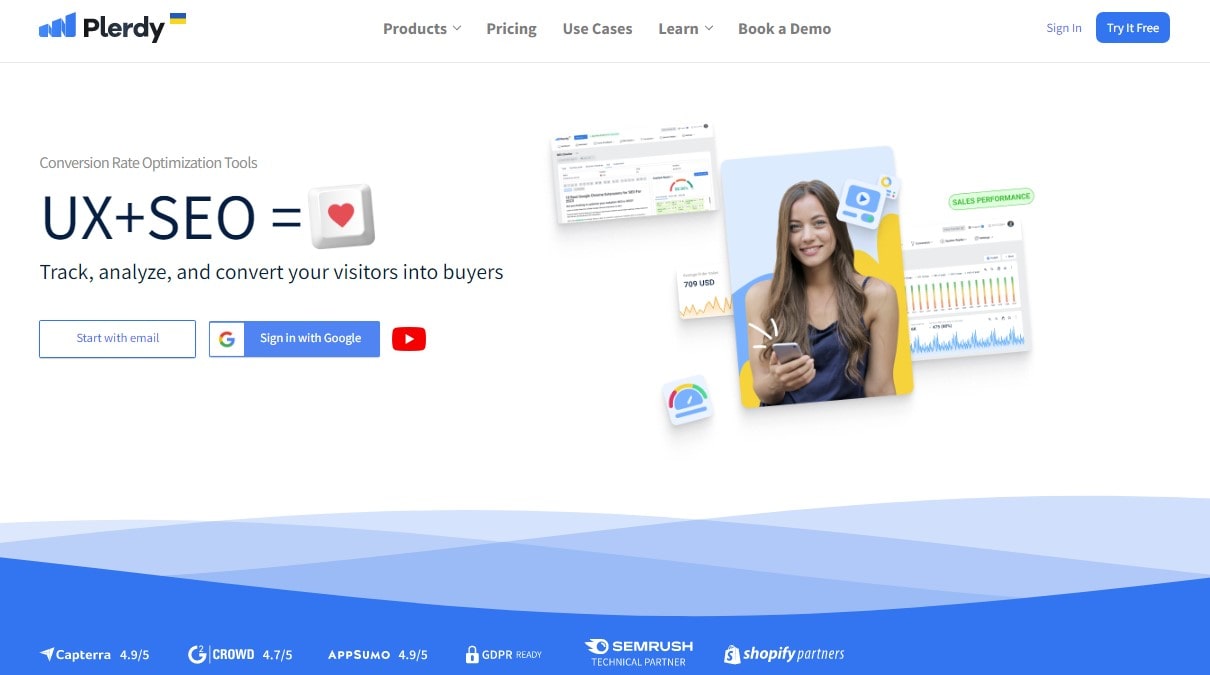 Emerging as a potent contender among Hotjar alternatives, Plerdy transforms into the spotlight with an impressive repertoire of features designed to streamline the user experience and optimize conversion rate. In addition, it provides a comprehensive view of customer interaction, filling gaps left by traditional analytics tools.
Plerdy stands out with its versatile capabilities – tracking user clicks and scrolling to implementing SEO checkers. It also sports a formidable pop-up builder to capture visitor attention effectively, ensuring you don't let potential conversions slip away.
For instance, a vegan e-commerce site can leverage Plerdy's in-depth heatmap analysis to pinpoint the most enticing products, improving sales and customer satisfaction. This is how PLerdy carves a niche for itself by allowing businesses to turn raw data into strategic action.
Key features of the Plerdy, like a Hotjar alternative, include:
Robust heatmap tracking
SEO checker
Pop-up builder
Scroll maps
Plerdy's accessibility extends beyond functionality – its pricing structure takes a friendly approach to businesses of all sizes, with packages designed to cater to different budgets and needs. This unique blend of user-friendly design, detailed analytics, and fair pricing makes Plerdy attractive among Hotjar alternatives. The platform's commitment to giving you complete control of your data and insights keeps it one step ahead in a competitive digital landscape.

In Hotjar alternatives, Lucky Orange makes a compelling case with its suite of conversion optimization tools. Lucky Orange, a dynamic heatmap software, goes beyond simply tracking visitor behavior. Instead, it integrates several functionalities that enable businesses to delve deep into user engagement and pinpoint areas for improvement.
One of Lucky Orange's standout features is its ability to record user sessions, providing a step-by-step replay of the customer journey. This invaluable feature allows businesses to identify hiccups in the user experience that could affect conversion rates. For example, an online clothing retailer could use these session recordings to spot issues in the checkout process that may be causing customers to abandon their carts.
Highlights of Lucky Orange as a Hotjar alternative include:
Detailed heatmap analysis
Session recording
Conversion funnels
Form Analytics
With such a powerful toolkit, Lucky Orange empowers businesses to drive growth and outshine their competition. It paves the way for refining web design, optimizing marketing efforts, and ultimately – bolstering conversion rates. The platform's versatility and in-depth analytics are turning heads in the industry, making it a force to reckon with among Hotjar alternatives. Moreover, its unique approach ensures businesses are not just staying in the race but running full tilt towards success.

When it comes to exploring Hotjar alternatives, Crazy Egg certainly sparks interest. Crazy Egg, with its potent user experience optimization tools, offers a plethora of features aimed at enhancing website performance and boosting conversion rates.
Crazy Egg's distinguishing element is its heatmap tool that generates a vivid, color-coded representation of user activity on your site. This functionality helps businesses identify areas that attract the most attention and interaction. For instance, an online health supplement store could use these heatmaps to optimize product placement, highlighting best-selling items and improving visibility for underperforming ones.
Standout attributes of Hotjar alternative Crazy Egg include:
Detailed heatmap analysis
Scroll maps
Click reports
A/B Testing
By leveraging Crazy Egg's tools, businesses can tailor their web design and content to match user behavior and preferences, enhancing user engagement. This user-centric approach underscores why Crazy Egg has solidified its position as a viable alternative to Hotjar. Furthermore, including A/B testing lets you experiment with different design and content elements, allowing you to make data-driven decisions that can positively impact your business performance. With Crazy Egg, you get an all-in-one solution to maximize your website's potential and catapult your conversion rates sky-high.

As businesses explore Hotjar alternatives, Mouseflow makes an impressive entry. Mouseflow is a web analytics tool offering comprehensive features designed to analyze user behavior and optimize website performance.
A significant facet of Mouseflow's offering is its session replay feature – a tool that visually records the user journey from start to finish. This can be a game-changer for businesses examining user experience issues. For instance, an online bookstore might use session replays to identify bottlenecks causing friction in the book search or checkout process and smoothen the user journey.
Key features of Hotjar alternative Mouseflow encompass:
Session replays
Heatmaps
Funnel tracking
Form Analytics
By harnessing Mouseflow, businesses can paint a clear picture of their users' behavior, enabling them to adapt and optimize their websites for better engagement and conversions. This deep dive into user interactions and the ability to spot and rectify friction points establishes Mouseflow as a formidable contender among Hotjar alternatives. Moreover, its commitment to providing actionable insights empowers businesses to fine-tune their strategies and skyrocket their conversion rates. With Mouseflow, you're not just staying on track but paving the way toward excellence.

Navigating through Hotjar alternatives, FullStory is a standout. However, this advanced digital experience platform goes beyond the average, offering insightful features to analyze and enhance website user engagement.
FullStory's key advantage lies in its session replay capabilities, providing a virtual user experience walkthrough. For example, suppose an online travel agency is looking to reduce booking abandonment. With FullStory's session replays, they can discern pain points in the booking process and implement targeted solutions.
Here are some notable features of FullStory, as a Hotjar alternative:
High-fidelity session replay
Omni-search functionality
Click maps
Error tracking
FullStory doesn't just show you what's happening on your site – it provides the 'why' behind user behaviors. This data-driven approach allows businesses to improve customer experience, drive customer satisfaction, and increase conversions. As a tool equipped with analytical depth and the ability to track every click, swipe, or keystroke, FullStory distinguishes itself among Hotjar alternatives. With its robust functionality and precision tracking, FullStory arms you with actionable insights, propelling your business towards its goals. So, while others may guess, you'll know exactly how to steer your business to digital success with FullStory.

Delving into the realm of Hotjar alternatives, Inspectlet commands attention. This powerful web analytics platform presents a comprehensive suite of tools to boost your website's performance, increase engagement, and promote conversions.
Crucial elements of Inspectlet include a Hotjar alternative:
By employing Inspectlet, businesses gain an in-depth understanding of user behavior, empowering them to tailor their website for improved engagement and conversion rates. Inspectlet provides a means to spot and eliminate hindrances, improving the user journey to meet customers' needs more effectively. As a comprehensive toolset offering a deeper view into user interactions, Inspectlet has earned its place among potent Hotjar alternatives. Its commitment to delivering actionable insights means you can fine-tune your strategy and reach your digital growth goals. Thus, with Inspectlet in your corner, you're not merely participating in the digital sphere – you're making strides in it.

Smartlook stands out as a powerful option among Hotjar alternatives. This analytics tool helps businesses make informed decisions based on clear insights into user interactions, effectively bridging the gap between businesses and their customers.
The following features of Smartlook (Hotjar alternative) make it a formidable tool:
Session recording in great detail
Event tracking
Conversion funnel analysis
Heatmaps
Smartlook goes the extra mile, turning raw data into actionable insights. It facilitates user behavior analysis, enabling businesses to enhance their digital interfaces and improve the user experience significantly. Leveraging Smartlook allows you to dive into user interactions, discover obstacles and optimize your website for greater efficiency and effectiveness. As a potent tool in the Hotjar alternatives list, Smartlook offers a window into your users' world, empowering you to create a more engaging and satisfying digital experience. With Smartlook, your website's performance can flourish, paving the way for digital growth and success.

When discussing potent Hotjar alternatives, it's impossible to overlook Pendo. This powerful user experience platform helps businesses to steer their products based on user behavior.
Imagine an online health and wellness store striving to streamline its digital experience. Pendo steps up to the plate, offering in-depth insights into user interaction patterns, enabling the store to align its digital strategy with the needs and expectations of its customers.
Pendo, as a Hotjar alternative, is a treasure trove of advanced features, including:
Comprehensive user tracking
Robust analytics
Personalized messaging
In-app guidance tools
In Hotjar alternatives, Pendo shines by turning data into insights. It's not just about collecting information, and it's about making sense of that information and translating it into effective, strategic action. Pendo's functionality boosts customer satisfaction and loyalty, cementing your digital presence and fostering growth. By adopting Pendo, you're setting your business on a trajectory to success, refining your user experience, and amplifying customer engagement.

Hotjar alternatives are plentiful, but VWO stands out with its robust optimization capabilities. Consider, for instance, an online fashion boutique seeking to enhance customer engagement. VWO is armed with data-driven insights that inform a superior online shopping experience.
Hotjar alternative VWO offers a suite of features that give businesses a competitive edge:
Heatmaps and click tracking
A/B testing
Multivariate testing
Personalization features
By employing VWO, businesses can detect trends in customer behavior, capitalize on opportunities, and nip potential issues in the bud. The fashion boutique, for instance, could streamline its website layout, fine-tune product placements, or offer personalized shopping experiences based on user behavior patterns.
VWO gives you the reins, enabling you to mold your digital presence around your customers' needs. As you navigate the realm of Hotjar alternatives, remember that VWO's robust capabilities pave the way for success – optimizing customer interactions, driving engagement, and, ultimately, propelling your business forward.
Among the various Hotjar alternatives, Freshmarketer confidently steps into the spotlight, bringing an arsenal of user-friendly, performance-enhancing features. Take a hypothetical e-learning platform grappling with low engagement rates. Enter Freshmarketer, a tool that aids in unearthing the hidden factors hindering their user experience.
Key Freshmarketer features include:
Funnel analysis
Heatmaps
Session replays
A/B testing
Utilizing Freshmarketer, the e-learning platform can gain a deep understanding of their learners' behavior, allowing for data-driven adjustments. For instance, they might discover learners dropping off at a specific course or needing help with a complex navigation menu.
In the bustling realm of Hotjar alternatives, Freshmarketer shines with its comprehensive toolkit designed to maximize user experience. It helps companies identify their strengths and weaknesses and create a customer-friendly atmosphere. And in doing so, Freshmarketer paves the way for businesses to evolve in sync with their users' needs, leading to a surge in engagement and overall business growth.

Emerging as a robust contender among Hotjar alternatives, Zoho PageSense brings many optimization tools that fuel business growth. For instance, an online retail store seeks to elevate customers' shopping experience while nudging up sales.
Hotjar alternative, key Zoho PageSense attributes are:
Heatmaps
Funnel analysis
Session recording
A/B Testing
The beauty of Zoho PageSense lies not just in its ability to point out issues but also in its capacity to facilitate solutions. By harnessing the power of A/B testing, the retailer can try out different layouts, bring the popular product to the forefront, and then measure the results.
Zoho PageSense shines bright in the constellation of Hotjar alternatives, offering businesses a suite of tools to enhance user experience and thereby boost their bottom line. By empowering businesses to understand their users better, make informed tweaks to their platforms, and gauge the impact of these changes, Zoho PageSense allows businesses to cultivate an environment that resonates with their users – leading to increased engagement and, ultimately, greater business success.

Decibel, stepping up in the arena of Hotjar alternatives, offers a unique mix of capabilities for businesses aiming to elevate their user experience. For example, imagine a travel booking platform that seeks to streamline its booking process, ensuring customers can easily find and book their perfect getaway.
Hotjar alternative has key features that make Decibel stand out, including:
The Digital Experience Score, Decibel's signature offering, provides the platform with a quantifiable measure of user experience. For example, the travel site can gauge whether a new layout or feature enhances or detracts from the overall experience.
Decibel holds its own among Hotjar alternatives, equipping businesses with powerful tools to understand, improve, and measure their user experience. By ensuring that changes on a platform lead to a tangible enhancement in user experience, Decibel allows businesses to foster an environment that their users find enjoyable and effortless – driving customer satisfaction and business success.

Quantum Metric, a standout among Hotjar alternatives, champions the continuous product design approach with intuitive tools. Picture an e-commerce store striving to enhance its checkout process, leading customers through a seamless purchasing journey.
Quantum Metric excels with these key features, like a Hotjar alternative:
Real-time customer struggle analysis
Automated discovery of revenue opportunities
Detailed user journey tracking
Visual funnels for conversion optimization
The e-commerce store can tap into real-time struggle analysis, identifying and solving any bottlenecks in the checkout flow, such as confusing form fields or slow-loading pages.
Quantum Metric stands tall in the lineup of Hotjar alternatives, empowering businesses to improve their digital platforms continuously. By focusing on user experience and proactive problem-solving, Quantum Metric helps businesses craft a user-friendly digital presence and boosts bottom-line results.

In the bustling landscape of Hotjar alternatives, UserTesting shines as a potent tool, perfect for businesses who desire insight into how real users interact with their platforms. For example, let's visualize a software development firm gearing up to launch a new project management tool.
UserTesting brings to the table:
Live interaction with the target user demographic
Quick, targeted feedback
Accurate behavioral data
Customizable user tasks
The software firm could set up a user test to see how their target demographic – say, project managers in the tech industry – interact with their tool in real-time. They can observe and note user difficulties, from navigating the interface to understanding specific functionalities.
In Hotjar alternatives, UserTesting provides businesses with the invaluable chance to observe and learn from real user interactions. This benefit pays dividends in creating a user-friendly product.

Among the Hotjar alternatives, Mixpanel makes its presence felt with robust analytics, shining particularly brightly in data-driven businesses. Let's delve into an e-commerce company planning to revamp its website.
With Hotjar alternative Mixpanel, this e-commerce company could enjoy the following:
In-depth user analytics
Event-based tracking
Cohort analysis
Funnels and flows
Mixpanel would empower the e-commerce company to dive deep into user analytics – tracking how customers engage with their website, which pages they spend the most time on, what products they view, and how often they add items to their cart.
As Hotjar alternatives go, Mixpanel is a data-driven powerhouse that enables businesses to understand their customers intimately, which is critical in today's hyper-competitive e-commerce market.

In the arena of user behavior analysis tools, Contentsquare emerges as a formidable player. Competing head-to-head with Hotjar and other alternatives, this digital titan offers a unique blend of analytics and experience insights. It's all about uncovering user behavior patterns, then leveraging those insights to elevate the user experience.
Contentsquare's winning formula comprises:
Path Analysis: Maps out user navigation, spotlighting potential pain points.
Session Replays: Offers an unfiltered view of user interactions.
Zone-Based Heatmaps: Gives granular data on user engagement.
However, while Contentsquare stands out in its league, Hotjar and other alternatives continue to offer competitive features. Again, it's about matching your specific needs with the right tool. As the digital landscape evolves, having the best-fit tools in your corner ensures you're always one step closer to your users – and that's a winning strategy.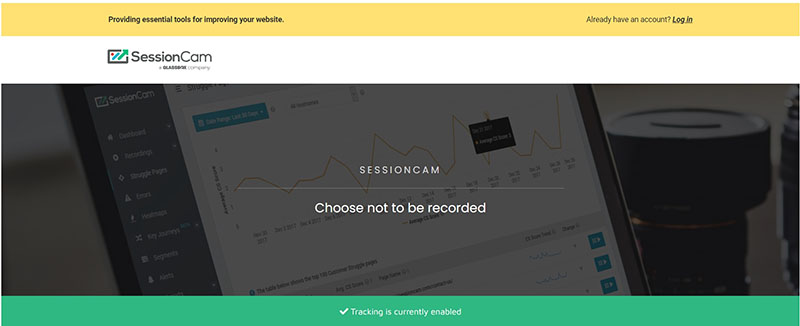 When delving into Hotjar alternatives, SessionCam lights up the horizon with its robust capabilities for understanding user engagement. For instance, an e-commerce platform is eager to enhance its customer shopping experience.
SessionCam offers an arsenal of tools, including:
Session Replay
Dynamic Heatmaps
Funnel Analysis
Anomaly Detection
Session Replay enables the e-commerce platform to walk in customers' shoes, viewing their browsing journey from start to finish. This unveils potential obstacles that might be hampering a smooth shopping experience.
Dynamic Heatmaps lay bare the areas of a webpage attracting the most interactions. Understanding which product images or descriptions attract attention helps craft compelling content.
All said, SessionCam offers a comprehensive toolkit for in-depth user engagement analysis. This makes it a leading Hotjar option, enabling businesses to improve their digital interfaces and user experience.

Matomo, a compelling contender among Hotjar alternatives, hands you the reins of your analytics and data privacy intact. Suppose you run an online food delivery service. Data privacy and insights are your top considerations, and Matomo shines on both fronts.
Matomo comes equipped with a suite of robust features, which are detailed below:
| | |
| --- | --- |
| Feature | Benefit |
| Self-Hosted Analytics | You control data privacy and compliance, staying clear of third-party data-sharing |
| Real-Time Data Reports | Immediate access to user interaction information for prompt decisions |
| Event Tracking | Know exactly what elements on your site garner the most clicks, hovering or interactions |
| Heatmaps | Visualize the most frequented areas of your site, offering insight into where to place key elements |
| A/B Testing | Evaluate website changes for effectiveness before committing to them, optimizing user experience. |
Matomo's self-hosted analytics keep user data securely under your roof, a boon in the age of growing data privacy concerns. In addition, real-time data reports and event tracking offer a lens into your customers' habits and preferences. And if you're contemplating a revamp of your website layout, heatmaps and A/B testing are invaluable tools to gauge user response and maximize engagement. In a nutshell, Matomo delivers robust user interaction insights while safeguarding user privacy, a recipe for building enduring customer relationships.
Bottom Line
Alright, let's wrap things up on the topic of Hotjar alternatives. We've journeyed through an extensive list of 18 options with unique characteristics and features. You might've noticed that UXCams and UXTweak, for instance, make a compelling case, flaunting high usability and integration options. But they're not alone, as Fullstory, Ptengine, and VWO – among others – also put a strong foot forward.
The dashboard displays differ across the board, and the pricing plans vary from freebie trials to premium monthly or annual subscriptions. Some provide extensive email support, others offer demos, and others even have chatbot assistance.
Of course, conducting a thorough comparison before making any decisions is important. Consider the pros and cons, review client feedback on platforms like Capterra, consult with your team, and ask vendors any remaining questions.
If you're unsure which app to choose, give Plerdy a shot. It's a highly effective tool offering usability testing, visitor heatmap analysis, website monitoring, and many more features. It's one of the best alternatives with a free plan. Contact us for a demo, and let's design your user experience for higher conversions.
Remember, it's not about picking the biggest name but the tool that best serves your needs. So let's take your user experience to new levels together!