Do you have a particular passion or hobby you want to share with the world? 😏 Or are you currently undertaking any projects and would like to showcase them to your target audience? 🤩 Well, what you need is a portfolio website!
A portfolio website allows you to express your personality, capabilities, and experience. Even more importantly, by giving you a platform to showcase some of your best works, the website exposes you to potential employees, opening up more career opportunities for you! Indeed, having a portfolio website is one of the best investment decisions you could ever make.
Why do We Need Portfolio Website Examples?
If you're looking to create a website portfolio but need help figuring out where to start, then look no further. Examples are the best way to get inspired and motivated when it comes to creating something new. After all, there's nothing more powerful than seeing a great example that you can use as inspiration for your own work. The beauty of website portfolio examples is that they give us ideas for how our own portfolios could look, feel and function. Whether we choose to copy them or take design cues from them, these examples provide valuable insight into what's possible with our websites. Plus, it's fun (and funny) to see what others have done with their portfolios. We can learn a lot from other designers' successes and mistakes!
However, the big question is, how do you create the best portfolio website for yourself? 🤔 To assist you in this matter, I've compiled a list of 17 best portfolio website examples.
The List of 17 Best Portfolio Website Examples
Below are examples of the 17 best portfolio websites that are highly likely to inspire you. Familiarize yourself with their features to come up with some creative ideas for your business.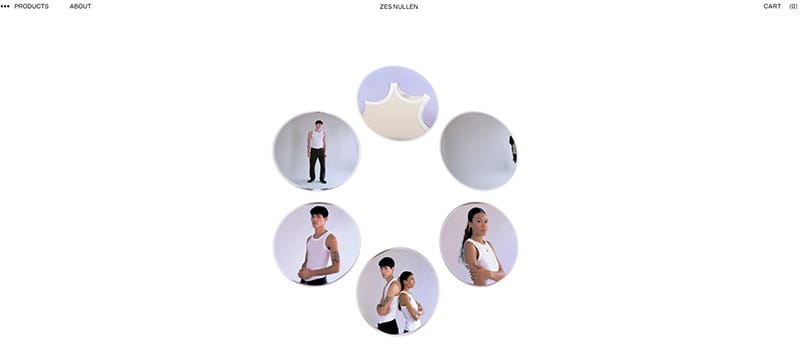 The Zes Nullen portfolio website was founded by Yung Nnelg, a musician based in Amsterdam. It comprises works of multiple creatives who realize concepts and ideas that are simple yet very practical and functional. As multimedia creatives claim, their prime goal is to try and "break the limits" of what is considered possible in the creative world, coming up with ideas worth millions of bucks. And the best part about Zes Nullen is that they often use small, easily available resources to realize big and expensive ideas that have found practical application in the modern world.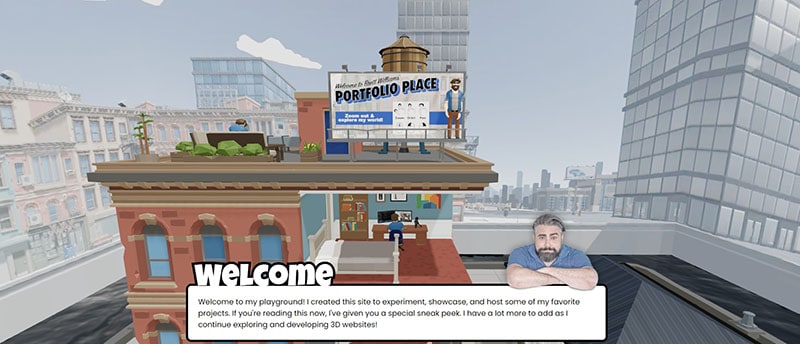 Brett Williams created this portfolio website. Brett is very passionate about web experiments. Besides exploring a wide range of web-related experiments, the author also develops 3D websites whose WebXR features can be best experienced using a VR headset.
On his website, Brett showcases different web experiments he has done, hosting some of his favorite projects there. He strives to simplify complex ideas, making it easier for even beginners and intermediates to use modern technology. In other words, this portfolio is Brett's playground where he has all the fun exploring and discovering new web tests.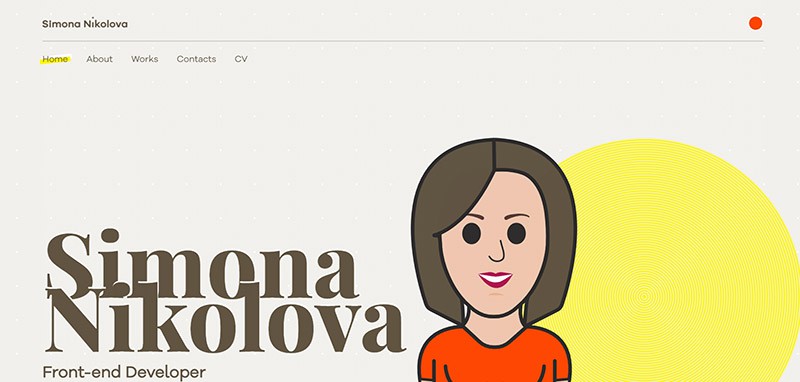 This is a personal portfolio website developed by Simona Nikolova. Simona is a front-end developer specializing in creating websites and applications that use languages such as JavaScript, HTML, and CSS. She has more than six years of experience building responsive websites and UI designs.
Simona showcases different projects she has worked on that proved functional in her portfolio. She shares multiple effectively-designed interfaces, brands, and elements she has crafted for the website. She also points out certain aspects that make her work stand out, such as being a team player and having a positive attitude toward her work. Indeed, Simona uses her portfolio wisely to advertise her skills.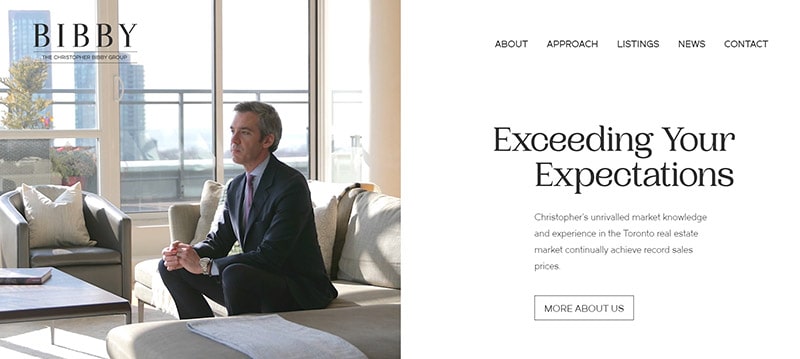 If you specialize in real estate and want to create a portfolio to advertise your skills, the Bibby website is just the inspiration you need. This website was created by the Bibby Group, a company that engages in real estate in Toronto and has registered an excellent performance record.
Christopher, a real estate specialist with great skills, knowledge, and expertise, leads the WordPress website. It features the stunning properties of the group and has a sleek yet robust design that makes it easy to use.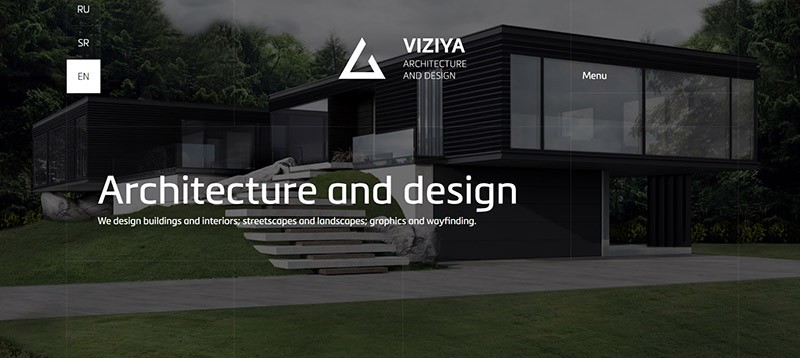 Dejan Obradovic developed the Viziya Architecture portfolio website. He has over 15 years of experience in the field of architecture design and the development of Enterprise level software. He employs his knowledge and skills to create a user-friendly portfolio showcasing the Viziya agency's properties.
On the website, Viziya shows different designs for buildings and interiors, graphics, streetscapes, and landscapes. You can also find 3-D visualization images, videos, and animations for a wide range of architectural projects the company builds. The site also features computer graphics for urban spaces and residential and commercial real estate.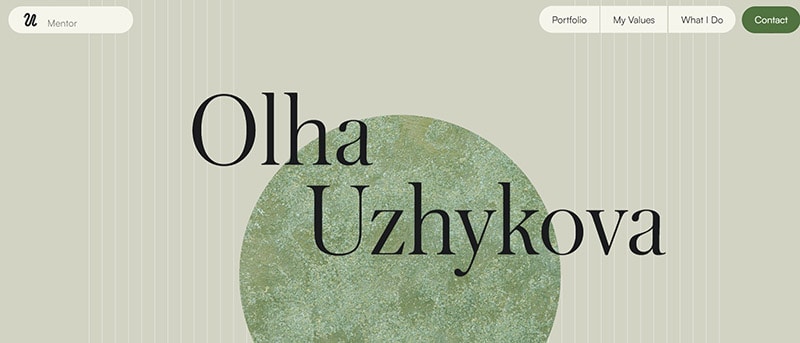 Olha Uzhykova is the developer behind this portfolio website. She is a UI/UX design expert with over ten years of experience as a design director and manager. Together with her husband, Olha manages a design agency known as Netrix.
The author shares her values, passions, and area of expertise on her portfolio website. In addition to sharing her classes, experiences, and interviews, she also has a blog section on her website, a blog through which she shares practical information about designing.
The website also features an exclusive design course Olha launched on Awwwards Academy.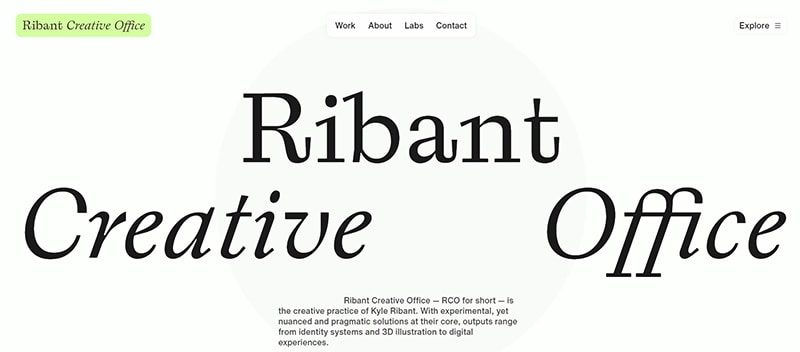 Kyle Ribant created Ribant Creative Office (or RCO). He created his company to bring software development, design, and strategy together to help others create experiences mainly focused on their goals.
Kyle is a specialist in almost all design aspects, including visual arts, UI/UX design, strategy, and development.
Kyle's portfolio website describes his experience, skills, and areas of expertise. He transforms complicated systems that are hard to understand into simple and reasonable ones. Then, he shares a collection of these case studies and lab experiments in his portfolio.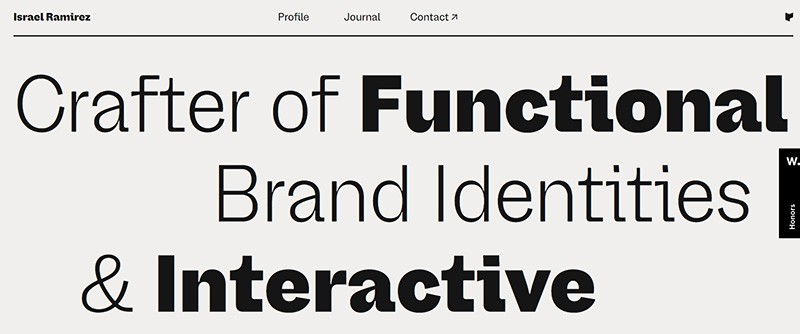 This is a personal portfolio of Israel Ramirez, a Webflow developer and a digital designer based in the US. He specializes in creating responsive websites and brand identities for companies and organizations, both big and small.
Israel uses his portfolio website to showcase his works and projects in the field of web design and branding. He discusses the process and approach he uses to ensure effective web development and design. He also describes all his capabilities, including brand identity, Webflow development, illustration, graphic design, and logo design. Besides, Israel reveals some aspects of his personality on the website, helping others better understand him.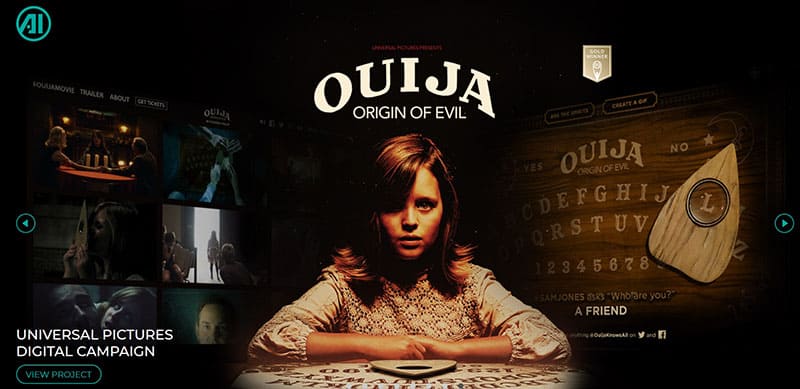 The Addison Interactive Portfolio website was designed for the Addison Interactive agency. This is a digital agency that comprises a group of developers, digital storytellers, content producers, and creative thinkers.
The website portfolio also shows a list of companies that the agency works with. All these developers have more than ten years of experience working in Hollywood, and they work to create multi-platform interactives that help to build brand loyalty. The experts specialize in helping brands devise effective marketing strategies that give them a competitive edge in the market.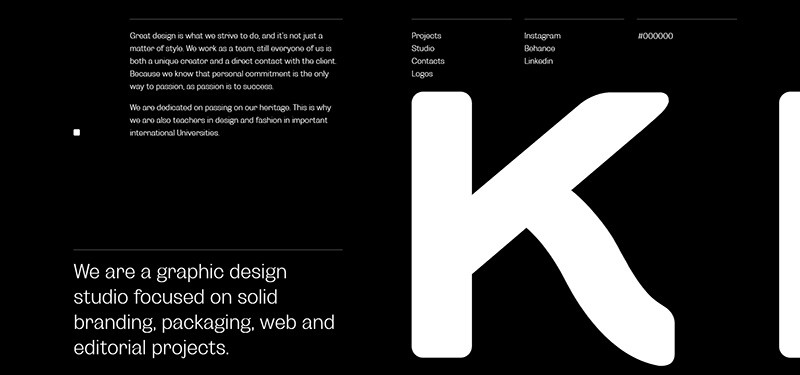 KidStudio's website portfolio is specifically designed to showcase the great fashion and style provided by the graphic design company based in Florence and Milan. For more than 25 years in the business, the company has built a strong team of graphic designers who work to build a solid brand, package, and carry out effective editorial and web projects.
The graphic design company's portfolio showcases its rich history, culture, and creative arts and crafts. The owners and founders of the company are Luca Parenti and Marco Innocenti.

Fanny Peneau developed the WolvesArt portfolio in 2022. Fanny is an independent designer, freelancer, and creative director. He works with individuals, companies, and startups, helping them create graphic charters and design effective web interfaces. The author specializes in identity creation, animated illustration, and UX/UI design.
Fanny shares some of his creations and best images on his portfolio website. He makes the most out of his personal website by constantly designing images and creative art and then featuring them in the portfolio to show his audacity and impressive imagination. As he claims, he translates his clients' universes, turning what makes their DNA into images.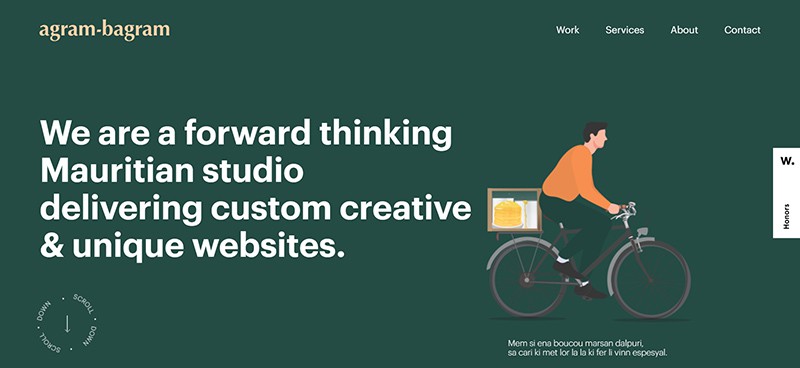 Agram-Bagram is a digital web agency located in Mauritius. The studio focuses on delivering unique and customized websites to users. They have developed a portfolio website where they share their services and areas of expertise, such as website development, social strategy, communication design, branding, and social management.
The Agram-Bagram portfolio also features the agency's latest works, which are updated regularly to ensure that customers have the latest information about the agency. Even better, the attachments of the latest works feature the name of the client the project has been done for. This gives the website and the agency credibility, making it more trustworthy and reliable to clients.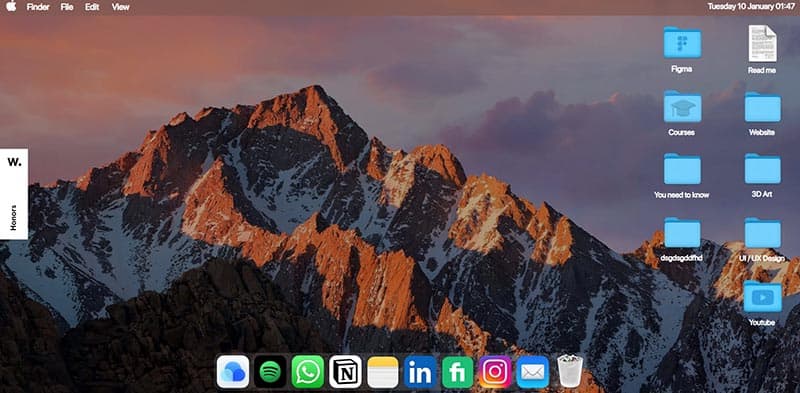 Developed by Luca Sammarco, this personal portfolio website features the simplicity of Apple. The website has an appearance and displays similar to those of Apple devices, which includes a similar menu and applications. Using similar appearance systems, the author has made it easier for users to find his works when they visit the website.
Luca Sammarco is a 3D artist and experienced web designer. He has more than two years of experience building responsive websites. He works with Nullam Tech, where he is the manager of the Digital and Content Division. Luca uses the portfolio to advertise his skills, share his contact information, social media pages and the finished projects that showcase his work.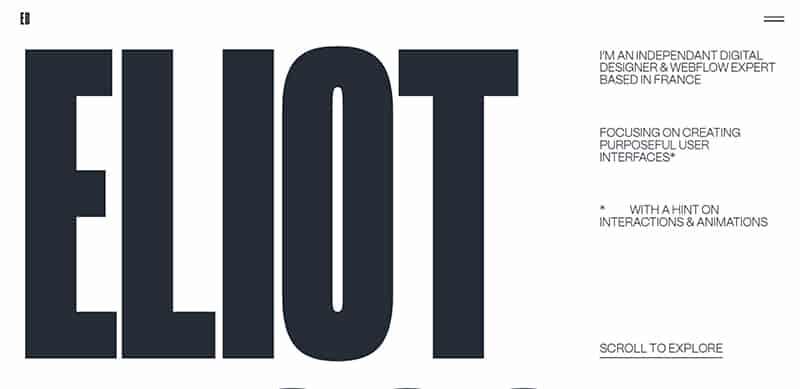 Eliot Besson is the creator and developer of this portfolio website. He is an independent Webflow expert and digital designer located in France. With more than five years of experience in designing, Eliot specializes in creating user-friendly and functional user interfaces for his clients.
The author's portfolio has an entire page detailing his skills, expertise, and work style. He specializes in UI design, UX design, and branding – the services that the author clarifies in the portfolio. He discusses how he designs each project and if and when he works with a team. Eliot also mentions the digital design studio he works with to develop quality projects.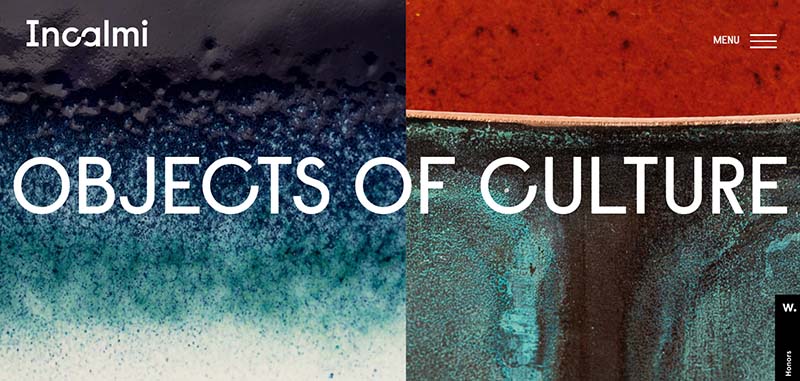 Incalmi is an Italian-based company specializing in developing products for use in the world of design, architecture, and luxury. They have created a portfolio website that shares creative ideas and mood boards, showing how they turned these into actual projects and finished products ready for the market.
Incalmi is mainly focused on research, product development, and design. The aspects and details of each of these three services are discussed in detail on their website. Furthermore, the portfolio provides a collection of the objects and items that the company has made before and those currently in stock.

Sven Gerlach created this portfolio website. Sven specializes in sound design; he creates sounds and tracks for films and video games. Therefore, as expected, the author's portfolio is about having fun with sounds and music.
Yet, despite it being fun and playful, the Sven Gerlach portfolio also has a professional feel and touch. He shares his skills, experiences creating music, and projects he has worked on, such as game soundtracks, composition, and trailer scoring.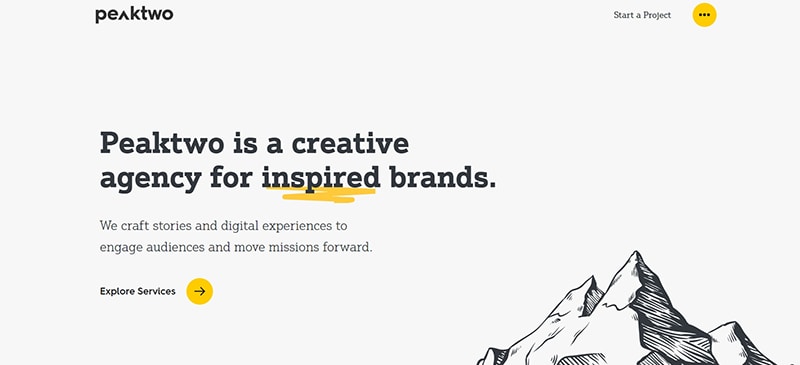 Peaktwo is an agency that crafts stories and experiences to engage the audience and push their missions forward. It consists of marketing experts, code heads, designers, and storytellers with the skills and experience to help brands stand out.
The portfolio website was primarily developed to support the agency's mission: supporting all the efforts made by "inspired brands." It shows the agency's values and over 100 web experiences of all proven projects conducted by the team.
The above-suggested 17 best portfolio website examples can give you the inspiration you need to create your effective portfolio. So go through each of these websites, grasp the ideas on how they designed their portfolio, and get creative in building your website!😉 The benefits you will gain from building a quality portfolio will be worth all the efforts and time you put into building the website.
Conclusion
We live in a highly competitive world. Yet, having a portfolio website can give you a competitive edge in the market, the edge you will need to boost your business and create a big, successful brand. However, not just any portfolio will take your brand a notch higher. Rather, you'll benefit the most if you create a well-designed, functional portfolio that will attract your target audience, clients, and customers. I hope the given portfolio website examples will inspire you!