Data analytics is one of the most powerful forces in modern business. With the right data analytics tools, businesses can gain valuable insights into their customers, operations, and competitors. But with so many different tools, it can take time to know which is right for your business. This blog post will explore the benefits of using data analytics tools, how to choose the right tool, and examples of decent data analytics tools.
So if you have always dreamed of a detailed guide on choosing a data analytics tool, here it is ?.
Benefits of using the best data analytics tools

Data analytics tools are essential for any business that wants to gain a competitive edge. Here are some of the key benefits of using data analytics tools:
Gain insights into customer behavior: Data analytics tools (like Plerdy) can provide valuable insights into customer behavior, such as which products and services are most popular, what type of content customers respond to, and which marketing channels are most effective. You can track ? SEO, Facebook ads, Google ads, and other channels. This information helps a website's digital marketer optimize their marketing campaigns and better target customers.
Increase efficiency: Data analytics tools can help businesses automate tedious tasks like customer segmentation by country and traffic channel (Organic, Direct, Referral, Social, etc). This can save businesses time and money and increase operational efficiency.
Reduce costs: Data analytics tools can help businesses identify areas where costs can be reduced. For example, businesses can use analytics tools to determine which suppliers provide the best quality products at the lowest prices.
Gain a competitive edge: Data analytics tools (like Ahrefs and Semrush) help businesses gain a competitive advantage by providing insights into their competitors' operations. They analyze competitors based on backlinks, changes on website pages, and other factors. With data analytics tools, you can identify competitors' weaknesses and capitalize on them.
Identify trends: Data analytics tools (like BuiltWith) can help businesses identify emerging trends in the market. This can help businesses stay ahead of the curve and adapt to changing market conditions.
Besides the listed benefits, such website data analytics software allows all teams to stay on the same page. SEO, marketers, sales reps, UX specialists, and others get reliable data to share and make data-driven decisions.
How to choose the right data analytics tool
Choosing the right data analytics tool from the few best software options can be daunting. Here are some tips to help you make an informed decision:
Understand goals: Estimate your needs before looking for a data analytics tool. Identify what you want to achieve with your data analytics software tool. You may aim for increased LTV, average time on page, and macro conversions or collect data before a website redesign.
Research available tools: Once you've identified your goals, research data analytics tools. Look for tools that offer the features required to achieve your goals.
Read the best and worst reviews about tools: Reading G2 or Capterra reviews from other users of the data analytics tool allows you to get an idea of how the tool works.
Test the data analytics tool: Most data analytics tools offer free 14-day trials for premium plans or demos, so take advantage of these opportunities. Testing the tool will give you an idea of how easy it is to use and its performance. Besides, you should watch tutorial videos explaining how the tool works.
Compare prices: Many data analytics tools offer different pricing plans, so it's important to compare prices to find the best value for your money.
These simple steps provide a quick guide on researching data analytics software on the market. Follow them to shortlist several software solutions and pick the one you particularly like.
Tools for UX, CRO & SEO data analysis by Plerdy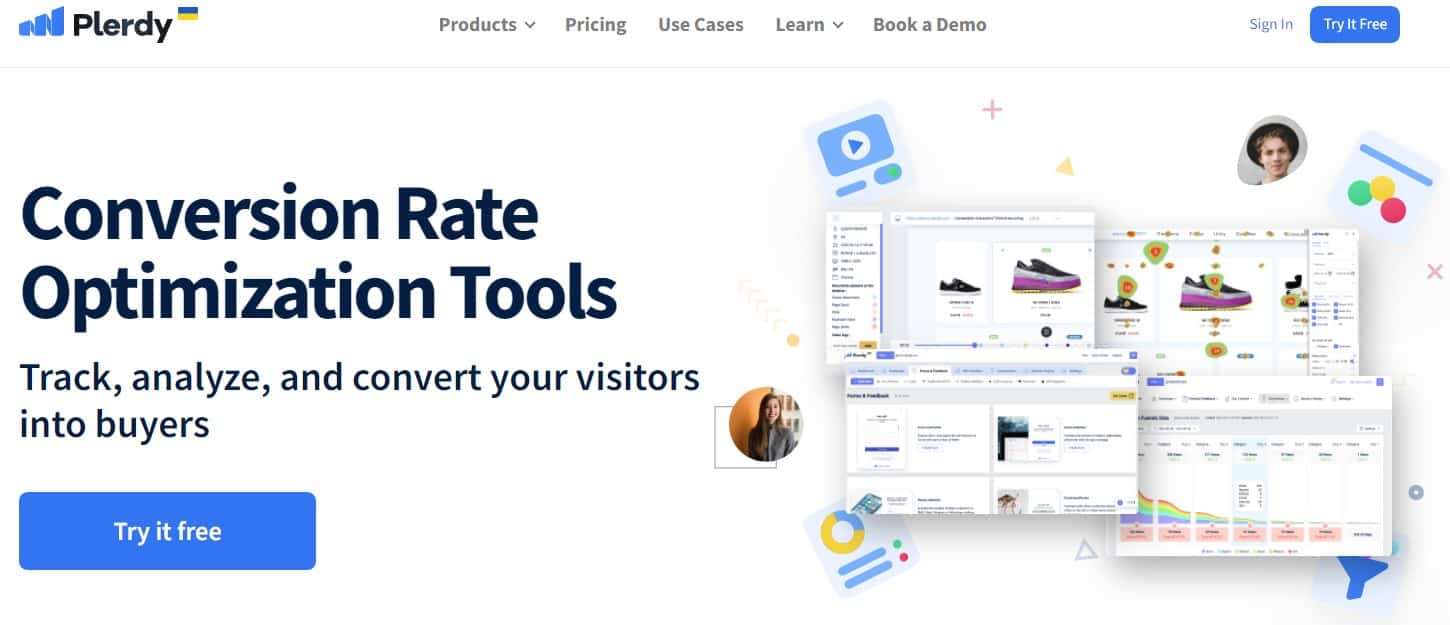 Plerdy's data analytics tools provide complete information on user behavior on a web page. They highlight the most interesting blocks for visitors, generate scrolling maps, and analyze conversion and SEO data.
With the best data analytics tools from Plerdy, you will efficiently optimize web pages and drive more traffic to your site. Here are the core behavioral data software tools:
Plerdy also supports ecommerce sales performance software, popups, NPS surveys, and other helpful features to collect user data. It's one of the best alternatives to other analytics for websites and online stores.
Semi-Automatic Data Analytics Tools
Even the most effective data analytics tool can only meet the needs of some professionals. Therefore, defining your wishes for functionality is vital for productive work.
You can use the capabilities of specific programming languages to get some data from your resources. This approach only offers partial automation but helps structure and analyze data.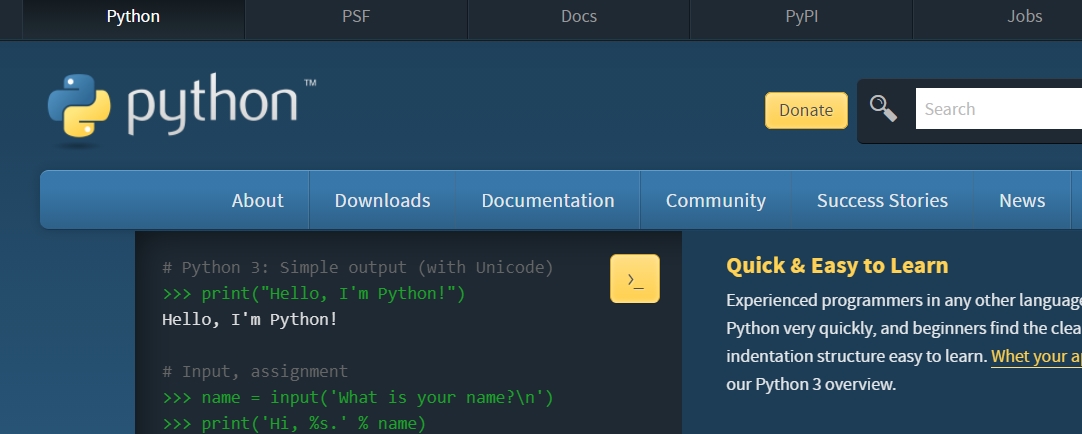 Python is the popular and fastest-growing programming language that allows you to analyze large amounts of information. A Python development company can leverage the power of Python, one of the fastest-growing programming languages, to analyze large amounts of information and work with artificial intelligence algorithms, enhancing data analytics capabilities. More than 200,000 software packages are available for businesses. It can be used with artificial intelligence algorithms as well as additional analytics and data visualization services. You can download information for analysis in most current file formats.
Many developers work with open source – Python's analytical capabilities are constantly improved.

R-Programming is a programming language that supports many graphic tools for efficient and visual data analysis. To fully work with the system, you must have basic programming skills. In this case, it will offer maximum opportunities for analyzing data sets.
The service is relevant for processing large amounts of information and machine learning. The advantages include free open-source code, which allows every specialist to use R-Programming.

Apache Spark is an open-source Big Data framework for processing information. It is intended for batch data and can work with any web platform in the cloud or offline.
The system is simple to operate and easy to learn and use. Apache Spark includes several libraries working with streaming data, machine learning, structured arrays, and visual analytics.
Automatic Data Analytics Tools
Analytics tools are paid and free. Only a basic set of options is often provided without payment. You need to pay for additional features separately.
The price of access to an analytics platform does not always match its functionality. Therefore, when choosing the right tool, focus on its simplicity, convenience, and functions. This section lists the most popular solutions among automated analytics tools.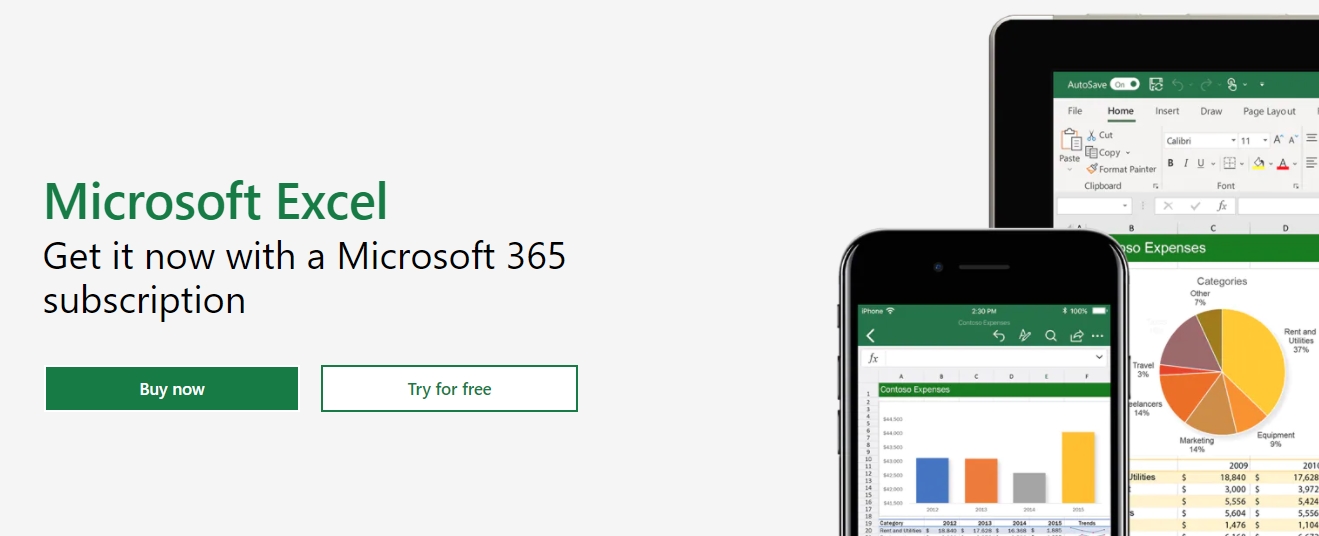 Excel is an accessible and familiar analytics tool. It is delivered to users as part of the Microsoft software suite. The service is used to analyze information and spreadsheet information. The million-line limit prevents the service from working with large amounts of data.
The tool focuses on simple analytical tasks, so it is difficult to work with or use cloud data storage. To visualize the analysis results, you can use the option of building charts and graphs.

The Tableau application is paid. The service price depends on the selected set of options. Choose the advanced suite for complex analytical calculations. The basic option covers your elementary analysis needs.
Tableau does not work with extended SQL queries. The service supports synchronization with cloud or local storage. You can create reports and share them through a browser or application.

A suite of simple or complex data analysis applications that can be easily combined with Microsoft products for effective business intelligence. The service allows you to switch between several analysis tools quickly. Visualization will acquaint you with your current situation in the most accessible form.
With SAP BusinessObjects, you provide predictive analytics for long-term business strategy planning. The cost of the web product varies depending on the number of features you choose.

The free tool helps you create dashboards based on the downloaded data and visualize the ensuing analysis results. The service integrates with Google programs: Ads, Analytics, and BigQuery. It allows marketers to create dashboards with data on the effectiveness of advertising campaigns, conversions, and customer retention.
To work with metrics from different sources, you need to replicate them in Google BigQuery using a data pipeline such as Stitch.

Qlik is a powerful web-based business intelligence and data science platform. It supports work with cloud and local services for providing information. Qlik includes many types of custom charts and other visualization elements. The web platform produces accurate analytical reports in real time.
The tool is comfortable to use for specialists of different skill levels. Customization is available in Qlik using embedded SQL and drag-and-drop modules.

The Tibco Spotfire web platform offers accurate analytics powered by artificial intelligence algorithms. This tool is available in desktop and mobile versions.
Tibco Spotfire can generate forecasts based on past and current data. It enables you to create and manage analysis scripts with popular programming languages. The Tibco Spotfire is also equipped with geo-analytics. Artificial intelligence algorithms make analysis results faster and more accurate.

This web-based analysis platform offers data visualization of the obtained results based on artificial intelligence. It supports a multi-user mode of operation. You will also appreciate the convenience of many service management tools and interactive panels.
The uniqueness of the Sisense web platform lies in the In-Chip technology. The design optimizes computations by caching the CPU instead of using RAM resources. This speeds up data processing by 10X or more.

The Domo service offers over a thousand built-in integrations called connectors. Designed for sharing data from on-premises and cloud services, it allows you to create custom applications and integrate them with the web platform, making access to the system's connectors and tools easier.
The service provides applications for visualizing analytical information, dedicated ETL software, and a data warehouse.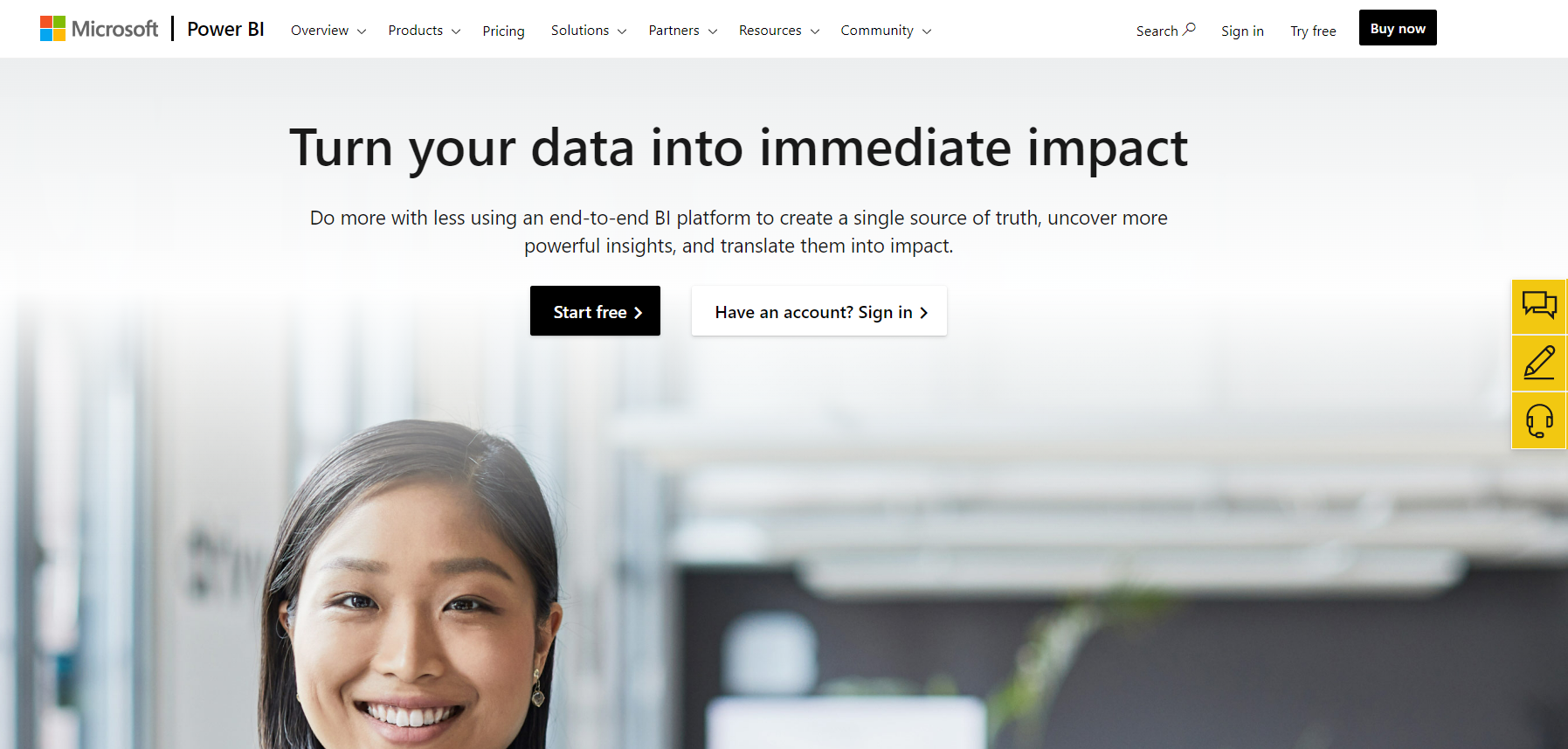 Power BI is interactive data visualization software by Microsoft offered as a part of the Microsoft Power Platform. Its primary use is business intelligence or, simply put, helping businesses to manage and make sense of their data.
Power BI software combines multiple apps, services, and integrations that merge disparate data sources. As a result, messy information turns into coherent interactive insights. You can transfer the necessary data from a database and web page or via CSV, XML, and JSON spreadsheets.
Microsoft stresses the following advantages of this software:
Self-service analytics at the enterprise level.
Hundreds of visualizations, embedded AI capabilities, custom power bi data connectors, and Excel integration.
Industry-leading data security.
Swiggy, fairlife, Hendrick MotorSports, Grant Thornton, and pwc use Microsoft data analytics software.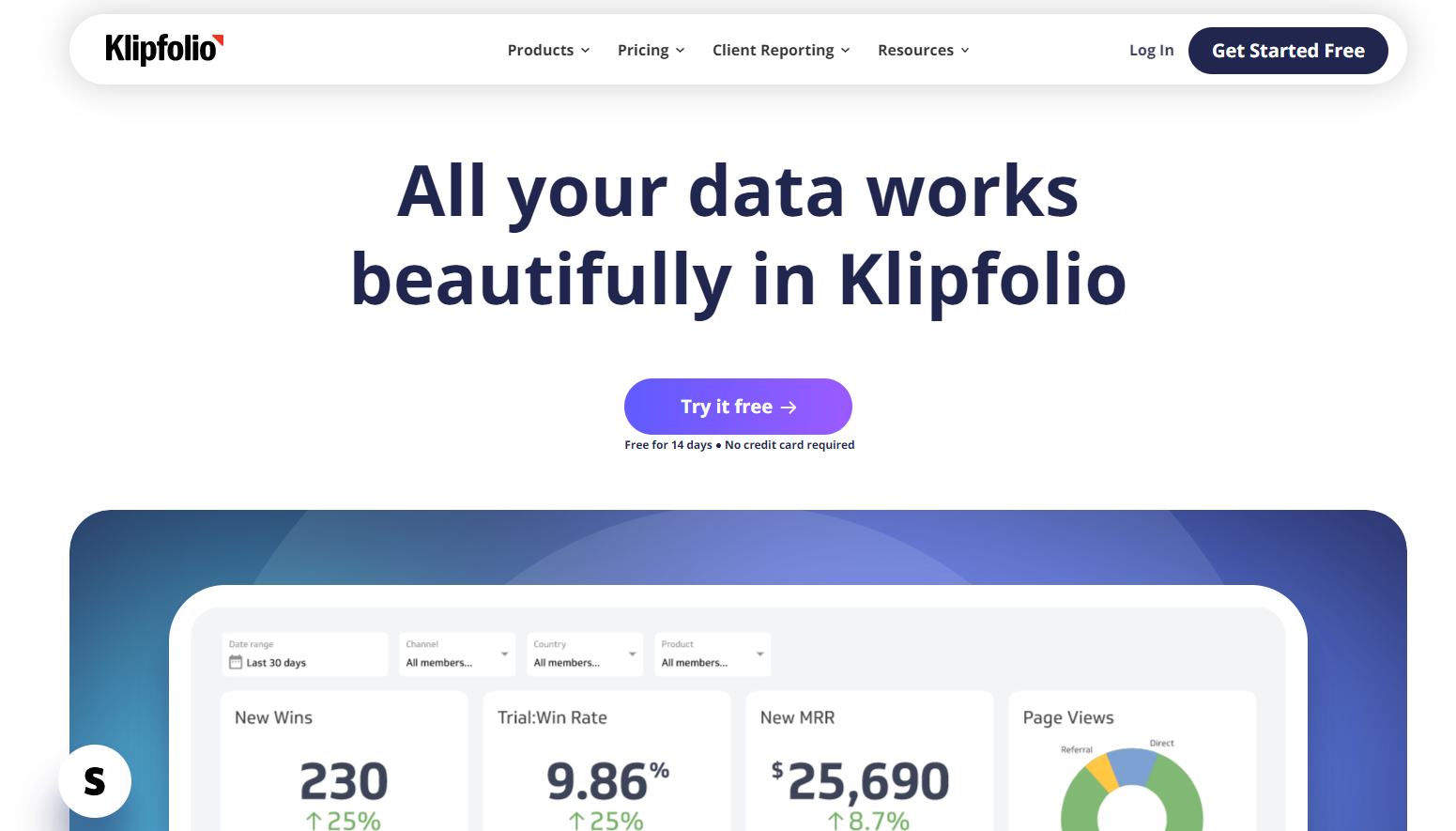 Klipfolio is a Canadian software company headquartered in Ottawa. Allan Wille (CEO) and Peter Matthews founded it in 2001, later joined by James Scott (CTO). Now the platform offers BI dashboards that facilitate data management and integration for businesses.
It combines two products: Klips and PowerMetrics. Klips is a custom dashboard development platform mainly intended for business analysts. It may be too much for marketing departments that just want to order data. On the other hand, PowerMetrics offers less advanced and labor-intensive functionality. It has convenient reports, collaboration, and sharing. This way, Klipfolio's product team adapts the platform to several target audiences.
Klipfolio's customer base includes Visa, Under Armour, Symantec, Flight Centre, and HP.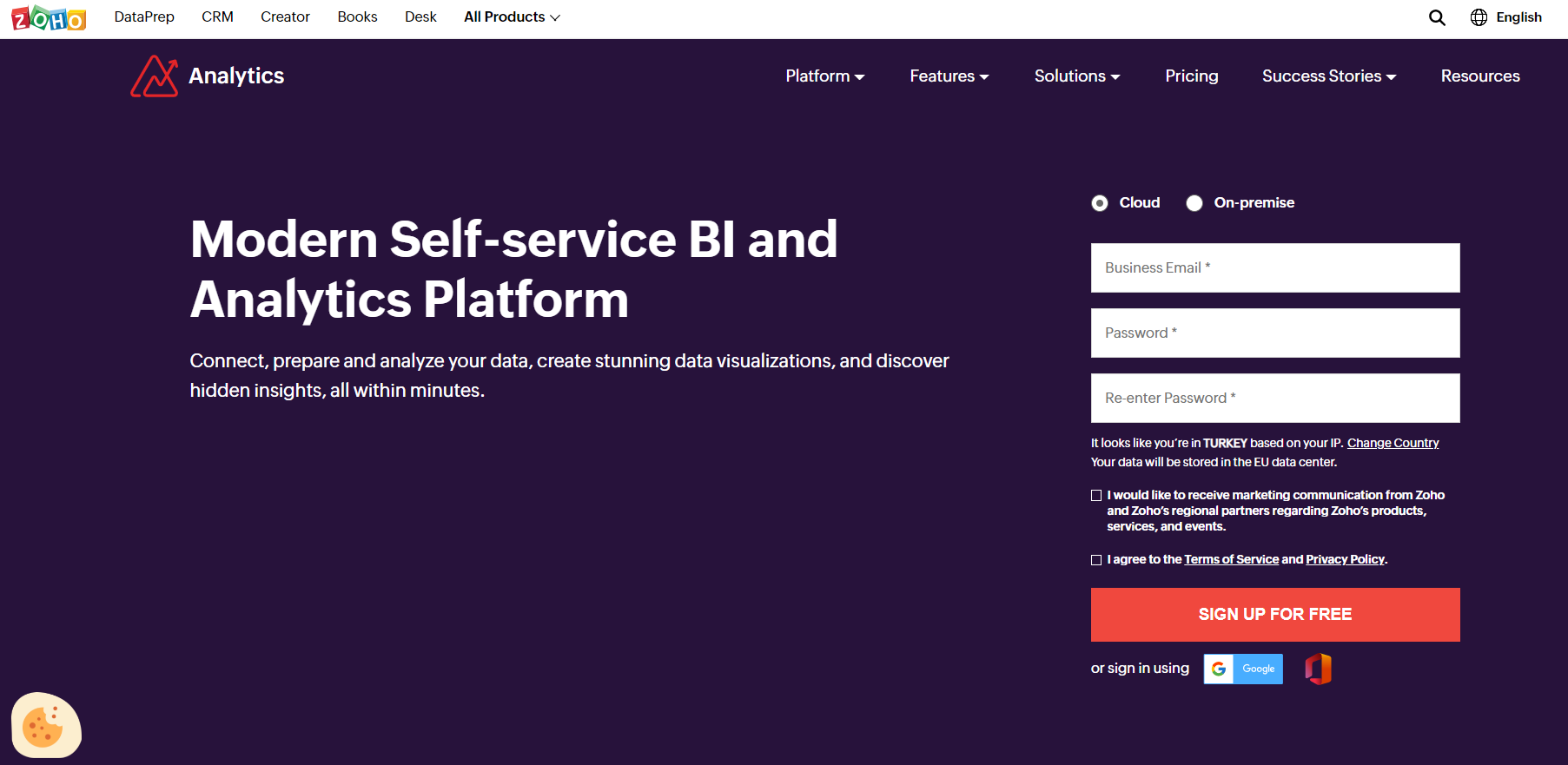 This platform combines features that have already engaged over 2 million users. What's so good about Zoho Analytics? It offers both cloud and on-premise software, depending on your needs. You can keep personal information on local servers or in the cloud.
The functionality is truly all-purpose. You will find products for data integration and preparation, visual analysis, unified business insights, data storytelling, and more. Zoho also allows you to augment your analysis with AI by offering conversations with a smart assistant, automated insights, trends predictions, and what-if analysis.
Finally, Zoho supports iOS and Android apps to interact with reports and dashboards on the go. It can make your team members more mobile and flexible.
Hyundai, Suzuki, LaLiga, Ikea, and Peta choose Zoho Analytics.
Conclusion
Data analytics tools bring versatile benefits. These tools reflect realistic user activity for data-driven marketing and optimization decisions.
But with so many data analytics tools available, it's important to choose the right one. Make an informed decision by understanding your goals, researching available tools, reading reviews, testing the tool, and comparing prices.