When decorating your house, you make sure that it is tidy and clean and that all details are where they belong, you add your favorite wall ornaments and paintings and choose comfortable furniture. All these elements eventually make up your home; without them, you would get just four bare walls to live in. Similarly, if you take all useful content, images, and contact details away from your web site's home page, you'll end up with a plain, purposeless web page.
Of course, visual aesthetics are not the only factor influencing user conversion rates. However, it functions as a bridge that draws the clients to the website and makes them want to linger there. It is important to note that modern creative design should be simple and intuitive, with smartly located call-to-action images and wisely configured popups. People will not choose you unless you give them a chance to do so.
Why should your website mockup be creative and up-to-date?
The template outlining the structure of a website is normally referred to as a mockup. It gives you direct guidelines on how to navigate your website and prompts you where to locate the most important elements. The visitors will stay on your website if you choose a convenient mockup allowing them to find all the important information easily and intuitively. If the information on the home page is arranged illogically, the design is too loud or too bland, while the page takes too much time to load, the users are very likely to leave the resource immediately.
User behavior significantly depends on the website mockup. An elaborate and trendy design can attract users to your website and increase the conversion rates. In this light, it would be wise to invest more time into developing a perfect mockup rather than losing potential clients that would not spend another minute on a badly designed website.
A well-thought-out home page is the face of your company. It is the design of the landing page that really matters to your first-time visitors and makes them decide whether the website is worth staying on. So, the creative mockup is the ultimate bait for the users which can encourage them to get familiar with the website.
However, it's not that easy to find the daily source of inspiration if you have to produce something new and captivating on the regular basis. In this case, a web designer could get some insights from the most popular and effective websites which have become trend setters and inspirational gurus in web design.As you might know, a good example is the best teacher, and in this article we offer an overview of 50 best websites for web design ideas.
Inspiration for UI UX Web Designer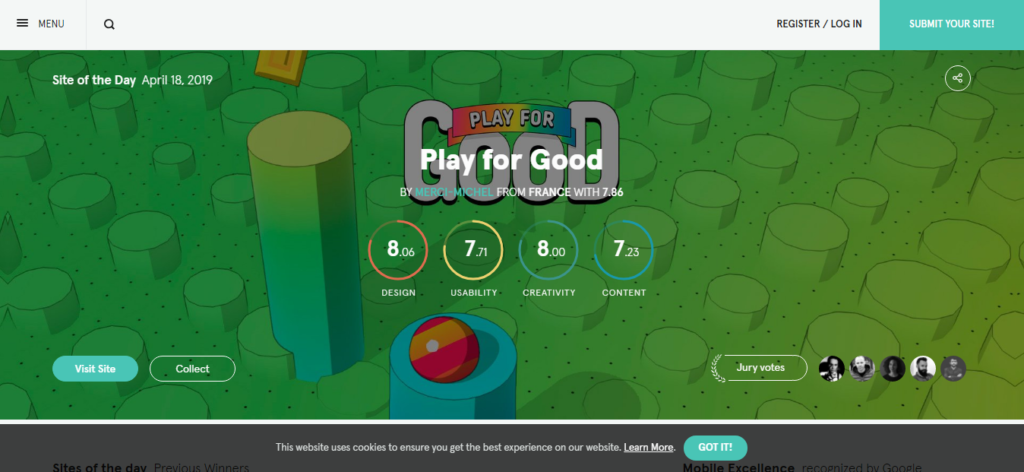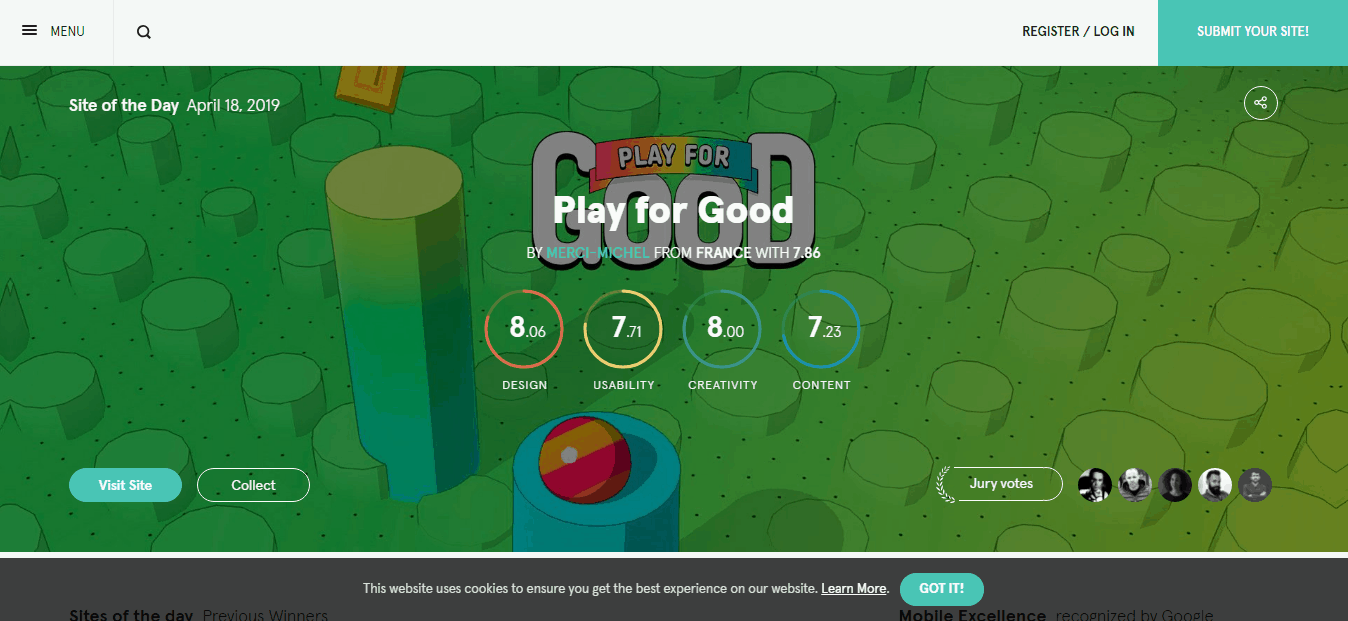 AWWWARDS website has been designed for acknowledging talent and efforts of the world's best web designers, developers, and agencies. The resource offers a list of websites with strikingly beautiful UI, thus giving credit to the best players in the web design industry. Moreover, the authors of the award-winning projects receive special prizes. Updates and new blog posts appear on the website regularly, so it will surely come in handy to all web designers who are on the constant hunt for inspiration.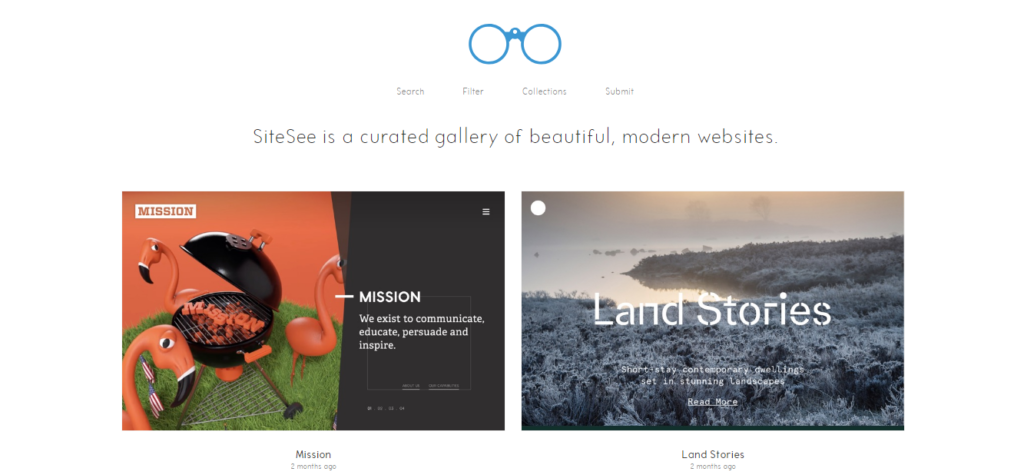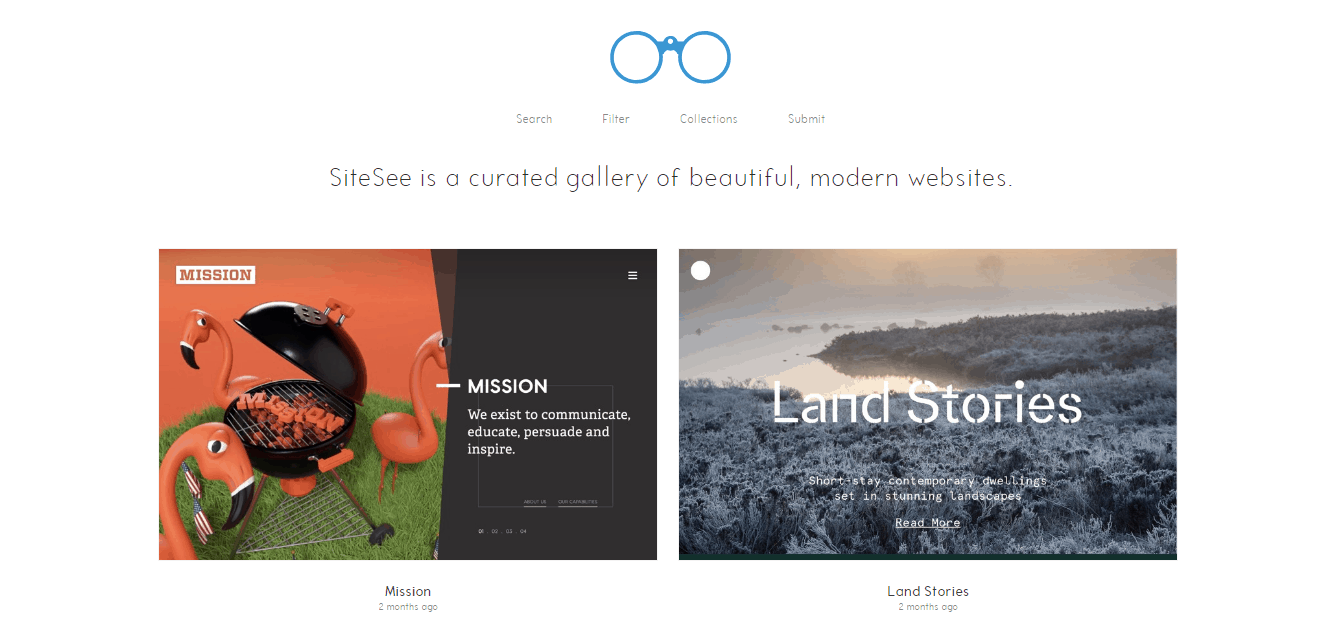 If you are in search for a gallery of modern website designs, this is exactly what you need. Sitesee offers a great selection of websites  with strikingly beautiful UI from all over the world. Moreover, the websites can be conveniently sorted by themes you are interested in.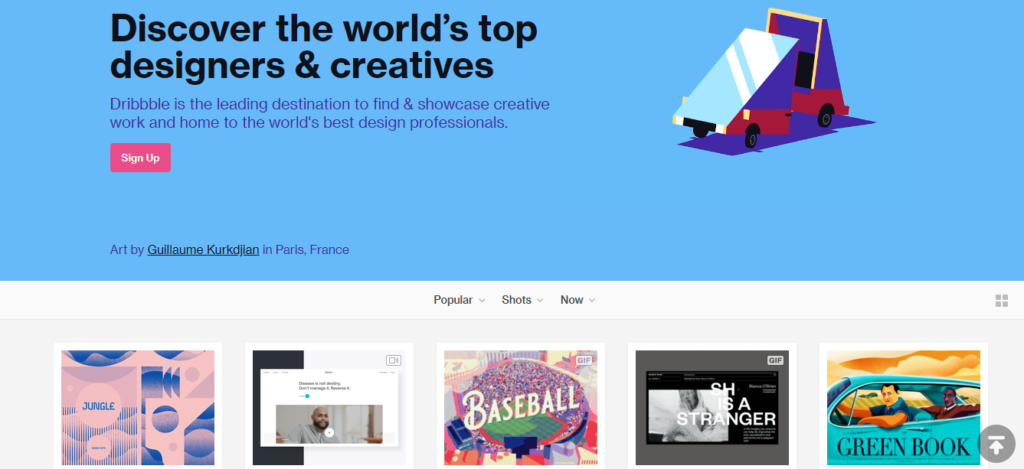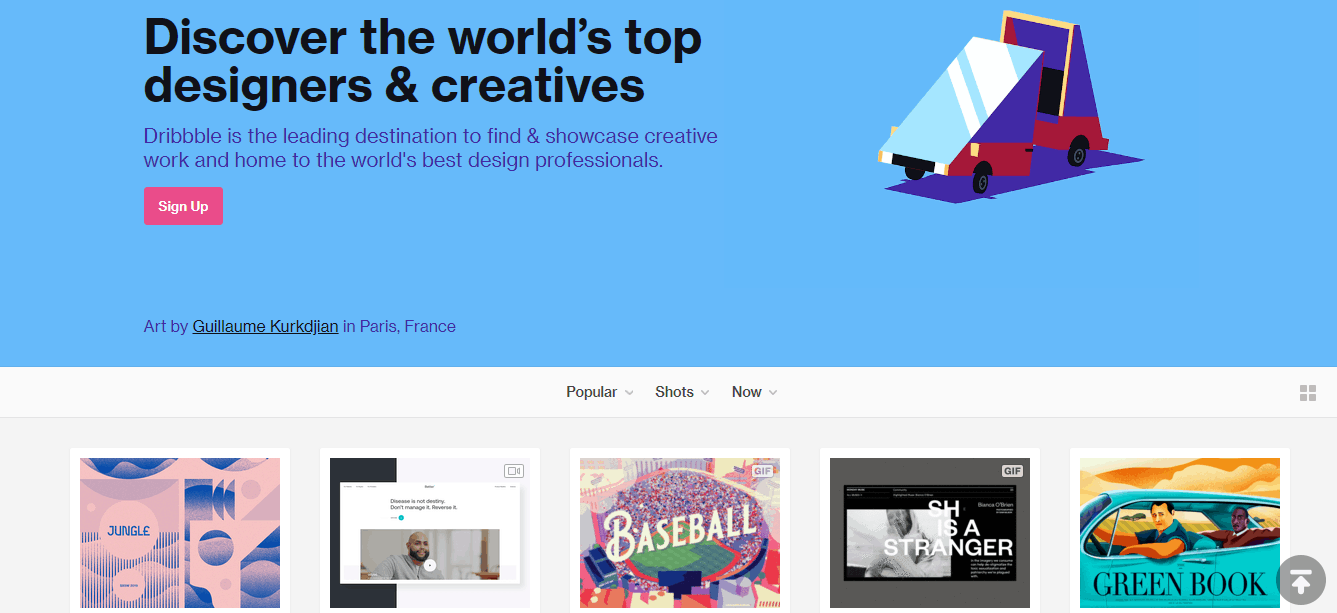 Dribbble – is a platform for exchanging experience, receiving feedback from other professionals, and getting inspiration. It has a wide collection of works contributed by web designers, photographers, and other authors. It is not easy to get one's works published on the website because it requires an access code from designers whose portfolios are already presented there. Such an approach allows to select only the quality works. The best examples for design inspiration are displayed right on the home page.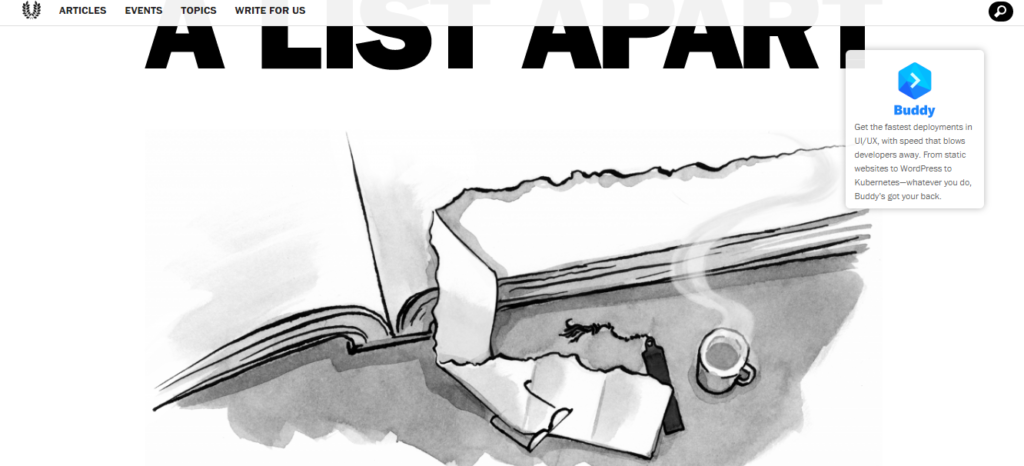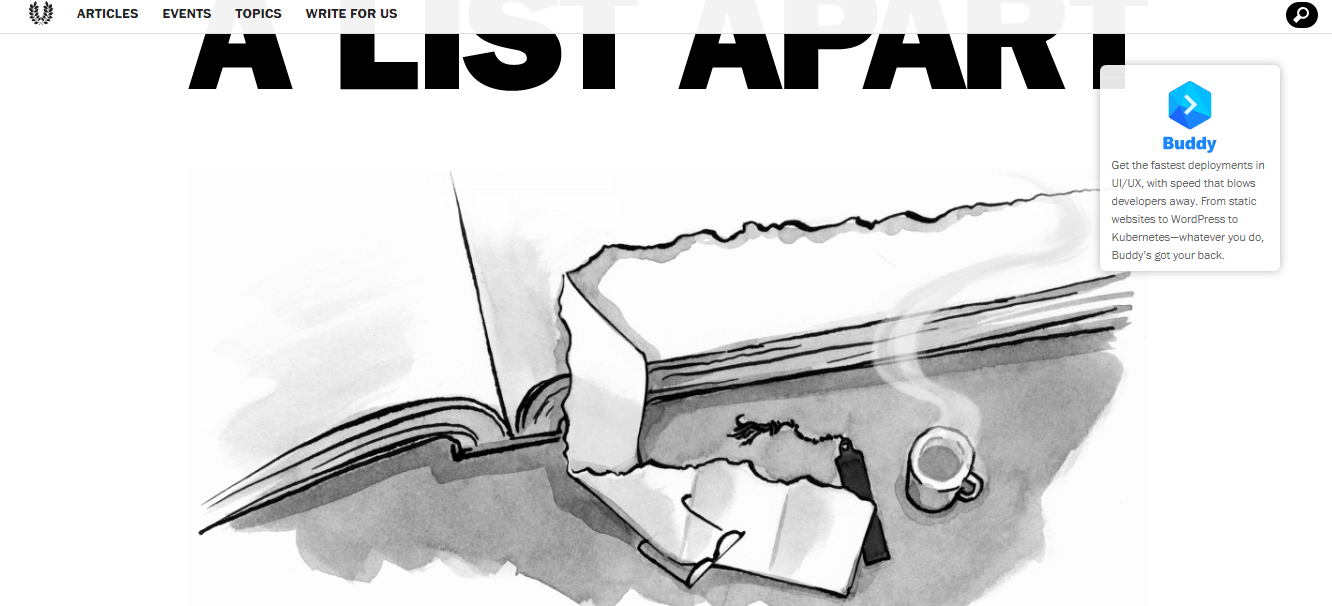 A List Apart – is a web resource that offers profound analysis of website design, development, and content, with emphasis on innovative methods.  You won't find the best themes for web development here, but this resource offers a modern view of various website design aspects from the world's leading designers and developers.  The news are regularly updated, so the website should be on your list of daily reads.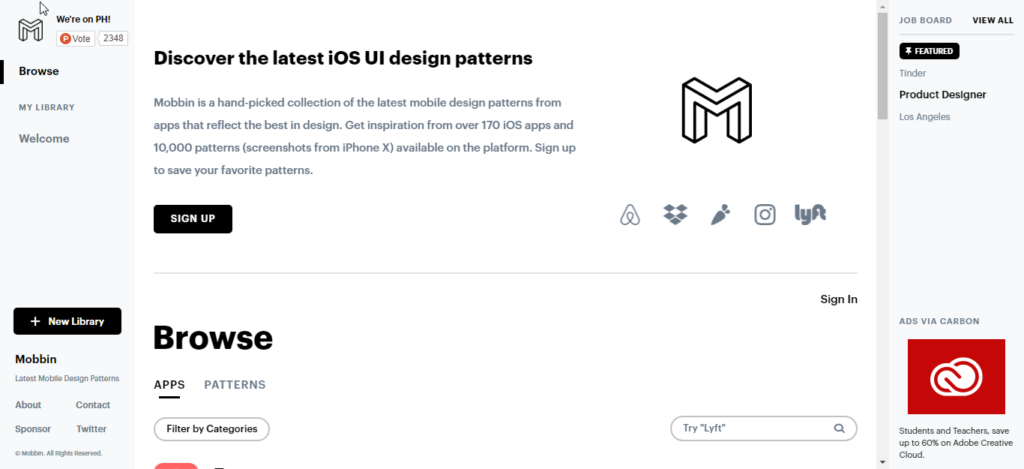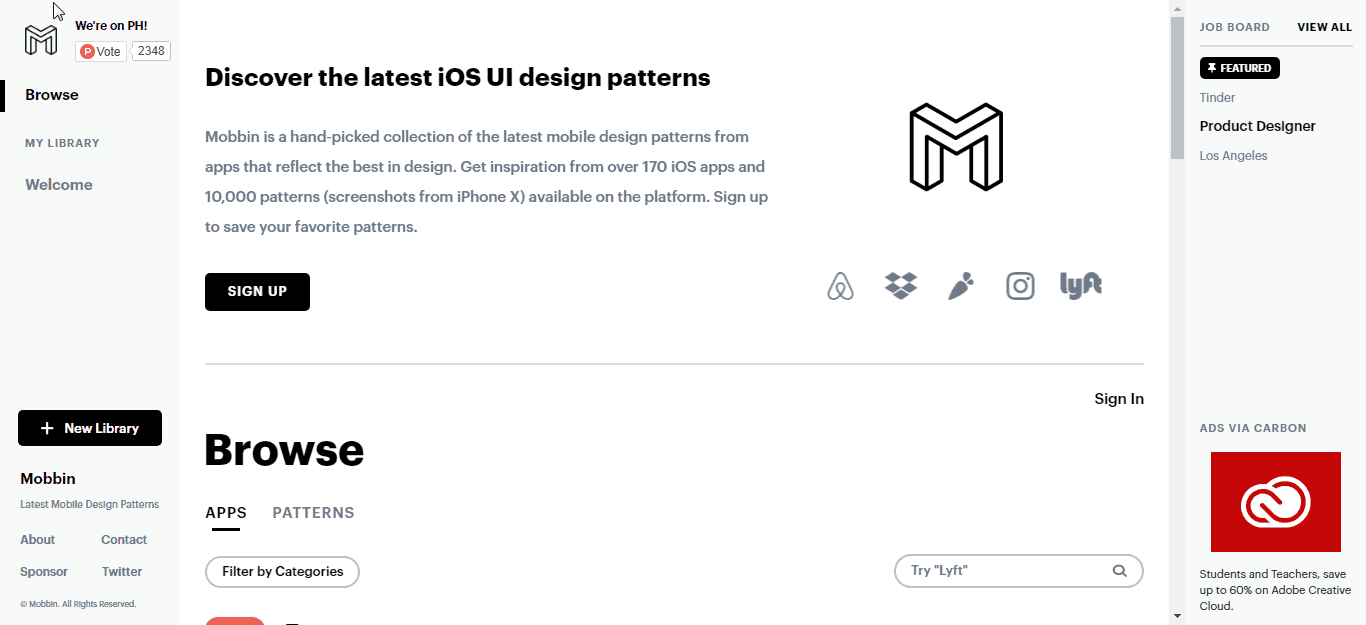 Just like many other designers, the founder of Mobbing, was desperately searching for sources of inspiration among thousands of trite mockups. For this reason, he decided to create a website listing 170 applications and 1000 mockups from all over the world. In addition to finding a selection of the best design solutions, you will be able to get useful ideas for realizing your own goals.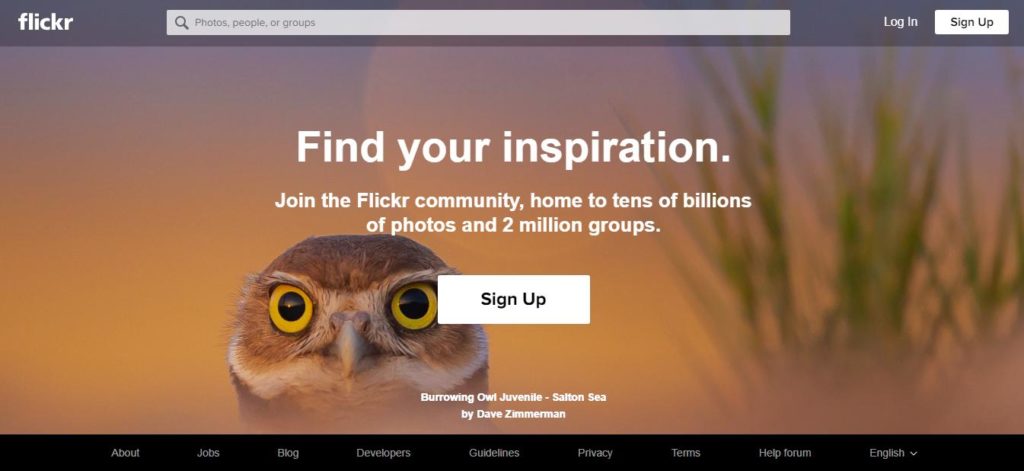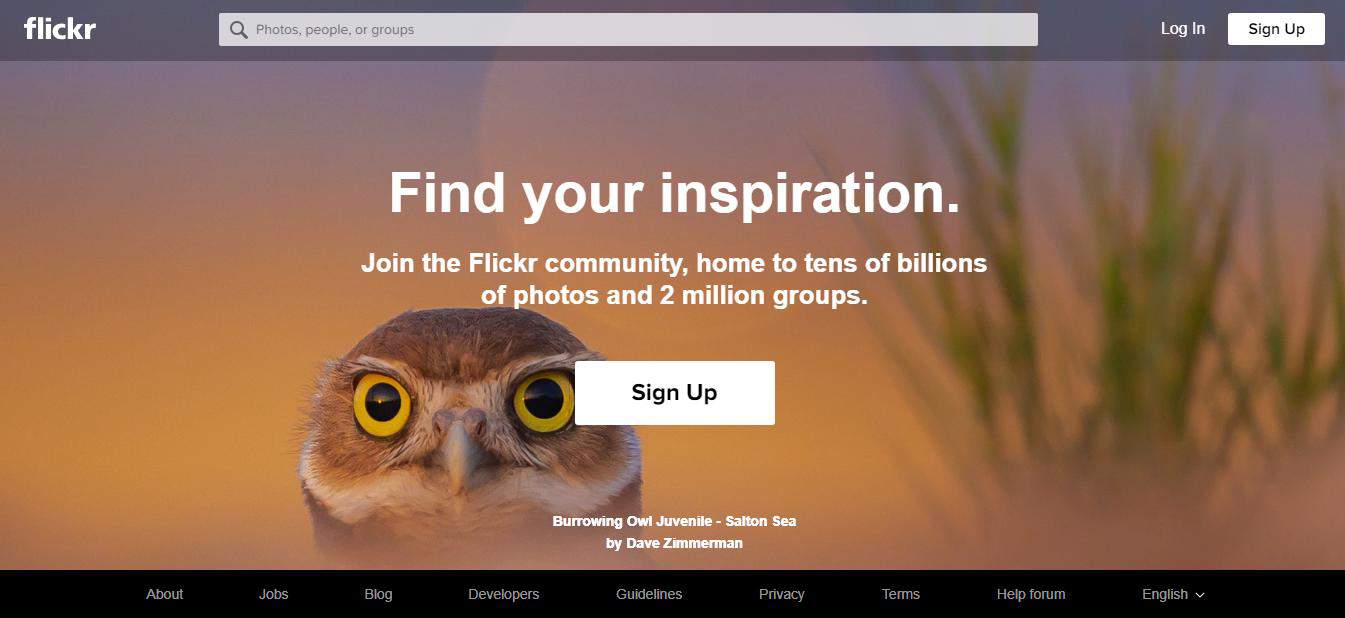 Flickr hosts various videos and images that would fit any taste and purpose.  Many UI designers use this resource to store and exchange photos. At the same time, the resource is growing and developing. The blog features the latest news from the world of web design and strikingly beautiful design insights, so it's definitely worth subscribing to.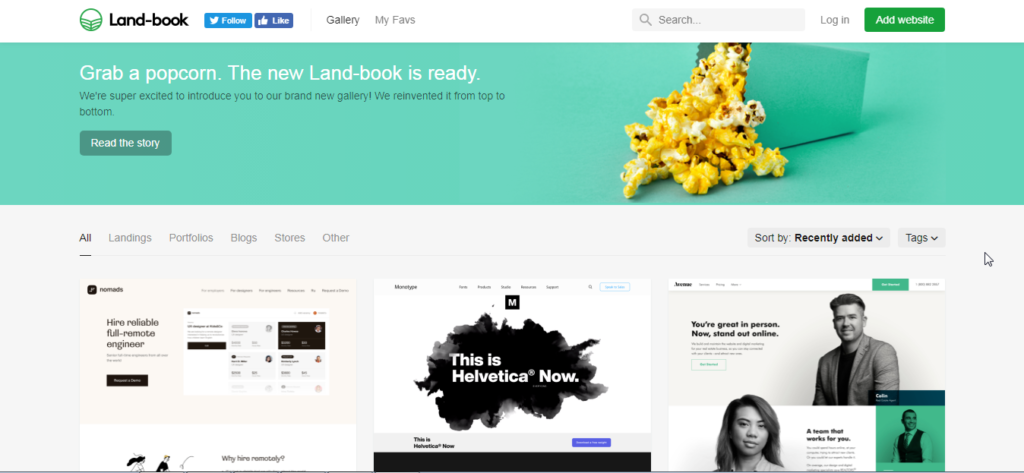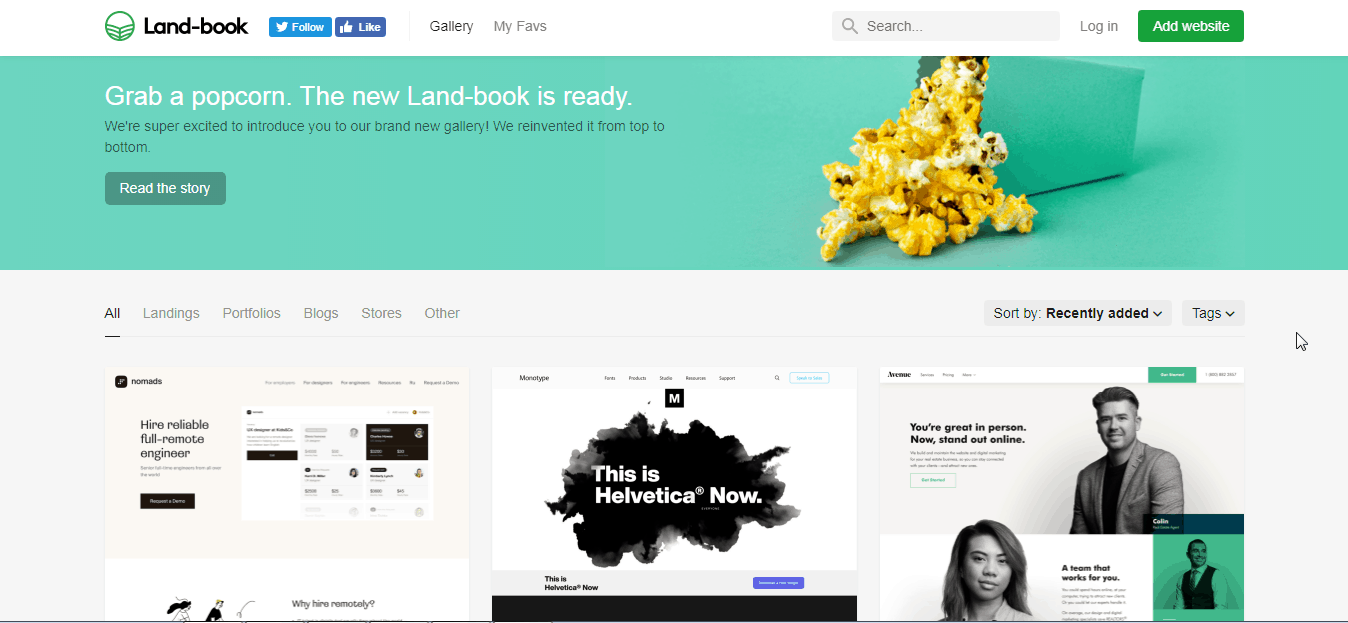 Land-book – is a place where you can find examples of the best landing pages for web developers and those who want to launch a start-up. It has a great selection of websites, and its blog is regularly updated, so you will definitely find something to inspire you. .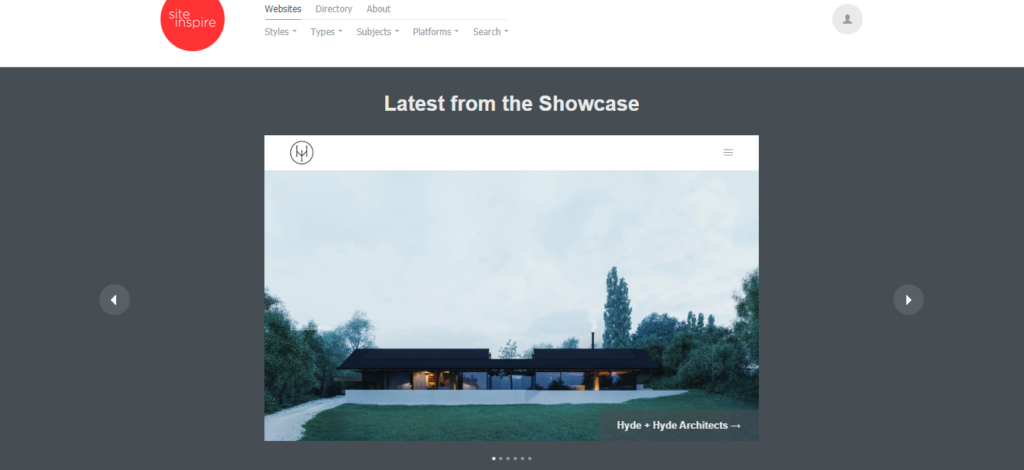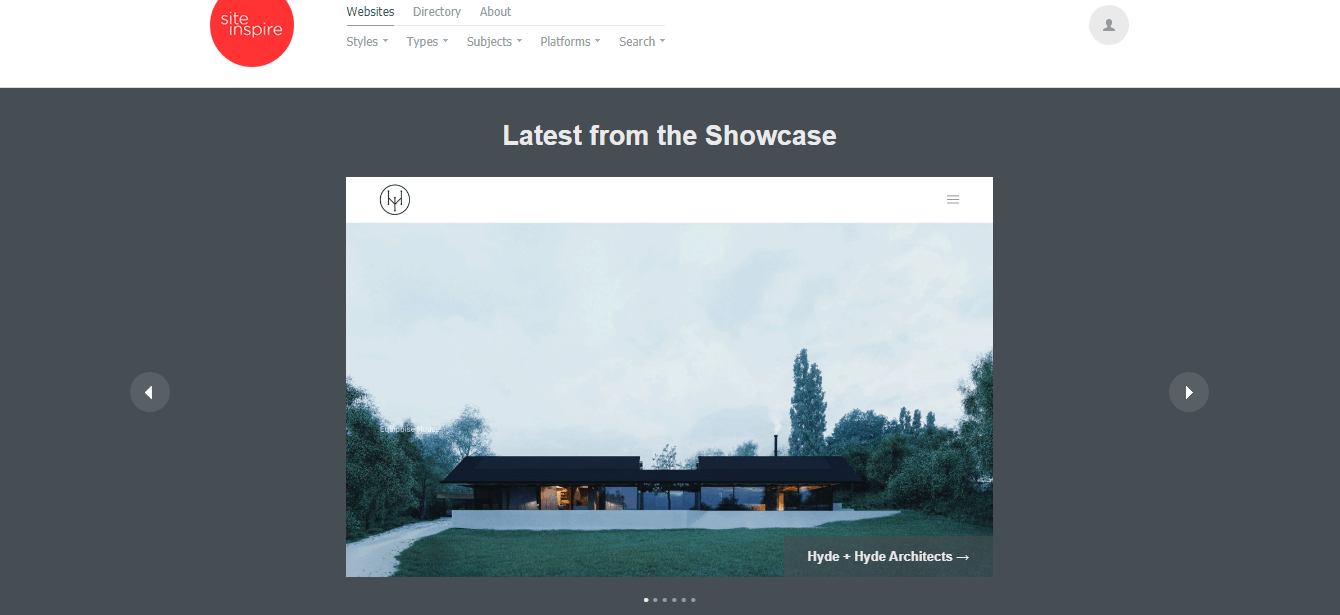 SiteInspire – is a great platform for web designers and developers. Here you will find the best examples of UI, interactive design, and so on. You can also use convenient filters to sort the content by style or type. All websites are carefully selected so that you could get only the best ones, but you can also suggest the resources you consider valuable.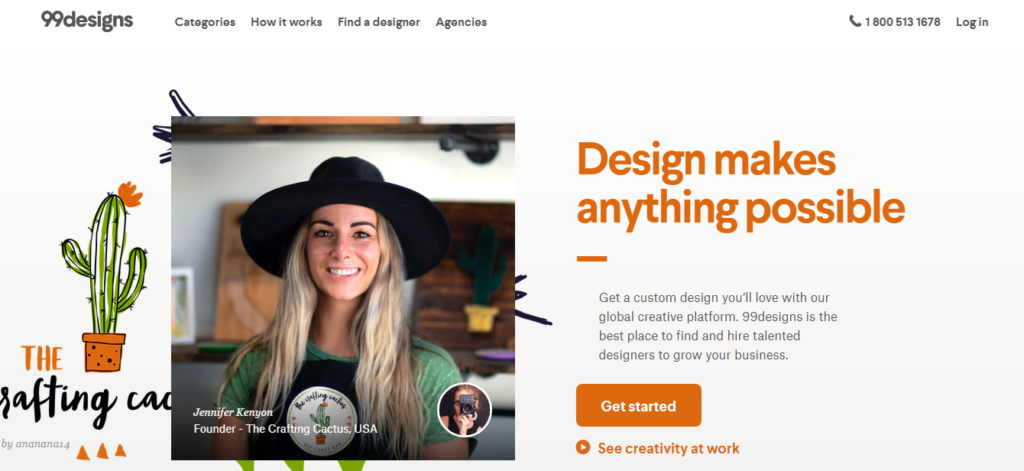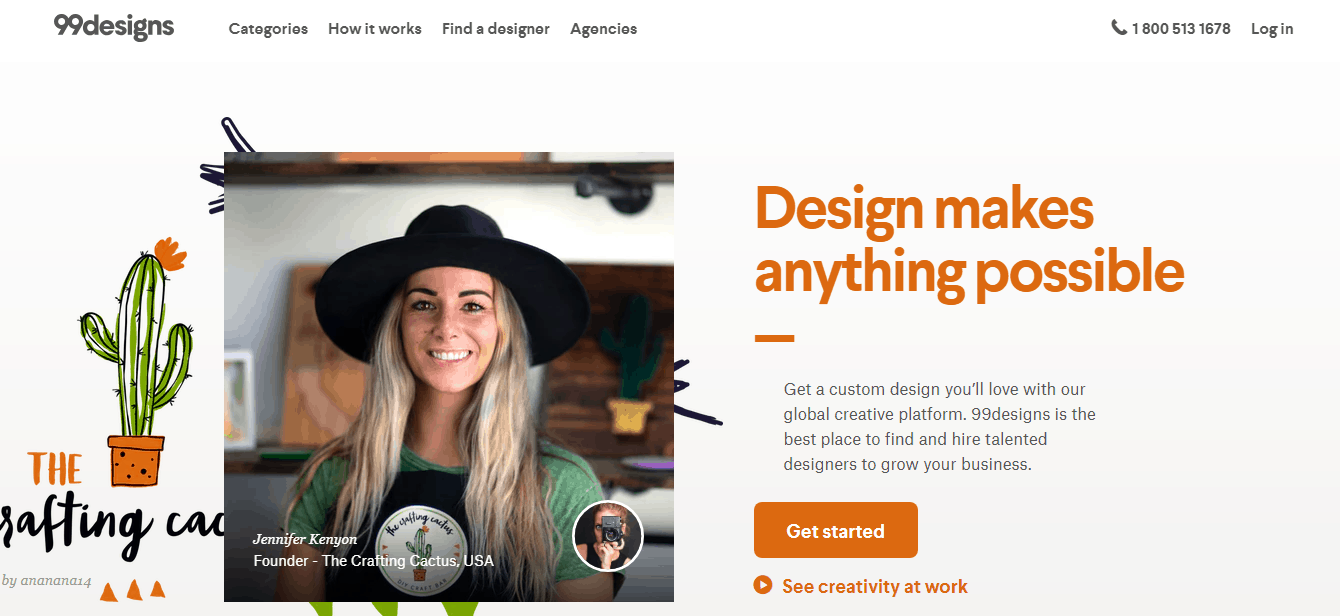 This is the right place to look for web design inspiration. 99designs 'Discover website has gathered thousands of talented designers from all over the world and even more examples of outstanding website design. That's why this is a great platform  both for beginners and advanced web designers. Moreover, it has a convenient search function, which will help you find exactly what you need to realize your design ideas.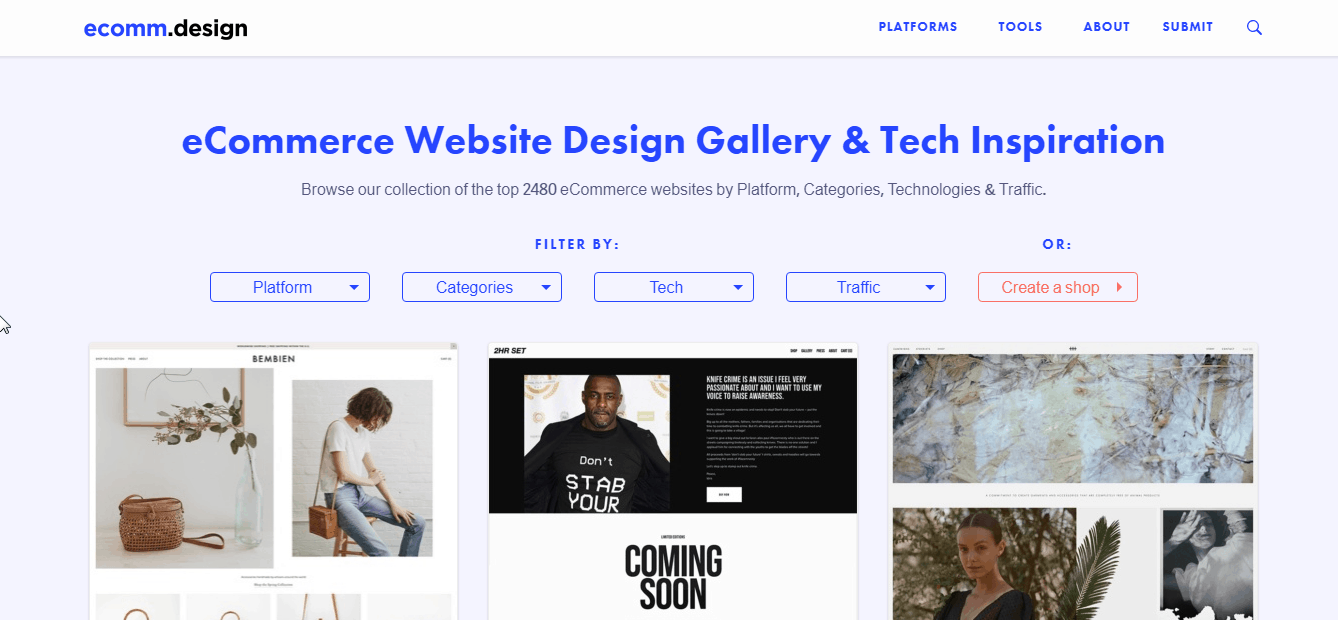 Finding inspiration for realizing eCommerce projects is easier than ever before. Ecomm.design project, which has gathered around 2,500 best websites in this field is at your service. They are sorted by platform, categories, traffic, and technologies. You will be able to find useful ideas as soon as you open the home page.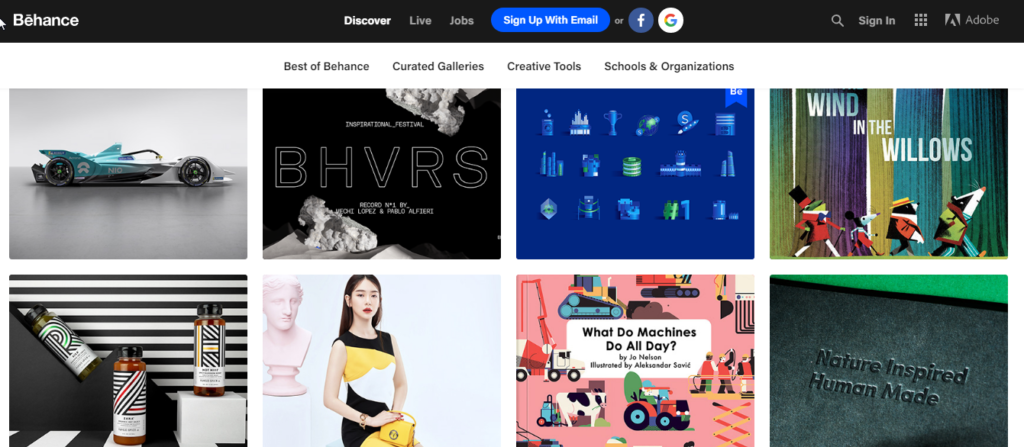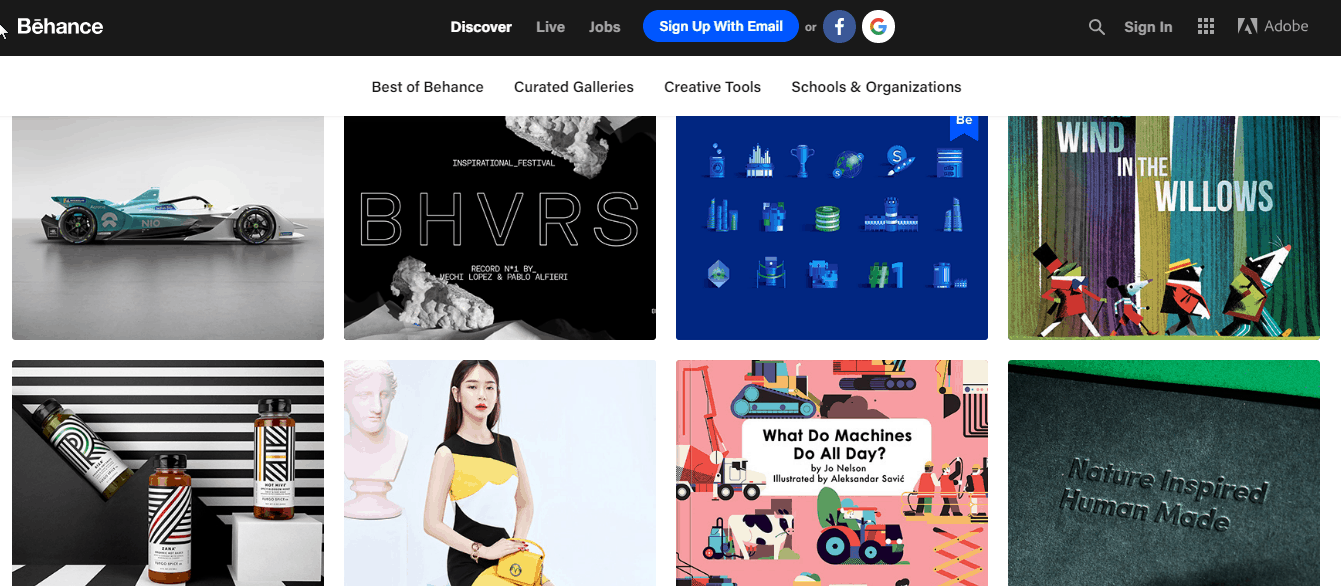 If you are searching for a great example of UI design, take some time to visit this website. Carefully selected works of designers from all over the world are presented here. They can inspire not only web designers, but also stylists, architects, photographers, and other professionals interested in design. Moreover, its blog offers a lot of useful information.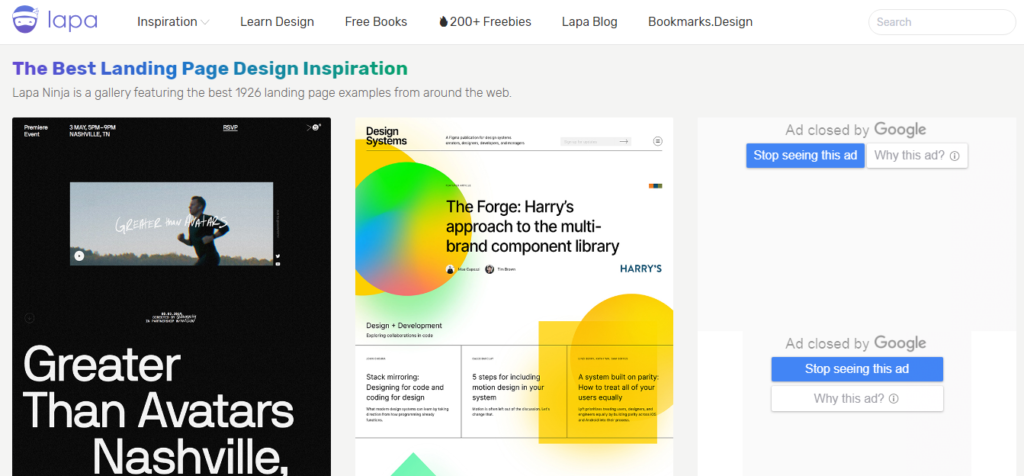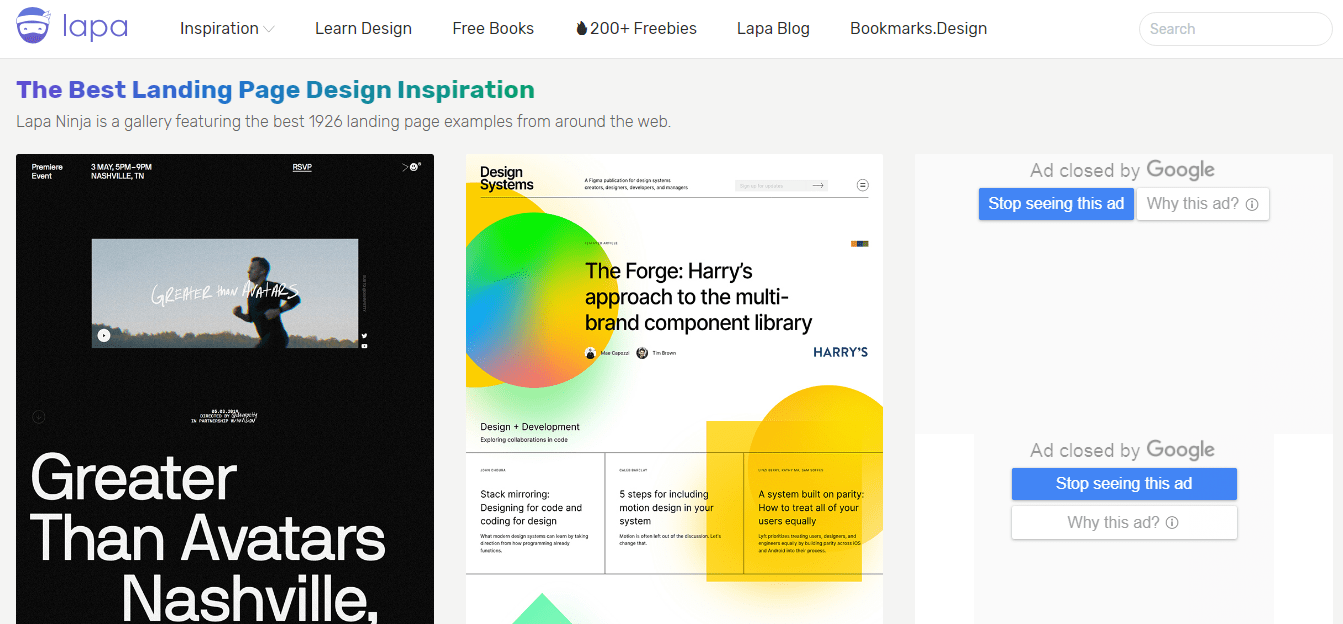 The Lapa Ninja project was specifically created for beginners in web design looking for inspiration or those who want to upgrade their skills. The content is selected very carefully so that only the best designs appear on the website. It should also be noted that the news and catalog pages are updated daily, so this website should definitely be on your list of favorite web resources.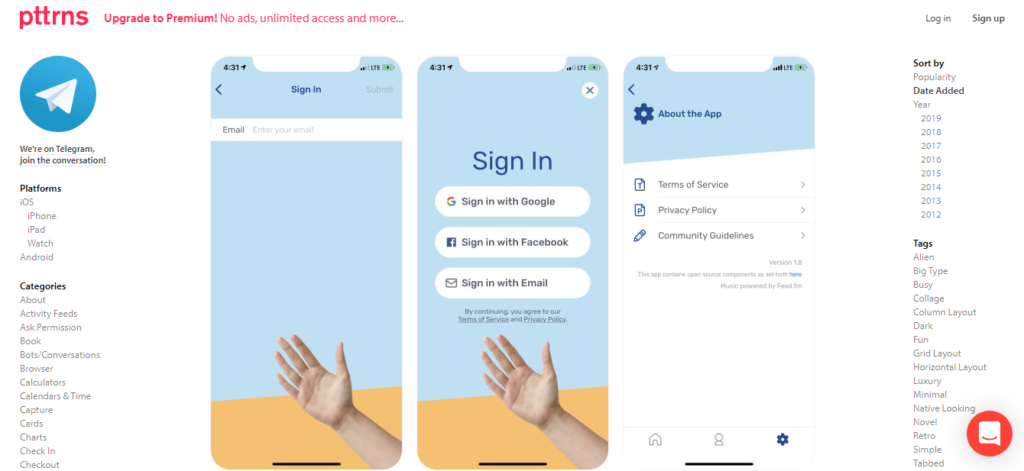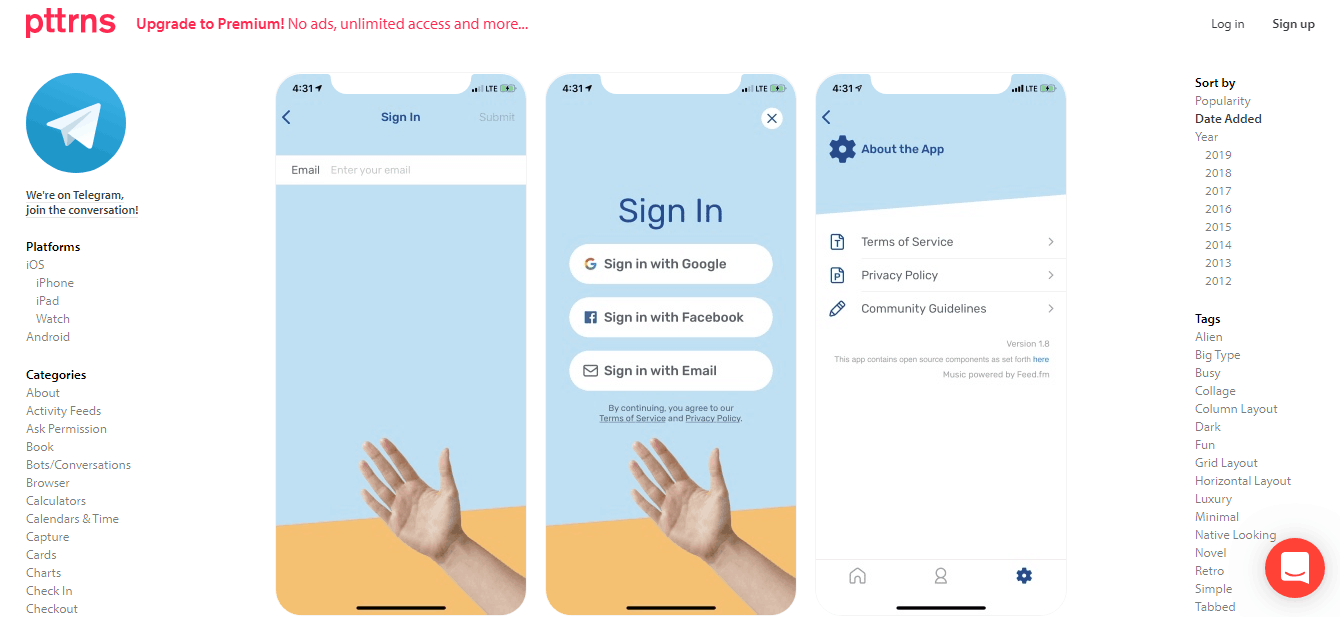 The founders of Pttrns have managed to gather a great collection of the best design templates and UI examples. The designers can easily find all elements they need by sorting them according to the platform and other criteria.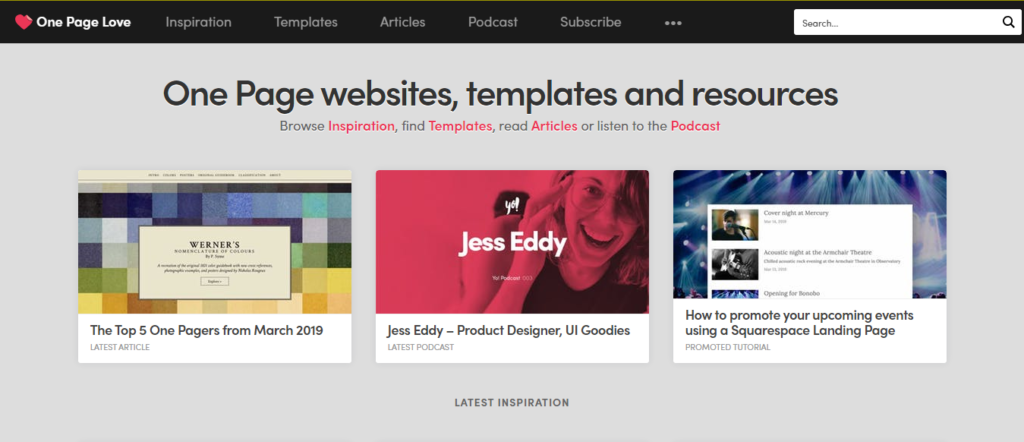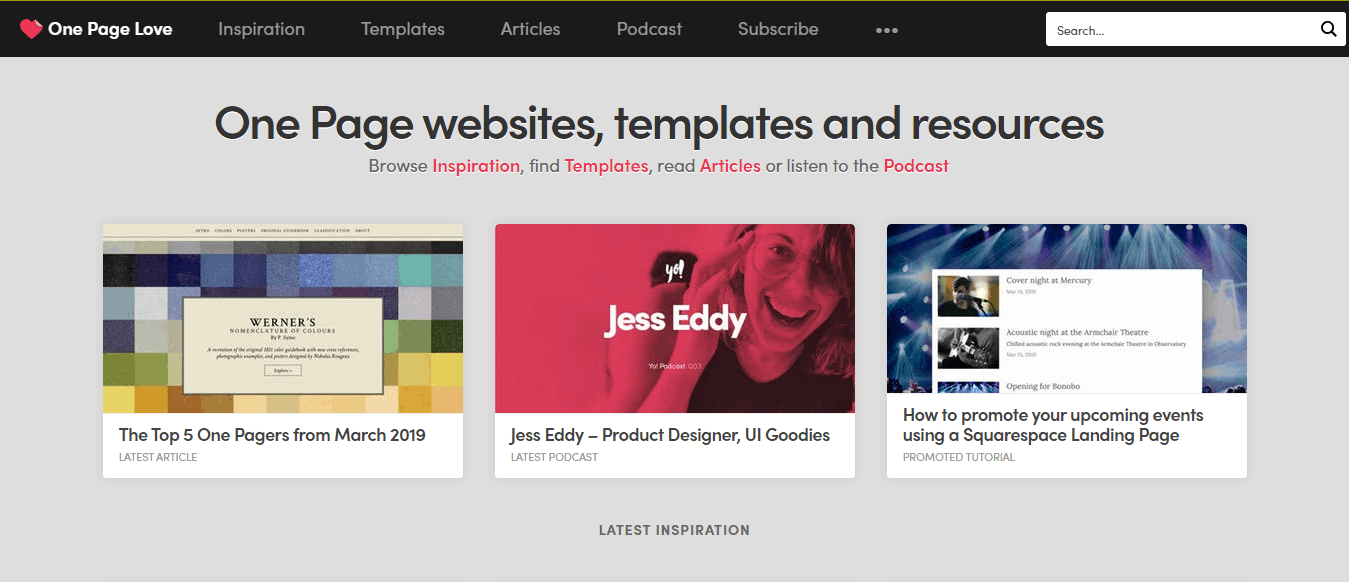 One Page Love – offers the most beautiful websites, mockups, and other web resources. It has very convenient catalog of ideas for inspiration, a blog that is regularly updated, and a lot of other useful content. In addition to sources of inspiration, you can find a lot of convenient templates for your own works.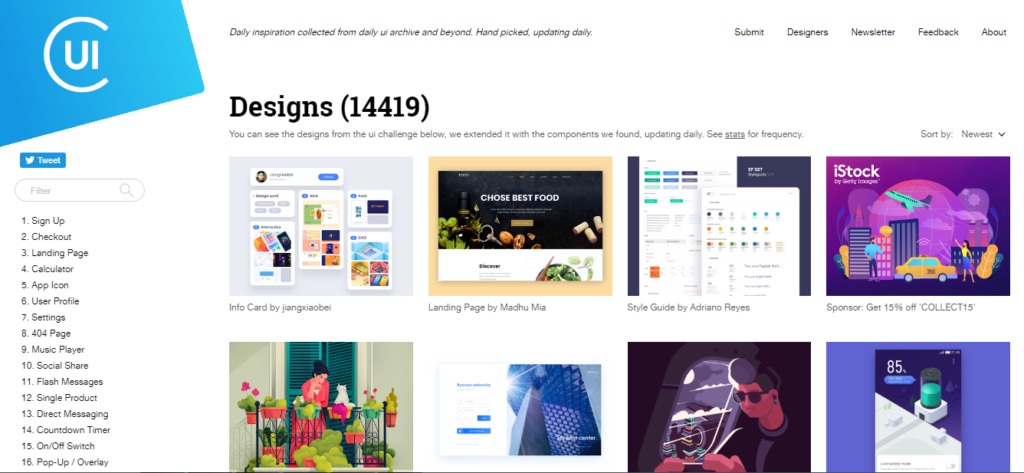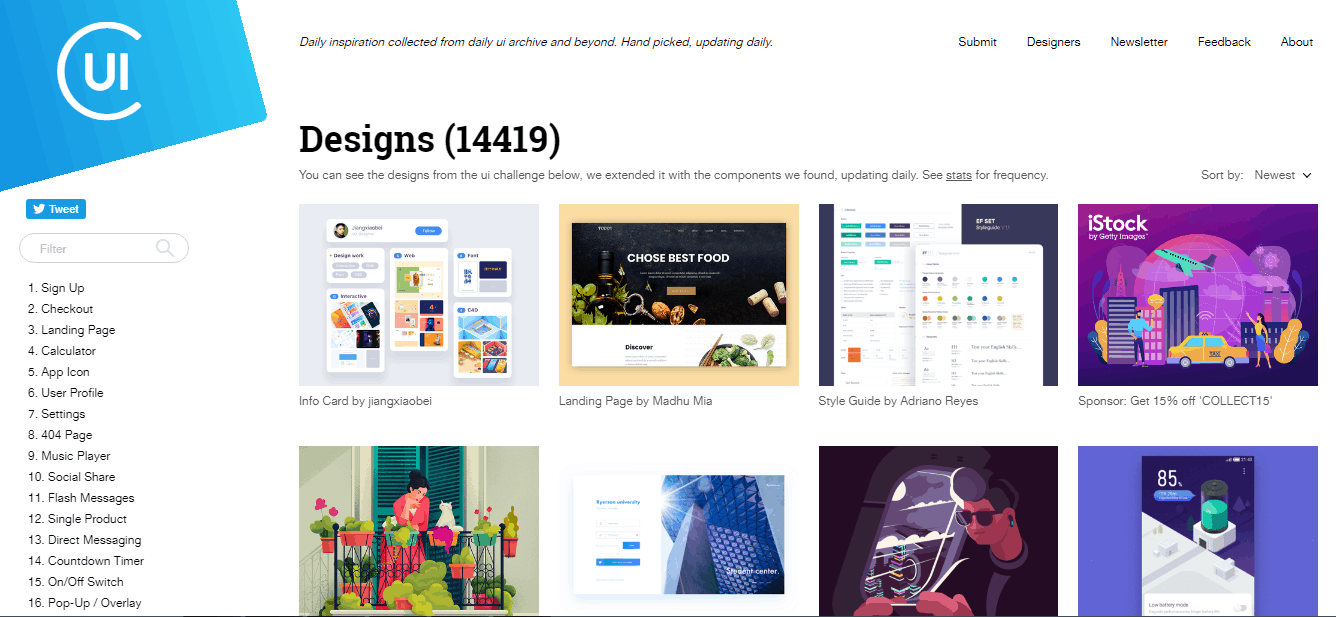 CollectUI is an independent platform offering sources of inspiration for creating the most efficient UI. This resource is based on Dribbble and uses their images only, so in order to comment on a particular work or contact the author, you will be redirected to that website. Nevertheless, the blog and collections of images on CollectUI are updated daily, and the website has an army of its own fans.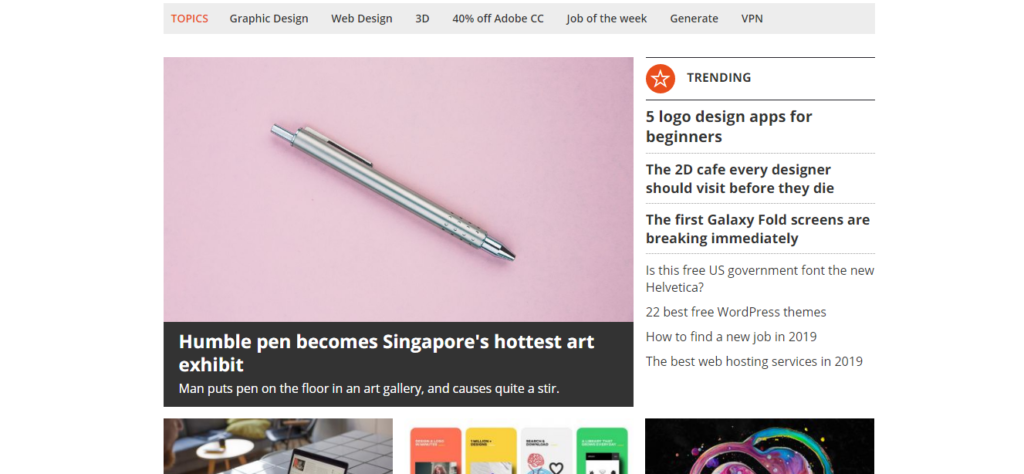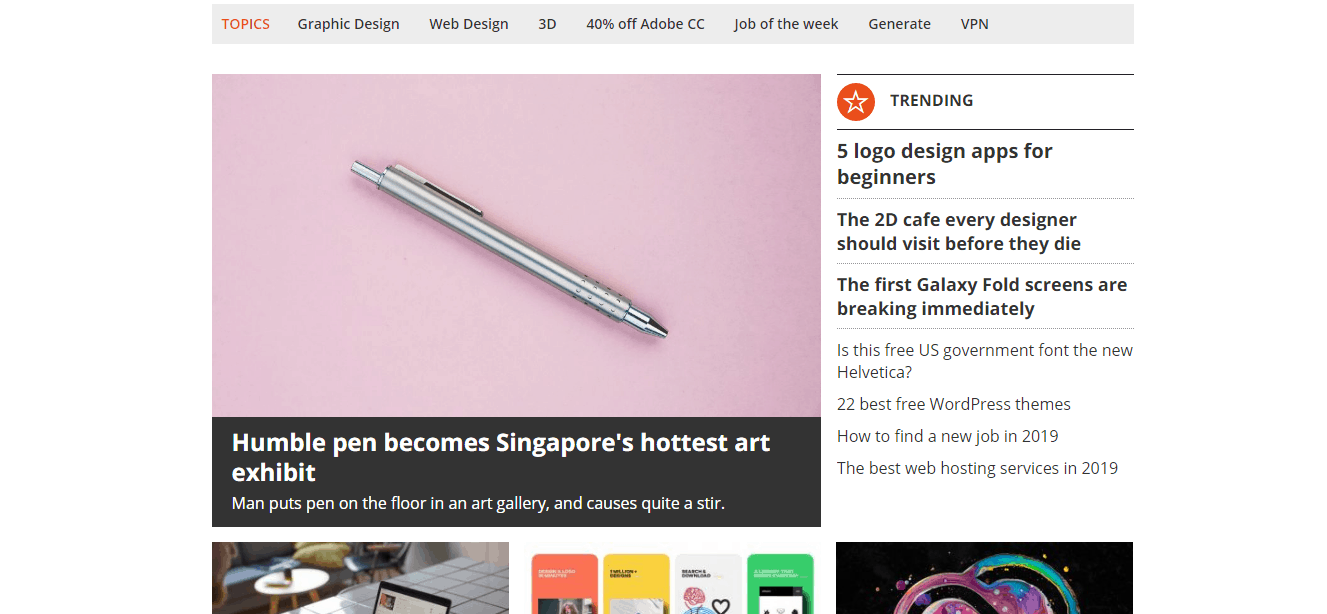 Creative Bloq – is one of the best professional platforms for UX designers. Here you will find a great mixture of web design news, tips, and examples for inspiration.The website can also come in handy to 3D artists and VFX, illustrators, web designers and other professionals from creative fields. This blog will keep you posted on the latest web design news and will help you realize your wildes design ideas.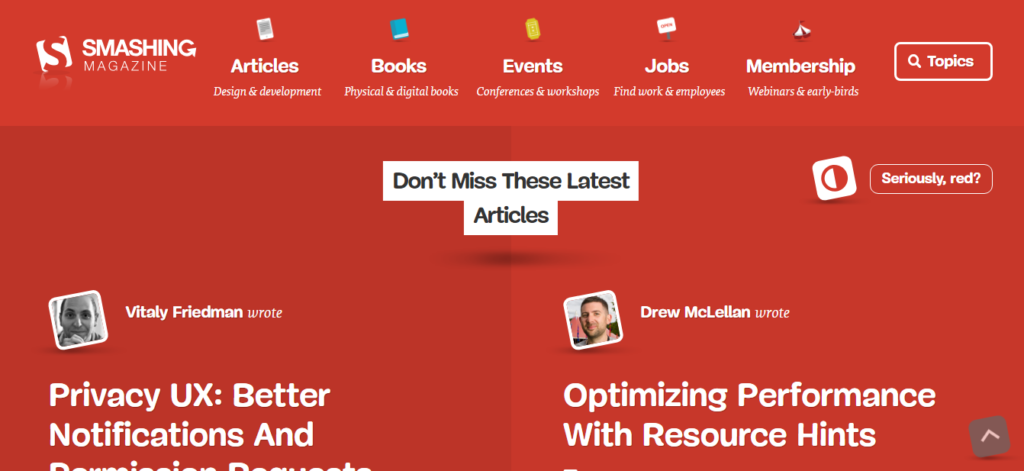 Smashing Magazine – is a cool resource for UX designers and those who want to upgrade their skills. It offers articles, ebooks, conference programs, and even vacancies for designers. это отличное место для UX-дизайнеров и тех, кто хочет расширить свои навыки. With its regularly updated news, a great selection of works and sources of inspiration, you will be able to boost your design and development skills and find the right balance between beauty and efficiency.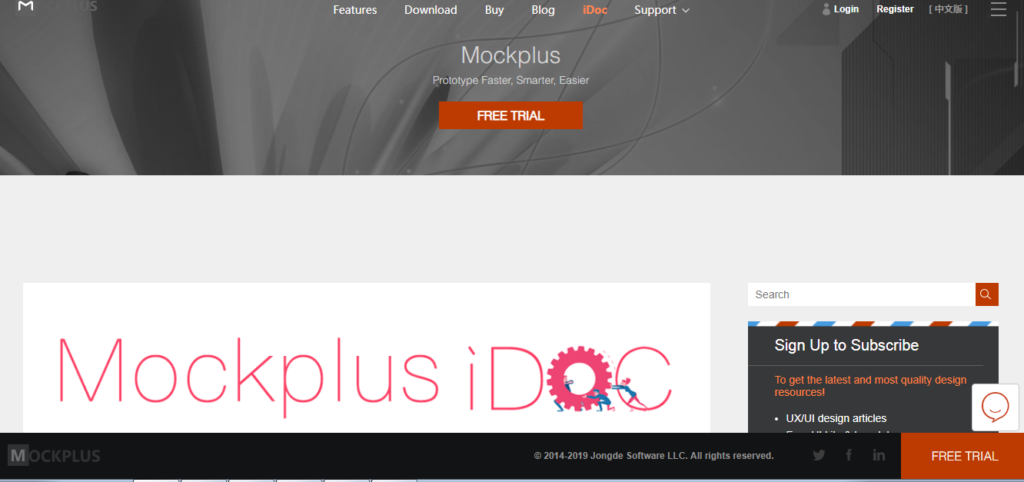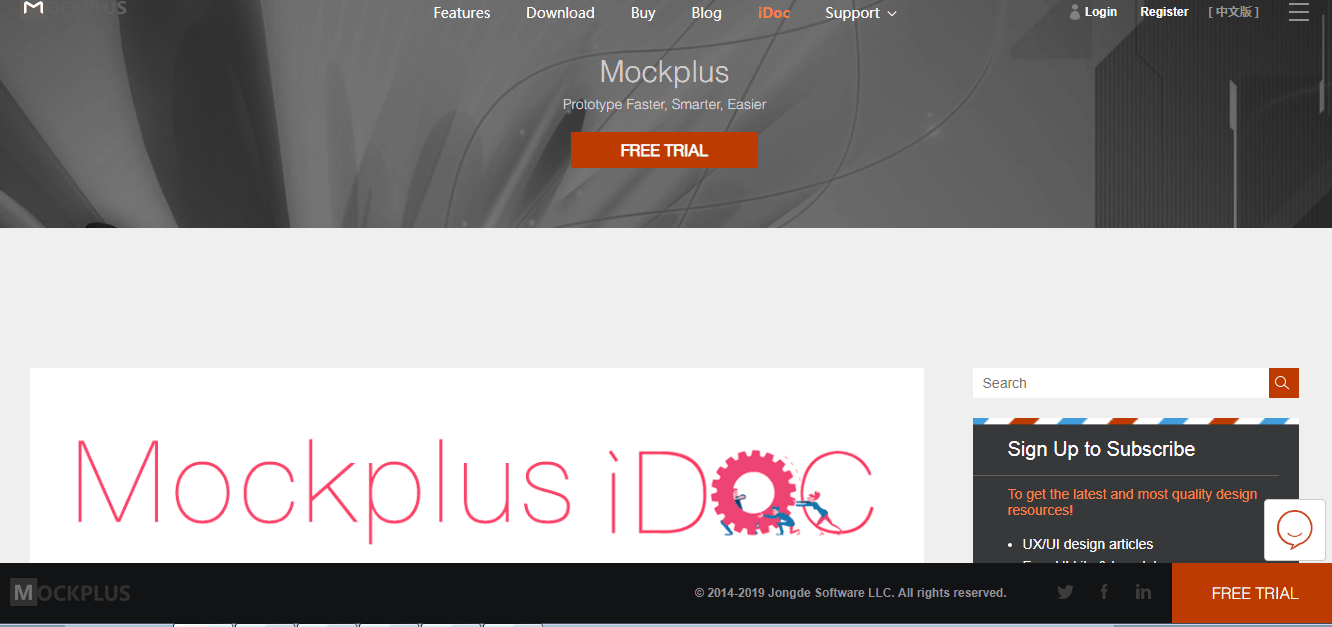 Mockplus blog is aimed at improving the tools helping to create mockups for UX/UI designers, web application developers, managers, and owners of online projects. A team of experienced professionals works on it, coming up with useful news and web design tools, which will turn your ideas into real and usable products.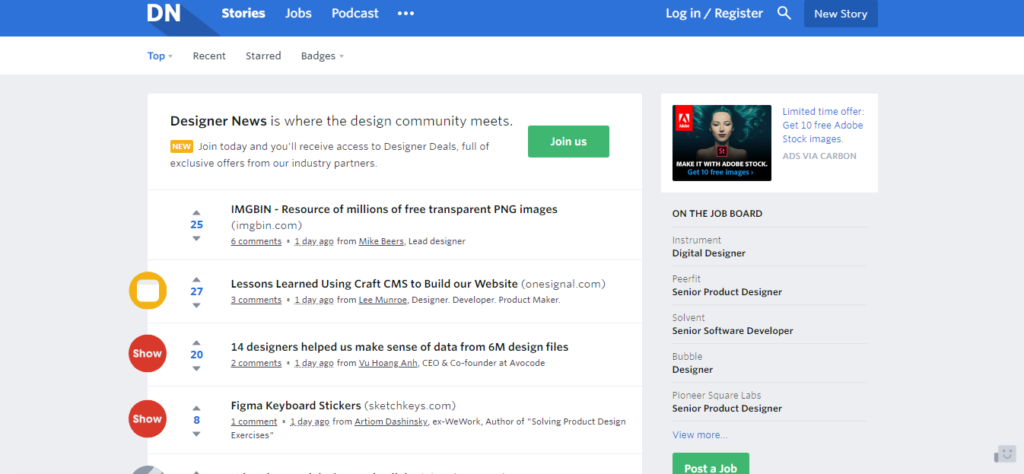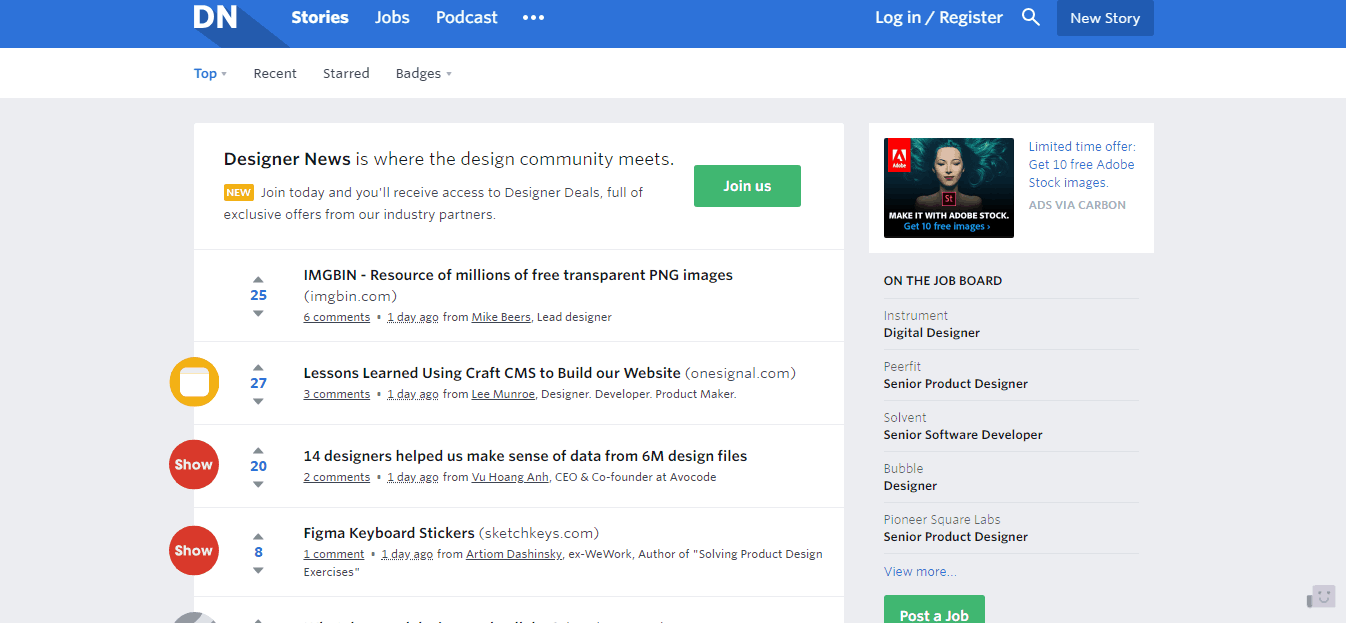 Designer News – is a large community of people working in web design and development sphere and those who are interested in the topic. Designer News have given many designers a great chance to look not only for inspiration but also useful tips and feedback from professionals from all over the world. You will surely find something to your taste here.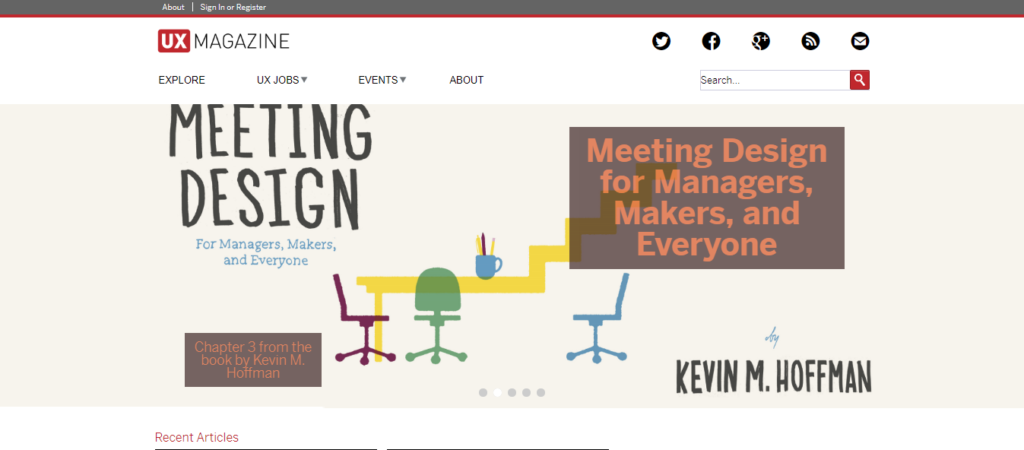 If you are interested in UX design, then UX Magazine blog is exactly what you need. This is a convenient platform offering the latest news on design and the world's UX trends. Moreover, you can apply for a job here. Many designers have been using this blog for quite a while, so take some time to visit it and find something useful for you.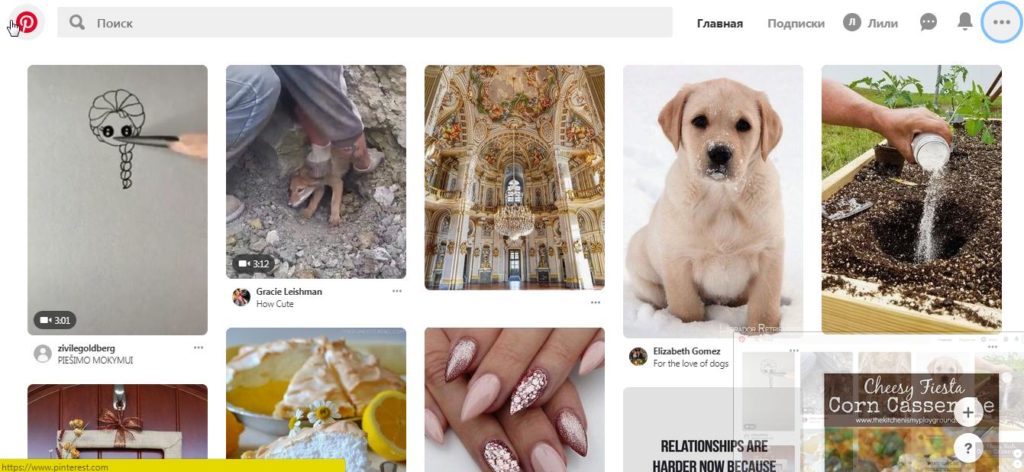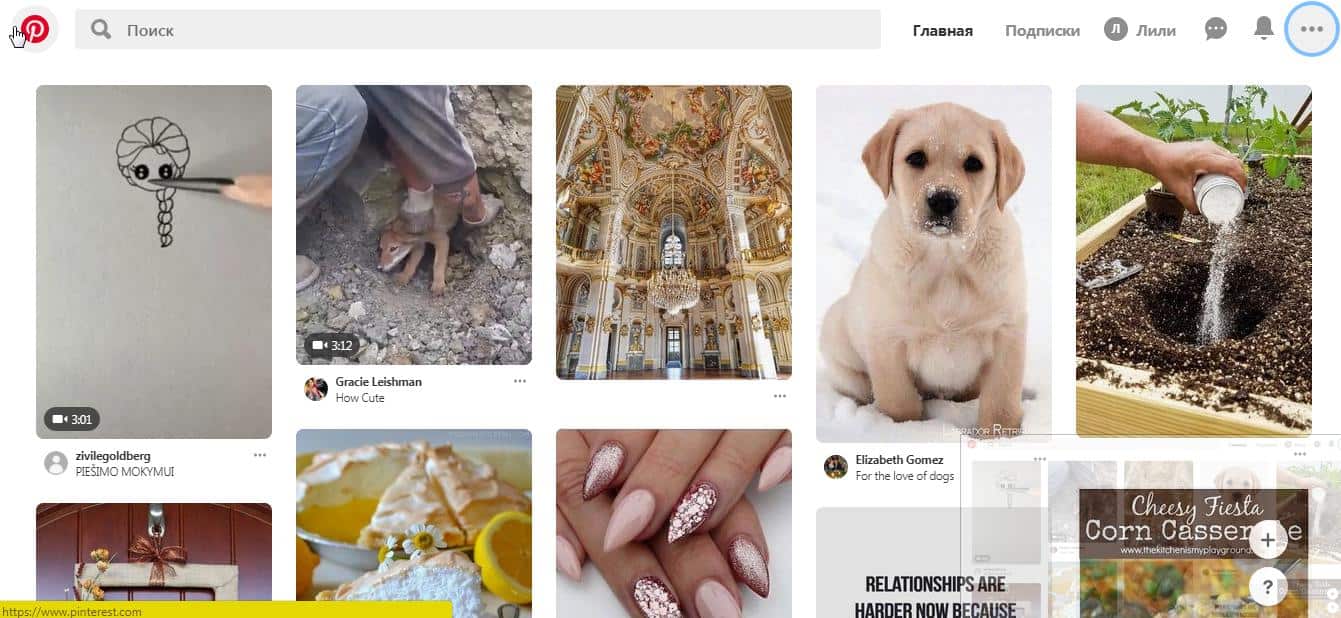 Pinterest is one of the most popular platforms for working with images and videos. A great number of users, including web designers, discover new ideas, look for inspiration, and develop their professional skills here. The home page will immediately show you the topics you may be interested in, but you can always add or replace them. You can also interact with other users in comments and direct messages..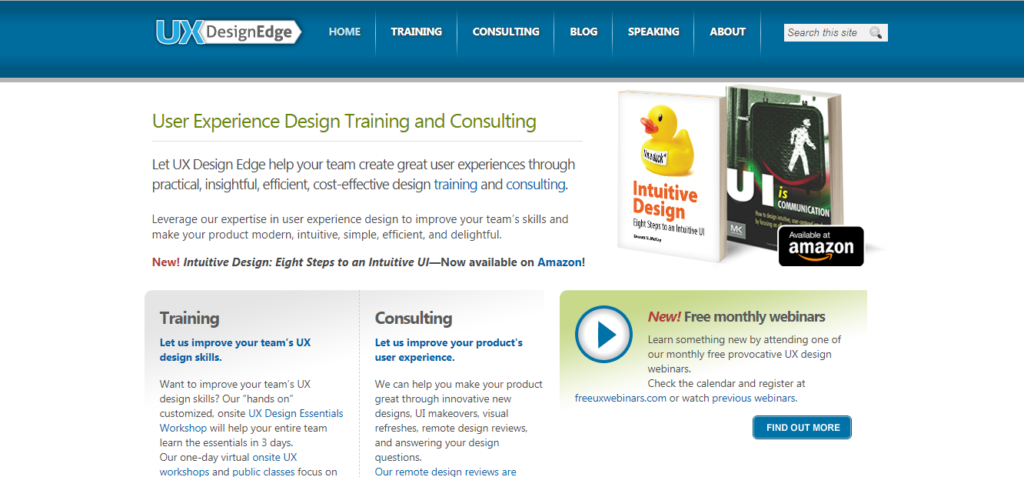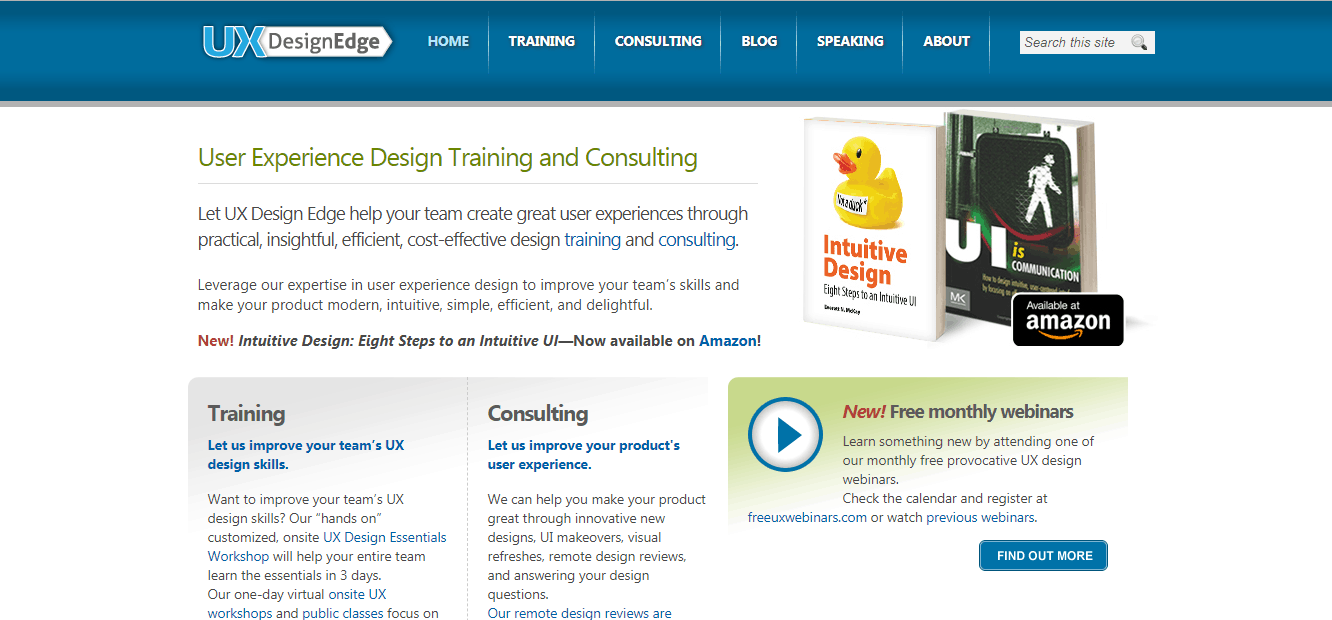 UX Design Edge website is a place where designers can not only find useful information and read all the latest news from the world of digital development, but also join courses and UX design consultations. The blog on the website is regularly updated and can become a useful source for getting news updates and inspiration.So, even if you are not interested in studying, don't hesitate to visit this website.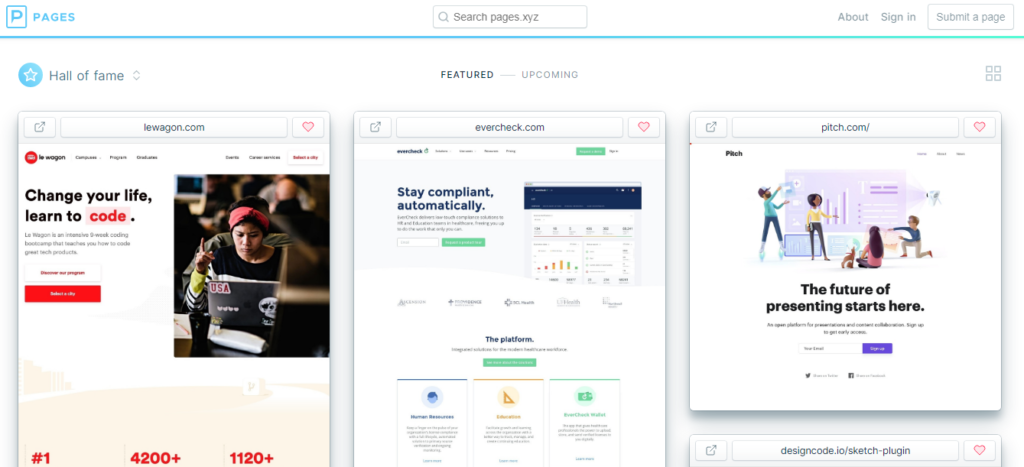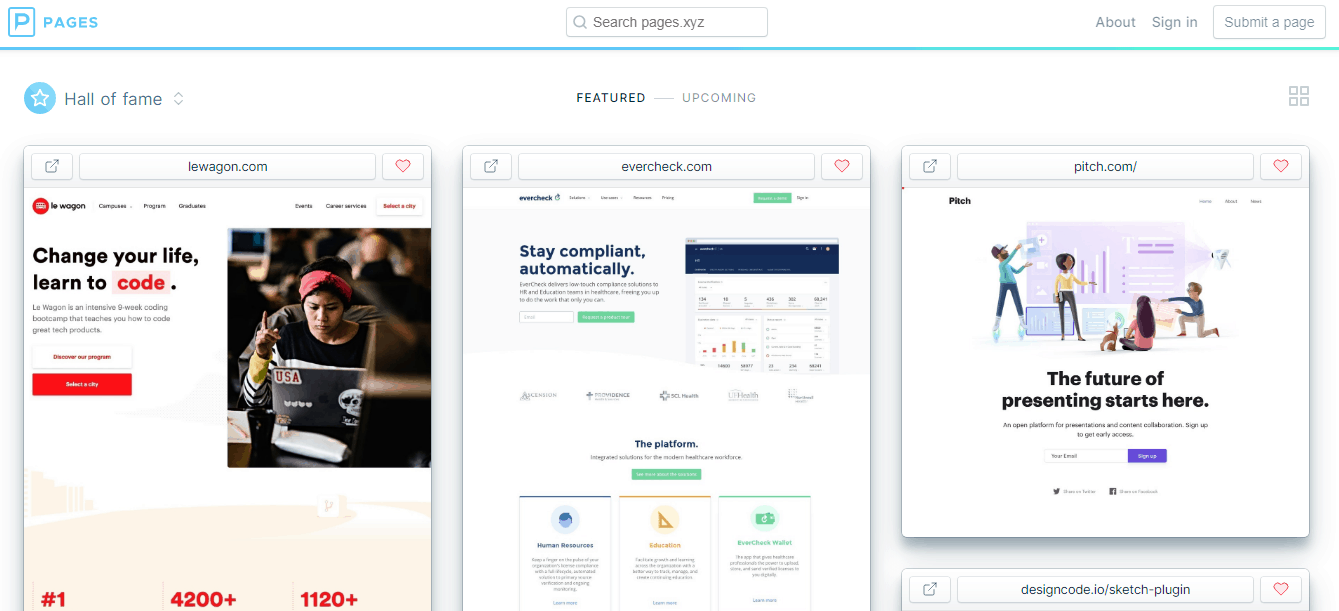 This resource is specifically aimed at beginners in web development. It offers a collection of the best websites about web design and a lot of detailed information about various tools and where they can be applied. Moreover, the creators of Product Pages have designed the website in such a way that you can find something cool and unexpected rather than filtering the content to find some some specific object only.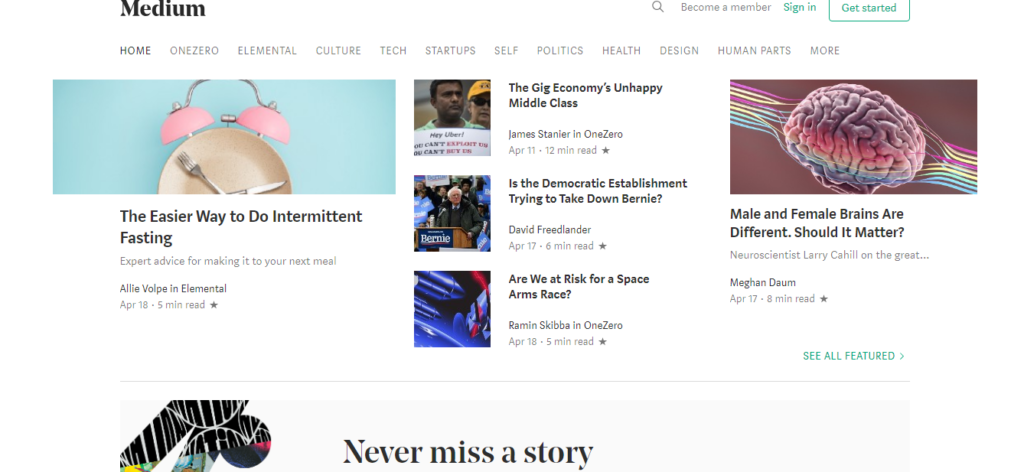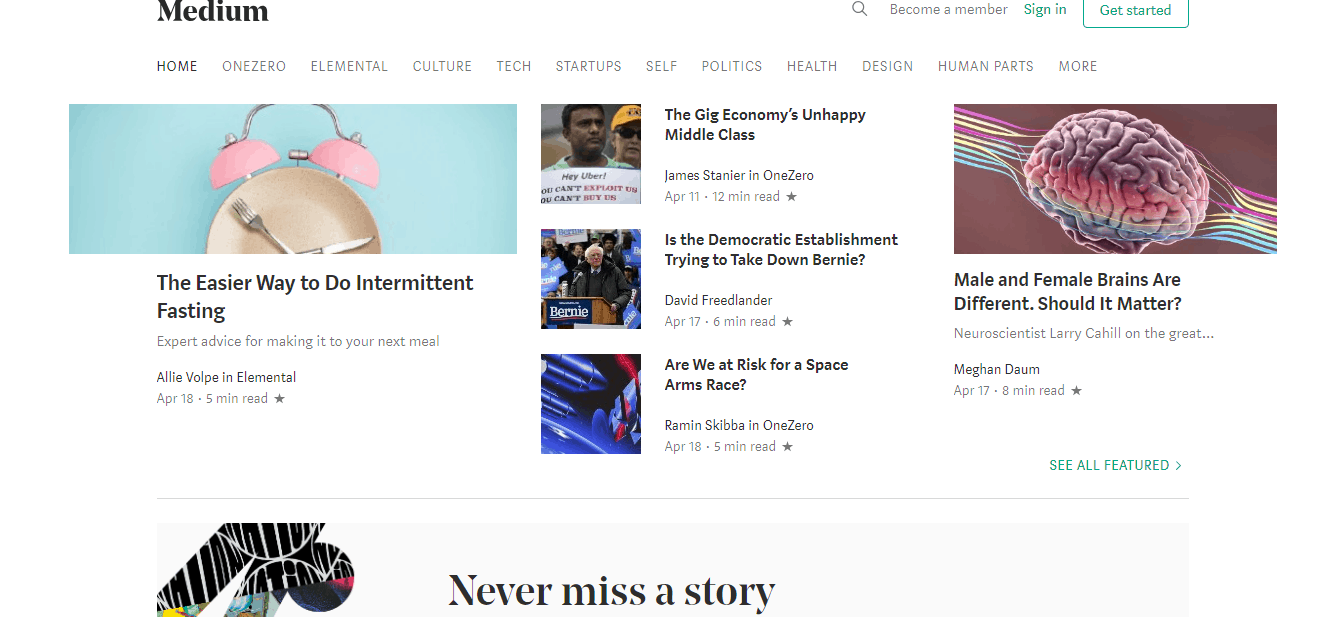 This website is a multipurpose platform with a great gallery of UX design resources and other useful content. The news on Medium are updated several times a day, so you will always find something interesting to read. All articles in the blog are dedicated to web design and the latest tendencies in this field.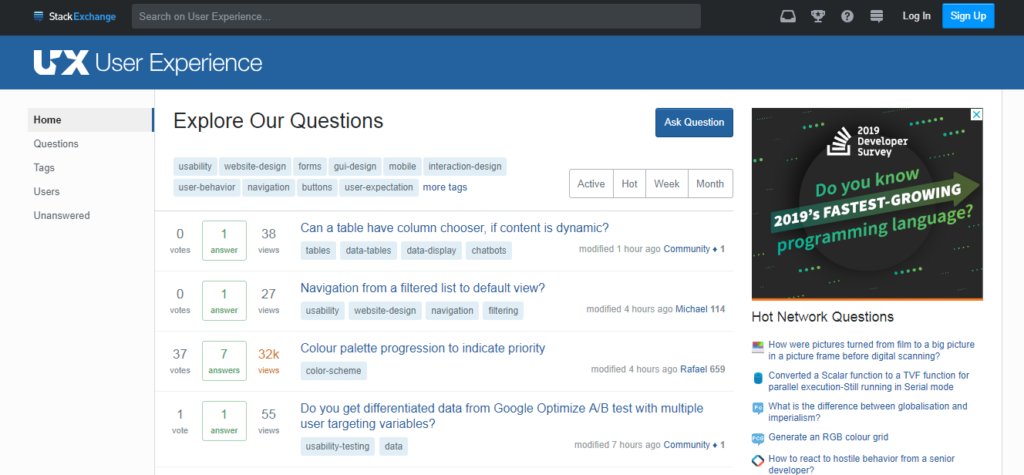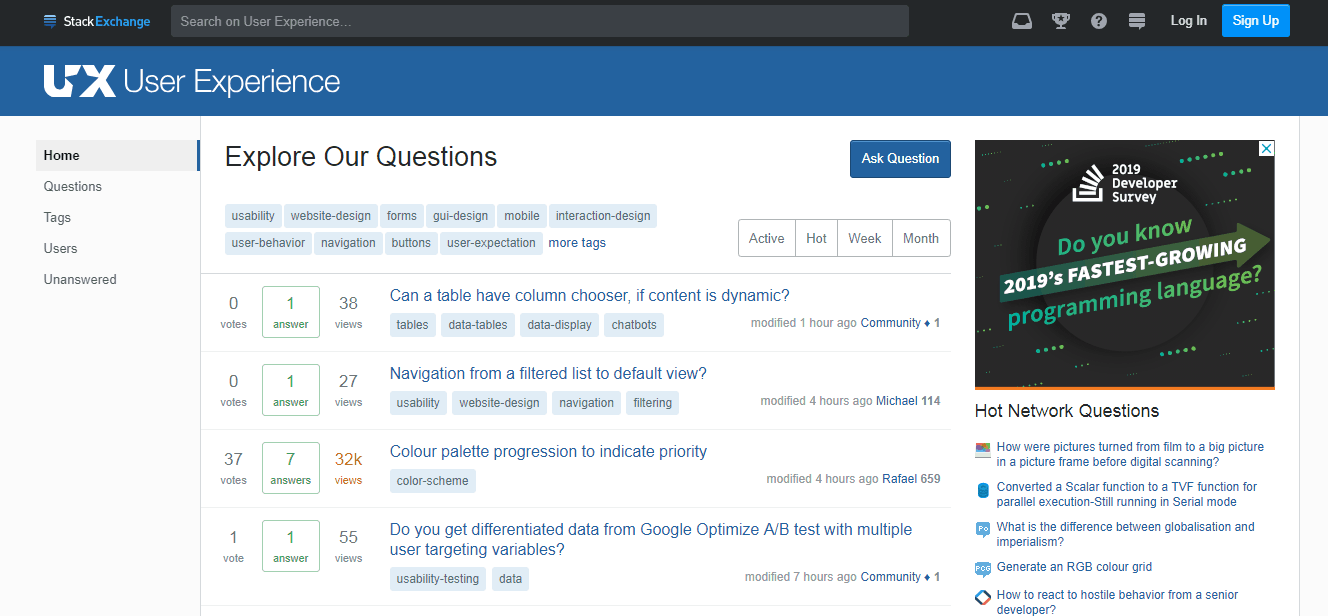 On User Experience Stack Exchange website you will find a collection of questions and answers for those interested in UX design. Users from all corners of the world can ask their questions and receive answers from qualified professionals or regular users. The best answers are awarded with prizes. In any case, designers will find a lot of useful information here, and ask questions if something is missing.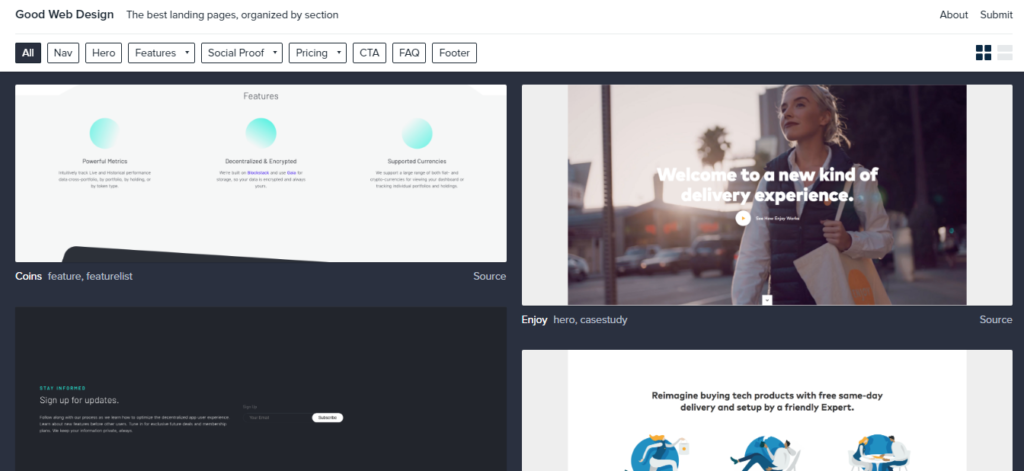 This website features the best landing pages with a well thought out design. The main intention of this resource is to help designers, developers, and marketing professionals from all over the world to get insights from the best examples. The news and the website gallery are constantly updated, so you should definitely add this web resource to your list of inspiration sources.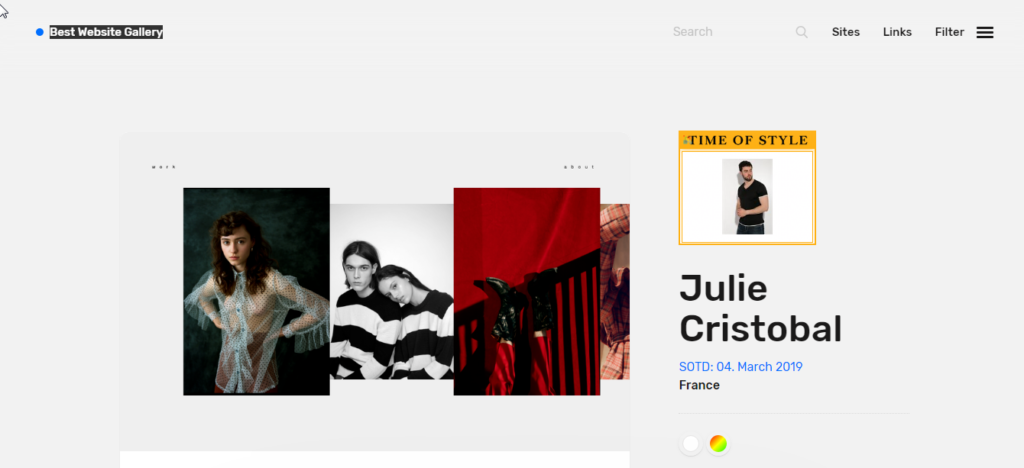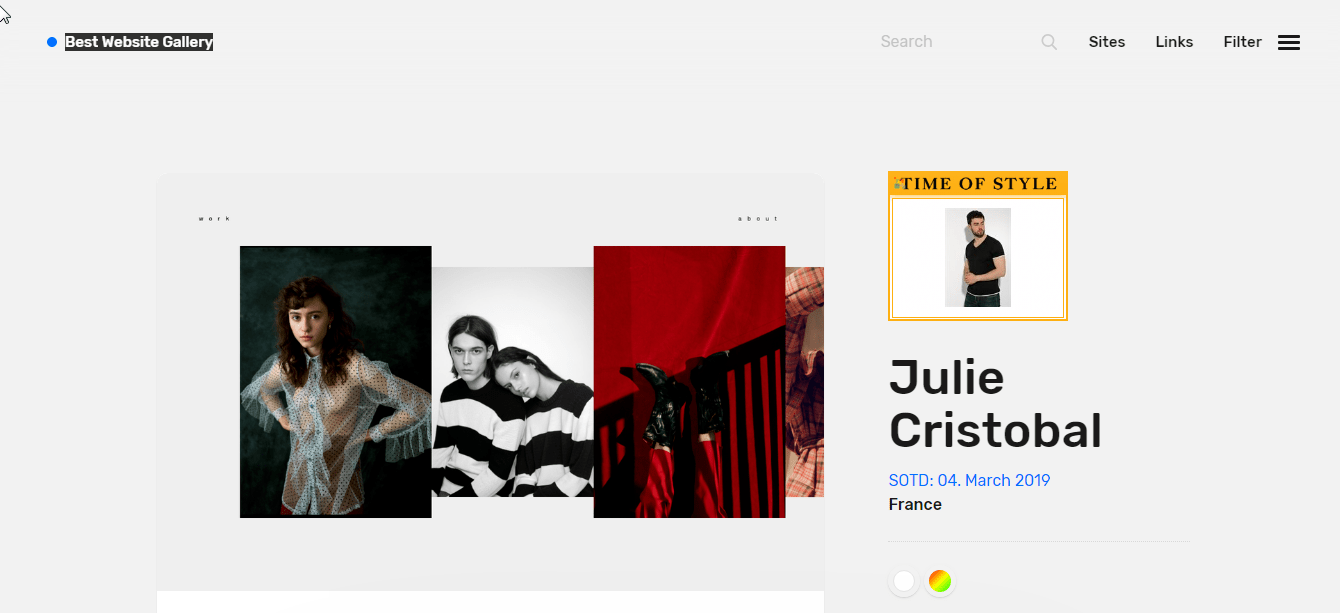 This website has been gathering the most beautiful websites since 2008. It was founded by a designer and developer named David, who decided to make a collection of the best visual works. The gallery of this website can become a source for inspiration for new projects or just help you understand what makes the work of a web designer unique.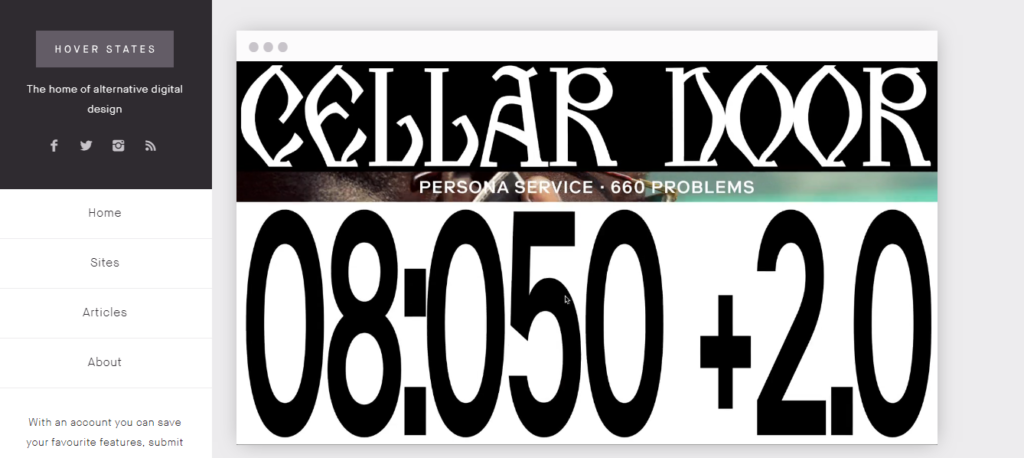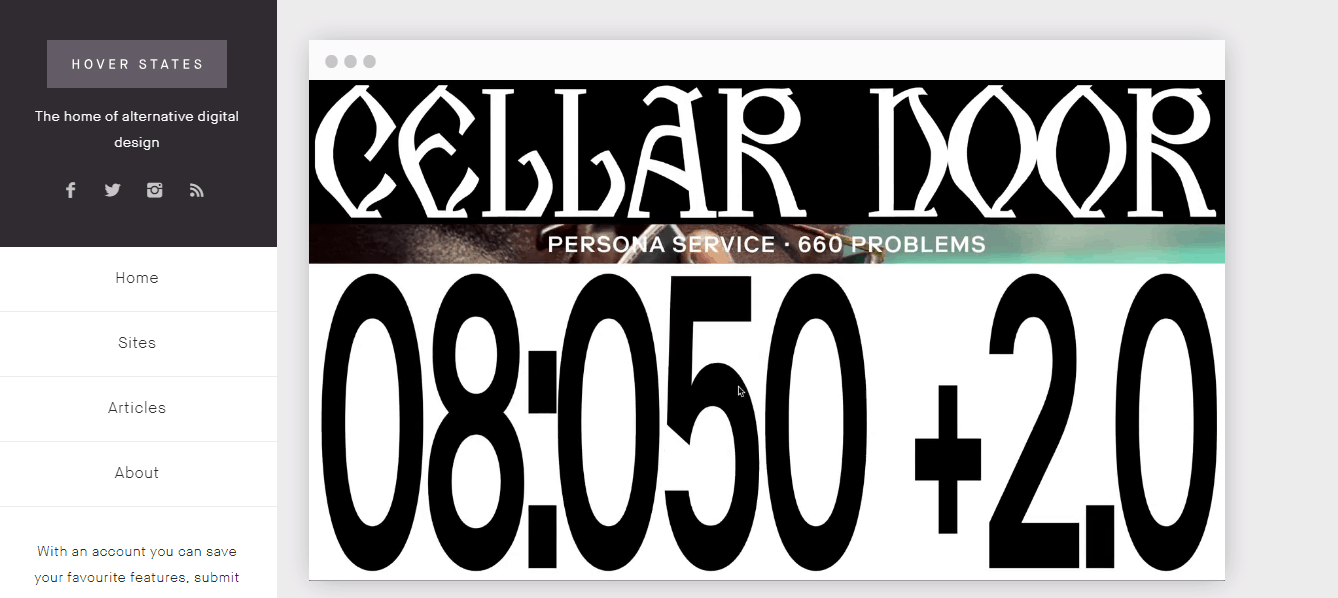 Hover States is one of the best blogs in the industry, where you will find the most outstanding examples of alternative digital design. THe founders of the resource point out that you can find great volumes of useful information here as well as share your own works. The news are regularly updated, while the community of designers is growing, so this website is worth checking out from time to time.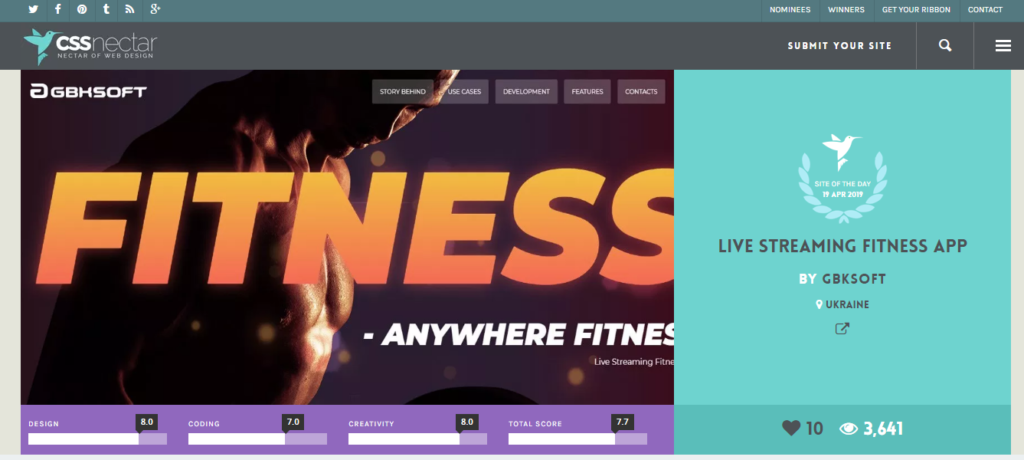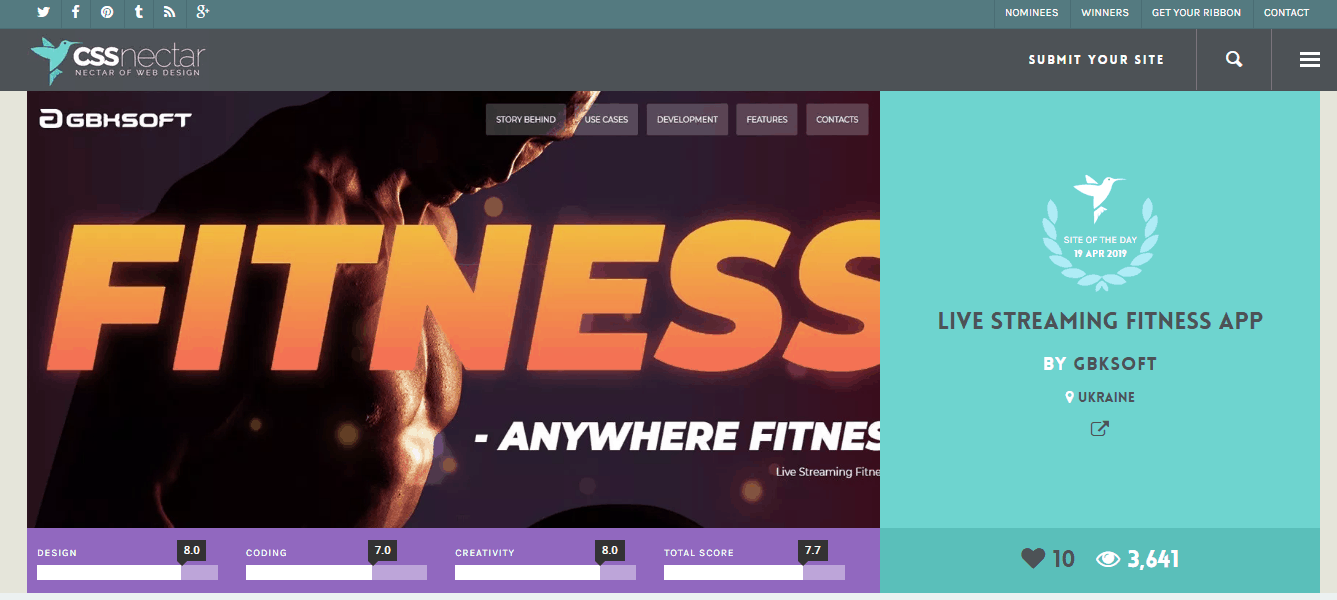 The motto of this resource reads as: we gather the nectar of web design, which already implies that the website offers the best web design examples. New works are added to the gallery every day, so you can rate them or just use them for your own inspiration. The gallery includes includes design works from all over the world.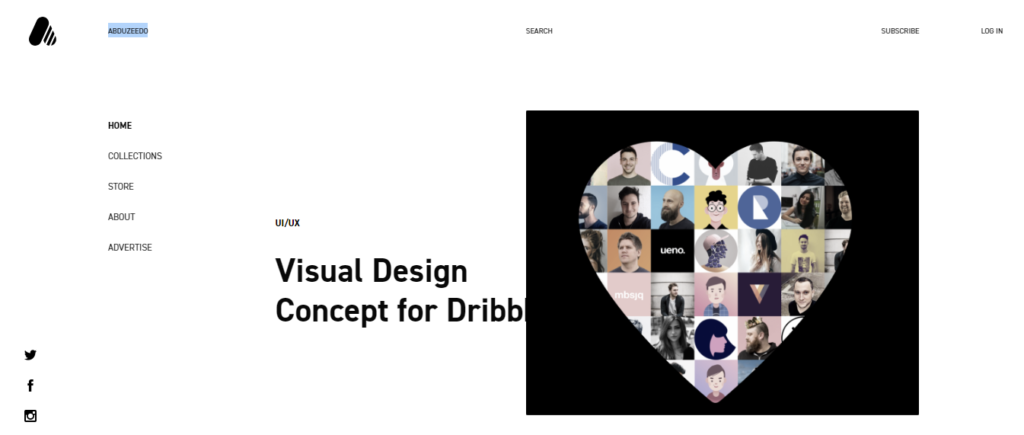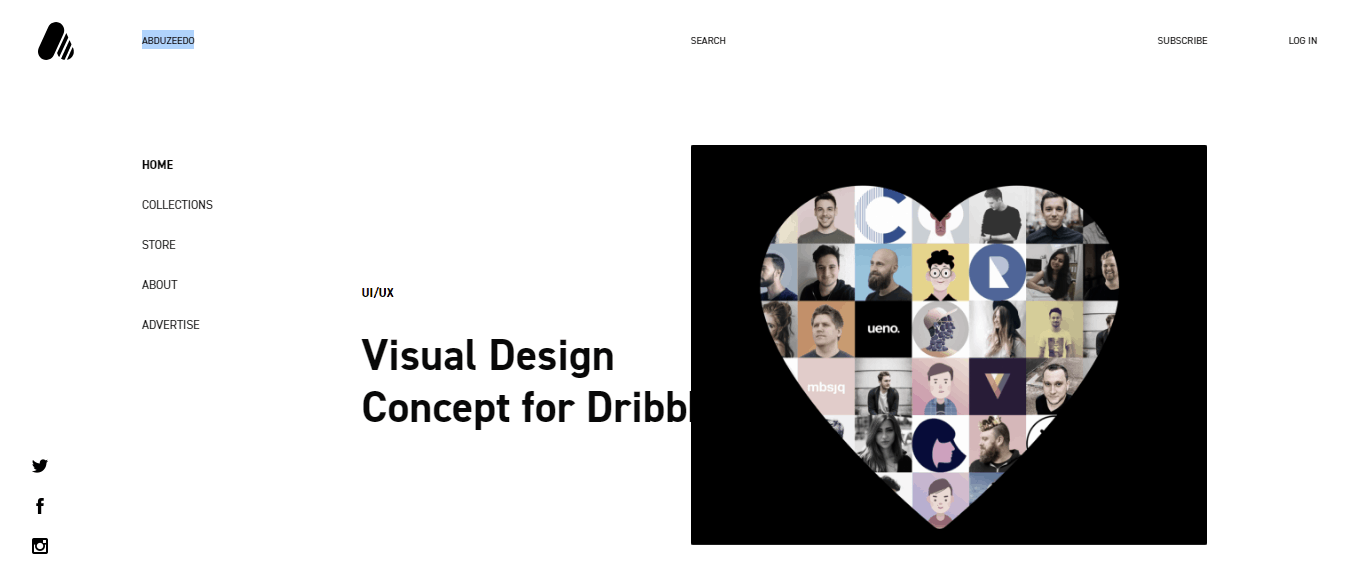 Abduzeedo – is a community of professionals who write news articles about design, photography, and user experience. It started as a personal blog, but today it has gathered professionals from every corner of the planet, who work independently from each other and deliver a great lot of useful content. This is definitely one of the most popular blogs about design.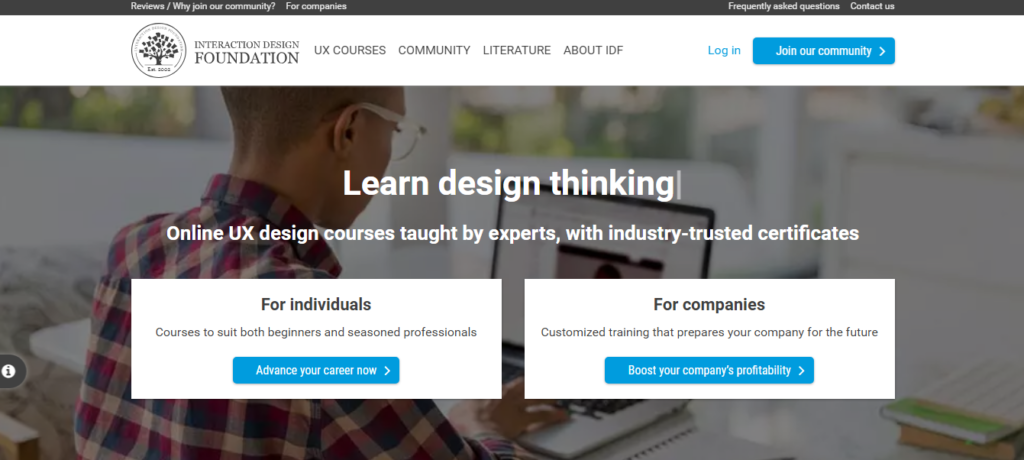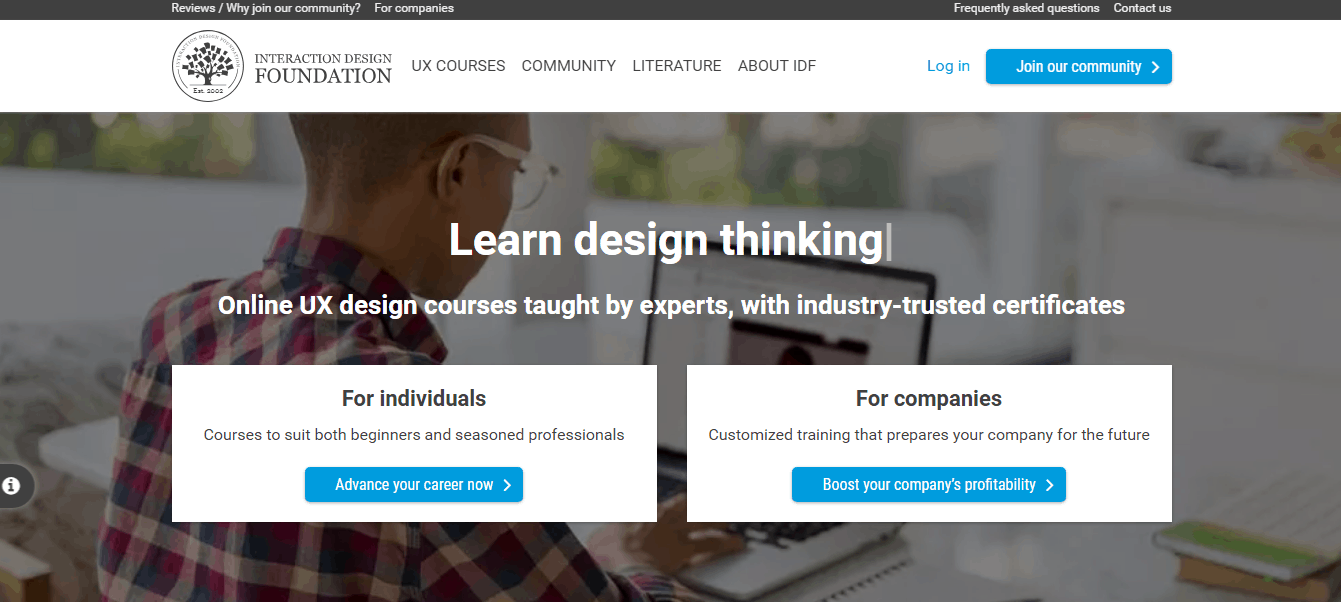 IDF website is the entire organization dedicated to interactive design. In their motto, they tell the audience about their intention to give everyone a chance to receive high quality education in the sphere of web design. They have gathered a great collection of UX and interactive design works. Thus, this resource is invaluable for those who would like to study and develop their skills.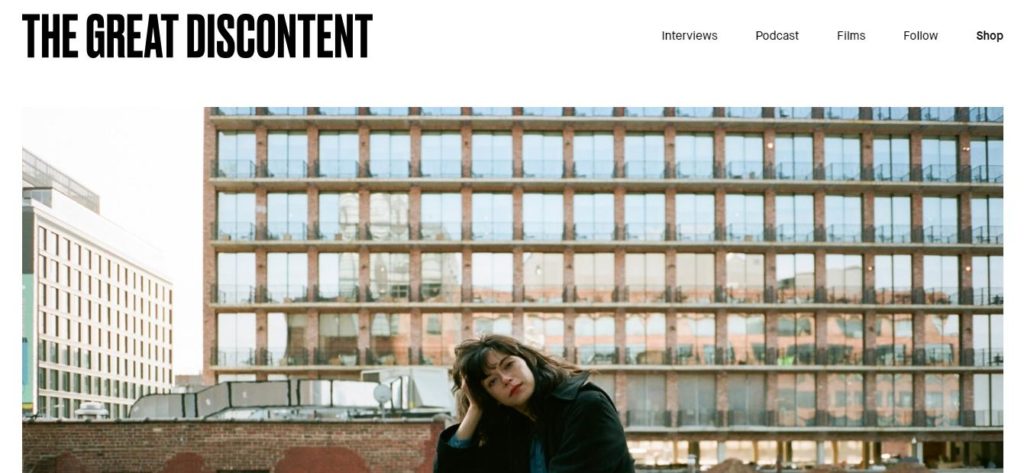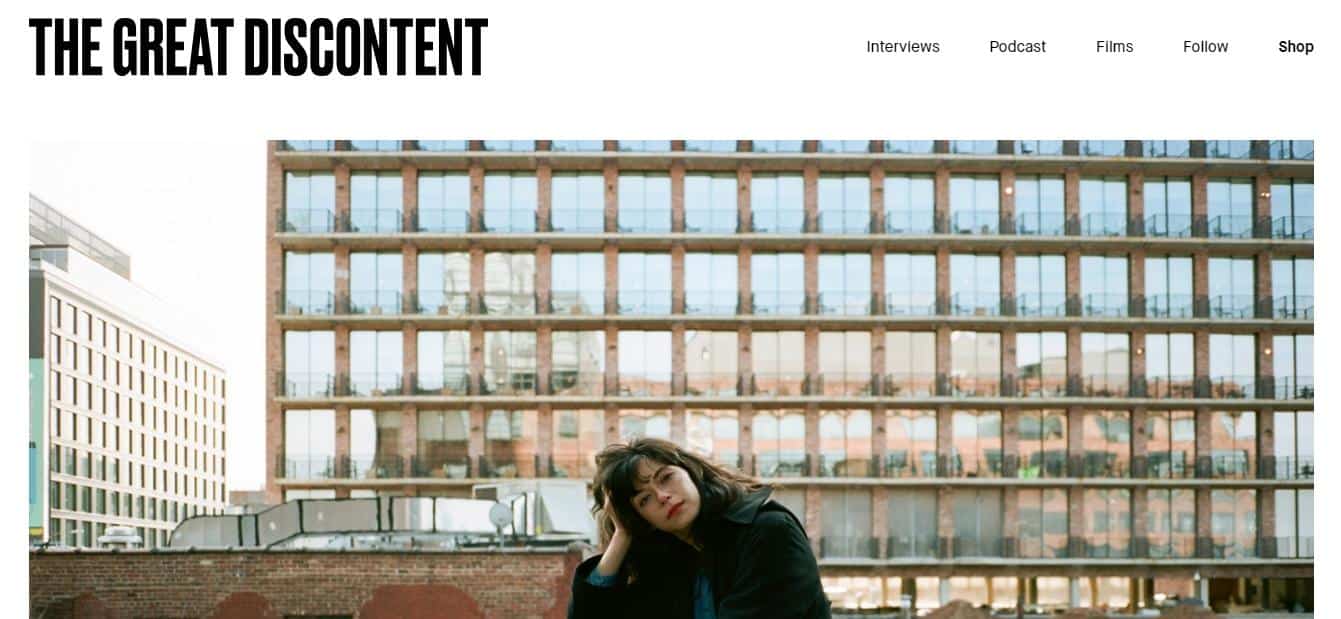 TGD – is not only an online journal but also a printed source, which offers a lot of interesting interviews with modern artists, photographers, designers, and other professionals. It's focused on inspiration, creativity, and understanding of art. Apart from the blog, TGD also make films and come up with a range of other inspiring projects. This website is definitely worth a visit..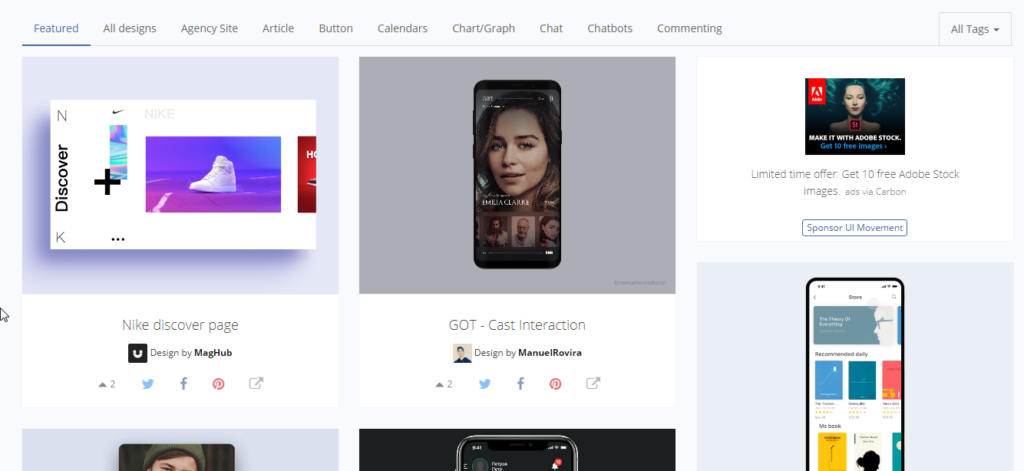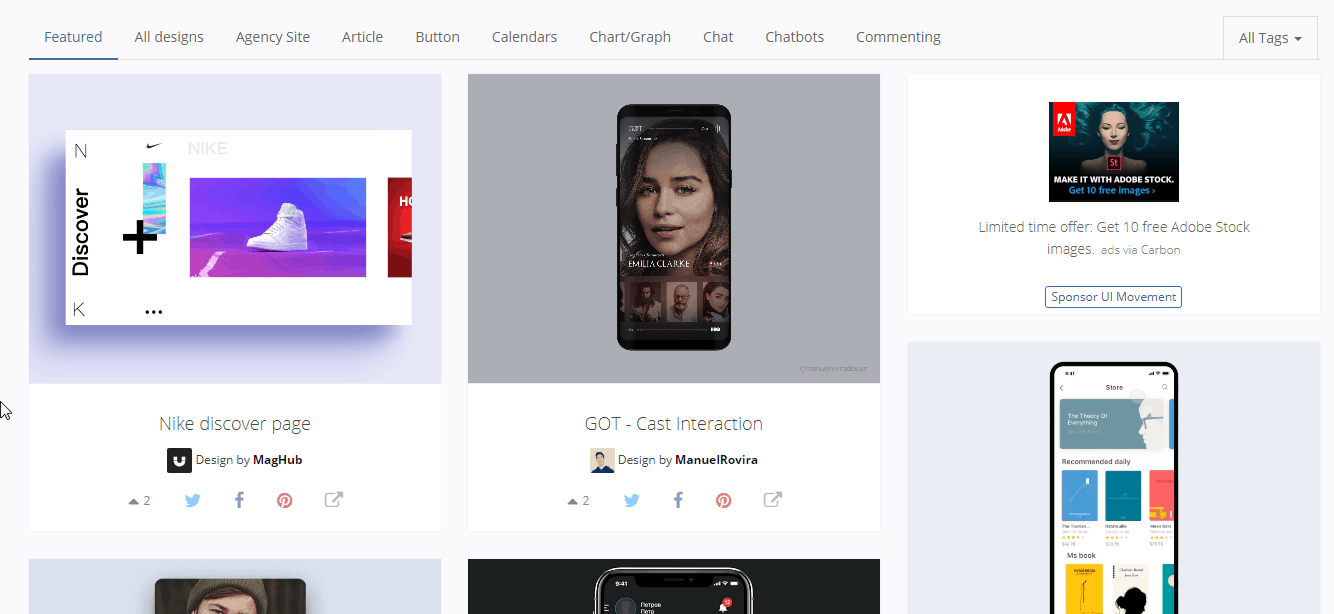 UI Movement – is an independent resource focused on the best UI. Its developers choose the best UI design works for the professionals in this field to get inspiration from. The resource has more than 25k subscribers and their number keeps growing thanks to the abundance of useful information and regular news updates. If you are interested in UI design and want to get some inspiration and tips for your work, this resource is exactly what you need.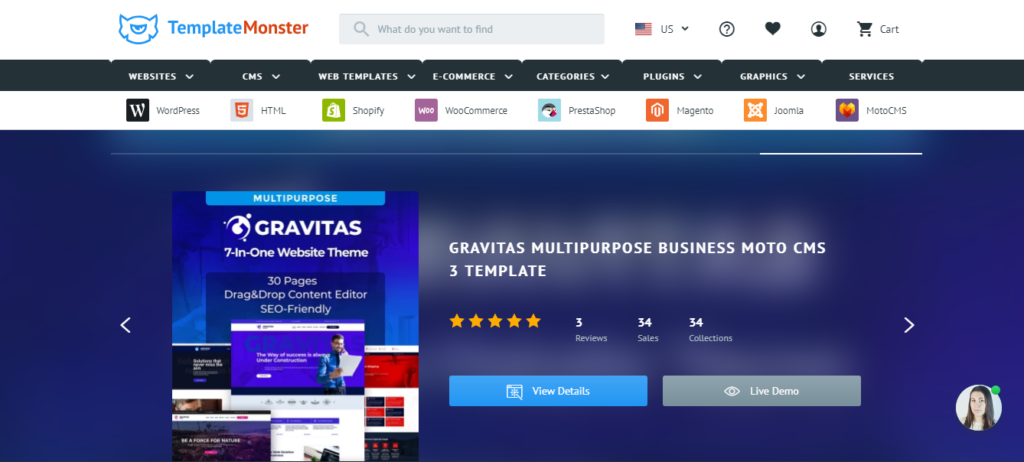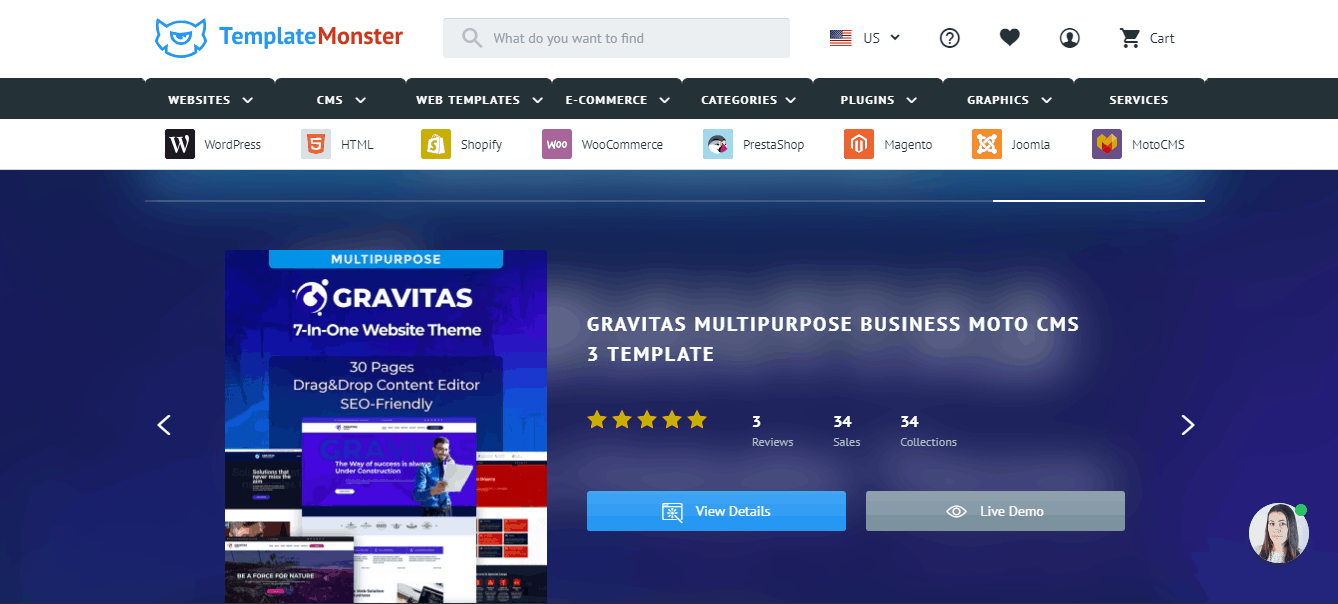 Yes, this is an online store, which is a rather unusual resource for boosting your creativity. Nevertheless, this website showcases a really good structure and emphasizes the best practices. To get inspired, apply filters and study the content structure and design templates. This experience will definitely come in handy when you realize your own projects.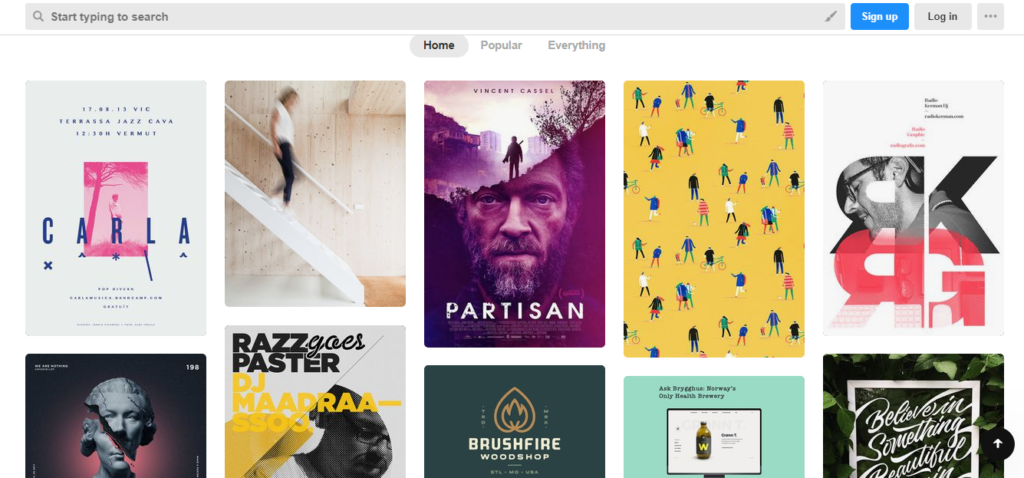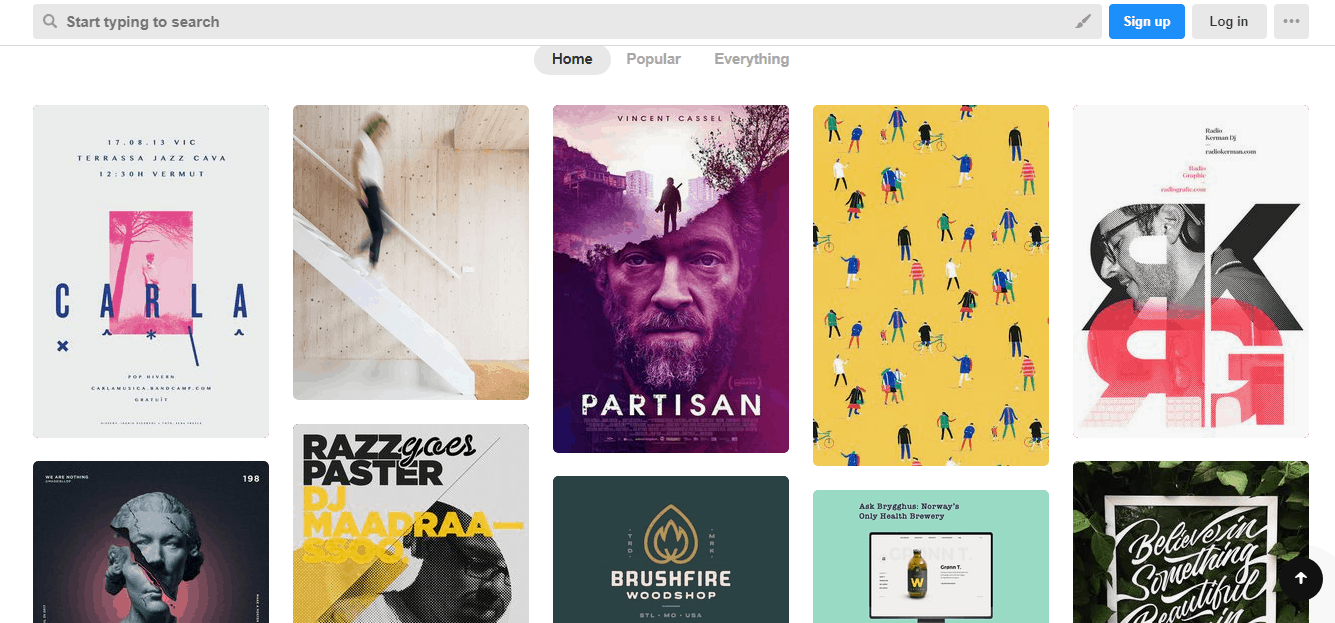 Designspiration constantly develops and updates its blog and adds new works to its website gallery. It resembles Pinterest as it simply suggests a lot of various content generated by a great community. There is no specific topic for web design inspiration, but you can filter the content by a range of criteria to find exactly what you need right now. This website should definitely be in your bookmarks.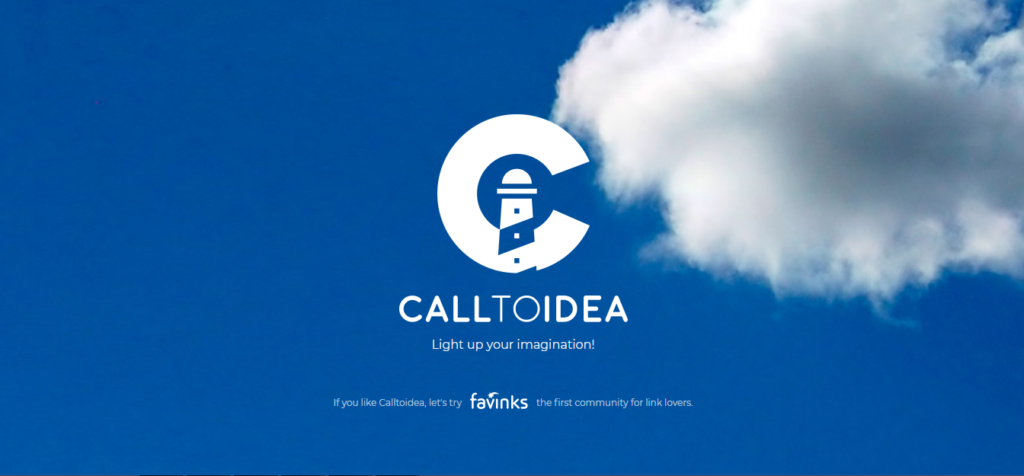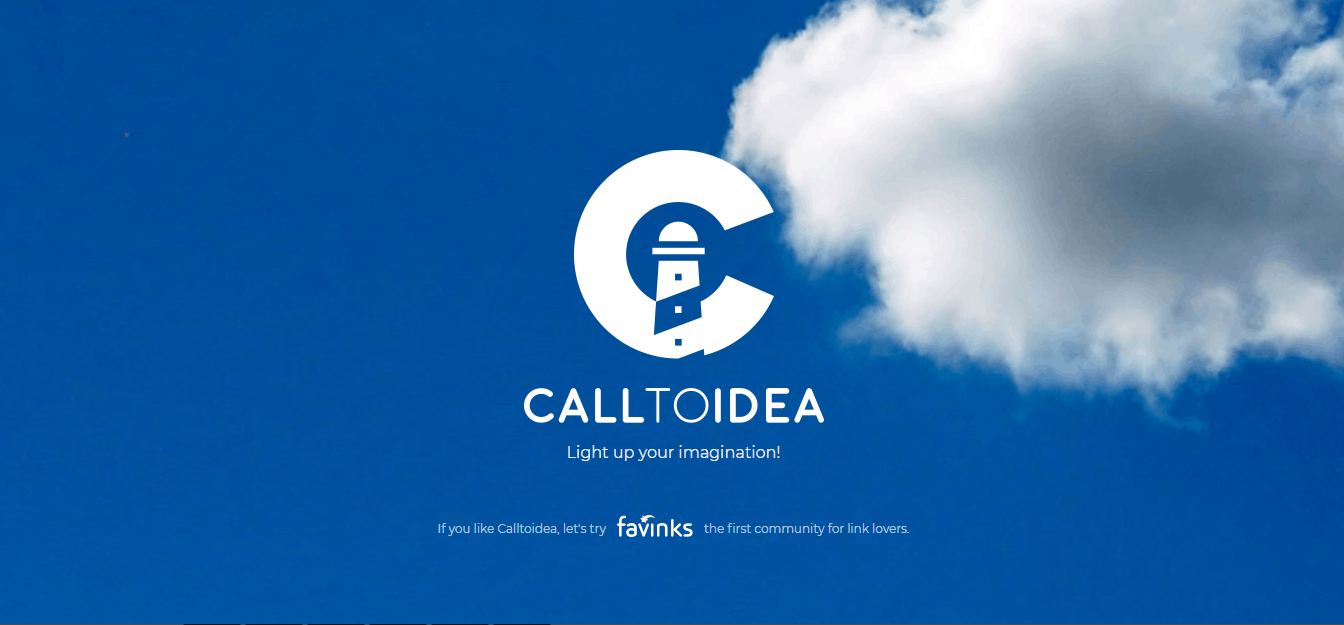 Calltoidea – is a good platform for designers, which gives professionals in this field a chance to find the inspiration they are looking for. The project was launched back in 2011 and has got a lot of fans.  The specialists carefully choose every image to offer you something unique. At the same time, they advocate simplicity in web design. The information on the website is updated regularly, so you will always be able to find something new and interesting.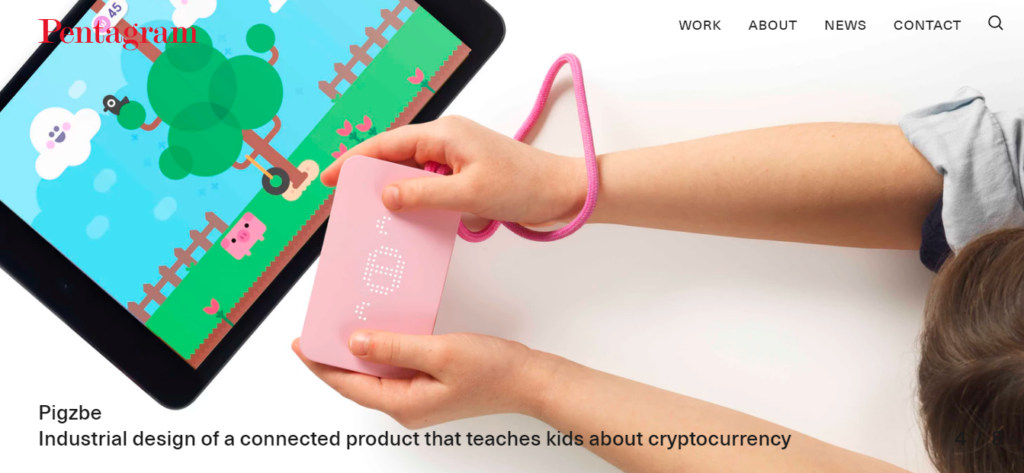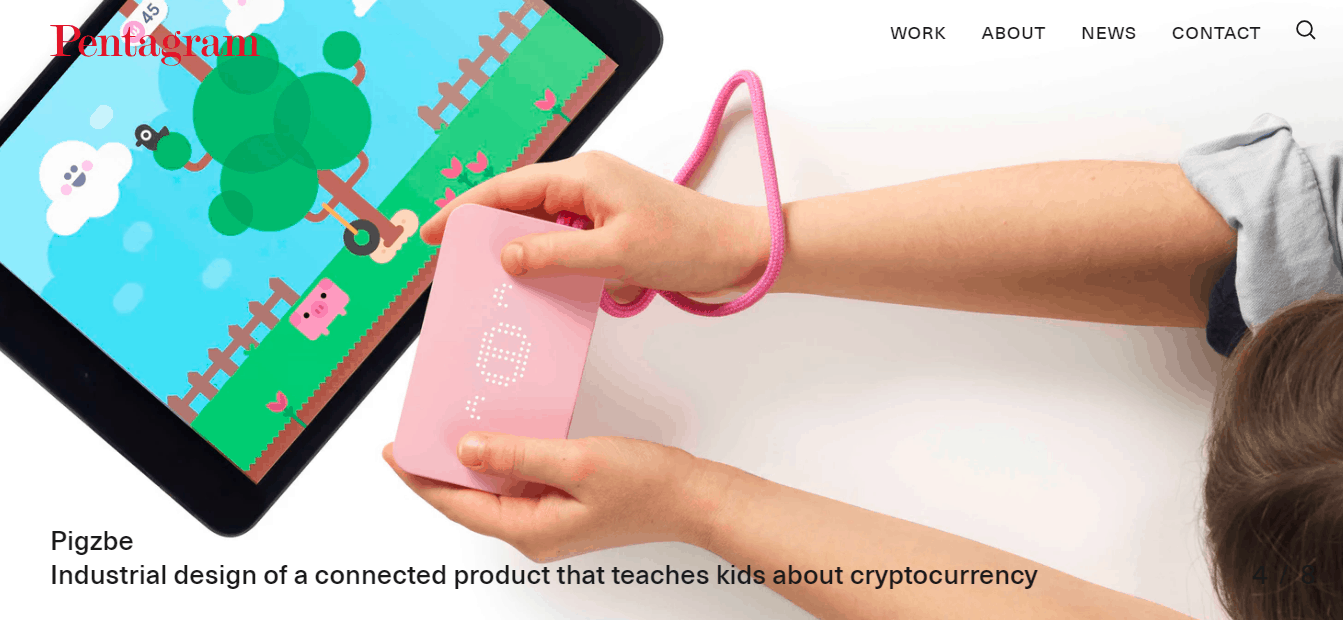 Pentagram – is one of the largest web design studios in the industry. The team includes the best professionals from all over the world, so you can always learn something from them. The website offers not only their best works but also profound blog articles with the most up-to-date information from the world of web design.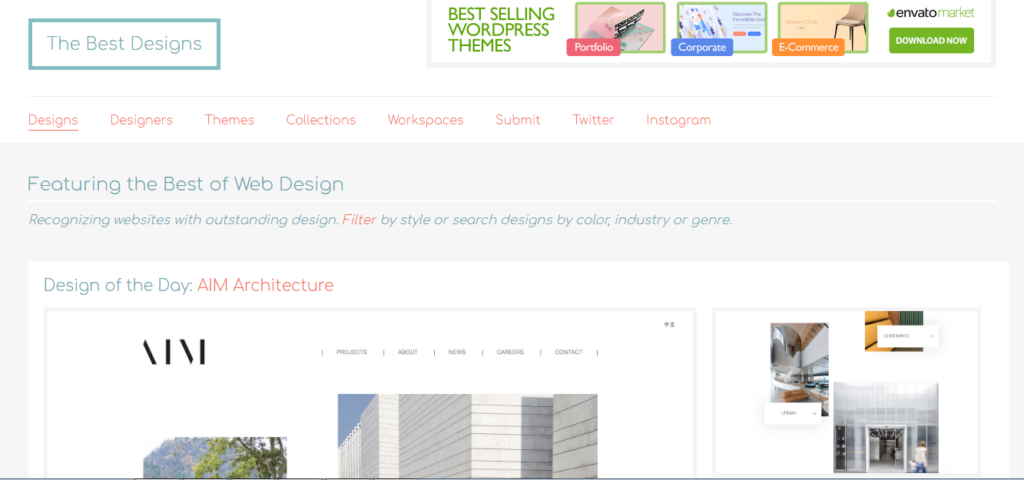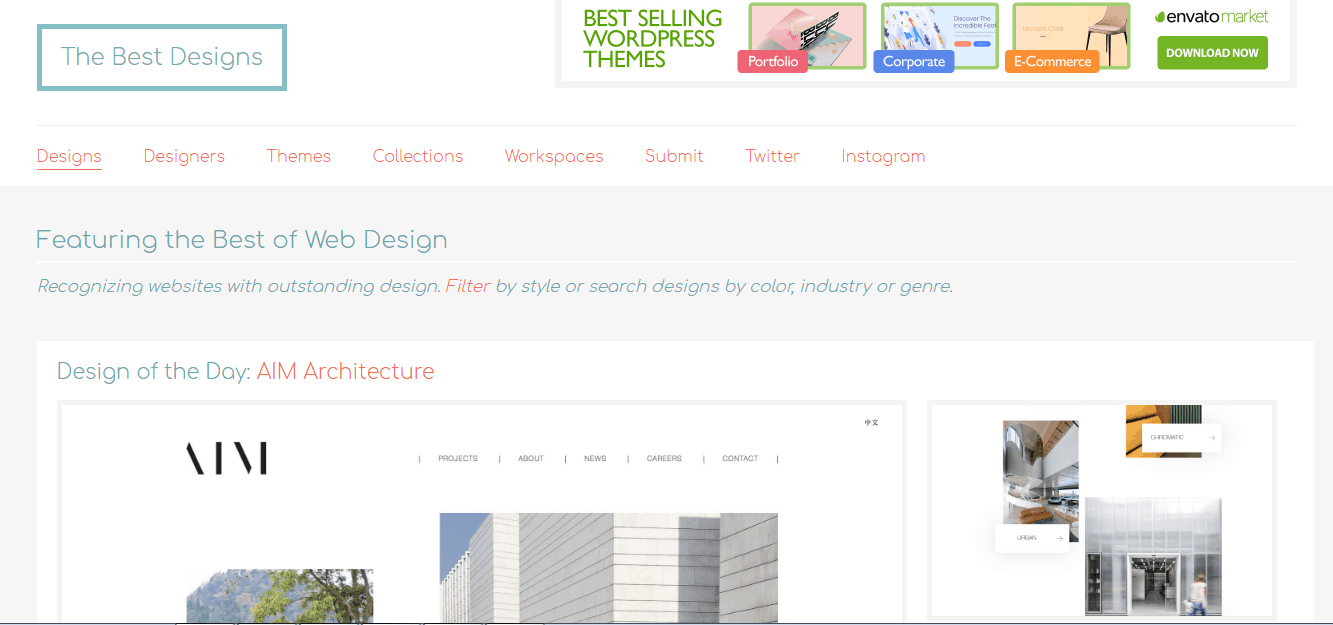 The Best Designs has become one of the most popular sources of news for designers who want inspiration without any extra effort. A great function "Design of the Day" allows the subscribers to receive updates on the latest content and gives an opportunity to communicate with the leading designers. A perfect place for those who value clarity and simplicity.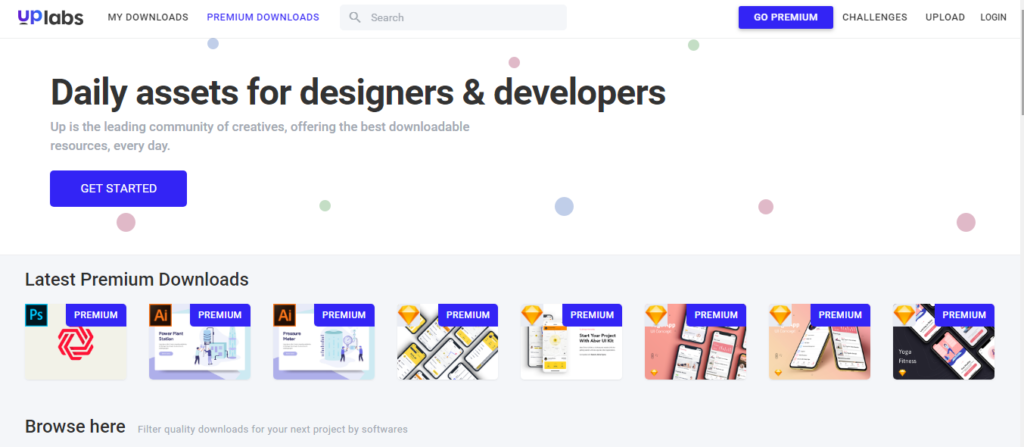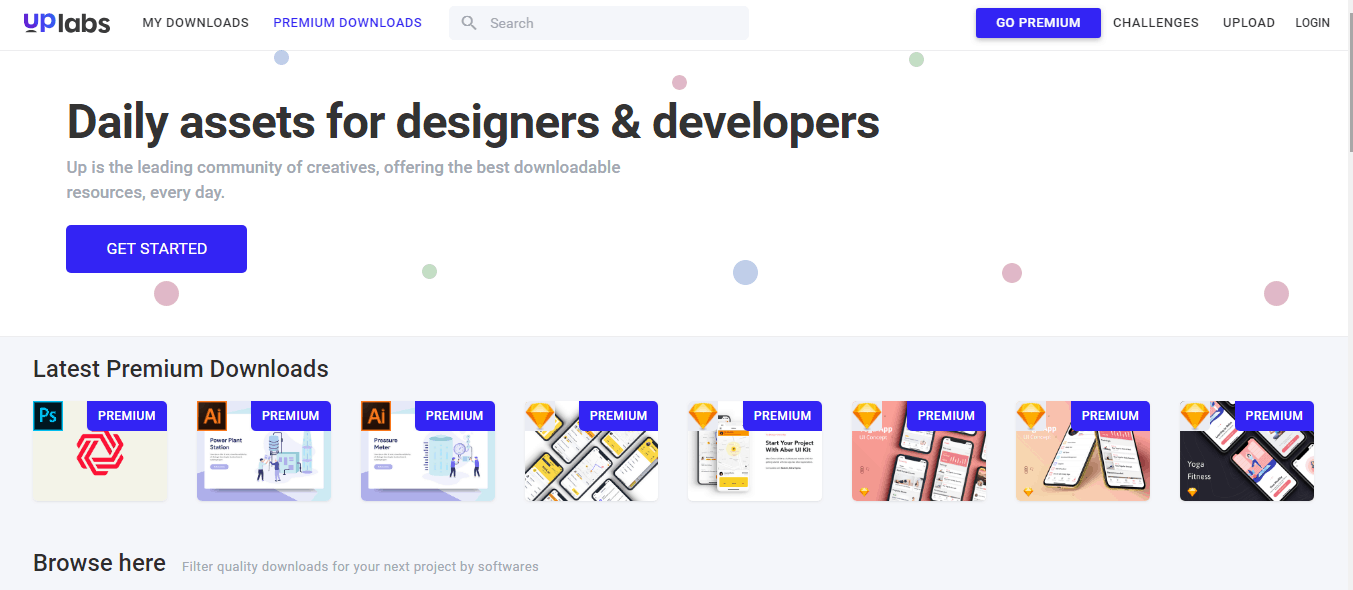 On this website, designers and developers have an opportunity to not only search for the best resources for building websites and web applications but also share their works with others. The news and resources for Web, iOS и macOS and Material Design are updated daily. Moreover, the blog offers a lot of useful information about UI, experiments in design and application development. Moreover, Uplabs offers some ready-to-use  products.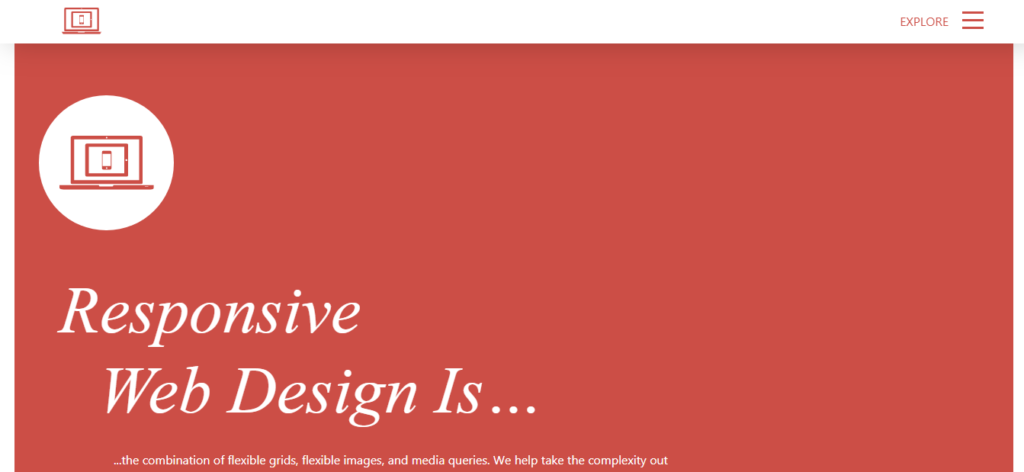 ResponsiveDesign.is – is a great source for web design inspiration, where you can also see how a certain website will be displayed on various devices, including tablets and smartphones. In the blog, you will find a lot of useful recommendations on design and development as well as strategic content. Moreover, ResponsiveDesign.is has its own podcast. Although the number of works presented on the website is comparatively low, it is worth visiting.
Mobile App UI UX Design Inspiration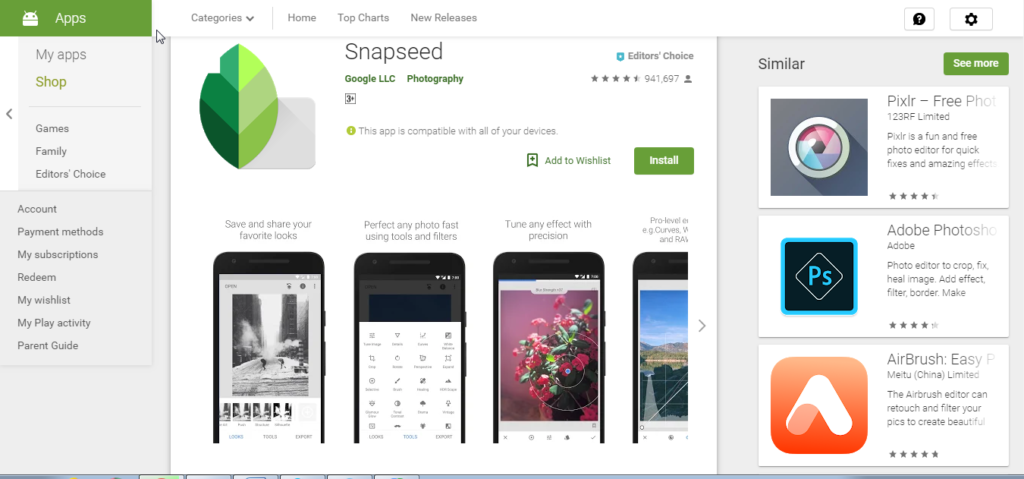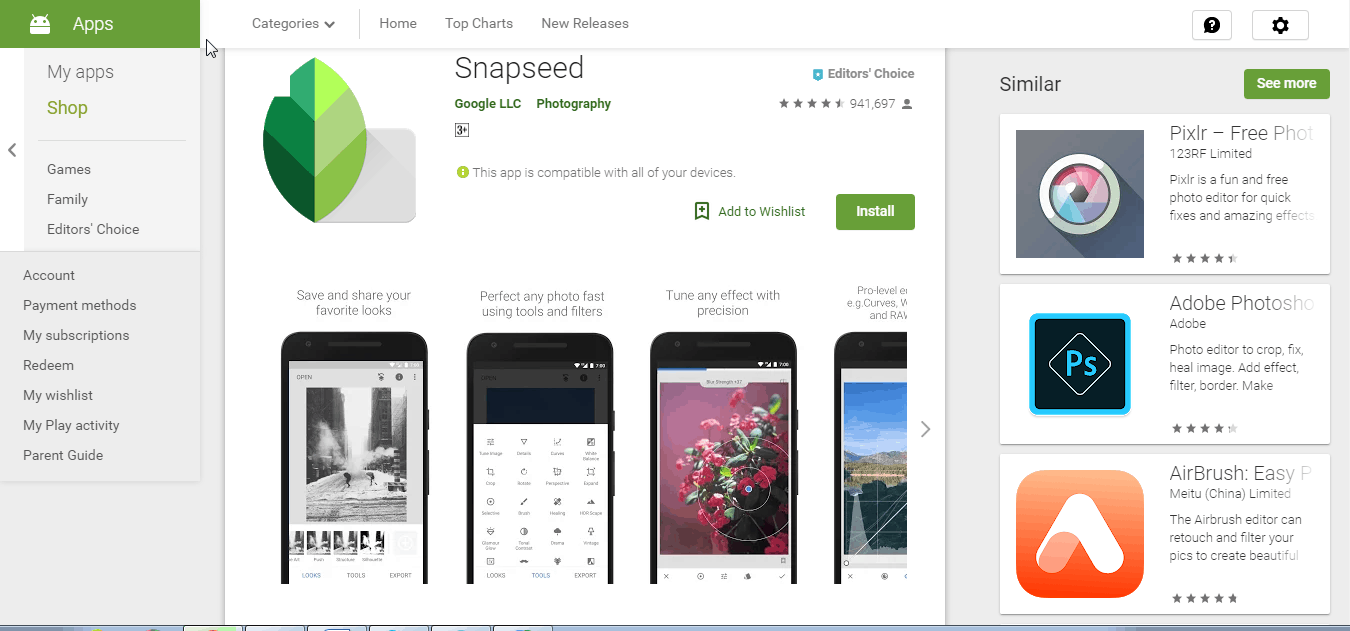 Snapseed – is an interesting mobile application for iOS and Android, which gives you an opportunity to edit photos. If you like to take pictures with your phone, you will definitely like this app as it offers a wide range of features, being rather simple and intuitive at the same time. Its minimalistic design is also very attractive.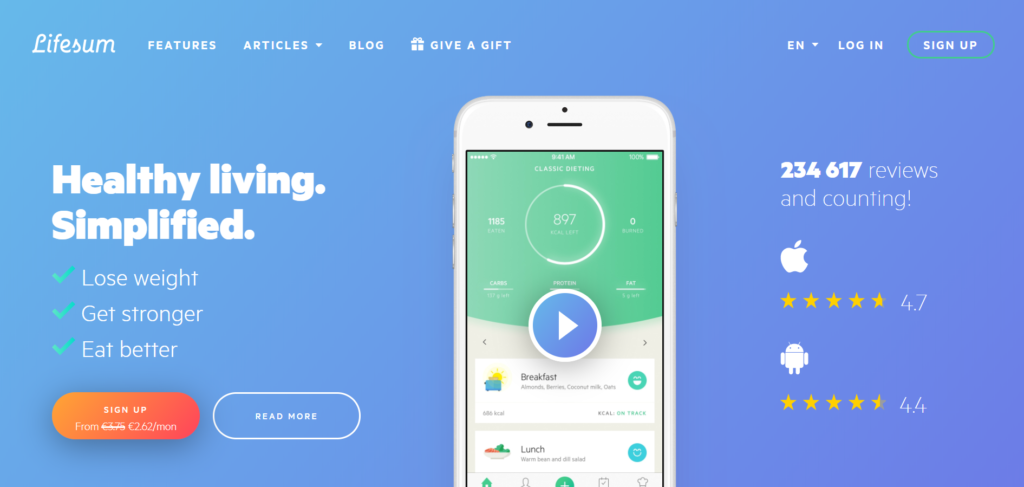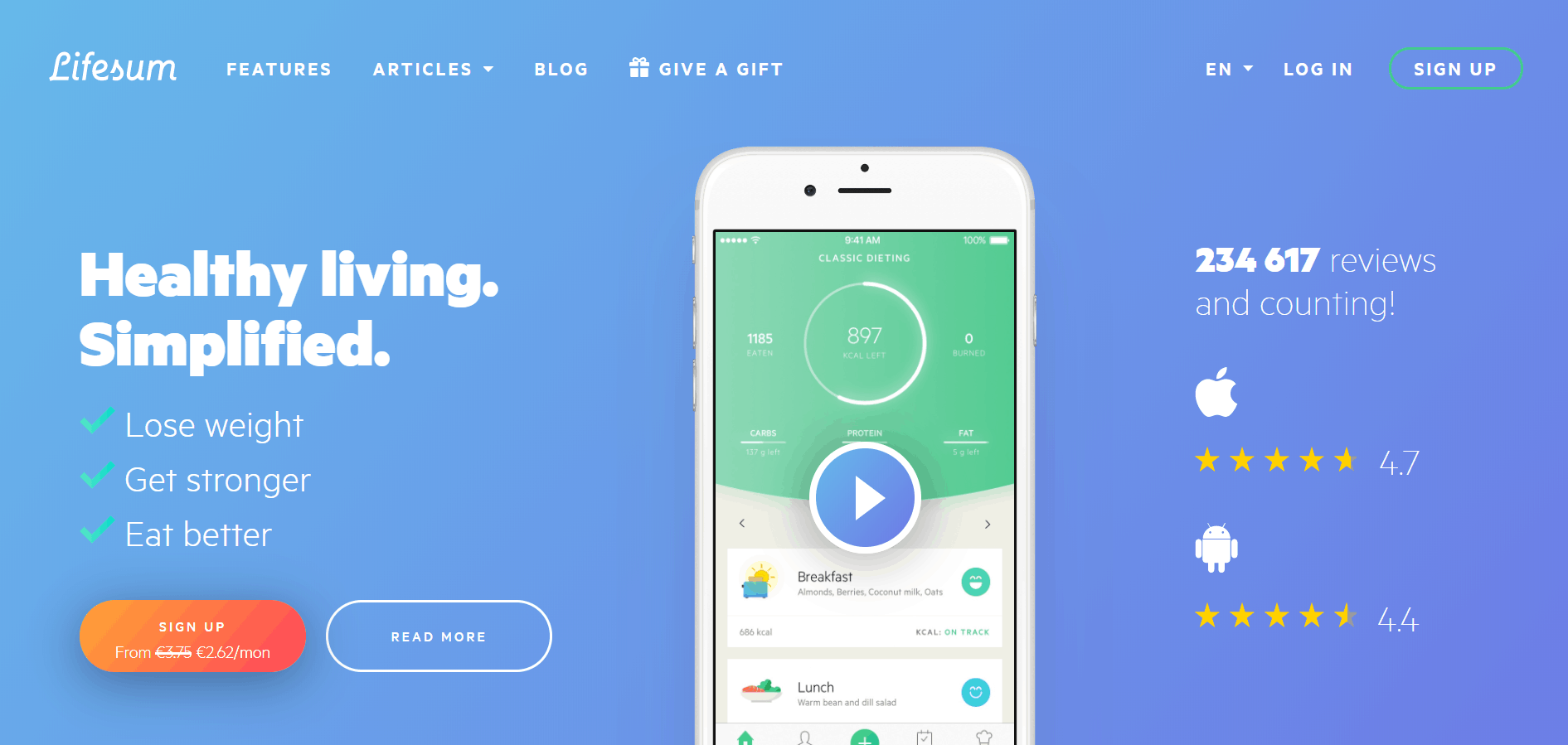 It could seem that Lifesum is just another application dedicated to healthy lifestyle, but it has a really outstanding design. All such applications ought to be like that. The colors on the screen are combined attractively. There are several simple and beautiful pages with a bright background, which looks balanced and user-friendly.  The app is available both for iOS and Android.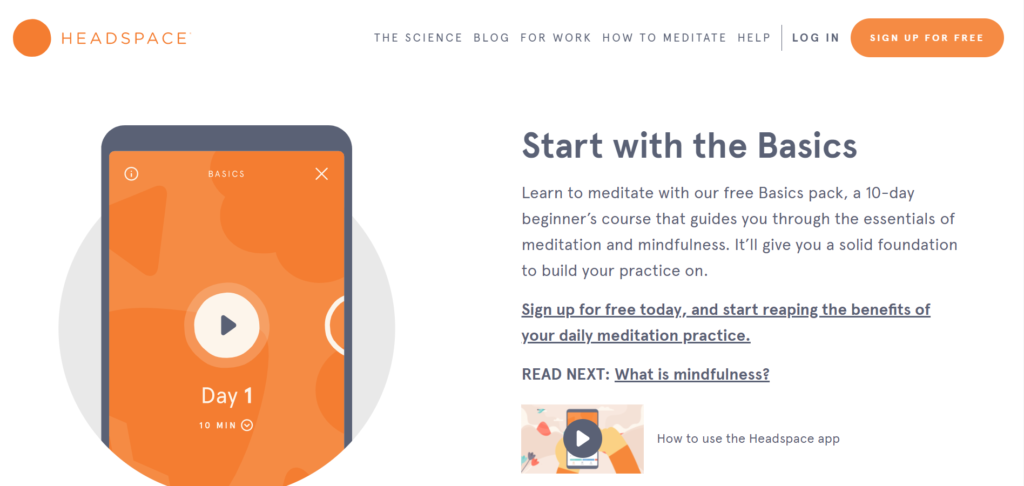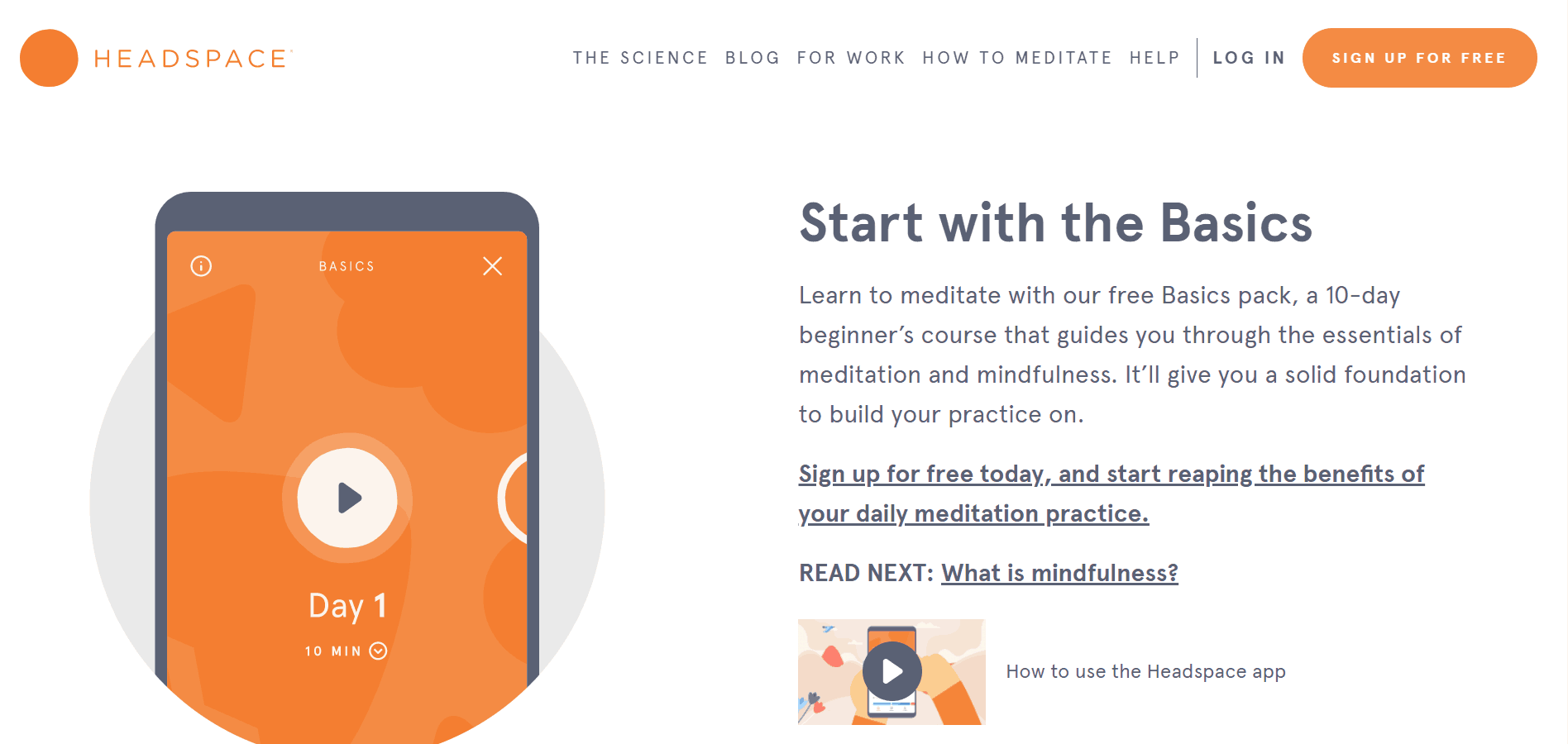 Headspace is a mobile application specifically designed for more productive meditation. It can help you to relieve stress, relax, and concentrate. Owing to the beautiful design and useful features, this application has gained a great popularity. It UI design is very attractive and easy to navigate. The app is available both for iOS and Android.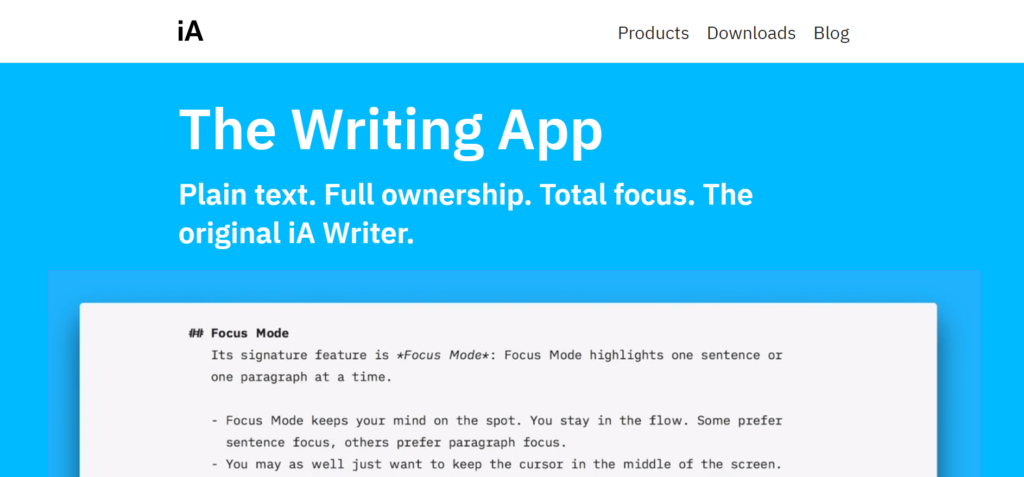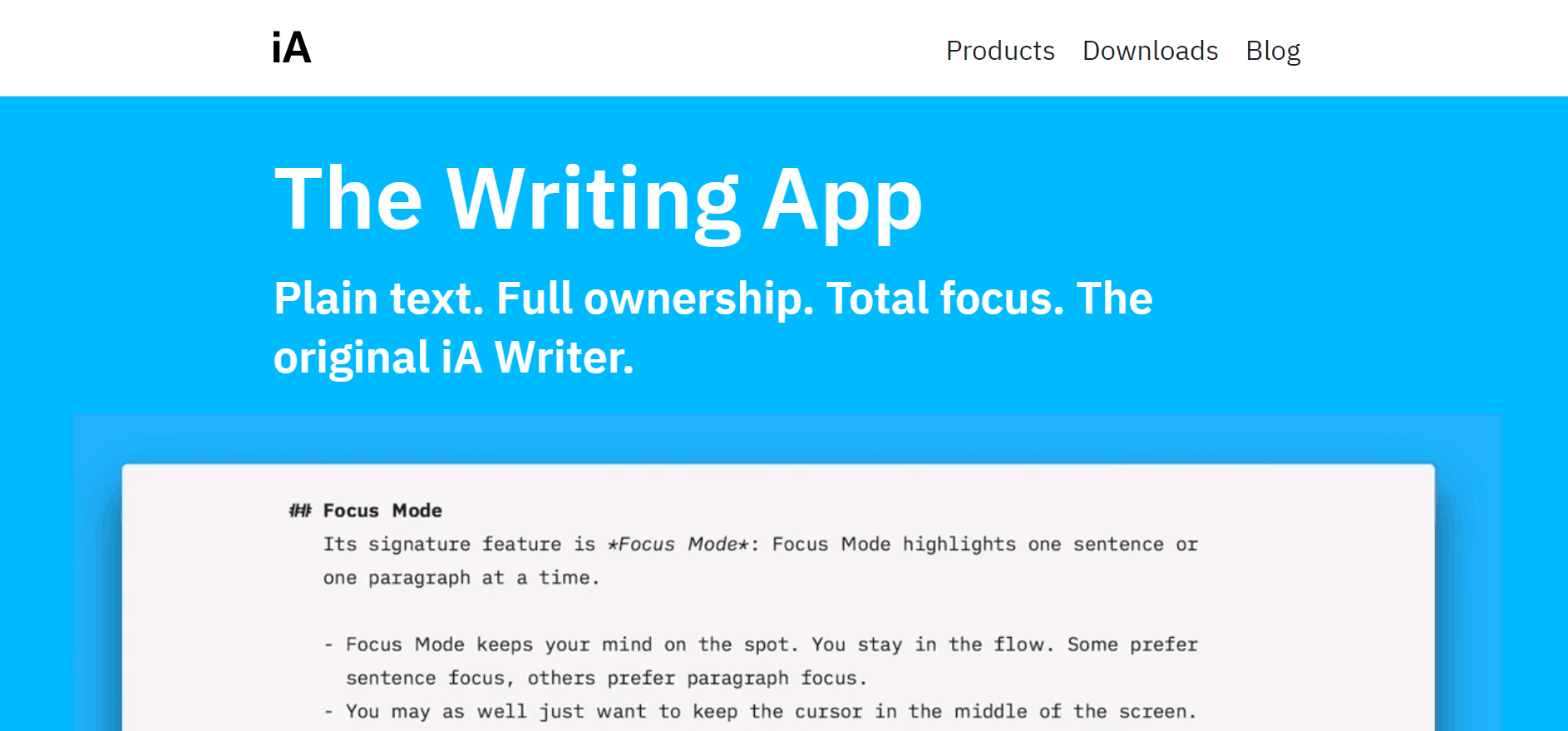 This mobile app designed for making notes in iOS and Android has made its way into our shortlist not only due to its popularity but also its aesthetically pleasing design. iA Writer is rather minimalistic, but the typography is outstanding. Among various web applications, one can hardly find one that would handle both tasks equally well as there is not enough space on the phone screen. You can choose between the light and dark color scheme, both of which are well balanced.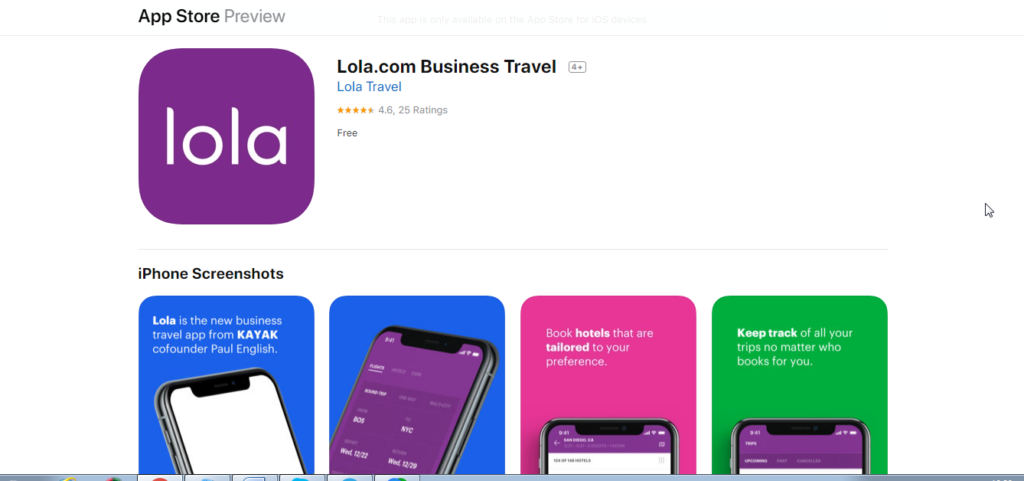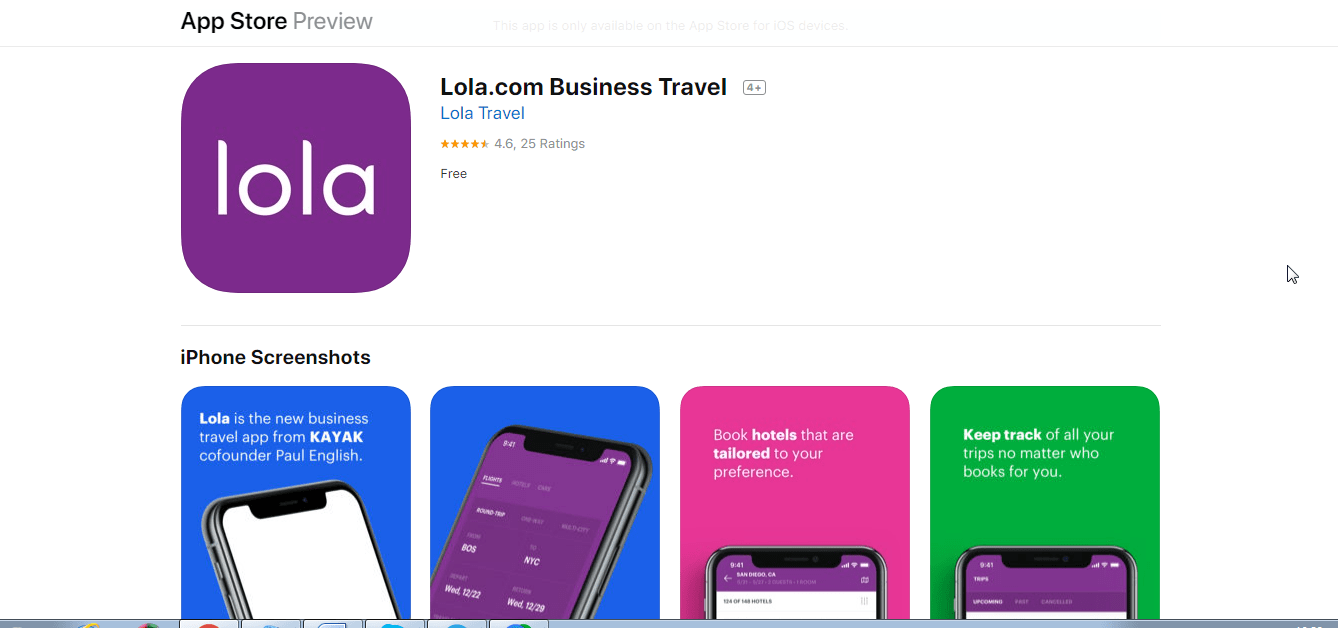 Lola Travel can definitely become a great example of the best mobile application design. In addition to offering useful functions, it can boast of simple and sophisticated visual presentation. Images and graphics are very user-friendly and easy to perceive. The typography has been chosen perfectly well, and it looks good on various devices.At the moment, the app is available only for iOS.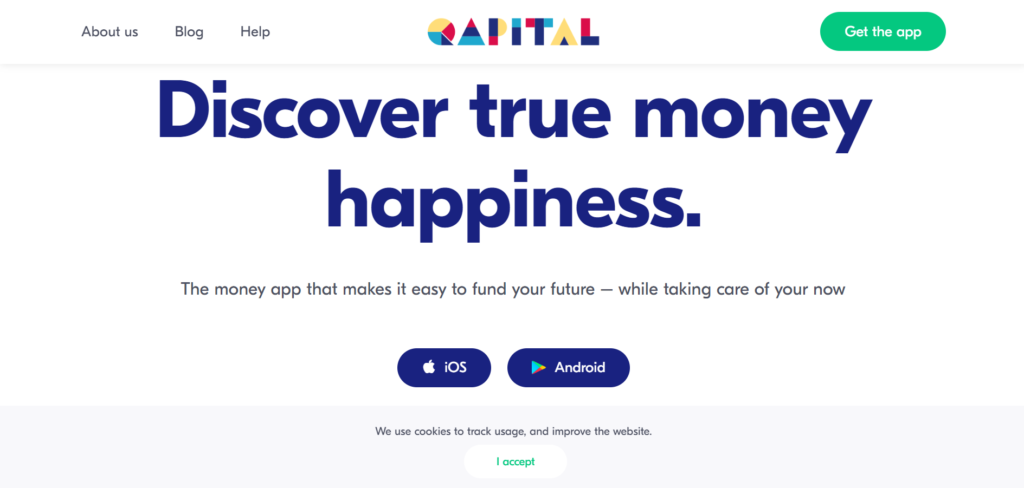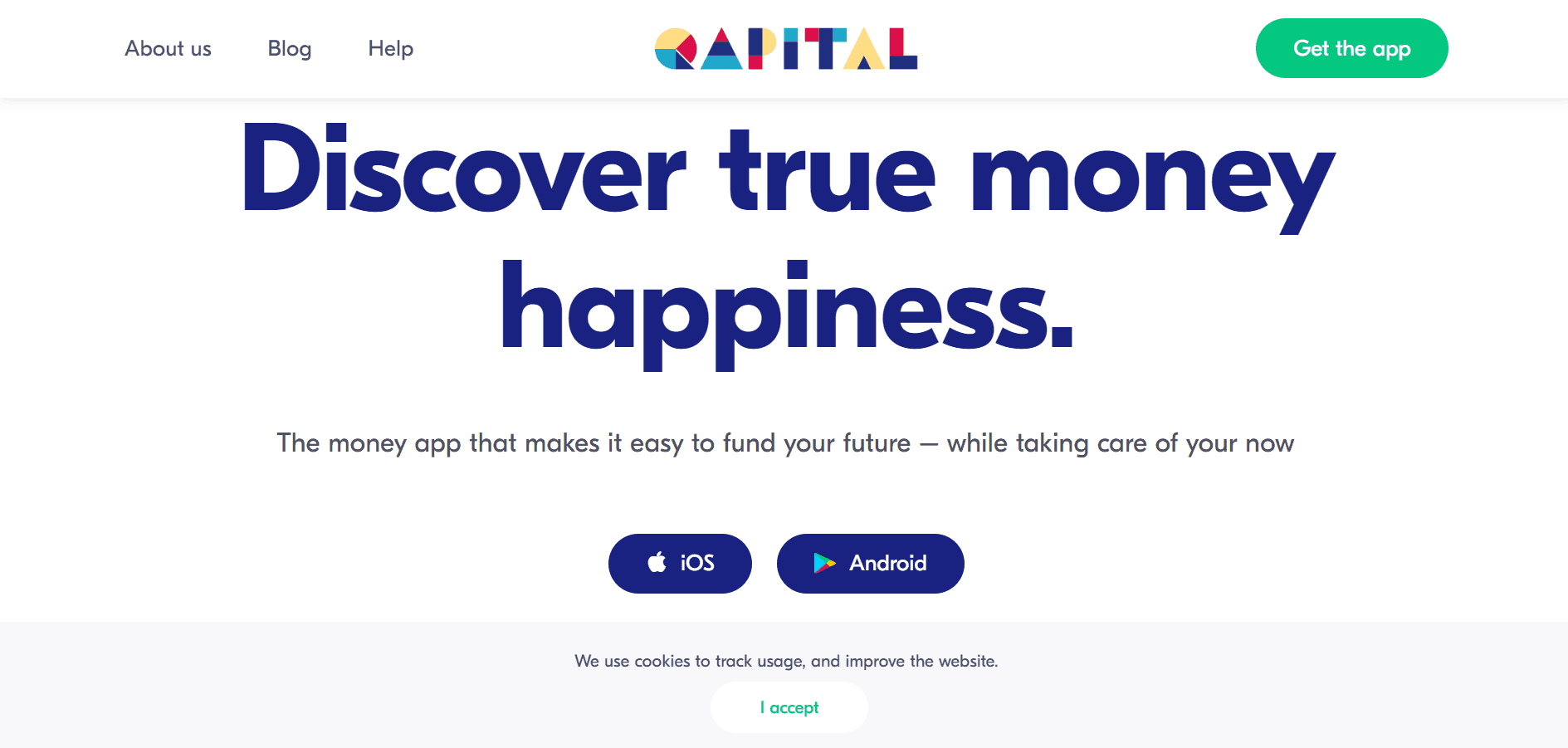 Qapital is a great free application for controlling your financial operations. It has joined our list owing to its original and convenient design, which can inspire one to create the best mobile applications. As of now, it is free of charge and available to both iOS and Android users.Many users have already appreciated its useful functions, while designers will definitely like it for its UI.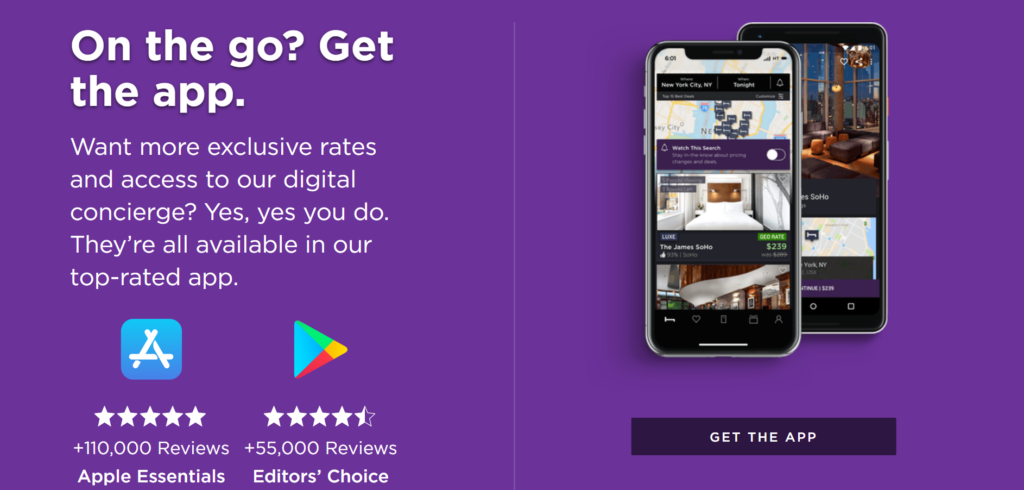 With the application called HotelTonight you will be able to book a hotel room whenever you need.  We have added it to our list because of its sophisticated design, especially its dark theme with a great combo of black and purple.The product sells well and it is really popular, and its design is one of the keys to success, so you can give you some valuable insights. The app is available both for iOS and Android.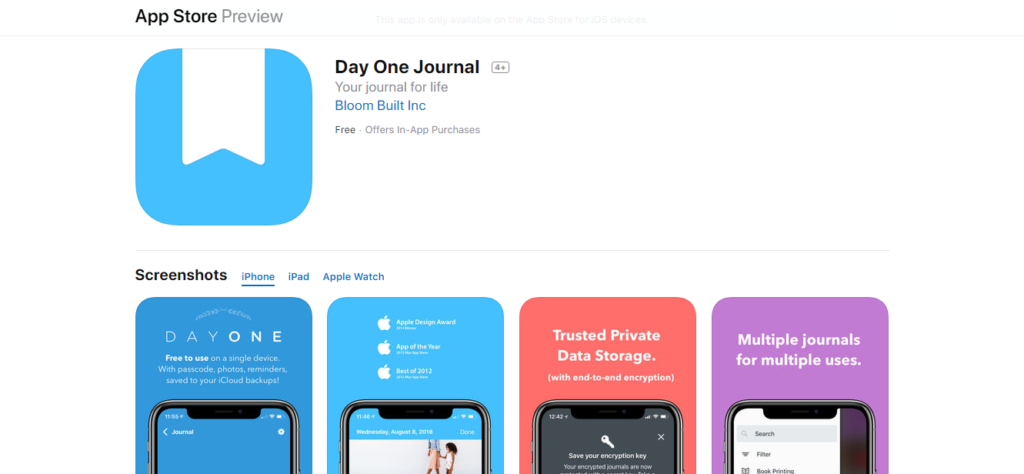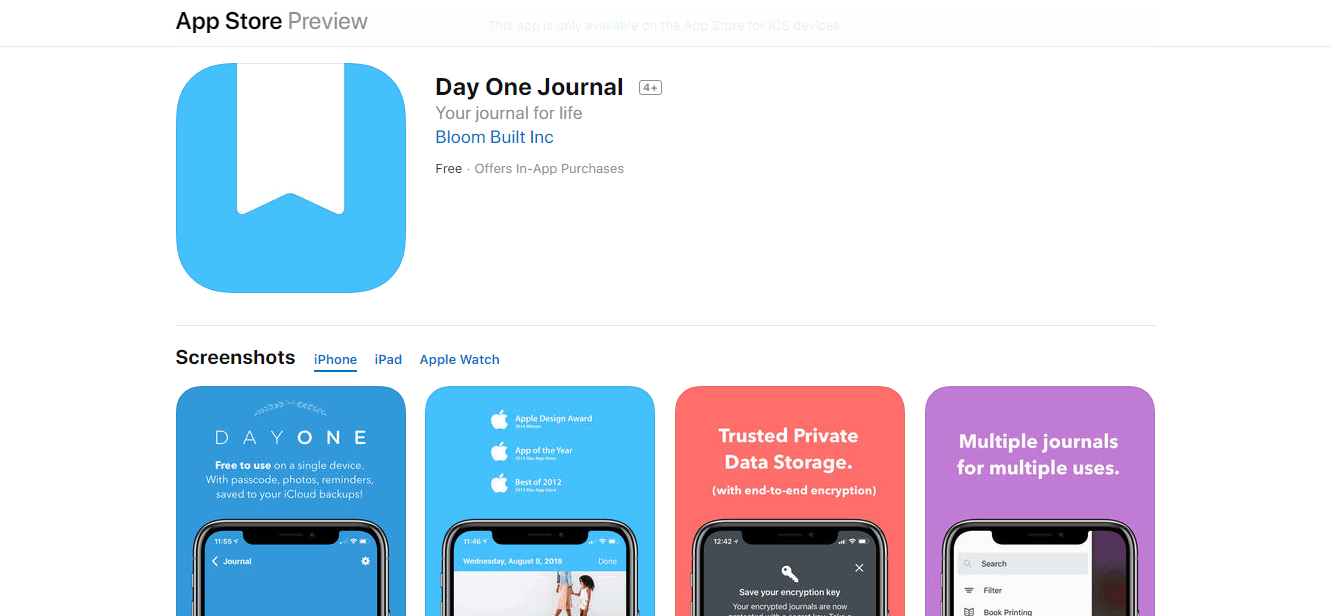 Day One Journal – is a platform for your personal journal. This app for iOS and Android appeared several years ago, but it is constantly developing and becomes smarter and more useful. Its UX design is really outstanding. The user can identify their location and calculate the speed with which they move. One can also save a track that was playing at a particular moment. Such web resources can become excellent sources of inspiration for web designers.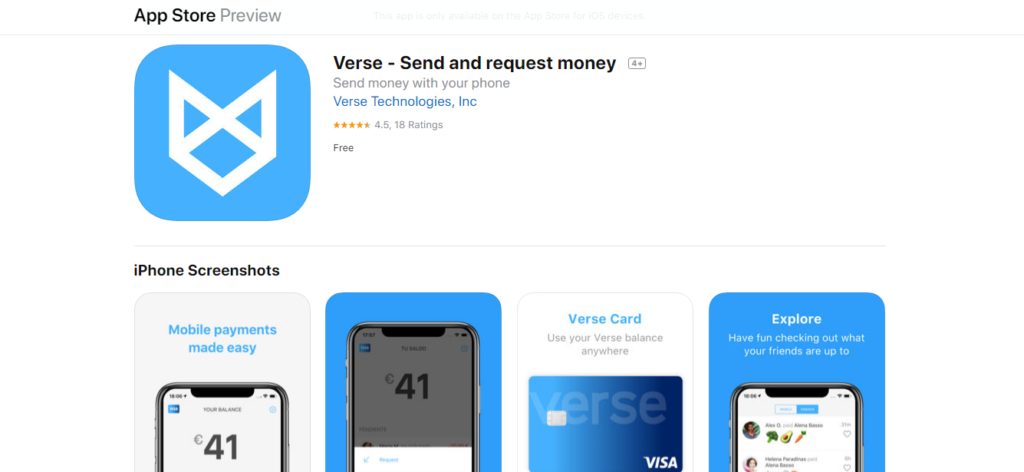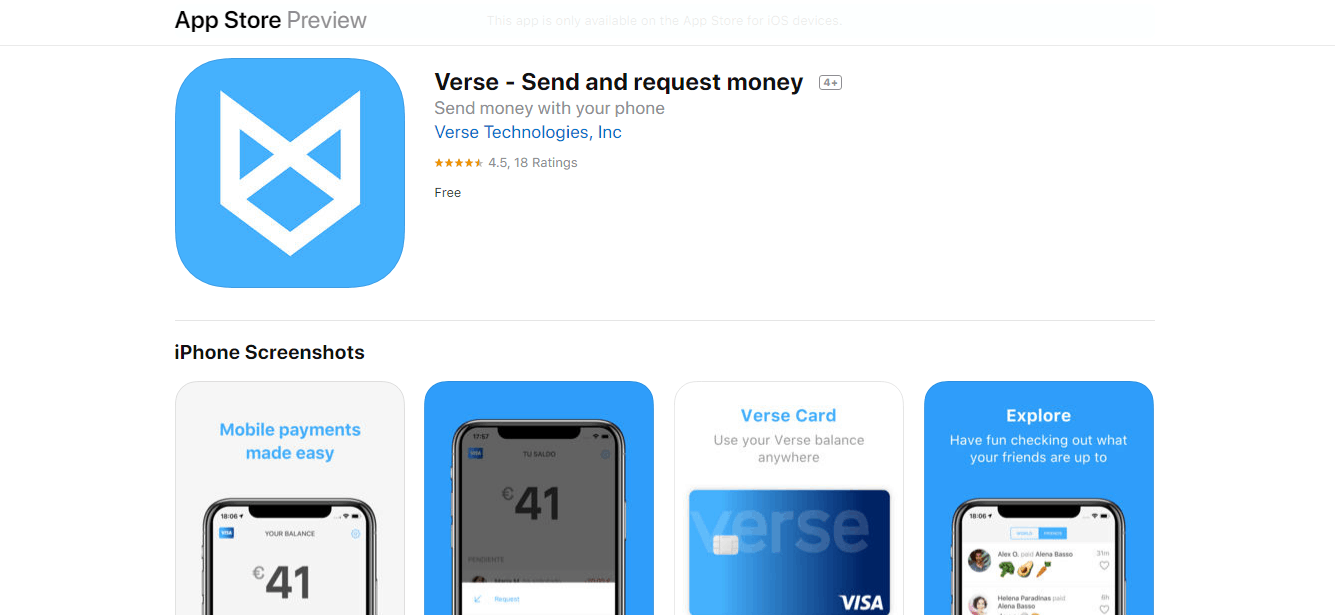 This mobile application is designed for payment operations. It can boast of its stunning UI design combining simplicity, elegance, clarity, and readable fonts. Monotonous colors and well-thought-out typography is a great solution for such applications. Please note that it is available both for iOS and Android.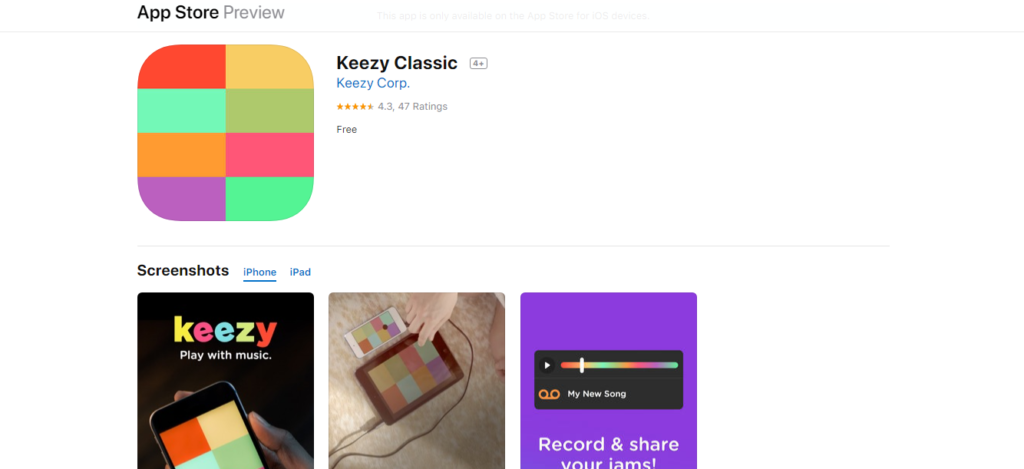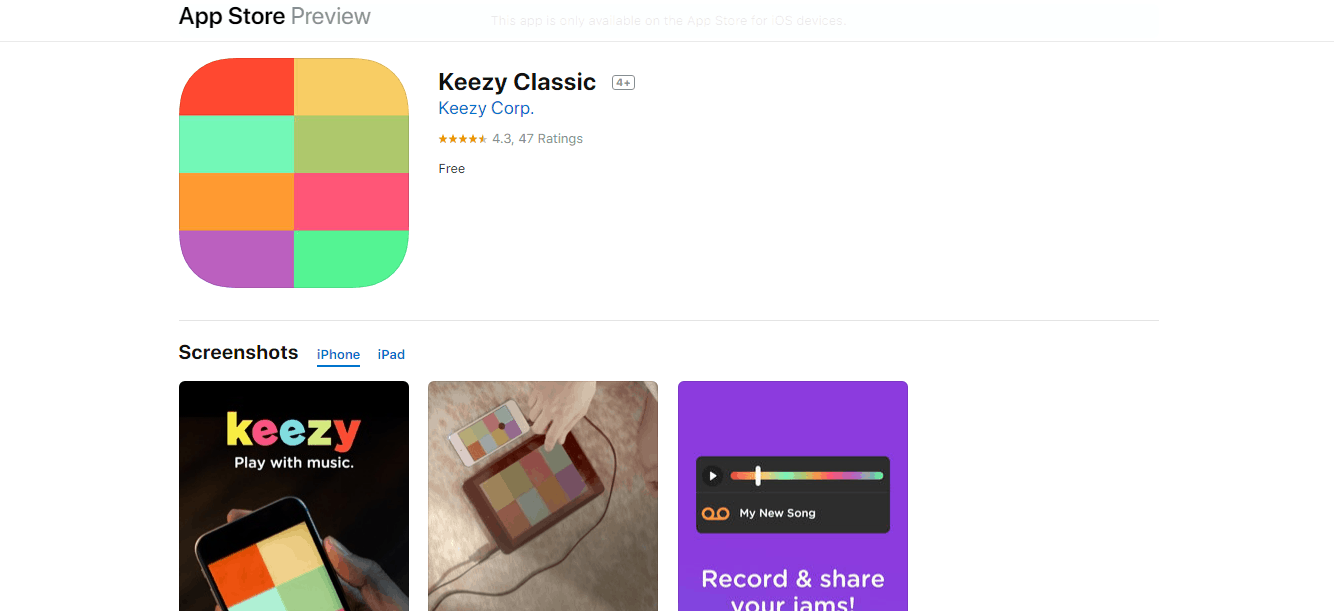 Keezy – is a mobile app for the iOS platform, which will help you have some fun with friends or kids. It is a musical game with an absolutely simple UI. This simplicity creates great UX as you do not need to get distracted by some random elements on the screen but just play and have fun instead. It would be great idea for designers to make more apps with such a simple interface.
Summary
We live in the digital world where a business can hardly live without a unique company website. It is the website design that can eventually become the main attraction for the potential clients. For this, web designers are constantly learning and study the user experience aspects in order to come up with the most effective solutions. Unfortunately, the knowledge itself is not enough, and web designers, developers, and marketing specialists may need some inspiration. We hope that with the help of our list, they will find it easily.
Websites that have been included into our list can help you kick start your work on new ideas, taking into account the latest tendencies. All of them are different, so everyone will be able to find what they need.
Apart from that, we have offered a list of 10 mobile applications with the best UI, which can be used as examples for inspiration. As building an efficient and at the same time beautiful web application is not an easy task, come up with a simple and functional solution, which will be available both for iOS and Android rather than trying to achieve the ultimate originality.
FAQs:
How to get inspiration for web design?
However, it's not that easy to find the daily source of inspiration if you have to produce something new and captivating on the regular basis. In this case, a web designer could get some insights from the most popular and effective websites which have become trend setters and inspirational gurus in web design.
Where to get web design inspiration?
Inspiration for design could be found basically everywhere. Still, in the case of web design, the most effective way to get inspired is to discover new unconventional ways of creating websites by just looking at top level competitors.
What are the free web design inspiration sites?
As you might know, the best example is a good teacher, so in our article we offer an overview of 50 best websites for web design ideas.