Are you looking to increase your eCommerce sales and grow your online business? Then, look only at our list of the top 10 eCommerce marketing agencies. These skilled teams specialize in all parts of eCommerce marketing, from website design and SEO to email campaigns and social media advertising. Their purpose is to assist you in increasing website traffic, conversions, and, eventually, money. These organizations offer the knowledge and experience to take your eCommerce game to new heights, whether you're just starting out or looking to overhaul your existing plan.
What is an eCommerce Marketing Agency, and How Can It Help Businesses?
eCommerce marketing agencies are essential for online businesses wanting to grow revenue and brand visibility. Website design and development, search engine optimization (SEO), pay-per-click (PPC) advertising, email marketing, and social media marketing are just a few of the services offered by these experienced teams.
eCommerce marketing services' purpose is to assist businesses in resolving issues such as low website traffic, low conversion rates, and a need for brand awareness. eCommerce marketing services may increase website traffic, enhance conversion rates, and ultimately drive revenue development by developing a comprehensive digital strategy targeted to the specific needs of their clients.
According to Neil Patel, Founder of Neil Patel Digital, eCommerce marketing agencies play a critical role in assisting online businesses in achieving their goals by establishing tailored strategies that focus on driving traffic, increasing conversions, and eventually growing income.
In addition to these fundamental services, eCommerce marketing agencies provide ongoing assistance and analytics to guarantee that their clients' digital marketing activities are as effective as possible. As a result, they can assist businesses of all sizes to reach new heights in the eCommerce sector thanks to their skills and experience.
List of the Best 10 Ecommerce Marketing Agencies
The eCommerce marketing agencies below are full-fledged teams that provide their services online. These agencies have great experience in the eCommerce domain and do their work in the best way.

Kobe Digital is an eCommerce marketing agency that offers a wide range of services to help businesses achieve their marketing goals. The agency has a unified team of experts that specialize in performance marketing, design, and video production. The team is made up of both high-level strategists and subject matter experts from diverse marketing specialties, which allows them to provide innovative solutions to every stage of the process.
Kobe Media, a division of the eCommerce agency, specializes in deploying social media, search, display, video, programmatic, and email campaigns that connect brands with audiences to generate sales, leads, and interest. They have a diverse team of experienced marketing professionals that includes both holistic campaign strategists and focused platform specialists. This allows them to develop bespoke media solutions for every client that are as effective as they are innovative.
Kobe Design, another division of the eCommerce marketing agency, creates brand identities, websites, and apps that blend stunning design and functional efficacy to help organizations achieve their key business objectives and stay ahead of the curve. They use a cross-disciplinary approach that supports organizations through digital transformations, creating connective tissue between online properties, marketing, and operations.
Kobe Studios, the last division of the agency, helps brands tell stories online through thoughtful video content that is created with specific, measurable business objectives in mind. The objective-driven approach informs every aspect of production, from ideation of the initial concept, to scripting and pre-production, to final editing. The result is optimized video assets that fulfill specific intended use cases, whether that be maximizing return on ad spend, boosting customer engagement, or achieving viral notoriety.
The eCommerce agency has worked with several eCommerce companies, including Leica Camera AG, TeleSign Corp., SurveyMonkey, and AT&T Center. They have helped these companies reimagine their direct-to-consumer ad campaigns and diversify their distribution strategies, develop authoritative brand identities and reimagined online presences, and promote their newest products through testimonial feature videos.
Client reviews:
SurveyMonkey had this to say about working with Kobe Digital: The team at Kobe Digital was able to take our objectives and turn them into a compelling story that resonated with our target audience. Their ability to understand our brand and message was evident in the final eCommerce product.
AT&T Center, had this to say: The team at Kobe Digital was great to work with. They were able to understand our needs and develop a video that effectively showcased our products and services. We would definitely work with eCommerce marketing agency again.
Disruptive Advertising is an eCommerce marketing agency that partners with clients to create a unique and authentic marketing strategy to achieve their business goals. The agency's team consists of a marketing strategist who works closely with a team of expert marketers in paid search, paid social, email, SMS, website and conversion rate optimization, end-to-end analytical tracking, and creative design. To date, the agency has over 1,000 positive reviews and manages $450M+ in eCommerce digital advertising budgets annually. The company also has 50+ local and national awards highlighting their industry dominance.
The agency's services include solution-based marketing, Google Ads & Facebook Ads, site experience testing, lead nurture marketing, and analytics audit. They also provide PPC efforts through Google Ads & other paid search, social media marketing, email/SMS/chatbot services, website & conversion rate optimization, and creative assets. They also offer analytics and revenue reporting by integrating platform tracking, marketing analytics, and CRM with their end-to-end tracking solution.
Disruptive Advertising works with a variety of eCommerce companies, but they turn away 9 out of 10 companies that reach out to them. They have been named to MountainWest Capital Network's 2022 Utah 100 and The Manifest has highlighted them as one of the most reviewed SEM agencies in the world.
The marketing agency's clients include B2B and eCommerce companies such as Disruptive Advertising Named to MountainWest Capital Network's 2022 Utah 100, and B2B companies such as The Manifest Highlights Disruptive Advertising As One of The Most Reviewed SEM Agencies in The World
Reviews:
Disruptive Advertising is a top-notch eCommerce marketing agency that has helped our business grow significantly. Their team is highly skilled and dedicated to delivering results. They provide valuable insights and expertly manage our PPC campaigns. We highly recommend them to any business looking to increase their online presence. – CEO, Honey Bee Stamps Melissa Hewitt

KlientBoost is a performance marketing agency that focuses on driving growth for their eCommerce clients through a combination of channels such as paid advertising, SEO, email marketing, and CRO. The company is based in California and has a team of experienced professionals who help clients reach their marketing goals, from small businesses to big brands. The CEO and founder of KlientBoost, Johnathan Dane, has a wealth of experience in the industry and leads a team of experts who work to stay ahead of the curve in the fast-paced world of digital marketing for eCommerce website.
KlientBoost has various eCommerce clients from various industries, including gas utilities, eCommerce, and more. Airbnb, Care.com, Stanford, SAP, Segment, Brinks, Fashionphile, Juniper, Hotjar, Upwork, AdEspresso, Lytx, Wunderkind, and Justworks are some well-known clients. The agency has a proven track record of success and has published over 617 client wins. They work with each client to understand their unique needs and develop a custom marketing plan tailored to their eCommerce goals.
BaseCRM and Miedge are two clients who have worked with KlientBoost and had good eCommerce experiences. BaseCRM was acquired by Zendesk and credits KlientBoost for helping them to achieve their goals and grow their business. Miedge was also bought by Zywave. KlientBoost's performance metrics and way of marketing impressed Zywave. KlientBoost's unique approach to marketing, which includes their BoostFlow system and commitment to results-driven eCommerce strategies, has made them a trusted partner for companies that want to drive growth and reach their marketing goals.
For another client, KlientBoost has helped to make a 67% increase in leads and improve lead quality.
Review from Quartzy:
They've done a great job. We've seen excellent results.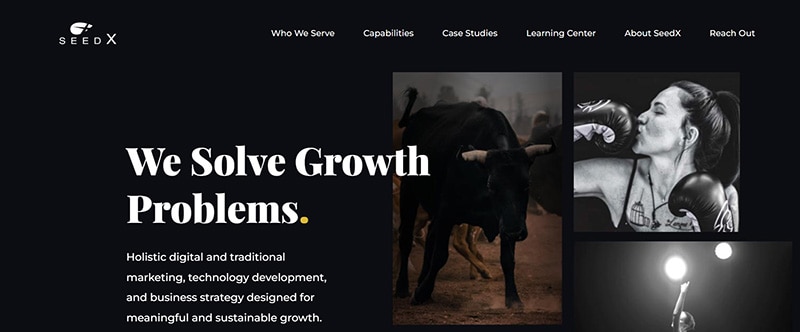 SeedX is a marketing and strategy consultancy that helps firms align their marketing and growth goals across digital and conventional marketing channels. The company was founded in 2016 and has swiftly become an industry leader by executing award-winning campaigns across the United States and the globe. The team at SeedX is made up of experienced individuals with a wide range of abilities, including eCommerce UX/UI design, graphic design, ad and social media creative production, email marketing, lead generation, SEO, site development, and much more.
The agency has a history of helping clients in B2B, eCommerce, Direct Consumer, Consumer Product Goods/Retail, Software/SaaS, and Non-Profit Organizations get results. Their services include end-to-end creative, technological, and strategic management, client-specific custom solutions, and exact performance and revenue-driven metrics for measuring results.
SeedX has received numerous accolades and awards, including being named one of Forbes' 30 Under 30 Top Innovators in Marketing and Advertising, Clutch's #1 Women-Owned Digital Agency, and one of AdWeek's Fastest-Growing US Ecommerce Agencies.
SeedX has collaborated with a number of notable corporations, including Procter & Gamble, eBay, PayPal, and American Express, to mention a few. Their case studies demonstrate how they assisted their eCommerce clients in achieving their growth and marketing objectives.
A software firm client stated, SeedX was important in helping us build and implement a complete digital marketing plan that has helped us to expand our business and reach new customers.
Another client, a retailer, stated: The SeedX staff is smart, innovative, and results-oriented. They have helped us increase our web presence and generate sales.
SeedX is a leading eCommerce marketing agency that helps businesses develop and prosper in a highly competitive marketing environment. SeedX is a reliable partner for businesses with marketing and expansion objectives. They have a team of seasoned professionals, a track record of getting results, and a commitment to the success of their clients.

Absolute Web is a full-service eCommerce marketing agency that provides brand-tailored digital marketing solutions to its clients. With over 70 professionals on the team and offices in Miami and Los Angeles, the agency has been in business since 1999 and has launched over 900 successful projects. The eCommerce company specializes in paid media, email automation, conversion optimization, content production, affiliate marketing, and SEO. The agency is data-driven and aims to help businesses increase their online revenue, engagement, and conversions through effective marketing strategies.
The team at Absolute Web provides eCommerce services such as Google Ads marketing, email marketing and automation, IG and Facebook marketing, content production, social media management, and reputation management. They have expertise in eCommerce development and management, as well as marketing, design, creative, and content production.
The eCommerce marketing company has a strong track record, with a 92% average conversion rate increase and 124% average traffic increase, according to their numbers. They have worked with eCommerce brands such as Cheney Brothers, Capezio, CC Homes, Spirited Gifts, BHFO, Athena Club, Jenny Yoo, and Focus.
Two clients have given glowing reviews of their experience with Absolute Web.
One client said, "The team at Absolute Web is simply amazing. They have helped us increase our online revenue and engagement significantly through effective digital marketing strategies."
Another client stated, "We highly recommend Absolute Web to any business looking to grow their online presence. They are experts in their eCommerce field and provide exceptional customer service."
Absolute Web is a reliable and effective eCommerce marketing agency that can help businesses grow their online presence and revenue. With a strong focus on data-driven solutions and a team of experienced professionals, the agency is equipped to provide top-notch marketing services to its clients.

Ecommerce Marketing Agencies Lilo Social is a leading agency that helps ecommerce brands scale by bringing together data-driven decisions and creativity for a full-funnel marketing approach. They offer a wide range of services, including creative solutions that establish brand identity, engage consumers, and drive traffic. They also specialize in paid media, website design and optimization, email and SMS marketing, and more.
One of the key strengths of Lilo Social is their ability to work as a true in-house partner for their eCommerce clients. They have a track record of helping to engineer high-performing strategies to scale brands profitably. Their portfolio includes companies such as Cheribundi, Bearaby, Kjaer Weis, and PEZ Candy. These eCommerce brands have seen significant growth and success thanks to the efforts of Lilo Social.
The eCommerce marketing agency has a proven track record of success, having generated $44M in trackable revenue across their portfolio and achieving an average yearly growth rate of 230% across their clients. Additionally, they have been able to increase ROAS by 90% compared to previous results.
Lilo Social has received glowing reviews from their eCommerce clients. Doug Bernstein, VP of Social at 01, praised the agency for creating amazing experiences and always delivering on time. He added that working with Lilo felt like working with a true partner, not just a vendor. Similarly, Sarah Bishop, VP of Marketing at NYC FC, praised Lilo for becoming a fantastic extension of her internal team and a trusted partner in her daily work.
Ecommerce Marketing Agencies Lilo Social is a leading agency that helps ecommerce brands scale by bringing together data-driven decisions and creativity for a full-funnel marketing approach. They have a proven track record of success and have received glowing reviews from their clients. If you're looking to take your ecommerce brand to the next level, Lilo Social is the agency to work with.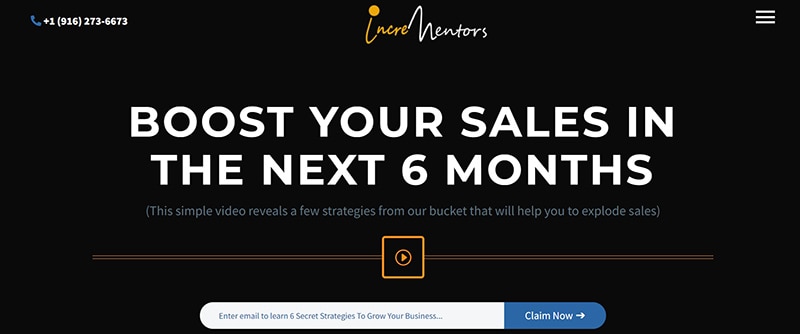 Incrementors is an eCommerce agency that specializes in helping businesses boost their sales. Their team is comprised of professionals with years of experience in digital marketing and their CEO is dedicated to providing custom services that are tailored to the specific goals of each business. Their mission is to help businesses connect with their customers across all digital touchpoints, providing targeted, highly relevant and personalized experiences that are audience-led and data-informed.
Incrementors has a track record of delivering results for their eCommerce clients. Some of the companies they have worked with include Plumbingowners, Nopigneva, Studiomoxieartchitects, Launchmodule, and Mygration. These eCommerce marketing companies have seen significant increases in their keyword positions, organic revenue, sessions, and conversion rates, thanks to the strategies implemented by the agency.
One satisfied customer,
Plumbingowners.com, had this to say about his experience working with Incrementors: Incrementors helped us increase our keyword position by 350% in just 6 months. Their team is highly professional and they really understand the needs of our eCommerce business. I would highly recommend them to any business looking to improve their online presence.
Another customer, Nopigneva, also had positive things to say about the agency: I was skeptical about working with an eCommerce marketing agency, but Incrementors exceeded my expectations. They helped us increase our keyword position by 2354% in just one year. They are truly experts in their field and I am grateful for the results they delivered.
Incrementors is a results-driven agency that specializes in eCommerce marketing. Their custom services and focus on ROI have helped them deliver significant results for their clients, and they have a proven track record of turning visitors into paying customers. If you're looking to take your eCommerce business to the next level, Incrementors may be the marketing agency for you.

OuterBox, Inc. is a full-service digital marketing agency with 18+ years of experience and a team of over 90 professionals. Based in the US, they offer an extensive range of digital marketing services, including SEO, paid search marketing, Google Ads management, eCommerce website design, and email marketing. Their goal is to help companies increase sales and grow online by providing a cohesive approach to their online marketing.
The eCommerce marketing agency has a long list of satisfied clients from various industries, including B2B and B2C. They have been rated as one of the top SEO agencies by TopSEOS and named as one of the best by Design Rush and Clutch.
One of their clients, Heat Transfer Warehouse, a leading heat transfer vinyl supplier, praised OuterBox for their exceptional work in SEO and PPC campaigns, saying OuterBox has exceeded our expectations in SEO and PPC campaigns, driving more organic traffic and increased conversions to our eCommerce website.
Another client, Precision Signs & Graphics, a custom sign company, also had great things to say about the agency's eCommerce website design and digital marketing services. OuterBox has been a game-changer for our business. Their eCommerce website design has not only improved the look and functionality of our site but has also driven more traffic and sales. Their digital marketing strategies have taken our online presence to the next level.
OuterBox's mission is to deliver results-driven marketing campaigns that create long-term partnerships with their clients. They have a reputation for innovation and have a proven track record of delivering results through their online marketing services. Whether you're a start-up or a Fortune 500 company, OuterBox is the eCommerce marketing agency that can help your business succeed online.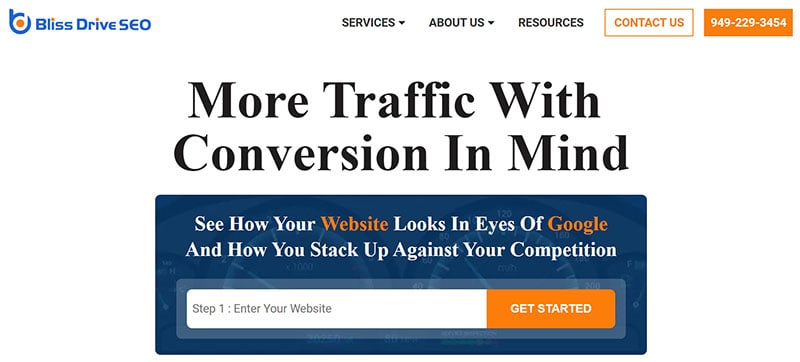 Bliss Drive, LLC is a full-service eCommerce marketing agency that helps businesses get ahead of their competition online. Their team of experienced digital marketing experts is led by a CEO who has over 50 years of combined experience in the SEO industry. Their services include SEO, website design, pay per click, and conversion rate optimization. They cater to niches such as eCommerce SEO, local SEO, and enterprise SEO.
Bliss Drive has worked with several well-known companies such as Displays & Holders and Strong Tie Insurance. They have seen a significant increase in their monthly and organic visits, resulting in a boost in sales and profits. Chris Aaron, the CEO of Displays & Holders, mentioned that the agency is professional, quick, and always on top of things. Jackie Mcintyre, the Director of Strong Tie Insurance, spoke highly of the agency's stress-free delivery of work and positive ROI focus.
Bliss Drive has received positive reviews from satisfied eCommerce clients, with one client stating that the agency helped increase their monthly visits by 244% and organic visits by 726%. Another client mentioned that the agency's services resulted in a 25-30% increase in sales and production.
Bliss Drive is located in two offices, in Irvine and Los Angeles. They prioritize responsiveness, stress-free delivery of work, and positive ROI for their clients. With their expertise and commitment to delivering results, Bliss Drive is a trusted partner for businesses looking to grow their online presence.

Digital Authority Partners is a leading eCommerce marketing agency that provides cutting-edge solutions to grow businesses. Their team of experts leverages data and creativity to offer a range of eCommerce services including SEO, fractional CMO, digital marketing, and PPC management. With a 95% client retention rate, the agency has a proven track record of delivering phenomenal growth to their clients. They have received numerous awards for their marketing excellence, including being named a Google Certified Partner and a Timmy Award Winner.
The eCommerce marketing agency specializes in the healthcare industry and has worked with prominent companies such as Athena Health, BlueCross BlueShield, and Omron. Their case studies show significant increases in revenue, app engagement, lead generation, site traffic, and keyword ranking for their clients.
Clients of Digital Authority Partners have nothing but praise for the eCommerce agency. Abhirup Bhattacharya, Head of Digital at Athenahealth, said that the team at DAP was instrumental in optimizing their editorial content and helping with complex SEO projects. Their expertise has resulted in a spike in organic traffic. Kaivan Dave, Head of Marketing at Complete Nutrition, also spoke highly of the agency, stating that the insights they brought to the table were invaluable.
Digital Authority Partners is a top-performing eCommerce marketing agency that has a reputation for delivering results. Their team of experts, focus on healthcare, and commitment to client success make them the agency of choice for businesses looking to grow through compelling marketing.
Conclusion
The world of eCommerce marketing is a highly nuanced and competitive space where influence and technology play a critical role in the success of an online store. The top eCommerce marketing agencies have earned their place by leveraging platforms such as Magento, Shopify, YouTube, and Instagram and keeping abreast of the latest trends and challenges in the field. The size of these agencies can range from minimum to multi-million dollar operations, and each brings its own unique set of skills and expertise to the table. Suppose you're looking to buy a successful eCommerce marketing campaign. In that case, it's important to specifically consider what each agency has to offer and to contact them to learn more about their services. In today's rapidly changing internet landscape, partnering with a top eCommerce marketing agency can help keep your online store ahead of the curve.