Are you tired of feeling lost in the complex and ever-changing world of website search engine optimization? You're not alone! Even experienced agencies find it a long and tedious process, with Google and other search engines constantly updating their ranking rules. But don't worry, and you don't have to become an expert yourself. Leave that to the professionals! However, as a customer seeking SEO services, it's important to clearly understand what work is being done and the results achieved. That's where SEO reporting tools come in. These powerful tools allow experts and agencies to track and analyze their progress, giving valuable insights into your website's performance.
In this article, we're excited to share the top 16 SEO reporting tools for agencies. Whether you're just starting or looking to improve your existing strategy, these tools will help you stay on top of your game and achieve the desired results. So say goodbye to uncertainty and hello to a ? successful SEO campaign!
What to Look for in SEO Reporting Tools?
There are too many SEO reporting tools for agencies and companies of all sizes. How to choose a proper SEO reporting tool for your agency? Here are eight basic requirements for SEO reporting tools:
Accurate & current regional data
Integration with third-party tools
Scalability
Robust suite of features
Customizable reports
White Label
Cost-to-value ratio
Automation
SEO reporting tools for agencies that we will discuss below correspond to these 8 requirements.
Maria Garache, Market Research Coordinator in White Shark Media:
A well-developed SEO report must match the strategic objective. The components to consider in an SEO report are ranking, domain ranking, organic keywords ranking, exposure, traffic, and conversions.
List of the best 16 SEO reporting tools for agencies
Our SEO reporting tools for agencies list consists of 16 tools. All these tools have different advantages and disadvantages when used inside the agency. Nevertheless, all of them are worth your attention.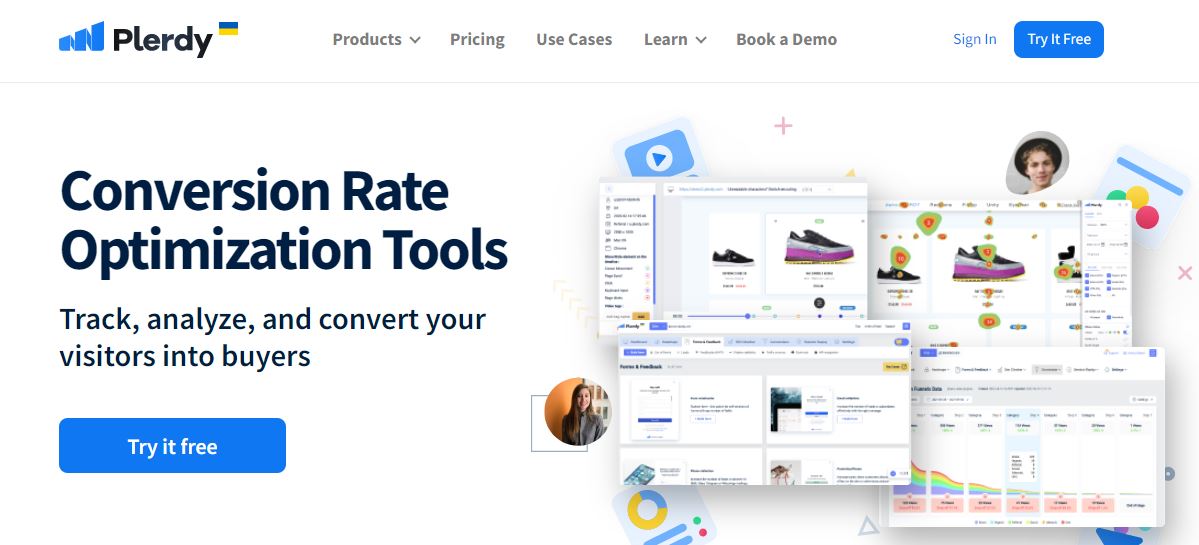 Plerdy is a SaaS solution for comprehensively increasing website or online store conversion rates. It consists of data collection and processing tools, full-fledged analysis, analytics, and reporting. Plerdy offers:
Heatmaps
Visitors' session recordings
Pop-up forms
SEO-checker
Events and goals
Conversion funneled
Ecommerce tracking
Plerdy's SEO-checker is a great tool for agencies of all sizes. Plerdy SEO-checker allows you to quickly assess the SEO quality of your webpage/website without putting any strain on it. You can monitor the effectiveness of these changes and respond actively if they are incorrect or accidental, thanks to the unique functionality of comparing current and previous data.
Plerdy tools are popular among agencies because they save SEO experts 30 hours per month, UX designers 20 hours per month, Digital Marketing Experts 10 hours per month, and Analysts 10 hours per month. Plerdy is used by Subaru, Prom, Honda, Samcart, Ukrposhta, and hundreds of other companies around the world for CRO and SEO reporting.
Marco Santarelli, CEO at Norada Real Estate Investments:
The reporting format takes a little getting used to but once comprehended, SEO reporting is straightforward and extremely valuable.
It is an SEO multiplatform that allows you to work with local search optimization, SEO auditing & monitoring, SEO content & rankings. SEO reporting with SE Ranking includes competitor analysis, data visualization, custom reports, and White Label. With SE Ranking's report generator tool, you can create an SEO report in 15 minutes. Orange Squash Agency, Social Beans, Notch Content, Mynewsdesk, and Rankingdoc use it for proper SEO reporting.
Oleg Shirvanyan, SEO Expert at Netrocket:

It is a fantastic SEO tool for monitoring your project inside the agency.

Metrics Watch provides Google Analytics email reports and real-time alerts. It is an excellent reporting tool for government agencies. It works with Facebook Ads and Pages, Google Ads and Analytics, Instagram, LinkedIn Ads, and a variety of other services. It is used by Spotify, EA, Greyhound, Lindt, Onvista, and hundreds of other businesses.
Jordan Sok, Owner at OneTeam Marketing Solutions:

I like this SEO tool for tracking who is engaging and who isn't, so I know how to target.

Whatagraph has over 30 reporting tools that any agency could use. This is why Whatagraph is regarded as one of the most effective reporting tools. It integrates with Ahrefs, Microsoft Ads, Salesforce, HubSpot, Criteo, Simplifi, AdRoll, CallRail, and dozens of other services. It also offers over 20 templates for different types of reports. Agencies like FIFTEEN, Uptick, SmartAge, Bastarda, and Somention trust this SEO reporting tool.
Matt Garrett, Business Systems Manager at Thrive Internet Marketing:

The support team is excellent, but the product feels rushed.

This SEO reporting tool was created especially for marketing agencies, allowing them to automate reporting in minutes. With it, agencies can create customizable dashboards and reports that connect all the data in one place. It has over 70 Integrations with SEO, PPC, social, email, review, and call-tracking platforms. Over 6000 growing agencies use this SEO reporting tool, including Dentalfone & Letitbelocal, Bonfire, CLIX, ClearWater, and Bonafide.
Cody Loll, Marketing Specialist at Foamulate Marketing:

The dashboards at Agency Analytics help me have all my data in one place, and scheduled reports are a godsend.

This is one of the most effective SEO reporting tools. It has over 20,000 users from more than 80 countries and provides over 200 report templates for any goal. Octoboard's cross-channel templates cover every scenario. It also provides White Label client portals that are hosted on your website. It can be easily integrated with BirdEye, Oracle, Yelp, Intercom, Freshdesk, and dozens of other platforms. Among its users are Hackernoon, IdeaSoft, MaybeWorks, VoyPost, and Ideamotive. Octoboard is an excellent SEO reporting service all agencies should pay attention to.
Shariy Ivan, copywriter at Artline:

My customers love to see SEO reports in Octoboard because they are easy to understand.

Klipfolio is an online platform for creating and sharing real-time business dashboards. It focuses on improving team efficiency and allows users to create visualizations from data. For example, users can create charts that integrate data from Google Analytics, Salesforce, and SQL databases to create unique business insights. Key features of Klipfolio include report annotations, integration of multiple data sources, multiple branding options, customization of data sources using REST, secure connection to the SQL database, and support for Excel, CSV, JSON, and XML files. HP, AT&T, Herman Miller, Sky, and American Red Cross use this tool for reporting.
Andrew Wadsworth, Data Scientist at IT Mooti:

This tool requires some level of expertise to use and get the most out of.

DashThis is an automated SEO reporting tool designed to help agencies save work hours and quickly create their reports. Your agency can easily integrate this SEO reporting tool with Adform, Keymetric, Marchex, Searchmetrics, Formstack, WebCEO, Brightcove, ClickMeter, and ComScore. It can be integrated with over 30 data sources; major players like the University of Oxford, DDB, KTM, Jelly, and Dagmar trust this reporting tool.
Vicky Sidler, Content And Digital Marketing Specialist at theContenTribe:

DashThis makes creating reports easy, and they are stunning.

Databox is an online reporting platform that helps you understand what's going on with your business by collecting all the KPIs, tables, and databases in one place. The service allows users to create analytical dashboards with data from multiple sources. The system is suitable for marketers, analysts, and company managers. Key features of Databox are mobile alerts, IP restrictions, multichannel dashboard presentation, custom metrics, events, statistics, and data modeling. Many agencies and businesses like these features. Among its clients are Virayo, Nextiny, Elenas, Toast, and AccuRanker.
Matteo Graceffa, Sales Marketing Officer at Ditta Graceffa:
I have tried Power BI, Tableau, and Google Data Studio, and I prefer Databox.

SEO Powersuite is an easy-to-use toolkit that has everything you need for SEO. It offers RankTracker, WebsiteAuditor, SEO SpyGlass, and LinkAssistant. Its SEO reports are white-label, customizable, and responsive, so they look great on any device. The automatic report mailer will deliver reports to customers on your schedule. Cisco, Heineken, Mastercard, Intel, and Nestle use SEO Powersuite and enjoy their choice.
Joseph Kahn, Chief Technical Officer and Director of SEO Operations at Hum JAM:

It is the most impressive suite of SEO tools to rank your content at the top!

Salient is used by agencies because it provides an entirely customizable, web-based reporting platform that allows users to conduct independent research. Agencies save time by using ready-made best practice reporting templates. The list of available integrations includes Snowflake, Vertica, MongoDB, Amazon S3, Amazon Redshift, IBM DB2, Teradata, SAP HANA, Sybase, Redis, and Databricks. Unilever, Julius Meinl, New York State Department of Health, Pabst, and Keurig DrPepper have chosen Salient among all the SEO reporting tools.
Tricia Ali, Administrative Coordinator (Business Analyst) at Coca-Cola:

I dislike the limit of only 5 fields of data in reporting, but in general, Salient is genuinely inside my list of great reporting tools.

Geckoboard is a web-based service for building transparent and effective dashboards that provide the team with the correct information, motivation, and KPI tracking. Agencies of all sizes can use Geckoboard to track the most critical metrics. It offers an API for creating custom widgets. Some of the 80+ integrations are RingCentral, SatisMeter, SendGrid, StatusCake, TeamCity, Trello, Twilio, Vimeo, and Wistia. Thousands of companies like Locus Robotics, Canada Goose, Hello Fresh, Airbnb, and Staffbase use it.
Peter Lalonde, Executive Member & Co-Chair at Pavilion:

It's the most accessible dashboard reporting tool I've ever used.

Supermetrics is one of the most practical tools that help agencies accumulate data from various sources and add it to an analytics, storage, or reporting platform such as a data lake, BI program, data warehouse, spreadsheet, or data visualization program. It offers different solutions for SMBs, enterprises, eCommerce, agencies, and B2B SaaS. You can import data from over 50 sources: YouTube, AT Internet, Adform, Adjust, Adtraction, Affluent, Apple Public Data & Search Ads, AppsFlyer, Awin, Azure Synapse, Bambuser, Capterra PPC & Reviews, Criteo, and others. Teams of leading agencies and corporations use Supermetrics, including L'Oréal, Dyson, Disney, BBC, and Dogged Connection.
Danielle Verniece Duncan, Analytics Professional at IIH Nordic:

This reporting tool for agencies is convenient and overall easy, but the setup process could be refined.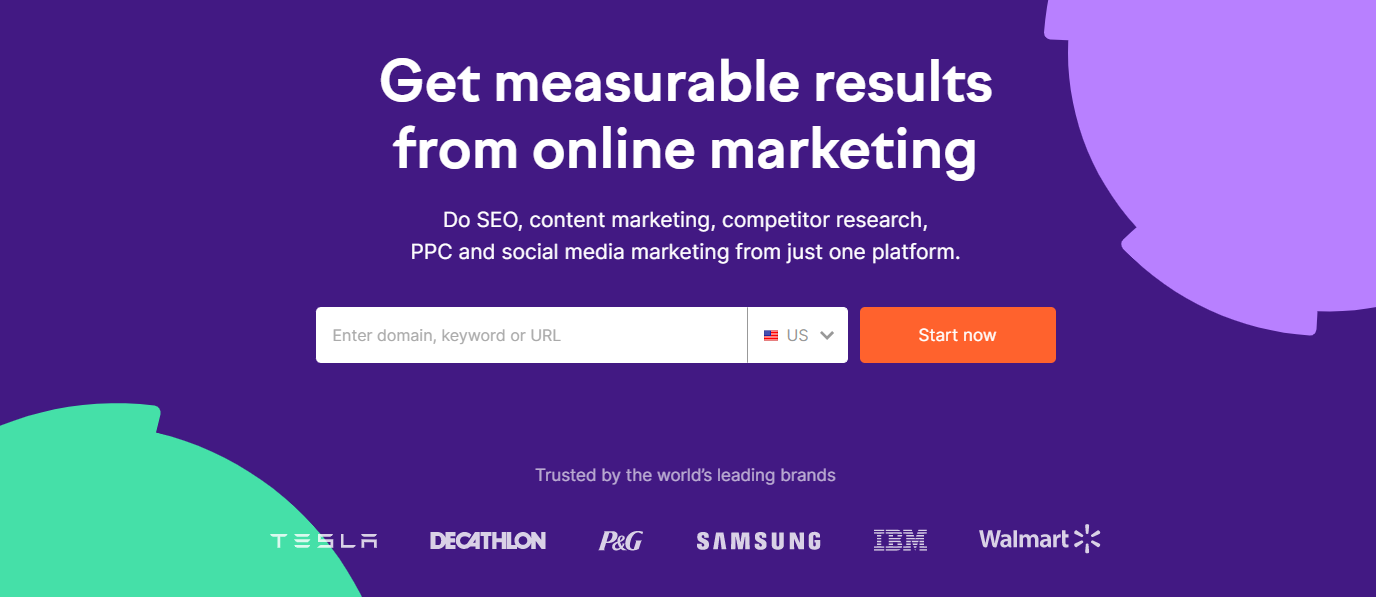 Semrush is a platform with many tools for comprehensive website promotion. It is one of the most famous tools among agencies, as proven by more than 10 international awards. Semrush is a multifunctional SEO software that can replace many equally good but narrowly focused tools. It provides users access to more than 40 SEO, PPC, and SMM tools, detailed reports on competitors, and integration via APIs with other services. The platform is actively used by representatives of large companies, in-house marketers of small businesses, agencies, and freelancers. It is used by at least 7 million marketers, including the employees of 45% of Fortune 500 companies. Minty, HoneyBook, Penta, LearnWorlds, and Ravenetto actively use SemRush and enjoy the process.
Julieta Birsa, Project Manager at Greater Than One:

I have no flaws whatsoever with Semrush because it is amazing.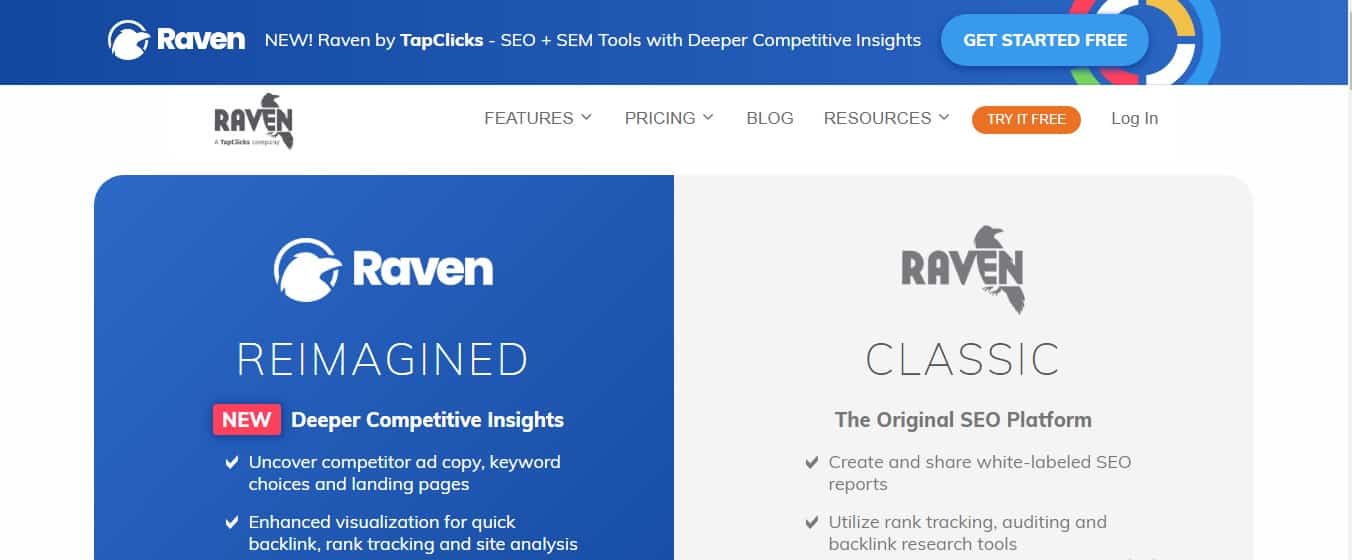 Raven Tools has over 30 online tools for practical website management and promotion. The functionality of Raven Tools includes generating reports on website performance and SEO optimization. Agencies like SEO reporting with Raven Tools because of high flexibility, integrations with rare services, and handy SEO promotion tools. It supports integrations with MailChimp, EMMA, AWeber, Bing Ads, and more. Trio, Gannett, Edelman, WG, and True North are Raven Tools users.
Troy Philis, Owner of TP Designs:
With it, I can create my reports faster, but they are of little lower quality due to the need for more flexibility of Raven tools.

Mangools is an SEO software with five robust and user-friendly SEO tools: KWFinder, SERPChecker, SERPWatcher, LinkMiner, and SiteProfiler. Its user-friendly UI makes it an excellent tool for beginners in SEO, as they will be able to understand better and learn. Agencies of different sizes use Mangools tools for SEO promotion of their clients and reporting. Alexa, Adidas, Backlinko, Skyscanner, and ContentHacker use Mangools tools.
Richard Perrin, Founder & Director at Paramark:
The Mangools tools are amazing, easy to use, and offer superior value for agencies.
Conclusion
SEO reports on the results of website promotion can be incomprehensible, lack all the metrics, be difficult to understand, and even discourage you from dialoguing with an SEO agency. However, as a business representative or even an owner, everyone needs targeted SEO traffic and will require explanations from the agency regarding reporting and progress. This list of the 16 best agency SEO reporting tools will help you find the right tool for your needs.