Website design is the design of all the graphic elements on a web page. Previously, the website design understood only the visual design, but now at the forefront is user convenience. So to the tasks of web designer were added analytics and good structuring of the information on the website. The most common questions regarding web design services:
What are web design services?
What are the benefits of website design services?
What are the types of website design services?
How much do web designers charge for their services?
How to order web designing services near me?
The main task of website design is to acquaint the user with the page. It facilitates the user's interaction with the website, which means a positive impact on conversion rates and behavioral factors. Thoughtful website design creates the right impression of the company.
A website is a marketing tool and representation of the company on the Internet. The client must find the necessary information quickly and easily. Otherwise, they will leave for a competitor. This is why many companies are ordering website design services from experienced agencies.
Top 10 Website Design Services
Below, you can find the top 10 website design services. All these agencies provide their website design services to clients from all over the world. At the same time, they work not only with famous companies but also with small ones.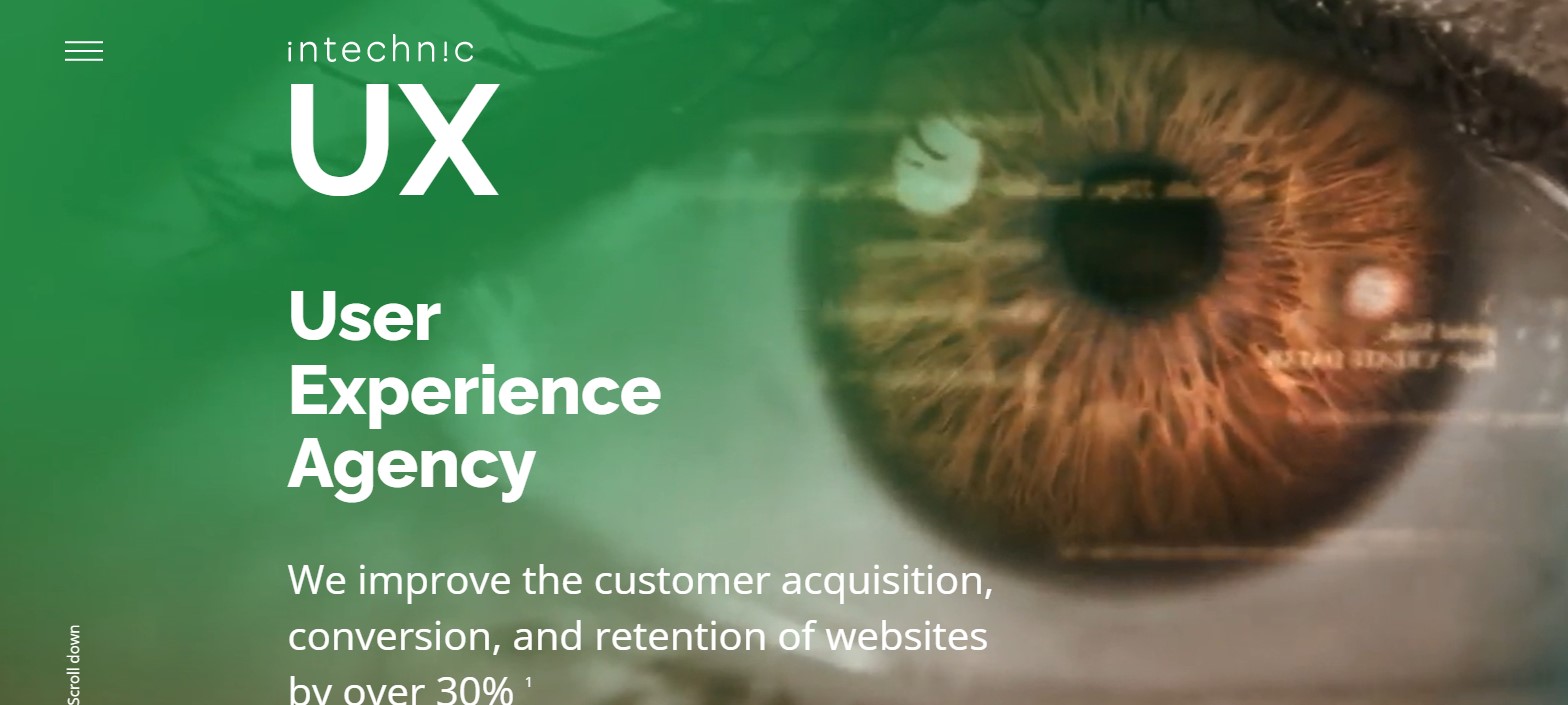 Intechnic is an experienced website design agency with over 1100 completed projects. It shows a 32% average KPI improvement. Andrew Kucheriavy is Chief Experience Officer – UX Strategist at Intechnic helping customer-focused companies increase sales an1d reduce costs by over 30%. Concordia Plan Services, Mbrico, Wheels for Wishes, Amalgamated Sugar, and Camping World used Intechnic`s services and enjoyed it. The office is in Chicago (IL).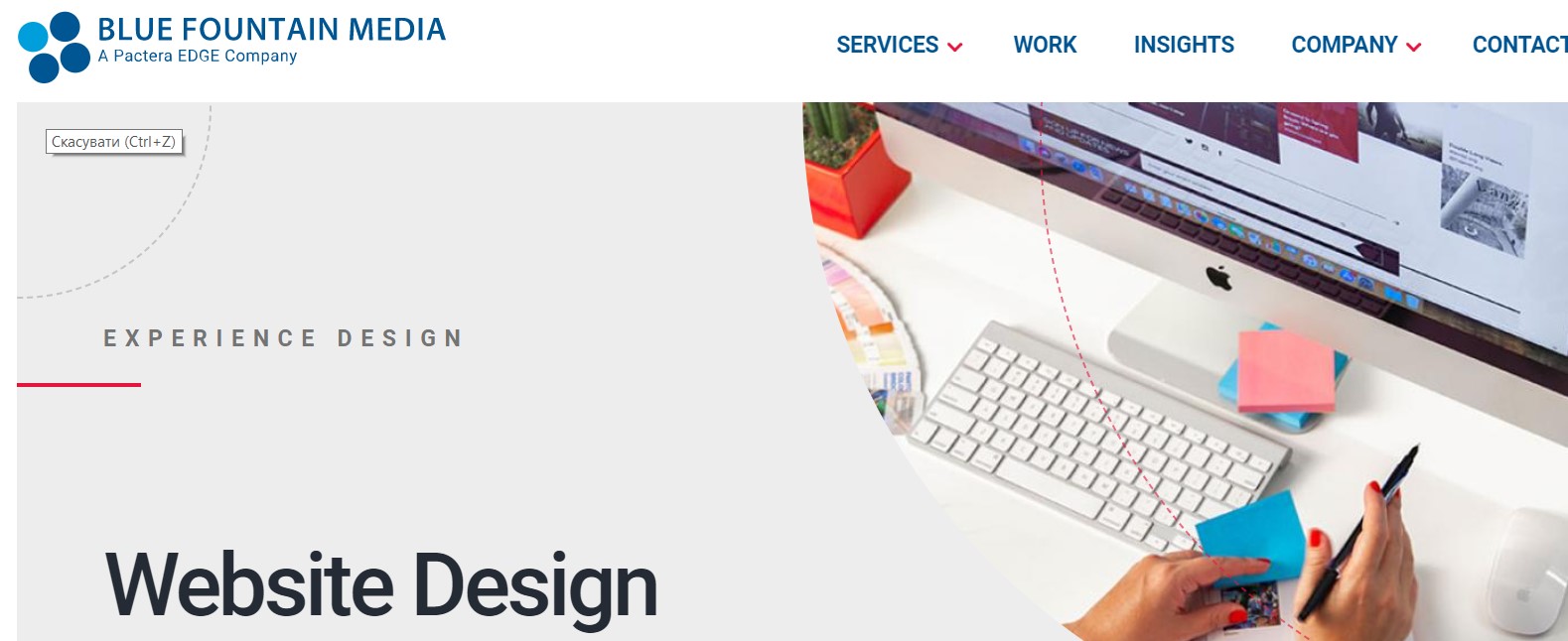 Blue Fountain Media is an agency that offers a wide range of services. It has the most experience in website design. The headquarters is in New York (NY), other offices are located in Redmond and Chicago. It worked with Microsoft, SONY, HAVI, NYU, and BAIRD.

Except for web design, this agency also provides a wide range of services (company branding, media buying, SMM, local search marketing) and has an office in Farmingdale. In its portfolio, you can find Couristan, GarageTek, Frankel Loughran Starr – Vallone LLP, Sofie Dossi, and Northbrook Contracting Corp. Andrew Ruditser is Co-Founder – Lead Technology Coordinator at Maxburst.

These experts are masters of complete brand solutions. Great expertise they have in website design development. Their office is located in New Orleans (LA). They have a lot of famous clients, for example, AUDI, Motorola, Deutsche Bank, Volkswagen, TOSHIBA. Trace Hayes is the owner of SKUBA Design.

CityTech Design offers quality web design, logo – branding, SEO – PPC services. Kosta Hristov is CEO/Founder of CityTech Design. Nova Languages, Charles Taylor Technical Services (CT Engineering), Searchific, AH Blackmore, and Litallia enjoyed their cooperation with CityTech Design. The office is in Wilmington (DE).

EIGHT25MEDIA was founded in 2011 and built over 500 websites for this time. Among their famous clients, you can find Aeva, Samsung, Hyundai Translead, Mary Kay, and IntelePeer. The office is based in San Jose (CA). Toby Lyons is VP of Sales at EIGHT25MEDIA.

Web.com offers expert web design that gives peace of mind. This service offers easy-to-use website builder tools that allow you to create your website yourself. It has several interesting awards and recognitions, for example, 2021 Stevie Bronze Award Category:
Business Technology. White Wagon Coffee Roasters, Long Island Nail Skin – Hair Institute, Top It Off Granite, Chorey – Associates Realty, and Kauai Island Destination Weddings enjoyed Web.com's website design services.

Lounge Lizard is a team of experts in brand strategy, website design, SEO, CRO, PPC management, and some other domains. Its clients are LOOP-LOC, Dylan's Candy Bar, Voss Events, WOW Media, and viLogics. It has several offices in different cities, some of them are located in Nashville (TN) and Holbrook (NY).

Mightybytes provides digital strategy, UX design, web development, and digital marketing services for all types of companies. In its case studies, you can find National Geographic Learning, DePaul University, KeHE, Alliance for the Great Lakes, and Court Theatre. Tim Frick is the founder – CEO of Mightybytes since 1998. Mightybytes` office is in Chicago (IL).

Big Drop has 34 agency awards, over 100 team members, and 5 global locations. It offers web design services of high quality. Moreover, it has made great collaborations with PayPal, Adobe, and Google. Trumid, Dataiku, Moroccanoil, Optimum, and The Ocean Cleanup are among Big Drop`s clients. Garry Kanfer is president at Big Drop while offices are located in Culver City (CA) and Miami (Fl).
Conclusion
Above are the top 10 website design services. All of them are reliable and have trust from famous companies. We hope our rating will help you find the best website design services.