Getsitecontrol is a service providing access to different popups for your website that has many alternatives. Getsitecontrol, as well as its alternatives, increases your website conversion, allows you to change the appearance of the popup, the conditions of its display and location on the website pages, conducts A/B testing, and provides statistics on performance. Using Getsitecontrol, you can:
Increase the number of orders.
Create a popup from scratch or use thematic templates.
Change popup image, size, color, and location on the website.
Customize the popup display terms based on the visitor's geolocation, device type, browser, language, ID, and behavior on the website.
Collect customer contacts with the form, conduct polls, inform about news and promotions, and subscribe to email and social networks.
Adapt the popup to the mobile device format.
Improve the usability of the website.
Conduct A/B testing for popups and find the most effective option by the number of impressions, clicks, and CTR.
Filter data based on the user's geolocation, device type, and period.
However, there are 10 alternatives to Getsitecontrol you should try. So now, let's discuss Getsitecontrol alternatives to help you choose the best out of them.
Best 10 Getsitecontrol Alternatives
These 10 Getsitecontrol alternatives are great tools for driving sales via popups. They cost differently, so you can be flexible when choosing Getsitecontrol alternatives.
#1. Plerdy Alternative to Getsitecontrol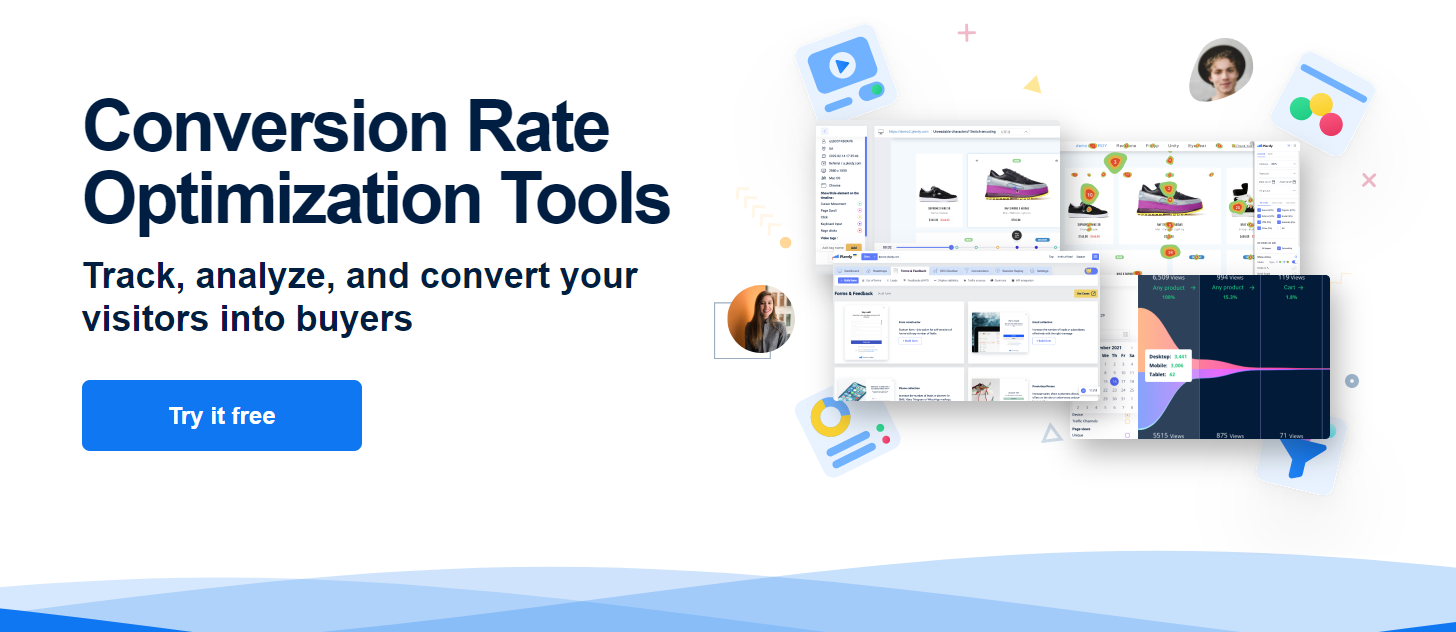 Plerdy is the best alternative to Getsitecontrol. With Plerdy, you can:
Conduct analysis of visitors to the website.
Improve the performance of the website.
Use a heat map of clicks and a video of how customers interact with page elements.
Create popup notifications.
Control SEO optimization of the website.
Analyze the effectiveness of sales.
Its clients are Subaru, Softserve, Prom, Honda, and Kyivstar. Andrew Chornyy is the founder, and his office is located in Lviv, Ukraine. You should consider this Getsitecontrol alternative because it is the most flexible among all of them.
#2. Privy Alternative to Getsitecontrol

Privy is an all-in-one tool offering popup marketing. You can quickly convert visitors to leads and customers with effective popups. Privy offers a dozen of popup templates to target website visitors. It works perfectly on all eCommerce platforms.
BBQ Rub Club, Mistfit Masks, WoodWoodToy, and WallKicks, use Privy to improve their sales. Their office is located in Boston (MA).
#3. Convertful Alternative to Getsitecontrol

Convertful is a platform that offers you to launch proven conversion solutions in less than 20 minutes. The most popular features of Convertful are:
Spin-to-Win Gamification
Scratch Card Gamification
Segmentation Surveys
Quiz Funnels
Welcome Video Pop-ups
Cart Abandonment Pop-ups
Welcome Discounts
Follow Coupon Boxes
Welcome Giveaway Contests
Its satisfied clients are NinjaSEO, SEO Agency Perl Lemon, Neil Patel, and IdeaSoft.
#4. Picreel Alternative to Getsitecontrol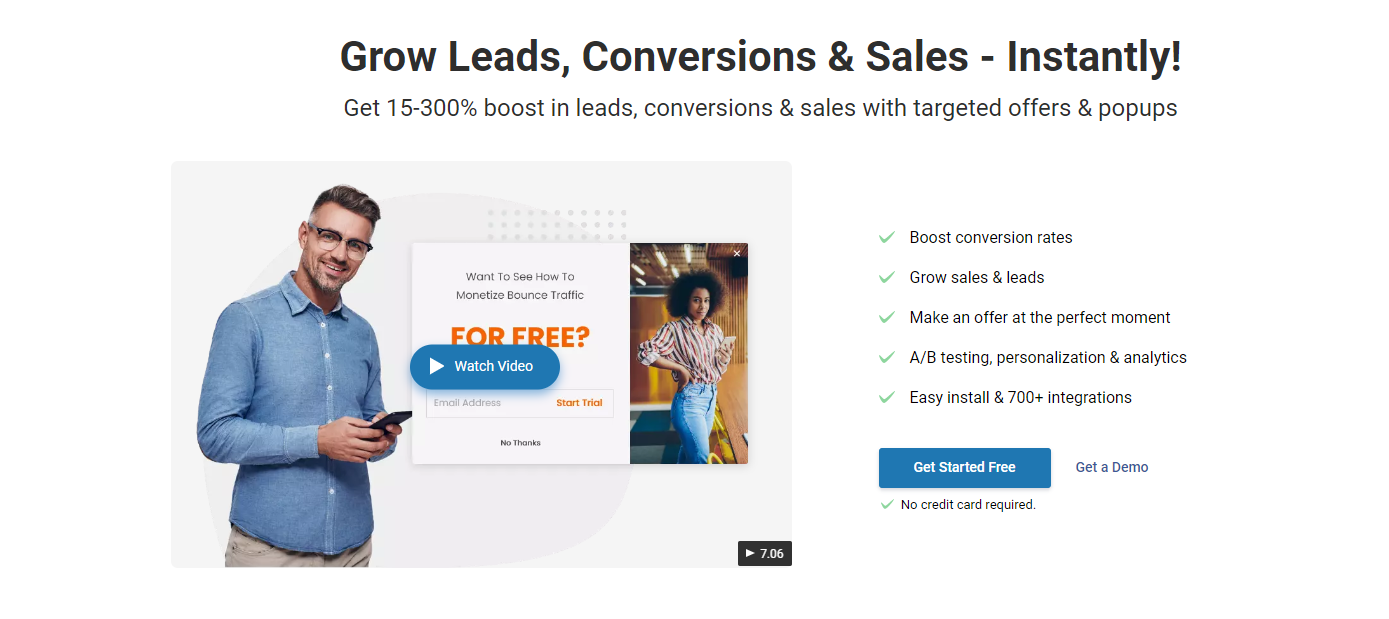 Picreel is a popular alternative to Getstitecontrol for conversion optimization and lead generation. Picreel is a SaaS marketing solution based on Exit Intent technology. It allows you to use cutting-edge technology to turn visitors leaving your website into buyers. You can use over 100 customizable popup templates to get started in minutes without any design/coding. It is used by Student Money Saver, Palo Alto Software, Deviate Labs, Evolvery, and Sapien Wallet. Head Office is in Santa Monica (California), and Regional Office is in Noida (India).
#5. Lead Pages Alternative to Getsitecontrol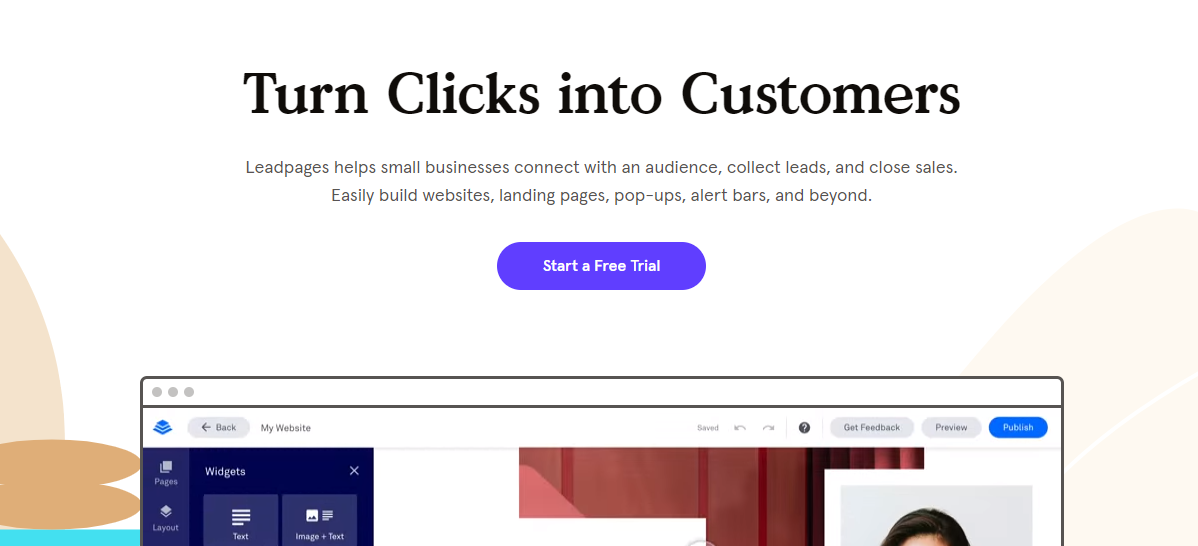 LeadPages is a Getsitecontrol alternative you should pay attention to. It offers various options for creating all kinds of landing pages and optimizing their performance.
You can create your template and complete it with A/B testing and conversion rate statistics. LeadPages provides additional features to optimize engagement, such as forms, buttons, popups, and registration pages. It is trusted by 40,000+ small business owners, including Amy Porterfield, Million Dollar Coach, and Jenna Kutcher.
#6. ConvertFlow Alternative to Getsitecontrol

ConvertFlow allows you to create, personalize and launch popups, forms, quizzes, and landing pages. It is used worldwide and is considered one of the best Getsitecontrol alternatives because of its wide range of functions. It is used by Cuddle Clones, Close.com, SeanWes.com, Nectar, Human, and Talk Space. Its offices are located in the United States of America.
#7. Poptin Alternative to Getsitecontrol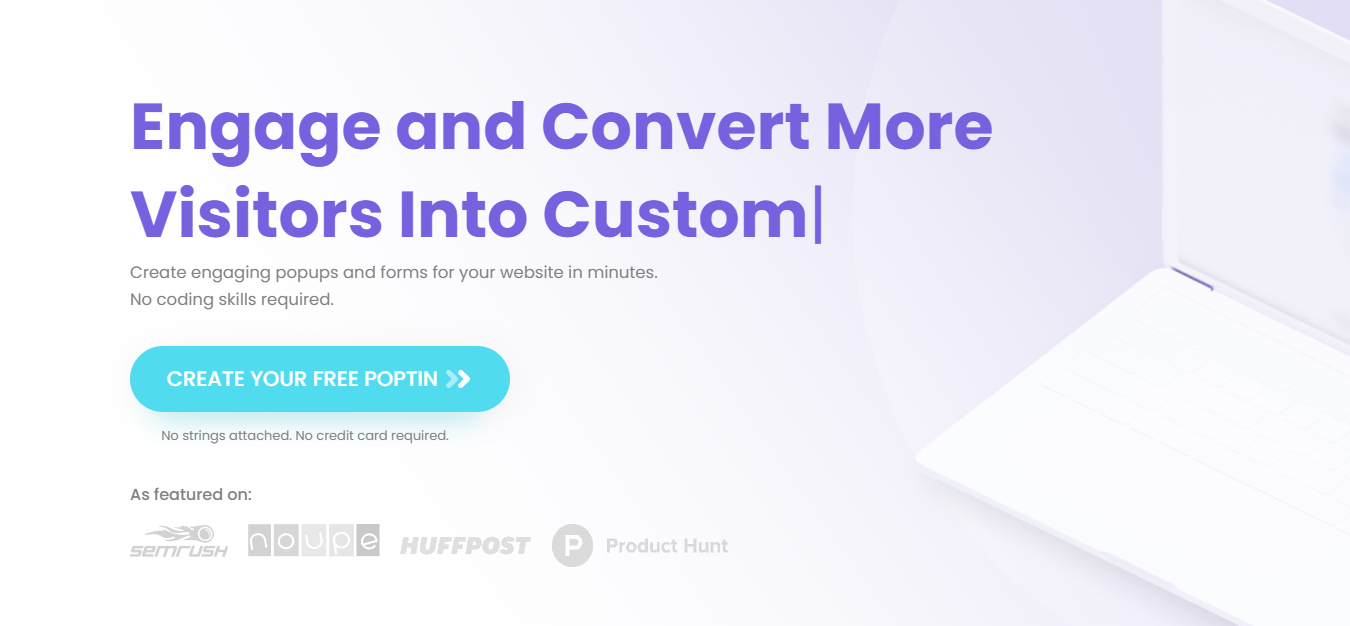 Poptin is one of the best popup generators for your website. With it, you can create beautiful popups, contact forms, and forms in less than 2 minutes. In addition, you can use exit popups and advanced targeting rules to convert more visitors into leads, subscribers, and sales. It is used by ClickCease, LP Marketing Services, Walls.io, Nepalpyramids, and FreshWorks.
#8. Unbounce Alternative to Getsitecontrol

Unbounce is a Getsitecontrol alternative you should pay attention to. It offers to create and optimize landing pages. The system allows marketers, advertisers, and designers to test landing pages before testing. It simplifies the entire process of building and publishing landing pages. Workshop Digital, Cefion, and BaksDAO used Unbounce to drive their sales with popups.
#9. Qualzz Alternative to Getsitecontrol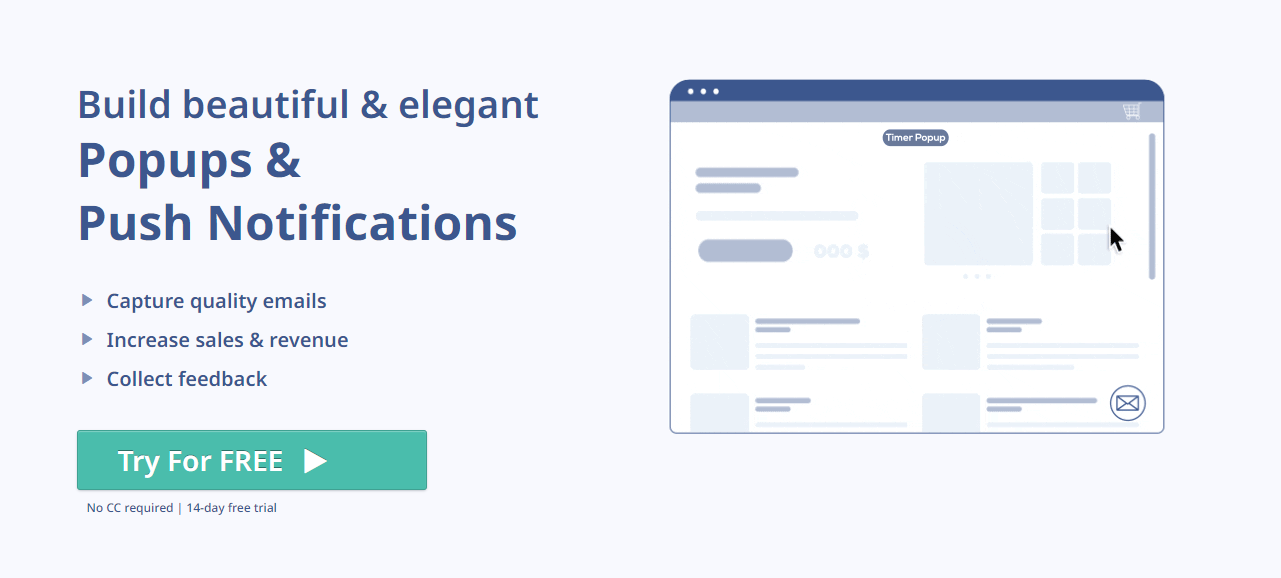 Qualzz is a platform for creating popups and push notifications. With it, you can capture quality emails, increase sales & revenue, and collect feedback. You only need to select a template, design it, and schedule it for publishing. Startuptechunleashed.com, AtoZ Markets, Clappia, and Aweber enjoyed this popups platform.
#10. Outgrow Alternative to Getsitecontrol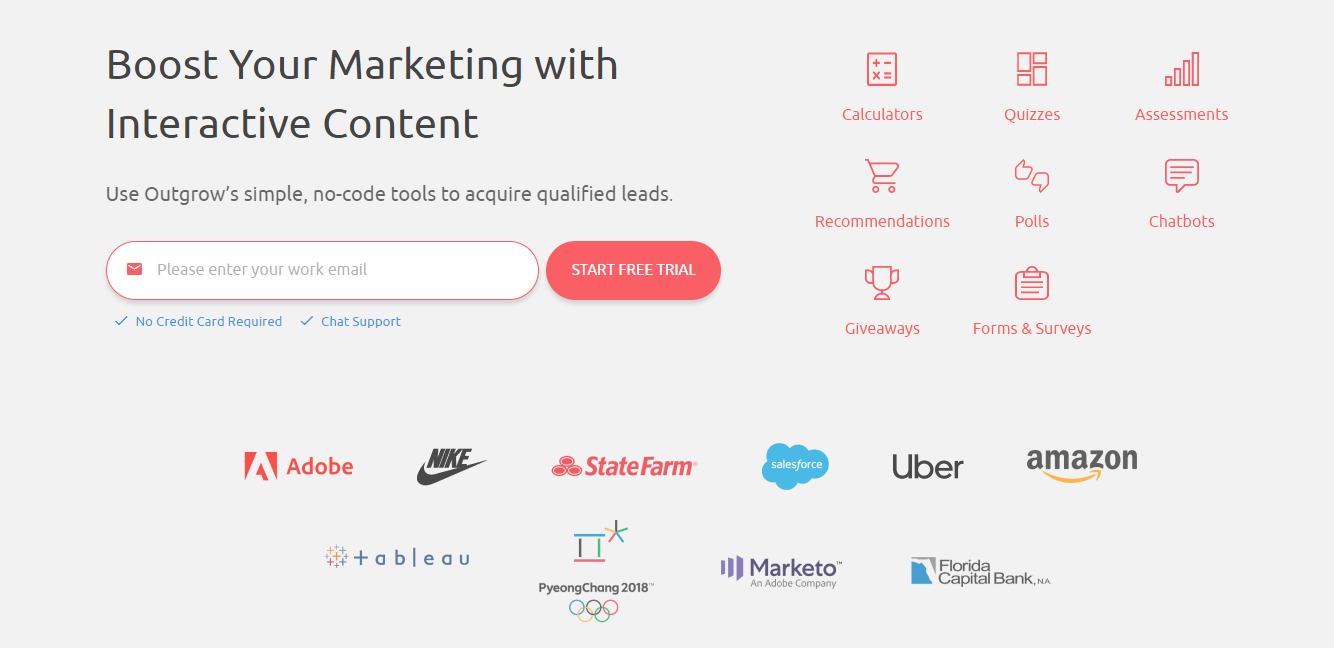 Outgrow is a great and unique lead generation tool. Users like the variety of tools Outgrow offers. All the tools are beautifully designed to fit any website. It's better than a boring lead capture form. Users see a big difference in % of how many leads they've been able to capture with Outgrow. Powerful and easy-to-customize interactive calculators at Outgrow are also great. Templates are optimized with many A/B tests and typically have conversion rates over 40%.
There are many integrations, including HubSpot! Outgrow also has many SEO options and things like tracking Facebook pixels or Google Analytics. Outgrow also automatically generates an animated gif of the finished quiz. Users like that and use it everywhere they can.
Pros and Cons of using Getsitecontrol
Oliver Meakings, Founder at Roast My Landing Page:
I really like the popup builder and trigger tools. However, poor support for subdomains – you can't easily stop popups loading on a subdomain. Finally, the most frustrating thing is the support service. The response time is good, but they keep telling me they can't help. There is always the feeling that they do the least they can when they offer support. If they could improve support, they would be a reliable partner.
Michael Sabani, Brand Experience Director and Protector of Company Culture at Swoogo:
It's obvious that the guys from Getsitecontrol service know their job. Everything works like a well-coordinated mechanism. There are many beautiful templates. All the configuration is simple and understandable even to a beginner. Personally, I'm not going to look for other options because popups Getsitecontrol covers all my needs, and I can leave only positive feedback about them.
Martin Mrva, Marketing Manager at Dedoles. sk:
GetSitecontrol is the best tool for professional popup customization without any coding language. You just need to add a website, and then you can choose from different tools and popups to add to your website according to your wishes. You can also choose the place and side where you want to add popups. Easy to use interface and a very useful tool to give your website a professional look. You don't have to learn or find the code to insert popups into your site. If you have a WordPress site, Getsitecontrol gives you a plugin to access it seamlessly.
Naveen George, Chief Financial Officer at Faircode Technologies:
We love the ability to quickly and easily create popups and widgets. The analytics and A/B testing tools are invaluable. But if we use all the widgets, we may end up overcrowding the website visitor. Also, I dislike the promo widget. Although it has higher attention-grabbing alerts and higher conversion – it is not easy to access.
Conclusion
Now you have a comprehensive list of Getsitecontrol alternatives you can try right now. They are no less helpful than Getsitecontrol and even offer more functions. In addition, all of them cost differently, so you can easily find a Getsitecontrol alternative that suits your budget.