If your business is web-oriented, you might have heard of OptinMonster. Companies and individuals use it to widen a client base and get more feedback from their websites. In addition, OptinMonster provides features for lead generation and analyzing clients' behavior.
However, not all website creators adore this software's function range and need alternatives. As an individual, you might find it too expensive and seek free features. On the other hand, an application might be complex if your company is small and lacks an SEO-oriented professional. We have prepared the best OptinMonster alternatives for your business.
Best 10 OptinMonster Alternatives
These OptinMonster alternatives have different functions and don't fully repeat each other. Each application focuses on certain SEO aspects and has strengths and weaknesses. Choose alternatives you like according to your business needs. They might fit even better than OptinMonster.
#1. Plerdy Alternative to OptinMonster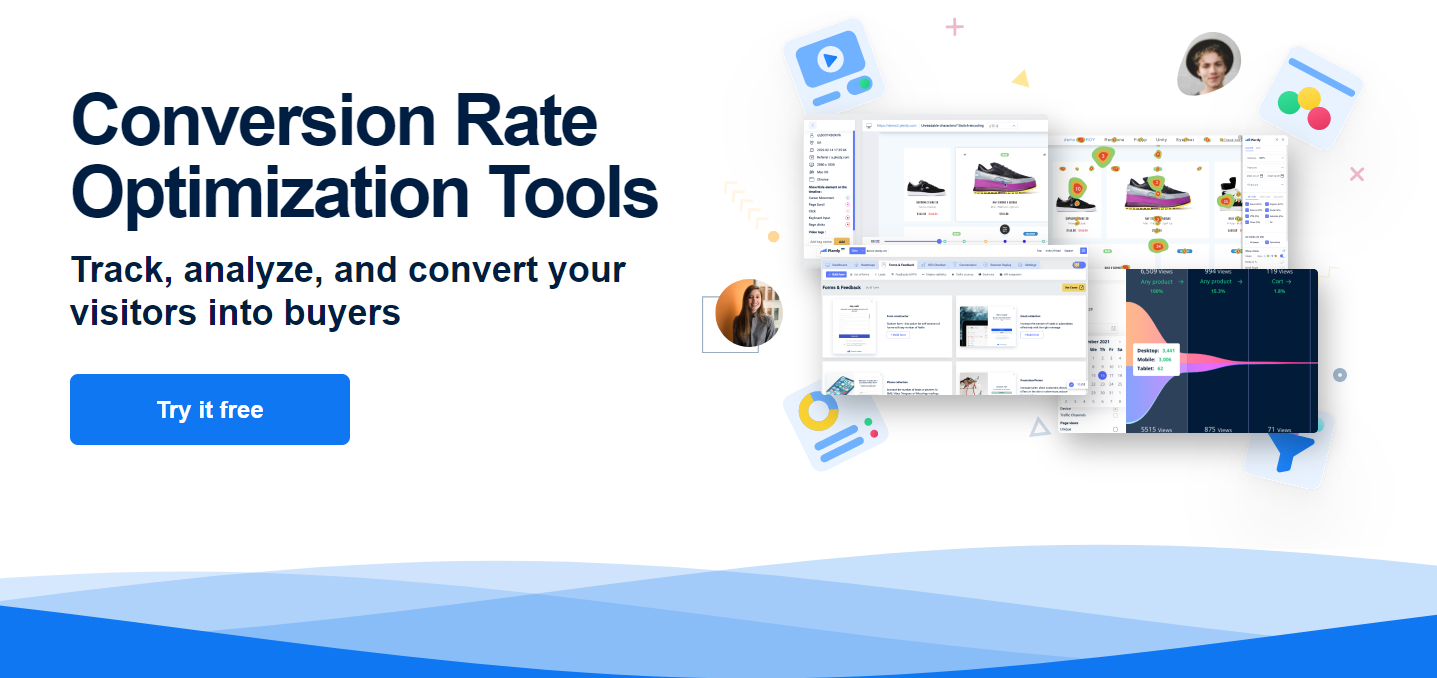 Founders: Andrew Chornyy, headquarters in Lviv, Ukraine.
Clients: UX/UI designers and marketers in companies of different sizes.
Services & specifics: The key value of Plerdy as an alternative is multi-functionality, even stronger than OptinMonster has. Heatmaps allow seeing the most clickable areas of a website and make it more client-oriented.
Pricing: From a free basic version to $79 for an all-in-one monthly subscription. Flexible tariffs let clients pay only for what they need.
Unique features: Plerdy is SEO-focused, and it provides you with notifications about mistakes and semantics, a checker, and other functions.
#2. Leadpages Alternative to OptinMonster

Founders: co-founders Clay Collins and Tracy Simmons, headquarters in Minneapolis, Minnesota, the US.
Clients: small businesses dedicated approach.
Services & specifics: In Leadpages vs. OptinMonster comparison, Leadpages wins due to the broad function range. This alternative focuses on working with small businesses and providing them with instruments for collecting an audience and contacting clients on-site and via emails.
Pricing: $37 for a standard plan and $74 for a Pro version. With Pro, you can manage three sites and receive unlimited A/B testing abilities.
Unique features: More than 40 templates for sales and interactions with customers.
#3. OptiMonk Alternative to OptinMonster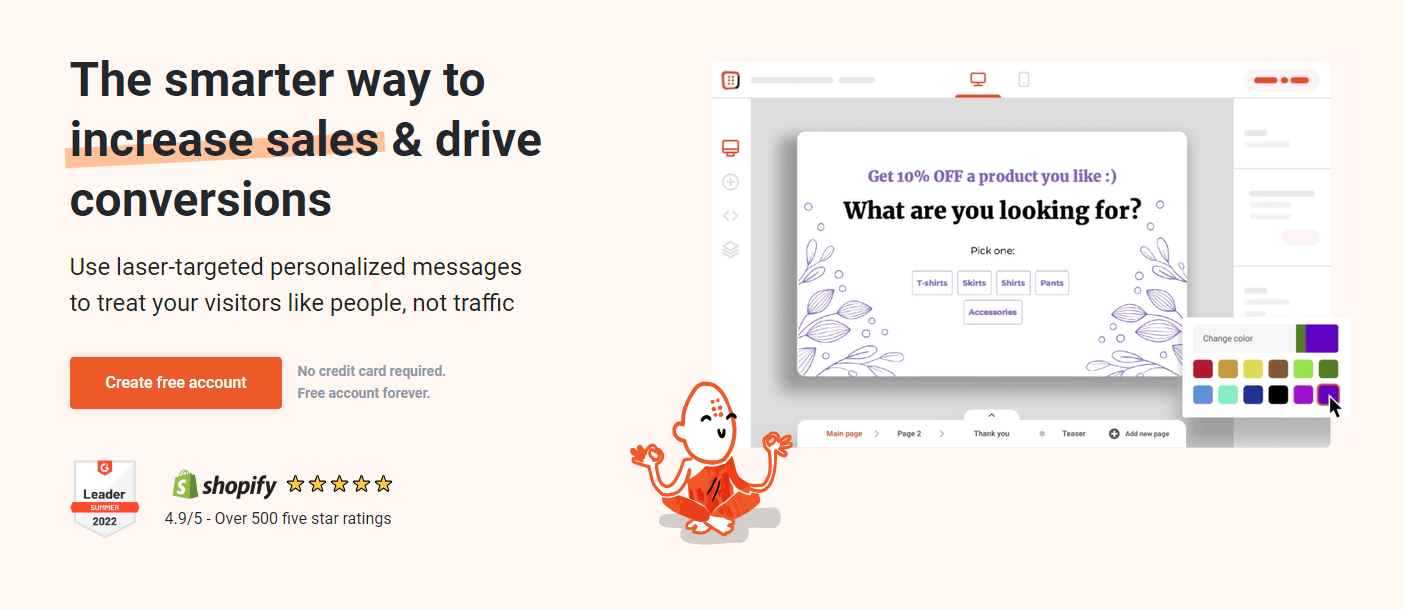 Founders: Nicole Mezei and Csaba Zajdó, headquarters in Debrecen, Hungary.
Clients: L'Occitane, Avon, Christopher Cloos, and other famous companies.
Services & specifics: OptiMonk is an eCommerce-specified toolkit. It focuses on building pop-ups and targeting. One of the best OptinMonster alternatives' targeting algorithms is based on cart value and user behavior.
Pricing: Free, $29 per month for the Essentials plan or higher with advanced programs.
Unique features: 300+ templates, both customizable and ready-to-use.
#4. Getsitecontrol Alternative to OptinMonster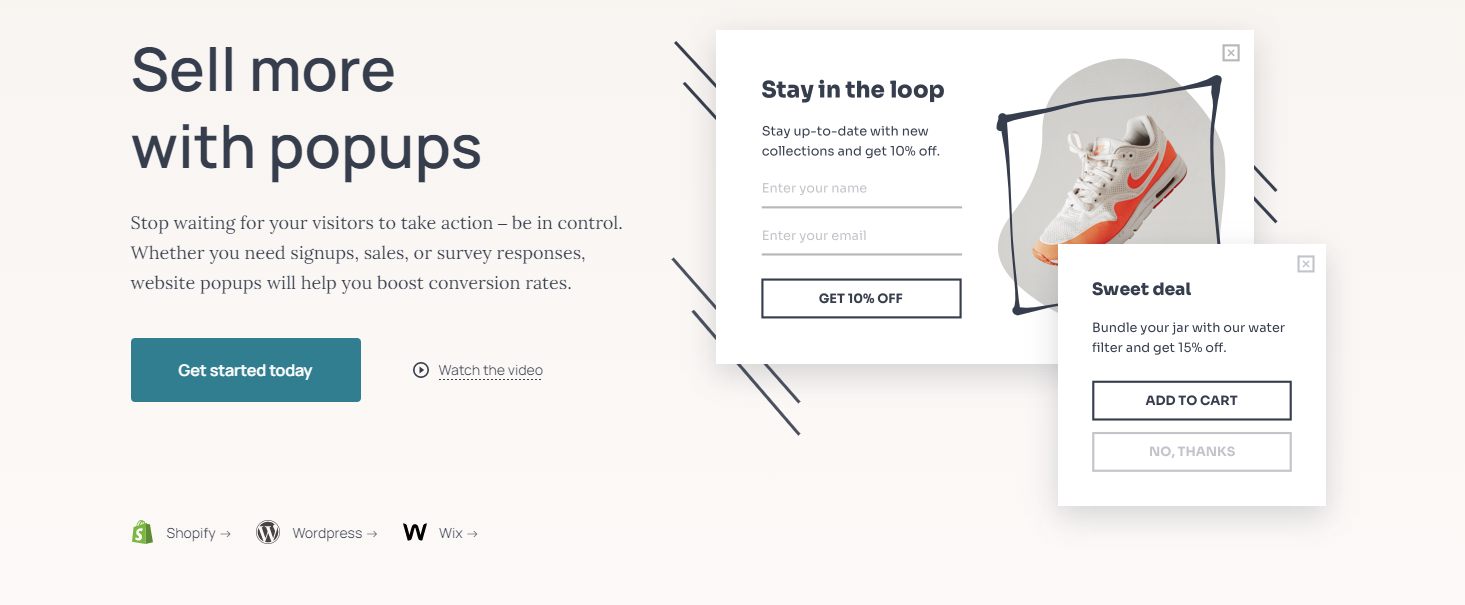 Founders: Co-founders Alexey Umilin & Anton Smirnov, headquarters in Nicosia, Cyprus.
Clients: Small businesses and eCommerce shops.
Services & specifics: Getsitecontrol is an all-in-one cloud-based toolkit. Unlike OptinMonster, this alternative is an official WordPress plugin and a Shopify app. After subscribing, you receive a SaaS cloud solution, a form builder, on-site features (live chat, etc.), and social media elements.
Pricing: A free trial is available from €8 to €24 per month.
Unique features: pro options for pop-up scheduling and special features for a Shopify app.
#5. Sumo Alternative to OptinMonster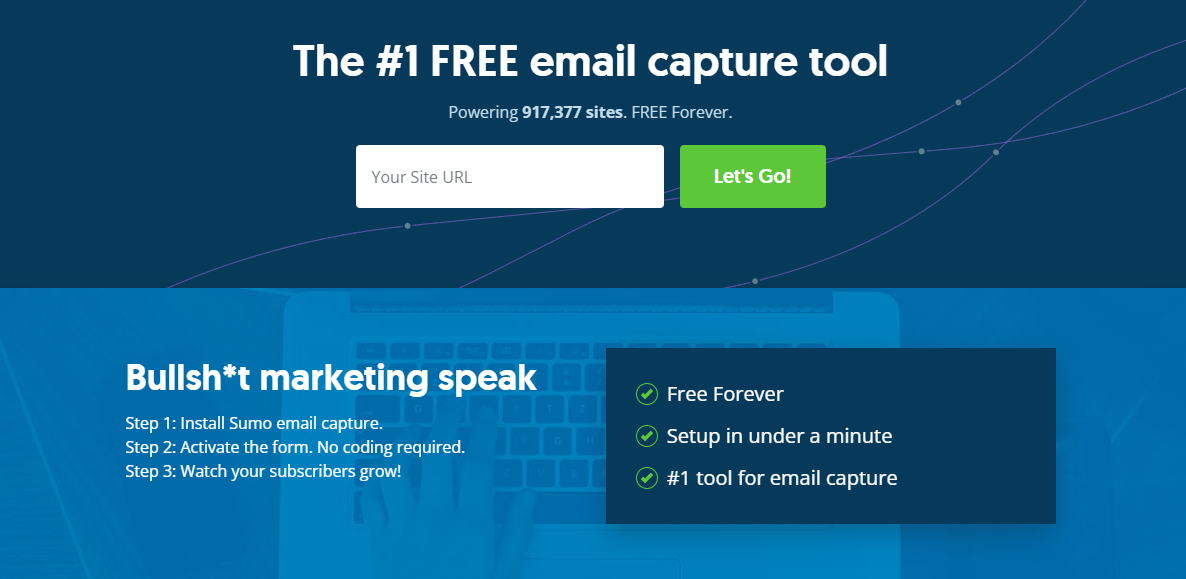 Founders: Noah Kagan, a founder of AppSumo, headquarters in Austin, Texas, United States.
Clients: Entrepreneurs and web-focused businesses, such as Pistol Lake, WebinarNinja, and Wink.
Services & specifics: Sumo List Builder is a part of a more comprehensive AppSumo toolbar, multifunctional business software. This alternative provides companies with customization abilities and pop-ups in an intuitive interface.
Pricing: Free basic subscription, a Pro version for $39 per month.
Unique features: The easiest-to-use tool on our list today.
#6. Popupsmart Alternative to OptinMonster
Founders: Emre Elbeyoğlu and Murathan Yıldırım, headquarters in Miami, Florida.
Clients: Both small and large businesses, including Greenpeace, Unicef, and Rakuten.
Services & specifics: Multifunctional alternatives with broad abilities for website optimization at all levels. Besides pop-ups, you receive analytics, Smart AI mode, and advanced features.
Pricing: From a free basic plan to an Expert for $108 per month.
Unique features: Wide integrations list, advanced targeting, and campaigns.
#7. Convert Pro Alternative to OptinMonster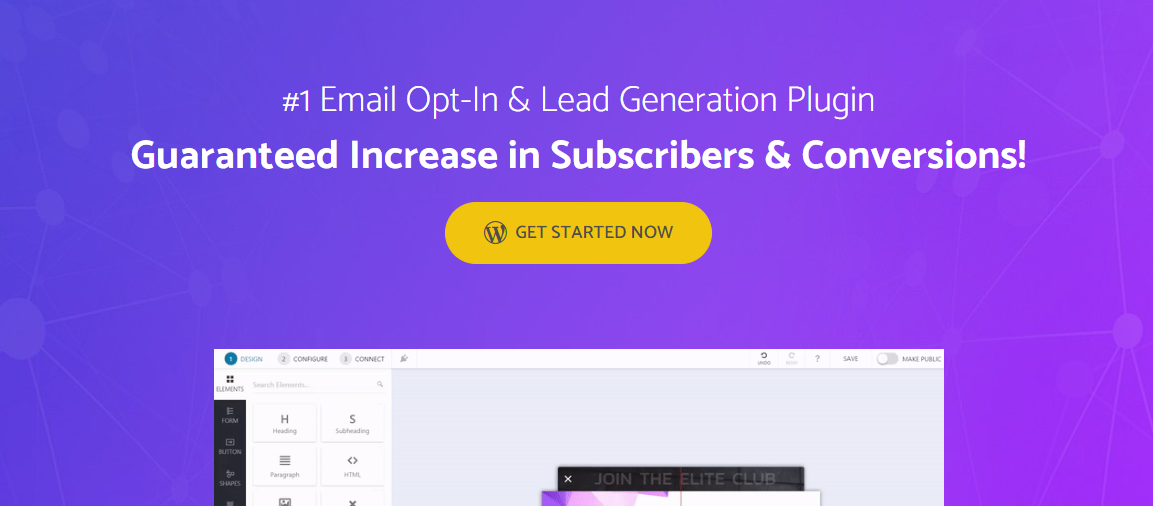 Founders: Brainstorm Force, headquarters in Pune, Maharashtra, India.
Clients: web designers and content specialists in both small & large companies.
Services & specifics: One of the alternatives, Convert Pro vs. OptinMonster, offers similar tools. The range includes mail listing, a drag-n-drop editor, targeting, and A/B testing abilities.
Pricing: $89 for Convert Pro and $249 for Growth Bundle annually.
Unique features: Multi-step pop-ups and behavioral triggers help to create focused forms. Also, Brainstorm Force focuses on WordPress products, and Convert Pro does too.
#8. Wise Pops Alternative to OptinMonster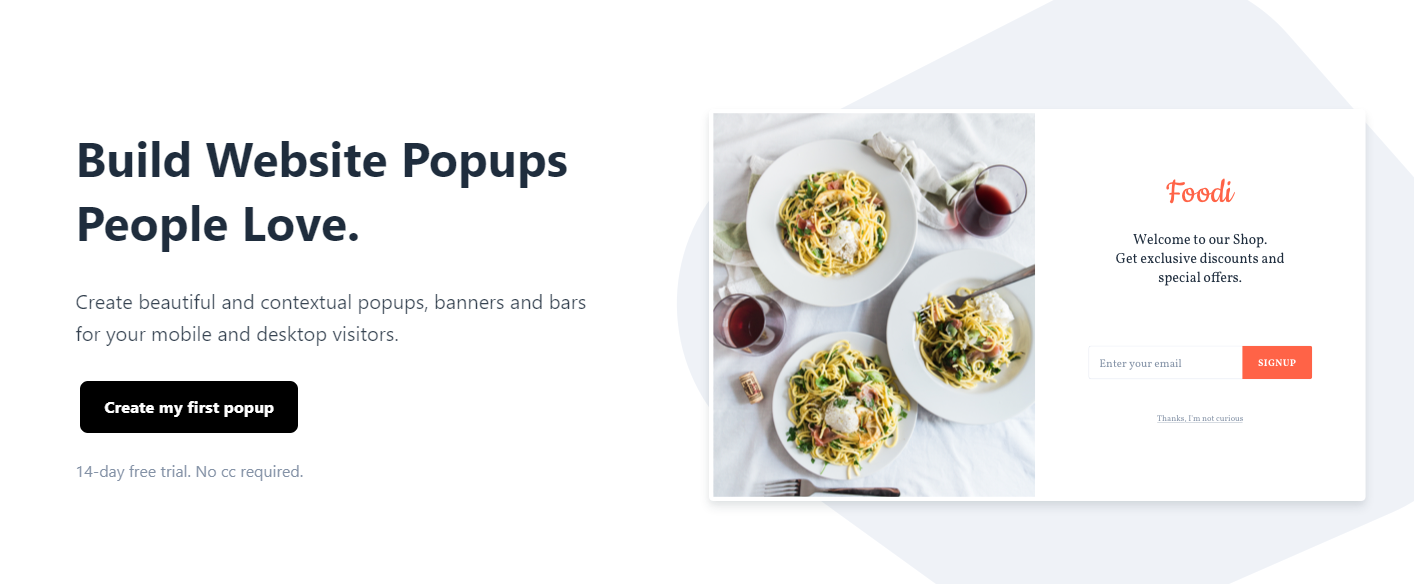 Founders: Benjamin Cahen, headquarters in Paris, France.
Clients: Commercials such as Vans, Unilever, Fender, Mixpanel, etc.
Services & specifics: You receive all necessary tools, including analytics, pop-up building, and campaign targeting.
Pricing: Free trial, paid plans from $49 to $250 per month.
Unique features: Cart abandonment detection, smart audience segmentation for behavioral and geo-targeting.
#9. Poptin Alternative to OptinMonster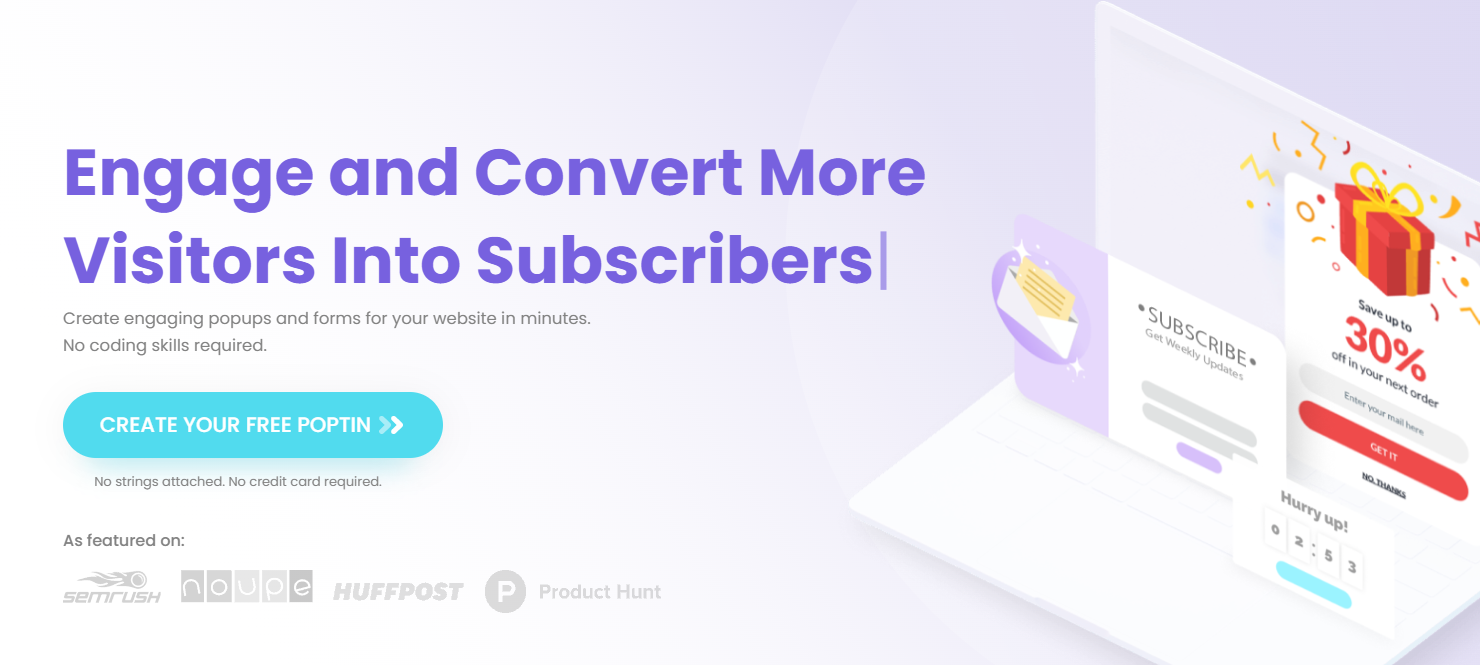 Founders: Tomer Aharon & Gal Dubinski, headquarters in Tel Aviv, Israel.
Clients: Web-oriented companies, such as Walls.io, FreshWorks, and ClickCease.
Services & specifics: Poptin offers customers innovative pop-ups, embedded forms, and an email autoresponder.
Pricing: From $25 to $119 monthly. A free plan is available.
Unique features: With this alternative, you can read detailed use cases fitting your specific industry.
#10. Optinly Alternative to OptinMonster

Founders: Daniel Luch, headquarters in Coimbatore, Tamil Nadu, India.
Clients: Businesses of any size, including Kristina Webb, English Buzz, and Noxlio.
Services & specifics: Optinly is a conversion and design-focused alternative with the most basic functions. It provides clients with multiple types of triggers and pop-ups.
Pricing: From $0 to $25 per month.
Unique features: Wide integrations list for comfortable work.
Pros and Cons of Using OptinMonster
Anyway, OptinMonster is one of the most popular lead-generating software. Since its launch in 2013, it has gained experience and development. For some time, OptinMonster was the most powerful tool for customer interactions.
OptinMonster is still significant due to its simplicity of usage. You can create a pop-up or a sign-up form in a minute without coding. Design templates are grabbing attention, and constant improvements don't let your website look outdated. Some features like built-in A/B testing allow marketers to analyze clients' behavior.
Summing up, the main OptinMonster features involve:
Features for businesses of any size and freelancers.
Integration with Google Analytics.
Custom Exit-Intent behavior analyzing technology.
Highly targeted email listing.
On the other hand, many designers call the template collection limited and not fresh enough.
Developers might have problems with WordPress integrations. OptinMonster almost doesn't have official integrations, making the website development process more complicated.
Another problem is a hosted OptinMonster pricing model that appeared not long ago. As a result, it makes the usage quite pricey. There is no free trial or a Freemium monetization model. While many OptinMonster alternatives, free or just cheaper ones, exist, you might have a try switching to them.
Try this if your website must have a fresh modern design that is not accessible via OptinMonster. Also, they don't offer discounts for multiple websites in one account. At the same time, alternative apps often have special offers for 5+ websites at once.
According to OptinMonster reviews, it offers only essential functions, while alternatives provide their clients with advanced features and new technology. It might have been efficient a few years ago, but now there are more prospective options on the market.
You might have to try several alternatives to find the most fitting one. Most of them have a free trial. It is long enough so you can rate the efficiency level. Compare different software alternatives and choose the one that fits most.