ContentSquare is a UX analysis and optimization platform that helps companies review and understand how people interact with their apps and websites. Contentsquare offers an impressive set of tools that allow digital teams to review and understand customer behavior, including heatmaps, session records, and more.
With the help of the tool, you can receive data-based answers to questions where you have only been able to make assumptions. For example, you will find out where and why the sales process breaks off, why people leave bad reviews, how you can improve product placement, or how your customers react to redesign and innovation.
With Contentsquare, you get clear evaluations, reviews, visualizations of the entire customer experience, and recommendations on increasing sales success. But this tool is not the only one of this type. There are plenty of Contentsquare competitors I will focus on in this article. So keep reading ? to find out what Contentsquare alternatives are worth using.
List of the 10 Best Contentsquare Alternatives
Contentsquare is a nice solution, but if it doesn't suit you, look at the Contentsquare alternatives I have chosen. I want to highlight that almost all alternatives offer two top features: heatmaps and user session records. Why are they needed for all alternatives? ?
Website heatmaps are a great tool to help review and understand customers better. Working with heat maps provides numerous advantages to businesses. There are four main advantages:
Opportunity to improve the website.
Usability improvement.
Visibility.
The growth of the position of the website in the search results.
As for session records, they let you zoom in on how users interact with key elements on your website, which can change everything.
So, let's now proceed to Contentsquare alternatives.
#1. Plerdy Alternative to Contentsquare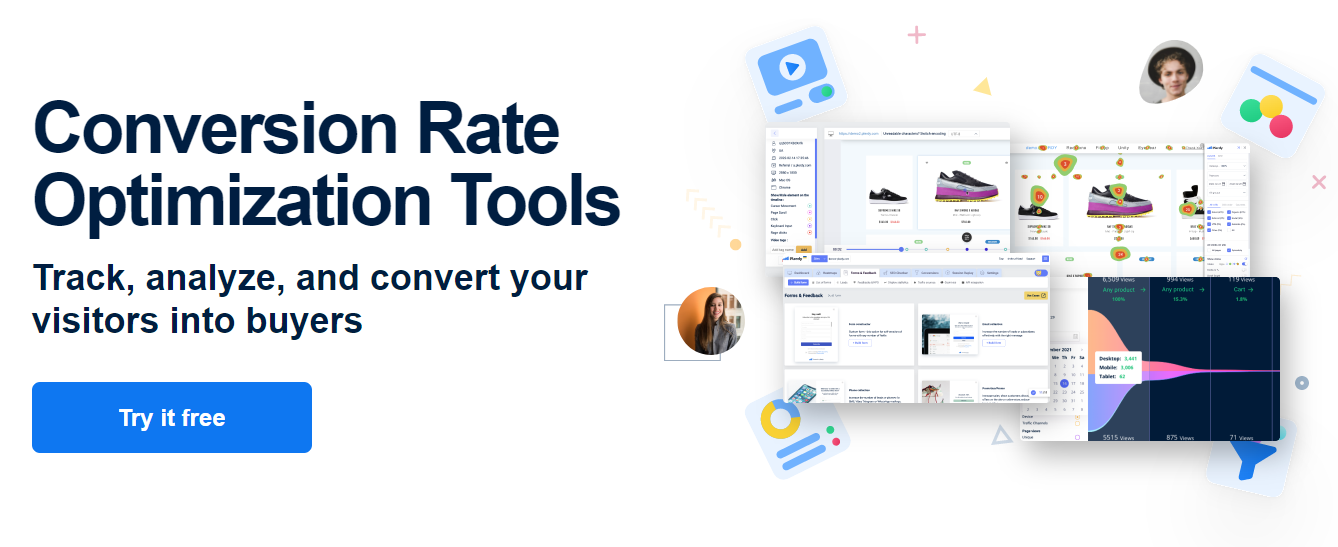 Plerdy's SaaS product aids in increasing conversions and the usability of websites. The Plerdy Heatmap tool lets you generate heatmaps to precisely map the locations of website clicks and view those clicks in real-time mode. Without design or coding expertise, the Popup Smart Forms tool enables you to construct new pop-ups quickly. SEO alerts continuously evaluate, test, review, and generate reports on the website's SEO.
The main features of the Plerdy tool:
View your visitors' click patterns on your website
Filter clicks by device type and traffic channel
Segment users into groups and analyze their behavior separately
Detect what website elements are the least effective
Find out which part of the page is making users leave
Launch A/B Tests with Plerdy's Google Optimize Integration capabilities
Plerdy is an excellent representative of Contentsquare competitors. Numerous positive reviews show it vividly. Founded by Andrew Chornyy, the company is headquartered in Lviv, Ukraine.

Attention Insight is a heatmap software that measures the visual attention of visitors to a website. The software uses AI-generated attention analysis to detect and review how people use the landing page.
You can request a demo and a seven-day trial version on the Attention Insight website. After that, the software is available in three different packages, depending on the number of users, from €19 per month. Here are the top features:
Attention Heatmaps:
Percentage of attention
Focus Map
Clarity Score
Attention report
Design comparison
Kamilė Jokubaitė is the CEO and founder of Attention Insight, headquartered in Vilnius, Lithuania. It is indeed one of the best Contensquare alternatives.
#3. Reactflow Alternative to Contentsquare

ReactFlow is a web analytics tool for tracking customer activity on the website. With this alternative, organizations can review and analyze user behavior, collect feedback and increase the website's efficiency. The tool is most suitable for online stores and websites that need to increase user conversion and have good reviews.
ReactFlow can be used as a separate tool or integrated into CMS.
Here are the features:
Tracking visitor actions.
Ability to view the user session records.
Viewing the website heatmap.
Automatic construction of a sales funnel.
Statistics and attendance analytics.
Finding errors on the website.
Viewing the list of visitors.
Receiving feedback.
Armin Nikdel is the founder of this Contentsquare alternative. It is headquartered in Berlin, Germany.
#4. Ptengine Alternative to Contentsquare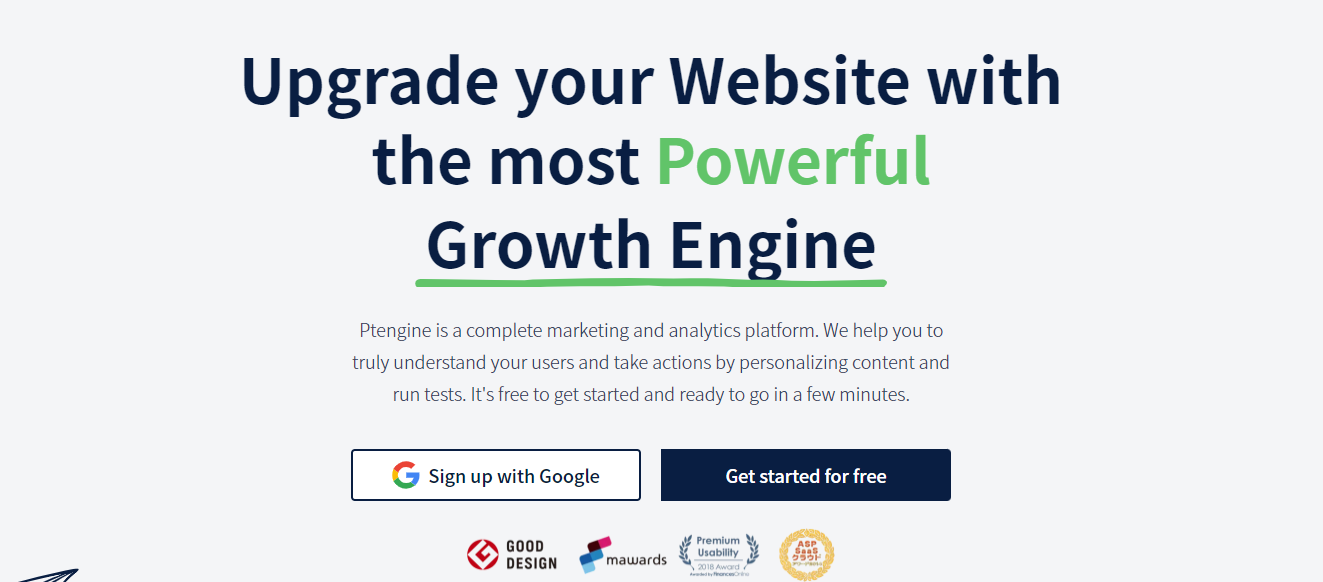 Ptengine is a comprehensive marketing and analysis platform. The alternative helps companies review and understand their users more easily and take action by personalizing content and performing A/B tests. For this purpose, the website collects data by installing a tracking code. This gives users an overview of the performance of their website in real time. The features of this Contentsquare alternative are as follows:
Unifying 60+ customer data sources
Full website analytics, including custom reports​
Visualized events, targets and KPIs
Traffic & user segmentation
Heatmaps​: click, scroll, attention
Customer journey analysis
Website content editor & triggers: inline, pop-up, sticky bar, survey and welcome mat
Easy to use pre-build templates
Audience segmentation and automated triggers
A/B-testing
Track all metrics during experiments & campaigns
AI-based traffic distribution
The founder is Yuan Zheng. Ptengine is headquartered in Beijing, China.
#5. Heatmap Alternative to Contentsquare
Heatmap is another great alternative that will help you better understand your customers' interests. There are three tariffs so that each company finds something appropriate. This Contentsquare alternative is considered the most suitable for landing page optimization. Due to its attractive pricing models, it is preferred by bloggers, individuals, and small & medium scale digital companies. As for features, Heatmap enables:
Dynamic contents
Smart technology
Real-time analytics
Power to the doers
It is located in San Francisco, California, United States. The founders of the company are Christophe Decker and Max Mathieu.
#6. Mouseflow Alternative to Contentsquare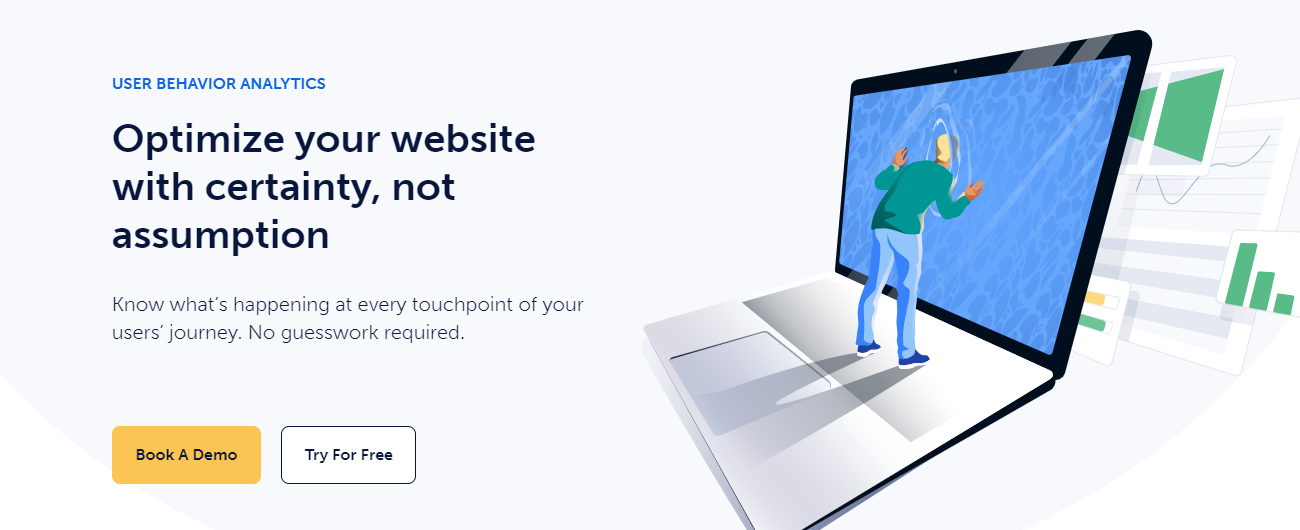 Mouseflow is a program for tracking user behavior that was launched in 2010. This Contentsquare alternative allows you to track and review the behavior of visitors on your website using features such as heatmaps, shape analysis, conversion sequences, and much more.
This Contentsquare alternative helps you understand why people leave your website, lose interest in your content or hesitate to subscribe to free product testing. If you do not use user behavior tracking software such as Mouseflow, you should guess why your conversion rates are low or why people are not engaged in your content. Let's take a look at its features:
Page tracking
User activity tracking
Session views
User information
Funnel analysis
Forms
Feedback
Heatmap: click, scroll, attention, movement, geo, and live views
Lasse Schou is the CEO&founder of this Contentsquare alternative. The company is headquartered in Copenhagen, Hovedstaden, Denmark.
#7. Lucky Orange Alternative to Contentsquare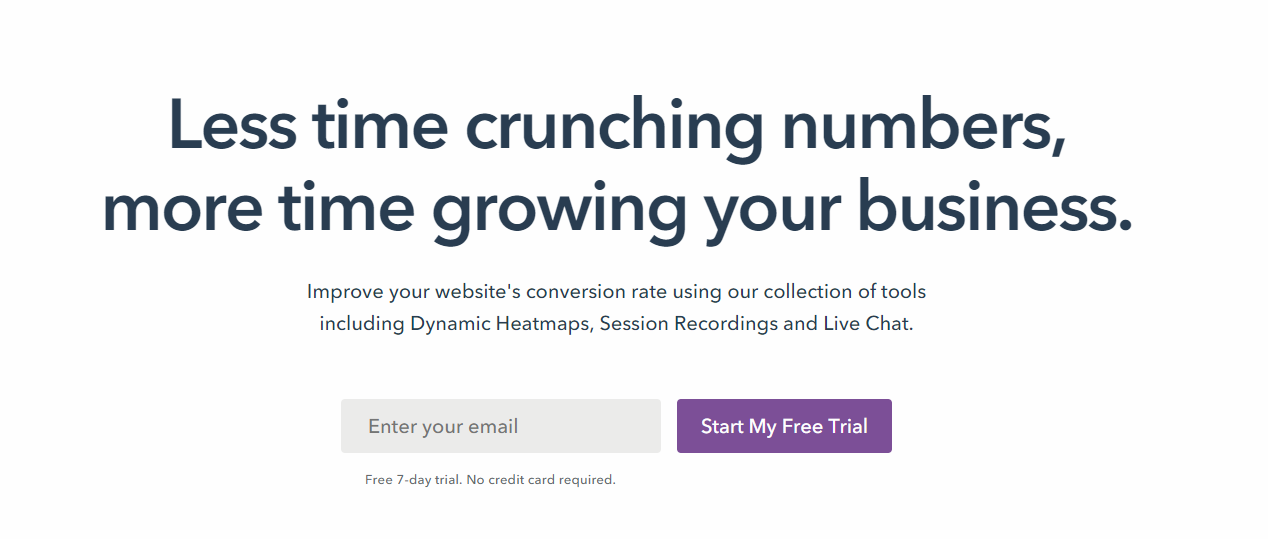 Lucky Orange is a set of tools for complete website optimization and usability analysis. Using Lucky Orange, you can review and understand visitor behavior, diagnose problem areas, and the reasons for failure and then evaluate the optimization of your website to measure success.
It includes the following tools:
Session Recordings
Dynamic Heatmaps
Live Chat
Conversion Funnels
Form Analytics
Visitor Profiles
Surveys
Announcements
Dashboard insights
Brian Gruber is the founder and head of the company. This Contentsquare alternative is headquartered in Kansas, United States.
#8. Smartlook Alternative to Contentsquare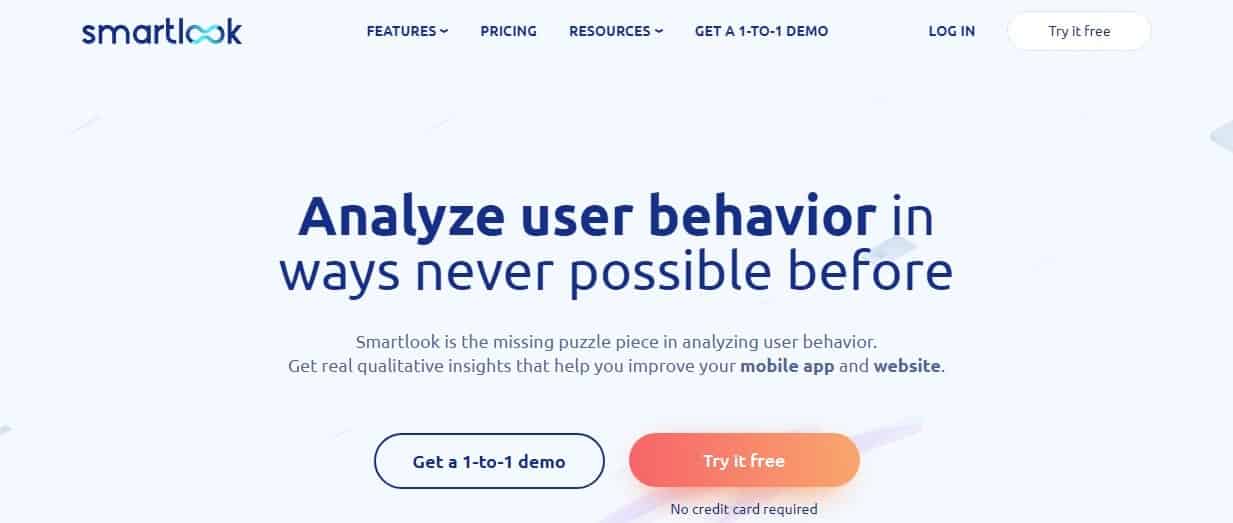 Smartlook is a quality analytics solution for web and mobile that helps more than 200,000 companies of all sizes and industries answer the "why" behind user actions – why are users leaving, or why aren't they using the relevant functionality? Now you can eliminate the guesswork.
With a unique set of features, Smartlook allows you to understand user behavior on a micro level. Permanent visitor records show what each visitor is doing on the website or app, and heat maps give you massive data on where most people are clicking and scrolling. Automatic event tracking lets you know how your visitors take certain actions, while conversion funnels take those events and show you how successful you've been in converting.
Launched in 2016, Smartlook has evolved into a complete solution for quality analytics, making the guesswork a thing of the past. So stop wondering "why" and start getting answers today.
The functions are as follows:
Get clear insights by reviewing user records. Advanced filtering capabilities will show you the way to the decisive moment.
See how often users perform actions that are important to them.
Then use events as filters in your records to quickly find the important ones.
Get records of all failures in one click. Fix problems and close money leaks!
See where your users click and how far they scroll.
See how your users move on your website or app. Determine if the path you created for them is working as expected.
This Contentsquare alternative is headquartered in Brno, South Moravia.
#9. FullStory Alternative to Contentsquare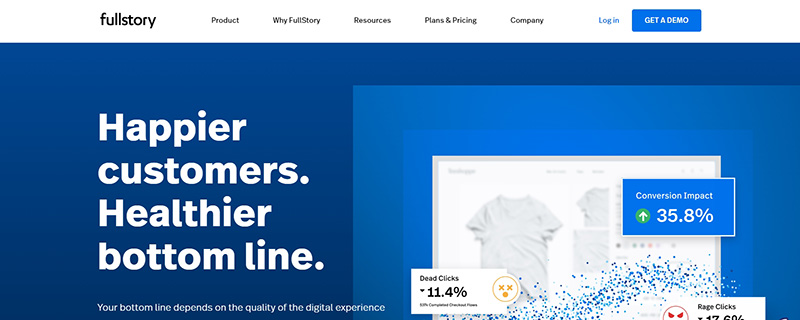 FullStory is a web digital intelligence system that helps to optimize customer service. It allows users to track, review, and control every client action. All movements, from clicks to page transitions, are indexed automatically. The data is available to the team and can be used to make reviews and business decisions.
Recording a session in FullStory is more than just recording; it's an idea of the client's path. FullStory provides users with an intuitive interface that allows them to check customer activity, identify angry clicks, create funnels and view page analytics from the toolbar. The main features are:
Complete data capture: private by default, tagless auto-capture, tech stack and integration
Product analytics: frustration signals, funnels and conversion, journey mapping, dashboards, user segments
Session insights: session replay, heatmaps
The founder of this Contentsquare alternative is Scott Voigt. FullStory is headquartered in Atlanta, Georgia, United States.
#10. Glassbox Alternative to Contentsquare

Glassbox reviews the behavior of visitors on your website or application, looks at their path and sees the reasons for the problems they encounter and leave the website.
Automatic alerts from the artificial intelligence and machine learning system promptly warn of the occurrence of a problem. Quickly exporting identified issues and related data allows you to resolve them faster – no need to spend time reproducing them.
Glassbox has the following tools:
Customer Journey Analytics
Mobile App Analytics
Session Replay
Performance Analytics
Product Analytics
Interaction & Heatmaps
Funnel Analysis
Struggle & Error Analysis
Feedback
Digital Record Keeping
Tagless Data Capture
Integrations
Data Privacy & Security
Glassbox is one of the Contentsquare competitors. Its DBA allows you to enrich the collected data with information from external systems, such as customer segment, gender, service department, and web analytics keys.
Yaron Morgenstern is the CEO of Glassbox, which has several offices: in London, New York, Tel Aviv, and Norwich, UK. The company works with Purina, NBrown Group, VISA, Air Canada, Bank Leumi, SoFi, and Just Right.
Above, you have familiarized yourself with the 10 best Contentsquare alternatives. But why does one actually need to find an alternative to Contensquare? Let's find it out.
Pros and Cons of Using Contentsquare
As you can see, Contentsquare alternatives are diverse. But do you need to try other solutions? First, let's see what users think about Contentsquare.
"Good tool for analysis"
What do you like best?
It is incredibly easy to use and offers metrics and types of analysis that other similar tools do not have (such as journey or zoning). In addition, the support staff is pretty helpful, which I like a lot.
What do you dislike?
There are some limits when creating targets, segments, and mapping.
What problems is the product solving, and how is that benefiting you?
It is helpful to me to go deeper into product analysis and UX. The most useful for me has been the Journey and Zone Analysis module.
"Maximise your digital potential."
What do you like best?
It is a great tool for optimizing UX on our website or mobile apps. The interface is intuitive and the most analytical tool used across digital teams. Plenty of interesting features are offered. Content Square is not just a tool; it is a great service with reliable customer support.
What do you dislike?
A bit pricey, but you get what you pay for.
What problems is the product solving, and how is that benefiting you?
Digital path and UX-related problems.
"Most complete tool in the market to accelerate on data insights"
What do you like best?
The ease of use and the help you get from your dedicated customer success team. Due to the tool's algorithms, I see the impact of revenue in changes that can be made in terms of UX/UI or features.
What do you dislike?
It may take some time to understand the tool, but it is more because it is complete. If you compare the platform with Google Analytics, this provides next-level on-top-of insights.
What problems is the product solving, and how is that benefiting you?
Insights on customer journey's from page to page, end-to-end. Reasons why certain pages have a lot of drop-offs. Reasons why we have lower conversion.
Contentsquare captures every customer action across all touchpoints, including various micro gestures. With Contentsquare analytics, employees can find weaknesses across all channels of interaction and fix the issues to improve the customer experience. The platform also helps companies achieve a better understanding of their audience and find solutions to increase sales.
Conclusion
No matter what solution you select, be it Contentsquare or something else, I recommend using its functionality to the fullest. Heatmaps and session records can change everything, so choose the best option for yourself, and good luck!