Marketing experts need various tools to achieve better results; that's understandable. But it may be difficult to choose the right option (or several), especially if you are a beginner. However, inspectlet reviews say this tool is one of the best on the market. Thus, we have decided to prepare our Inspectlet review. Moreover, we have selected the top ten alternatives to understand what is offered better.
Inspectlet reviews say it is quite suitable for marketing experts and website owners who want to optimize the ranking of their websites, develop advertising strategies, and increase keyword density. The recordings of the user sessions also convey important user data that can be used for overall optimization.
Best 10 Inspectlet Alternatives
If you consider Inspectlet reviews not enough to try it, we offer you ten alternatives! Sometimes, one can meet these alternatives in Inspectlet reviews, as they are all good enough. So, let's take a look.
#1. Plerdy Alternative to Inspectlet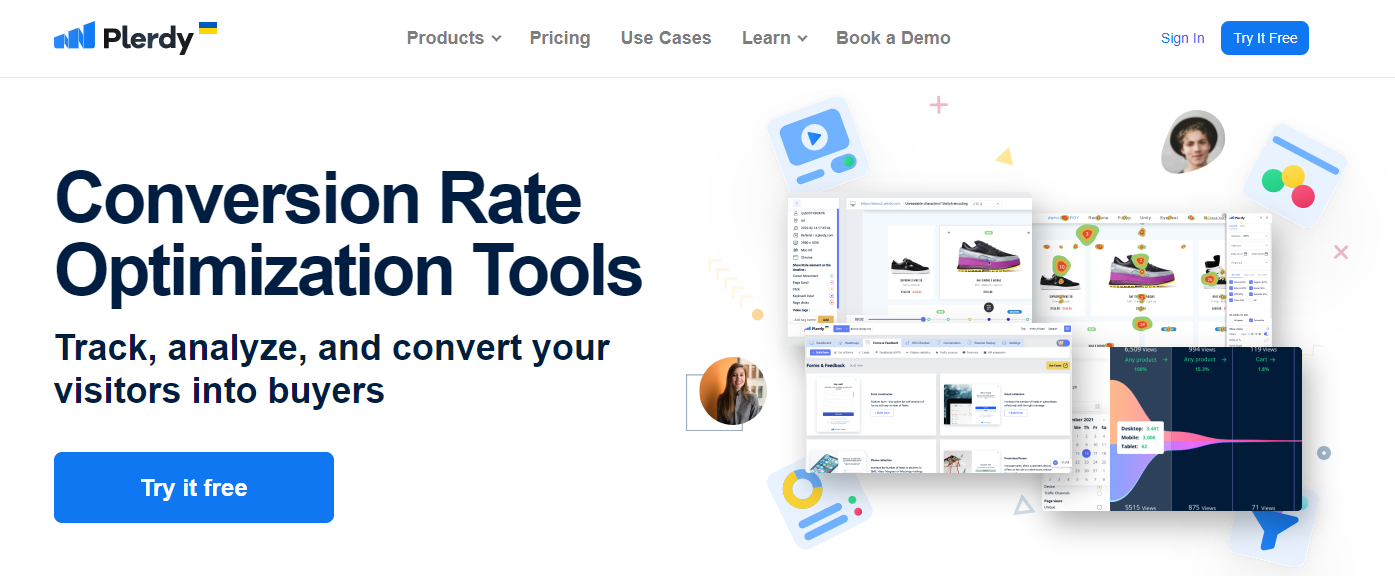 Plerdy offers a variety of conversion rate optimization tools. These include website heat maps, event tracking tools, SEO checkers, or conversion funnel analysis. Data transmission is protected with SSL technology. Plerdy can be used with all common browsers and offers integration with other online services. Plerdy also provides videos about use cases, checklists, e-books, and more. Plerdy can be used and tested free of charge. The following is available:
SEO checker.
Session replay.
Event tracking.
Popup forms.
Sales performance.
Conversion funnel and more.
This Inspectlet alternative is located in Lviv, Ukraine. Andrew Chornyy is the founder.
#2. Smartlook Alternative to Inspectlet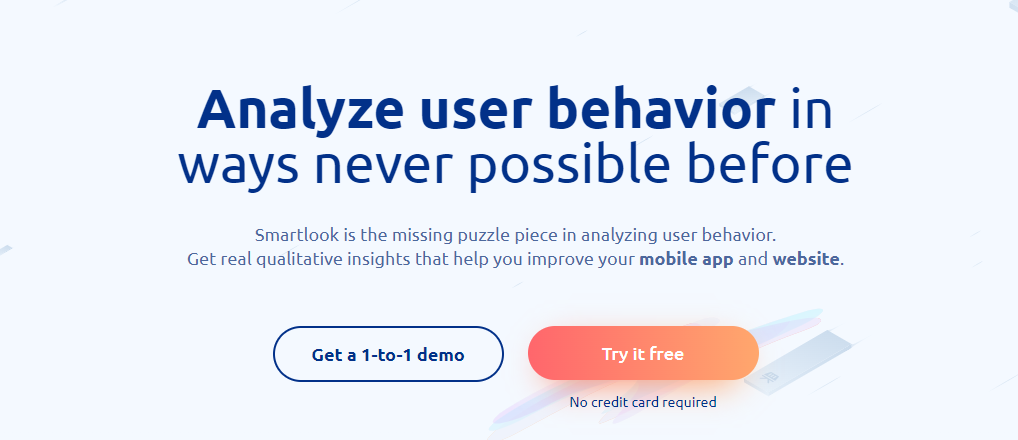 Smartlook is another good alternative for observing user behavior on websites. It is thus possible, for example, to understand when which user pressed which button. Smartlook thus uncovers hidden sources of optimization of the websites. The functions are as follows:
Session recordings.
Funnels.
Heatmaps.
Events.
Mobile app analytics.
Smartlook is located in Brno, Jihomoravsky kraj, Czech Republic. The founder is Petr Janošík. Inspectlet reviews say this alternative is a good one. It is one of the best alternatives.
#3. Mouseflow Alternative to Inspectlet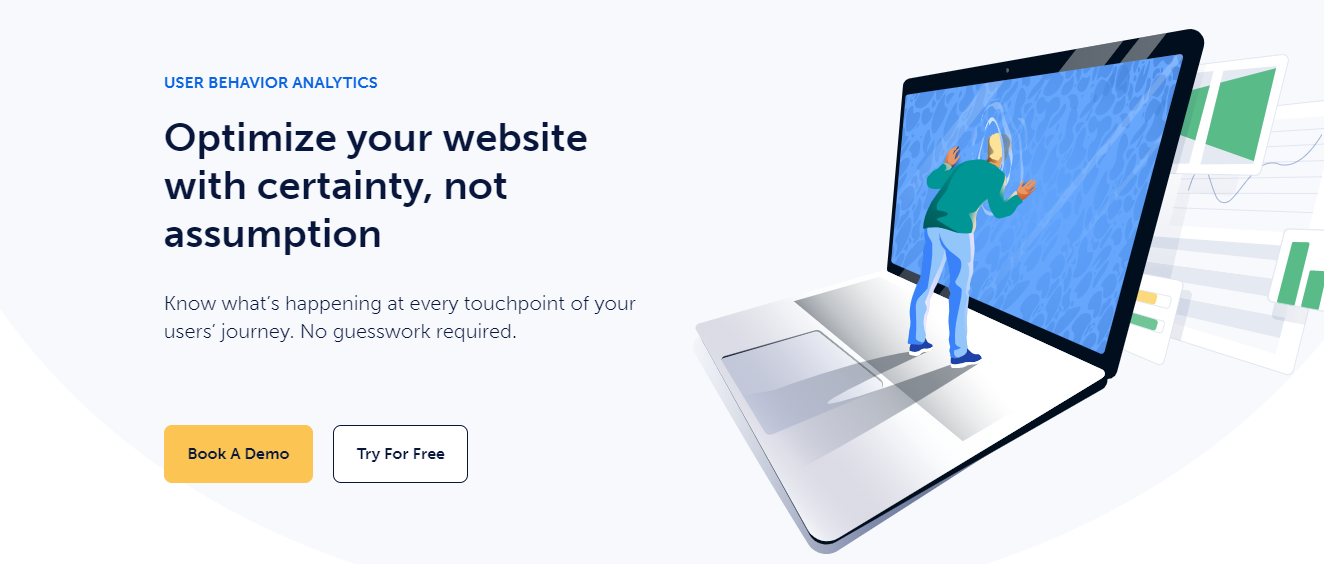 Mouseflow is an all-in-one service. The interactive tool tracks mouse movement and scrolling on the website. It allows you to make reasonable decisions based on real actions. It also helps to improve usability, increase conversion rates and increase sales. In addition, Mouseflow offers visual analytics and reports in the form of heat maps.
A summary of statistics for each page and a visual demonstration of the work of some tools are available. You can analyze the behavior when filling out forms and count the conversion. Here are several main functions of this alternative:
Time tracking.
User interaction tracking.
Search query tracking.
Referral source tracking.
Keyword tracking.
Conversion tracking.
Target tracking.
Campaign management.
Multiple site management.
Lasse Schou is the CEO&founder of Mouseflow. The company is headquartered in Copenhagen, Hovedstaden, Denmark.
#4. Microsoft Clarity Alternative to Inspectlet

Microsoft Clarity is an alternative that allows companies to check the usability of their website. For this purpose, Microsoft Clarity records selected sessions of users. Companies can then evaluate the sessions. In addition, the tool provides measured values that indicate possible usability problems.
The tool provides website owners with:
Visual heat maps illustrate interaction with the user.
Repetition of individual sessions.
Information panel for an overview of user interactions.
The advanced filtration system, and more.
Erica Hakonson is the founder of this Inspectlet alternative. The company is headquartered in San Francisco, California, United States. It is frequently mentioned in Inspectlet reviews as a good alternative.
#5. LogRocket Alternative to Inspectlet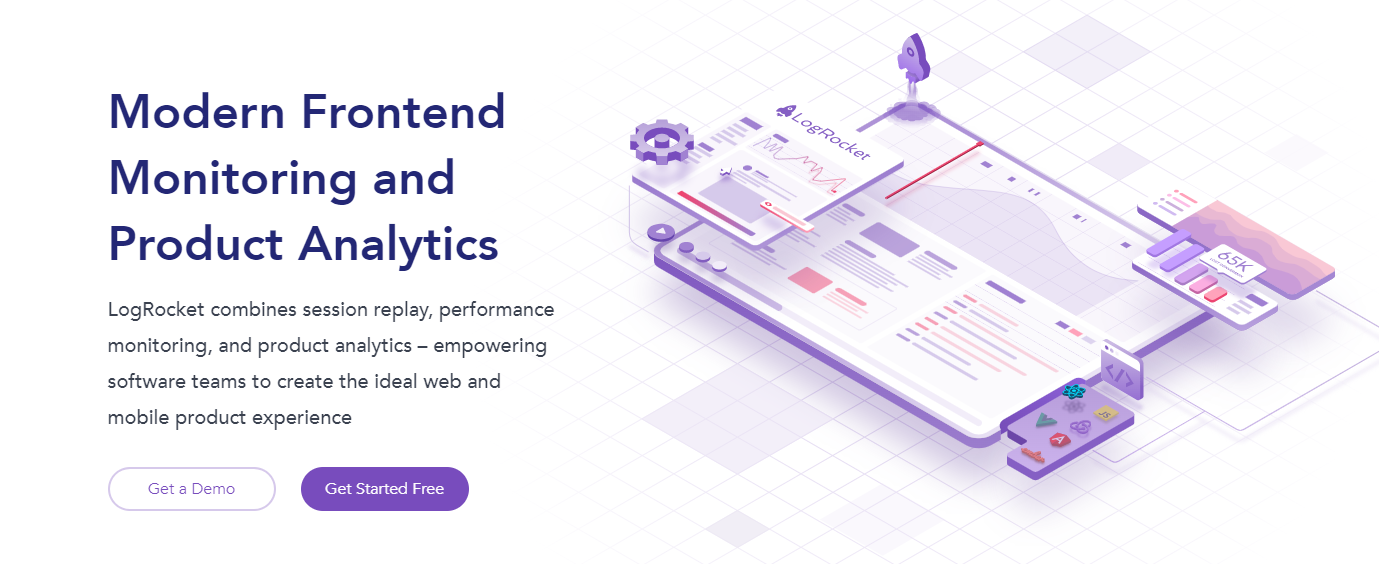 LogRocket is another alternative that is also often mentioned in Inspectlet reviews. It helps developers have better experiences for their users. By recording videos of user sessions with protocols, network, redux, console, and errors, LogRocket intelligently highlights UX problems and reveals the main cause of each error. The main functions are as follows:
Frontend performance monitoring.
Product analytics.
Error tracking and management.
User experience analytics.
The founder of this alternative is Matthew Arbesfeld. LogRocket is located in Boston, Massachusetts, United States.
#6. LiveSession Alternative to Inspectlet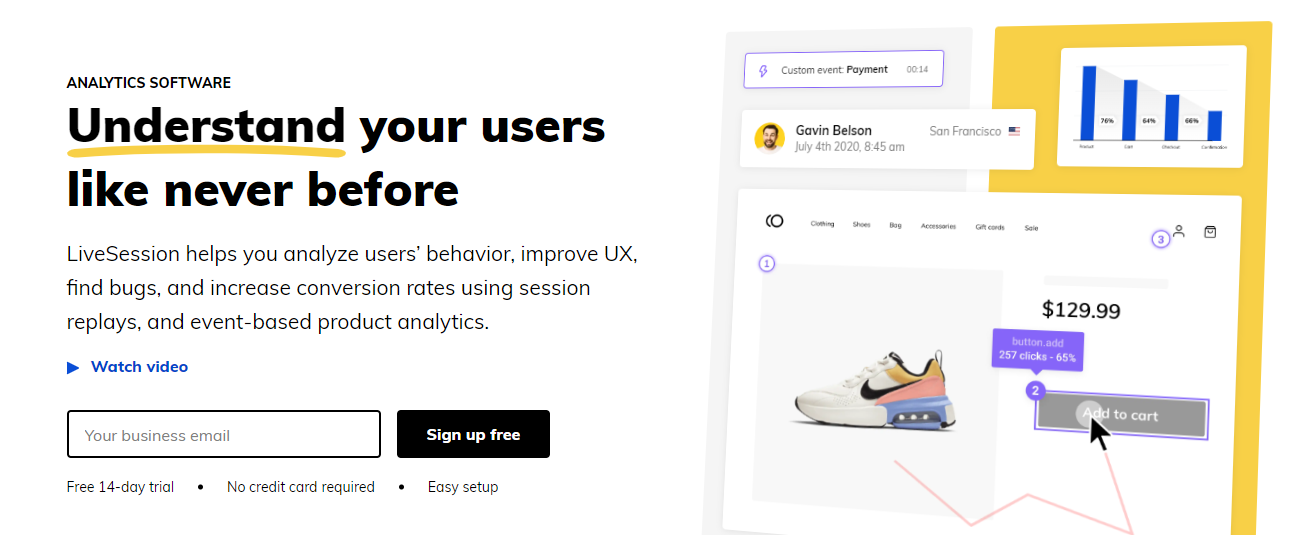 LiveSession is an analytical software that makes it easy to search, segment, and play high-quality repetitions of client sessions. In addition, it tracks and records actions (mouse movements, clicks, keystrokes, keystrokes, changes) and allows you to find drop-down lists to increase your site's conversion rate.
Qualitative repetitions of sessions.
Advanced search and segmentation.
Identification of customers.
Tracking customer errors and disappointments.
The founder is Kamil Drazkiewicz. It is headquartered in Wroclaw, Poland.
#7. Lucky Orange Alternative to Inspectlet

Lucky Orange is a complete set of usability analysis and optimization tools for your online store. This alternative will help you answer why your website visitors don't become customers.
The main feature of this application is to view records of the behavior of visitors to your online store. You can see every mouse move, click and scroll, which will help you answer the question, "What are your website visitors doing?". Here are what you will get:
Quick and easy installation.
Visit records.
Form analytics.
Heatmaps.
Polls.
Analytics.
Funnel analysis.
Report generation.
Operational support.
Every second Inspectlet review mentions Lucky Orange as a good alternative. Brian Gruber is the head of the company. The main office is in Kansas, United States.
#8. VWO Insights Alternative to Inspectlet
VWO Insights is a part of the VWO Platform, which helps you solve diverse tasks simultaneously. You can identify conversion leaks, conduct surveys, analyze user behavior, and more. The features are similar to the tools we have already described:
Funnels.
Session recordings.
Heatmaps.
On-page surveys.
Form analytics.
Usability reviews.
Inspectlet reviews say it is a good alternative. The founder is Paras Chopra. The company is headquartered in Delhi, India.
#9. Auryc Alternative to Inspectlet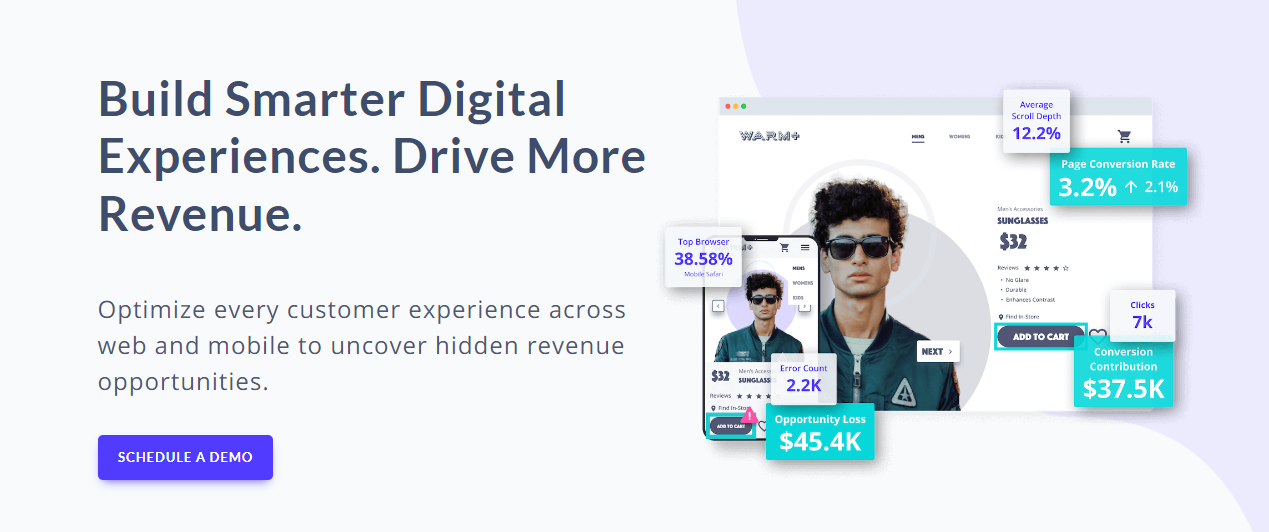 Auryc is one of the best alternatives on our list. Auryc is a client-side journey intelligence platform that surfaces real-time insights with powerful visual context across your digital e-commerce journeys. The company's goal is to help find and resolve diverse customer journey issues that may greatly affect customer satisfaction. Here are several top features:
Customer journey intelligence platform.
User engagement tracking.
Records management and revenue analysis.
Auryc was founded in 2016 by Jinlin Wang, Amod Setlur, and Feng Shao. It is headquartered in California, United States.
#10. Browsee Alternative to Inspectlet

If your goal is to understand user behavior, Browsee will help. It is one of the best alternatives that offer a forever free plan, which is a plus for those who don't want to spend extra money. The following is offered:
Session recordings.
Heatmaps.
Behavioral analytics.
Element analytics.
Usability testing.
User journeys.
User research analysis.
The founder is Shraddha Srivastava. The company is headquartered in Delhi, India.
Pros and Cons of using Inspectlet: Inspectlet reviews
Inspectlet reviews are the best option to understand whether the option is suitable. So, we have gathered several Inspectlet reviews from real customers.
What do you like best about the tool?
Inspectlet means accuracy in every step; tools are simple and understandable; even a beginner can cope with those. The customer support is excellent as well. The video reporting is what I like the most. It has never been easier to stay in contact with users of our site.
What do you dislike about Inspectlet?
It isn't easy to customize it. Besides, if you are a beginner, you must be specific with the configuration. Otherwise, you won't get what you need.
Recommendations to others considering Inspectlet:
It is a simple tool, easy to use, and it is possible to get great results.
What do you like best about Inspectlet?
Very easy to use. I enjoy filtering and searching for specific sessions. We use it primarily to troubleshoot customer problems, but you can easily solve a range of other tasks.
What do you dislike about Inspectlet?
Sometimes sessions are not always captured, or there seems to be a delay in sessions appearing. This can make near real-time session analysis difficult.
What do you like best about Inspectlet?
It is a magical tool that makes it possible to be much more precise and understand how people interact on our website. Visualization can do miracles, indeed. Communication panels are extremely useful and convenient. Functionality is great, as well as customer support service.
What do you dislike about Inspectlet?
The price is not very consistent: it is the only thing I dislike. In any case, I will continue using it because it is a great tool for using which little knowledge is required.
Recommendations to others considering Inspectlet:
Inspectlet is a simple tool but with a lot to offer.
Conclusion
Every single Inspectlet review says it is a decent option for every marketer. Nevertheless, Inspectlet reviews also highlight services that may be good alternatives. We have gathered the best of those, so you can safely choose any.