Having an eCommerce website marketing strategy is an important step toward effective results. Careful planning is essential.
According to statistics, four out of 10 purchases are made online – and this indicator is projected to grow by 23% in 2021. Accordingly, along with the popularity of online shopping, the requirements for the quality of service, promotion methods, user-friendly interface, etc., are also growing. At the same time, remember that the market is growing and developing, and the number of online stores is increasing, which means that competitiveness must also increase. In addition, each industry requires a different approach tailored to their specific consumers. Therefore, to avoid being left behind, you should prepare a high-quality, well-designed eCommerce strategy well in advance. In this regard, questions arise:
Let's figure it out.
What is an Ecommerce Marketing Strategy?
An eCommerce marketing strategy is to drive traffic to your site by converting the top of the funnel stages into consumers. This is what makes your brand recognizable. Something that will attract new buyers, turning them into active consumers. This cannot be achieved without a marketing strategy.
An eCommerce marketing strategy includes, among other things:
Organic SEO. The ability to attract visitors and customers to your online store without additional advertising costs. Statistically, about 80% of users focus on organic Google search results.
Social networks. Social media promotion as an eCommerce strategy is integral to modern digital marketing. What's more, it's a great web-based selling platform for some products.
Search engines. SEM specializes in pay-per-click (PPC) search engine advertising. The main advantage of a strategy is that it always appears at the right time and in the right place, increasing the chances of a positive user reaction.
Email. An effective way to remind customers of your store and tell them about new products and promotions.
Blogs. High-quality content, tailored to the needs and interests of customers, will serve you well in attracting new customers and informing them about the innovations of existing products.
It's worth noting that eCommerce marketing strategy is different from other strategies – technologies for one industry may not work for you, and vice-versa. Moreover, the marketing strategy is dynamic. It develops over time; new trends and opportunities emerge. Therefore, you can't use the same strategy forever. That is why it is so important to optimize it, constantly taking into account new trends.
Here are some of the key trends expected to shape the e-commerce marketing landscape in 2023:
1. Personalization: Personalized marketing experiences, such as
product
recommendations and targeted advertisements, will continue to be a major focus for e-commerce companies.
2. Artificial Intelligence and Machine Learning: These technologies will play a vital role in e-commerce marketing, allowing businesses to automate processes, gain valuable insights and make data-driven decisions.
3. Voice commerce: With the growth of voice assistants like Alexa and Google Home, voice commerce will become a more prevalent way for customers to discover, research, and purchase products.
4. Social commerce: Social media
platforms
like Facebook and
Instagram
will continue to evolve their shopping features, making it easier for businesses to sell directly to consumers through these channels.
5. Immersive shopping experiences: E-commerce companies will continue to explore ways to create immersive shopping experiences, such as virtual and augmented reality, to engage customers and drive
conversions
.
Why is an Ecommerce Marketing Strategy important?
Without a quality eCommerce marketing strategy, it is impossible to effectively market an online store's product and attract new customers. However, some strengths emphasize the importance of a marketing strategy:
Reaching a larger audience. Using the right digital marketing traffic channels will "catch" your future customers at the right time and on a larger scale.
Studying competitors and improving competitiveness. All successful online retailers plan their digital marketing strategy and make the most of all the available techniques. By analyzing their actions and dynamically implementing effective approaches to promotion, you will take a strong position in the market and be more competitive.
Conversion rate growth. If the main goals of a marketing campaign are to increase sales and reduce the number of abandoned carts, you can achieve them. But it is important to analyze each traffic channel separately, as often one channel affects others. If you have a low conversion rate, this can affect the site's overall performance.
Let's look at examples of eCommerce marketing strategies in action, as well as the most effective varieties.
Top 3 eCommerce Marketing Strategy Examples
Ecommerce strategies have had massive results, as evidenced by real-life case studies. To verify this, consider the successful application of these methods in an advertising campaign. The three winning strategies are as follows:
Social Media Marketing. The founder of Finch Goods Co. explained how one post written by his company on its Instagram account brought in 350 new users. Since we are not talking about a company worth millions of dollars, this is noticeable in percentage terms. Plus, when more people see your ads, your brand will generate more credibility and interest.
Seasonal promotions. Customers love discounts and great deals. So why not complement them with a bold theme? The world-famous company Starbucks successfully uses this eCommerce strategy. The company creates discounts and produces themed products dedicated to a wide variety of holidays.
Content Marketing. Sophia Amoruso, a founder of Nasty Gal, provided a great example of content use. She notes the importance of communicating with customers through text and product design. She also encourages them to go to the online store's website and get involved in it.
We'll discuss the best marketing strategies for the eCommerce niche in more detail below.
Best 11 eCommerce Marketing Strategies
An eCommerce marketing strategy allows you to expand your customer interactions – existing, past, and potential. With the right approach, your audience will expand to include even those not on the list of potential buyers. eCommerce strategies allow you to achieve the following goals:
Increase the number of visitors to your online store.
Increase your conversion rate.
Raise the average order value.
Let's look at the top 11 classic marketing strategies for achieving these goals.
Ecommerce Usability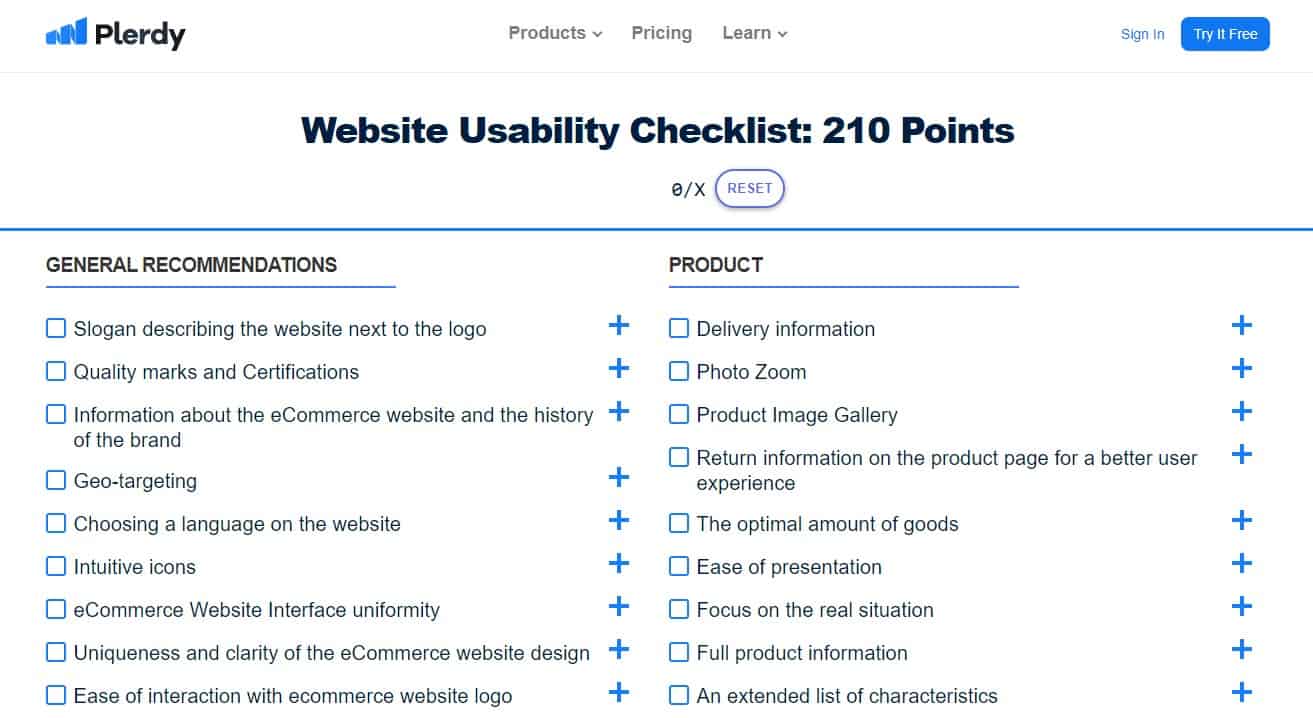 An entire advertising campaign can come to naught if there are errors in the structure and interface of the online store. Sometimes it is difficult to inspect all of these potential issues. For this reason, you will find Plerdy's tool for evaluating the usability of online store pages very useful. What's in it? The different items for verification are divided into categories:
General recommendations
Product
Registration
Segmentation of products
Purchase
Composition
Design
Content
Technical points
Basket
Search window
Backlinks
There are 210 points in the checklist and your goal is to review all of them. They will unmistakably lead to a well-thought-out site structure. If you find errors, you have the opportunity to fix them without wasting time on manual searching.
Content Marketing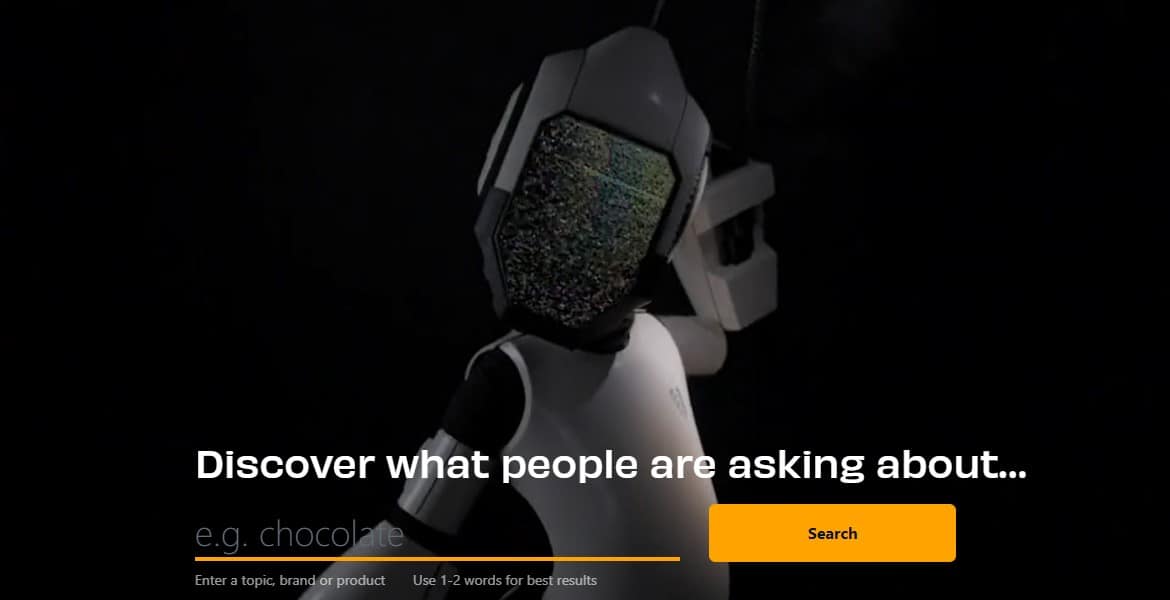 Content isn't always a blog. You can choose any other format of communication with the buyer – books, short posts on social networks, etc. So how can you use them most effectively?
First, the content doesn't always tell you what's new. It is more effective to pay attention to potential buyers. They certainly have enough questions to keep you busy. For example, people often seek advice on product selection and interesting trends. So why not make your articles focused on solving customer problems? You can find out about popular search queries for phrases or words using free Answer The Public tools or the Google Ads Keywords Tool.
Secondly, writing relevant articles and information for each funnel stage separately will make your content useful and interesting. This way, you will meet the needs and requests of potential buyers as much as possible.
Third, it is important to optimize each category of your online store. All of the pages that the user visits will influence their decision to make a purchase.
Don't neglect the power of eCommerce strategies, instead improve your content with the latest digital marketing trends.
Social Media Marketing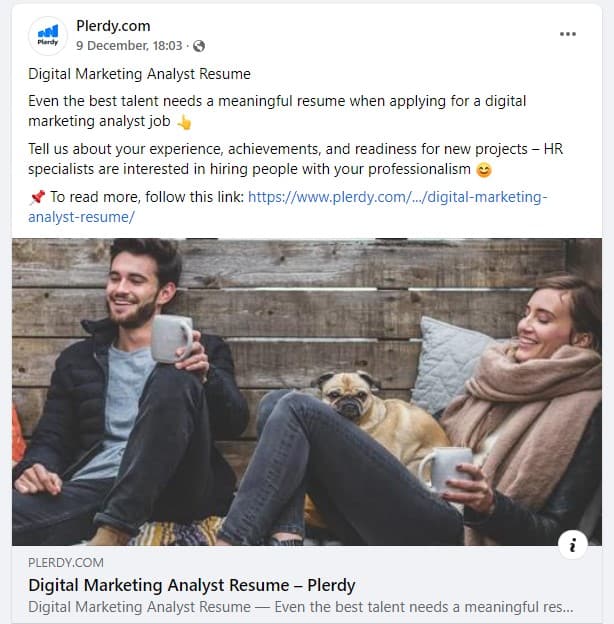 SMM is one of the fastest-growing areas and strategies for eCommerce. If you do SMM on your own, it will cost you nothing, and your number of buyers will increase. However, your success can depend on the types of products or services you sell – something might sell "with a bang" while, in opposition, something else might fail. So take a short $100 test to see if social media is cost-effective for your niche.
The main web platforms for product and brand promotion are Facebook, Instagram and Pinterest (depending on the country). To make buyers out of subscribers, you should focus on your company's relationship with them in social networks, not on direct advertising of goods. It is important to communicate proactively with site visitors, namely by:
Responding to their posts and comments
Arranging polls
Making practical jokes
Sharing news and getting feedback from users
Telling them about new products
Choose the right direction – it will become a sales driver.
Guest Post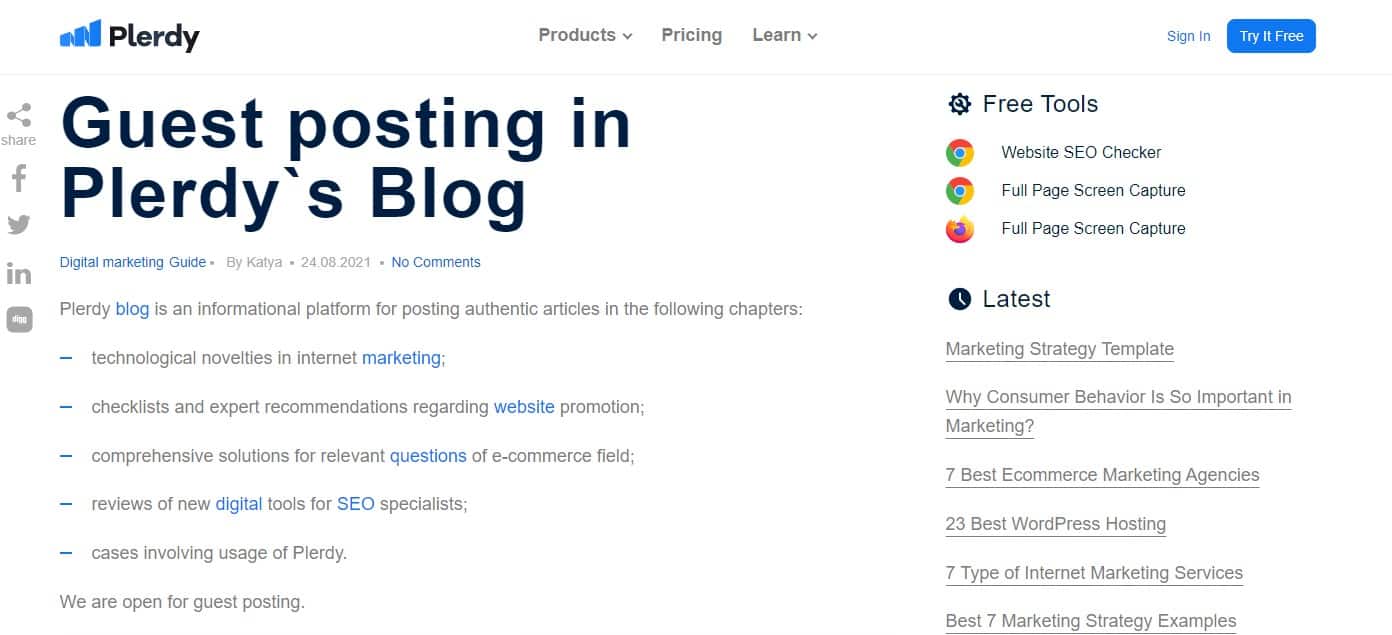 Think about the Internet media your audience uses. Gain support by having guests post on web pages linked to your online store or a specific product. This way, you will acquire new clients by having the assistance of reputable web platforms that promote them. To make your article interesting to potential customers, tell your company story or explain how you created the online store. The more interesting your story is, the more likely it will be published and read.
Influencer Marketing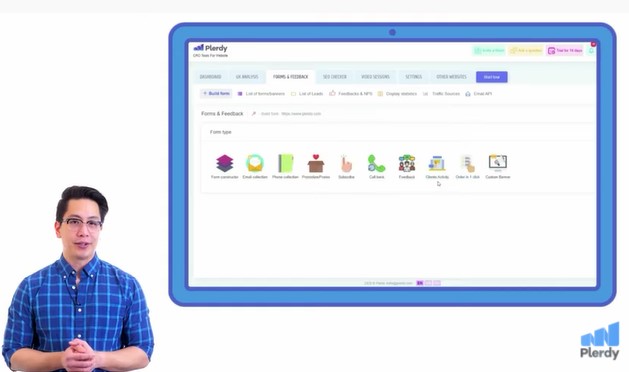 According to the Digital Marketing Institute, 49% of shoppers rely on influencer recommendations. At the same time, such persons are often micro-influencers – people with a small but highly motivated number of subscribers. This is what brings the most conversions. Search for relevant influencers on Instagram and take action.
Video Marketing
Explore YouTube as an eCommerce strategy and incorporate its power into your online store promotion. Shoot video reviews, unboxes, tutorials and tips, etc. You will attract new customers, draw their attention to your product, and simultaneously provide useful information about your company.
Another way to use video advertising is on social media pages and the pages of an online store. A moving picture always attracts more attention. Statistically, people stay longer on web pages with videos. Therefore, a quality video is worth the investment.
Social Shopping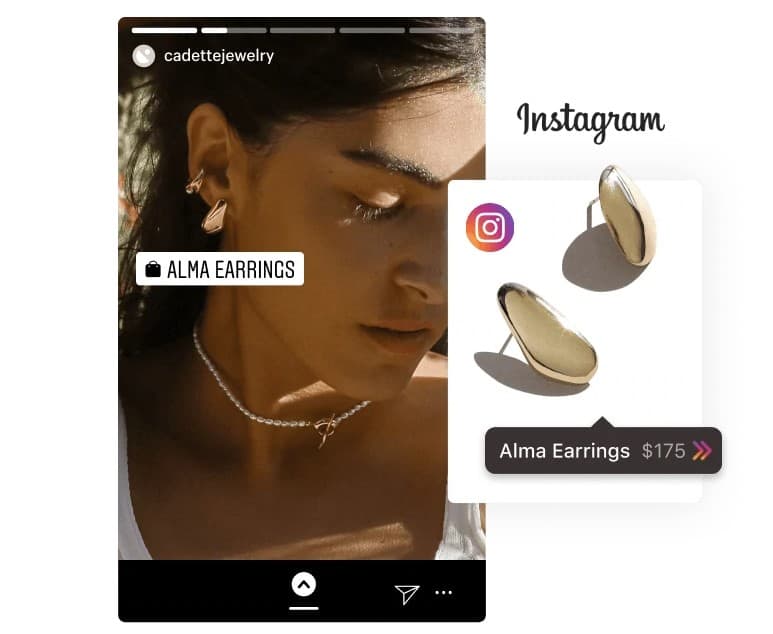 Instagram and Facebook have been a marketplace where people make many purchases for a long time. Shopify demonstrates a good web platform selling tool. It syncs your products by tagging them in photos, and when a person clicks on them, they will see the name and value of the item. Then, with another click, a purchase will be made.
Google Ads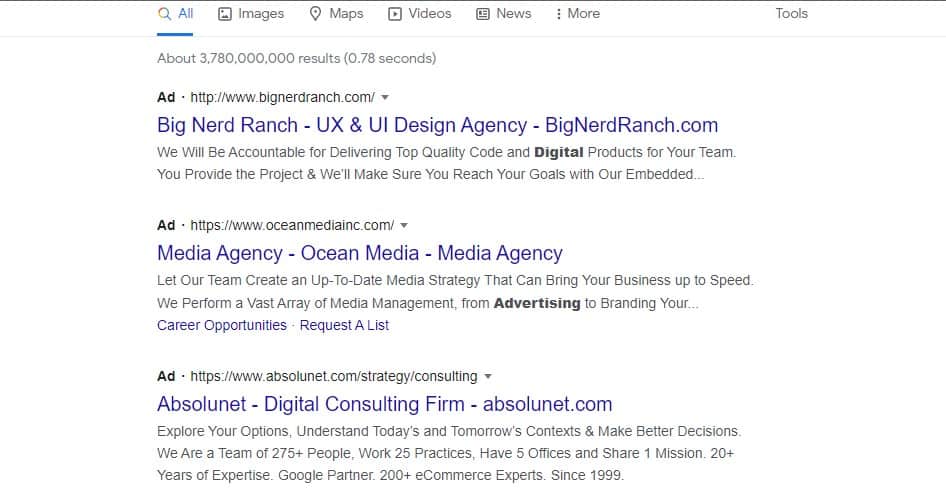 9 out of 10 companies use paid search advertising, and there are good reasons for this. First, such ads are aimed at users already intending to make a purchase. Second, you have a chance to rank at the top of your SERP search. Thus, you will immediately get into the buyer's field of view.
Search Engine Optimization
SEO continues to be one of the most important aspects of marketing. Make sure that all of the pages of your online store are optimized for the direct keywords used by your audience. Consider your geographic location when compiling your list of phrases. For example, some localities have particular dialects and slang words that people actively use when searching. Watch out for these instances so you can reach the broadest audience. Also, remember to double-check for meta descriptions and tags.
Email Marketing
This strategy is called the "cornerstone." You will grab the attention of potential buyers by creating personalized offers and messages with original visuals, even if they may not have planned to purchase at the moment. This will inform customers about new products, promotions, special offers or tell them about trending blog articles. Don't forget to add the buyer's name to your message to make the email feel more personal. According to statistics, individual messages are opened and read 75% more often than generic emails.
Affiliate Marketing
This term, which is not mentioned as often, produces some of the most productive results. Moreover, you will be surprised to know that 81% of brands use an affiliate program. So what is affiliate marketing? It involves promoting products on another site. At the same time, your "publisher" receives a commission from each sale or click or subscription (of your choice) made as a result of this ad. The benefits of affiliate marketing include scalability, ROI, and colossal audience reach.
Conclusion
Planning and thinking through your eCommerce marketing strategies in the early stages is the key to the success of your business. Use all of the tools and strategies available to you – the results will appear quickly.