Welcome to the ultimate guide on the "17 Best Marketing Software" 🚀🎯! Marketers always seek solutions to optimize their workflow and achieve their goals in today's fast-paced digital world. We've selected an all-star lineup of marketing software solutions for varied business demands to boost your marketing efforts.
Our top picks focus on:
For instance, our selection includes industry-leading platforms that excel in harnessing the power of AI-driven analytics, such as Plerdy CR Analysis. This powerful software provides in-depth insights into customer behavior, enabling you to craft tailored marketing campaigns and improve conversion rates.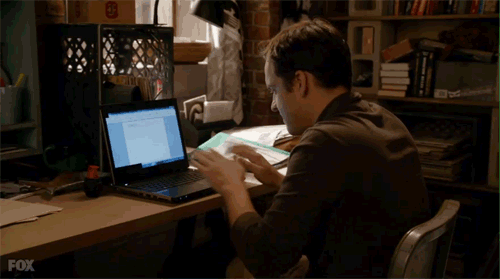 Explore our comprehensive list of marketing software solutions, carefully curated to ensure you stay ahead of the curve in this dynamic marketing world. Our expert recommendations enable you to conquer your marketing objectives and drive your business to success.
What Is Marketing Software?
Marketing software is a powerful tool designed to streamline and optimize the multifaceted marketing world. With cutting-edge features and user-friendly interfaces, these ingenious solutions help businesses engage their target audience, monitor their campaigns, and drive results that matter.
Some remarkable advantages of marketing software include the following:
Automating repetitive tasks
Analyzing and interpreting data
Enhancing customer engagement
Managing social media presence
Tracking and optimizing conversion rates
Take, for instance, email marketing software that enables businesses to craft beautiful newsletters, automate follow-ups and track open rates to tweak their strategies for maximum impact. Similarly, social media management tools aid in scheduling posts, gauging audience sentiment and identifying influencers to bolster brand visibility.
Moreover, Customer Relationship Management (CRM) systems empower companies to nurture leads, maintain long-term relationships, and close deals with finesse. By integrating these diverse functionalities, marketing software has undeniably become the backbone of successful campaigns, enabling businesses to pinpoint opportunities, execute strategies, and reap the rewards.
Brief Overview Of The Importance Of Marketing Software In Business Strategy
Marketing software has become an indispensable component of modern business strategy, empowering companies to target their audience and maximize returns on investment effectively. By leveraging cutting-edge tools, businesses can gain valuable insights, craft tailored campaigns, and achieve remarkable growth.
A few key benefits of incorporating marketing software into your business strategy include:
Streamlined workflow – Automating repetitive tasks saves time and resources
Data-driven decisions – Analyzing performance metrics to refine strategies
Personalized engagement – Crafting tailored content for various segments
For instance, imagine a local bakery using marketing software to identify the most popular pastries among their customers. They could then tailor their marketing efforts to promote those best-sellers, attracting more customers and boosting sales. In today's highly competitive marketplace, businesses that harness the power of marketing software are poised to outpace their rivals and secure a lasting foothold in their respective industries.
Introduction Of The List Of 17 Marketing Software
In the fast-paced world of digital marketing, selecting the right software is crucial for businesses to thrive. We've handpicked 17 top-notch marketing software tools to streamline your workflow and bolster your online presence. These gems offer a diverse array of features, catering to various marketing needs:
From bolstering brand visibility to fostering customer loyalty, these 17 marketing software solutions are indispensable allies for businesses eager to dominate the digital landscape. Dive into our carefully curated list and discover the perfect tools to propel your marketing efforts and secure a competitive edge.
Search Engine Optimization (SEO) Tools
Plerdy Software: Transform Your Online Marketing Strategy

Presence and drive growth. This powerful tool equips you with a wealth of features that empower you to make data-driven decisions and improve the user experience on your website.
Plerdy's Stellar Features
Let's dive into some examples of how Plerdy can elevate your business:
Maximize Conversions with Heatmaps
A local florist aims to boost its online sales. Plerdy's heatmap software feature reveals how visitors interact with the website, highlighting areas that attract attention and those that don't. Using these insights, the florist can adjust their layout to make the shopping experience seamless and drive more sales.
Increase Engagement with Pop-up Forms
An online fashion store wants to grow its mailing list. Plerdy's customizable pop-up forms enable the store to capture visitor information, build brand loyalty, and inform customers of the latest trends and sales.
Monitor Sales Performance
A home decor e-commerce platform seeks to optimize its product pages. Plerdy's sales performance monitoring provides granular data on visitor behavior and conversion rates. As a result, the platform can make informed decisions to enhance product presentation and increase revenue.
In summary, Plerdy is a game-changing marketing software that allows businesses to make data-driven decisions, optimize user experience, and skyrocket their online success.

SEMrush, a comprehensive marketing software, is the go-to choice for businesses seeking to dominate digital marketing. With an extensive SEO suite of tools, SEMrush enables businesses to keep their finger on the pulse of online trends and stay ahead of the competition.
Here's a glimpse of the impressive features SEMrush offers:
Keyword research
Site audit
Position tracking
Backlink analysis
With SEMrush's keyword research tool, the bakery can identify high-impact keywords to target, ensuring its scrumptious offerings rise to the top of search results. The site audit feature assesses the bakery's website, uncovering areas of improvement to boost search rankings and organic traffic.
Position tracking allows the bakery to monitor its progress in search results, while backlink analysis reveals the strength of its off-page SEO strategy. The bakery can whip up a winning formula for online success by capitalizing on these insights.
In today's cutthroat digital world, SEMrush software is a powerful ally for businesses, providing the tools and insights needed to make a mark in the ever-evolving online space.
Content Management Systems (CMS)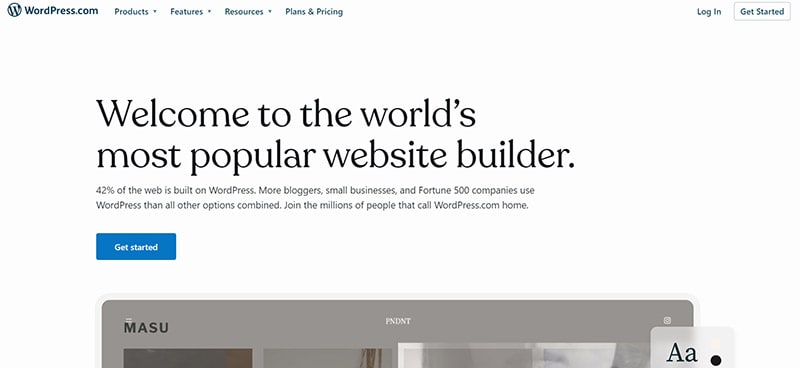 As the digital marketing landscape continues to evolve, WordPress has emerged as a powerhouse platform, enabling businesses to establish a robust online presence. Lauded for its flexibility and user-friendliness, WordPress caters to seasoned professionals and beginners eager to dip their toes into digital marketing.
Key features of WordPress that make it a go-to choice for marketers include:
Extensive customization options
Seamless integration with marketing software
A vast library of plugins and themes
Imagine a local coffee shop harnessing the power of WordPress to create an enticing website, complete with an engaging blog, customer reviews, and seamless e-commerce functionality. This virtual storefront attracts potential patrons and fosters brand loyalty among existing customers.
Moreover, WordPress's compatibility with various marketing software tools allows businesses to streamline their workflows and optimize strategies, driving remarkable growth. By embracing the versatility of WordPress, businesses can unlock new opportunities, carve out a niche in the digital realm, and ultimately, outshine their competition. With its unparalleled adaptability and extensive features, WordPress is an invaluable ally for any business looking to make waves in digital marketing.

Wix has carved a niche in digital marketing, offering businesses an intuitive, feature-rich platform to create eye-catching websites. Renowned for its user-friendly interface, Wix empowers users to craft their unique digital presence with minimal fuss.
Here are some standout features that make Wix a marketing powerhouse:
Drag-and-drop website builder
Comprehensive app marketplace
Built-in marketing tools
Picture a fitness studio utilizing Wix to create a vibrant website with class schedules, membership information, and promotional offers. By leveraging Wix's built-in marketing tools, the studio can reach a wider audience, boost its online presence, and drive more traffic to its brick-and-mortar location.
Wix's seamless integration with various marketing software further enables businesses to optimize their strategies and unlock growth potential. Whether a small business owner or an established enterprise, Wix offers a treasure trove of tools to help you capture the digital spotlight and outshine your competition. So embrace the power of Wix and propel your marketing endeavors to new heights of success.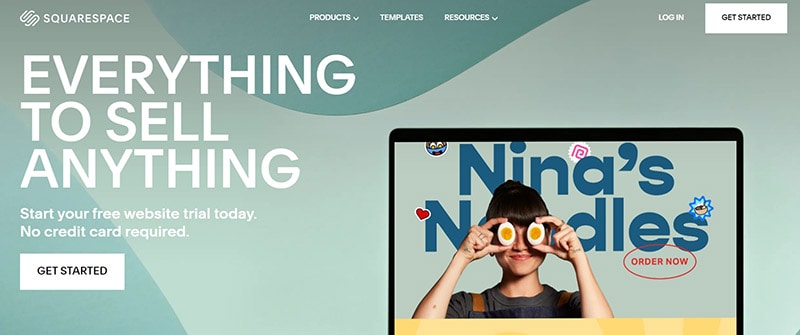 Squarespace has become a sought-after software solution for businesses aiming to make a splash in the digital marketing arena. This versatile platform allows users to create visually stunning websites that effortlessly captivate their target audience, fostering brand recognition and loyalty.
Key features that make Squarespace an invaluable marketing ally include:
Sleek, professionally designed templates
Responsive web design
Built-in marketing tools and integrations
Consider an artisanal candle company using Squarespace to create a captivating online store, showcasing its exquisite products through high-quality images and engaging product descriptions. By leveraging the platform's built-in marketing tools, they can seamlessly connect with their customers, driving increased traffic and sales.
Squarespace's compatibility with marketing software enables businesses to refine and optimize their strategies, positioning themselves for continued success. Squarespace offers a comprehensive toolkit for businesses to make their mark in the digital landscape, from fledgling startups to established enterprises. By embracing Squarespace's extensive features and user-friendly interface, businesses can cultivate a strong online presence, setting themselves apart from competitors and capturing the hearts of their target audience.
Email Marketing Software

Mailchimp has cemented its reputation as a top-tier email marketing platform and software, empowering businesses to connect with their audience and drive growth. With its user-friendly interface and various tools, Mailchimp allows marketers to design and execute highly targeted campaigns.
Key features that make Mailchimp a marketing software heavyweight include:
Customizable email templates
Advanced segmentation options
Comprehensive analytics and reporting
Imagine a boutique clothing store using Mailchimp to send personalized email promotions to different customer segments based on their purchasing history. This targeted approach boosts customer engagement and enhances the shopping experience, increasing sales.
Mailchimp's seamless integration with other marketing software solutions enables businesses to consolidate their efforts and streamline their workflows. By leveraging Mailchimp's robust capabilities, businesses can create highly effective email campaigns that resonate with their audience, foster brand loyalty, and pave the way for success in today's competitive digital landscape. So harness the power of Mailchimp software and watch your marketing endeavors flourish.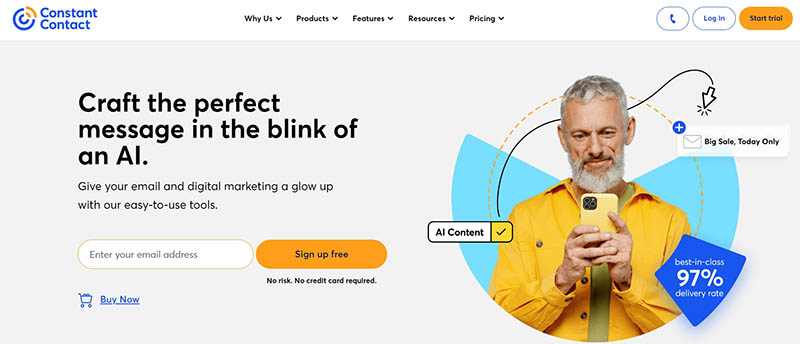 Constant Contact has emerged as a powerful marketing software solution, enabling businesses to create compelling email campaigns that foster lasting relationships with their audience. Constant Contact's vast features and user-friendly interface simplifies crafting and executing targeted marketing strategies.
Key features that set Constant Contact apart include:
Drag-and-drop email editor
Contact management and segmentation
Event marketing tools
Picture a local bakery utilizing Constant Contact to send tailored email newsletters, informing customers about seasonal treats, special offers, and upcoming events. By tapping into the platform's segmentation capabilities, the bakery can engage with its audience more personally, ultimately driving increased foot traffic and sales.
Constant Contact's connectivity with other marketing tools lets firms develop a unified marketing environment that boosts their efforts. For example, Constant Contact helps you create engaging email campaigns that boost your brand's online exposure, regardless of your business's size.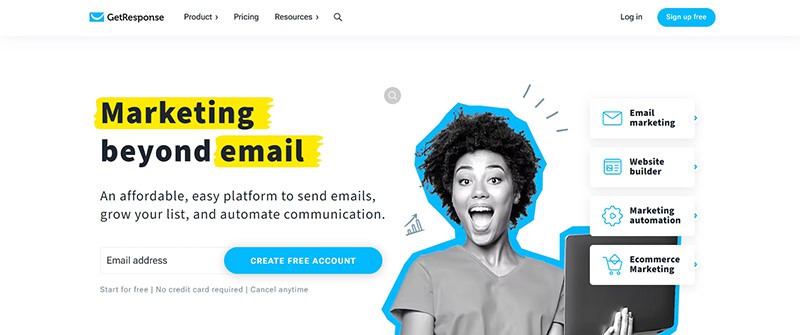 GetResponse stands tall as an all-in-one marketing software solution, providing businesses with various tools to streamline their digital marketing efforts. From email campaigns to automation, GetResponse makes it a breeze to create, manage, and optimize marketing strategies that captivate your audience and drive results.
Key features of GetResponse that make it a marketing powerhouse include:
Responsive email design
Marketing automation workflows
Landing page builder
Consider an online fitness coach using GetResponse to offer subscribers personalized workout plans and nutrition advice. By leveraging the platform's automation capabilities, the coach can efficiently send relevant content to clients based on their goals and progress. This targeted approach fosters client engagement and encourages long-term commitment to the program.
GetResponse's seamless interaction with various marketing platforms helps organizations streamline their marketing strategy. GetResponse software helps organizations create engaging content, cultivate relationships, and succeed in the ever-changing digital market. GetResponse will boost your marketing.
Social Media Management Tools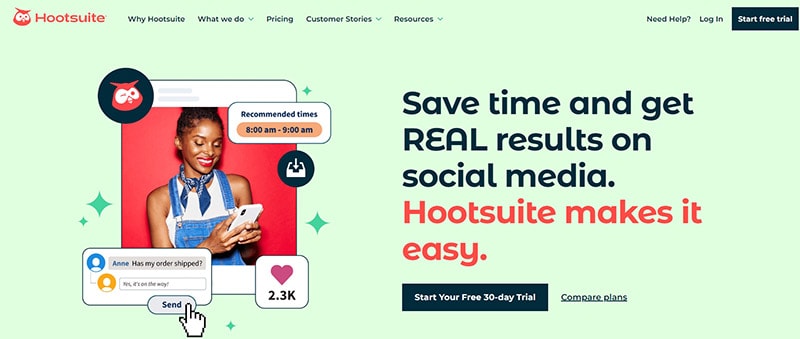 Hootsuite, a robust marketing software, has earned its reputation as a leading social media management tool. By streamlining social media efforts, Hootsuite enables businesses to engage with their audience, optimize content strategy, and analyze performance – all from a single dashboard.
Essential Hootsuite features include:
Post-scheduling and publishing
Social listening and monitoring
Analytics and Reporting
Picture a local coffee shop utilizing Hootsuite to manage its online presence. The shop schedules daily posts to promote seasonal drinks, engage with customers, and share behind-the-scenes glimpses of the brewing process. The shop can fine-tune its offerings by monitoring customer feedback and ensuring it hits the sweet spot with clientele.

Buffer, a top-notch marketing software, offers an all-in-one solution for businesses seeking to strengthen their social media presence. Designed to streamline and simplify content creation, scheduling, and analysis, Buffer empowers users to craft impactful strategies that resonate with their audience.
Key features of Buffer include:
Content scheduling and publishing
Engagement and interaction tools
Performance Analytics
Imagine a boutique clothing store leveraging Buffer to showcase its latest collections. First, the store creates captivating visuals of models wearing the newest outfits, then schedules posts for peak engagement times. Then, as customers comment, like, and share the posts, the store interacts with them in real-time, fostering a sense of community and brand loyalty.
Buffer's in-depth analytics help users gauge the effectiveness of their campaigns. These insights enable businesses to tailor their content to audience preferences, driving engagement and conversions. So, embrace Buffer and watch your social media strategy flourish.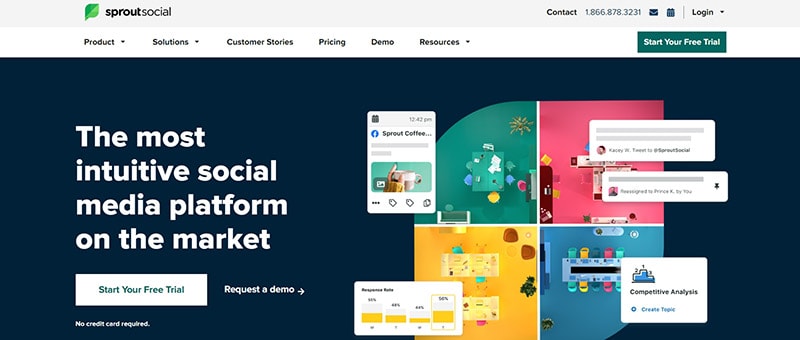 Sprout Social, a comprehensive marketing software, provides businesses with the tools to elevate their social media game.
Noteworthy features of Sprout Social include:
Content planning and publishing
Community engagement tools
Data-driven analytics
Envision a local coffee shop utilizing Sprout Social software to boost its online presence. As a result, the shop crafts eye-catching graphics of its signature drinks, schedules posts during peak engagement times, and consistently interacts with customers in the comments. This approach fosters a sense of community, encouraging repeat business and referrals.
Sprout Social's robust analytics allow users to measure campaign success and make data-driven decisions. This information helps businesses fine-tune their content, maximizing engagement and driving conversions.
Customer Relationship Management (CRM) Software
Picture this: a thriving e-commerce store keen on expanding its customer base and boosting sales. Enter Salesforce, the powerhouse marketing software designed to streamline customer interactions and transform businesses from the ground up. Salesforce offers an extensive suite of tools that cater to the specific needs of any organization.
Key Salesforce software features include:
Customer relationship management (CRM)
Marketing automation
Data analytics and insights
By implementing marketing automation, the store can nurture leads and save time – no more manually sifting through endless data.
Salesforce's data analytics and insights make it easy for businesses to monitor their performance and make informed decisions. As the e-commerce store thrives, Salesforce helps identify areas of improvement, leading to growth and increased customer satisfaction. Salesforce, a true trailblazer in marketing software, is the key to unlocking your business's full potential.

HubSpot, a titan in the marketing software arena, has revolutionized how businesses reach and engage with their customers. Imagine a start-up eager to make waves in its industry – HubSpot is the ace up its sleeve, providing a comprehensive suite of tools designed to propel them to new heights.
Key HubSpot features software include:
Inbound Marketing
Sales and CRM
Customer service
Picture the start-up embracing inbound marketing, creating magnetic content that attracts potential customers like moths to a flame. Sales and CRM features empower them to track leads, manage pipelines, and close deals easily. HubSpot's customer service tools are the cherry on top, helping the start-up deliver top-notch support, ensuring a delightful experience at every step.
In a world where digital marketing is king, HubSpot's all-in-one platform is the ultimate ally for businesses ready to take the bull by the horns and scale their success.

Zoho CRM, an industry-leading marketing software, has emerged as a powerful solution for businesses striving to cultivate meaningful customer relationships. The platform is a beacon of innovation, helping organizations navigate the choppy waters of customer engagement and sales management with remarkable ease.
Here's a glimpse of Zoho CRM's standout features:
Sales automation
Multichannel communication
Analytics and Reporting
Territory management
Sales automation empowers them to streamline their processes, reduce manual tasks, and leave no stone unturned. Multichannel communication enables them to connect with customers through email, social media, and phone. Analytics and reporting provide valuable insights that propel their growth.
Territory management shines a light on the most lucrative markets, allowing the business to allocate resources effectively and reap the rewards. In a competitive landscape where every advantage counts, Zoho CRM software is the ace in the hole for businesses committed to success. With its robust features and intuitive interface, it's no wonder Zoho CRM has become the go-to choice for savvy marketers and sales teams alike.
Marketing Automation Platforms

Marketo, a pioneering marketing software, is popular with companies looking to boost their marketing efforts. Known for its user-friendly interface and innovative features, Marketo holds the keys to unlocking the full potential of marketing automation.
Discover some of Marketo's top-notch features:
Lead management
Email marketing
Event marketing
Social media marketing
Picture this: a growing company keen on bolstering its marketing efforts. With Marketo's lead management, the company can identify and nurture high-value prospects, turning cold leads into loyal customers. Email marketing allows personalized, targeted campaigns that keep the audience engaged and eager for more.
Event marketing helps orchestrate memorable gatherings, whether online or offline, while social media marketing connects the company with its target audience through captivating, share-worthy content. Marketo's comprehensive toolset ensures that no opportunity slips through the cracks, allowing businesses to seize the day and make their mark in competitive marketing. Time and time again, Marketo software has proven itself as a force to be reckoned with, helping companies transform their marketing dreams into reality.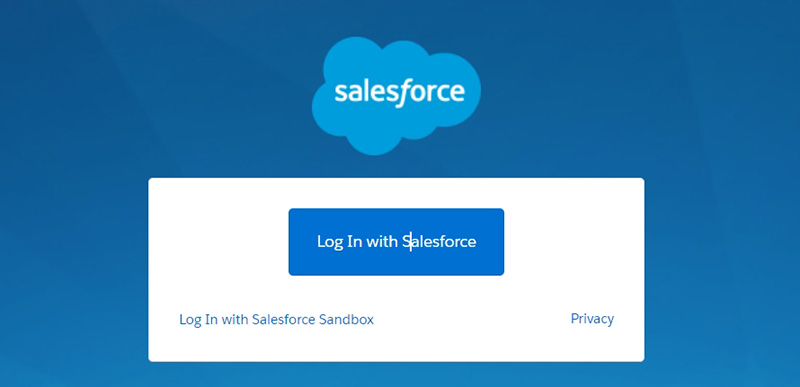 Pardot, a cutting-edge marketing software, has emerged as a linchpin for businesses seeking to amplify their marketing prowess. This Salesforce-owned powerhouse excels at providing B2B marketing automation solutions designed to streamline processes, foster engagement, and drive tangible results.
Take a peek at Pardot's dynamic features:
Lead generation
Email marketing
Lead nurturing
ROI reporting
Imagine a small business with big aspirations, hungry to expand its reach and influence. Pardot's lead generation tools help attract potential customers, creating a pipeline of valuable prospects. In addition, the software's email marketing capabilities foster genuine connections, delivering personalized content tailored to the recipient's preferences.
In the fast-paced marketing world, Pardot's lead nurturing nurtures budding relationships, guiding prospects through the buyer's journey easily. Lastly, ROI reporting allows businesses to gauge the impact of their marketing efforts, making data-driven decisions for future success.
Pardot shines as a beacon of marketing excellence, empowering businesses to tap into their full potential and leave a lasting impression in the ever-evolving landscape of B2B marketing.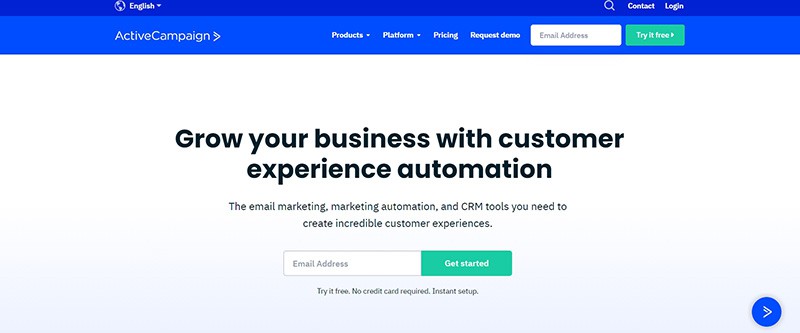 ActiveCampaign, an all-in-one marketing software, gives businesses a powerful platform to supercharge their marketing initiatives. With its comprehensive suite of features, ActiveCampaign helps businesses forge meaningful connections with customers, tailor messaging to suit their needs and navigate the complexities of the marketing landscape.
Here's a taste of Activecampaign's versatile offerings:
Email marketing
Marketing automation
CRM & sales automation
Messaging
Picture a boutique hotel eager to elevate its guest experience. ActiveCampaign's email marketing solution allows the hotel to send targeted, personalized messages to guests, ensuring they feel valued and heard. The marketing automation feature streamlines campaign management, freeing up time for staff to focus on providing top-notch service.
Furthermore, ActiveCampaign's CRM and sales automation tools optimize the sales process, making tracking leads and closing deals a breeze. Finally, the messaging component enables real-time communication, fostering a genuine connection between the hotel and its clientele.
ActiveCampaign is a trailblazer in marketing software, empowering businesses to leave a lasting impact and thrive in today's competitive landscape.
Bottom Line
Our in-depth exploration of the "17 Best Marketing Software" has unveiled a treasure trove of innovative tools designed to supercharge your marketing efforts. These software solutions cater to various tasks, from automating repetitive processes to analyzing customer behavior, providing a comprehensive hub to plan and execute data-driven campaigns.
Key takeaways from our list:
Marketing software helps you stay on top of your game with real-time insights and analytics.
Many tools are available, catering to different needs and budgets.
Plerdy's CRO analysis offers invaluable insights to enhance your marketing strategies.
Armed with these cutting-edge software solutions, your marketing efforts will truly shine, ensuring you reach your target audience effectively and efficiently. So take the chance to elevate your marketing game with these indispensable tools.
Staying ahead in today's marketing landscape requires constant learning and adaptation. So, why give Plerdy a try and experience the power of conversion rate optimization firsthand? Your journey to marketing success starts now! 🌟💼